DongRaeGu 2012 A Year in Review
by Neoghaleon55
Nobody in their right mind could deny that 2012 had been a good year for
MVPDongRaeGu
(Park Soo Ho). This is the man who took the competitive StarCraft scene by storm in the first half of this solar cycle. His decline towards the tail of the year was no less marked by stellar play and edge-of-your-seat performances against the tip top caliber of players. Although he was edged out, but barely, by
StarTale_Life
for Player of the Year award, DRG's 2012 still holds gravity as one of the most impressive record achieved by a single player in one turn of the calendar.
DongRaeGu started the year strong by winning several invitational tournaments, which included GomTV's King of Kong tournament and FXO Invitational 5. On the heel of his painfully close 3:4 defeat at the Blizzard Cup 2011 to
SlayerS`MMA
, DongRaeGu had something to prove. At the time, many have only begun to acknowledge him as a legitimate contender for the position as apex of the sport. His solid play at many foreign tournaments and the, then legendary, finals at the Blizzard Cup 2011 had helped to turn many heads. However, no matter how many tournaments he won, DRG had no legitimate claim as best player in the world until he could earn a GSL Championship, the most prestigious title in competitive StarCraft.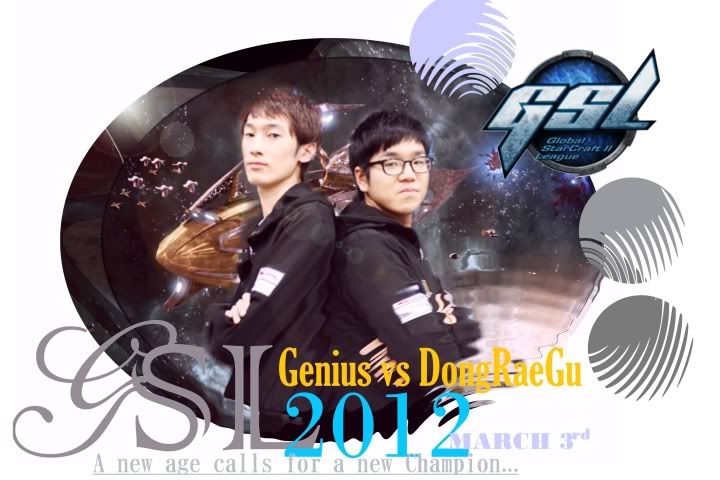 It wasn't until early March that DongRaeGu made it to his first GSL finals, opposite of his friend and rival, Genius. On March 3rd of the year 2012, DongRaeGu defeated Genius in a 4:2 victory, earning his first GSL championship. On his momentous GSL run that season, DRG even defeated Nestea, the reigning Zerg Overmind from the 2011 era, thus solidifying his position as the greatest Zerg player the world had ever seen. DRG celebrated by buying his teammates a new big screen TV and feeding the GSL audience in the studio, pizza. <3
DongRaeGu's GSL victory was not without loss however. After being defeated by DRG in humiliating fashion at the finals, Genius left the team, citing internal differences with the team's managerial staff. The exact reason why he left remains unclear. Genius's departure, nonetheless, had undoubtedly impacted DRG. The Zerg champion had cited several times through interviews that his primary motivational force was the intense rivalry between Genius and himself. DRG had practiced hard because losing would open him up to ridicule by friend and rival. This, alone, had been his personal drive for many months. Without Genius, DongRaeGu quickly fell out of Code S the following GSL season. It became clear that Soo Ho needed to look for a new rival to fuel his competitive spirit; he did not have to look far.
Throughout his rise to fame in early 2012, there was one who stood as thorns to DRG's side: his name was
MarineKing
(MKP) and he was making waves on international shores by beating DongRaeGu not once, but twice in the finals of two separate Major League Gaming (MLG) events. MarineKing was, then, heralded as the best Terran player in the world since the start of 2012, having ridiculous winrate ratios in all matchups, his lowest, TvZ, remained in the high 60%(most of the losses were due to DongRaeGu) during the height of their rivalry. Throughout their careers, MarineKing met DRG no less than eleven times, half of which were in tournament finals. With MMA dropping out of relevance in 2012 (due to the onslaught of drama inside his own team house), it became clear that MarineKing and DongRaeGu were destined to be the Coca Cola and Pepsi of the StarCraft world, the PC and Mac, the Yin to each other's Yang.
On the 23rd of April, 2012, DongRaeGu finally defeated MarineKing in an MLG tournament, a finals no less, earning his first MLG title at the Spring Arena in New York City. The victory cleared the the final obstacle between DRG and complete and total dominance of the StarCraft scene. DRG would continue his rampage through the competitive world by man-handling
SlayerS`Alicia
at MLG Anaheim Spring Championship, securing yet another foreign title and $25,000.00 in cash prizes. By then, it was late June 2012, and Park Soo Ho stood atop his mountain of tournament winnings and bloodied corpses of his fallen enemies.
The crown, however, is a heavy and fickle thing. In July of 2012, it slipped from DRG's hands. Standing at the top of the world for nearly 3 months have made Soo Ho a large target, a focus for all to study, analyzes and exploit. DongRaeGu, indeed made it to another GSL semi-finals that month, his goal was to walk the stage of the finals at his hometown in Busan and win his second GSL championship in front of friends and family. But things rarely go the way they are planned. Two-time GSL Champion and the highest earning Protoss player that ever lived,
SK_MC
, ripped through DongRaeGu in the semi-finals. With his dreams of the Busan finals in tatters, DongRaeGu's kingdom crumbled in the passing of one night. When DRG emerged again the following day as the ace player a Team League semi-finals match, he was a changed man, and again, lost the critical game, ending his team's claim to a spot in the finals.
It has been argued that DongRaeGu hasn't been the same since he lost his golden city atop a hill that July. His play became shaky, his emotions often got the better of him and he seemed impatient in many matches, throwing away games that had been won by attacking into fortified positions. However, the embers of the man who once had it all still burned inside him. Fans from across the globe poured in their love and encouragement for DRG. Along with his family and a supportive girlfriend, we all hoped that DongRaeGu would rise again by the end of the year.
The second half of 2012 had not been kind to Park Soo Ho, but it did give fans plenty to cheer for. In October 27th, DongRaeGu made it to the first ever OnGameNet Star League (OSL) featuring StarCraft 2. The tournament was notably brutal for Zerg players, featuring uncompromising maps that put Zergs at a disadvantage. But as DongRaeGu kept on winning, many fans felt that his return to form was inevitable. Throughout the tournament, DRG displayed a level of play that far exceeded his peers, laying waste to former rivals such as MarineKing and SK_MC without losing a single game.
The finals, nonetheless, proved heart breaking for DRG and fans, alike. Against
SKTT1_by.Rain
, DongRaeGu looked visibly vulnerable for the first time in many months, falling victim to Rain's aggressive Warp Prism play and Pre-Hive timings. The few holes in DRG's gameplay were expertly exploited by the rookie Protoss player, ending the finals that late October night in cold tears and heavy hearts with the score of 1:4.
Fans comfort DRG after his OSL finals defeat. Picture by Moletrap.
For the rest of the year, DRG's performance continued on its pendulum course of rises and falls. At times, he looked completely unbeatable, where others he seemed to struggle to find footing in the ever changing meta-game. One thing that remained unchanged throughout DRG's career is the relationship to his fans: his unfailing care for them and theirs for him. In late September, he even agreed to give an
exclusive interview
to fans on teamliquid.net, becoming the first Korean player to do so for an international fan site.
In the last few tournaments of the year, DongRaeGu made it to the round of 16 in Code S twice, and top 8 at IPL5 by December. Though his results paled in comparison to that of his earlier self, DRG continued to be a force to be reckoned with in any tournament setting. His final competitive run in 2012 saw him soundingly defeat apex players such as
IMmvp
and
FXO_Leenock
while barely losing to both eventual finalists,
PartinG
and
Life
(1:2 and 2:3, respectively). DRG did, however, end the year by winning one more invitational tournament, the Blizzard Cup Heart of the Swarm Show Match, rounding his year out where it had begun.
For fans, 2012 had been no less than a roller coaster ride of emotions, with as many peaks and vallies that would give most people motion sickness, but it has been a ride worth taking. DongRaeGu has been a delightful player to follow. His many antics, mirthful attitude, quirky mannerisms paired with his impeccable mechanics, deifying-level of creep spread and frantic style of play had done much to rouse the spirit of eSports in 2012. The mere mention of DRG playing in a tournament alone is enough to raise the bar of expectation and prestige of the event to new heights. DongRaeGu does not just bring great gameplay to the scene, he brings a whole level of story and heart to it that few players have been able to match. 2012 was indeed a good year to be a DRG fan. With the Heart of the Swarm expansion on the horizon, offering DRG a slew of new strategies that will surely thrill and entertain fans, 2013 can only be better.
Without further delay,
Here are the DRG awards of 2012.
---
+ Show Spoiler +
Best ceremony
The Couch
There was just something very profound about DongRaeGu bossing it up on the couch at MLG Winter Championship. Even though he didn't get first place, the aura of confidence and his jovial demeanor at that very moment epitomizes everything we've come to love about DRG.
Runner Up:
+ Show Spoiler +
Puppet Hands
Because being an ass back to Genius is hilariously satisfying...given that Genius did the same to DRG earlier in the tournament.
---
Best Rival
MarineKing
Because nobody pulls off looking like an evil Sith Lord better than MarineKing in a black hoodie and red tinted lighting. And also for meeting DRG in so many finals, stealing two titles of which from him, as well.
Runner Up:
+ Show Spoiler +
Genius
Because nobody makes bulgogi like Genius makes bulgogi.
And everyone loves Frienemies.
---
Best Tournament Run
Code S Season 1
http://www.gomtv.net/2012gsls1/
It was a legitimately tough tournament, with the very best players blocking DRG's every turn. The nail bitingly close semi-finals against Gumiho alone warrants this award.
Runner Up:
+ Show Spoiler +
---
Best Series
MLG Spring Arena 1 Finals
http://sc2casts.com/cast8456-Dongraegu-vs-MarineKing-Best-of-7-MLG-Spring-Arena-Finals
Amazing back and forth series, ending with an impossibly bad position for DRG on close spawn Tal Darim Altar, heavily favoring his Terran opponent, MarineKing. DongRaeGu decided to go for a gutsy early ling baneling attack, catching MKP off guard and cinching the series by the slimmest of margins.
Runner Up:
+ Show Spoiler +
DRG vs Naniwa GSL Season 3 Code S Quarter Finals
http://www.gomtv.net/2012gsls3/vod/67600
Being the foreign hope of 2012, Naniwa open with unorthodox 1 gate expansion play that threw DRG off. A very close series that often do not get enough recognition, full of random timings and ...hydralisks...
---
Game of the YearDRG vs Ryung GSL Season 3 Ro16 Whirlwind
http://www.gomtv.net/2012gsls3/vod/67586
Yes, DRG fans, I know he lost that game. But the mechanics, posturing between the two players leading up to a crescendo in the end was worth the price of the GSL ticket that season. Out of this world play from both competitors!
Runner Up:
+ Show Spoiler +
DRG vs IMMvp Blizzard Cup Day 1 DayBreak
http://www.gomtv.net/2012blizzardcup/vod/71406
Knowing that IMMvp favors mechplay, DongRaeGu denies the third using a nydus worm and queens, preventing Mvp from adding his 5th and 6th gas. Mech without gas makes dead Terrans. Innovative and outstandingly smart play from DRG.
---
Defining Moment of 2012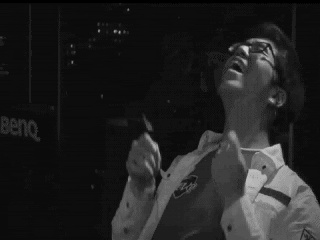 MLG Spring Arena 1: Breaking the Losing Streak Against MarineKing
Losing to the same person over and over can really break your spirit. Here, DongRaeGu promised himself that "there's no such thing as 3 in a row." He celebrates the victory by taking a long deep breath, taking off his glasses, hands over his eyes and let the feel of the gold wash over him. After he had recollected himself, DRG thanked his fans and tributed his victory to "the best race and for the swarm."
Runner Up:
+ Show Spoiler +
Winning GSL

Having a GSL championship in your pocket legitimizes not only your status as a top end Starcraft player, but also vindicates that you've made the right life decision to become a pro-gamer...oh and also, exonerates your fans for believing in you in the first place!
---
Fan of the Year
Ok so, Tommy and I aren't allowed to vote for ourselves. Everyone knows we're top DRG fans. But I want to recognize someone in the fan club that's been with DRG through thick and thin.
+ Show Spoiler +
F[_aths] from Germany.
http://www.teamliquid.net/forum/profile.php?user=[F_]aths
And oh yea, he drew this for DRG once.
lol
<3
F[_aths], you can now put "DRG fan of the year 2012" in your quotes.
---


Thank you everyone for the wonderful year.
I can't wait to cheer for DRG along side you in 2013.

-neoghaleon55
Editor in Chief, President of MVPDongRaeGu's Fan Club