World Team League - 2023 Winter Season
by: Nakajin
The 6th season of the World Team League will begin this weekend, unofficially kicking off the fall/winter season of StarCraft II. It promises to be a banger, with three strong teams joining the competition from Code A. Last season already proved anything is possible in the WTL, and things should be even more unpredictable with the increased parity.
In++
Kwangdong Freecs

Matcherino Esports

Mystery Gaming
Out--
Berserker eSports

Invictus Gaming

ABYDOS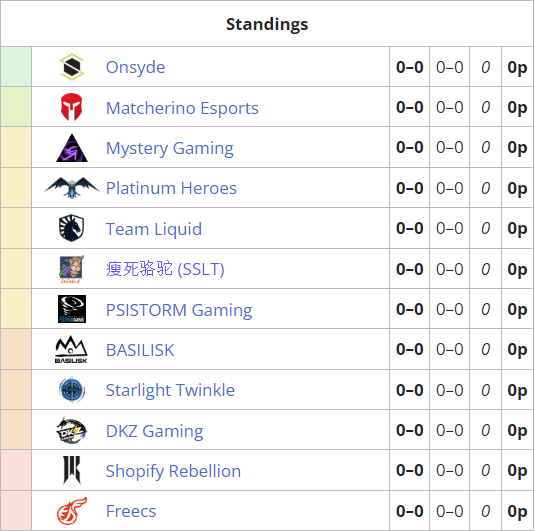 Top 7 teams qualify for the playoffs.
Points are awarded as follows:

3 points for a victory in a series that does not require an ace match

2 points for a victory in a series that requires an ace-match

1 point for a loss in a series that requires an ace-match

0 points for a loss in a series that does not require an ace match
Elo Ranking:
The SCBOY hexagons are dead; long live the SCBOY Elo! Starting this season, the WTL will run an internal Elo system to see who's really the best inside the SCBOY ecosystem. But it's not just for fun; actual prize money is on the line! While we're not entirely sure how the system will work, the players with the highest Elo and 'most improved' Elo at the end of the season will receive awards. Combined with the existing best T/P/Z awards, MVP, and weekly celebration awards, there will be over $6,500 up for grabs as side prizes.
Regular Season Power Rank
It feels like every new season is prefaced by us saying there's more parity than ever, but that's because it's absolutely true each time. Last season's miracle runs from the Starving Camels and Platinum Heroes, as well as the mirroring setbacks of Shopify and PSISTORM, really drove the point home.
All this makes this version of the power ranking the hardest I've had to do by far. Nevertheless, I relish the challenge, and give you yet another 100% exact prediction of the standings for the World Team League.
#12: Starlight Twinkle

Terran:
段月

Protoss:
Buqun, LittleOzzy, Nice, ReWhite, Starlight, YoungZest, 望夜的星星

Zerg:
Cham, Wayne
Starlight Twinkle ended last season 1-5 after losing ace player Spirit, and they've found something of a replacement in WTL veteran Wayne. With this addition, the team level is probably somewhere between the Spirit-led team of the first half of the last season, and the Spirit-less team of the back half of the summer.
What does that make SLT? Not that bad a team, actually. With Cham, Nice, and Wayne forming the core, they should have a puncher's chance of stealing a point in most matches. Compared to some of the previous seasons' bottom teams (such as iG, Cranky Ducklings, and Team LP), SLT are certainly on a higher level. They're only in last place because
someone
has to be last—the era of designated punching bags in the WTL could very well be over.
Still, the lack of a strong ace is pretty glaring, and their three main players have a history of being hit-or-miss. It's likely that SLT opportunistically takes a handful of points (and maybe even some wins), but they'll need to convert ALL of their chances if they want to avoid a trip back to Code A.
#11: Starving Camels (瘦死骆驼)

Terran:
None

Protoss:
Cyan

Zerg:
Silky, TooDming
It's been a wild ride for the Camels. They went on one of the greatest dark horse runs ever in SC2 team league history, scoring a string of upsets to place 6th in WTL Summer. Then, like many Cinderella teams in other sports, their star player was immediately whisked away. Now that FireFly has joined Platinum Heroes, the Starving Camels must confront the fact that their remaining three players had sub-50% win-rates last season.
Frankly, if it wasn't for the magic of last season, I'd probably have put the Camels in last place. Still, Cyan, Silky, and Toodming have all proved they can bring down much scarier players in the WTL environment, and there still might be some explosive potential remaining. That spares them a last place appraisal, but I fear relegation is still in their future.
I was harshly mistaken in my appraisal of the Camels last season, and was rightfully called out by ToodMing in a
recent interview
(alongside many, many others). This probably should have taught me a lesson, but I'm a Terran main, and everyone knows we don't learn from our defeats. So I'll just make the same prediction and blame it on something else if I'm wrong: SSLT is heading for relegation.
#10: Matcherino Esports

Terran:
Future

Protoss:
arrogfire, Astrea, NightMare

Zerg:
Demi
What an intriguing team Matcherino has assembled for us! The squad of Nightmare, Astrea, Future, and arrogfire are definitely a strong pick to make a top 5 finish—at least for hipster fans who want to impress their friends (or Twitch chat) with their SC2 knowledge. One can certainly see how it could happen. Astrea and Nightmare are big overachievers in WTL compared to individual leagues, Future was once the next big American hope, and arrogfire is a 16-year-old with the most tantalizing trait of all: potential.
Sadly for Matcherino, I'm going to play it safe and use past success as the predictor of future success. Astrea and NightMare might have impressed in previous WTL seasons, but the squad as a whole hasn't proven anything at the WTL Code S level. Even if NightMare and Astrea play well, the third player spot could be a big problem. Maybe everything will go right for this team and they'll make a deep run in the postseason, but I think it's more likely that they'll be left out in a tight playoff race.
#9: Kwangdong Freecs

Terran:
aLive, Keen, TY

Protoss:
Stats

Zerg:
Armani, soO
Who would have thought the Freecs would be a bottom-four team? Yet, as Frank Zappa once sang, "You Are What You Is," and the Freecs are an aging team well past their prime. The Freecs struggled to make it through the qualifiers and Code A, dropping maps against players such as Nanami, SCV, Lemon, Teebul, BattleB, Kas, and Anticore. Overall, it was a humbling performance for a team that might be the best in the league if everyone was in peak form.
Considering the Freecs' collective inactivity, It's hard to tell what kind of shape everyone is in. On paper, Stats and soO are the best two players since they made it through the latest GSL qualifier (TY and Armani were eliminated, Keen and aLive didn't even play), but it's hard to tell how much that means given the amount of bracket luck involved. In the WTL qualifier, the Freecs rotated their line-up heavily, not favoring anyone in particular.
The Freecs are in many ways the antithesis of Matcherino. Where the latter is a group of players who are still growing and looking to test their limits, the Freecs are a team of veterans who are trying to see how far they can get based on the effort they've already put in. It seems clear that the Freecs will be outworked by about everyone in the league, but it's conceivable that they could make the playoffs based on their natural talent and decades of StarCraft experience.
A month ago I would have felt more positively about the Freecs, but after seeing 6-time GSL finalist soO draw against Danish legend Anticore, I can't bring myself to believe in them. I see this season being more of a legends exhibition than a true competition for the Freecs. It would be a nostalgic treat for the fans if they somehow made it to the postseason, but it would take a dramatic return to form from the players.
#8: Shopify Rebellion

Terran:
ByuN

Protoss:
Harstem

Zerg:
Lambo, Scarlett, TLO
ByuN, Scarlett, Lambo, and Harstem were perennial playoff participants until last season, when they felt for the first time what it's like to underachieve in the WTL. It could just be a momentary stepback, as the Rebellion have historically been a team that's greater than the sum of its parts. However, it could also be the case that the league has just become stronger around them and they'll struggle once more with this unchanged roster.
It's not all doom and gloom, as we know what the best-case scenario is for their line-up of grizzled veterans. ByuN can be a strong ace and top five player during the regular season, and all three members of the foreigner cadre are capable of punching above their weight to contribute 14+ map wins in a given season.
Shopify was a sloppy team last season, dropping maps in every single match. There's even fewer 'weak' teams now, which means Shopify are in danger of missing the playoffs again if they don't clean up their play.
#7: Platinum Heroes

Terran:
BabyMarine, Vindicta

Protoss:
ArT, DnS, FireFly, goblin, ShaDoWn

Zerg:
HateMe, Iba
The Platinum Heroes have been on an upward trajectory for the last 12 months, and once again improved the roster during the off-season. While the addition of BabyMarine gave them some additional Terran depth, the news that took the community by storm (ok, maybe just me and three other people, but I cared with the passion of a hundred people) was the signing of the Starving Camels' ace player FireFly. It was the unusual case of "if you
CAN
beat them, join them" as FireFly had eliminated the Heroes in the playoffs.
As a top three Protoss during the summer season, Firefly is one of the most intriguing players of the winter. If he can take yet another step forward, we may have a new star on our hands in the WTL, and the Platinum Heroes' surprise playoff appearance last season could become the new normal.
The arrival of Firefly does pose the question of his place on the lineup. DnS will assuredly keep his place in the starting three, and maybe even ace duty if seniority takes priority. But it's harder to figure out who will be the third option. Goblin, Shadown, and Vindicta all recorded exact 50% win-rates last season (9-9, 7-7, and 4-4 respectively), so the third spot might be handled by committee.
The Heroes still have their weaknesses. They only beat a single playoff team last season (the Camels), and often looked outclassed by the top-tier teams in the league. Firefly gives them the upset potential that they were missing, but it's not enough for me to rank them higher just yet.
#6: PSISTORM Gaming

Terran:
Epic, Spirit

Protoss:
Gerald, MaxPax, MindelVK

Zerg:
Namshar
Last season was a disappointing one for PSISTORM, but not without some bright spots. MaxPax won the best Protoss award (both the official award and the TL.net award) after another excellent season, and his recent performances suggest he'll keep riding that wave of momentum. Also, Spirit proved to be a more than capable replacement for SpeCial when he was acquired mid-season, and now they'll have him on board for a full season.
Still, it feels like the team lacks those 'explosive' players who can create upsets after MaxPax takes his win. Spirit has improved greatly over the last couple of years and became a very consistent player, but he's not what you'd call a wild card. While Gerald has scored some big upsets for PSISTORM in the past, it's hard to see him stealing maps off the very best players in the league.
Thus, while PSISTORM should be able to take care of business against the bottom-half teams and make the playoffs, things will be much more difficult when they face the true championship contenders.
#5: Mystery Gaming

Terran:
Augety, Bunny, KingSlayeR, NaXin, Oriana

Protoss:
JoliwaLoves, Nanami, SCV, Strange

Zerg:
SHIN (RagnaroK)
I'm giving Code A champions Mystery Gaming a slight edge over PSISTORM Gaming. Neither Bunny nor Ragnarok (going for the ballsy 12 years rebranding into "SHIN") looked especially good in the last few months of Starcraft, but both have proven in the past that they can be deadly WTL players (Bunny for KaiZi & Team NV; RagnaroK for Alpha X). If the duo can play at their highest level, they could very well carry a team deep into the playoffs.
The third player spot is a big question mark, but Strange did look promising in the qualifiers and Code A with a 9-5 record (including wins over Future and Classic). If he can somehow keep up that level of play, Mystery Gaming could even hope to break into the top 3.
#4: Team Liquid

Terran:
Clem, Kelazhur

Protoss:
MaNa, SKillous

Zerg:
Elazer
After years of struggling, Team Liquid found the magic formula for success last season. The addition of SKillous as a solid third player was very important, but the biggest factor was Clem finally playing like the super-ace player we know he can be.
Of course, I can't discount the possibility that Liquid will revert back to being WTL underachievers, but I believe they've turned over a new leaf. SKillous, Elazer, and Clem are all playing good StarCraft at the moment (even Kelazhur and MaNa have been playing well in weekly cups), and momentum is on TL's side.
For TL the focus should be on taking the next step into becoming a true championship contender, which starts by making sure they line up their best players as often as they can.
#3: Dragon KaiZi Gaming

Terran:
Oliveira

Protoss:
herO, Jieshi

Zerg:
Dark, F91, Xiaose
Dragon KaiZi Gaming must feel like they are getting left by the wayside. After dominating the league for years, the newly arrived ONSYDE and BASILISK have usurped their place as the heavyweights of the league. herO, Oliveira, and Dark still form a formidable trio (although Dark is bound to be called into the army one day or the other), which is maybe on paper the best in the league. However, this season begins at an awkward time for the roster, with herO slumping severely in major tournaments while Oliveira's dedication to StarCraft II is in question. Also, we tend to see an awful lot of Jieshi in the regular season. That hasn't come to bite DKZ in the behind just yet, but it could be a problem if any of their core players suffer a dip in form (thankfully, herO has remained quite strong in the WTL).
For DKZ, it all boils down to whether or not they can beat BASILISK and ONSYDE Gaming. Their big three could absolutely win with the right match-ups, but they could also get completely crushed if the stars don't align.
#2: ONSYDE Gaming

Terran:
Maru, Ryung

Protoss:
CranK

Zerg:
Solar
Defending champion ONSYDE enters their third WTL season looking as good as ever. Last season went even better than expected, with Ryung playing like the best third option in the entire league (he could easily have been the ace for a mid-table team).
Overall, ONSYDE is the most well-rounded and balanced team in the WTL. We should expect more of what we saw last season: a team that efficiently takes care of business against the weaker and mid-range teams and also picks apart their fellow championship contenders by exploiting the holes in their line-ups.
ONSYDE are the reigning champions of the WTL, and fans have every reason to believe they'll defend their title. And yet, I still have to give the #1 spot in the Power Rank to the team they beat in last season's final.
#1: BASILISK

Terran:
None

Protoss:
RotterdaM, trigger

Zerg:
Reynor, Serral
Yep, despite ONSYDE ending BASILISK's undefeated streak in the grand final, I still see the Serral-led squad as the top dog of the WTL. All credit to Solar for ending the BASILISK rampage with a heroic showing in the finals, but I feel like a lot of fans would still pick BASILISK to win if we ran the finals back with the same line-ups.
I have to admit I was secretly a bit scared that BASILISK would show up this season with GuMiho or HeroMarine as their third player, so for the sake of competitiveness, I'm happy they've brought back the same roster.
With trigger still finding his footing in the WTL, Serral and Reynor will have to make sure to bring their A-games. Serral recorded an insane 23-1 record last season—the only thing crazier is that it seems perfectly reasonable for him to do it again given his current form. Reynor was a lot less convincing compared to his Gamers8 champion reputation, and his unreliability in the WTL is now a well-established meme. However, he's still an amazing player to have as a #2 option, and he would make BASILISK runaway favorites to win the championship if he finally gets over his WTL jinx.
Ultimately, the appraisal of BASILISK hasn't changed much since we last ranked the teams. They were #1 in the last Power Rank by a small margin, and we knew that a championship was hardly assured. So, once again: BASILISK are the strongest WTL team headed into the season, but they'll have to play their best StarCraft to win their first championship.
Preview: Regular Season Week 1
Keeping up with our new age of parity in the WTL, the opening week promises a lot of close matches with the underdogs having a chance to send a message early on.
Friday, Sep 29 12:00pm GMT (GMT+00:00) Matches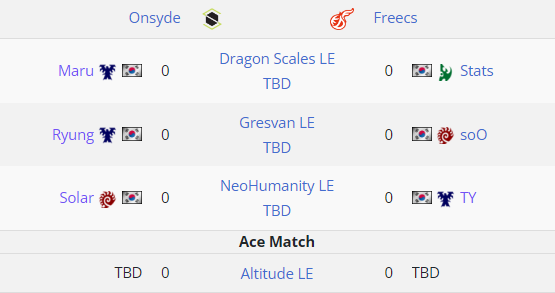 We have an all-Korean all-Star match to kick things off, with the players having a combined 40 or so offline finals in Korea between them.
Stats is one of the very few StarCraft 2 players who
holds a career positive win rate against Maru (44-38 record)
*Correction: has a close career record against Maru at 38-44
, but they are at two very different points in their careers. Maru has conquered the Korean region and appears to have no domestic rivals, whereas Stats is still going through the rough readjustment period of a military returnee. Even worse, PvT seems to be his worst match-up at the moment with a 9-15 record since his return. On the positive side, he did go 4-0 against Ryung in the latest GSL qualifier, so maybe he's been making some breakthroughs behind the scenes. Still, at the end of the day, no one expects him to threaten Maru just yet.
Ryung vs soO is a much more even match-up, with the two players having fairly even records against each other in their post-military careers. However, things could be very different in the WTL, where Ryung has constantly punched above his weight class and played like a true ace. As for soO, it's been a while since he last played in the WTL, but he did manage to put up a solid 11-9 record in the 2022 Summer season. Ryung is at a slight disadvantage due to playing his worst match-up of TvZ, but all-ins and prepared builds have masked this weakness well in the WTL. I sense a 1-1, but Ryung is a different kind of beast in the WTL, so maybe he can take the sweep if he catches soO off guard with some all-ins.
Unfortunately for the Freecs, it doesn't seem very likely that TY will strategize his way to a win versus Solar. His TvZ has looked rough since the end of his military service, only beating three players (Scarlett, Armani, and DIMAGA). Even if TY leads 27-25 in series historically, he's a long way off from being an equal to Solar again.
On the whole, defending champion Onsyde are a big favorite. It's a brutal checkup match for the Freecs, but perhaps we'll get a glimpse of their veteran know-how.
Prediction: Onsyde 5-1 Freecs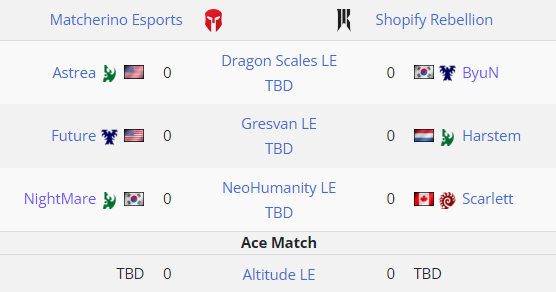 Newcomers Matcherino take on the old guard of Shopify in the first chapter on what projects to be a hard-fought playoff race.
Shopify have the edge in the opening match, as ByuN is 7-1 against Astrea in 2023 and is looking stellar with a 12-match win streak in TvP. The upside for Astrea is that only a single of his losses to ByuN was a sweep, so he's more than capable of getting a 1-1 draw.
Future and Harstem's head to head match history is very sparse, which is a bit surprising since both players have been very active in the last few months. For all it's worth their results are looking comparable, even with Future playing mostly in the America-Korean scene and Harstem mostly sticking to European events. A 1-1 seems to be the most likely end to the situation.
NightMare and Scarlett close out the first day of the competition. Zergs were Nightmare's biggest problem last season when he played for ABYDOS, but he always came up big when his team needed him the most. Scarlett has been up and down in the WTL, but even a good version of Scarlett is someone NightMare could reasonably beat.
Shopify have the advantage if this goes to an ace, as there's probably no better collection of ace candidates for ByuN to face.
Prediction: Matcherino Esport 3-4 Shopify Rebellion
Saturday, Sep 30 12:00pm GMT (GMT+00:00) Matches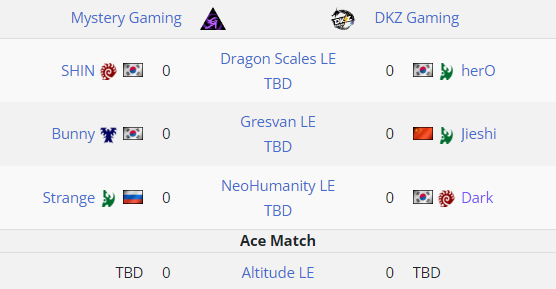 Mystery Gaming have an early shot to establish themselves as a top team as they take on a time-less (get it?) DKZ squad looking to retake their old place atop the WTL.
Sadly, the gods of Starcraft were not kind to Mystery Gaming. herO is a terrible draw for SHIN, with the player formerly known as Ragnarok having only won 1 of their 12 last matches. Bunny getting Jieshi is not much better, as Mystery really needed to match Bunny against the two stronger players on DKZ to have a chance at the upset. Strange not getting any of the two PvP means he's consigned to a duel against Dark, which bodes rather poorly for the WTL newcomer.
It could have been a very close match, but match-up luck favors DKZ too heavily.
Prediction: Mystery Gaming 1-5 DKZ Gaming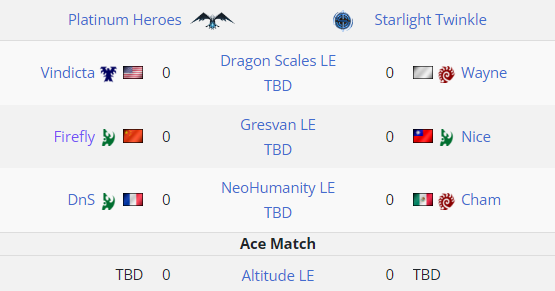 TL.net's 12th-ranked Starlight Twinkle have a chance to make us look silly in their opening match against Platinum Heroes. All three matches seem to be up for grabs for the two teams, with a slight edge for Wayne and DnS in their respective duels.
Firefly vs Nice is a key match to watch, as we look to see if his fireworks on Starving Camels were just an anomaly or a true indicator of his level.
Until proven wrong, I chose to keep a first class seat on the Firefly hype-train. I'm picking him not only to beat Nice 2-0, but also pick up the slack and win the ace match if needed.
Prediction: Platinum Heroes 4-3 Starlight Twinkle
Sunday, Oct 01 12:00pm GMT (GMT+00:00) Matches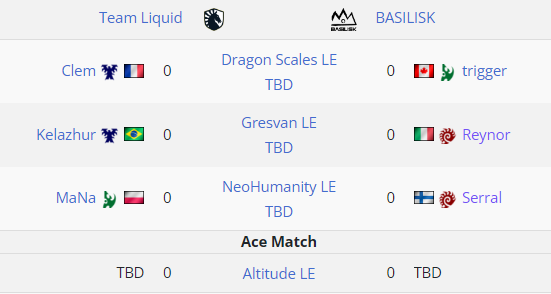 For the second straight season, the fans hit the 1/3rd low-roll where we don't get to see Clem versus Reynor or Serral. Not only that, but both Elazer and Skillous are on the bench, meaning this could be an easy three points for BASILISK. The only thing keeping this within reach of TL is the chance of 50/50 Reynor showing up. In that case, we might get that Serral vs Clem ace match everyone wants.
Prediction: Team Liquid 2-4 Basilisk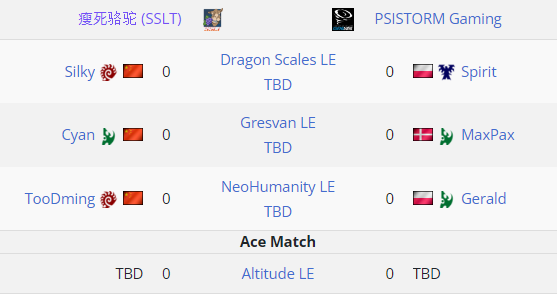 The Camels would really want to have a certain bioluminescent bug right about now! But sadly, FireFly is long gone, and victory seems just barely out of reach for last season's miracle makers.
Spirit-Silky is the key matchup for SSLT. Silky had a remarkable ZvT outing last season against ByuN, a match that ended up being the deciding factor in SSLT inching out SR for the playoffs. While it's clear that it was an unlikely result for Silky, it means a lot that he did it at least once in a critical match. We can't just write him off against the PSISTORM Terran
MaxPax may just be the best PvP player Starcraft 2 has ever seen, and all the ''pvp is a coinflip'' talk can be thrown out of the window when the Dane is playing. Not only is MaxPax 19-1 in his last 20 mirrors, but he's also posting an 89% map win rate over this period. Cyan did sneak in a 1-1 last season before losing the ace, but a 2-0 is still by far the most likely outcome.
If Spirit and MaxPax cannot secure the win by that point, it will be on Gerald to take care of business against Toodming. I put Gerald as a slight favorite in the match, but Toodming was surprisingly lethal against protoss last season, scoring a 6-2 record in the match-up. Still, I predict a 1-1 should be all Psistorm and Gerald would need at this point in the match.
Prediction: SSLT 1-5 Psistorm Gaming
---
Credits and acknowledgements

Writer: Nakajin
Editor: Wax
Stats: Aligulac.com & Liquipedia
Images: SCBoy