+ Show Spoiler [Click to show group stage results] +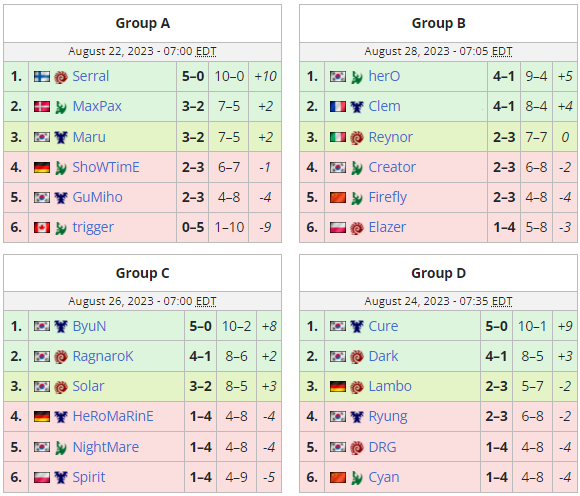 Serral claimed the third major championship of his supercharged summer, defeating Cure 4-1 in the grand finals of Master's Coliseum 6. The Finnish Phenom's dominant finals performance was a bookend to his similarly imperious start in the tournament, where he had crushed his round-of-24 group with a perfect 10-0 record.

Serral impressed in particular by ripping through Korea's formidable Terran contingent at Master's Coliseum. Not only did he defeat Cure in the finals, but he also defeated ByuN (3-1), and Maru (3-0, 2-0) in similarly one-sided matches along the way. Overwhelming macro and late-game army control were key to Serral's victories, but he also showed considerable strategic variety. In particular, his Roach play with a late third base seemed to scare his opponents off of using the trendy 2-Barracks Reaper openers—we may see more TvZ meta shifts in the coming weeks.

Zerg vs Zerg—which had been Serral's Achilles' heel in recent events—was at least temporarily overcome, as Serral defeated both Lambo and Dark in BO5 series. Luckily for Serral, Solar—who had handed him painful defeats in Gamers8 and World Team League—was luckily eliminated on the opposite side of the bracket.

Altogether, Serral put up a combined 11-1 match record with a 30-6 map score, reinforcing his current reputation as the best player in the world. His only misstep was against long-time foe Clem, who sent Serral to the losers' bracket with a 3-2 victory in the first round of the playoffs. Unfortunately for Clem, his historical strength against Serral was balanced out by one of his long-standing weaknesses, as he was eliminated 3-0 by Maru in his problem match-up of TvT.

Overall, Serral's Master's Coliseum run encapsulated his incredible present form. It's arguably his second highest peak since his initial 2018 breakthrough, with ZvZ being the only match-up coming between him and almost inevitable championships. With the international circuit quieting down for the next couple of months, fans and progamers will have to wait and see if Serral's momentum can carry over all the way to DreamHack: Atlanta.


---
Finals Recap



Game 1 - Dragon Scales (Cure win): Cure opened proxy 2-Barracks, and he successfully used Reapers to keep Serral's economy in check. Hellion and Battlecruiser follow-ups kept Serral on the back foot, allowing Cure to build up a powerful economic base for bio play. Cure went into a mass Marine-Marauder style, playing aggressively and never letting Serral regain his balance. Around the 11-minute mark, Cure attacked with a bio army Serral simply couldn't handle, forcing him to concede.

Game 2 - Altitude (Serral win): Game two was a late-game masterclass from Serral as he dismantled Cure's mech with fantastic spellcaster usage.

The early/mid-game stages didn't go smoothly, as Cure used effective speed-Banshee harassment to set up his mech play from an advantageous position. However, Serral managed to hold the line at four bases, slowly accruing the Infestors and Vipers needed to tackle the mech forces head on.

From there, Serral grinded his way to victory with patient and meticulous play. He gave up territory where needed, eluding the slow mech army while launching constant backdoor attacks. When he did fight, it was with an overwhelming Brood Lord + spellcaster force, which absolutely crushed the Thor-centric Cure. After a 26-minute slog, the war of attrition was finally won and Serral received Cure's surrender.

Game 3 - Babylon (Serral win): Cure opened up with a sneaky Hellbat + Marauder timing, which came close to dealing Serral a major blow. However, Serral was able to take a fighting position with his Queens in a wide arc, and ultimately stopped Cure's forces before they could get any vital Drone kills.

Cure put in a valiant effort to play out a macro game from there, but his early disadvantage was too severe to overcome. A stylish but disastrous mass Zergling drop from Serral gave Cure a slight reprieve, but it wasn't enough to change the overall flow of the game. An overwhelming Zerg tide swept over Cure, forcing another GG.

Game 4 - Gresvan (Serral win): Cure went for his most conventional macro-oriented start to the series, while Serral gave things a minor twist by playing a Muta-Ling-Bane style. Cure's initial Marine-Tank push had some success, picking off one of Serral's outer bases and forcing him to play defensively.

Often, Terran having the initiative on Gresvan sets up a 50/50 map split. However, Serral was able to impede Cure with timely counterattacks and delaying tactics on defense, and ended up taking his own half of the map before Cure could fully entrench himself.

Cure still posed a threat with his maxed out army, but Serral countered the Ghost-heavy force with Hydra-Ling-Viper-Bane. Cure simply couldn't find any kind of winning engagement in the field, and was eventually swarmed over by Serral's constant attacks.

Game 5 - NeoHumanity (Serral win): Neither side began with anything particularly tricky on the massive NeoHumanity, setting themselves up for a macro war after some token early harassment. Serral teched up quickly to Brood Lords to try and catch Cure off guard, but the move backfired when he pushed too deep into enemy territory and lost a good chunk of his army. Cure initiated a threatening counterattack, but the defender's advantage favored Serral this time and the two players ended up settling into a late-game standoff.

In a recurring trend from some of Serral's prior ZvT matches, he seized victory off of one fantastic engagement. Catching Cure's Marine-Marauder-Ghost force walking too far forward, Serral landed two huge enormous Fungal-Baneling combinations that deleted the Terran units, prompting the final GG soon.