World Team League - 2022 Winter Season
by: Wax
There are only two rounds of play left in the WTL regular season, but the final standings are still far from certain. Whether it's the #1 seed, a slot in the playoffs, or safety from relegation, there's still plenty to fight for in the last two weeks.
Week 10 features two upper-table matches in Shopify Rebellion vs Alpha X and ONSYDE vs PSISTORM. Not only will these matches heavily affect seeding in the playoff gauntlet, but they'll also help decide who comes out with the #1 seed in the regular season.
Week 9 Results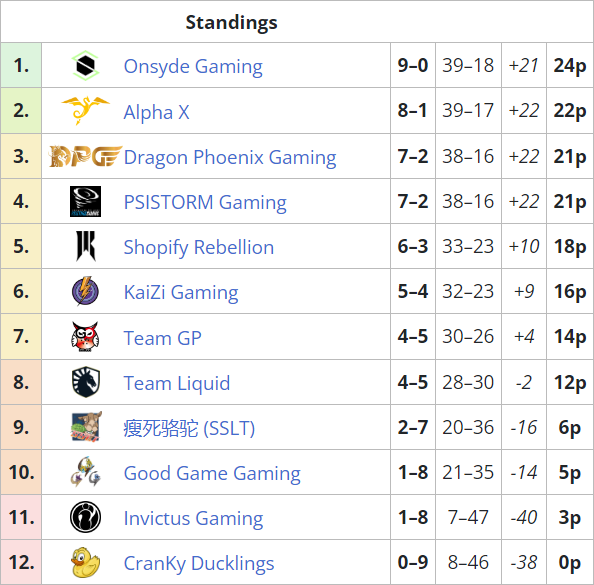 Top 7 teams qualify for the playoffs, bottom 2 teams must requalify.
Points are awarded as follows:

3 points for a victory in a series that does not require an ace match

2 points for a victory in a series that requires an ace-match

1 point for a loss in a series that requires an ace-match

0 points for a loss in a series that does not require an ace match
CranKy Ducklings 0 - 6 Dragon Phoenix Gaming
Watch VOD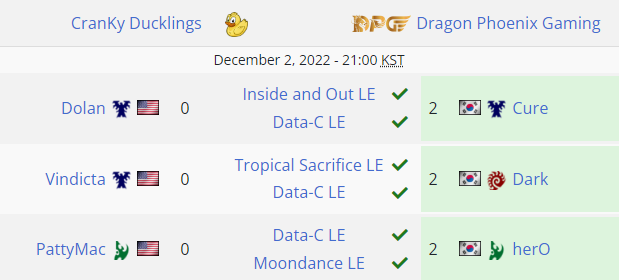 DPG got the expected result with their overkill line-up against the Ducklings, grabbing the maximum map points possible in a 6-0 win.
DPG.Cure
got the ball rolling on Inside and Out, overpowering
CranKy.Dolan
in mid-game Marine-Tank combat. Dolan put up a good fight in game two on Data-C, overcoming an early deficit with a big drop into Cure's main. However, Cure stabilized before things got out of control and eventually won another Marine-Tank macro game.
DPG.Dark
took his first win against
CranKy.Vindicta
with his signature aggressive style, forcing a GG with a fast Roach-Ravager all-in despite getting SCV scouted. Dark chose to play the next game on Data-C in a more conventional fashion, which gave Vindicta a chance to actually play some StarCraft. The American Terran put up a respectable fight for around 16 minutes but was eventually overwhelmed by Dark's multi-directional attacks.
Finally,
DPG.herO
brought things to a close with a 2-0 over
CranKy.PattyMac
. herO held off a one-base Blink-Stalker all-in to win the first game, and then turned the tables on PattyMac to win with his own one-base all-in in game two.
PSISTORM Gaming 5 - 1 Shopify Rebellion
Watch VOD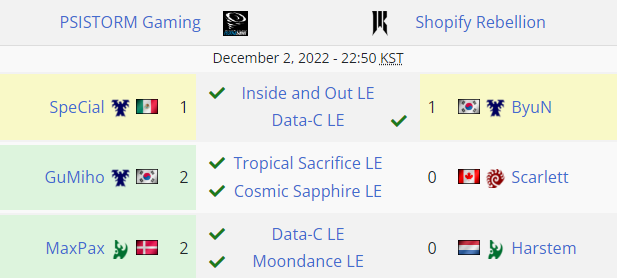 PSISTORM.SpeCial
set the tone for his team in the first game, taking down opposing ace player
SR.ByuN
on Inside and Out. SpeCial was able to play his sky-mech style without facing significant interference from ByuN, and eventually his high value BC-Tank-Viking army ran over the opposing bio force. ByuN rectified his mistake in game two on Data-C, breaking through SpeCial's defenses before he could get fully settled in with his mech style.
Next up was
PSISTORM.GuMiho
, who gave his team the lead by defeating
SR.Scarlett
with a two-base Marine-Tank push on Tropical Sacrifice. Changing the map to Cosmic Sapphire didn't change Scarlett's fortunes, as she fell to GuMiho's fast Battlecruisers followed by a mech push.
Closer
PSISTORM.MaxPax
concluded the series with another 2-0 against
SR.Harstem.
The Dutch Protoss seemed to have the lead in game one after winning a mid-game Stalker battle, but had to GG out after falling victim to the common WTL tactic of 'random backdoor DT's.' MaxPax then got his second win by holding off a one-base Stalker all-in from Harstem.
瘦死骆驼 (SSLT) 2 - 4 ONSYDE Gaming
Watch VOD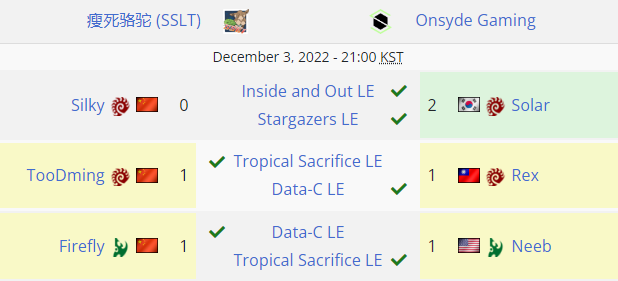 OG.Solar
started the day with a quick 2-0 of
SSLT.Silky
. He took the first game on Inside and Out with a 3-base Roach-Bane-Ling all-in, and then won on Stargazers with a solid scout-and-defend against Silky's Nydus all-in.
The parade of ZvZ all-ins continued into the next series, with
SSLT.ToodMing
opening with a fast Ling-Bane strike against
OG.Rex
on Tropical Sacrifice. While ToodMing wasn't able to win outright, he dealt enough damage to win with Roaches later. ToodMing went for more Ling-Bane aggression on Data-C—this time at a later timing—but was forced to concede the match after Rex survived until he had Roaches.
OG.Neeb
came close to clinching the series on Data-C after he took a mid-game lead against
SSLT.Firefly
, but was forced to wait a game longer as he gave up a comeback loss after suffering multiple backdoor Dark Templar attacks. The American Protoss finished the job successfully on Tropical Sacrifice, holding off a Blink-Stalker strike and then counter-attacking with overwhelming force.
Invictus Gaming 0 - 6 Team Liquid
Watch VOD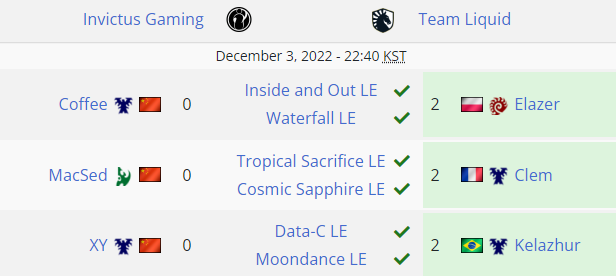 TL's late-season mission to make the playoffs got off to a good start as they took a convincing 6-0 win over Invictus Gaming.
Liquid`Elazer
took the first 2-0 over
iG.Coffee
, first winning a macro-style game on Inside and Out and then successfully defending against a Hellbat-Marauder timing on Waterfall.
Liquid`Clem
then locked in the full three points for Liquid with his own 2-0 over
iG.MacSed
, using fast Marine-Tank pushes to win consecutive games on Tropical Sacrifice and Cosmic Sapphire.
TL then maximized its map points earned with
Liquid`Kelazhur
getting a final 2-0 against
iG.XY
. The first game on Data-C turned into a Marine-Tank war often seen on the map, with Kelazhur clinically snowballing a small lead into a victory thanks to decisive drop in the opponent's main. The final map of Moondance delivered the most entertaining game of the entire series, with the two players attacking and counter-attacking in rapid succession. The scrappy brawl ultimately went Kelazhur's way as he was just a bit quicker on the trigger in the game-deciding base trade.
Alpha X 5 - 1 Good Game Gaming
Watch VOD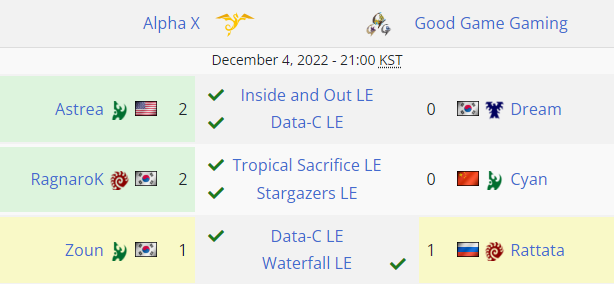 αX.Astrea
put his team ahead to start the match with a 2-0 against
GGG.Dream
. Game one on Inside and Out saw a Hellion drop go up against a DT drop in the early game, resulting in Astrea coming out ahead in the worker exchange. Dream responded by going for broke with a two-base Marine-Tank push, but Astrea won after holding off the attack. Astrea then took another win on Data-C, whittling away at Dream with Stalkers and DT's in the early-game before winning with a superior mid-game army.
It didn't take long for Alpha X to lock in a victory as
αX.RagnaroK
took care of business against
GGG.Cyan
with a quick 2-0. Game one on Tropical Sacrifice ended in under eight minutes due to RagnaroK's Roach-Ravager-Ling-Queen all-in (aided by speed Overlords), while game two on Stargazers was ended by an even faster Roach-Ravager-Ling attack.
αX.Zoun
and
GGG.Rattata
proceeded to then split the final series. Zoun went for a more passive, late-game oriented style in game one on Data-C, and eventually won after deflecting Rattata's Lair-tech attacks. However his attempt at playing a more mid-game focused strategy with mass Archons and chargelots didn't work out in game two, as Rattata won the contest of brute force with Roach-Ravager-Ling.
Team GP 1 - KaiZi Gaming
Watch VOD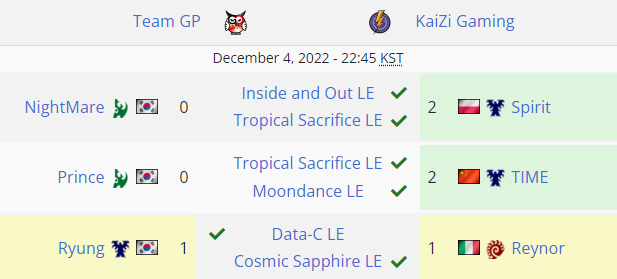 The series began with an extremely messy bout between
GP.NightMare
and
KZ.Spirit
on Inside and Out, with Adepts, Blink-Stalkers, Hellion drops, and Auto-turrets factoring into a hectic early-game. Spirit gained an economic lead in these exchanges (his proxy Hellion drop being the key), and he was able to take a 14-minute win with a superior bio force. The next game on Tropical Sacrifice was even more chaotic, with a base trade at the 12-minute mark forcing a semi-reset in the middle of the match. Spirit's focus on economy allowed him to take the advantage in the rebuilding phase, and he was able to win after coming out ahead in the
second
major base trade of the game.
KZ.TIME
then came in and took the burden off Reynor's shoulders, winning 2-0 over
GP.Prince
to seal the victory and three points. The first clash on Tropical Sacrifice was a very close macro battle for the most of the game, but Prince fell apart when TIME forced a semi-base trade with a drop into the Protoss main. Prince couldn't clean up the drop quickly, nor could he deal enough damage to the Terran on the other side of the map, and eventually had to GG out due to his production capabilities being hamstrung. TIME got an easier win on Moondance, holding off Prince's 2-base Chargelot all-in before strolling to victory.
The week ended with
KZ.Reynor
and
GP.Ryung
tying the last series. The two started off by fighting it out in a very close match on Data-C, which ended in a Ryung win after Reynor deployed the infamous 'ultras-into-lose' strategy. Reynor adjusted on Cosmic Sapphire by playing mass Hydra-Bane-Viper, which he used to control the game before finishing Ryung with Lurkers.
This week's MVP award goes to
GuMiho
for helping PSISTORM Gaming stay ahead of Shopify Rebellion with a solid 2-0 over
SR.Scarlett.
Other candidates considered included
αX.Astrea
for his 2-0 over
GGG.Dream
and
KZ.Spirit
for his 2-0 win against
GP.NightMare
.
Weekly MVP's:
Week 1: OG.Solar

Week 2: GP.Cham

Week 3: OG.Neeb

Week 4: OG.Maru

Week 5: SR.ByuN

Week 6: DPG.Dark

Week 7: αX.Astrea

Week 8: OG.Maru

Week 9: PSISTORM.GuMiho
Week 10 Preview
Friday, Dec 09 12:00pm GMT (GMT+00:00) Matches
Dragon Phoenix Gaming vs Team GP

Dark
< Moondance >

Ryung

herO
< Data-C >

Cham

Cure
< Cosmic Sapphire >

NightMare
Ace Match:
< Tropical Sacrifice >
Yet again, I'm perplexed by DPG's roster decision to play Jieshi during their more difficult first half of the season, and then play their full-strength line-up when the schedule eased up in the second half. Whatever the reason, it's bad news for Team GP, who are watching their chances of reaching the playoffs slip away.
With different match-ups, I might have been able to talk myself into a repeat of the 2021 Winter miracle, when Cham led Team GP to a crazy 4-3 upset over DPG. However, with Ryung drawing Dark's best match-up of ZvT and Cham facing herO's world-best PvZ, I don't think there's any hope this time around.
Prediction: Dragon Phoenix Gaming 5
- 1 Team GP
Invictus Gaming vs KaiZi Gaming

Coffee
< Moondance >

Spirit

MacSed
< Data-C >

Reynor

XY
< Cosmic Sapphire >

TIME
Ace Match:
< Tropical Sacrifice >
It's been an overall disappointing season for KaiZi Gaming, but they're finally reaching a respectable place in the standings due to the easier matches they had 'banked' toward the end of their schedule. While KaiZi can technically lose out on a playoff spot, realistically they're already locked in while Liquid and Team GP have been left to contest the final postseason ticket.
For me, this is just a check-up on the form of KZ's players ahead of their final regular season match against DPG and the playoffs to come after that. Spirit and TIME have played at around their expected levels, and I expect them to win their matches here. Bizarrely enough, it's actually Reynor who worries me the most. He has been playing very poorly by his standards this season, giving up several 1-1 ties to weaker opponents. Another 1-1 tie against MacSed wouldn't shock me at all.
Prediction: KaiZi Gaming 5
- 1 Invictus Gaming
Saturday, Dec 10 12:00pm GMT (GMT+00:00) Matches
Good Game Gaming vs CranKy Ducklings

Nice
< Moondance >

PattyMac

Dream
< Data-C >

Dolan

Rattata
< Cosmic Sapphire >

Vindicta
Ace Match:
< Tropical Sacrifice >
There are still some stakes to play for in this bottom-table match, with GGG not yet safe from relegation while CranKy Ducklings are looking to get their first win of the season. GGG are definitely the stronger team on paper, but the individual Ducklings have shown enough instances of good play to make me believe they could put in a Platinum Heroes-esque performance and grind out an upset victory.
The double-mirror to start certainly helps the Ducklings' chances, as it opens up possibilities for infamous North American clownery™. Vindicta has a decent chance to get a 1-1 or better against Rattata as well, with Cosmic Sapphire being a good battleground to try and play a defensive style (possibly mech) against the aggressive Zerg.
Prediction: Good Game Gaming 4
- 2 CranKy Ducklings
Shopify Rebellion vs Alpha X

Lambo
< Inside and Out>

Zoun

ByuN
< Tropical Sacrifice >

RagnaroK

Harstem
< Data-C >

Astrea
Ace Match:
< Stargazers >
There's plenty to play for in this match, with Alpha X still in the hunt for first place while Shopify need to secure as high a playoff seed as possible. Fortunately for the viewers, the match-ups seem to have broken very evenly across the board, and we might see this end in a deciding ace match.
Zoun has shown great mid/late-game ZvP in his recent matches, which makes me wonder what approach Lambo will take to this match. If I had to guess, he'll lean heavily on his arsenal of all-ins that can hit at various points in the game.
ByuN is in better TvZ form lately than RagnaroK, but I'm still high enough on RagnaroK to think this is headed toward a draw. A 1-1 seems to be the likely result for Astrea and Harstem as well, given the vagaries of PvP.
The presumptive ace for Shopify would be ByuN, while Alpha X could plausibly go with any of their players. With RagnaroK struggling a little in TvZ as of late, one of the Protosses seems like the better option (especially with Zoun taking down ByuN 3-0 recently at DreamHack Atlanta). While any ace match should be close, I'll give ByuN the slight edge due to the map being Stargazers.
Prediction: Shopify Rebellion 4
- 3 Alpha X
Sunday, Dec 11 12:00pm GMT (GMT+00:00) Matches
Team Liquid vs 瘦死骆驼 (SSLT)

Clem
< Moondance >

Firefly

MaNa
< Data-C >

ToodMing

Elazer
< Cosmic Sapphire >

Silky
Ace Match:
< Tropical Sacrifice >
Who would have thought that with two weeks to go, SSLT would be
mostly
safe from relegation? The team has punched above its weight class all season, and it seems very likely they'll finish in the safe zone above 11th place. While there's nothing else SSLT can really gain now (the playoffs are impossible), they could still throw a spanner into the works for Team Liquid. TL are just two points behind Team GP, and they need to take every map-win possible ahead of a potential final-week tiebreaker for the last playoff spot.
While Liquid's players have underperformed this season, they looked great against iG last week as they took a complete 6-0 victory. If they can play at that level again, they should get a 6-0 or 5-1 win as Elazer and Clem are heavily favored on paper. On the other hand, Firefly has been on a crazy heater this season, going 1-1 or better in nine out of ten weeks (only losing 0-2 to TIME). With so much of Liquid's success hinging on Clem, things could get very dicey for Liquid if Firefly gets another 1-1 here.
Still, between the three TL players, I think at least one of them will get the 2-0 needed to get the full three points.
Prediction: Liquid 4
- 2 SSLT
ONSYDE Gaming vs PSISTORM Gaming

Maru
< Moondance >

MaxPax

Neeb
< Data-C >

GuMiho

Solar
< Cosmic Sapphire >

Has
Ace Match:
< Tropical Sacrifice >
ONSYDE hold the #1 spot with a perfect 9-0 record, with DPG, Alpha X, and PSISTORM in striking distance with two rounds left to play. They seem to have a good chance of holding onto the #1 spot for at least another week, with the matchups against PSISTORM Gaming looking quite favorable.
MaxPax might be one of the world's best Protoss players in cup and WTL settings, but Maru is the best Terran player in the world, bar-none. It's rare that I pick an ace vs ace match to end in a 2-0, but I think Maru is so overwhelmingly strong that it's the likely result.
Neeb vs GuMiho is a big swing match, which could be the difference between ONSYDE winning handily or being pushed to the verge of defeat. Neeb has maintained a fairly high level of play despite reducing his practice due to college, but it's anyone's guess as to how long he can keep it up. While I'd love for him to keep playing at an NA-champion level, I worry that the lack of practice could catch up to him at a critical juncture (like, right now). GuMiho's form fluctuates heavily from match to match, and there's now a new variable for him in the form of worsened hand/wrist health. He's had some wrist pain in the past, but he revealed that things had gotten worse after showing up in the GSL studio with all of his fingers taped up. I like GuMiho to win here if he's at 100%, but any outcome seems plausible.
The final match has an element of unpredictability to it as well, thanks to infamous cheeser Has. The Taiwanese Protoss got a 2-0 over Vindicta in his debut for PSISTORM, but we've seen him play a very limited number of matches against Code S-tier players in 2022. Solar is obviously the favorite due to his good form in the last few weeks, but I'll definitely be keeping an eye out for trickery from Has.
Prediction: ONSYDE Gaming 5
- 1 PSISTORM Gaming
---
Credits and acknowledgements

Writer: Wax
Stats: Aligulac.com & Liquipedia
Images: SCBoy