Serral wins TSL 9
Goes through Reynor, ShoWTimE, and Maru to win title in Utrecht
Brackets and standings on

Liquipedia
VODs on
YouTube
Some VODs pending upload
Serral wins TeamLiquid Starleague 9
by Wax
Team Liquid Starleague
has historically been a Korean dominated event, with players from StarCraft's adopted homeland winning every event from TSL4 to TSL8 (2012-2021). However, a change of scenery helped to change all that, as the Finnish Phenom

Serral
dominated all-comers to lift the TSL9 trophy at the live finals in the Netherlands. After taking down Solar, Clem, and GuMiho in the online rounds, Serral continued his rampage at TeamLiquid's
Alienware Training Facility
by mowing through an even more formidable trio of Reynor, ShoWTimE, and Maru. Overall, Serral ended TSL9 with a 6W-0L record in series and imposing 16W-4L record in maps (80% win-rate).
Serral's grand finals match against

Maru
was the culmination of years of anticipation, as they had never faced each other in an offline finals despite being two of StarCraft II's best players since 2018. However, if every single StarCraft II fan in the world had looked forward to this match, then it was only Serral's fans who got what they wanted—the Team ENCE Zerg dominated Maru, winning by a comfortable 4-1 score (starting with a 1-map upper bracket advantage).
Maru had demonstrated his infamous defensive capabilities against Reynor earlier on in the bracket, winning a series-clinching game five with his turtling mech style. However, Serral simply did not tolerate Maru's attempts to roll up into a protective shell, overwhelming him with waves of Hydralisks, Zerglings, and Banelings before the Terran player could get entrenched. To Maru's credit, he held out for much longer than any other Terran would have, but he was never able to stabilize into a solid defensive position. The silver lining for Maru fans was that he still found success with his other signature strategy in the 2-Barracks Bunker rush, using it to win his only map of the finals.
On paper, Serral's 4-1 victory over Maru was certainly his most impressive result of TSL9. However, the lasting, legend-making moment of the tournament actually came in the prior upper-bracket finals against

ShoWTimE
. On the verge of suffering a 0-4 sweep,
Die Mauer
fought tenaciously on Stargazers to overcome an early deficit and take a commanding lead over Serral in the late-game. But as it turned out, he had only set the table for an even more improbable comeback victory for Serral. After stalling out the Golden Armada and finally getting the Protoss bank to run dry, Serral used burrowed Infestors and Neural Parasite to win in one of the most
absurd finishing sequences in pro-SC2 history
.
Serral's long-time European rival

Reynor
was the one who gave him his stiffest challenge, narrowly losing 2-3 in the upper-bracket semifinals. The Impish Italian even dared to play Protoss on the first map of Stargazers (apparently one of his most hated maps for ZvZ), but didn't get much of a chance to show his skills as he lost to an unscouted Nydus from Serral. Reynor switched back to Zerg for the rest of the matches, ending up losing 2-3. Obviously, hindsight is 20/20, but one must wonder what would have happened if Reynor had played Zerg all the way.
Although Serral came into TSL 9 as the
HomeStory Cup 21
champion and one of the top title contenders, there were still some lingering questions about his form due to group stage losses he gave up to GuMiho and ShoWTimE, as well as his earlier under-the-cut finish in
DreamHack: Europe
. Now, after he's made such an imperious run to win his second major title of the summer, Serral looks to be definitively on top of the StarCraft II world again.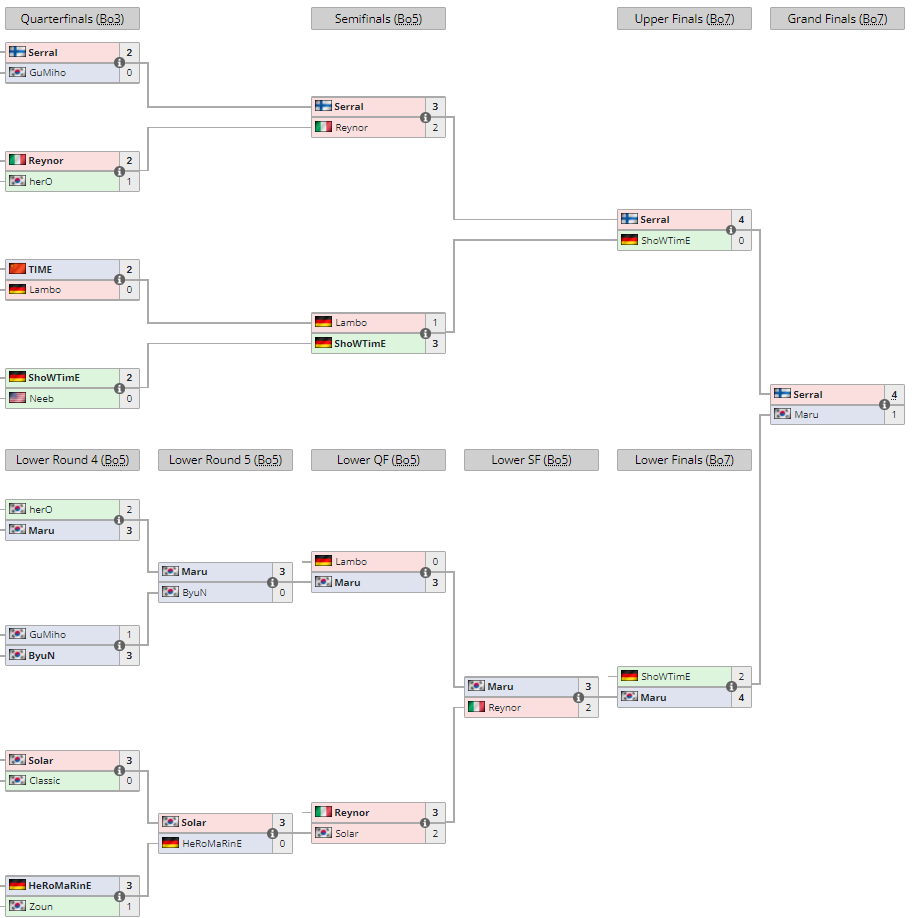 Grand Finals Recap - VOD
[Serral starts with a one-map advantage due to being the upper-bracket winner]
Game 1 - Moondance (Serral win)
: Maru opened with the 1-Mine + 6-Marine drop opener he has favored as of late, which got a decent amount of damage done by taking down four Drones. However, Serral deftly countered with an early-game Roach-Ravager strike, hitting before Maru had Stim, Tanks, or anything else that would help him on defense. This attack dealt massive damage to Maru's army and economy, and the follow-up attack was able to end the game.
Game 2 - Cosmic Sapphire (Maru win):
Maru went for a proxy 2-Barracks Bunker-rush this time around, and had the good fortune to evade Serral's Overlord scouting entirely. This worked out quite nicely for Maru as he was able to kill 6 Drones with only light Marine investment, all while teching up back at home.
Once again, Serral looked to to counter-attack with Roach-Ravager, but this time Maru was well-prepared with Bunkers. The Zerg strike didn't do enough damage to narrow the lead, which in turn led to Maru winning with a straight-up Marine-Tank push at around the 10 minute mark.
Game 3 - Waterfall (Serral win):
Game three saw things settle down compared to the initial two maps, with the two players easing into a 3-base vs 4-base macro situation in the early game (some light Medivac and Raven harass from Maru notwithstanding). The action really got started at around 7-minutes when Maru moved out with his first major Marine-Tank-Medivac army to lay siege to Serral's fourth base. Serral handled this situation beautifully, staving off the attack with Ling-Bane while also doing damage with a backdoor Baneling attack.
That put Serral in a fantastic position with a beter economy and a lot of map control, leaving Maru with no choice but to initiate his turtle protocol. Rather than look to crack the Terran defenses with high tech units, Serral decided to stay on mostly Hydra-Ling-Bane (with a little Viper support) and use his considerable resource bank and try and break through with sheer numbers. While many Zergs have seen such banks go up in smoke against Maru's unnatural defense (Serral himself has experienced this firsthand in previous matches), this time the Swarm was able to break the Terran line with repeated attacks and force the GG.
Game 4 - Data-C (Serral win):
Game four played out somewhat similarly to game three early on, with the game quietly going into a 3-base vs 4-base macro scenario. Again, Maru started heating things up at around the 7-minutes, sending his Marines and Tanks to lay siege to Serral's outermost bases. But again, Serral defended beautifully with his Ling-Bane, putting himself in a comfortable position to play out a macro game. Maru himself was in okay shape due to a CC-first opener and lack of economic damage taken, but ultimately his decision was still to take up a defensive position and look to the late-game.
Even though Maru was able to start his turtle transition from a better situation than in game three, Serral still went for the same approach of crashing wave after wave of Hydra-Ling-Bane against the Terran defenses. But this time, he added Nydus Worms and Lurkers as well, giving him the threat of a backdoor attack. This actually ended up being quite decisive, forcing Maru to split his army up and open up holes for Hydra-Ling-Bane to exploit. Once more, non-stop waves of Zerg units were able to eventually overwhelm the Terran defenses, forcing the third and final GG out of Maru.
Recommended games: Offline finals
[Make sure to check out the full TSL9 replay pack!]
Serral vs ShoWTimE - Stargazers:
This is an instant game of the year candidate, featuring a pretty great comeback from ShoWTimE followed by a f***ing insane comeback from Serral. Obviously, there were some mistakes made on both ends, but you don't get crazy comebacks if everyone plays perfectly. In terms of sheer entertainment value and WTF-factor, this is an all-time great game.
Maru vs ShoWTimE - Data-C:
Add this one to the Maru's long list of "WHY WON'T YOU DIE?" games. ShoWTimE had the lead for a huge portion of this game, but Maru somehow managed to hang around and actually worry ShoWTimE by the end. While this game was
probably
always going to end in a ShoWTimE victory, it was a heck of a lot of fun getting to that ending.
ByuN vs Maru - Data-C:
In this Maru game, he actually did end up pulling off the comeback after getting battered for over twenty minutes. While this is a pretty solid game, it does pale in comparison to some of the crazier games that involved ShoWTimE. So maybe watch this first and work your way up?
herO vs Maru - Inside and Out:
This match was short and sweet, with herO overcoming an early-game deficit through smart aggression and great decision-making.
---