World Team League - 2022 Summer Season
by: Wax
Compared to the previous regular season full of upsets and surprises, week one of WTL Summer '22 got off to a tame start with the favorites going a perfect six for six. Even last season's breakout squad in Team GP couldn't make things interesting, going down 0-6 to Team NV.
Still, there's plenty of time for things to get hectic as there's ten more weeks of regular season play. Week 2 actually comes after a very short break (WTL is subject to some frequent rescheduling due to other tournaments on the SC2 calendar), and features a handful of close matches that are tough to call. Team NV vs Freecs and Team Liquid vs Alpha X are key matches between mid-table teams, while Shopify have a shot of throwing in a wrench in KaiZi Gaming's aspirations to top the table.
Week 1 Results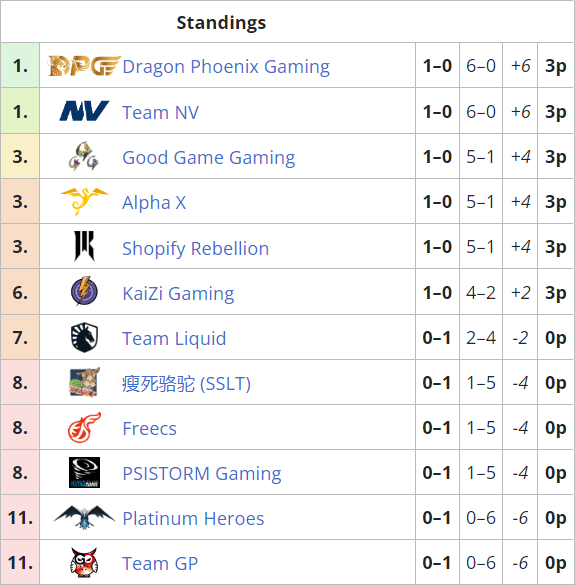 Top 7 teams qualify for the playoffs.
Points are awarded as follows:

3 points for a victory in a series that does not require an ace match

2 points for a victory in a series that requires an ace-match

1 point for a loss in a series that requires an ace-match

0 points for a loss in a series that does not require an ace match
KaiZi Gaming 4 - 2 Team Liquid
Watch VOD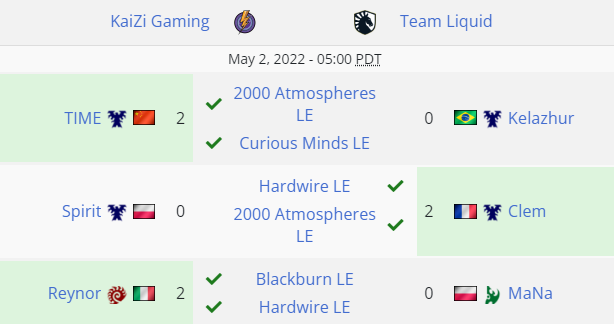 The series started with
KZ.TIME
getting a fairly uncomplicated 2-0 against
Liquid`Kelazhur
, taking a small early advantage in both games and snowballing his way to victory in the Marine-Tank wars.
KaiZi's lead was then erased by
Liquid`Clem
who tied the score up with a 2-0 of his own against
KZ.Spirit.
The first game on Hardwire had plenty of back and forth action in the early stages, and Clem came out with the slight lead thanks to a containment line he managed to maintain for a while. Ultimately, the game swung on an aggressive Marine-Tank advance from Spirit into a narrow corridor, which only saw Spirit's forces get chewed up and invite a game-winning counterattack from Clem. The second game on 2000 Atmospheres had a much more passive build up before suddenly exploding with mid-game action. Clem found superior positioning in the crucial Tank battles, giving him the army advantage needed to roll to victory.
The series concluded with new signee
KZ.Reynor
taking a convincing 2-0 against
Liquid`MaNa
. The Liquid Protoss tried to get the drop on Reynor in game one with a fast Tempest build, but the KZ ace shrugged it off and built up a massive economy. After that, it was all too easy for Reynor to overrun MaNa with a swarm of units. MaNa attempted an Immortal + Gateway unit all-in in game two, but GG'd out after Reynor shut it down with solid defense.
SSLT 1 - 5 Good Game Gaming
Watch VOD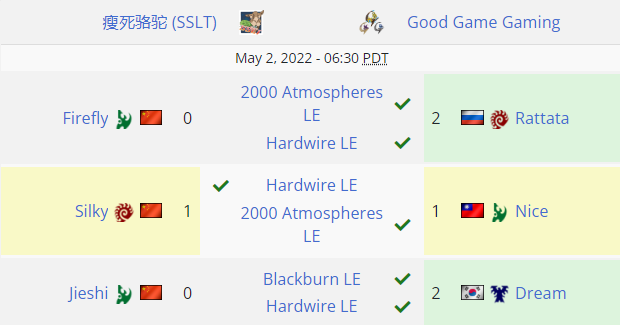 Newcomers SSLT (瘦死骆驼 or "Starved Camels" according to their Liquipedia page) effectively replaced Invictus Gaming by defeating them in the qualifiers, but it's looking like they could find it just as hard as their predecessors to get wins in the main WTL competition.
The series began with a zany game between
SSLT.Firefly
and
GGG.Rattata
, where the GGG Zerg managed to will his way to a win despite losing dozens of Drones to Oracle, Adept, and DT harassment (one might also say Firefly willed his way to a loss). The second game wasn't quite as hectic, and Rattata was able to overwhelm his opponent with a flood of Lair-tech units.
SSLT.Silky
earned his team's first points of the season against
GGG.Nice
, taking game one with an unusual range-upgraded Hydralisk + slow-Baneling all-in at around the seven minute mark. However, Nice hit back in game two, doing massive economic damage with his 3-Oracle opener and riding his advantage to a win (Silky did make things surprisingly annoying for him with Swarm Hosts).
SSLT.Jieshi
put in a valiant effort to try and keep his team's hopes alives but couldn't overcome
GGG.Dream.
Game one on Blackburn saw him take massive damage from a Hellion drop to start, but he somehow held on and forced Dream into the late-game. Unwilling to fight the Protoss deathball head on, Dream had to use backdoor attacks and initiate a semi-basetrade to take a hard-earned victory in the end. The final map (played only for map score) followed a similar pattern where Dream did heavy damage with an early mine drop, but Jieshi managed to recover surprisingly well. Still, Dream closed out faster this time, wearing Jieshi down with multi-directional infantry attacks.
Dragon Phoenix Gaming 6 - 0 Platinum Heroes
Watch VOD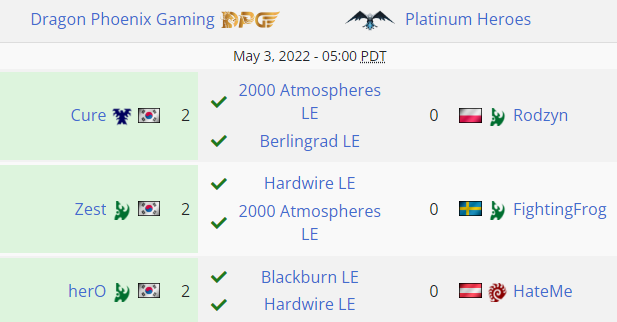 Defending champions DPG got in a nice warm-up to start the season, taking a comfortable 6-0 victory against the newly qualified Platinum Heroes.
PH.Rodzyn
and
DPG.Cure
had a fairly 'honorable' bout on 2000 Atmospheres to start, with the the DPG Terran's bio eventually outmuscling the mass Chargelot-Archon on the other side (big Mine hits did a lot of work). Game two was rather different as the two players went at each other with dueling drops, but that exchange also went in Cure's favor as he devastated the enemy Probe line with Mines while holding off a DT drop with ease. The clean-up job after was pretty uneventful.
DPG.Zest
then locked in the victory with a 2-0 of his own against
PH.FightingFrog
. The aggressive amphibian did his best to keep up with Zest in the Blink Stalker wars in game one but was overwhelmed in the end. Game two ended much quicker, with Zest's DTs slipping through the defenses undetected and finishing off the grievous groda.
DPG got the maximum points possible out of the series as
DPG.herO
defeated
PH.HateMe
2-0 as well. His signature unit, the Blink Stalker, was the key to victory, as he outfought HateMe in two mid-game bouts.
Alpha X 5 - 1 Kwangdong Freecs
Watch VOD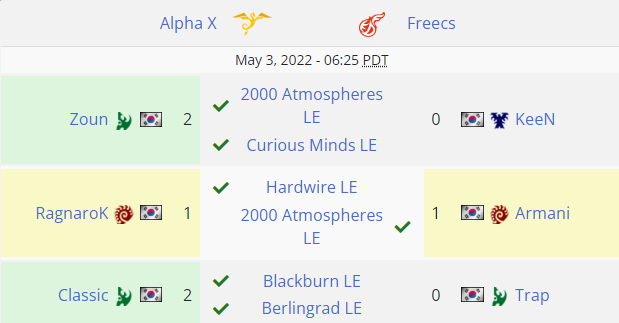 αX.Zoun
got the golden dragons off to a great start with a 2-0 over
KDF.KeeN
. Game one was a lengthy 20+ minute battle on 2000 Atmospheres, where Zoun eventually wore KeeN down with Tempests and Blink DT's. Game two was decided much earlier, with Zoun's early Adept-Stalker harass putting KeeN in a deep hole he couldn't climb out of.
αX.RagnaroK
then put his team on match point against
KDF.Armani
, punishing his opponent for Droning too hard with a Roach-Baneling timing. Still, Armani was able to recover a point in game two, holding off several waves of RagnaroK's attacks and then winning with Mutalisks and Roaches.
Ace player
KDF.Trap
still had a chance to rescue his team with a 2-0 victory, but there would be no such heroics as
αX.Classic
ended the series with a 2-0 win of his own. The deciding game on Blackburn featured the all-too-common Phoenix war in the skies, with Classic seizing victory by exploiting the small window of time where he was the only player with the Anion Pulse Crystals upgrade. Classic ran up the score by winning the final map as well, successfully defending his 2-Gate expansion against Trap's 3-Gate attack off one base.
Team NV 6 - 0 Team GP
Watch VOD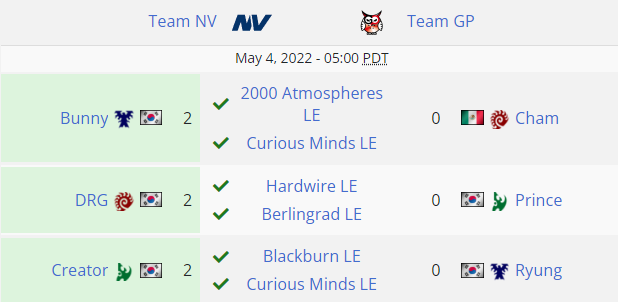 None of Team GP's magic from the previous season seemed to carry over in week 1 as they suffered a 0-6 sweep at the hands of Team NV.
GP.Cham
actually managed to match
NV.Bunny
step-for-step during much of game one, with his Muta-Ling-Bane fighting almost non-stop against Bunny's bio. However, as is often the case, things went downhill for Zerg once 3/3 upgrades kicked in for the Terran, and Cham had to surrender to the superior army. Cham went to a Roach-Ravager comp in game two but things didn't go nearly as well—Bunny wiped the floor with him in key battles to put Team NV up 2-0.
The infamously cheesy
GP.Prince
played like you'd expect against
NV.DongRaeGu
, opening with a proxy 2-Gate + Cannon rush. However, DongRaeGu was quite sturdy on defense, and managed to come out ahead despite losing his natural expansion. A normal-ish macro game played out from there, with DongRaeGu able to win handily due to his economic advantage. Ironically, DRG was the player who got off a successful cheese, as he caught Prince completely off-guard with a speedling all-in in game two.
As with the other winning teams of the week, Team NV showed absolutely no mercy despite having already won the match and collected the maximum number of map points.
NV.Creator
avenged his loss to
GP.Ryung
at IEM Katowice, beating him consecutively in two straight-forward macro games.
Shopify Rebellion 5 - 1 PSISTORM Gaming
Watch VOD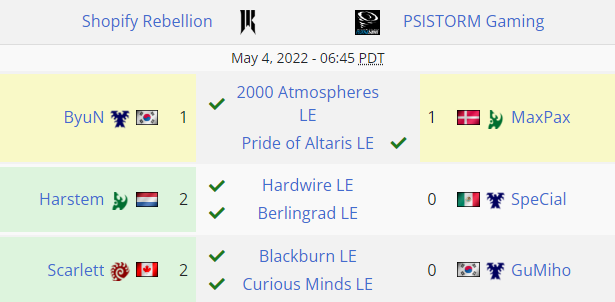 After hugely overachieving in the '21 Winter season, Shopify got off to another good start as they won convincingly against PSISTORM Gaming.
SR.ByuN
drew first blood against
PSISTORM.MaxPax
, opening with a 2 base, SCV-assisted all-in and finishing the Danish Protoss off with continued attacks. However, MaxPax was able to tie the series up on his map pick of Pride of Altaris, securing an early gold base and suffocating ByuN in an extended macro game.
New Shopify recruit
SR.Harstem
then gave his team a crucial 3-1 lead, scoring a 2-0 over
PSISTORM.SpeCial
. Their first game on Hardwire was rather unique, as SpeCial pulled off the BC-mech strategy typically used in TvZ in an entirely different match-up. SpeCial was able to fight evenly against Harstem for most of the game, but mech's immobility caught up with him in the end. Harstem knew exactly when to retreat and give up bases, and was thus able to draw the lumbering Terran army out of position and whittle SpeCial down with backdoor attacks.
SpeCial switched to standard bio in game two, but still ended up playing out a lengthy, split-map game. With the mobility advantage on his side this time around, SpeCial did his best to try and flummox Harstem with multi-directional attacks. However, Harstem knew how to bend but not break on defense, and eventually won after SpeCial ran out of steam.
The series concluded with
SR.Scarlett
squeezing two more map points out of
PSISTORM.GuMiho
. The first game on Blackburn was one of the more exciting contests of the week, with the two players going back and forth in an exhausting series of battles until everything came down to control over the 12:00 and 6:00 bases. Scarlett's old friend, Brood Lord-Infestor, was the key to her victory in the end. Scarlett got a faster win on the final map, fending off GuMiho's proxy 3-Barracks all-in to close things out.
After some deliberation, I've decided to award the first weekly MVP of the season to Harstem for his 2-0 victory over PSISTORM.SpeCial. His victory came in the middle series of the match and played a key part in giving Shopify Rebellion a 5-1 victory. We've only seen one week of games so far, but this signing is looking quite good for Shopify while Liquid are already sorely missing Harstem's presence.
Other players scored 2-0's over
arguably
stronger opponents, like Classic over Trap, Scarlett over GuMiho, and even Creator over Ryung. However, one or more maps in their series were played after their team had already locked in the four maps needed to win the series, and thus didn't have quite as high stakes as Harstem's match (though map score definitely comes in handy during tiebreakers).
A shoutout goes to
souL
Clem for defeating Spirit 2-0, even though he wasn't able to lead his team to victory. Other candidates for MVP were Zoun for his 2-0 against KeeN, as well as Reynor for his series clinching 2-0 against MaNa.
Week 2 Preview
Friday, May 06 12:00pm GMT (GMT+00:00) Matches
It's hard to use the Heroes' 0-6 loss to DPG in week 1 as a measure of their skill when you consider just how stacked that DPG roster is. On the other hand, it was disappointing to see Team GP go 0-6 against Team NV, especially after the previous season where they had so much fight in them as underdogs.
I'll pick Team GP to win just because I think they have the best overall player between the two teams in Ryung. However, if this series ends up being close—or if Team GP actually lose—I'll have to heavily recalibrate my expectations for last season's darlings.
Prediction: Team GP 4
- 2 Platinum Heroes
Dragon Phoenix Gaming vs Good Game Gaming
Dark
< Glittering Ashes >
Dream
herO
< Curious Minds >
Rattata
Cure
< Berlingrad >
Cyan
Ace Match
:
< 2000 Atmospheres >
GGG were already hard pressed to win this series, but now it's looking like a total disaster since their best player Dream has drawn Dark as an opponent (AND he high-rolled a favorable starting map in Glittering Ashes). ZvT is Dark's best match-up by a large margin on Aligulac.com, so I'm expecting to see some all-or-nothing proxy-Barracks plays from Dream.
If herO and Cure are clinical like they were against Platinum Heroes, this should be another 6-0 for DPG. The best chance I see for GGG stealing a map is Rattata bringing some kind of unexpected all-in against herO, or herO making a game-losing error due to overaggression.
Prediction: Dragon Phoenix Gaming 6
- 0 Good Game Gaming
Saturday, May 07 12:00pm GMT (GMT+00:00) Matches
I felt some nostalgia watching SSLT's players return to the WTL as they generally played the same way I remembered them playing before: Firefly showed his knack for making games weird, Silky came with a nice prepared all-in, and Jieshi got moral victory #23049389 after keeping things close in a macro game before inevitably losing.
Sentimentality aside, I still think SSLT are destined to follow in iG's footsteps this season. GuMiho and Gerald might be vulnerable enough to drop a map or two, but I can't see SSLT actually coming out with a victory or even forcing an ace match.
Prediction: PSISTORM Gaming 5
- 1 SSLT
This match has been made very intriguing due to soO's debut for the Kwangdong Freecs. We haven't been able to get a good read on what his skill level is, and whether or not he'll be a difference maker for the depleted Freecs. He goes up against Creator at a very unusual time—Creator should be very well practiced for PvZ due to his recent GSL finals match against Rogue, but might not be 100% in psychological terms (to keep it spoiler free: his mind could be completely out of SC2 mode due to finally winning a championship, or totally devastated due to losing).
The other two matches are decent for the Freecs as well, with Armani getting to play DRG in his statistically worst match-up of ZvZ, while KeeN is a good enough TvT player to at least give Bunny a run for his money. I'll predict Team NV to win, but soO is definitely a big variable to keep an eye on.
Prediction: Team NV 4
- 2 Kwangdong Freecs
Sunday, May 08 12:00pm GMT (GMT+00:00) Matches
As KaiZi Gaming look to reestablish themselves as WTL superpowers, they've run into a very tricky early roadblock in the form of the Shopify Rebellion. The biggest concern is a ZvZ against Scarlett for ace player Reynor. The Italian Zerg looked dominant in his 4-0 over Serral in the finals of King of Battles 3, but the fact that he wasn't particularly confident in ZvZ prior to that match goes to show just how volatile the match-up can be.
I see the other two match-ups as fairly close but ultimately favoring KaiZi (ByuN vs TIME and Solar vs Lambo would have been ideal for Shopify). Overall, KaiZi may not be heavily favored in any of the matches, but I'm predicting them to win due to their aggregate of small advantages.
Prediction: KaiZi Gaming 4
- 2 Shopify Rebellion
This one is looking tough for the boys in blue. Liquid really need Clem to 2-0 in order to have any chance of winning, but Clem has drawn who I think is his worst possible Alpha-X opponent in Zoun. Clem's best match-up might be TvP at the moment, but Zoun's best happens to be PvT as well. 1-1 seems like a reasonable expectation here, even though Clem is favored.
As for MaNa and Kelazhur, there wasn't any combination of match-up draws that I would say gave them an advantage, so they were always going to have needed to scrap hard to steal a map. I think Kelazhur has the best chance here, as Classic can be inflexible and rigidly adhere to his optimized builds at times—does the Brazilian have a strong all-in that can take advantage of that?
Prediction: Alpha X 4
- 2 Team Liquid
---
Credits and acknowledgements

Writer: Wax
Stats: Aligulac.com & Liquipedia
Images: SCBoy