Disasterpiece Theater #4
Time is a Flat Circle: Elazer vs ByuN
By: Mizenhauer
Welcome once more to Disasterpiece Theater! Previously, we examined the agony of late-HotS turtle-mech, a candidate for the worst cannon rush in history, and the origins of soO's silver curse. Today, we focus on Swarm Hosts, one of the most hated SC2 units ever—but not in the way you might expect.
Setting: Foreigners in the 2018 GSL Season
2018 is known as the year when everything changed for foreign StarCraft II, with
Serral
dominating the WCS Circuit before going on to win the
WCS Global Finals
. However, it was a year when other non-Korean players made strides as well.
Back in 2017, a new
'foreigner house'
had been established in Korea. The team house environment made it viable for foreign players to set up a base camp in Korea, travel to WCS Circuit events, and also compete in the GSL at the same time (a blatantly one-sided system, considering that Korean nationals residing in their home country were still barred from competing in WCS Circuit events).
Korean training did not pay off immediately for the foreigners—at least in terms of GSL results. In 2017, Scarlett was the only player to qualify for
all three seasons of Code S
—and she won only a single match at that. While
SpeCial
and
Elazer
saw their Korean practice bear fruit at international events, they only managed first round exits during the 2017 GSL season. Overall, 2017 provided little evidence that foreigners had a shot of going deep in Code S.
2018, however, indicated a possible shift in the status quo. Scarlett kicked off 2018 by winning the championship at
IEM PyeongChang
, and followed that by reaching the
round of 8 in Code S Season 1
just a few days later. It was the first time a non-Korean player had achieved that result since NaNiwa in
Code S Season 3 of 2012
. And, though she was unceremoniously trounced by soO 3-0, her deep run was a sign of a brighter future.
The next season
,
NoRegreT
, Elazer, SpeCial and Scarlett all managed to make it through the Code S qualifiers, and fans of international StarCraft II probably viewed it as a legitimate opportunity for another foreigner to reach the elimination rounds.
Elazer stepped up as the first challenger in Group A, where he faced a formidable set of opponents. Despite having a history of strong underdog performances at BlizzCon and having won his first title at
WCS Valencia
in 2017, it seemed unlikely that he could advance from a group that consisted of SSL Champion
Classic
, former WCS Global Champion
ByuN
, and the perpetually-plucky underdog
Leenock
.
As expected, Classic advanced from the group in first place while only dropping a single map. From there Elazer soundly defeated Leenock in the fourth match of the day to set up a final match between Elazer and ByuN to determine the second spot in the Round of 16.
The Match: Elazer vs ByuN - Catalyst
Given that both players were known for their aggressive playstyles and timing attacks, it was no surprise when
Elazer
and
ByuN
split the first two maps 1-1 in approximately 30 minutes of game time. Little did we know that the third game would be an entirely different beast than those that preceded it, as the players faced off on Catalyst with their tournament lives on the line.
The game started as so many did during that era of ZvT. ByuN opted with a reaper expand that surprisingly managed to delay Elazer's third base for quite some time. This was followed by an extremely ordinary interaction in which ByuN sought to dive into Elazer's natural with hellions, only to be driven back by queens. A banshee also tried its hand at getting some damage done, but it too was easily rebuffed, leaving both players with little to do other than enter the midgame on relatively even footing.
With ByuN and Elazer focused on building their economies, the first thing of any real notice happened at the eight minute mark when Elazer decided to go for a shockingly early hive. A spire followed soon after as ByuN's half hearted marine aggression managed to clear some creep tumors but not much else. Unencumbered with the burden of defending his side of the map, Elazer was able to raise his drone count into the 80s and morph 10 brood lords by the 11 minute mark.
It could be argued that the move left Elazer's army unbalanced and immobile, and that another Zerg like Serral or Rogue would have chipped away at their opponent with lower tech units before committing all of his resources to an army he could not remake at such an early stage in the game, but Elazer clearly had a plan and he was sticking to it.
On the other end of the map, ByuN had erected quite the defense at his forward fourth base. Liberators, tanks, ghosts and a planetary fortress made breaking ByuN's stronghold a tall task. This, of course, did not deter Elazer from jamming his units into a veritable death trap. The two players clashed for almost two full minutes, but when the dust settled Elazer had lost all of his brood lords and found himself in a precarious position down 60 supply with nothing but drones and queens.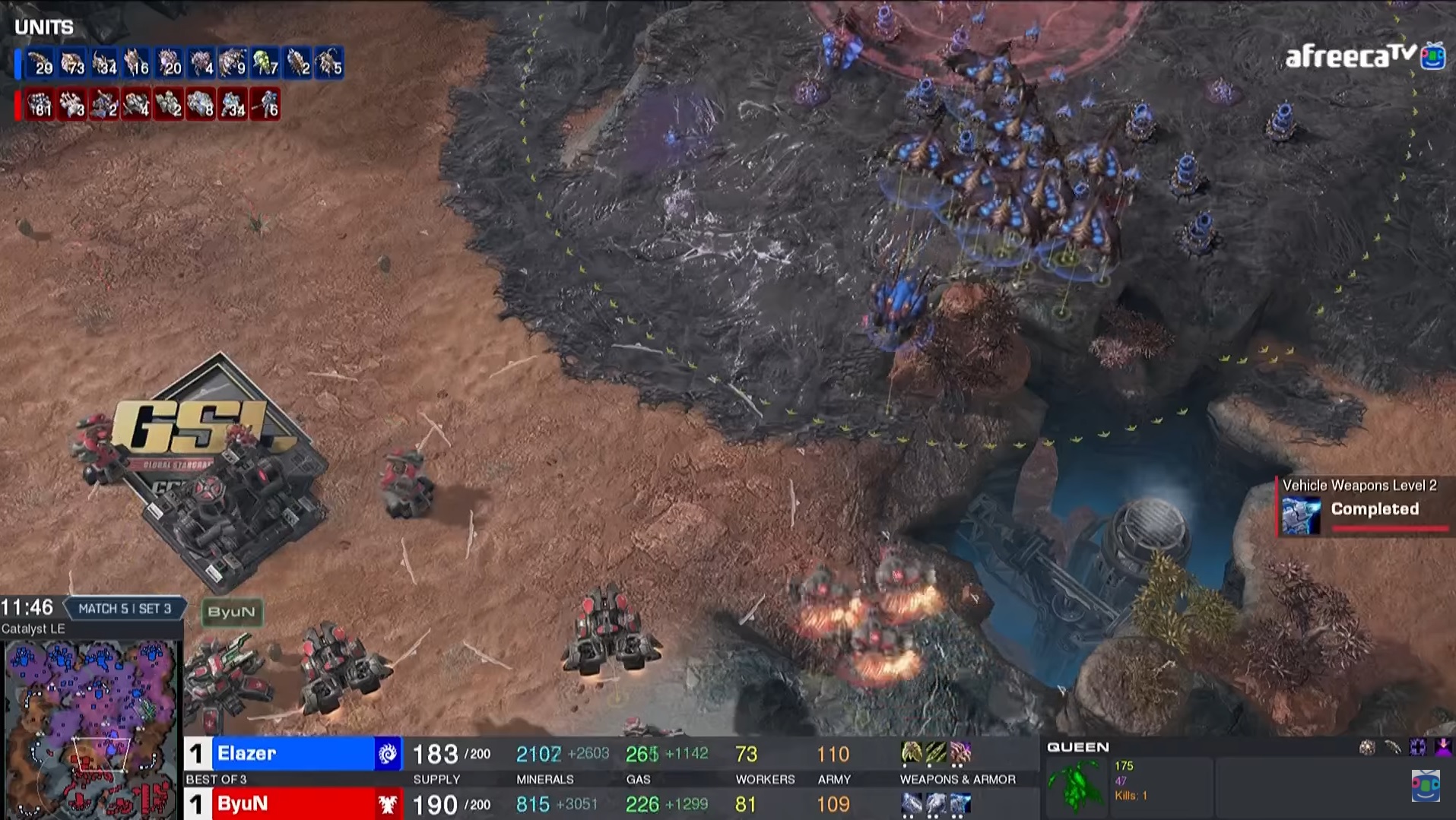 I cannot fathom how many people must have been delighted to see this army wiped off the map
With Elazer scrambling to rebuild some semblance of an army after throwing away a force that would have made JonnyREcco proud, ByuN had the perfect opportunity to finish the series then and there. After all, the Korean Terran's army was full of high tech units and Elazer was scrambling to hatch even a few hydralisks and zerglings. Fortunately for Elazer, instead of sweeping across the map and claiming victory, ByuN opted to expand and twiddle his thumbs instead of ending a contest which was already showing the early signs of an inexplicably absurd game.
Now, I've watched a lot of StarCraft II over the past decade, but what came next must have been the result of some fever dream entirely outside of my experience. Down 50 supply to a maxed out ByuN, Elazer divined that the remedy to his predicament was producing nearly 20 swarm hosts. The swarm host is a unit which has never sat well with devout StarCraft viewers—the horror of HotS had left too many indelible scars. Though the stalemate-making machine had been significantly altered in Legacy of the Void, no one was looking forward to the prospect of watching locusts try to assail the same position which had already successfully held off double digit brood lords (except for Tastosis, who quickly launched into a curious conversation about the brilliant decision Elazer was making, citing how the locusts could easily pick away at tanks and other stationary units as the game progressed). All the while, Elazer kept making more and more swarm hosts. By the time he was maxed out, Elazer had 51 supply wrapped up in what basically amounted to fleshy paperweights that sat idle for 43 of every 44 seconds. With the game clock hitting 15 minutes, Elazer renewed his assault on the same planetary his brood lords had been unable to crack a few minutes earlier. This decision resulted in another back and forth affair where Elazer launched his locusts, failed to do any noteworthy damage and retreated just in time to escape the nuke ByuN dropped in the area Elazer had previously occupied.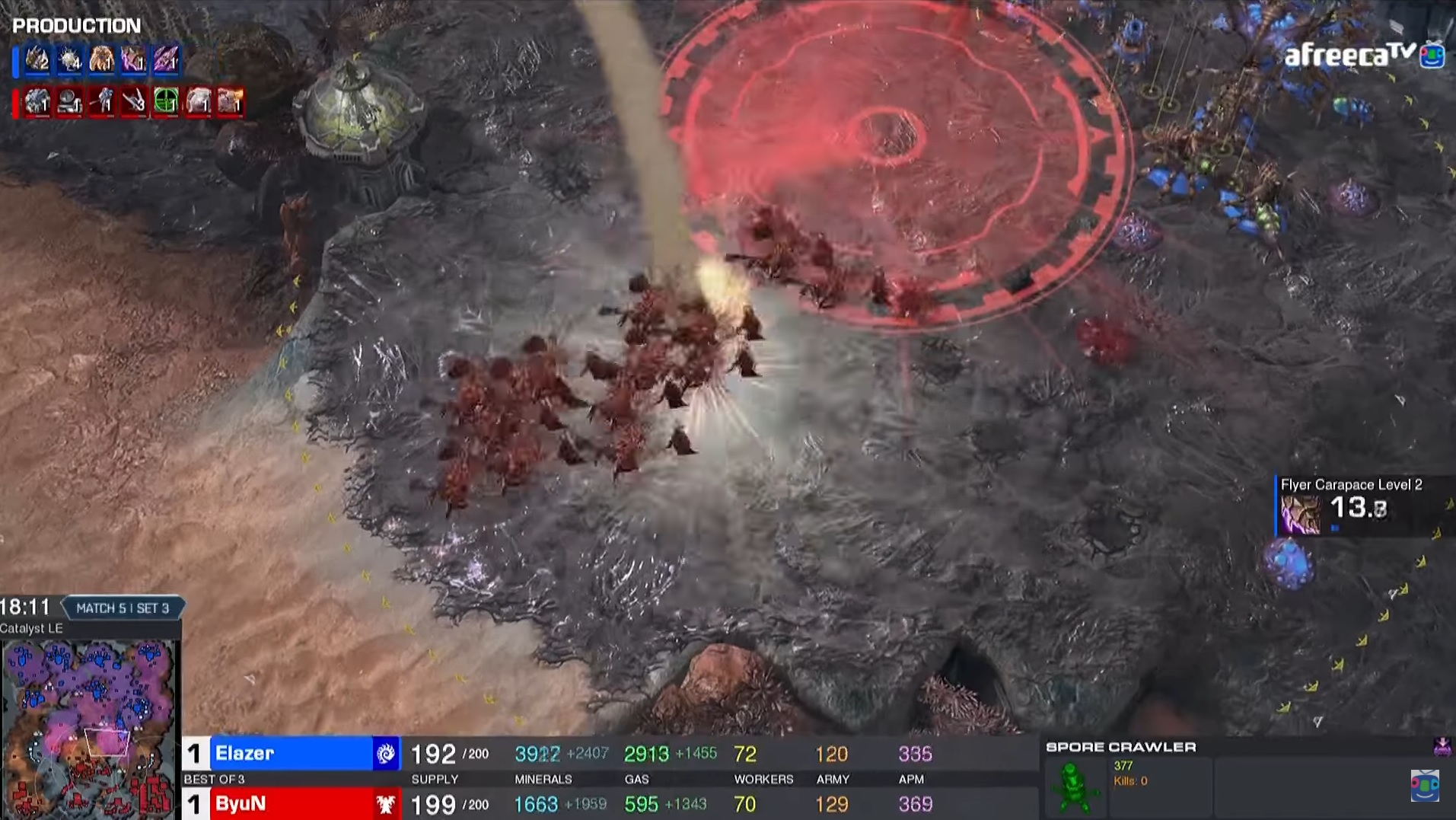 Disgustingly, ByuN STILL lost more resources than Elazer on this exchange
After four plus minutes of increasingly bleak nothingness, ByuN nearly lost his ghosts to chain fungals (I'm mentioning this just to illustrate how obscenely repetitive this game was becoming), but ByuN safely escaped and the whole song and dance continued. Seemingly unwilling to do anything but contest this one particular base, Elazer added some brood lords to his army while ByuN began to produce ravens. Neither of the air units were able to tip the scales, however, After more than eight minutes of pure, senseless violence, Elazer had an epiphany and finally did something, splitting off his swarm hosts to try and destroy a different Planetary Fortress, leaving his brood lords and a ragtag gang of infestors and vipers to keep bashing their head against a wall.
Predictably, the swarm hosts accomplished absolutely nothing against their new target. Swiftly realizing how fruitless the effort would be, Elazer consolidated his forces outside the same fourth base he had initially sieged nearly 15 minutes earlier. I'll leave it up to you to guess what happened.
Needing only one more base to completely split the map, ByuN used his ravens and bombarded a tiny detachment of hydralisks and zerglings with turrets and missiles. Sending his ghosts to reinforce this new objective, ByuN gave himself an uncontested window to transform his orbital into a planetary. Elazer tried more than once to attack the newly minted planetary but at this point he was the one fighting an uphill battle against his opponent's 'free' units. I know energy is more like a resource than a unit, but once you havemore than 20 ghosts and half as many ravens, you can spam snipes and missiles to your heart's desire. Unable to crack ByuN's defenses at this new location, Elazer backed off, providing our commentary team a chance to point out that ByuN was nearly out of gas, while Elazer, who had barely any minerals, was well on his way to finding himself in a position where he would have to win the game with infestors alone—a feat which was only possible in Wings of Liberty and briefly in 2017.
With few options available to him, Elazer continued his attempts to destroy ByuN's mineral rich four o'clock base with swarm hosts, only to discover what everyone watching already knew—locusts are really bad against large amounts of bio. With so little going on, Artosis and Tasteless moved on to pondering about if repairing a Planetary required gas as well as minerals.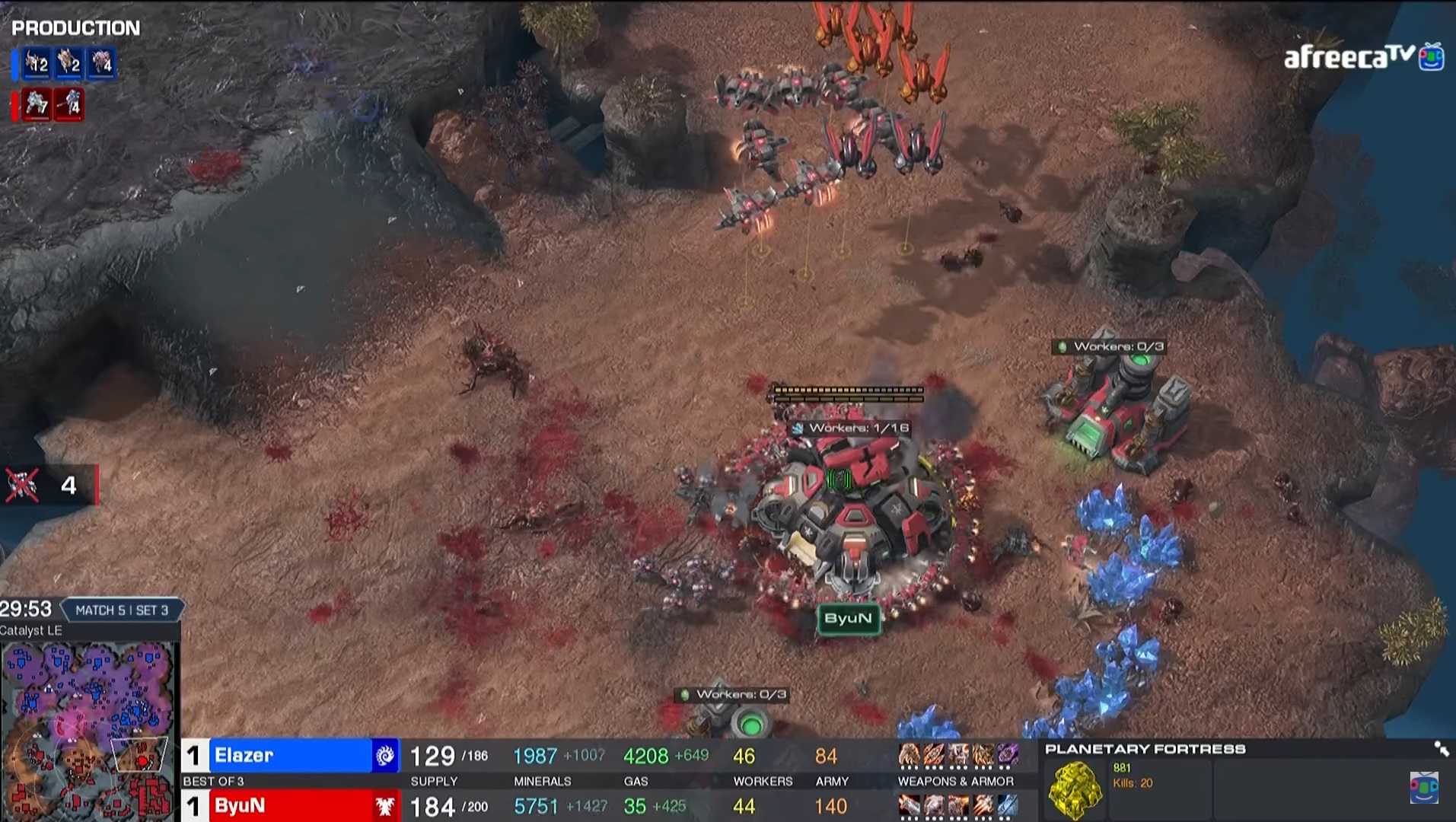 Seriously, though, does it take gas to repair a planetary?
After 35 minutes of defending Elazer's toothless attacks, ByuN finally went on the offensive with an army largely composed of marines, ghosts and ravens. Elazer, meanwhile, decided to make more swarm hosts, at which point somebody should have paused the match to inquire if Elazer remembered the patch and version of the game he was playing on.
Still sitting at max supply, ByuN's fresh round of scans confirmed what he should have realized when he dispatched Elazer's initial brood lords ages ago—he was still, and always had been, really, really far ahead. Elazer had used the last of his money to assemble an alarmingly large number of swarm hosts, but he was completely unable to actually kill anything despite having 28 of them. ByuN parked a few tanks on the low ground behind Elazer's lone mining expansion. Swarm hosts tried time and again to dislodge ByuN from the critically important location, but with so many marines, Elazer struggled to make any headway.
Elazer, realizing the hopelessness of his predicament, backed off entirely, allowing ByuN to take the high ground and destroy the hatchery uncontested. This put Elazer in an impossible position. With a bank of only 50 minerals and 300 gas and every drone he owned mining from the last accessible mineral patch on his side of the map, he simply lacked the resources to reinforce his defenses against ByuN's army which, while stripped of many of its higher tech units, was somehow composed of sixty-three 3/3-upgraded marines and enough minerals to make a lot more.
After another five minutes of futilely spewing locusts at ByuN's unstoppable throng of marines, Elazer finally tapped out, ceding the game, and the match to ByuN.
It may have taken nearly an hour, but more than 35 minutes after ByuN produced his first marine, the very same unit proved to be the straw that broke the camel's back. So, should you ever encounter a Terran bemoaning about how underpowered their race is, and how Terrans have little to no recourse when it comes to defeating mass lurker or an a-moving Golden Armada, remember that it was the lowliest, most rudimentary unit in ByuN's arsenal that took the day and sent him through to the Round of 16. That and a few dozen swarm hosts.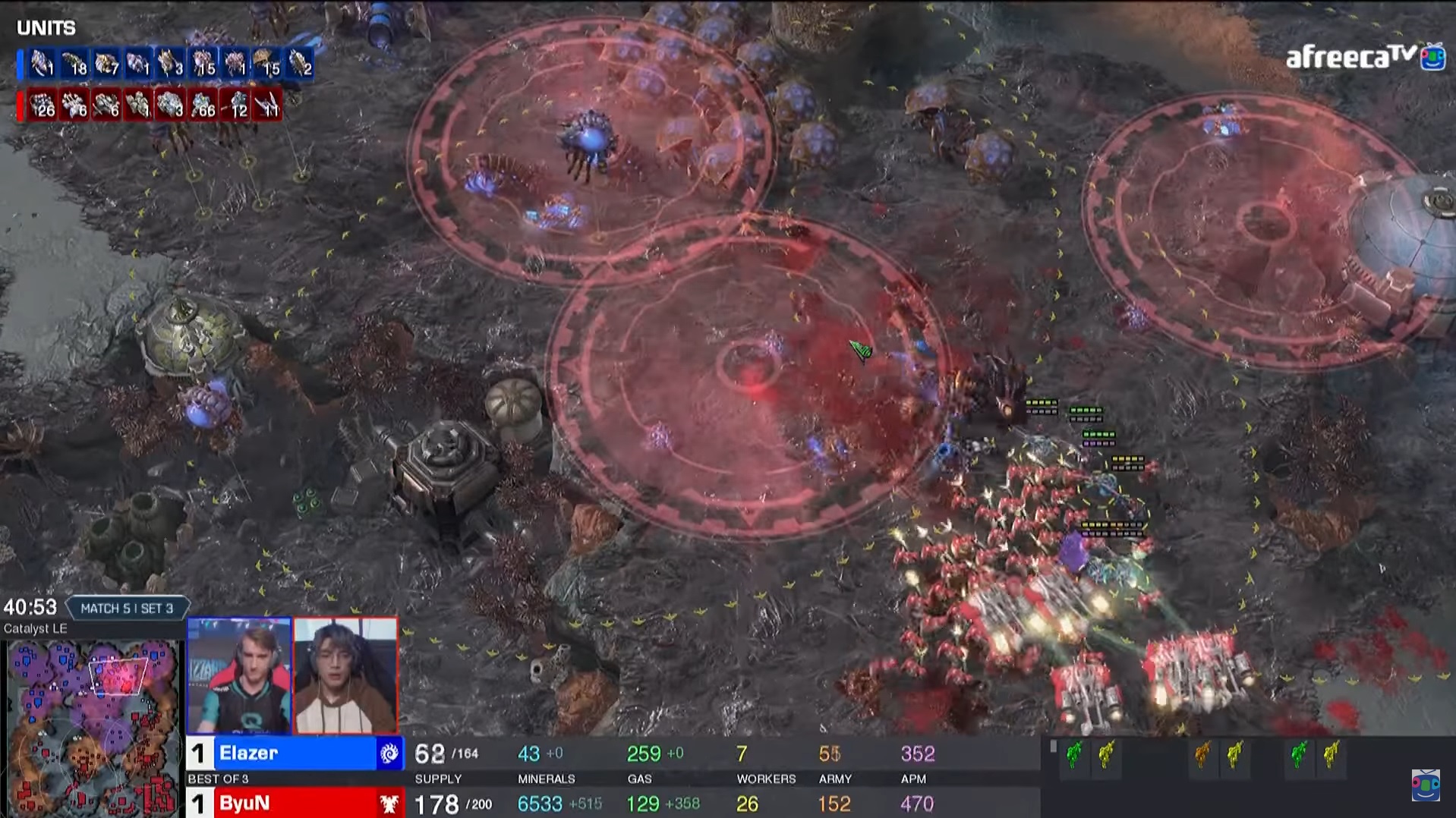 As is so often the case, we end precisely where we began.
---
Credits and acknowledgements
Written by:
Mizenhauer
Editor:
Wax
Images: AfreecaTV (GomTV)