Disasterpiece Theater, #2
The Curse Awakens: Zest vs soO
By: Mizenhauer
Welcome to back to Disasterpiece Theater, a place where we examine the less-than-best games in StarCraft II history. In our debut article, we had a laugh at the expense of the brief but polarizing mech TvZ meta that existed toward the end of HotS. This time around, we're bringing a pure tragedy production to the stage.
It's amazing how much lasting influence one match, or even a single game can have. A player's legacy is written over the course of a years-long career, but it's often isolated moments that forever define how they are remembered. We don't think of Billowy as the player who never made it out of the Code S RO32—he's the hero who
all-killed KT Rolster and Flash
in the Proleague playoffs. Reality played dozens of Proleague matches as Samsung's primary Terran option, but the one we remember is his
105 minute draw
against Soulkey.
Sometimes those career-defining moments come in pairs, on the all-or-nothing stage of a GSL Code S final. On April 5th of 2014, the legacies of two all-time great players were indelibly altered in such a match.
Back then,
soO
wasn't the folk hero of StarCraft II he is today. He had reached the finals of Code S in the
previous season
, only to fall 2-4 to Dear. It had seemed more like the fluky run of a perennial group-stage player than the rise of a new Zerg star. Nonetheless, he had somehow managed to trudge his way back to the stage where Dear had ascended in his place.
Meanwhile, soO's opponent
Zest
had led KT Rolster to
Proleague
Round 1 glory and was making a red-hot run down the GSL
Royal Road
. It seemed like all he needed to be crowned best player in the world was to be anointed by the confetti raining down from the ceiling GomTV studio.
Despite being the last player since Mvp to reach back to back Code S finals, soO wasn't getting much credit.
Liquibet voters
favored Zest by over a two-to-one ratio, while TL.net's finals preview gave soO the backhanded compliment of being
'the most underrated player in the world'
.
However, expectations were quickly subverted when the finals began, as soO artfully countered Zest's attempt at the nauseatingly abusive (and popular) Frost-cannon rush with a proxy-hatchery roach attack to take
the first game
. The two finalists split the next pair of games, giving soO a 2-1 advantage headed into the scene of today's tragedy: game four on Yeonsu.
(In case you didn't know, soO's ID comes from his given name 'Yun Soo,' which could also be written as 'Yun Su' in English. Yun Soo - Yun Su - Yeon Su... It's only fitting that this game would irrevocably alter soO's career.)
soO began the game by drone scouting and going for a safe, pool-first opener upon seeing Zest's forge. Back in the ancient times of HotS it was perfectly normal for Protoss to open forge-first, which threatened a cannon-rush just as much as a fast expansion. In a more merciful universe, soO would have just died to an unscouted cannon rush, but instead, he would have to suffer through this match.
Anyhow, once soO confirmed Zest's fast expansion with his Overlord, he decided to go straight for the throat. After putting down a standard third hatchery, soO plopped down a roach warren and went for a roach/slowling attack off just 20 drones. Poor reaction speed and a laughably bad forcefield from Zest turned soO's speculative attack into a potentially game-ending maneuver, with Zest just barely surviving by pulling the majority of his probes and hastily building FIVE cannons.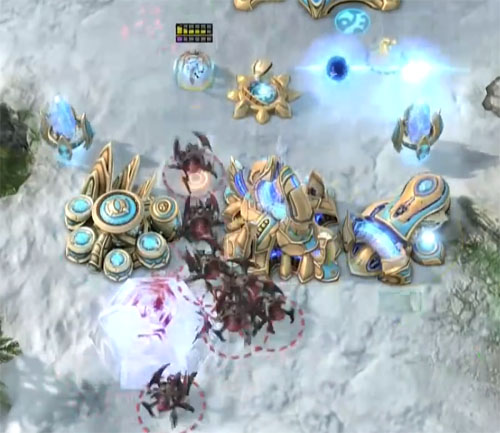 We believe some scholars call this the "highest skill era."
It was well worth it for soO—Zest had lost nearly 20 probes in the attack, had no meaningful tech or army, and had no way of preventing his opponent from droning up at will. By the time Zest's semi-desperation dark shrine was completed and he was able to cautiously take a third base, soO already had 60+ drones and roaches on the way. While Zest's dark templars surprised soO and got around a dozen drone kills—as good a result as Zest could have reasonably hoped for in that situation—it only made a slight dent in soO's huge lead. ToD's catchphrase, "look at the supply" had yet to become a meme at the time, but it was still applicable—soO was about 50 supply ahead, and things were only going to get uglier for Zest.
soO drew the line at letting Zest take his third base—now it was time to bring his massive economy and production to bear and really lean on his floundering opponent. He attacked Zest's third with a swarm of roaches and zerglings—and while he got the worse end of the trade—it was merely meant to soften Zest up for the switch to mutalisks. While Zest fended off the initial wave of muta harassment with photon overcharge, his troops were overrun when soO gathered himself for a massive, frontal muta-ling attack. It was a wonder that Zest even survived, with Tasteless and Artosis even starting their wrap-up conversation in anticipation of the next game.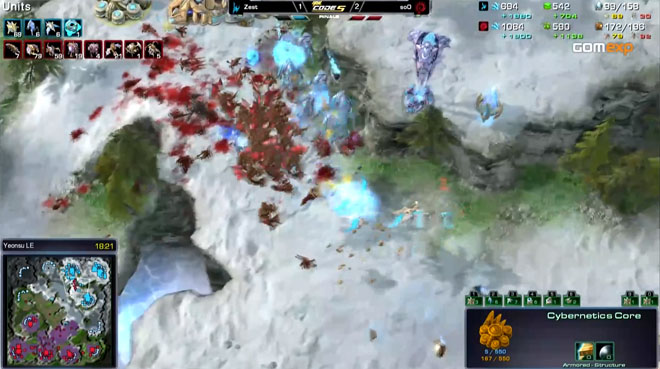 Tasteless: "Zest is dead, he just has not left the game."
Zest didn't seem at all interested in leaving, though. Not even with a seventy-supply deficit, a main base that would soon mine out, and no way to move out and take a direly needed fourth base. But with 67 probes, 3-base mining (for a little bit longer), and the prospect of facing a 1-3 deficit in the GSL finals, Zest figured he'd see the game out. Perhaps, even though he knew he couldn't win on his own merits, he saw a way to capitalize on his opponents mistakes.
It didn't take long for soO to reload on a near-max army of muta-ling-corruptor, and once more he dived into the teeth of the Protoss defenses. Despite losing over 20 mutalisks and being forced to retreat, soO still emerged with a 50+ supply difference. With a massive economy and the ability to rapidly replenish his forces, his plan was to break Zest through sheer force of numbers.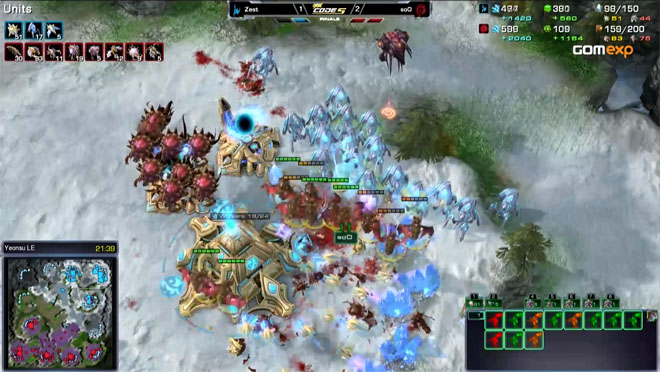 These sorts of awful engagements ruthless tactics would become a hallmark of soO's over the years.
The problem was that even with nearly 50% more income than his opponent, soO wasn't actually getting anything meaningful done. Zest was still clinging on to his third base, and his army made
specifically
to counter soO's composition was slowly growing. More importantly,
soO wasn't moving off of that composition.
The turning point came around the 23 minute mark when another one of soO's headlong charges into Zest's third base was repulsed. Even though soO had the economy to maintain a near 50-supply lead in the aftermath, he had taken his worst trade yet. It was clear that the previously 'acceptable' losses soO was taking in direct combat would soon cross the line into suicide. On the other hand, Zest realized his army was finally strong enough to let him back out onto the map, and thus, back into the game.
Zest rushed to secure his much-delayed fourth base at the 4:00 position, which happened to be directly adjacent to one of soO's own expansions. It was a blustery move, but not necessarily a foolish one—outfitted with +3 attack, Zest's army of blink stalkers, archons and phoenixes were tailor made for smashing soO's mutalisks. Moreover, it allowed Zest to keep all of his mining bases within close distance of each other, minimizing harassment opportunities for soO's mutalisk-centric force. Conversely, soO found his sprawling domain a wide open target for Protoss harassment, with phoenixes and zealots terrorizing expansions on opposite ends of the map.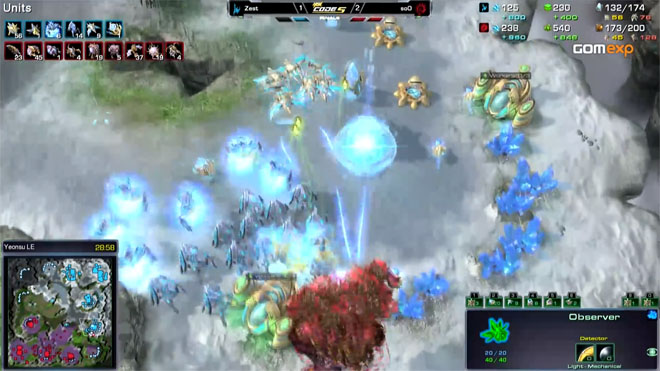 Good ol' potato quality streaming from 2014.
For soO, the situation got grimmer by the minute. There had been plenty of time earlier when he could have used his economy to make brood lords, ultralisks, or infestors (all units would use to great effect at various points in the series) with his massive economy. Instead he had kept trying to bludgeon Zest into submission, and now he was stuck making mutalisks against stalker-phoenix-archon without any breathing room to transition. Persistent harassment from zealots and dark templars was slowly whittling down soO's drone count while also preventing him from taking any additional bases as his initial expansions started to dry up.

Time to pay the bill.
By around the thirty minute mark, soO had been reduced to 30 drones and was desperately trying to get on two-base mining. Though he had earned a few precious respites by picking off Zest's fourth base with backdoor attacks, the writing was still on the wall. Where Zest was once 80 supply down, he was now oscillating between a 20 to 30 supply deficit. soO had 42 mutas, but winning a direct fight was impossible and skirting around the edges of Protoss territory doing minor harassment wasn't going to close the gap.
Desperate to find an engagement which could swing things back in his favor, soO finally jumped at a half-opportunity. When Zest sent his phoenixes to butcher the last of soO's workers at a far-off expansion, soO went straight for Zest's only mining base. However, even with the phoenixes gone, this meant diving into a fortified position of cannons, stalkers and archons. soO's forces were massacred and he surrendered the GG.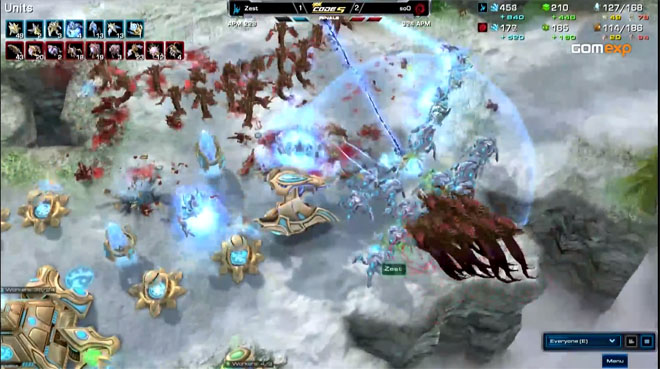 One has to wonder if Caustic Spray would have made any difference over the course of the game.
What if soO didn't throw away an astronomical lead on Yeonsu? What if soO won his first GSL final that day? Winning game four on Yeonsu would almost certainly have ended the series, as only one player has ever coming back from 1-3 or worse deficit in Code S finals history:
Soulkey in his 2013 reverse-sweep of INnoVation
(ironically, Zest overcame a 1-3 deficit to beat PartinG in the 2014 GSL World Championship). What if winning a championship could have changed something in soO, and he didn't lose five* more finals after that? What if soO won the next final, and the one after that… It can't be understated how much this game on Yeonsu forever changed soO's career.
[*We're going by the Korean community championship-accounting rules (no KeSPA Cup, no DreamHack, no non-Katowice IEM's, no HSC) because that seems to be what soO himself follows.]
Instead, soO played one of the ugliest games in StarCraft II history, one in which all his strengths and weaknesses were magnified to the extreme. soO's impeccable macro and fixation on low-tech units allowed him to push Zest to the verge of defeat, but his lack of flexibility saw him give-up an unbelievable comeback and eventually suffer an agonizing 3-4 finals loss.
On the other hand, if Zest had lost that final, it would have been all too easy for fans to write off his later GSL Global Championship and KeSPA Cup victories as trivia fodder. Despite being an elite player, he would have had the "Proleague-only" stigma forced upon him, and cynical fans would have constantly questioned his abilities until he won the IEM World Champion in 2015, or perhaps even his first Code S title in 2016.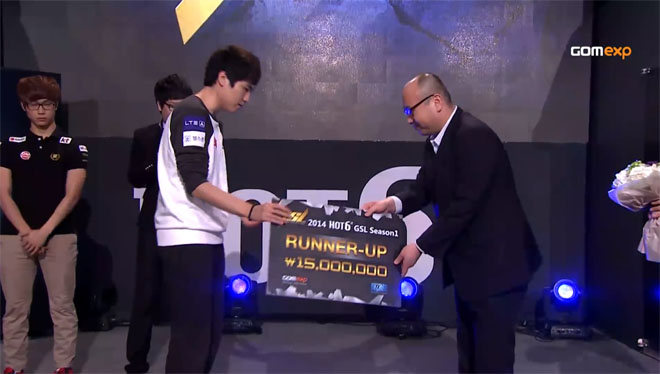 [Your meme here]
There have been plenty of throws in StarCraft II history, and this one certainly isn't the biggest one in terms of in-game advantage lost. But I believe that no game was so shocking in the moment, or had such a negative impact on a player's career and legacy as this one. Fortunately, we don't have to look back on this match as a total tragedy—soO's stubbornness was finally vindicated when he won a championship last March at IEM Katowice. soO used a constant tide of lower tech units to batter Serral into submission in the quarterfinals, and he went on to similarly pummel herO and Stats in the semis and grand finals. Still, it's worth remembering that fateful match on Yeonsu where it all began: a five year curse, and the birth of StarCraft's greatest Kong.
---