Disasterpiece Theater, #3
The Day Proleague Died: Zest vs Trap
By: Mizenhauer
What makes a game of StarCraft II
bad
?
The first two editions of Disasterpiece Theater explored that question and found two very different answers.
soO's Kong-ing out loss to Zest
was a throw of unfathomable proportions.
Curious' tortuous dismemberment at the hands of Flash
was an exhibition of what happens when meta and map incentivize players NOT to play StarCraft.
Ultimately, bad games almost always fit into one of two archetypes: Those which sour due to factors within a player's control, and those that are the product of some external influence.
As nauseating as those games were, we're going to examine a catastrophe of an entirely different magnitude to revive this series after a year on ice. A game with elements of soO and Curious' defeats, but packaged together in such a manner that it transcended both of them. In other words—the perfectly bad storm.
Without further ado, we take a journey back to the fall of 2016 when Zest played Trap in perhaps the most important game he would play that year—where he really seemed to not give a f**k about whether or not he won.
Zest vs Trap: 2016 Proleague Finals. Jin Air leads 2-0.

A game you probably forgot about until you were rudely reminded
In order to fully comprehend everything going on in this very brief game, we must first
invent the universe
understand how we arrived at this match in the first place.
2016
was very much a cursed campaign for the teams of the SK Telecom Proleague. It came in the shadow of
the 2015 season
, which might be regarded as the apex of the StarCraft II era in Proleague. Fan favorites and viewership drivers SK Telecom T1 trotted out their best ever roster in 2015, despite having lost half the players who led them to a second place finish in the
previous season
. Gone were Soulkey, Rain and PartinG, but the emergence of Dream, along with the acquisition of INnoVation, gave SKT the most balanced roster in the league. Those two, along with proven contributors Dark, soO and Classic, combined for 69 wins over the course of the year. Come autumn, Proleague's foundational franchise defeated Jin Air 4-2 to claim its first StarCraft II team title.
The aforementioned Green Wings had emerged as a real powerhouse in 2015, thanks not only to their superstar duo Maru and sOs, but also an improving Rogue, who notched the fourth most wins in the league with a deep bag of innovative strategies. The rest of the team was as much of a hindrance as they were help, with none of them posting a winning record. But thanks to sOs' all kill against KT Rolster and Rogue's baneling fueled heroics against herO (If I had a nickel for every time I referenced this game in an article...) Jin Air reached the finals in Lotte World.
Even though Jin Air ended up losing, the finals run cemented Jin Air's place as a legitimate title contender heading into the 2016. It seemed like a safe bet that SKT, KT Rolster and Jin Air would retain their spots atop the league while herO and whatever guys CJ Entus chose to salvage from the discount bin would inevitably be dangerous wildcards.
Almost immediately after the conclusion of the 2015 season, things started to unravel at an alarming pace. PRIME was hit by a
match-fixing row
, leading to the team being
disbanded shortly after
. SBENU owner Sonic became embroiled in a fraud scandal, leading to the
dissolution of SBENU and emergency takeover by AfreecaTV
. And, a week before the start of the 2016 Season, the whole
Life thing happened
.
Oh, and there was Legacy of the Void. It would be callous and sensationalist to compare it to the damage match-fixing inflicted upon the Korean scene, but Blizzard really wasn't doing pro StarCraft many favors with the release version of StarCraft II's final expansion.
The units weren't particularly well balanced, Tankivacs changed a fundamental property of Terran that had stood for years, and the initial map pool was one of the worst ever (the situation was so dire that Proleague turned to Heart of the Swarm standouts such as Overgrowth and Frost in an attempt to salvage some degree of competitive integrity). Overall, the quality of games was a far cry from that we had seen in 2015, as players went from a nearly solved edition of StarCraft II to being participants in a live beta test.
Anyway, let's fast forward about eight months. Jin Air had delivered on the promise they'd shown in 2015 and then some. Thanks to Maru's absurd
85% win rate
, as well as sOs, Rogue and Cure's yeoman-like performances, the Green Wings marched to the finals in Round 1, only to be felled by SKT once again. They did, however, finally get over the hump in Round 2, with Maru's game seven victory over Zest ranking among the most thrilling games of 2016. Jin Air ran it back in
Round 3
, this time beating KT 4 to 1.
Let's just pretend there were TL awards in 2016 so this could officially be the game of the year
As for the rest of the league, SKT was predictably solid. They entered the year end playoffs as the third seed behind KT Rolster and the seemingly unstoppable Jin Air, despite putting the operation on cruise control with an underwhelming 2-4 record in Round 3.
The battle for the final playoff spot, meanwhile, was far more tightly contested. Had Maru not gotten the better of ByuL in game seven of the penultimate match of Round 3, CJ Entus would have reached the final four. As it were, CJ's defeat meant the Afreeca Freecs lucked into fourth place, despite their failure to defeat CJ a day earlier (which would have earned them a playoff spot through their own efforts).
Form is temporary, class is permanent, yada yada yada, what do you know—SKT woke just in time to squash the Freecs in the first round of the playoffs. KT Rolster then proved they were the best KT (this saying really sounds better the other way around) by defeating their arch rivals 4-3 in back to back matches to lock up a place in the finals opposite the ascendant Jin Air.
So, about that 2016 KT Rolster team. This was hardly the same team that had been crowned champions two years earlier. Stats had developed into the second best player in the league, as far as wins and losses go, but gone was Flash, who had provided the highlight of their championship run when he punted PartinG's head into the Han River. Heavyweights Zest and TY were bonafide worldbeaters when faced off in the first GSL final of 2016, but they had fallen off steeply after such hot starts to the year. Amazingly, KT's fourth most productive player in 2016 was actually Leenock. Amazing, not because he did so while only managing a meager 5-8 record or because the team had featured five very reliable players the year before. But, because Leenock had been acquired when
KT traded Life to the Afreeca Freecs
mere days before he was arrested. (An extra f**k you to Afreeca (previously SBENU, previously StarTale (Life's original team) since Life would never play a game for them)).

StarCraft II's nominee for the worst trade in sports history
....and we're all caught up. The final between Jin Air and KT Rolster was held at Children's Grand Park which meant the English speaking audience had to brave the notoriously sketchy SPOTV outdoor audio. As for the venue, the amphitheater wasn't exactly bursting to the gills, but it was reasonably full. Despite a year of lackluster games, Proleague held a special place in the hearts of Korean fans and they weren't going to miss the chance to support their favorite teams. In retrospect, they might have been better off staying home as KT Rolster failed to show up.
Game 1 between Trust and Cure was awful. But, the alarm bells weren't ringing just yet. Trust had never been very good, while his opponent Cure had shown moments of excellence. After a meek all-in that was never going to work, Trust tapped out.
TY could never be confused with Trust, but his proxy banshee did a pretty respectable imitation when he faced Maru in game 2. Maru took minimal losses from TY's aerial harassment before responding with a tank push that put him way ahead. Five minutes later, Jin Air was up 2-0.
And, so, it was Zest's turn. But, not before another break for more historical context!
A month and a half after the conclusion of this finals, KeSPA would publicly announced the discontinuation of Proleague. It turns out the match-fixing scandal had been the final nail in the coffin. In a statement released by KeSPA, its
chairman* said
:
"As for me, after being appointed as the chairman in 2013, I did my best with the association and its partner companies to improve Proleague and market conditions. We looked far and near for all possibilities including creating better broadcast conditions and increasing sales of broadcast rights, securing the JinAir Green Wings sponsorship, cooperating with foreign league organizers, and hosting the KeSPA Cup. Thanks to the support of everyone involved, Proleague was able to continue on through 2016.

However, the drop in the number of ProLeague teams and players, difficulty securing league sponsors, and match-fixing issues have made it challenging to maintain ProLeague."
Only, everyone inside the scene had seen the writing on the wall for a long time (if they hadn't been sent the book outright). While we, its fans, were completely in the dark as to Proleague's dire situation, the behavior of SPOTV's on air talent, and the tears flowing from their eyes during the
award ceremony
hinted they knew what was coming. And, if Hyunkyung, Chaester and everyone else were aware this was their last broadcast, it's quite likely the KT team which had "participated" in the final knew their team was but a few days from disbanding. Their way of life was about to come to an end.
Jin Air was the team of destiny, eager to avenge their finals loss from the previous year and claim their first title. On the other hand, KT was a squad led by KeSPA veterans who had already earned their share of individual and team glory. We can't say for sure what their mental state was headed into the match, but the quality of their play in the finals makes it hard to believe that they were unaffected by the coming doom.
(*In a bit of extra-cursedness, the KeSPA chairman at the time is currently on trial for using KeSPA as a vehicle to launder bribes.)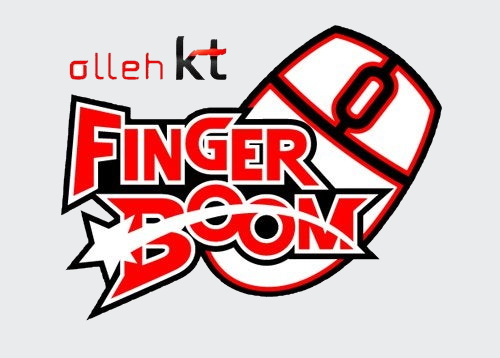 Gone, but not forgotten
Back to the game!
New Gettysburg had actually been one of the better maps in 2016 and had given us a fair share of palatable games. But Zest had no intention of adding to that tally. See, Zest was better than Trap and had been better for... ever, really. He had been the best player in the world in early 2016, and while his star had faded in the latter portion of the year, he was still far more potent than the Jin Air role player. Given that Trap was still years away from mastering Legacy of the Void, with loss to
Neeb in the KeSPA Cup finals
being his LotV highlight thus far, Zest was the prohibitive favorite.
So what do you do when you're way better than your opponent? That's right! Cannon Rush. Off Zest went, with one probe and one dream as he crossed that little bridge that Tasteless was unusually obsessed with. Trap built his pylon and gateway at his ramp, which meant he had a clear view as Zest's pylon started warping in just a few tiles away on the low ground. Zest added another pylon in the middle of Trap's buildings to complete an offensive wall, prompting Trap to pull his Probes to try and clear it. Zest relieved him of that duty by canceling said pylon after starting a photon cannon on the low ground, and set about trying to place a high-ground building for vision while Trap chased him around with nearly all his probes.
No problem, you might think. After all, Zest had been an elite player for years. Sadly for KT fans, his micro in this moment was more reminiscent of someone at the tail end of a too-long ladder session than perhaps the greatest Protoss of the last three years. His two probes scrambled around desperately to find a spot to build a high-ground building, but were trapped and killed by a swarm of defending probes. The Code S and GSL World Champion found himself left with 600 minerals in the bank and a useless cannon on the low ground. He sent a third, and a fourth probe across the map, but once Trap's mothership core popped out, Zest's goose was cooked. A pylon-overcharge and some help from a stalker was enough to clear Zest's structures from Trap's base while an adept limited Zest's mining on the other side of the map.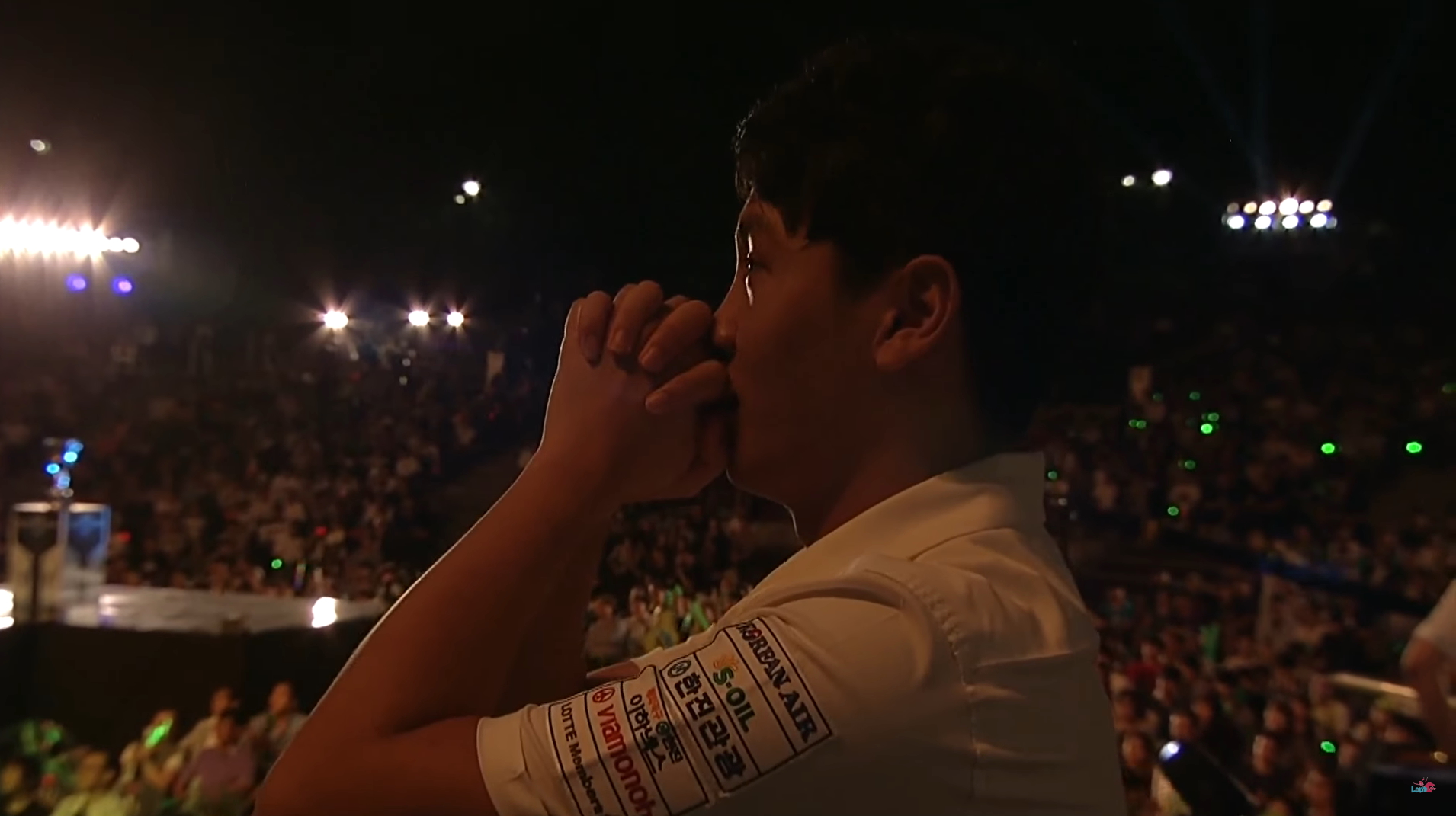 Creator praying his teammate will win so he won't have to play against Stats
From there Zest really had no options. He stayed in the game a bit longer, but finally called it quits once his second gateway was unpowered.
This was not actually the deciding game of the finals. But, looking at the line-up sheet, few fans expected jjakji to have a chance against sOs in game four, making Zest's meek capitulation all the more unexpected and excruciatingly appalling. It was perhaps the worst game in a year full of worst games. It was symbolic of a league that had been gutted. Of a team that soon wouldn't be a team. Of a player staring into a future where the only certainty was the lack of certainty. We can't know what Zest was thinking about in that match (at least until we hear about it on some inevitable post-retirement stream), but the simple fact was that neither he, nor any member of a KeSPA team, would play another match of Proleague after that day.
Night had fully set in by the time Jin Air claimed victory. They threw their coaches into the air and celebrated amidst confetti that streamed insensibly through the air.
But it wasn't that moment of bittersweet celebration that summed up the night. It wasn't Hyunkyung's tears as she took the stage one last time. It wasn't the KT fans hastily exiting the second Jin Air won. It wasn't the
cryptic messages
mixed in by SpoTV, giving their audience its goodbyes. It was Zest, and his godawful cannon rush—the perfect encapsulation of the day Proleague died.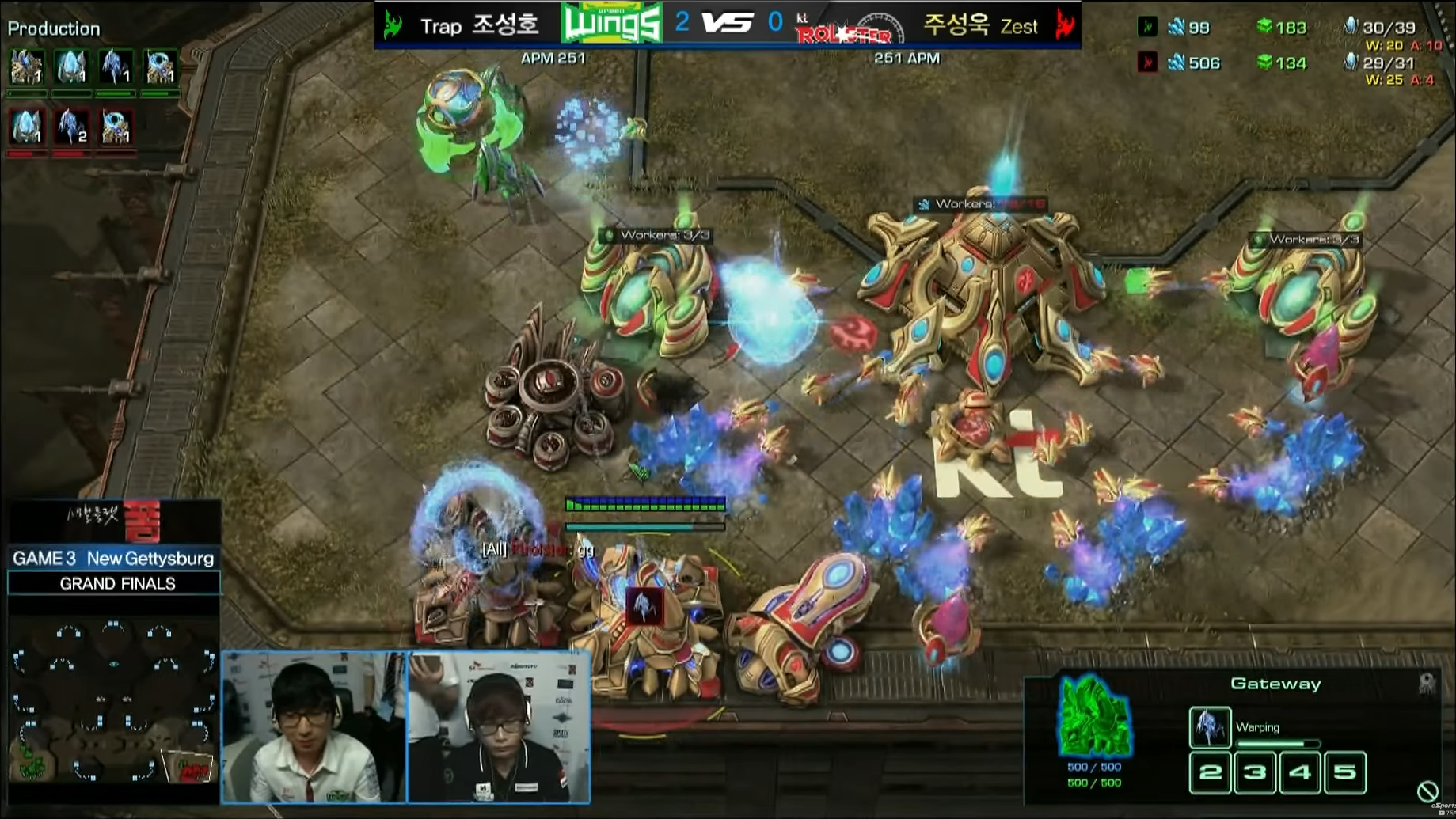 What a way to go out
---
Credits and acknowledgements
Written by:
Mizenhauer
Editors:
Wax
Image captures: LOUD CAST (SpoTV Games)