Tournament Spotlight: Underdogs 2021 Season 3
by Poopi
Underdogs
is a tournament series for Francophone players that O'Gaming has organized since 2013. It has helped the French StarCraft 2 community grow over the years, and has served as a springboard for talented young players. The most prominent player to come from Underdogs is Clem, who was a finalist as early as 2017 and won his first Underdogs season in January of 2018. It's not just Clem—most of the well-known French players such as Dayshi, Lilbow, MarineLord, PtitDrogo, and Denver have a background in Underdogs. From 2020 onwards, Underdogs had 3 tournaments per year, with Clem winning all of them.
Starting in December with sixteen players, Season 3 of Underdogs 2021 is now set to wrap up on January 22nd in the O'Gaming studios with the final four (international fans may know it as the venue for the Nation Wars 2019). It's one of the few offline events that have been held in Europe since the pandemic started, with crowdfunding on
Ulule
enabling the event to be held offline. O'Gaming has hit several extra donation goals as well:
The first donation goal was holding the event offline.

The second donation goal was a Bo3 show match between two "prodigy sons": Dayshi vs Stephano.

The third donation goal was a 20 minutes extension of the event with some players and casters interviews.

The fourth donation goal was a BO3 France vs World show match, with the winner of this season of Underdogs representing France while HeroMarine represents the World.
While Clem is heavily favored to win yet another Underdogs title, fans who missed the atmospheres of live events might still want to tune in for this match. The French casters at O'Gaming always bring a lot of energy to the casting desk (there's a reason that clips from the O'Gaming stream during a Clem match are frequently shared even outside the French scene), and they're sure to make it a fun time for the viewers.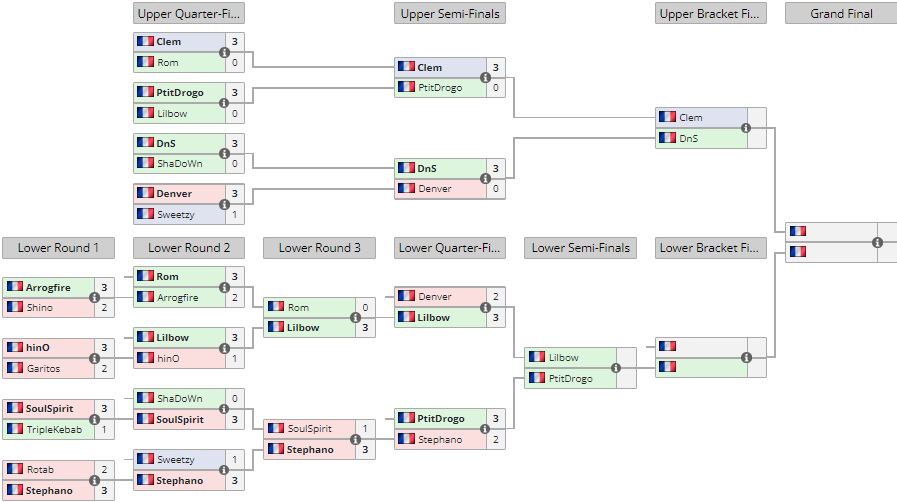 The Season So Far....
The tournament began with several close matches in the lower bracket, with the on-paper favorites generally coming out on top.

Arrogfire
(
#10 on the French Aligulac.com rankings
at the time of writing) narrowly defeating

Shino
(#9) with a close 3-2 PvZ victory,

hinO
(#16) scored a small upset against

Garitos
(#12) with a 3-2 win, and

SoulSpirit
(#8) beat

TripleKebab
(#23) pretty handily by a 3-1 score. The last match of the lower round 1 featured an old fan favorite and legend in the form of

Stephano
(#5), who struggled to beat

Rotab
(#11) by a 3-2 scoreline despite the nearly 600 point differential in their respective Aligulac ratings. However, considering that Stephano is not that active anymore, and that ZvZ was a weakness even during his prime, it wasn't that big of a surprise.
The winner's bracket quarterfinals were even more predictable and far more one-sided, with only one underdog managing to take a map in four matches. Indeed,

Clem
(#1) beat

Rom
(#13) 3-0,

PtitDrogo
(33) took out

Lilbow
(#6, but similar to Stephano, pretty inactive) in another 3-0, and

Denver
(#2) beat

Sweetzy
(#17, now the second highest rated active Terran in France since MarineLorD is focusing on AOE4) 1-3.

DnS
(#4) getting a clean 3-0 vs

ShaDoWn
(#7)—both regulars in DHM Europe—was arguably the biggest surprise in the round.
Lower Round 2 was more fiercely contested, with participants of similar skill level facing each other: Rom barely beat Arrogfire 3-2, Lilbow semi-surprisingly beat hinO 3-1 which indicates that his baseline level even inactive is pretty high. The most unexpected result was SoulSpirit winning 3-0 against ShaDoWn (he does seem to be less active since the last DHM EU season ended). Finally, Stephano was able to beat Sweetzy 3-1.
Lower Round 3 could have been time for the namesake Underdogs to shine against the semi-retirees Lilbow and Stephano, but the veterans proved the old adage of "form is temporary but class is permanent" correct as they both won their matches to continue on in the tournament. Indeed, Lilbow 3-0'd Rom in a one-sided PvP match, while Stephano once again won with a 3-1 score against SoulSpirit.
The Winner's Bracket semifinals were not that predictable, and probably foreshadowed the big upset that would soon follow. Clem did not go easy on any of his opponents, and easily beat PtitDrogo 3-0, but DnS also prevailed without dropping a map against Denver. Considering that Denver has recently performed better in European and international competition (notably reaching the top eight of DHM EU: Winter), this came as a bit of a surprise. With those victories, DnS and Clem qualified for the live finals in Paris.
The Lower Quarter-Finals was where the fun was, with only two tickets to the O'Gaming studio left for the taking as Lilbow went against Denver and PtitDrogo faced Stephano. The Wings of Liberty legend was the sure underdog in this Legacy of the Void match against PtitiDrogo, but perhaps motivated by the possibility of playing offline once more, Stephano managed to take a 2-1 lead on his Protoss opponent. However, he could not close out the match as PtitDrogo came back to eventually win 3-2. Fortunately for Stephano, he's still invited to the offline finals for a showmatch against Dayshi.
The Denver against Lilbow match was the biggest surprise of the tournament so far. The underdog veteran Lilbow took an initial lead by going up 2-0, but Denver managed to claw back and tie the series 2-2. The last game on Blackburn was a tense thriller of a match (
VOD
). Lilbow used a lot of Zealots and a single Void Ray to destroy a weirdly placed Roach Warren (near the third of Denver). Not realizing right away, Denver took too long to build back his Roach Warren. He could not defend properly against the endless wave of Zealots and GG'd out. Thus, PtitDrogo and the unlikely Lilbow (both members of team Altar players, sponsored by OG caster TKL) qualified for the offline stage.
Offline Finals Preview
The first scheduled match is the winner's finals between Clem and DnS. While their
overall head-to-head record slightly favors Clem
at 34-24 in matches, and 101-75 in maps, most of the wins for DnS are from Clem's early career, before he became the Clem we know today. In fact, Clem has actually won their last 14 encounters in a row, with an absurdly good map record of 32 wins - 2 losses. Not surprisingly, I will go ahead and predict a 3-0 victory for Clem.
The second match is the lower bracket semifinal between PtitDrogo and Lilbow. It's a rematch from the first round of the upper bracket, with PtitDrogo winning 3-0 in that encounter. While I think Lilbow will have the French crowd on his side in this offline rematch, I still expect PtitDrogo to win once more in the end, with
Aligulac.com favoring him by almost 80:20 odds
.
The likely losers' bracket finals should be another PvP between PtitDrogo and DnS. The two players are very closely matched in both Aligulac.com rating and head-to-head record:
DnS leads 21-20 in series
, but Drogo is actually ahead 68-65 in map score. Meanwhile,
Aligulac gives Drogo a 52.81% chance of winning
. I expect the match to come down to the last game, with
the meme king
PtitDrogo winning due to his superior experience in such offline settings.
The finals should be pretty one sided towards Clem once again, with the Terran
winning their last 15 encounters while dropping only 5 maps
. Still, I expect PtitDrogo to put up a fight, and maybe even rile up the crowd with a ceremony after a map victory. Also, Drogo might have a fatigue advantage over Clem, who will potentially have played several WTL playoff matches for Team Liquid earlier in the day.
Predictions: Clem 3
- 0 DnS
PtitDrogo 3
- 1 Lilbow
PtitDrogo 3
- 2 DnS
Clem 3
- 1 PtitDrogo -
Clem wins Underdogs Season 3
Showmatches
The event will also feature a BO3

Dayshi
vs Stephano showmatch. Dayshi was one of the best French players during the Heart of the Swarm, and was a regular winner of Underdogs championships. He and Stephano are pretty close as players who were active at the same time, so there should be some fun banter. The Terran player is more active in DotA2 than Starcraft, so the two may try to play some weird games and strategies to entertain the fans.
The second showmatch will be world class, with the Underdogs winner taking on

HeroMarine
. If Clem wins underdogs as expected, this could be good tune-up match for him in what has often be an problem match-up. Clem and Big Gabe have clashed often in the ESL Open Cups, and the German Terran has won more than his fair share of games. Playing in front of a French audience, I expect Clem to rise to the occasion this time around. If somehow a player other than Clem wins Underdogs, HeroMarine would have to be pretty heavily favored to win. In any case, since this will be a France vs Germany on French soil, perhaps there will be some friendly heckling involved?
---