Sixteen months after suffering a painful 0-4 defeat to TY in the Code S Finals, Cure has finally earned a chance for redemption. Taking out Trap in a clinical 4-1 series in the semifinals of 2021's Code S Season 3, the DPG Terran has earned a return to the finals where he will attempt to win Korea's ultimate title once more.

The finals match-up is set to be one of the more unusual ones in recent history, with Zest and Cure having been each other's practice partners throughout the duration of Code S. The mind-games are sure to be intense as the two players face off in a battle for Korea's ultimate prize. The grand finals of Code S Season 3 will be played on Thursday, Oct 07 9:30am GMT (GMT+00:00).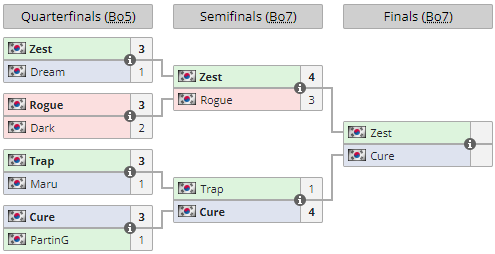 ---
Match Recaps

Game 1 - Romanticide: Cure looked to play off his many proxies against PartinG in his previous quarterfinal series, opening with a fake-proxy Barracks close to his main. Trap bit at the feint somewhat by making a Zealot, but ultimately the game played out without any major early game complications.

As Trap teched up to Oracles into Phoenixes, Cure went for Widow Mine drops in turn. These choices seemed to favor Trap heavily at first, with Cure's first drop being mostly nullified by well-placed Phoenixes and Adepts. However, Trap gave back much of his lead in a reckless Adept-Phoenix counter-attack where he achieved little while losing many units.

After this point, Cure was able to apply consistent pressure with bio units while forcing Trap to keep making Phoenixes for short-term defense. Trap nearly got himself into the clear after staving off a series of attacks by Cure, seemingly stabilizing on a powerful army of Gateway units supported by Psionic storm. Alas, Trap was unable to hold against Cure's final offensive, with masses of Terran infantry supported by Ghosts able to overpower the Protoss army in the end.

Game 2 - Nautilus: The scouting positions ended up favoring Cure on Nautilus as he succeeded with his 3-Rax Reaper opener against a misguided scouting Probe from Trap. Yet, despite this initial advantage, Cure couldn't find a way to get damage done against Trap's Oracle opener and solid defense.

Cure looked to transition into a macro build after his failed opener, but alas, left himself open to a huge Glaive-Adept counter-attack. Overwhelmed by the Protoss army, Cure GG'd.

Game 3 - Blackburn: Cure opened up with an 'obvious' proxy Barracks at the backdoor spot on Blackburn, which Trap scouted out early with a Probe. The game seemed to go swimmingly for Trap, as he stopped the proxy-Reaper and follow-up Mine drop easily with his Oracles. However, the game swung back in Cure's favor in the blink of an eye, when Trap tried to press his advantage by attacking with his handful of Oracles and Stalkers. The Terran defenders made short work of the over-aggressive Protoss forces, giving the lead right back to Cure.

Despite some strong defensive efforts by Trap, he was unable to hold out against the oncoming onslaught of Terran bio. A few solid mine-drags by Trap made the game feel close, but ultimately Cure triumphed in the end.

Game 4 - Oblivion: The battle of build orders favored Cure once more, as he opened up with defensive Mines against Trap's proxy-Oracles. Be it through bad micro by Trap or good positioning from Cure, Trap ended up losing his first Oracle while Mines were left to wreak havoc in his Probe line. While Trap's initial reactions and defense were commendable, his anti-mine concentration slipped in fatal ways as the game went on.

Trap attempted to go for a Glave-Adept all-in to try to salvage the situation, but Cure was too far ahead to lose. In the end, an invincible army of infantry rolled over Trap and forced the GG.

Game 5 - Oxide: After many tricky openers, Cure finally opened with a standard Reactor-Barracks expansion build. Despite this, Cure somehow baited Trap into a favorable response, triggering a 5-gate Blink-Stalker build against his extremely conservative Terran play. Cure held off Trap's stalkers deftly with well-positioned Tanks, and the counter-attacked with Tanks and stimmed-infantry for a clinical win.