World Team League - 2021 Summer Season
by: TheOneAboveU
Week 5 of the WTL 2021 Summer Season saw the top five teams maintain their spots in the playoff race, with a mere four points separating the first placed Team NV from the fifth place Shopify Rebellion. The Rebels stayed one step ahead of the pursuers by forcing an ace match against Dragon Phoenix Gaming, continuing their soaring debut performance. Still, only a two point buffer remains between Shopify and the rest of the mid-tier pack, leaving the race for the fifth and final playoff spot wide open.
Good Game Gaming, too, managed to impress by taking defending champions KaiZi Gaming all the way to an ace-match, showing the overall depth of teams in the WTL. Less fortunate were Team eXoN, whose playoff chances took a huge blow after losing to fellow American team Alpha X in a crucial mid-table battle.
The highlight match of Week 6 sees the Golden Dragons go up against #2 ranked Afreeca Freecs. The Freecs are heavily favored on paper, but nothing is certain against a wily Alpha-X squad known for its meticulous preparation. Good Game Gaming find themselves in a similar position as they clash with the titans on Dragon Phoenix Gaming. GGG have been surprisingly hard to kill so far, and they may put up yet another strong fight.
Also, it's Team Liquid, Shopify, and KaiZi's turn to take on the winless trio at the bottom of the table. Team LP and Invictus Gaming have only put up token resistance this season and should be easy pickings, but Team GP have shown they have the potential to make things dicier than expected for Liquid.
Catch the WTL 2021 Summer Season on the streams of Wardi and CreightonOlsen every Friday, Saturday and Sunday at 11:00 GMT (+00:00)!
Week 5 Recap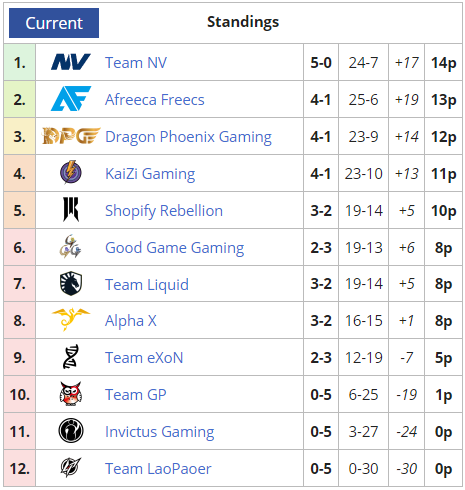 Top 5 teams qualify for the playoffs.
Points are awarded as follows:

3 points for a normal victory in a series that does not require an ace match

2 points for a victory in a series that requires an ace-match

1 point for a loss in a series that requires an ace-match

0 points for a loss in a series that does not require an ace match

Invictus Gaming 0 - 6

Afreeca Freecs
Watch VOD
Invictus Gaming wondrous power of always taking a map hit its limit, and they went 0-6 against the Afreeca Freecs on Friday.
AF.Stats
began the one-sided show by dominating
iG.XY
with a Phoenix-Robo build in the first game, gobbling up his entire half of the map while containing the Terran in his own small corner before putting him rest with superior might. XY gave a Bio-Tank push with SCV support two tries in the second game, but his Korean opponent was able to dismantle both attempts with his Blink Stalker control.
Invictus' next champion
iG.MacSed
managed to draw some blood from
AF.Trap
, getting successful Adept harassment done in their first PvP, but the Korean used the tiniest of advantages in Blink Stalker numbers to snowball to a victory despite the economic losses. On the second map, MacSed simply got outclassed by his opponent while attempting a very similar build, Trap executing all the steps much better and amassing a superior army and economy as a result, managing to overwhelm the Chinese player's Gateway army with his own in a devastating battle.
Now merely playing for pride and map score,
iG.Coffee
managed to play a pretty good early game against
AF.Armani
, but then failed to hold up the pressure and get any damage done. He did finally move out to cancel the fourth Hatchery, though in the meantime a Ling counter ravaged his own third base. Coffee's push into the Zerg natural looked promising for a short while, but Armani's mopped it up with Muta-Ling-Bane and comfortably closed out the game from there. Combined Hellion and Banshee harassment secured some early Drone kills on the next map for Coffee, but an opening in his Supply Depot wall invited in a band of teenage Speedlings, who simply partied too hard with the SCVs there, resulting in a lot of losses for the Terran. His own offensive move was utterly crushed at the same time, leaving the series in the Freecs' hands without a map lost.

Team NV 5 - 1

Team GP
Watch VOD
Team NV perfectly justified its choice of players in the match against Team GP, taking a decisive win despite some doubts about their commitment to this series.
NV.Percival
secured his second clean sweep of the season in
GP.NaTuRal
's
last appearance
for his team. Percival got an early advantage in game one on Blackburn, launching a textbook two-prong attack with a Medivac in the main and Reapers and Hellions attacking the front. NaTuRal's counter attack managed to somewhat close the gap, but Percival's counter-counter attack once more widened his lead by forcing the evacuation of NaTuRal's third. Percival then secured the middle 'island' base on Blackburn for himself, giving him a close staging point for further attacks, but the NaTuRal used several Marine counter attacks to circumvent the position and keep himself in the game. The two players fought on fairly even footing from that point, but Percival still held the advantage in upgrades and supported his army with Ravens instead of Liberators, giving him the edge in the last couple of battles of an exciting TvT. Game two saw the NV Terran took an early lead again with a Hellion-Reaper attack, deflecting NaTuRal's Banshee counter with ease. Relentless aggression from Percival followed, which eventually allowed him to score a large amount of SCV kills. Transforming this economic lead into a military one, Percival kept up the pressure with NaTuRal hanging on like a champ, but eventually being overrun.
Unfortunately for Team GP,
GP.Ryung
couldn't repeat his 2-0 performance from Week 4 against
NV.sOs
. He tried a two-base all-in on the first map, which the Team NV Protoss handled with relative ease to win the game. Ryung put up much tougher resistance on the next map during a full-fledged macro game, which hilariously featured sOs using Psi-Storm on his own Probe line, doing more damage to his own economy than Ryung had done prior to this point in the entire match. With an unassailable Terran army on the field, sOs opted for back-stabbing attacks with Blink Stalkers and Dark Templars and eventually forced a full-on base race, which Ryung could not decide in his favor due to invisible warriors infiltrating his army and no detection being available.
Team GP finally found a map win thanks to
GP.Prince
, who pressured
NV.DongRaeGu
into conceding the first game with a relentless Glaive attack, which the Zerg found himself unable to handle. He tried the same thing in the second match as well, once more stunting DRG's economic growth, but he overplayed his hand with an Adept-Immortal attack. This move destroyed the base, but also left DRG with a huge surplus in army supply, which the Zerg turned on the Protoss, whose Disruptor count was by then not high enough to forever stem the flood. Back in control, the Zerg finished the game off after holding another Robo-Gateway attack from Prince, who really had his best showing of the season so far in this series.

Team Liquid 6 - 0

Team LP
Watch VOD
Team Liquid extracted the greatest possible gains from their clash with Team LP on Saturday, presenting the Chinese team with their fifth 0-6 loss in as many weeks. The player's morale does seem to suffer from the streak of losses,
LP.JoliwaLoves
even competing under the ID 'SadProtoss' against
Liquid'uThermal
. 'Sad' is probably the right word for the first game, in which the Protoss player
almost
got to play some StarCraft II. He focused on his economy early and got up a lot of infrastructure for a Gateway-heavy style. But with Charge kicking in a few seconds too late and his main base being completely open to drops, JoliwaLoves had to GG out directly to uThermal's Bio-Tank push combined with a simultaneous drop in the main. The second game went in an unfortunate manner for the LP player as well, as an attempt to snipe uThermal's single Siege Tank at his natural was poorly executed and the vehicle survived with a handful of HP. A similar offensive from the Liquid played ended the match.
LP.JieShi
also got handed with a disastrous first game by
Liquid'MaNa
, who opted for a proxy Stargate and destroyed twelve Probes with his Oracle, which then went on to scout the Chinese player's hidden Dark Shrine—funnily enough, both players proxied their buildings in the same neighborhood. Subsequently, the DTs were held off and the Shrine destroyed, with Adepts ravaging JieShi's worker line in the meantime. MaNa used the advantage gained from the damage he did for getting out Immortals quicker than his opponent, ending the game with superior firepower. The Polish Protoss completely demolished JieShi's harassment options in the second game, defeating his Adept force with fantastic Stalker micro in front of the LP member's natural. Snowballing from there, MaNa destroyed Probes and even an Immortal with this force before retreating. Stalker harassment continued throughout the game, but JieShi had gathered together three Immortals supported by some Adepts and Sentries, landing a punch which destroyed MaNa's third base. The Liquid player was quite alright with sacrificing that base, however, as his first Disruptor arrived to land a game-ending shot on JieShi's army.
The first game between
Liquid'Clem
and
LP.Alka
ended early, the Protoss going for Phoenixes and an early Charge upgrade, but losing Probes to a Reaper-Hellion pair. The Terran smelled blood and went for a push with Marines, a Cyclone and a Viking to finish his prey off. The final map of the series showed the difference in levels between the two players with Alka going for a standard macro game, but receiving the ultimate punishment from Clem's attack at his third base as his Colossi were rendered useless by his Raven and overrun by Bio.

Alpha X 4 - 2

Team eXoN
Watch VOD
It was only week five, but this battle between mid-table teams had potential to affect the playoff picture down the line.
eXoN.SpeCial
took the first map over
αX.RagnaroK
, winning in a macro game against a pure Ling-bane style from the Zerg. RagnaroK's decision to take a terrible engagement off Creep was the turning point in the game, giving SpeCial the initiative to finish the Zerg off before Ultralisks could take the field. RagnaroK equalized the series by playing Roach-Ravager-Bane in the next match, launching a deadly Roach counter attack during SpeCial's main offensive while crushing the Terran army with extremely effective Blinding Clouds.
Next up,
αX.Zoun
showed a very clean and effective macro game against
eXoN.Gerald
, always retaining the initiative in the match and getting small advantages like worker kills, sniping a Warp Prism and an Observer here and there, which eventually piled up enough so he could overrun his opponent with a larger ground force. Game two saw the two players leave each other to macro up for around eight minutes before the action finally picked up. Zoun drove a ferocious attack into Gerald's third base, which came close to a disastrous end when Gerald's Disruptor shots almost landed in the heart of his army. Several minutes of sustained battle had both players at essentially even losses, but crucially, the Korean had somewhat diminished the eXoN player's capacity of producing Disruptors. That enabled Zoun to apply the coup de grace after a short lull in the fighting and bring Alpha X to match point.
It was up to
αX.Astrea
to wrap things up against
eXoN.MaxPax
—this, the Alpha X player achieved through a ruthless Stalker attack supported by a proxy Gateway, which broke through MaxPax' Void Ray defense and secured the series for the Golden Dragons. The young Dane got his revenge on the second map, freezing Astrea's entire main mineral line with a Stasis Ward while distracting him at the front of his natural base, later diving in again for some kills. The American Protoss resisted heavily, however, beating back several attacks by MaxPax with his Blink Stalker army, though he lost his crucial Immortals during this series of battles. Switching gears from his Gateway-only approach, the eXoN player added Immortals to his own forces, which finally broke Astrea's Stalker army.
It's only week five, but Team eXoN's chances of making the playoffs already seem bleak. eXoN have now gone 1-2 against their fellow mid-table teams (with a match against Liquid remaining), and they will need to score some huge upsets against the elite four at the top of the standings in order to contend for a fifth place finish.

Good Game Gaming 3 - 4

KaiZi Gaming
Watch VOD
Another 'ace match Sunday' closed out Week 5 of the WTL and kept the playoff contenders packed together tightly. Good Game Gaming benefited from a fantastic performance by
GGG.Cyan
, who showed how he was able to contend with
KZ.TIME
in the Chinese DreamHack regional events last year. The Protoss reached deep into the bag of tricks for the first map, hiding a Twilight Council out on the map simply to keep TIME guessing and then taking the gold base as his third expansion while he teched into Colossi. The Terran, unsure about what exactly was happening, approached the match conservatively and thus did not get anything done to slow Cyan's growth. When he finally did move out, Zealots repeatedly found their way into his mineral lines, so his push ground to a halt when he was unable to send further reinforcements and Cyan secured the first game. Mixing things up, the Protoss opted for a hyper-aggressive strategy in the second game, outright winning with a proxy Gateway build.
A TvT bout continued the series with
GGG.Dream
and
KZ.INnoVation
taking their position in the spotlight. Both seemed content with building up three bases before really committing to any action and when forces finally moved out, the Machine got the better of basically every engagement on the map. He was also the only one to strike his opponent's economy with a drop, further hurting Dream's inefficient fights. Once he interrupted the GGG Terran's production with a siege-up from the low ground, the writing was on the wall and capitulation followed soon after. INnoVation tried to steal a second win with a quick drop that had killed GP.Ryung earlier in the season, but Dream proved to be made of sterner stuff and resisted the attack. The KaiZi Terran heavily invested into air units early on, while his opponent made the decision to not contest air superiority, relying on the greater mass of his ground forces to break through the Machine's lines. Having completely reset INno's tank count, Dream went for an effective drop in the main base and an attack on the third expansion in its wake, overwhelming INnoVation's overextended defense.
The pressure was now on
KZ.Solar
to keep his team in the series, but fortunately
GGG.Patience
is something of a favorite victim of his, so things went smoothly for the Zerg. In the first game, the Protoss tried a mass Void Ray build, which Solar crushed with the now all too familiar Ravager-Queen composition. In the second game, Patience served a Glaive build supported by a proxy Gateway with a double Stargate Phoenix into double Robo follow-up—though fancying himself a Protoss Noah, Patience failed in his mission to rescue two representatives of every Protoss unit from the Zerg flood, as Solar got to his own Hive army without taking catastrophic losses. When the GGG player went for his opponent's throat, Lurkers showed up in his mineral lines via Overlord express to suppress reinforcements while the main army was worn down and defeated.
With the existence of Solar denying a Patience ace-pick and
Dream
training TvZ anyways for GSL, the Terran was the only logical choice for GGG.
INnoVation
had already won a mirror in the ace match before, so he went out for KaiZi. Two Hellion drops secured the Machine a solid advantage over his former team mate at SK Telecom T1, who went for air superiority this time and slowly managed to push into INno's natural. The KaiZi Terran, however, had it all planned out: while he very slowly gave ground at his natural, he had force-marched an army over to Dream's expansion for a deadly counter and went right for the kill.

Shopify Rebellion 3 - 4

Dragon Phoenix Gaming
Watch VOD
The Rebels seemed determined not to be outdone by GGG on Sunday when it came to showing resistance against the favored team of the series, though they got the upper hand in showmanship for sure, as they started off very poorly and then started an exciting comeback.
Shopify.Scarlett
was clearly outmatched by
DPG.Cure
in the first bout, with the DPG Terran doing a lot of work with Reaper-Marine aggression—using a hidden Barracks in his main—early on and then finishing the game with a Marine-Tank attack. The Zerg held the Hellion-Banshee aggression off pretty well in the second game, but still was unable to steal a map away from Cure, whose clean Marine-Tank push overpowered her defenses.
Shopify.ByuN
kept the Rebels in the series in his first game against
DPG.Zest
, trading exceedingly well with his Bio-Mine composition against the Protoss player's Phoenix-Archon-Zealot army after a Widow Mine drop had done some economic damage early on. A group of horrendous Force Fields, which actually protected ByuN's army from his own Zealots, spelled doom for the DPG player. He made the composition work in the second game, putting in a huge effort with the nimble flyers to lift Widow Mines in every engagement and protect his Zealots from their explosions. He also employed Oracles with great consistency throughout the match to keep ByuN's army in sight, but also to do damage early on and slow the Terran war machine down. Zealot runbys were also used to that effect, making ByuN's still somewhat efficient engagements less of an asset. All this culminated in Zest being one step ahead of the Terran in the tech race, already fielding unopposed Colossi while ByuN only had out Ghosts to deal with the Archons and Phoenixes.
Once again, the Rebellion's fate lay in the hands of
Shopify.Lambo
, who had a tall mountain to climb against
DPG.Dark
with the pressure to 2-0 the Korean in order to force an ace match. The grand clash of EU ZvZ and Dark's very own playstyle delivered what it had promised: a back-and-forth first game started with an early pool from the DPG player, who took the lead not necessarily by doing a lot of direct damage, but by getting the German to invest a lot more into defense than he really had to—perhaps Lambo was fearful of a "random" attack from the Korean Zerg. Dark was unable to transform this slight lead into any substantial advantage, however, leaving enough space for a determined Lambo to mount a comeback and hit a deadly Roach timing with better upgrades and more units before Dark's Mutalisks could come out in sufficient numbers.
Mutas played a decisive role in the second game, but this time in the hands of the German, who audaciously used Dark's favorite ZvZ instrument against him, perhaps as a little payback for the mind game in the first match. Before Mutas took to the skies, however, Lambo had tried to overwhelm Dark with a Roach-Baneling attack, which the Korean defended with great skill and his usual stubbornness—a feature of this game in particular. Where Lambo had hit the perfect pre-Muta timing on the first map, Dark missed it in the second one, preferring to wait for Overlord speed to use Baneling drops. A great flock of the beasts soon controlled the map and picked off anything vulnerable. Dark sent out his useless Roaches to deal some counter damage, but the move proved to be a wrong one when Banelings crashed into his now unprotected Hydralisks, the Mutas having disposed of too many Lurkers beforehand, which were now unable to provide an effective screen. Dark managed to hold somewhat when Vipers came out, and even launched a deadly counter attack into Lambo's territory. However, Lambo was too far ahead for it to matter, and the German Zerg closed the match out to force an ace match and secure at least one point for the Rebellion.
Unfortunately for them,
ByuN
once again was bested in a TvT ace match as
Cure
took command for DPG and played an extremely clean game: he kept his cloaked Banshees in reserve for a very long time, waiting until he could verify that his opponent had moved out onto the map before finally moving them in to create carnage. The two armies missed each other on the battlefield, leading to a very early base trade scenario, which Cure came out of massively ahead. Cure ravaged ByuN's SCVs, while ByuN himself could not broach the high ground and take care of a crucial defensive Tank. Banshees dove in once more to add to ByuN's worries and act as harbingers of doom, as a large drop soon followed to force ByuN to surrender.
Weekly MVP: DPG.Cure
In a similar vein as NV.Maru, who claimed the MVP Award in Week 4,

Cure
is still undefeated in the current WTL season having amassed a 9-0 record thus far and proving the most stable element in the monster line-up of Dragon Phoenix Gaming. His victories against the Rebellion on Sunday proved critical for his team's continued success: delivering two expected points against Shopify.Scarlett and then closing things up personally in the ace match against Shopify.ByuN, Cure gave his club the best possible performance—a 3-0 is never a result to scoff at in this league.
That's also why
KZ.INnoVation
merely is present as an honorable mention this week, sharing this position with
Shopify.Lambo
and
GGG.Cyan
, who both exceeded expectations and secured valuable points for their teams.
Weekly MVPs

Week 5: DPG.Cure

Week 4: NV.Maru

Week 3: Shopify.Lambo

Week 2: Liquid`Clem

Week 1: NV.Creator
Week 6 Preview
Friday, Apr 30 11:00am GMT (GMT+00:00) Matches

Invictus Gaming vs.

KaiZi Gaming


MacSed
< Romanticide >


INnoVation


XY
< Jagannatha >


TIME


Coffee
< 2000 Atmospheres >


Solar
Ace:
< Oxide >
Is it time for another week of ritual misery for Invictus Gaming? Why, yes. Yes, it is. KaiZi Gaming have a very proud tradition of beating inferior teams up without any mercy whatsoever, so poor Invictus is very likely in for another 0-6 this Friday, which would be a repeat of the result of their clash from the previous season. Back then, the battle lines consisted of the same players as now, though the pairings were all different. That, however, is unlikely to make a difference in the outcome of this match.
iG.MacSed
and
iG.Coffee
have never won a series against their respective opponents—though the Protoss has taken some maps at least—and
iG.XY
's record against
KZ.TIME
is also extremely meagre with only a single map won against the younger Terran in the last two years. KaiZi are going to bring out the 'victus' in Invictus Gaming.
Prediction:
Invictus Gaming 0-
6 KaiZi Gaming

Team GP vs.

Team Liquid


Ryung
< Romanticide >


Harsten


Prince
< Jagannatha >


MaNa


ViViD
< 2000 Atmospheres >


Clem
Ace:
< Oxide >
Team Liquid made a step in the right direction in the previous week by extracting the maximum possible points from Team LP—a similar feat will be a bit trickier against Team GP, but should still be the overall goal. That said, with
GP.Ryung
up against
Liquid'Harstem
, who hasn't been too successful so far, the Koreans could score some early points and gain momentum, as the Terran has shown some potent attack timings before.
GP.Prince
played well against a Zerg last week, if he can upgrade his PvP in similar fashion he might prove difficult to subdue for
Liquid'MaNa
. The Polish player has had lots of experience with tricky mirror players, though, and should be up to the task. Naturally, a quick 4-0 is GP's only chance to win, for
Liquid'Clem
stands ready to close things out in the last series against
GP.ViViD
, who's unlikely to be very vivid after the Terran is done with him.
Prediction:
Team GP 1-
5 Team Liquid
Saturday, May 01 11:00am GMT (GMT+00:00) Matches

Team LP vs.

Shopify Rebellion


JieShi
< Romanticide >


ByuN


Wanted
< Jagannatha >


Lambo


mymy
< 2000 Atmospheres >


Scarlett
Ace:
< Oxide >
After weeks of tough struggles the Shopify Rebellion will face a weaker opponent in Team LP in Week 6, looking to bolster their statistics with a clean victory—failing here would diminish all the hard work in the previous series in value. The Rebels should have no problem sweeping away any resistance here with all three of their players massively favored to take their matches without a map being lost. There is, however, something to note about the match between
LP.Wanted
and
Shopify.Lambo
. According to Aligulac the German has
never
before faced a Chinese Zerg player, so the proven ZvZ expert has a chance to gain some additional credentials here by studying another art of war hitherto unknown to him—and if he thinks Korean ZvZ is crazy, Wanted may have some stuff to teach him.
Prediction:
Team LP 0-
6 Shopify Rebellion

Team eXoN vs.

Team NV


SpeCial
< Romanticide >


sOs


Gerald
< Jagannatha >


Bunny


MaxPax
< 2000 Atmospheres >


DongRaeGu
Ace:
< Oxide >
(The match order isn't 100% confirmed for this series due to some time issues for the players.)
If Team eXoN want to conjure a miracle and still enter the playoffs, stealing an upset against ranking leaders Team NV would be the first step. That said, forcing an ace match doesn't seem
entirely
implausible.
NV.sOs
certainly is the favorite against
eXoN.SpeCial
, who really has not found his groove in the WTL yet and could not take a single map off the Protoss in any of their
clashes
in 2020 or 2021.
A lot of fans expected
NV.Bunny
to play a larger role for NV in the league, as he has some GTC experience under his belt and contributed solid performances for his previous employer KaiZi Gaming. With his GSL run over, the Terran finally gives his WTL debut and looks at a
favourable
match-up for him in eXoN.Gerald. With the Terran's form in TvP being quite good at the moment, the Korean should be able to get the upper hand in both games of the series. Gerald has taken a map off this opponent in the past, though, and is in quite a solid condition himself at this time, making this an exciting contest.
If the Americans can make it to the last match-up without being defeated in the overall series,
eXoN.MaxPax
might be able to turn the tide in their favor against
NV.DongRaeGu
. The Zerg player's overall form isn't as solid as it could be, and GP.Prince reminded us why ZvP is his Achilles' heel last week. There might be
potential
for the young Dane here to score big time for his team. What's more, in their only showdown thus far back in December 2020, MaxPax actually took a clear 3-0 win over the Korean, proving his mettle against a legendary name of the scene. Team eXoN showed some great individual performances so far, but as a team they really weren't all too impressive up to this point—if they all can deliver at the same time for once, we might be in for a surprisingly close contest.
If
.
Prediction:
Team eXoN 2-
4 Team NV
Sunday, May 02 11:00am GMT (GMT+00:00) Matches

Dragon Phoenix Gaming vs.

Good Game Gaming


Cure
< Romanticide >


Patience


Zest
< Jagannatha >


Dream


Dark
< 2000 Atmospheres >


Cyan
Ace:
< Oxide >
Dragon Phoenix Gaming were not as solid as people expected up to this point, while Good Game Gaming have kept up pretty well with the rest of the mid-tier teams thus far. Can they repeat their success from the previous week and attempt the upset, or will the monstrous DPG squad find its form again to crush their playoff dreams? Last week's MVP
DPG.Cure
faces an opponent he's well acquainted with in
GGG.Patience
, as they are regular foes in various smaller events. Of the
seven recorded series
between them in 2021, the Terran won five to the Protoss player's two, which adds a personal edge in favor of Cure to his already great statistical advantages when it comes to form and match-up strength. Over years of team league matches we've learnt to never count Patience out, but the DPG player really seems to be on a hot streak at the moment, so he should be able to take a clean win here.
The day's second match shares some similarities with the first one:
DPG.Zest
and
GGG.Dream
are avid participants of smaller events, leading to
eleven series
between them played out in the current year until now. Of these, eight have gone in favor of the Protoss, while the Terran has won three. Had DPG.Rogue not interfered in GSL Code S, these two could've had a fateful meeting in the semi-finals there, but as things turned out both of them were eliminated by the Zerg. In WTL, they put in equally great performances thus far, though Dream had some problems handling eXoN.MaxPax' PvT style in their match, which may be something Zest could use to his advantage. Not that he really needs to adopt someone else's style—his own gameplay has served him pretty well against the Terran recently, so wagering everything on an experiment may not be the best idea. The Protoss should be slightly favored to come out ahead in this one, but a map-split scenario seems the likeliest outcome.
DPG.Dark
has clearly not had a great season so far, not even being able to amass a positive record going into Week 6. One might think that
GGG.Cyan
is the perfect opponent to let off some steam against, but the Protoss comes straight from a 2-0 win over KZ.TIME and should be a confident man after that. Sure, the
numbers
all favor the Korean quite heavily—however, that was also the case against his previous opponents. If Dragon Phoenix Gaming have not wrapped the match up by the time Dark plays, his Chinese Protoss opponent may have the chance of a lifetime to overcome a former world champion and steal a point away for his team. There was a time during which you could have confidently bet your life's earning on Dark beating some non-Korean upstart trying to challenge him, but those days are gone for good, there are no more guarantees with him.
Prediction: Dragon Phoenix Gaming 4
-2 Good Game Gaming

Afreeca Freecs vs.

Alpha X


Armani
< Romanticide >


RagnaroK


TY
< Jagannatha >


Astrea


Trap
< 2000 Atmospheres >


Zoun
Ace:
< Oxide >
While Shopify and Liquid are set to take 'free' points against the bottom-tier teams, Alpha X will try get a positive result against #2 Afreeca Freecs. Other mid-tier teams have been able to force ace matches against the top four (and even win them!), and now Alpha X must prove they're capable of doing so as well.
The line-ups look good enough for the Golden Dragons to actually force an ace match if everything comes together for them.
AF.Armani
and
αX.RagnaroK
are an interesting pairing for a ZvZ, because the Afreeca player has a much better form in the match-up in general, packing a win rate over 70%, clearly
overshadowing
his struggling opponent. However, the Alpha X player has won both of their clashes in the current year and maintains the lead in their personal records, so it seems that he may be a weaker ZvZ player in general, but he's got Armani all figured out, which could lead to a very interesting clash indeed.
Two seasons ago,
αX.Astrea
made his first big splash in this team league by stealing a map off of the heavy favorite AF.TY, who was playing for TSG back then. It's 2021 now and we're back at it in a similar situation. The Terran clearly has the
upper hand
, the aforementioned occasion remaining the only instance where Astrea was able to win a map against him. Still, what happened once may well happen again. The preparation game is where Alpha X excels, and guess what? Just one week ago, TY played Astrea's Korean team mate Zoun in a Bo9 series organized by none other than—wait for it—Alpha X! The series went to the very last game, providing fresh, valuable intel on TY's TvP. What a fortunate coincidence. If they can find some angle for the American to make an impact here, it will greatly boost the Golden Dragon's chance to force an ace match in this series.
It'll likely be up to
AF.Trap
and
αX.Zoun
to decide the outcome of this series (or postpone it into the ace match). Both Protoss players boast
excellent stats
in PvP and have met plenty of times in various events this year, posting a 3-3 score in series with, surprisingly, Zoun leading 9-8 in maps. While Trap's resume commands much more respect, the Zoun did put up a good fight against Trap in the Super Tournament finals back in January. This should be an exciting clash with the fate of the series on the line and great deal more pressure for Zoun than for his opponent, as the Freecs are sitting in the much more comfortable position when it comes to the rankings—but, again, that's where the Golden Dragons have exceeded expectations in the past. They have a fair shot at this.
Prediction:
Afreeca Freecs 3-
4 Alpha X
---
Credits and acknowledgements
Written by:
TheOneAboveU
Editor: Wax
Stats: Aligulac.com & Liquipedia
Images: SCBoy