World Team League - 2021 Summer Season
by: TheOneAboveU
Week 1 of the World Team League 2021 Summer Season is in the books, with six series played in the top team competition in StarCraft II. While the last season of the GTC (the predecessor to the WTL) began with an explosive match between Jin Air and KaiZi Gaming, the WTL got off to a tamer start. Still, the matches delivered plenty of entertaining games, despite a slew of one-sided sweeps between mismatched teams.
There is not much more time left for the old teams to shake off the rust and for the newcomers to get a feel for the format, as the situation is already going to get very serious in Week 2. Shopify Rebellion face their first real test in defending champions KaiZi Gaming, while Team eXoN and Team Liquid once more go into up-hill battles against juggernauts Afreeca Freecs and Dragon Phoenix Gaming, respectively.
While the broadcast production wasn't as smooth as we're used to from SCBOY-organized events due to a change in production company, the Chinese duo did catch viewers' attention with the introduction of the
WTL Power Hexagons
. Each match begins by showing the two player's relative power levels, using a hexagon that represents their attack, defense, mental, micro, game sense, and tactics attributes. It was fissile material for heated debates and good banter, which the community quickly embraced. Player cams also made a comeback—a feature SCBOY quickly adopted before it became standard in other events.
Catch the WTL 2021 Summer Season on the streams of Wardi and CreightonOlsen every Friday, Saturday and Sunday at 11:00 GMT (+00:00)!
Week 1 Recap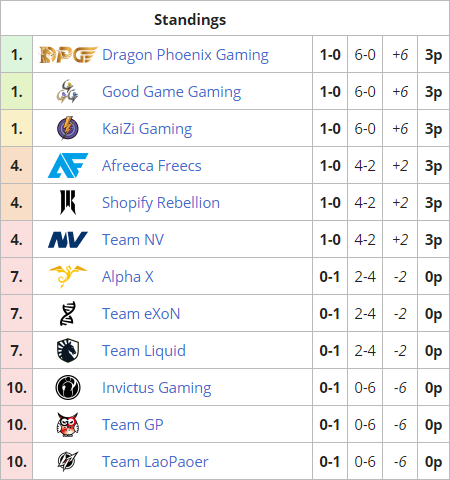 Top 5 teams qualify for the playoffs.
Points are awarded as follows:

3 points for a normal victory in a series that does not require an ace match

2 points for a victory in a series that requires an ace-match

1 point for a loss in a series that requires an ace-match

0 points for a loss in a series that does not require an ace match

Afreeca Freecs 4 - 2

Team Liquid
Watch VOD
Live and die by the Stargate was
Liquid'MaNa
's motto for his match against
AF.Armani
, trying his luck with air-based builds two times in a row. The Freecs pointman was able to deflect MaNa's Void Rays on the first map, and ended the game with a successful Bane-Hydra-Queen push before any significant numbers of Carriers or Robo units could take the field. However, the Polish Protoss was able to execute his gameplan on the second map, holding off Armani's attack and assembling a mighty deathball of air units and High Templars which easily rolled over Armani's swarm.
The following TvT, too, started off well for Afreeca as
AF.TY
brushed aside
Liquid'Clem
's early drop play with a solid defense, and then went on to claim several small victories such as intercepting Clem's workers migrating to the third base. Having taken a lead in economy and military, the Korean finished the young European off with a push at his third base. The Liquid Ace struck back on the second map, however, starting by delaying TY's second base long enough to give himself an advantage in SCVs. The Korean Terran bet on a Reaper-Hellion attack to turn the tide, but Clem held on with equal workers and a now significantly better army, which enabled him to besiege his opponent's natural expansion and secure early third and fourth bases himself. Despite this edge, Clem almost lost control of the match when TY opted for a massive drop in his main, sending the game into a spiral of chaos, with great maneuvering on both sides and non-stop action. Close to the 30 minute-mark, the Frenchman finally received his opponent's surrender after a fantastic mirror match.
Regrettably for Liquid, this great effort wouldn't gain them any points, as
Liquid'Harstem
wasn't quite able to take a map off
AF.Trap
to force an ace match. Trap's double Oracle-play proved to be a wiser choice than Harstem's Adepts on Romanticide, powering him to a quick victory. In game two, Trap's Adepts did what the Dutchman's couldn't in the previous game, allowing the Korean to retain an economic advantage long enough to build a more powerful army, which ended Harstem's and Team Liquid's WTL debut with a loss.

Team eXoN 2 - 4

Shopify Rebellion
Watch VOD
The Shopify Rebellion got off to a great start with ZvZ expert
Shopify.Lambo
demonstrating clear superiority over
eXoN.Cham
in two quick and ruthless matches. A perfectly timed Roach-Ling attack decided the first map after six minutes, and the second game ended even earlier after Lambo defended against Cham's Ling-Bane attack and was able to mount a devastating counter. It was a perfect debut for Lambo, with not a single notable mistake made.
A more dangerous opponent awaited
Shopify.ByuN
in
eXoN.Nina
, who surprisingly managed to take a map against the Korean superstar. Securing a strong economy and stalling ByuN's trademark aggression with clever Colossus-Warp Prism play, Nina managed to outpace her opponent's unit production manifold, overrunning him with a Gateway-Robo army. Smelling blood in the water, the Protoss player went for a proxy Gate to pressure the Terran early on, but failed to secure a critical advantage. ByuN kept himself in the game with a counter drop and deflected Nina's Oracle, after which both players geared up towards attacks from two bases. ByuN hit earlier and harder, his Raven proving critical in defeating Nina's army and ending the game.
Nina gave her team a fighting chance by taking a map from ByuN, but unfortunately for the squad,
eXoN.MaxPax
was not able to capitalize on the opportunity and force the first ace match of the season. The young Dane tried to take control of game one on Romanticide with the threat of a cannon rush as well as early air units. This kept
Shopify.Scarlett
's Drone count equal to MaxPax's Probe count for quite a while, letting the Protoss player build a fearsome Stalker-Colossus army. Yet, all this was for naught as a brilliant pincer movement from Scarlett crushed MaxPax's blossoming hopes, with Banelings and Ravagers inflicting huge losses on the Protoss army. Though MaxPax fought on for quite a while as his opponent teched up, Scarlett never let control of the game out of her hands again, securing the first ever WTL win for the Shopify Rebellion. MaxPax at least recovered a map for his team in game two, steamrolling over Scarlett's Mutalisk build.

Team GP 0 - 6

Good Game Gaming
Watch VOD
The tough contests of the first day made way for quite one-sided massacres on the second day of games.
GGG.Patience
started his new team off strong in a PvP against
GP.Puzzle
, whose last match in a big team league was played for KT Rolster back in the times of Proleague. Those glory days are since gone, though, and Patience completely outplayed his opponent in the first game. His superior macro gave him an advantage in the Blink Stalker count, and he crushed Puzzle in a battle to take a straight-forward victory. Puzzle gave a better account of himself in the second match, going into later stages of the game on relatively equal footing. Unfortunately, he lacked the crucial Disruptors Patience was already fielding—and using to devastating effect. Overall, it was a solid showing from the former LP player.
Another PvP followed with Team GP fielding military returner and former CJ Entus Protoss
GP.ViViD
—back then known as Hush. He went up against
GGG.Cyan
, who ranked amongst the top three players in China in the past year and showed steady improvement in the team league. A low-tier Korean proved to be the perfect punching bag for Cyan to demonstrate his improved skills upon. Cyan outmaneuvered his opponent on the first map with a small squad of Blink Stalkers, going into the main base only to jump on the defenseless third base to wreak havoc there. ViViD countered with a big Blink attack into Cyan's main, but his force was badly mangled without doing nearly enough damage to justify the losses. The Chinese Protoss closed the game with a counter-counter-attack. Mobile Blink Stalker armies stayed in favor in the second game, with Hush trying to find damage wherever he could. However, Cyan played too clean a match and didn't leave any openings to exploit, ending the game with a strong Immortal-Stalker push to secure Good Game Gaming a quick 4-0 victory.
Playing to mitigate the damage done to his team's map differential,
GP.Ryung
was immediately faced with a proxy 2-Rax Reaper rush by
GGG.Dream
which shredded the rest of Team GP's remaining dignity. In the next game, Ryung was punished for a greedy Command Center by Dream, who managed to delay the expansion with Reapers and Hellions for an agonizing amount of time, allowing his own natural to be mined from quicker despite a much later start. While Dream went the more standard route of a mixture of bio and tanks, Ryung went for a fully mechanized composition. Even mech couldn't keep Ryung alive for long, as he surrendered shortly after the ten minute-mark when a drop killed a good chunk of his workers and Dream destroyed a tank army with a bio envelopment.

Team LP 0 - 6

KaiZi Gaming
Watch VOD
The next victim at the sacrificial altar was Team LP going up against the title-holders in KaiZi Gaming. The match began with
LP.Wanted
going against
KZ.TIME
, with Wanted trying to challenge the #1 Chinese player in an honorable macro duel on the first map. However, his Muta-Ling-Bane composition was defeated shortly after the nine minute-mark by a stream of Marines and Widow Mines flowing from TIME's production line. Changing direction in the second game, Wanted tried a Ravager bust, but TIME held on with acceptable losses and launched a counter-attack which won the game.
Defying his reputation as a cheesy player,
LP.JieShi
also opted for a macro game against
KZ.INnoVation
and actually played a relatively solid match for a long stretch of game one. But he failed to do anything to slow down the macro machinery of INnoVation, and the Protoss player succumbed to the steady onslaught of bio units. JieShi tried to repeat this approach on the second map, but INnoVation stepped on the gas and ended the duel even earlier with a Bio-Tank push at JieShi's natural expansion.
With the series already decided,
LP.JoliwaLoves
couldn't exactly celebrate a meaningful debut in the WTL against
KZ.Solar
, one of the most successful players in the league's history. JoliwaLove's Adept aggression in the first game was completely brushed aside, but he did manage to muster enough forces to survive the Ravager-Ling attack that came next. However, he couldn't hold against the follow-up wave reinforced by Hydralisks and surrendered the game. The WTL rookie wasn't discouraged by the smackdown, however, and tried something more creative on the second map. While a Warp Prism with Sentries and Zealots supported by Void Rays force fielded the main base, a Zealot army tried to ravage the outer expansions. Solar reacted swiftly and effectively to the threat, though, mitigating the damage taken and forcing the final 'GG' of the day. It was the strong start we expected from the reigning champions on their campaign for a title defense.

Invictus Gaming 0 - 6

Dragon Phoenix Gaming
Watch VOD
Day 3 continued right where the second day had stopped, with another David vs. Goliath match to start things off. Despite losing by the same 0-6 score as Team LP and Team GP, Invictus Gaming offered more resistance in defeat. Terran player
iG.XY
clashed with
DPG.Rogue
in the first match, offering up a Battlecruiser opening with a mech transition afterwards. Rogue, it seemed, didn't exactly take the whole thing very seriously and charged into massive salvos of Terran artillery several times without achieving all too much. But as we've often seen with XY in past team league games, he never managed to capitalize on his strategy, failing to deal any damage to Rogue's economy—it seemed like he was merely playing to stay alive, not to win. As such, Rogue had enough breathing room to throw away any army he wanted, for his resources were inexhaustible. A more traditional bio versus Muta-Ling-Bane game on the second map went Rogue's way to give him a much quicker and cleaner victory.
In the following PvP between
iG.MacSed
and
DPG.Zest
the Chinese player managed to claim an advantage in economy through the use of Dark Templars. However, this success ultimately led to MacSed's doom, as this sneaky harassment triggered the Korean Protoss to bring his superior army to bear. Gaining access to MacSed's main base via Blink and Warp Prism, Zest blocked reinforcements with a Force Field on the ramp and ravaged the opponent's production, picking off pieces of his army in the meantime to force the surrender. MacSed once again struck first on the second map, using an undetected in-base Pylon to warp in Adepts behind Zest's lines and kill off several Probes. The counter was already on the way, however: once Zest's proxy Dark Shrine had finished up, his invisible warriors were able to equalize the worker count. In the ensuing battle between Blink Stalker based armies, both sides took some damage, but as the aggressor Zest was able to inflict more losses on MacSed's economy, enabling him to win in the long term.
The series being decided,
iG.Coffee
couldn't do anything but hope to beautify the score a bit and save one or two points for his team. But, naturally,
DPG.Cure
had no intention of letting that happen. Deflecting the Reaper-Hellion attack mounted from hidden production buildings, the Korean slowly worked out an army advantage for himself over the course of the match, using it to hold his besieged third base, while the surplus units went for a critical counter attack, breaking Coffee's economical backbone. In the second game, Coffee wanted to achieve early damage with a Marauder-Hellion attack, but Cure once again defended with ease, mounting a counterattack with his first Siege Tank, which snowballed to the final win of the series.

Alpha X 2 - 4

Team NV
Watch VOD
Promising to be a close contest with uncertain outcome, Alpha X clashed against Team NV to conclude Week 1 of the WTL with
αX.RagnaroK
opening the series up against
NV.DongRaeGu
. The Alpha X player bet on all-out aggression on the first map, building up a hidden swarm of Speedlings to flood his opponent with—a gamble which paid off and brought the Golden Dragons into the lead. RagnaroK also held an advantage for swaths of the second game, but DRG's more tech-based version of Roach-Ravager turned out to be the superior choice, his burrowed units raiding the Drone lines of his unsuspecting opponent to devastating effect, enabling him to out-produce the Alpha X player and equalize the score.
In what turned out to be the pivotal match of the series,
αX.Zoun
had to contend with
NV.Creator
. The former Jin Air player hadn't enjoyed much success in previous team league appearances, but seemed to be in his element on the first map, using a Phoenix build to dictate the flow of the game. Coincidental maneuvering from both sides led to a base trade, which cost both players half their expansions and reset the worker as well as army counts to equal numbers. Zoun overestimated the power of his forces and took an unwise engagement, from which there was no recovery, handing Creator the first map on a silver platter. A more straight-forward PvP macro game followed, in which Creator eschewed using Disruptors—a deadly mistake, for Zoun had no such scruples and landed several big hits with the purifications novae, combining the Disruptors with clever Stasis Wards and Zealot counter-attacks to take Creator apart bit by bit. Still, the NV Protoss had done his job: the potential for an upset had been greatly reduced as the teams went into the last match.
Asking
αX.Astrea
to take two maps off
NV.Maru
was stretching the limits of hope for the Golden Dragons. However, a 1-1 split to force an ace match didn't seem impossible, considering Astrea's past victories over juggernauts such as Dark in this league. The Terran was not in a mood for any shenanigans from his opponent in any case, playing a proxy 2-Rax himself to win the first map quickly. Crawling under Astrea's skin even more, Maru blocked his second Nexus with an Engineering Bay on the second map, forcing the expansion on the third base location. Astrea's subsequent defense was good, but a trickle of worker kills still had an effect on his troop numbers, especially as his own harassment was shut down when Maru found and destroyed his Warp Prism. Maru continued to force the issue, opening up two fronts with relentless action and still finding the time to do damage at a third location, stretching the Protoss forces ever thinner and finally tearing them asunder to secure the series for Team NV.
Weekly MVP Award: NV.Creator
Going into the first week of matches, Team NV looked like they were in real danger of dropping points against Alpha X or even suffering an outright loss. Much of this concern was due to

Creator
looking like the weak link in the line-up, playing ahead of more successful players like Bunny and sOs. In the past, it usually didn't turnout well for Jin Air Green Wings when they fielded Creator.
But in this instance, Creator did exactly what he was supposed to do and won a 1-1 split against αX.Zoun, setting the table for Maru to close out the series. Past seasons have shown how every point matters as the playoff race tightens, so this single win may turn out to be more important than it looks at the moment. It was certainly important for Creator individually, who managed to give himself a much better start than in the previous season. It may very well give him the confidence needed to have sustained success in the weeks to come.
Week 2 Preview
GGG did exactly what they needed to do in the opening week, taking a convincing first win without any mistakes over a weaker team. Carrying this tempo and concentration over into the second week will be crucial in their difficult playoff bid. For mid-tier teams such as GGG, there is no margin for error this season, and they will need to secure every single point possible in the few matches where they are favored to stand a chance of finishing in the top five. Invictus Gaming didn't look too shabby against DPG in the previous week considering the difference in weight class, and they may turn out to be a much tougher opponent to beat than Team GP.
The Chinese Terrans in particular could cause trouble for the GGG squad, as
iG.Coffee
is known for his sustained pushes and the willingness to pull SCVs for an all-out assault and
iG.XY
has often been responsible for upsets in the past, coming out with well-tailored strategies to surprise his opponents. With every map critical for the playoff campaign, the Good Game Gaming trio will have to deliver clean performances here.
The defending champions started the season in the expected manner against what is likely the weakest team of the league. The upcoming match will be more of a test for them, but the same goes for Shopify Rebellion in their second series as a team. While the Rebels won their first encounter with Team eXoN, the unexpected map loss of their ace and the flaring up of his
wrist issues
during a recent GSL series are worrisome developments for them going forward. The Shopify players will need to be playing at full strength if they are to pull off an upset against the champions.
The line-ups turned out pretty well for the Rebels:
KZ.INnoVation
and
Shopify.Scarlett
last clashed in the past GTC season with a resulting map-split, while the latest edition of the ultimate grudge match of ZvZ theorists between
KZ.Solar
and
Shopify.Lambo
ended with the German claiming victory in the War Chest team league. These relatively even matches are crowned by a duel between
KZ.TIME
and
Shopify.ByuN
, which in light of the Korean's recent health troubles and the Chinese Terran's prowess in the mirror match-up should be pretty close as well—the first ace match of the season may well come out of this series.
The second day is going to start us off with another heavily skewed match-up as Team LP must take on the Korean powerhouse Team NV, which certainly will look at this clash as easy points to keep them in the top half of the rankings.
Aside from the WTL debut of
LP.Alka
, who'll be a new face for the international audience, the clash between
LP.JieShi
and
NV.Percival
should prove to be the most interesting aspect of the series—for the results of the first two matches and thus the series seem like foregone conclusions. The Korean Terran, who made it through the GSL qualifiers for the first time in his career this year, is one of the youngest Korean newcomers, having been born in 2002, and thus intrigued a lot of fans when he first gained some publicity through the ROOT-Unity House. The WTL might well be the perfect stage for him to gain more of a profile and prove himself further with a seasoned veteran of the league like JieShi being a great measuring stick.
The gap between eXoN and the Freecs isn't as drastic as in the opening match of the day, but the Korean team will absolutely go into this match-up as the heavy favorite. While the American squad courageously drew blood from Shopify, Afreeca is another level above the Rebellion in terms of strength.
Young
eXoN.MaxPax
should have the best scoring chances for his team with how the line-ups shaped up, his latest duels with
AF.Armani
have been pretty close and a map-split seems quite likely. It's tough to doubt
AF.Trap
's PvP after his clinical performance in the previous week and league-veteran
eXoN.SpeCial
has failed to even take a single map in his last four matches with
AF.Stats
, having only ever won out in
two out of 18 bouts
with the Shield of Aiur.
While both teams started the season with losses, the Golden Dragons should be the clear favorites to recover from their initial defeat and come back with a strong performance against the weakest Korean squad in the league. The most important thing for Alpha X will be to get back to being the team league specialists we know them to be, and avoid mistakes that cause them to drop valuable maps and points against an underdog. While there was potential to score at least a point in the first week, the American team must now forget about that botched effort and concentrate on what's to come, for this is a match where it's important to extract the maximum number of points and maps.
The line-ups are quite beneficial for Alpha X's quest for points: Though
GP.NaTuRaL
is well-established in the Korean scene outside of GSL, he's never actually made it into the league, being unable to overcome his rivals in the qualifiers, which definitely ranks him a tier under
αX.RagnaroK
. While
GP.Prince
is rather well-known through his striking playstyle,
αX.Nice
is probably the most experienced PvP player on the planet when it comes to dealing with "creative" opposition, maintaining a clear
winning record
over the Korean. The last match, too, heavily leans towards the Golden Dragons with
αX.Zoun
surfing along on the
best form
of his career against Terran players.
Team Liquid got the dubious honour of clashing with the two best teams in the league in their first two matches. Liquid acquitted themselves well against Afreeca in the opening week, though stealing a point ultimately remained out of reach. Expectations should be relatively similar going up against Dragon Phoenix Gaming, who are going into this duel as the favourites.
The first match might actually go in favour of TvZ beast
Liquid'Clem
, if
DPG.Rogue
shows the same sluggish performance as in the previous week, which would give Liquid a fighting chance in the later stages of the series. Though there are hardly easy opponents to come by against DPG, once again it seems like
Liquid'Harstem
has found himself in the stickiest situation by facing
DPG.Dark
. The Zerg has personified the concept of "being clutch" in previous team events and only rarely showed any kind of weakness in this league—but even he has suffered from upsets. This will be the first ever official duel between the Captain and Dark, so perhaps Harstem can catch the Zerg off-guard with something he's cooked up (after all, chances are that Dark being Dark has never heard of the great YouTuber).
DPG.Cure
has just survived a gruelling TvT with ByuN in GSL, which may have shown
Liquid'Kelazhur
some way of getting an advantage against the Korean, but having never before won a series against Cure, the Brazilian will be a massive underdog going into his
historically weakest match-up
.
---
Credits and acknowledgements
Written by:
TheOneAboveU
Editor: Wax
Stats: Aligulac.com & Liquipedia
Images: SCBoy