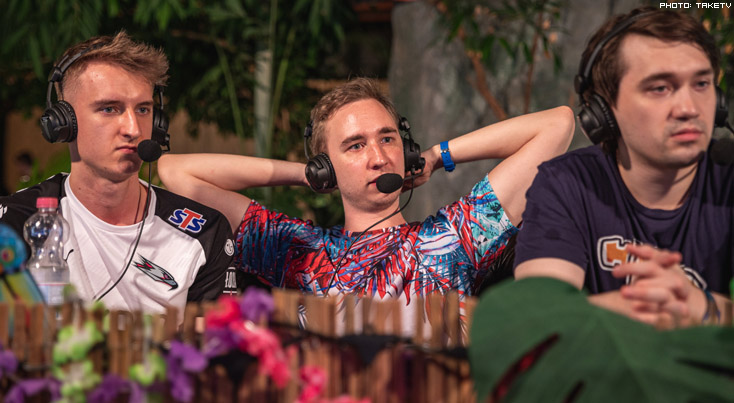 Ahhh, the pre-COVID times, when friends could share simple pleasures like being appalled by someone else's StarCraft II plays.
TL.net asked newly signed Shopify Rebellion player

Lambo to help us preview IEM Katowice, but ended up covering a ridiculously broad range of topics in this sprawling interview.

Topics covered include 2 Stargate Void Rays, how to win in late-game ZvP, retrospectives on the TSL6 and DH: Last Chance finals, how to practice for Korean Terrans while living in Europe, the correct ratio of cheeses to macro games, EU ZvZ vs KR ZvZ (again), and more! Also, since Serral is incapable of hyping himself up ahead of a tournament, Lambo did it for him. Reynor doesn't need that kind of help, but Lambo also hyped him up anyway.

*This interview has been edited and condensed (and it's still this long).
**This interview as conducted before IEM Katowice, and some of the content regarding the RO36 may no longer be relevant.
---
Wax: Let's start off with a hot topic among fans at the moment: the 2 Stargate Void Ray opener in Protoss vs Zerg. Do you think it's a defining build of the meta? Or has it become closer to being figured out now?Lambo:
Well, we're going to have to wait and see. I don't want to give away too much since I'm coaching Reynor a little bit. Obviously, that's one of the hot topics because this is one of the most played builds. I do think it still is in the meta—we haven't really seen up to this point, a 100% success rate build order against it. So there is no all-in so far that counters it, so to speak.
It has different weaknesses. Obviously the Zerg can do whatever he wants, but Protosses don't care right now as long as they can do something and try to survive to the late game—that's obviously the thought behind it.
It is decently figured out from the Protoss side, I think. They pretty much perfected it to a certain degree. And now there's a second style which might not seem as common yet for the viewers that only watch big tournaments, which is Void Ray into Disruptor instead of High Templars to be more safe against the all-ins. Because the Void Ray in High Templar stuff is weak against a lot of the mass Queen timings where you just walk across the map, like Queen-Lurker timings, Queen-Roach-Ravager timings, that type of stuff. So they started adding Disruptors for more safety, and that actually works out nicely as well against Hydra bane.
I'm most curious about what every Zerg has prepared specifically against the void rays. I wonder how every different Zerg approached this problem differently, especially the Koreans.
Are they going to play late game now? Because you can try playing late game against this, for example. Or are they just going to do new timings we haven't seen before? Are they going to do something that I would think is Korean-esque, like maybe hiding Mutas or something and trying to surprise the opponent? So, I think a lot of Zergs have different stuff prepared against the 2 Stargate Void Ray build, because that's what every Zerg expects to be playing against. And then, the question is, are Protosses also coming with different builds if the 2 Stargate doesn't work.
Trap did an interview with Crank after he beat Serral in the finals of DreamHack: Last Chance (where 2 Stargate voids were instrumental in his victory), saying Serral seemed behind the meta and tried to do Hydra-Bane busts that don't work whereas Korean Zergs would have gone for more effective all-ins. He didn't seem to regard it as a particularly strong strategy at the time.
I'm not sure why he said that to be honest, because everyone is still playing it. And Trap right now is playing on Europe—I just played two games against him actually—and he still does it every game. So,
*laughs*
, yeah, it's still the go to build for every Protoss right now.
The Hydra-Bane bust honestly I think should have worked for Serral, if he did it correctly. I think he did a very poor version of it, he hit like a minute or more too late. And I don't think Trap was super safe against it—at the very least he should have lost his fourth base. But, Serral just went for a very late timing with too many Hydras. That was quite a while ago, I don't think Serral would do anything like that anymore.
But, yeah, this was kind of out of the meta, this is what we did at the very beginning because we thought that 2 Stargate Void Rays was weak against that. But they started just massing cannons, and if you don't hit before all of those cannons are done, it's very, very difficult to play Hydra-Bane and get stuff done with it.
Trap's on Europe? Even with the lag?
Yeah, he told me has 200 ping. I asked him if he's using a VPN; he said no, but he has 200 ping. So I have no clue how he has this mega routing, because usually that's what the Koreans say they have to [NA] central, even though they might be,
*laughs*
tricky with the numbers a little bit there sometimes. But yeah, that's insane ping honestly.
Did Serral seem noticeably rusty? He said he was a bit out of practice after coming back from a break.
Well, I think he still played decently well.
He CRUSHED those ZvT games against TY and ByuN.
Yeah, if he says he's rusty he's still very, very good. But maybe,
*laughs*
, maybe for his standards he was playing a little bit off. But I think that was mostly a strategic loss in the finals. Like if you're rusty with mechanics, you still shouldn't overmake Hydras and stuff. That was basically a decision, that he went for this late timing. I don't think he knew a lot of other strategies against 2 Stargate Void Rays because a lot of Europeans just die against Hydra-Banes, since obviously he's still Serral and has a lot of units.
How about the state of late-game PvZ. Current perception is that it heavily favors Protoss.
I think the late game itself is not that bad. I think it's relatively hard for Zerg to transition properly into the late game, where you have enough bank to switch between different compositions, have a lot of Creep, and money for Spores. So, when Protosses have the Carriers out super early now, with the Void Rays already, they get to their perfect army super fast. Which makes it super hard to get into the late game properly as Zerg.
I think if you get there from a decent position, I don't think it's that bad. Unless you're on a map where Protoss can split it well. I actually think if they get to mine half their map and play Shield Battery-Tempest, I don't think there's much that Zerg can do, but barely any Protoss plays like that, and it's also a very map-specific style.
The late game in general that Zerg players complain about on forums and Twitch chat is the Carrier stuff, right? Because it appears to them as if it's just A-move + Storm. But I think that if the Zerg gets the right army, it's not unbeatable by any means. Just very, very hard to beat.
What's the right army now? I feel like everyone's approach is so different.
I actually
made a video about this
, but basically as a Zerg you need to be a bit reactive to what the Protoss has. Like, how Void Ray heavy he is—if he's more Void Ray heavy you want to be a bit more Viper-Infestor heavy. If he has few ground units, I think Ultras are very good because they're also very mobile and you can jump on your opponent whenever you get a Fungal.
In general, you need Corruptor-Viper, there is no doubt about. Hydras don't have enough HP and they're very supply inefficient. And then, if he has a strong ground army as well, you either need Brood Lords, Ultras, or Lurkers, and then Corruptor-Viper and some Infestors with good control, basically. Corruptors are also very expensive, so it's sometimes hard to have a bank after these engagements. So it's super important to have a well rounded army against both ground and air, to be ready for all of this. Basically, what I'm saying is it's very hard, but not impossible.
Is there any execution/micro secret to not having your Corruptors get totally destroyed? It feels like I see wildly different outcomes in various games, where sometimes Corruptors melt without achieving anything, and sometimes they trade quite well.
I think it mostly comes down to situational micro and awareness of where the Templars are. But oftentimes, also, the micro looks awful because the army composition was just wrong, and they would lose the fight pretty much no matter what. And it's very hard to tell which one of those it is sometimes, especially for viewers. But I don't think there are specific micro tricks. I think it's very important to have vision of your opponent's army whenever you want to engage, especially when there's a Mothership. Having Overseers in the front or just engaging with Spores... and then whenever you actually want to do anything, maybe try to distract your opponent first, or only ever engage if you actually get a Fungal and catch your opponent off guard.
There was a brief period in the fall when ByuN seemed to have TvZ figured out and took big wins against Reynor and Serral, but then Serral hit back in the winter by playing Brood Lord-Infestor-Spore against him. What's TvZ like now? What's the natural state for the end game to end up in?
Well, I think TvZ is the same as it has always been. I don't think it really comes down to turtling too much. Unless it's maybe Oxide because there are very few bases to expand to, so if the Terran wants to he can turtle there. But usually you need to just try to fight for expansions, and it's always going to be a mobility-focused late game where a lot of midgame units. If there are Lurkers involved, definitely the Terran needs Ghosts, and Tanks and Libs—one of the two. I think it's a very fun match-up as always. Mutas are still there, Lurkers are still there. So the Zerg has some decisions, while Terran can obviously go for tank pushes or Widow Mines
But I think the Brood Lord late-game is only really a thing... A Zerg would never ever go for that if the Terran wasn't being passive themselves, because Brood Lords are too immobile. But if the Terran camps with mass tanks, that's when you go Brood Lords—other than that it's just normal compositions.
Is it like that at the top of StarCraft II? Where it's not so much about race vs race, but about player vs player, where you just play a specific way against ByuN compared to someone like TY or INnoVation.
Yeah, I think that's a good way to put it. I think ByuN, especially, if anything goes wrong in the game, he's not afraid to just sit there and camp behind Planetaries and hope for mistakes instead of trying to out-multitask his opponent. That's where you need to realize to stop feeding them all your units and lose resources in an unfavorable way, and just go BL's because they always kind of trade fifty-fifty.
The thing is that it's not that easy to play against ByuN, because he doesn't always do this. If he has momentum on his side, he still can attack at two places at once, and then you have a hard time defending, so you can't just go Brood Lord against ByuN in general. It's just when you already have the entire map in Creep, that's where Terran is going to be more defensive. Then you can build up a bank, then do a switch, then attack, trade out, and then remax when Terran probably can't. I mean that's obviously a bit simplified, but that's the idea behind it.
Do you think there's some truth to Europeans having a harder time preparing for top-tier Korean Terrans or Protosses compared to Zergs? I remember Reynor sent out a tweet that might have implied this, but he deleted it after.
I think it's not so much the case against Protoss. I think the Protoss players, the Koreans are a little bit more aggressive, but they play very similarly. The Terrans, however, you can feel a massive difference between the way Europeans play and the way Koreans play, besides Clem. But Clem might not always practice with you, so I can understand the frustration after you lose against a Korean Terran, I 100% understand that.
HeroMarine sometimes plays like that, but he's not as multitasking heavy—he's a more macro-focused player that goes for timings and stuff.
Is the difference more about mechanics or playstyle?
Well, the style is different, but I think it's because of the mechanics that Europeans have a different style. I don't think there are many Terrans who are mechanically on a similar level to the Korean Terrans, I wanna say. I'm trying to think of anyone—obvious Clem is on that level, and he's fantastic practice. We also started playing archon mode against Reynor a lot. Like, Harstem and me offracing
*laughs*
. But my TvZ is pretty good so it's not like the macro is any weaker than another Korean Terran, and then we both multitask. Sometimes we even 3v1, and I think that's really good practice with very close, always long games.
And I think Zergs also started asking Korean Terrans to play on NA, so that's cool as well.
Serral has talked about wanting to play more "freestyle" for a while. To paraphrase something he said in his recent interview with the ENCE performance coach, he talked about how his style focuses on reacting to what his opponent does in the most 'optimal' way, but he might benefit from doing things that are less theoretically correct but more unpredictable.
Yeah, that does happen sometimes, but I think he already is mixing it up quite a bit, and is sometimes doing weird build orders. Like, we've seen him play something like 2 base Hydras at some point
*laughs*.
That alone was very weird to me, even though it was for only one series. He wasn't afraid to mix it up really, so I don't if he really needs to go more freestyle.
I thought the topic might resonate with you since you're interested in finding out what's optimal and efficient. But it's kind of funny that there's probably an optimal percentage of games where you should do a suboptimal thing, just to stay unpredictable.
I understand for sure. Even though I always try to be optimal, I still try to think about what my opponent expects and then maybe try to catch him off guard with something. It's not like I always just go for the best play because I know it's the best play—I know Serral does that too. Koreans obviously take that to a whole other level, where they do REALLY random stuff sometimes. I have a hard time doing that and I'm sure Serral does as well, because it goes against what logic tells you sometimes. But, I think to a certain extent it can help you in tournaments, since it can throw your opponents off guard. But it can also backfire really really fast.
What do you think about fans criticizing Serral's failed all-ins? I think some fans seriously want him to play ONLY safe macro builds. Might they actually have a point?
I think the rate at which he does all-ins is quite good—I think like once or twice a series to keep your opponent from being too greedy is very good. And most of his all-ins are very strong all-ins, and sometimes it just falls flat on its face.
For example, the last game between Serral and Dark at TSL6 (
VOD
), he did this all-in which Dark had a very nice response to, and then it looked really dumb because his opponent had the right response. That's why it wasn't the "correct" play. But if he did anything wrong, he would die, and that's the definition of how all-in's work in StarCraft, really. Backseat gamers are going to say that was dumb in hindsight, but you can't know that ahead of time. I think it's good the way he's mixing it up.
After Dark won TSL6 by beating Serral, you made a point of asking Dark about his unique ZvZ style where he gets a faster Lair at the expense of upgrades. Did anything come of that? Did anyone try to emulate his style?
I don't think anything really changed. Dark did this already for two years, so we knew he did this. Maybe more people tried this to try and catch better players off guard, because that's how it can work, but it's something you can only do on a very top level. To be honest, I wouldn't even know if anything changed in Korea. But even in Europe we don't play a lot of ZvZ's so it's very hard for me to tell. All I can tell you is that the top players in Europe did not adopt that playstyle just because it worked that time.
So you refuse to take the L in the eternal EU vs KR ZvZ debate.
*Laughs*
The L? We took the L that day.
That doesn't matter—the way series are played in SC2 in general, it comes down a lot more to what the players do in the games than the strategy very, very often. So if one player just does the right thing, like if Serral switches the two strategies he did—the all-in on Romanticide and the macro play on Deathaura—if he switches those two, he's ahead in both games so he just wins. So it was more of an unlucky timing at which he chose the all-ins.
I was watching the finals with Wardi and I was pointing out after the Romanticide game, I think Serral was down 0-2 already, and I was saying I'm pretty sure Serral is not going to do the allin again. But I thought he should, because I was pretty sure Dark was going to go Mutas the next game because he went for Roaches earlier, so I think Serral kind of lost in the mind games there. And Dark had his number in that way, rather than that his style is superior.
Do you ever talk to Solar about EU vs KR ZvZ? I always think it's funny when you guys bring that rivalry up, even if you're the only two guys who do it.
*Laughs*
YOU do play this up a little bit sometimes. I do talk to Solar quite often—not really about ZvZ, but more so about ZvP, honestly right now, because he seems to struggle a bit in the matchup. He asks us questions and then he sends us replays where he does really weird stuff, or hits timings too late and then he's like... For example, we talked to him about that Hydra-Bane timing against 2 Stargate Voids early on, and he would tell me, 'man, this just doesn't work, the EU tosses are just too bad.' And then he sends me the replay and he hits a minute too late, and I'm like 'what the hell? Can you just copy what we tell you first and see if it works?'
He's a funny one for sure to talk to. We're good friends, this is not some kind of rivalry or anything. It's always funny to talk to him.
You guys should do a debate show, like a presidential debate.
The thing is I think he's very reasonable, I think he knows what is right and wrong very often. And also I can admit when I'm wrong and when he's found something that is better.
For example, playing Hydra-Bane against the Disruptor variant of 2 Stargate voids, I was very confident that it worked. And then MaxPax figured out that you can just take a later fourth and it doesn't work at all, so yeah, I can also admit when I'm wrong. And Solar also very often asks for advice, so there's this thing of respect between us, even though we do have that banter very often.
What's the form of the big three European players like? They didn't seem to be doing that well in January, but a month can be a lifetime in StarCraft II terms.
I think Reynor's form is a lot better than it was at Last Chance. Like, both Serral and Reynor took a break before Last Chance im pretty sure, because that's when the winter break is, and now they've been practicing very consistently and been getting better. So I think Serral's form is probably similar, Renyor might be a little better, and Clem also has picked up practice, so maybe a little better as well. So I think they're all in very, very good shape for Katowice.
How about the guys just below them?
I think ShoWTimE, I'm not sure how well this meta fits him. But right now I'm pretty sure he's 7.2k on one account and 6.8k on the other. Sometimes he just feels very, very strong, and sometimes not so much. So I'm not sure about ShoWTimE to be honest, I think he can beat everyone like always, but I'm not sure if his form is better or worse than it was before.
HeroMarine seems pretty good as always. I think Gabe is literally the single most consistent player, who stays at the same level always. That's something I'm pretty bad at, but I aspire to be more consistent like he is. I don't think anything changed for him.
Elazer is very hit or miss as always, and I think uThermal is as well. But I like the bracket for both of them, especially if they make it from the top bracket. I think Bunny is probably one of the hardest opponents Elazer could have gotten, I think Bunny is very strong in TvZ. But, I think they have decent chances, and I think the bottom bracket is stronger in general than the top one, with ByuN, Dream, DRG and sOs as four top Koreans. So, I think they obviously can beat everybody, and I wouldn't be surprised if they beat all the Koreans who are on the top side.
What do you think about what you saw from the Koreans in the Super Tournament and Last Chance? Trap has been oddly humble, saying how games have been going poorly in practice and kind of implying he's been lucky to win. I kind of take him at his word, because luck plays a bigger part in winning than we like to admit.
Absolutely, I'm a big believer that luck matters quite a bit. And, well, what I call clutchness. Which for example, Elazer has a lot of in him. But, what I define also as clutchness is very often... You make these small army movement decisions that decide the game. It's just army movement, where you bring your opponent out of position because of one move that you weren't too lazy to skip. That one extra move where you distract your opponent and you win games because of it. Very often something like that happens. Or, in the last second you change your build entirely and you go for an all-in and it works. Stuff like that, maybe 'star sense' some people call it as well.
But yeah, I think Trap is very, very strong, and I think he is very humble as well. He's 6.8k right now on EU with 200 ping, which is not bad.
I can't tell from what he does in practice, but I think all Korean Protosses in general always lose a bunch of games against everyone in practice, from my experience. So I'm not surprised he says that even if he's the best. Even a Protoss has a winning record against everybody, usually they do drop games. So, if I'm not in my best shape, and I was playing against a Korean, I would always pick a Protoss. Not a Zerg, a Protoss always.
Is Trap the best player by default from Korea? The region seems so competitive right now.
Yeah, in the Korean region it's much closer than in the foreign region where things are super clear. I do believe Trap is the best, but it's only a little bit better than the rest. And then there's a lot of championship level players over there in Korea that have a chance. I think even people like sOs are overlooked. ByuN and sOs are in the OPEN bracket
*laughs*.
There are many players that can beat Trap, and can also beat everybody, basically.
It really feels like Korea has a lot of players for whom recent results don't matter much, because they can bring back their championship quality out of nowhere, like INnoVation when he won WESG back in 2019.
It is very easy to underestimate how much of a difference a month can make with dedicated practice. And sometimes there are these moments, where you just have an epiphany, where you just realize something about a match-up and everything changes. People might say "this guy is washed up," and then he'll come back and just crush everyone in the match-up he had been losing before.
A month is a very long time, so I wouldn't be surprised to see any of the Koreans over-perform compared to people's expectations.
Any underrated players you're keeping an eye out for?
I think sOs is the biggest one, because I saw the betting odds, and sOs had the worst odds together with players like Armani and stuff. I think that was unreasonable. For example, I don't think HeroMarine is more likely to win Katowice than sOs, I just don't think that's the case. I do think Bunny has been pretty good, but I don't think I would even be able to call him an underdog right now since he's coming off a very strong Last chance. I'm mainly going off Solar telling me he's very strong in TvZ. Usually when Terrans are strong in TvZ, it means they are mechanically good at the moment.
Maybe Reynor, a bit. Because I'm a Zerg streamer, I get people that come to my stream and tell me he's washed up. He's literally 18. He lost some PvZ in, I'm not sure if it was Wardi tournaments or EPT Cups, but either way ppl come to my channel and say he's not good against Protoss. I already saw your preview as well, I think you said Trap and zZest are the favorites over him most likely [
Editor's note: Did we???
]
But I do believe that Reynor is a big favorite to win his group, even though Trap is in there. So I think he might be a little bit underrated, even though that's crazy to say since he's Reynor and he's literally one of the best players.
The TL.net poll to predict the winner is around 60:40 in favor of Korea against the rest of the world right now. What side are you on?
Well I'm going to pick the world, for sure. Europe.
Is that a 'heart' pick or a 'mind' pick?
Both. I think it's very close, obviously. I do believe the highest chance of winning goes to Reynor and Serral, then followed up by Trap. So if I had to pick a person that's most likely to win, or region, it would be Europe.
Depending on when I put this interview out, you might be on a new team. Any shoutouts?
Shoutout to my new—
*laughs*
this is awkward because we didn't talk about this beforehand at all.
Shoutout to my new team Shopify Rebellion, and I hope to show great things—not only on the casting desk and the C/D streams at IEM Katowice, but also obviously as a player in the next season. And I hope you guys will cheer for me.
And how about a Harstem sellout plug for all your channels.
If anyone is interested in learning Zerg, no matter what level you're at, you can check out
YouTube.com/LamboSC2
. I also stream daily at
Twitch.tv/lamboking
, where I play, commentate, try to teach you guys, and tell everybody who thinks they know better than me that they're wrong, pretty much. So if you guys are into that, make sure to check me out.
---
Check out Lambo at the links above. Also keep an eye out for him during IEM Katowice 2021, where he'll be joining Harstem to cover a variety of matches on the official ESL C-stream.