Gold Series Team Championship:
2020 Fall Season
by: TheOneAboveU
After a week-long break for
DreamHack Masters: China
, the GTC will return on September 7th with the fourth week of matches. And what a return it is! Top teams and arch-rivals DPG and KaiZi will clash, with KaiZi looking to finally score a victory over their nemesis in this tournament series.
BSG and Alpha X also face each other in an important match, as the victor might be able to secure a temporary position ahead of Jin Air Green Wings. JAGW are likely to surge back in the latter half of the season, so getting a lead now could mean a lot for playoff seeding down the line. Meanwhile, the bottom two teams Invictus Gaming and Team GP meet as well to decide who will remain on the lowest rung of the ladder, and who takes home at least one victory. Will it be the all-Chinese underdogs or their Korean counterparts?
Week 4 Preview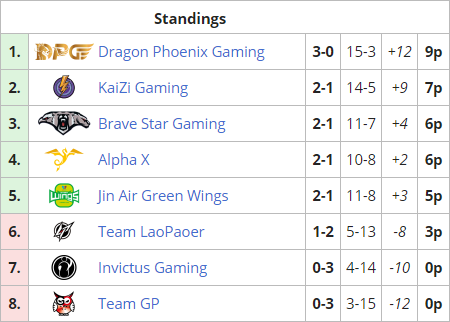 Points are awarded as follows:

3 points for a 'normal' victory in a series that does not require an ace match

2 points for a victory in a series that requires an ace-match

1 point for a loss in a series that requires an ace-match

0 points for a loss in a series that does not require an ace match
The week's top match starts off with
DPG.PartinG
meeting a former SK Telecom T1 teammate in
KZ.INnoVation
—not a rare pairing in 2020, as they've played ten official series against each other in the running year. The Protoss came out ahead in score, leading INnoVation
20-13
in maps and 6-4 in series, a testament to the fantastic PvT form he has been showing for quite a while now (and perhaps the Machine's shortcomings in this department). This looks to be a good start for DPG, PartinG should be a slight favorite to get the 2-0 here, though against this Terran powerhouse you can never make any guarantees.
Perhaps the best match-up KaiZi Gaming got for this series is
DPG.Dark
facing
KZ.TIME
. While Dark cruised through his GSL group on comfortable ZvP victories and declared the health of his wrists to be greatly improved once again, his ZvT has been rather questionable even before his body exacerbated the issue, resulting in a
negative win rate
over his last 30 or so matches. The Chinese superstar himself was able to take his first ever victory over Dark just this August. Of course, you're never supposed to underestimate Dark, especially when it comes to matches against non-Koreans, but TIME should have a good shot here to at least take one map for his team.
The last match sees
DPG.Firefly
and
KZ.Solar
clash with each other in the rare occurrence where both opponents can play the match-up they are best known for. The Chinese Protoss boasts a strong PvZ win rate of
over 70%
, but his historical record against Solar is not as encouraging, as the stands at four map wins to 27. Half of his map wins come from series played out this year, at least, so that could be considered slight progress. Firefly is always good for a map win against top Koreans, but there can be no doubt about him being the clear underdog here. If DPG slip up in the earlier matches, KaiZi might be able to finish the series here and secure their first GTC victory over their arch-nemesis. This also may well go down to the ace match.
Prediction: Dragon Phoenix Gaming 4-3 KaiZi Gaming
This important series for both teams is started off by
αX.RagnaroK
and
BSG.Scarlett
, a match-up which fittingly last happened in CTC 2019 Season 1. The players were on PSISTORM and Newbee respectively back then and split maps with each other. Historically, Scarlett holds an advantage in the pairing, but with the last series between them being over a year old, that doesn't tell us much. More recently, the Canadian has been in a
stronger ZvZ form
than her Korean counterpart, who has struggled in general to perform his duty as Alpha X's ace player. On the other hand, Scarlett has clearly been the weak point of this season's BSG squad, contributing the least amount of points. Alpha X will really need him to bring a solid performance for this series, because another map split may not be enough in the end.
Much is going to depend on the PvP between
αX.Nice
and
BSG.Cyan
, which has historically been very even: Cyan leads
41-38 in maps
, with results from 2020 being 12-8 (5-3 in series) in his favor. To make this prediction even more of a coin flip, the PvP form of both players is almost equally at basically 50-50 at the point of writing. Both have been getting improved results this year, so this really is a clash between two players striving to reach the next level. This is an incredibly volatile pairing, where anything could happen, so really any little advantage in preparation, motivation or even having slept better than the opponent could be critical. It will certainly be a nerve-wracking match for teammates and staff on both sides.
From Alpha X's point of view, they ideally would have either won or be at match point by the time they reach this final pairing, because GTC's juggernaut
BSG.Dream
is up against
αX.Zoun
in the last match. The statistics give Dream a healthy looking advantage—but not a one-sided one by any means. Dream leads Zoun
18-12 in maps
(8-3 in series) this year, which not only shows that Zoun can keep up surprisingly well, but also that they meet each other quite frequently, meaning they are well acquainted with each other's style. That is probably an advantage for Dream, since Zoun often plays PvT in an unorthodox fashion. Then again, with so much material out there, the Alpha X preparation machine may come up with something smart to exploit, and one map win is potentially all they need to score the overall victory.
There's the possibility of a very spicy ace-match to end this series, where RagnaroK and Dream face in a rematch from the last GSL Code S group. Dream prevailed in the GSL, but it was a narrow victory where he tied 1-1 with RagnaroK in series and went 3-2 in total map score. 4-2 for Alpha X or 4-3 for BSG seem like the most likely outcomes in the end.
Prediction: Alpha X 3-4 Brave Star Gaming
Fielding the same, strong line-up as in the previous week, Jin Air naturally look to be the heavy favorites against Team LP. Naturally, in best Team LP manner, there is the slight chance of LP.Patience ruining their score, at least. The Protoss leads
3-2 in series
this year over JAGW.Trap, though the Jin Air players retains a slight 8-7 map score advantage due to a 3-0 win earlier in the year. More recently, Patience has had Trap's number and may well be able to throw some dirt on his opponent's as yet perfect GTC record.
That is unlikely to change much about the overall result, as an upset of JAGW.Rogue at the hands of LP.Jieshi is rather improbable. The Zerg just recently won NeXT Summer, beating Jieshi 2-0 in the Round of 8 and showing that perhaps his post-championship slumber is not as severe this time as in the past. Of course, there is the tiny chance that winning the NeXT-title is going to initiate another short post-championship slumber, and Jieshi can get revenge because of that, but the tournament was hardly big and prestigious enough to make the Zerg player overly content. With all
statistics
heavily favoring the Jin Air player, this should be an easy win for the Green Wings.
A bit of hope remains for Team LP with the last match being a ZvZ, in which LP.Wanted could perhaps score a point against JAGW.Rex. In their only duel so far back in April, Wanted was indeed able to secure a
2-1 victory
over the Taiwanese Zerg, who does sport a slightly negative mirror match-up win rate at the moment. Those statistics can be a bit misleading, though, since Rex faced some tougher competition recently than his opponent and actually showed some solid ZvZ in GTC already, taking maps off of KZ.Solar and iG.XiGua. He's the favorite for once to take a 2-0 and if everything goes according to plan for Jin Air, there won't any pressure on him whatsoever.
Prediction: Team LP 1-5 Jin Air Green Wings
While our last series may not be of great importance or consequence for the playoff race, for Invictus Gaming and Team GP this may be one of the most high-stakes matches for another reason: it's the best shot for both teams to avoid a winless season.
The all-Chinese squad starts off with
iG.Coffee
, who once more gets to play TvP against a Korean opponent, facing
GP.LunaSea
for the first time ever. The Dark-slayer (tie-er?) has not been treated kindly
by Terrans recently
, his last victory coming from a clash with an unknown American Terran during the GSL Season 2 qualifiers. Ever since, he could not secure a single map win. Coffee, while not sporting a
positive win rate
in the match-up, goes head to head with the best Chinese Protoss players very often, honing his deadly craft of Bio-Tank pushes. We'll see what lunacy the GP Protoss will bring to the table, but on paper the Chinese Terran looks like the favorite.
In another first-ever clash, old-school Zerg
iG.XiGua
meets cheeky
GP.Prince
. It's hard to say how they'll match up with each other, XiGua being capable of very solid macro matches, but also throwing out the odd Roach-Ravager all-in from time to time. Prince tried to make a Void Ray-based playstyle happen against KZ.Solar in Week 3 and was utterly overwhelmed by his countryman, so perhaps he'll come back with an improved version to test it against somewhat less deadly competition. This should be a fun pairing, with XiGua perhaps holding a slight advantage due to experience and a slim lead in the relevant
statistics
. He's going to need all that experience to properly react to whatever fun stuff Prince has likely planned, and it should prove to be quite entertaining for the viewers to witness this clash of generations.
GP.GogojOey
is still waiting for his first map win of the season, but the portents do not favor him, as
iG.MacSed
clearly holds all the cards in this duel. Leading 4-0 in maps and 2-0 in series this year, the Protoss also sports a fantastic recent PvZ record with a win rate of
over 75%
. MacSed did have some problems against LP.Wanted earlier in the season, but Wanted has also looked much better than GogojOey in comparison, showing a more solid macro playstyle. The GP Zerg's play has been rather lackluster and uninspired so far, his opponents either severely outclass him in standard games or easily read his cheeses correctly. Invictus Gaming should be able to finally take the victory over Team GP here, which Super had denied them last season.
Prediction: Invictus Gaming 4-2 Team GP
---
Credits and acknowledgements
Written by:
TheOneAboveU
Editor: Wax
Stats: Aligulac.com & Liquipedia
Images: Netease