Gold Series Team Championship:
2020 Spring Season
by: TheOneAboveU
At the end of week seven, two teams secured enough points to confirm their playoff spots. To no one's surprise, it's Dragon Phoenix Gaming and KaiZi Gaming, the two grand finalist from NeXT Spring 2020. But Alpha X are closing in on clinching their own spot, which would be a well-deserved reward for the surprise team of the season. No one has been 100% knocked out yet, not even the winless iG, so there's still much to play for in the remaining weeks.
Week 7 Recap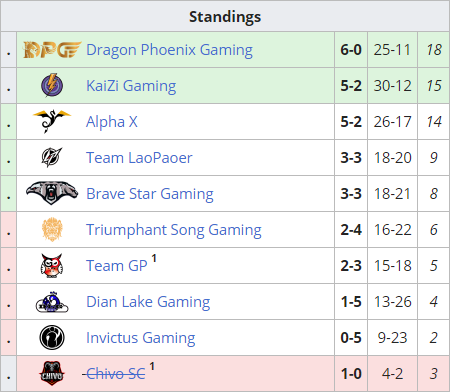 Points are awarded as follows:

3 points for a 'normal' victory in a series that does not require an ace match

2 points for a victory in a series that requires an ace-match

1 point for a loss in a series that requires an ace-match

0 points for a loss in a series that does not require an ace match
Team GP 4 -3 SYF
Watch VOD
There wasn't too much to the games between
GP.Super
and
SYF.EF
, with everything going pretty much as expected. Super defended a speedling flood followed by a strong Roach-Ravager attack in the first game with very solid Warp Prism micro, and dealt a lot of damage with his Glaive opener on the second map. In that game, EF actually took a very good engagement against Super's Immortal-based army, but at that point his economic disadvantage was too large for it to make any difference in the end.
GP.GogojOey
followed a similar path as his Zerg colleague, being defeated pretty decisively by
SYF.DynaMite
. The TGP player tried a fast Muta-Ling-Bane attack on Golden Wall, but DynaMite was on his toes and scouted the move, deflecting it easily and keeping his Gold Base alive. While jOey held on for some time, DynaMite sent wave after wave of units against him, eventually overwhelming the Zerg. Things started a bit better for GogojOey on the second map, establishing a good worker lead with his early Roach attack, but the Zerg failed to capitalize on the move. He didn't really drone up as he should and could have done, sending ineffective waves of follow-up Roaches while losing Drones to Banshees back at home. The Terran himself also wasn't too effective with his drop play, allowing jOey to stay in the game longer than he perhaps should have. Hive tech couldn't save the Hong Kong-based Zerg, though, as DynaMite's multi-pronged harassment with drops, nukes, and Liberators finally forced him to concede the match.
The third series featured an unrepentant
GP.Bomber
, whose disaster against
TSG.Solar
in Week 6 apparently had no teaching effect on him. Playing his bio-heavy style again—though, at least a bit more active this time—he got nowhere against SYF.SortOf, who gladly used the free space Bomber gave him with his pressure-less 3CC opener to Drone up and expand. Bomber kept himself in the game for a long time due to the sheer numerical mass of his bio-force, but playing almost entirely without tanks or mines he eventually was crushed by a Zerg army, which got better and better after every engagement as SortOf added on all the tools a Zerg could desire. Bomber was able to force the ace match, at least, due to a bit of a misjudgment on SortOf's part in game two. SortOf letting his Queens fight Bomber's rushed Battlecruiser without Spore coverage turned out to be a critical mistake, with all the Queens going down and Hellions roasting his defenseless Drones.
The ace match between Super and DynaMite went pretty much like you would expect it to: Simulacrum was the map where Super's Blink Stalker pressure had already worn down KZ.INnoVation, and it had an even more devastating effect on DynaMite, who crumbled under the attacks.
While Team GP were able to take an important victory over SYF, being forced to an ace match prevented them from earning the max three points. With 4th and 5th place teams LP and BSG both gaining points from their seven-game duel (recap below), Team GP might have to win all their remaining matches to clinch a playoff berth.
Brave Star Gaming 3 - 4 Team LP
Watch VOD
With neither TGP nor SYF really being able to catch up this week, splitting the points ended up being an acceptable result for Team LP. BSG have to be cautious, though: with a game against KaiZi Gaming left on their schedule, they can't take their 5th place spot for granted.
While our preview stated that PvP with
LP.Patience
is pure chaos, I'm slowly starting to see the hidden pattern behind it: Patience likes to get a quick expansion, techs to DTs for some mid game harassment or desperate defense, and then quickly goes for Disruptors. His first map against
BSG.Cyan
turned out to be a textbook example for this, but it happened in several of his PvPs before. The Chinese Protoss didn't take much damage from the DTs, but was punished for failing to prepare for the Disruptors in any way. The second map diverted a bit from the standard, as Patience played Oracles while Cyan went for a seven Gate Blink attack (with four Gates hidden away). Cyan came close to breaking Patience, but the Korean for once actually exercised the virtue in his name and defended tenaciously, waiting for the right moment before pushing Cyan back. Staying defensive afterwards, Patience smashed Cyan's last, desperation attack to take the 2-0 win.
LP were actually really close at this moment to getting the 3-0, if only
LP.Jieshi
had received a tiny bit more favor from lady luck. Jieshi had planned a pretty smart cheese on Golden Wall, planting his infrastructure right below
BSG.Dream
's base on the bottom side of the map, while fully walling his main against the Reaper scout. His DTs hit exactly at the right time, with Dream having only a single scan available. Only, he had a Widow Mine. And Jieshi didn't split up his DTs. He sent all three of them into the main mineral line, where the Widow Mine was, which killed all three DTs with a single shot. It was pretty much the only way the game could have gone wrong for Jieshi, and exactly that one thing happened. From here on Dream kept the game under control, but Jieshi was so close to getting the upset. Game 2 was more of a standard match, with Dream picking apart Jieshi with drop play during the later stages despite his early bio-tank attack achieving little to nothing.
With the series tied 2-2,
BSG.Hurricane
took the first game against
LP.Impact
after pulling a bit of a fake-out with his Adepts, not fully committing to the Glaive attack, instead taking a quicker third and delaying the harassment until Impact didn't suspect it to happen anymore. With Drones and Overlords being picked off, Impact counterattacked and was deflected, being in turn crushed by Hurricane's Immortal-Sentry push. Hurricane did not showcase the same sharp sense of timing in the second game, where he failed to identify the correct window of opportunity for his attack: his DTs having failed to achieve much, he went for a massive Immortal-Blink Stalker push, but was a minute late and ran into Lurkers. Though he sniped them quickly, the rest of Impact's units overwhelmed him. Impact then showed some good maneuvering with his Lurker army, cutting Hurricane off from his own third and forcing him to concede.
The second ace match of the day saw the finest hour of Patience, as he triumphed over Dream in one of the most bizarre and brazen displays of greed I have ever witnessed. While Dream was sitting on three bases, probably happy Patience hadn't pulled any aggressive cheese off, the Protoss went up to six bases with 91 Probes, with two more bases on the way simultaneously. You can figure out how that macro game went. While Dream was kind of dumbfounded and played way too passively after his initial doom drop into the Protoss main, Patience did play out his advantage intelligently. He kept the Terran busy with harassment and feints, selling the idea that he was desperate to do some damage, while in reality he had all the money and time he could ever desire. This was for sure one of Patience's better days.
KaiZi Gaming 5 - 1 Invictus Gaming
Watch VOD
In ancient times, auspices were taken before a battle to divine if the gods were in support of the planned action. Going against the omens always ended in disaster. In that sense, perhaps the breakdown of one player's internet and another player's mouse could be compared to the sacred chickens of Rome not eating before battle. The auspices did not favor Invictus Gaming, and KaiZi were not keen on showing any mercy.
Due to the internet problems of iG.Jim, the matches were changed around a bit, leaving
KZ.INnoVation
and
iG.XY
—who experienced the aforementioned mouse problems and had to take on the Machine with his wife's gaming equipment—to play first. XY tried to get cheeky on Golden Wall, hiding his Starport away to surprise Inno with a Liberator, but the Korean had his own early attack plans, using the map's terrain features to put pressure on XY with his first Siege Tank. Shelling his opponent's production from the south-western side, INnoVation reinforced this position more and more, leaving his natural expansion vulnerable, so XY's Hellion attack there actually did massive SCV damage. However, INnoVation had already crippled XY's production facilities by then, forcing the Chinese Terran to concede. 2 ended similarly, with INnoVation seemingly having no time to lose: he pushed out with his first tank, the pressure evolving into a full-blown contain and siege, and eventually breakthrough.
With INnoVation speed-running the matches against XY, Jim's internet still wasn't ready to go, so
KZ.Nice
and
iG.Coffee
also went ahead and played—and the Protoss used the opportunity given to him to show that he is indeed one of the most solid players of the region. He narrowly defended Coffee's strong 2-base push in the first game with his Phoenix-based composition and rode out his advantage to victory, and absolutely crushed Coffee in the second game with Oracle-Adept pressure, killing 27 SCVs. This was after he caught Coffee trying to proxy a Factory, after which he told him in chat to not show his secret tournament strategies on ladder in the future. Good advice.
At this point
iG.Jim
finally got a stable connection and was able to face
KZ.Bunny
. The Protoss had seemingly laid out a pretty good plan for the first game, proxying a Dark Shrine and marching his DTs into Bunny's base just as he had used the last of his OC energy on MULEs. Though he lost some of his own workers during Bunny's Widow Mine drop, Jim's DTs did their jobs and secured him a solid worker advantage. The Protoss followed this up by getting a third base and pressuring Bunny heavily with Archon-Stalker, breaking into his natural expansion to further his advantage. With Jim's army camping at his front door, Bunny tried to counter with drops, but Jim managed to recall in time after doing more damage. The Protoss played a fantastic game, never taking too much damage from Bunny's frantic harassment attempts, while always pulling the trigger on the counter, giving the Terran three wounds for every one he received himself. Eventually, Bunny had to tap out, after Jim broke into his natural for the third or fourth time this game. He did get his revenge on Simulacrum, playing an all-out attack with SCV pull to crush Jim, whose DTs almost were able to deflect the attack, but with the boys at the front Bunny got offensive turrets up for detection. All around, Jim's PvT looked much more impressive than his PvP.
Dragon Phoenix Gaming 4 - 2 Alpha X
Watch VOD
Alpha X beating Dragon Phoenix Gaming was always an unlikely outcome, but you have to take your hat off to them for the fierce fight they put up against the number one team of the league. Honestly, with a bit more luck on their side, an ace match would not have been out of reach for them here, and then everything could have been different.
The underdogs got a very good start. Despite his DT opener and the Archon follow-up failing utterly,
αX.Zoun
proved a tenacious opponent for
DPG.Cure
and never lost hope for victory. Weathering the pressure Cure put him under after his own failed pressure, Zoun countered with multi-pronged Zealot-DT harassment and getting Disruptors behind that. These units would prove crucial, because Zoun was able to surprise Cure at the Terran's third base and got off some devastating hits before Cure could even react, wiping out a large part of his army. Unable to recover from this, the Terran fell apart against Zoun's relentless pressure from all sides. An impressive victory for the Protoss, who managed to transform a failed opening into such a magnificent win. This seemingly woke up Cure, however, who did not want to go 0-2 against the underdog. Playing a 2-1-1 build, his first 16 Marine drop scored massive hits, taking out a good chunk of Zoun's army and some workers, rendering his triple Oracle opener useless. Zoun couldn't recover from the first shock, as Cure kept the pressure up and doom-dropped the main. This took out the Forge and delayed Blink, and combined with reinforcements rallying to the third base, forced the Zoun to tap out. Still, this 1-1 was a win for Alpha X, an important first step in the direction of an upset.
In the Chinese duel, however, the ranking leaders kept the upper hand.
DPG.Firefly
finally showed some stability in GTC, denying
αX.BreakingGG
an important map win for his team. On Golden Wall, Firefly faked BKGG out by sending in a hallucinated Oracle, forcing a drone pull before the Zerg noticed the deception. A bit afterwards, the two real Oracles came in, killing 19 Drones. Following this with a Gateway-Immortal push, Firefly overpowered BKGG's forces to take the first map. Firefly had something special prepared for the second map, going for a Disruptor drop, which got 15 Drone kills initially, and continued to do constant worker damage throughout the game. Behind it, Firefly went up to two Stargates and started to amass Phoenixes, anticipated the Spire counter by BKGG. Killing off all of the Zerg's Queens, Firefly gave himself the window to kill even more Drones with Disruptor drops. BKGG eventually had enough, going for a massive attack and breaking into Firefly's third, where he killed many Probes, but lost his entire army for merely equalizing the worker count. Firefly countered, and took the 2-0.
With BKGG not getting that one map win he normally always managed to get, Alpha X were now standing with their backs against the wall. If they wanted to force the ace match,
αX.Astrea
would have to 2-0
DPG.Dark
. To his credit, he was actually close to doing so. Playing some heavy Glaive Adept pressure from six Gates, Astrea kept Dark on a low Drone count and was very close to doing some critical damage, but Dark kept his cool and defended well, knowing where to move at which time. Behind the pressure, Astrea kind of missed his transition timing, but was compensated for that when Dark's attention slipped and his Adepts finally got 16 Drones just at the end of the pressure phase. The Zerg now had control over the map, however, and Dark built 15 Mutalisks at once, which started roaming around, picking off groups of Stalkers and Probes. His ground forays into Astrea's third proved fruitless, but his Muta count got out of control, and even Psi-Storm wasn't enough to stop them from eventually just fighting it out with Astrea's Stalker army. The dream was dead, but Astrea could yet wound the giant. Playing a fantastic macro game on the second map, he didn't succumb to Dark's Ling-Bane pressure and managed to extricate his army from an almost-disaster in the center of the map. Taking fantastic fights at Dark's third, Astrea took the lead and put Dark on the back-foot. The World Champion desperately tried to get his Lurkers up, but Astrea sniped the Lurker Den with only a handful of them on the field so far. Correctly assessing the situation, the Protoss went in for the kill and secured himself a map win. Despite not being able to achieve the upset, taking maps off Cure and Dark showed that Alpha X will be a potent force against any team. Their placement in the top 3 is very clearly not a fluke—it's where they belong.
Weekly MVP Award: LP.Patience
Credit, where credit is due. We may often have our doubts about his sanity and his reliability, but

Patience
has shown himself to be a most valuable player indeed for his team. Continuing his success in PvP and then putting on the most brazen eco cheese of the year so far, he won LP a very important series and overcame a player most would call his superior in the ace match.
Honorable mentions go out to
GP.Super
for once again carrying Team GP, and to
DPG.Firefly
for his very impressive performance, which proved to be the backbone of DPG's victory.
Catch-up Match
GTC will be on break for two weeks and return to regular play on June 1st. In the meanwhile, there's a catch-up match between Team GP and Invictus Gaming coming on May 18th. This will put Team GP on the same pace as the other teams, making up for their late start as the replacement for the disbanded Chivo SC.
Team GP (2-3) vs. Invictus Gaming (0-5) [May 18th]


Super
< Zen >


XY


Bomber
< Simulacrum >


XiGua


GogojOey
< Golden Wall >


Jim
Ace:
< Nightshade >
While it is possible that Invictus Gaming may be able to force another surprising ace match out of a favored team, the line-ups suggest that Team GP will take a solid victory and advance their playoff chances.
In another rough week for all the XYFANS out there,
iG.XY
faces
GP.Super
. As Team GP's hard-working carry and ace player, Super has shown some very solid PvT so far this season, especially his Blink play being on point and deadly. Though the battleground is not Simulacrum, where his Stalker pressure has been most prominent and successful, Zen offers some room for this playstyle and could well be the option against XY, whose TvP we haven't seen so far in the GTC. Outside of it, however, things haven't
looked all too great
. If XY is using a similar approach to his TvTs, then we may expect him to try and steal away a map win with some sort of proxy build, or perhaps he'll follow in his team mate iG.Coffee's footsteps (who got a much deserved break this week), and play a very two base heavy pressure style. Whatever it is, duping Super is
not going to be easy
, as the Protoss has shown himself to be a very reliable player for his team.
What a throwback awaits us in the second match!
GP.Bomber
against
iG.XiGua
reads like a match-up that could have easily happened at some IEM in 2011, and now, nine years later, Bomber has his military service behind him, while XiGua is still playing SC2 for the same team as he did back then. Another thing that hasn't changed is that the Korean
is favored
to take a victory here. However, I think XiGua does have some upset potential, because Bomber's TvZ has not been very impressive so far, and also looks to be kind of predictable. Now, XiGua is no iG.iAsonu, but I'm sure if he sniffs out another greedy 3CC opener from Bomber, the Korean is going to have his front door Baneling-busted. In a longer game I certainly favor the Terran, especially if he gets away with a greedy start. Stealing a map from Bomber in this duel would be a crucial step for Invictus Gaming, if they want to get another ace match going, and I'd say XiGua has better odds to do it than XY.
Our next two combatants,
GP.GogojOey
and
iG.Jim
, have very recently faced each other in an individual Gold Series tournament, with Jim coming out ahead
2-1
, which gives us a good look at what we can expect from them here in this team match. Jim showed some sharp PvT in the last week, taking a map off KZ.Bunny, but it seems GogojOey has his number in ZvP. It's very likely that the Zerg—if the series isn't actually over by that point—will only need one map win to close it out for TGP. With his ZvP being a mixture of aggression and the rare instance of standard play, it's going to be hard for Jim to predict what's coming. And while the Protoss needs to be correct both times to have a shot at keeping his team in the series, GogojOey only needs to overcome him once, for which the chances look very good.
Prediction: Team GP 4
-2 Invictus Gaming
---
Credits and acknowledgements
Written by:
TheOneAboveU
Editor: Wax
Stats: Aligulac.com & Liquipedia
Images: Netease