ESL Pro Tour Revamped
by Olli
ESL have announced a revamp of the ESL Pro Tour due to the ongoing COVID-19 crisis. As offline competition is made impossible by current circumstances, the Pro Tour will shift almost entirely to online play for the 2020/21 season, with a view of slowly re-installing offline play as the situation allows. While this much was expected, the particularly interesting news are a change of format for this season, as well as a boost in prize money for ESL's weekly cups. Instead of four offline Masters events, the EPT will play out largely in regional online competitions, with global Season Finals, reminiscent of the 2013 WCS Circuit capping off every season. The circuit is still planned to finish offline at IEM Katowice 2021.
Seven Divisions, Three Seasons
The format change sees the international scene split into six divisions, each with their own points ranking similar to the split between international and South Korea previously. The South Korean circuit will continue to run unchanged. We were told that ESL's main consideration in implementing this new system was to optimize playing conditions and competitive integrity and therefore avoid cross-server play wherever possible. As a result, every division is played exclusively on the home servers of its region unless both players agree to a different server. Players will keep previously earned EPT points and carry them over to the regional divisions.
The player pool of these divisions is not equal across the board, but rather based on ESL's analysis of player pool depth of different regions — we were told Aligulac and an internal evaluation scheme were used to determine this. The leagues are split as shown below.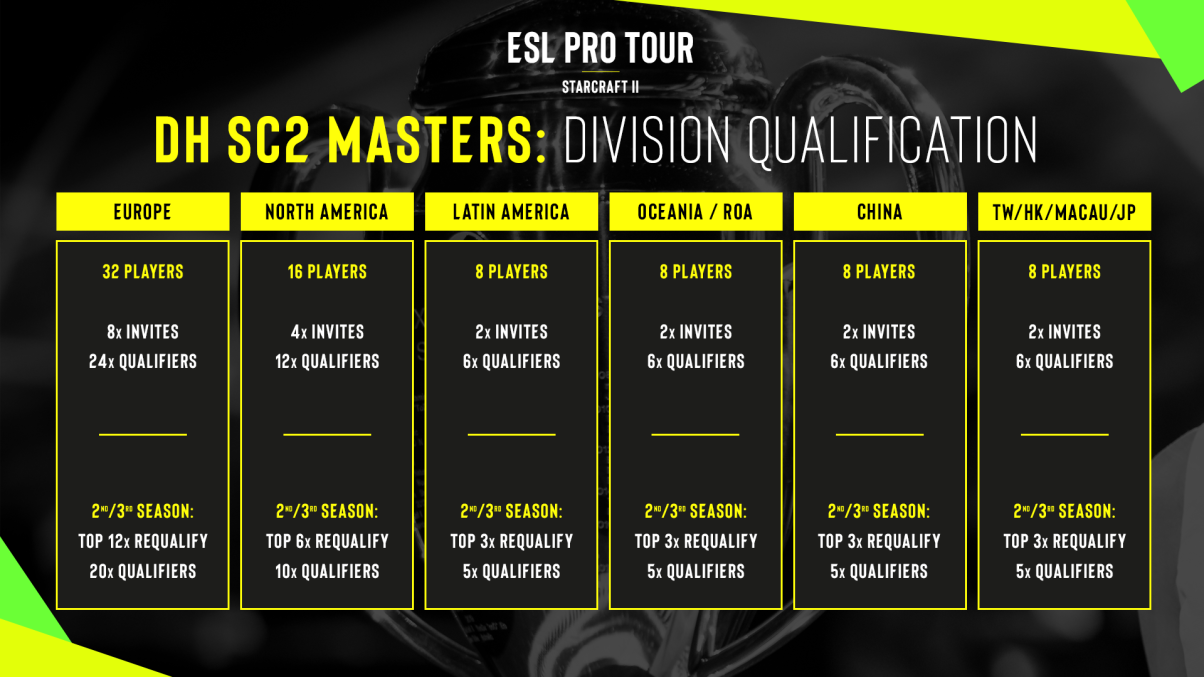 Each division is played across a season of three weeks; 25% of the player pool of each region will be invited based on EPT standings while the rest is determined through qualifiers. These invites will be sent out after the conclusion of the TeamLiquid Starleague 5, as that tournament awards EPT points. Every division has a slightly different format, from which a set amount of top finishers re-qualify for the next season. In Europe, for example, the top 12 of the division retain their spots in the league.
The formats for each division:
Europe: Four Round Robin groups of 8 players will feed into a 16-player double elimination bracket. The top four of each group advance; the top 12 of the final bracket retain their spots in the division for the following season.


North America: Two Round Robin groups of 8 players will feed into an 8-player double elimination bracket. The top four of each group advance; the top 6 of the final bracket retain their spots in the division for the following season.


Latin America, Oceania & Rest of Asia, China, Taiwan/Hong Kong/Macau/Japan: Two GSL style, 4-player groups feed into a 4 player double elimination bracket; the top 3 of the final bracket retain their spots in the division for the following season.

Which region a player competes in will largely be determined by residency, meaning there will be no possibility for a player to switch regions unless their residency status changes. One concern and, as Apollo admitted, even potential weakness of the system, is non-Korean players currently residing in Korea. The EPT system will allow them to compete both in Korea and in their home region, although Apollo stressed they would have to compete on the server designated for each division unless both players agreed to playing on a different one. More detail will follow in the official rulebook that is to be published soon.
One of the concerns that came up in the development of this regional system, Apollo said, was a fear that ESL would "eat up" too much broadcast time and thereby push out smaller tournaments like Wardi's online cups. To address this, ESL have consulted with a number of them and are planning to involve them in the coverage of the new divisions and qualifiers—instead of their own streams, they would then be working for ESL directly and be compensated that way.
Prize Money & EPT points
As a result of these format changes, prize money and points distribution have also changed, but the overall prize pool remains the same. There is still a total of $238,500 to compete for every season, now split as follows:
Europe: $84,000

North America: $38,000

Latin America: $17,200

Oceania & Rest of Asia: $14,100

Taiwan, Hong Kong, Macau & Japan: $14,100

China: $14,100


Season Finals: $57,000

A more detailed overview can be found on
ESL's website
.
Season Finals are back!
The Season Finals add an additional week to each season, with breaks in between every season to allow room for third party organizers to step in and contribute tournaments to the circuit. Three seasons are planned in total — Summer, Fall, and Winter, with a yet to be announced global tournament taking place in January, replacing the previously unannounced global event towards the end of the 2020/21 season. The format of the Season Finals has four GSL style groups of 4 players each, from which the top two advance into an 8-player double elimination bracket.
The sixteen spots at these Season Finals are distributed this way:
South Korea: 6

Europe: 4

North America: 2

China: 1

Latin America: 1

Taiwan, HK, Macau & Japan: 1

Oceania & Rest of Asia: 1

Asked about point allocation, Apollo says ESL want players to earn the majority of their points in the regular regional divisions as opposed to Season Finals. They should instead be viewed as a chance for the top players of each season to earn additional EPT points as a reward for their performance — at the very least these could make the difference in seeding at Katowice 2021. These Season Finals will be global, which means the top players from all international regions and South Korea will participate in them.
One interesting aspect we discussed with Apollo was the possibility of returning to offline play should safety measures be reduced or even removed. While he admitted the split into different regions makes a return to the previous EPT system impossible for the remainder of the 2020/21 season, Apollo left the window open for Season Finals to be held offline if the situation allows. All regional divisions will, however, remain online competitions even in that scenario.
IEM Katowice 2021: Mostly Similar
IEM Katowice, as well as the TBA Global Tournament in January, are still planned to take place offline. The format of the Global Finals at IEM Katowice 2021 will remain the same, but there are some obvious differences to seeding. There are still five direct seeds into IEM Katowice 2021. One of them has already been claimed by Rogue at Katowice 2020, another is on the line at the TBA global event in January, and the additional three go to the winners of all three GSL seasons. The other spots will be determined among the regions as follows…

ESL Open Weekly Cups
There will still be EU, NA and Koreans weeklies, but the prize pool of each will be increased by $300 per week, partially as a result of high interest and participation. These cups will also move from Sunday to Monday to avoid clashing with regular division play and third party organizers whose tournaments would also take priority on weekends. On a potential boost to EPT points for these weeklies, Apollo said it was an option ESL would continue to monitor, but they currently wanted to avoid inflating the importance of these weeklies and thereby "making the decisions for players" to compete in them. Points gained from these cups will remain global points and will therefore not be split into different regional points.
---
ESL are currently in talks with Blizzard to counteract map-hacking and other forms of cheating in its online competitions, a concern Apollo stressed ESL "take very seriously". The official rulebook for the revamped EPT Circuit will be published by ESL soon. All information can found on their website.
---
Credits and acknowledgements
Written by:
Olli
Photos: ESL