Super Tournament 1: RO16 Day 1 Preview
by TheOneAboveU
After an unbearably long five-month hiatus, the Global StarCraft II League is finally set to return. On March 18th, Super Tournament #1 will kick off another year of GSL competition. While the Super Tournament has sometimes been viewed as a bonus event between 'proper' Code S tournaments, a unique twist has been added to elevate the stakes: The top four players will earn seeds in the first full-length GSL tournament of the year (the name is pending, but we'll just call it "Code S" for now).
Due to safety concerns regarding coronavirus, there won't be a live audience. However, the progamers will still grace the AfreecaTV studio for this event.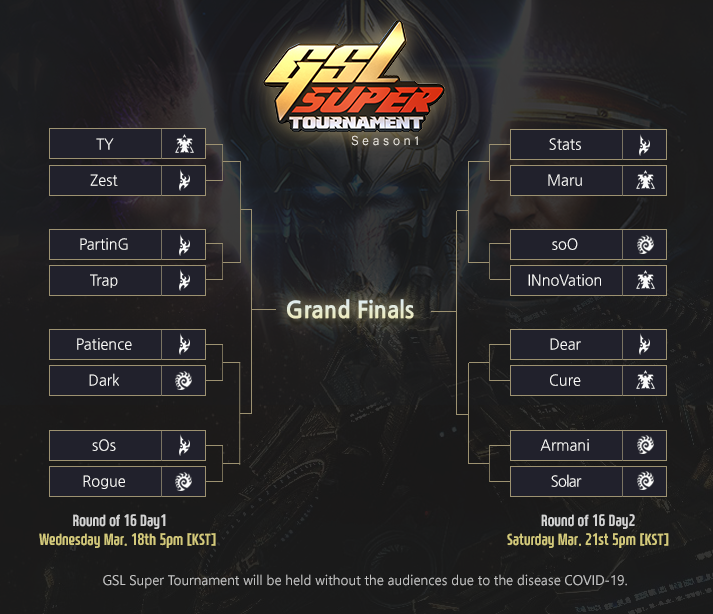 RO16 Match #1: TY vs Zest
Start time: Wednesday, Mar 18 8:00am GMT (GMT+00:00)
Often called one of the smartest Terran players in the world,
TY
is the kind of player who might have an advantage at the start of a new ladder season. He quickly adapts to new maps, finding the most annoying tank spots, the sneakiest drop positions, and anything else that could give him even the slightest advantage. It feels like the Super Tournament could double as a TvP geography lesson with professor TY, especially with the BO5 nature of each round increasing the chance of us seeing the more experimental map designs.
Even with IEM Katowice in the books, it's still a bit difficult to assess TY's level. He has been a less than enthusiastic online player, having played a mere four official matches since
IEM Katowice
(while Zest has played around 30 matches). The TSG Terran had a solid showing in the group stage at Katowice where he recorded a 3-2 record (wins vs Hurricane, Lambo and Cure; losses to sOs and Serral) but missed the playoffs on map differential. His
win over Hurricane
was definitely an expected one, whereas
the loss against sOs
really depends on how you interpreted the Jin Air Protoss' run (reinvigorated legend vs lucky gambler).
TY's recent matches against Trap in a couple of WardiTV tournaments—where he went a combined 1-4—demonstrated a worst case scenario. In one game on Nightshade, TY tried to do some early damage with hellion-marine pressure and a banshee follow-up, but was shut down hard by Trap's defensive blink build. Behind in the economy, TY's slow death against a PvT savant like Trap was basically assured. What does a Terran do when a macro game feels hopeless? Right, play proxy rax! TY tried a map-specific variation for Ephemeron, exploiting the fact that Protoss players like to wall off the reaper cliff (bunkering the low ground and gaining vision with his barracks). Unfortunately for TY, Trap defended well AND initiated crippling warp-prism harass. In a later game where TY's widow mine drops found their mark, Trap was still able to recover and eventually out-muscle TY. Whether all this is a credit to Trap or if it says something about TvP in general... we'll know more once we see how the three first-round PvT matches in the Super Tournament go.
TY's opponent
Zest
, of course, was in the spotlight recently for making it into the grand finals of IEM Katowice. His run was rather unexpected, as he even took out fan-favorite (and progamer favorite, according to the IEM player survey) Serral along the way. Interestingly enough, the newly signed
Raise Your Edge
player did not have to face a single Terran opponent on his path to the finals, making it there on the back of his powerful PvZ and PvP. Those will serve him well in this Protoss and Zerg heavy tournament—IF he can make it past TY.
At least the statistics looks good for Zest: Of the twelve PvT's he
played in March so far
, he lost merely two: a BO5 against online-king Cure and a BO3 against Dream. And while many of his opponents weren't exactly championship contenders, he did claim victories against SpeCial, Cure, and INnoVation (funny enough, the latter series was played in Anonymous #8, with Twitch chat correctly guessing Zest's identity by watching his bank. An anonymous INnoVation claimed Protoss imbalance after the thrashing Zest gave him). All this should be a good indication that Zest is indeed in very good form against Terran. Then again, INnoVation probably claims imbalance when he eats a jelly donut (it's over-powdered).
If Zest can ride out his momentum from a hot pre-season and scorching IEM Katowice, he should be set for another great run. TY himself
said on stream
that his match-up against Zest felt 50/50, but it was fair to give Zest the edge due to his recent strength. Whatever happens, you can bet TY will have one, two, or perhaps somehow five aces up his sleeve—he's probably cooking up something with SpeCial right as this preview is being written. Let's hope GSL in 2020 starts off with a banger!
Prediction:
TY 2-
3 Zest
RO16 Match #2: PartinG vs Trap
What a contrast! The soft-spoken and modest
Trap
takes on the brash, self-proclaimed "Big Boy" who definitely has a big mouth. But at IEM Katowice,
PartinG
showed that he could walk the walk—well, sort of. He surprised everyone at IEM Katowice by defeating reigning BlizzCon champion Dark to open the group stages, but didn't have the mojo to actually advance as he was eliminated with a 2-3 record.
What's worrying is that PartinG's elimination came down to his losses in PvP. He was able to barely defeat Has 2-1—guess how that series looked (or smelled)—but he couldn't overcome Dear and Stats. Since then,
his PvP record
has looked average at best: wins against Nice and Chance don't exactly balance out losses to Creator and Zest (though the latter appears to be a PvP god). Even if PvP is an extremely volatile match-up at the moment, no one with the ambition to win a Super Tournament should really lose to Creator in his current form. And who knows, maybe Creator will even tell his teammate Trap all about PartinG's PvP over some soju shots.
Trap's mirror match-up
looks much more solid overall
: a solid 21-9 match record since the 4.11 patch and a six-match winning streak at the time of writing. Bizarrely, he has his own unlikely nemesis in the match-up, with Patience handing the Jin Air player his only PvP losses in the past month or so (at IEM Katowice as well as online in a Kung Fu Cup).
Some might say PvP is so random right now that these results mean nothing anyways, but that is perhaps a bit too simplistic a view (for the record, I'm not saying it's not chaotic as hell, because it totally is). Despite his puerile streaming persona, PartinG is a smart guy. Big Boy also means big brain. Perhaps he'll ask Patience for tips on how to mentally break Trap—the two do seem
to roll in the same circles
. Of course, this goes both ways, and when it comes to preparation there is no greater authority than Jin Air. PartinG can perhaps enlist Patience, but Trap practices in an environment that at least resembles the high KeSPA days. Jin Air haven't dominated Korean competition in the last couple of years without a reason.
So, however random the match-up might be right now, it seems that PartinG is the underdog. Trap has the better form, likely the better preparation, and—as a two-time Code S runner-up in 2019—can be called the flat-out better player. He had a fantastic 2019, and even though Katowice didn't go as well as he might have hoped, and even though PvZ continues to plague him, he's one of the top Protoss players in Korea.
But to hedge one last time: back in January PartinG won two series over Trap on the same day to qualify for IEM Katowice, forcing Trap to play in the open bracket in Poland. It was a big surprise back then, because the TL;DR: of the two players was essentially the same back then. Should we see another "upset", it would only be a moderately smaller surprise now.
Prediction:
PartinG 1-
3 Trap
RO16 Match #3: Patience vs Dark
Hear me out through this weird hypothetical. If this was a ZvT with
Dark
playing against a Terran with the same relative skill as
Patience
, we could make this preview into an obituary for the Terran player, because there is no way Dark would lose such a match. In fact Dark is probably going to destroy any Terran he meets in this tournament, no matter who they are.
However, this is PvZ, a much more volatile match-up. Partly because Protoss is a part of it, but it's made even more random because the quite-cheesy Patience is involved. I wouldn't expect a beautiful series here from either of our players. Instead, as a Dark fan, let me tell you what is going to happen. Dark is going to be super cocky because he (correctly) assumes that he's ten times the player Patience is, which causes him to play some stupid all-in that fails horribly. That, or he'll be the victim of some stupid all-in because his arrogance throws caution to the wind. Nearly every tournament Dark has played in gives us historical precedence for this. Now, if Dark has a good day, that'll be the end of it. He'll snap back and destroy Patience unceremoniously in the remaining three games by defending the inevitable canon rush, doing a roach-ravager all-in, getting some zerglings into an opening in a wall-off, or through similar nonsense. There is also a decent chance that Patience tries some blink-stalker stuff that hilariously fails—or it could be exactly the stupid all-in Dark loses to.
Patience has been around for a long time and has qualified for a lot of major tournaments like this. But let's be honest here, without disrespecting the player too much—he rarely makes a big impact in these competitions. His last top four run in a premiere tournament was back in 2016, when he won
HomeStoryCup 14
. We've been waiting for another one since then. Patience is a capable player—definitely capable of making Dark look stupid for a game or two—but when it comes to actually advancing...
...is there a realistic chance Patience takes a BO5 against the reigning WCS Global Champion and reigning Super Tournament champion? No. Is there
any
chance? Yes. Dark's not invulnerable, obviously. He even lost a BO3 to Patience this January. He also lost a BO3 to PartinG at IEM Katowice. But he also thrashed Stats three times in the same time-frame. Patience
hasn't won a PvZ against a Korean Zerg
since besting Solar in a Bo1 back in January. His losses include defeats at the hands of Bly and SortOf. Dark
hasn't lost a BO5+ in ZvP since April of 2019
(3-4 to Classic, against his litany of BS builds). So yeah, there's a chance Patience wins this series, but the odds are very slim indeed.
Dark is going to be angry after not making it to the finals at IEM Katowice. He'll want to avenge himself against Rogue in the next round and he'll want to win another title, because an eternal champion is what he envisions himself to be. Losing to Patience has no place in that image, or in reality, for that matter.
Prediction:
Patience 1-
3 Dark
RO16 Match #4: sOs vs Rogue
If anyone says they are mentally ready for this match, they're wrong. Team-kill matches with
sOs
tend to be a bit of a clown show, and him facing such a tournament favorite as
Rogue
is doubly spicy. After all,
we all know what happens
when sOs faces so-called favorites who also happen to be teammates.
But let's take a step back. 2019 was a bad year for sOs, with his single noteworthy result being a top 4 placement in Super Tournament 2. 2020 started on similarly disappointing footing, with the two-time BlizzCon champion not being able to qualify for IEM Katowice in the online qualifiers (though, it's important to note for this match, that he did win a Bo3 against Rogue). While many had left him for dead after a poor 2019, he made a run through the open bracket at Katowice to reach the group stage, and then made it into the playoffs after going 4-1. It rekindled hopes among sOs' fan base that perhaps with such a high prize pool up for grabs, sOs actually activated $O$-mode and might go all the way to the finals. And while $O$ would be active for one more match against Stats in the RO12, it turned out that Maru would get some belated revenge in the RO8 by ousting his troublesome teammate. However, altogether, it was an encouraging run for sOs, who bounced back after flying under the radar in 2019.
We'd have paid more attention to sOs' recovery if he hadn't been overshadowed by his similarly inconsistent teammate. Rogue enters the Super Tournament coming off of an amazing victory. His path to the championship at IEM Katowice was a truly stellar one, worthy of a title—it's not at every event that you have to overcome Dark, Maru, and Zest to claim victory. Additionally, it marked Rogue's second win at IEM Katowice—an accomplishment never before attained in StarCraft II. If sOs was the preeminent big game hunter of his era, then he's been indisputably succeeded by Rogue in Legacy of the Void.
Unfortunately for those trying to predict this match, both Rogue and sOs are even less likely to play online events than the aforementioned TY, and have not played a single recorded match since IEM Katowice ended. We are absolutely blind in regards to their preferred playstyle in any match-up. When it comes to PvZ specifically, sOs' run in Poland isn't exactly much to go by: the Jin Air player won against Lambo and lost to Serral, so no huge surprise there. Rogue, of course, knows much more about him, and vice versa. And how much can we glean from Rogue's triumph over Zest in the IEM finals? One could as easily attribute it to him having several series' worth of scouting info on Zest as to his ruthless, calculated aggression.
It's very hard to guess to whose advantage this team-kill situation really works. Yes, sOs knows how Rogue likes to play, but how much value does that hold when Rogue is considered the better macro player? Rogue, on the other hand, might be informed about all the tricks and feints in sOs' arsenal, which is a far more important aspect of sOs' play. It might, however, be interesting to note that TY suggested Rogue has been taking it a bit easy after his IEM win (in the aforementioned stream). Suffice to say, these two probably know each other
much
better than the average pair of players, they have the same resources at their disposal, and historically sOs has fared pretty well in this kind of scenario.
But it's hard to ignore the elephant in the room: while sOs is on the road to recovery from a long, long slump, Rogue is a giant woken from slumber, ready to re-establish his supremacy on Korean soil. The question is: is this tournament worth his while?
Prediction:
sOs 2-
3 Rogue
---