GSL Super Tournament 2: Preview
Ever since the GSL Super Tournament was brought back it's been in an awkward spot. It doesn't have the scale or prestige of GSL's flagship Code S so it's easy for fans to look at it as filler between Code S's grand story arcs. But for

Solar
,

soO
,

sOs
, and

Trap
, 2018's Super Tournament 2 will be just as important as any Code S.
Seven out of eight
Global Finalists
from Korea have been mathematically confirmed. The final ticket will go whoever holds the most WCS points at the end of the Super Tournament. Who will claim the final spot at BlizzCon and a chance to win StarCraft's ultimate prize?
Start time: Thursday, Sep 27 8:00am GMT (GMT+00:00)
GSL Super Tournament #2



WCS Korea Standings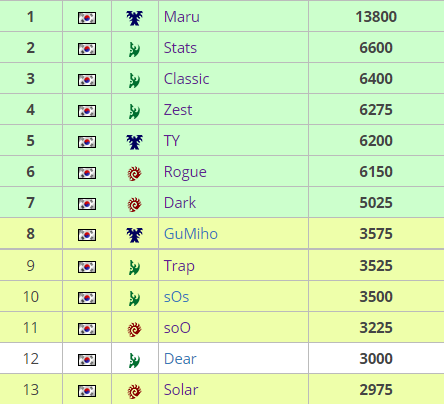 Solar: Last Glimmer of Daylight
by Mizenhauer
Around this time in 2016,

Solar
had just won
SSL Season 2
in a tight 4-3 grand finals against Dark. The victory secured him a spot at BlizzCon as the #2 seed from Korea, a worthy reward for one of early LotV's best Zergs. Unfortunately for Solar, his form has declined significantly from those glory days, and he now faces the very likely prospect of watching BlizzCon from home for a second straight year.
Regardless of form, Solar is the underdog in this race based on his point total alone. If things break right for

Trap
,

sOs
, or

soO
, they may only need to win a round or two in order to confirm their place at BlizzCon. In Solar's case, he trails GuMiho by 600 points in the WCS Korea standings, meaning that he needs to reach the finals to realistically stand a
chance
. He doesn't have the luxury to hope that everyone else fails—he has to earn this the hard way.
Solar was the second best Zerg in the world back in 2016, but his form has steadily tapered off since then. He made it to the finals of
SSL Season 1
in 2017, but his best finishes this year are a pair of quarterfinal exits in the
IEM World Championships
and the
first Super Tournament
back in March and April respectively. Add to those modest finishes a pair of Round of 32 exits in GSL and a lone Round of 16 showing where he got rematch cursed by Zest and you have the sort of resume most would probably consider undeserving of a BlizzCon spot.
In a way, Solar's long slump isn't surprising—he's never been what you would call a consistent player. He's blown hot and cold since his breakout year in 2014 when he was a titan in foreign weekenders but abysmal in Proleague. He made the Round of 4 in the first three LotV seasons of SSL, but has yet to make the semifinals in GSL despite having far more tries. Alas, Solar's 2018 has been consistently bleak, with few bright spots to remind you of the championship player of yore.
And yet, for all his stumbling and bumbling, Solar has still managed to drag himself to the final stretch of the race. The second Super Tournament is an opportunity for redemption and the finish line is just barely in sight. We watched Rogue climb this mountain last year, and look what happened when he reached BlizzCon. Whether or not Solar can duplicate such a feat remains to be seen, but we'll know if it's even a possibility in just a few short days.
soO: Survivor
by Ziggy
After the high drama of 2017,

soO
's 2018 has been rather uneventful. soO—who recently signed with Asterion eSports—seemed to have grown tired of being everyone's tragic hero and didn't reach the finals of a single premiere event in 2018. Yet, even as a unassuming farmer tilling the soil of the GSL group stage, soO managed to harvest enough WCS Korea points to end up in BlizzCon contention.
soO's 2018 results have been nothing like what we'd expect from a player of his reputation. A semi-final finish in the first GSL of the year seemed rather promising, but things went straight downhill from there. He was knocked out in the opening round of the first Super Tournament, suffered Ro16 elimination in Code S Season 2, and capped it off by getting eliminated in the Ro32 of the final Code S of the year. Throw in an unlucky draw against Maru in the first round of GSL vs. the World tourney, and you can safely say that soO's last few months in the GSL have been quite miserable.
The runner-up of BlizzCon 2017 might not get a chance to travel to Anaheim this year at all. Is this the world we want to live in? Hope is not lost, however, as soO still has a fighting chance. 275 points behind sOs and needing 300 to catch up with Trap, soO could very well overtake the Jin Air crew to snatch that coveted spot in the Global Finals. Assuming both sOs and Trap fall in the opening round, soO could even take that Global Finals spot with a top four finish. However, the more likely scenario is that soO will have to face his finals demons against if he wants to punch his ticket to Blizzcon.
Luckily, though, at least the opening match shouldn't push soO to his limits. soO might have a complicated relationship with ZvT, but

Bunny
is one of the easiest draws soO could have hoped for. Things will get harder, however, with Dark, TY, and Classic all on soO's side of the bracket.
sOs: One More Miracle
by Orlok
BlizzCon is the tournament that
made
sOs' career. It doesn't seem particularly important that he's never won Code S when he's won the tournament that pros seem to care the most about. When we rave about how Serral and Maru made history in WCS and GSL, we should keep in mind that sOs' two BlizzCon championships might be an even more unbreakable record. However, if people have forgotten about the legendary mad scientist, it's not without reason—he failed to qualify for BlizzCon at all in the last two years.
2018 has been a mixed year for sOs. He started out strong, with a quarterfinals showing in the first season of the GSL as well as strong performances in IEM Katowice and a finals appearance at IEM PyeongChang. However, he seems to have lost his spark after those winter tournaments. He was eliminated in the Ro16 of Code S Seasons 2 and 3, and he failed to qualify for the first Super Tournament (he even missed GSL vs. The World because he lost out on a fan-vote to Zest). He's never been
terrible
this year, but he seems to have fallen into being a firmly middle-class player.
sOs is now in a similar position as he was in 2017: in the Super Tournament and perilously close to being eliminated from BlizzCon contention. Last year, he paid the price for being unable to control his own destiny when he lost to herO in the quarterfinals. Unable to earn more points, he saw his #8 spot get snatched away by Rogue who went on a miracle run to win the entire tournament.
This time around, sOs has been graced with a relatively weak first round opponent in Keen, but the difficulty ramps up drastically after that. Should he advance, he'll face the winner of Maru vs Rogue in the Ro8. Given sOs's lackluster performances this year, how could he hope to take on Korea's #1 Zerg or Terran? Thankfully for sOs fans, an Ro8 finish might actually be enough for sOs to barely take the #8 spot. He has a solid point lead on both soO and Solar, while Trap has the trickiest Ro16 match among the BlizzCon contenders in Stats. Yes, this basically amounts to
'hope wonky s*** will happen,'
but if you're an sOs fan, you're probably no stranger to that.
Trap: Ninth no more?
by Orlok
"Consistency is a virtue, virtue is a grace, grace is Trap who never gets past 9th place."
We value consistency highly in StarCraft. It's actually weird that we criticize players for being inconsistent when being inconsistent is the norm—it's the players who can always show the same skill level who are extraordinary. However, sometimes this can be more of a curse than a blessing, especially when one is stuck in the realm of good-but-not-great. Welcome to

Trap
's life.
Trap's 2018 has been the tale of consistency become tragedy. In every single Code S this year he's been eliminated in the Ro16. To be more specific, he's been eliminated in the group decider match each time, which is equivalent to a 9th-12th place finish. When he actually broke through to the Ro8 at IEM Katowice, he was eliminated in rage-inducing fashion after blowing a 2-0 lead against Serral. For all his troubles, he's earned the current 9th place spot in the WCS rankings, just barely outside the cutoff for BlizzCon.
Of course, the universe conspires to deny Trap anything higher than a ninth place finish and has pitted him against Stats in a perverse mirror match. No, I don't mean Protoss vs Protoss—like Trap, Stats is another player who has established himself as a paragon of consistency, only in Stat's case its' for being consistently
great.
However, if he can just squeeze past Stats, he'll be rewarded with a surprisingly soft Ro8 match in the form of Impact/Solar.
A word on

GuMiho: Until somebody actually wins a match and earns some WCS points, the eighth and final BlizzCon ticket from Korea still belongs to GuMiho. The Towel Terran put in a very un-clutch performance in the Super Tournament qualifiers, missing out on his chance to lock-up a BlizzCon spot after losing to Creator and Hurricane.

Now, GuMiho can still qualify if everyone else suffers a catastrophic breakdown. Unfortunately, the chance of everyone collectively failing to earn enough points to surpass him seems to be next to zero. Still, any non-zero chance is still a chance, and GuMiho fans are certain to have an unusual rooting experience during the Super Tournament.
---