A Weekend for Believing
Serral lifted the trophy, but MaNa lifted spirits at WCS Austin

Written by Mizenhauer
Mizenhauer

Life can be cruel. The rich get richer, the good die young, and hard work is met with failure. The unforgiving nature of reality is hammered into our consciousness each and every day, until there's no choice but to begrudgingly accept it.
It wasn't always that way, though. Childhood was different. It was a time when we believed in fairy tales. When we were untarnished by burdensome knowledge, and could be captivated by fantastical stories and dream of perfect endings.
Being a fan is like being a child. Amid the tedious reality of our daily grind a football match or game of StarCraft has the power to make us believe again.
In time,
WCS Austin
will likely be remembered as
Serral's
second consecutive WCS Circuit triumph, a stepping stone on his path to greatness. And while Serral blazing a trail of destruction the likes of which the foreign StarCraft has never seen is certainly important and historic, it's not the story I'll remember. I'll remember a fairy tale made real, an impossible quest as inspiring as any I ever heard as a child. Because as Serral brought destruction and ruin to everyone around him,
MaNa
rose from the ashes.
Serral went into WCS Austin as the prohibitive favorite to win it all. MaNa went in as one of many afterthoughts. The last time he had been a true contender was in 2012, when he won
Dreamhack Summer
and the
Electronic Sports World Cup
. But six years might as well be an eternity in esports, and MaNa's greatest achievements had long since been reduced to StarCraft II trivia.
MaNa competes at IEM New York in 2011 - [Photo: R1CH]
MaNa entered WCS Austin without fanfare or expectations. Anyone predicting great things of him had to be utterly deluded. Maybe MaNa believed in himself, but we didn't believe in him. David doesn't actually get to beat Goliath.
MaNa's journey started in the open bracket. It has always been a labyrinth riddled with danger, but MaNa's road was more treacherous than most. He faced
Optimus
and
Namshar
to open the weekend, was wounded by souL in the next level of the dungeon, and had to slay
uThermal
twice to crawl out into the daylight.
Bloody and battered, MaNa had escaped, but even greater challenges lay ahead. In the first round of the playoffs, MaNa faced an insurmountable obstacle in
Neeb
. If Serral was the prohibitive favorite going into the tournament, then Neeb was the one player in the world capable of upsetting him. MaNa would be an adequate warm-up match for Neeb, who would inevitably face Serral in an earth-shattering final to decide who was truly the best foreigner of Legacy of the Void. But MaNa, who went down nearly 30 supply in game one and 15 supply in game two, didn't care for such prophecies.
He clawed his way back
in both games, leaping out to shocking 2-0 lead. Game three was over before we could recover from the shock. Neeb, three time circuit champion, was eliminated. MaNa was moving on.
The saga continued against
Snute
in the quarterfinals. Once again, it hardly seemed a contest on paper. Snute had history, prize winnings, and pedigree on his side. None of that mattered in the proceeding best-of-five. MaNa's decision making, execution, and strategy far outclassed his most decorated opponent.
It only took three games
for MaNa to instruct us as to who the superior player was.
It was only fitting that
SpeCial
would be MaNa's semifinal opponent. Again MaNa entered as the underdog. Again his accomplishments paled in comparison to SpeCial's. The Mexican Terran had become a juggernaut of the foreign scene: he was the only man to defeat Neeb in the elimination stages of WCS 2017, a BlizzCon semifinalist, and a six-time semifinalist overall. It was the likes of soO, sOs, and Neeb who kept SpeCial from reaching the finals in the past—this time he would have his rightful due.
Man, the match was fun. It was a knock down, drag out, sloppy bloody-knuckled brawl. Matches like that bring you to your feet. The reckless haymakers, the do-or-die charges, the barrage of disruptor shots that steal your breath away. I've been called jaded and disillusioned—overly fixated on maps, metas, and all the little imperfections that take away from what I believe
should
be a better game. When the match was over, all I could think of was why I love StarCraft II.
On the other side of the bracket, Serral was in the midst of his preordained conquest. Make no mistake, the hype was warranted. Serral was the best player outside Korea. It was quite possible that his level of play exceeded that of any foreigner before him. He was more terrifying than Goliath, or any monster or demon from myth. He was reality.
Serral had a
90% ZvP win rate
against foreigners in WCS 2018, and came in with a
9-0 head-to-head record
against MaNa in particular. In the previous rounds, MaNa's chances during the previous rounds had been merely
terrible
. But there were no words or concepts yet discovered by human kind that could describe the sheer impossibility of MaNa winning a match against Serral. MaNa himself joked that he hoped to get four solid practice games out of the series.
But MaNa had been making the impossible possible all tournament long. He was walking a path from legend, trials and labors more akin to Hercules than any from our daily lives. Logic dictated that Serral would win, but I stopped caring about logic as the cameras zoomed into the game. In that moment, I stopped being a thinker and became a believer. I believed that fairy tales were real, and that one man can defy logic through sheer, obstinate force of will. I could tell—couldn't you?—that there was magic in the air that day.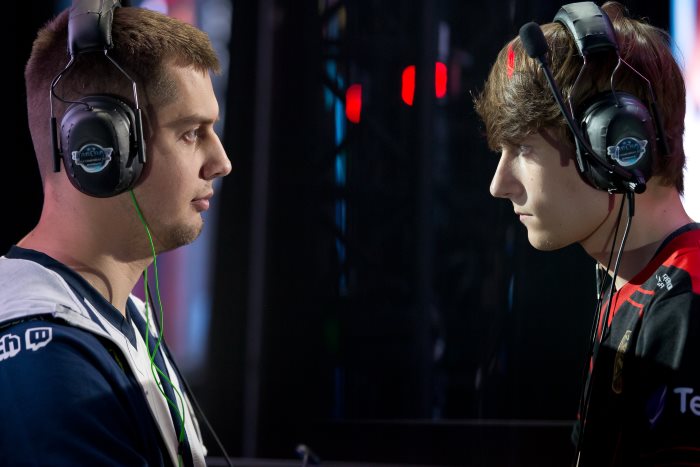 [Photo: Carlton Beener, via Blizzard]
The galaxy of skill between the two was evident in game one—it was a triumph for rational thought, common sense, and natural order. But MaNa made all that unravel in
game two
. Fans, casters, and professional gamers alike tell us Tempests and Sky Protoss are the surest way to defeat Zerg in the late game. Facing Brood Lords and Serral's asphyxiating late-game style, MaNa dove into the belly of the beast with Blink-Stalkers, disemboweling it from the inside. He won
game three
with an even more improbable attack. Forcing his way deeper and deeper into Serral's territory, MaNa's incisive blinks eviscerated the core of Serral's army, his prized Brood Lords, while immortals and archons cleared the path to victory on the ground. The series was his for the taking. The WCS Leipzig champion was crumbling. We all know what happens next. David exploits Goliath's weakness and triumphs with a well-placed shot. Theseus stumbles out of the labyrinth, weary but elated over his defeat of the Minotaur.
That's not how it turned out.
Serral rallied back over the next three games in ruthless, dominating fashion. He didn't so much accept MaNa's GG's than he ripped them from MaNa's body. The most frightening part was how casual he made it seem. There was no emotional turning point or self-discovery in crisis. Serral simply diagnosed an error and corrected it.
Poor Cinderella, you were warned that midnight was coming.
In the end, it wasn't a fairy tale after all—it was real life. I was wrong. So very wrong. But I was okay with that.
MaNa had reminded me that while harsh, cruel realities are an unavoidable part of life, they're not the only part of life, nor the most important. He reminded me that life is also about the journey. He reminded me to that effort matters more than the goal, because it's the effort that shape us into who we are. The effort is also what leads us to the little motes of brilliance that light up the world, even if only for a moment.
In the moment, MaNa's improbable run may have seemed the stuff of legends. In reality his trials were just another one of billions of earthly struggles. But that doesn't diminish them. Any one of those struggles can be a source of inspiration as we confront obstacles on our own path. In reality, WCS Austin is the tournament that MaNa lost. But I'll always remember it as the tournament where MaNa made me believe that anything is possible.
---