The Good, Bad, and Ugly of WCS Austin
Written by: Soularion
What a tumultuous Texas tournament
WCS Austin
turned out to be. Almost all of the so-called 'favorites' caught fire, and not in the good way. They spontaneously combusted, reduced to ashes in their seats as the underdogs claimed win after win. The last time we saw so much chaos in the West was back in
WCS Season 3 in 2015
, where Lilbow won the championship and MaNa came in second. In any case, it's time to unpack the events of the shocking StarCraft showdown.
THE GOOD
Serral Challenges for the GOAT Foreigner Peak

Serral
's still got quite a way to go before he enters the 'greatest of all time' foreigner discussion, but he's certainly got a case to say he's enjoying the greatest
peak
. The hype was dulled slightly when Serral dropped two games in a finals where a sweep was expected, but overall he was absolutely stunning in his championship run. His opponents seemed defeated before the tournament even started, with everyone conceding that WCS Austin would be a battle for second place. While Serral did get a relatively easy bracket due to the upsets elsewhere (we'll get to those in a bit), he took what he was given and delivered a dominant tournament run that lived up to expectations. His 17-3 overall tournament record ended up falling just short of Neeb's 17-2 mark at
WCS Montreal 2017
.
Unfortunately, we probably won't see Serral play against Korean competition until GSL vs the World later this summer. There's a limit to how far you can hype a foreigner before they must pass the Korean-test, but it's undeniable that Serral has already made an unforgettable impact on the WCS Circuit.
MaNa's Ridiculous Tournament Run-of-Death
Seriously, how does

MaNa
find a way to make a deep tournament run in every expansion? Last time, it was during the aforementioned
WCS Season 3 in 2015
, where he ran a gauntlet of tough opponents (XiGua, TLO, Zanster, Elfi, MarineLord, Petraeus, ForGG) before losing to Lilbow in the finals.
This time around, he willed his way through one of the most difficult tournament paths of the entire WCS era. To get out of his
first
group stage—typically a cakewalk against amateurs and fans—he had to defeat Optimus and the feisty Namshar. In the final group stage he had to face uThermal twice, going in both times as a significant underdog but still pulling off the upsets to reach the playoffs. There, MaNa proceeded to go a combined 9-1 against Neeb, Snute, and SpeCial. All three are in the elite tier of foreigner competition, all three played in BlizzCon 2017, and all three got downright stomped by MaNa (the series against SpeCial was closer and very entertaining; probably the highlight of the tournament overall). All that was topped off by a competitive finals showing against Serral, who's a far more terrifying foe than 2015 Lilbow.
Make no mistake, this is an all-time great underdog story. It's difficult to say how much of this run was a miracle in the moment and how much of it was due to something more permanent.
IF
MaNa has indeed revealed his true form, then WCS Valencia might turn out to be far more interesting than the expected Serral stomp.
Lambo's Breakout Weekend
While

Lambo
's run wasn't quite as improbable as MaNa's—and somewhat overshadowed by it toward the end—it was still a hugely impressive and important step-forward for a player who had never been able to put together a significant WCS run before. His previous best result was the RO16, the cut-off line between pretenders and contenders.
Beating MaSa and PtitDrogo in group stages made WCS Austin already quite successful for Lambo compared to his previous results, but by going on to eliminate Nerchio and TRUE, he achieved a nigh-unthinkable top four finish. Both were far more accomplished opponents with historically strong ZvZ, and the two possessed wildly different styles—TRUE being explosive and theatric, while Nerchio is risk-averse but incredibly smart in the mid-late game. Lambo beat both of them by comfortable margins, and even gave Serral a run for his money before being eliminated in the semifinals. Like MaNa, it's difficult to say if Lambo will show this same level of play in Valencia, but for now he looks to be another top-tier Zerg chasing a WCS title.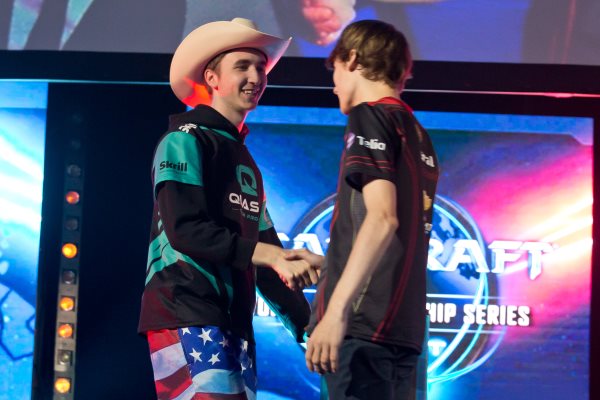 Photo: Carlton Beener, via Blizzard
THE BAD
Scarlett's Continued WCS Struggles
Ouch. Nerchio has been a recurring obstacle for

Scarlett
(they played multiple entertaining sets in 2016, and recently during WESG), and we know any match between the two will be a toss-up, but it was still sad to see Scarlett meet another early end in WCS. At Leipzig, she went out in the RO32 group stage after losing two ZvZ series to Namshar. This time, Nerchio took a clean sweep in the RO16.
If Scarlett's early GG out of game 2 vs Nerchio was born out of frustration, then that frustration must have carried over to game 3 as the series got very ugly, very quickly. It's tough to even say what went wrong for Scarlett this year; her ZvZ has frequently bounced between 'bland and bad' and 'goddamn amazing', and it was certainly on the side of the former at WCS Austin.
Scarlett is known for her spectacular plays and stunning comebacks... this time, not so much.
There's not much for Scarlett to do here except the obvious: 'play better' and return to the form that saw her win IEM PyeongChang and reach the GSL RO8. Scarlett now sits at #14 in WCS Circuit points, making WCS Valencia a pivotal tournament for the Canadian heroine if she wants to keep her BlizzCon hopes alive. If she can't put things back together by then, her year will take a sharp downward turn after a dream start.
SpeCial's Semifinals Slump

SpeCial
is now 0-6 in major semifinals, and it's not looking as though that curse is going anywhere soon. At least most of his previous semifinals losses came against equal or superior opponents—you couldn't
really
fault SpeCial for losing to Neeb, Snute, soO, Serral, or sOs. However, MaNa came into the WCS Austin semifinals without even a quarterfinal appearance in almost three years. Yes,
the series
was very entertaining, and more competitive than some of SpeCial's semifinals losses. But MaNa was not a player he was supposed to have a competitive series with. If you saw this matchup in the Round of 16, you would've thought SpeCial was going to win in four games or so. For him to fail here is the most disappointment he's suffered in quite some time. If these losses weren't a mental burden already, they're definitely reaching that point.
Challengers or Chumps?
Goddamn, this was about an awful performance by the
Challenger/regional qualifier players
as one could've possibly imagined. We saw a plenty of unexpected names seeded into the RO32 to start the tournament, as Austin had some of the zaniest qualifiers results yet. China was a huge mess: XY and iAsonu fail to qualify, TIME and BreakingGG qualified based on their performance from a three-month-old GPL, and visa issues saw BreakingGG replaced at the last moment by Jieshi. Expect made it out of Taiwan while NXZ represented Oceania in WCS for the first time in years. On top of that, a bunch of European upsets led to players such as PtitDrogo and uThermal qualifying, whereas TRUE's Challenger forfeiture let puCK qualify from NA.
There were a whole lot of opportunities for some of these underdog players to make it to the playoffs and take advantage of what was a golden opportunity. None of them did so. While the open bracket/qualifier gave us captivating runs from MaNa and Lambo, the best thing that ended up coming out of the regional qualifiers were a couple of
hilarious
series
from MaSa.
THE UGLY
Abysmal Series Quality
Yes, it was probably unfair to expect this tournament to be as great as
WCS Leipzig
; in that tournament, only four matches ended in a 3-0, and there were a seemingly endless amount of tense and enjoyable series. But did Austin have to be
so
one-sided? We didn't see a single five-game series, and we saw more sweeps in the first round as we did in the entirety of WCS Leipzig. Austin ended with ten playoff sweeps, the most we've had under the current WCS Circuit format. Even back in 2016 when WCS had a RO32 single-elimination bracket, things weren't this bad.
WCS Spring 2016
had just NINE sweeps, despite having SIXTEEN more matches. Without going back through every tournament ever played, I'll venture that this degree of one-sided stomping has never happened in StarCraft tournament history. Fortunately, we were able to end on a high note, with Lambo and MaNa giving us semifinal and final matches that were brimming with emotion and excitement. In any case, it's fortunate that we'll soon have another WCS event that might deliver the all-day entertainment we've come to expect.
Remember Those Players You Liked? They Lost. All of Them. Unless You're From Finland.
Serral, MaNa, and Lambo will be the players we remember from WCS Austin, but we can't end a recap without mentioning the massacre of fan-favorite and star players. Dream tournament runs from MaNa and Lambo made it all worth it in the end, but damn—Austin was a bloodbath. Let's take a moment to remember the fallen favorites.
uThermal was eliminated by MaNa and was hospitalized for pneumonia. MaSa and PtitDrogo, who made big waves in the qualifiers, were sacrificed for the glory of Lambo. ShoWTimE—called the best chance of preventing a Serral championship—got 4-0'd by Kelazhur, who in turn was absolutely wrecked by Serral in the next round. TRUE's ZvZ was not up to par against Lambo, and PSISTORM's team owner punctuated the defeat by
tweeting his disapproval
. Scarlett was swept by Nerchio and got compared to IdrA in the process.
Oh, and Neeb got 3-0'd by MaNa—seriously, how does that happen? Who would've EVER predicted that? Even the most die-hard MaNa fans would've at least predicted a five-game cheesefest where MaNa barely wins, but no, Neeb utterly folded in ugliest series he's played in years.
Snute recovered from a bad-as-per-usual group stage, only to get 3-0'd by MaNa in the traditional Liquid team-kill. Elazer got outplayed hard by SpeCial, after having this misfortune to run into a tournament favorite in the 2nd round yet again. And finally, Nerchio was the last casualty of Lambo's breakout tournament.
Thanks for your efforts, everyone. Your sacrifices were not in vain, and you helped make WCS Austin one of the most memorable tournaments in a long time. We'll see you in Valencia!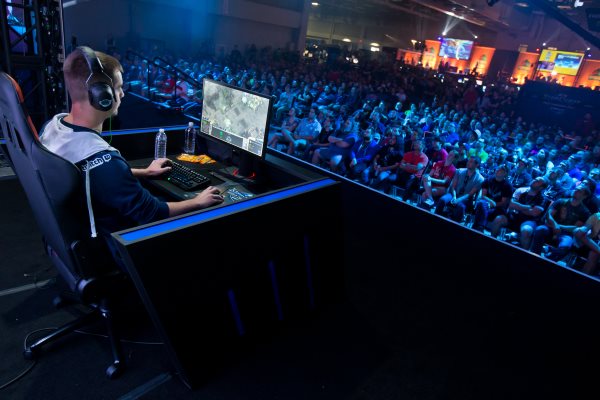 Photo: Carlton Beener, via Blizzard
---