Neeb shocked the StarCraft II world last October by winning the KeSPA Cup and becoming the first non-Korean player to win a major Korean tournament in StarCraft II. In the finals of WCS Austin 2017, Neeb won another historic victory, defeating Nerchio to become the first North American player to win a major North American tournament since 2011.

*This interview has been edited and condensed.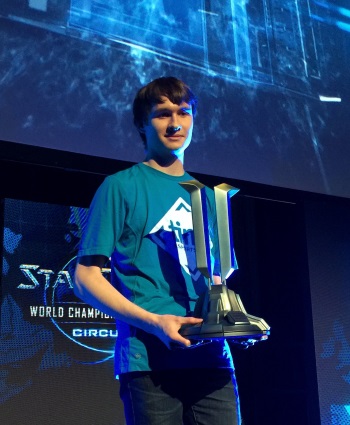 Photo: Blizzard
Wax: A lot of players say that after they win a tournament, at that moment they don't really feel anything. It takes a while for it to actually hit them. How does it feel right now, about fifteen minutes after?
Neeb: Yeah I still don't think it's hit me yet. It was the same for
KeSPA Cup
when I won last year. I didn't feel it for a while. And I think it's important for a competitor to be able to hold off those feelings for a bit, because if like, you start to feel like you've already won in like the last game, you'll prolly choke or something. So, it hasn't hit me yet.
For the KeSPA Cup, when did you really start feeling 'oh man, I won this thing?'
I had a flight home the day after KeSPA Cup, because I was leaving Korea. During that flight was when I really realized, holy s***, I just won a Korean tournament.
I feel like, at least outwardly, you always downplay how good you are. Like, before you went to KeSPA Cup, you were saying stuff along the lines of 'I suck,' and at this tournament, after your first game, you said you hadn't been playing well lately, that you had to prove yourself again. Is that just your personality? You always see the negatives?
No, it's just looking at the facts, I haven't been doing good this year at all, or even toward the end of last year. Like, after KeSPA Cup, I think I was in a pretty big slump, so… I do think I had to improve myself again. But my skill level was always there, it was just my tournament performance that was lacking.
How do you differentiate those two? You say your base skill level was there, but what makes someone able to perform in a tournament?
It's like, just preparing for your opponents, being mentally ready, being able to deal with jet lag, being able to sleep the night before, having practice partners the day of the tournament—there are a lot of factors that a lot of people wouldn't realize. They all kinda come together, and… I was just having trouble for a while. But this tournament, everything seemed to go right.
Everything? Like, who helped you, and what kind of scouting happened? What were the things that went right?
First of all, it was pretty close to home
[Note: upstate New York]
so I didn't have any jet lag; I slept well every night. The hotel room was pretty good. I played against
Probe
a lot to practice against ShoWTimE—that was probably my hardest match. So, he's probably the reason I won honestly, I played like 15 games against him, maybe. I also hit some Zergs on ladder right before I had to play TLO for my first group stage, and that was pretty nice. I was able to not lose there because I was down 0-1, actually, against TLO.
Do you think you appreciate this one more? Because… I don't know, when you win your first one, you don't really know what it's like to have a title drought. Once you win the first one, the pressure is on: you're a champion, you're the big American hope, etc. Did you feel more pressure to win this one, and does it feel more important?
I think for some people that would be true, but for me I thought that I sucked so much before coming into this tournament, so I decided to just play my game and see where I went. I didn't really pressure myself into getting to the finals or semi-finals or anything.
You're the first North American player to win a big tournament in North America since

HuK won in MLG Orlando in 2011. Did you watch that tournament?
The one where he won against MC? Yeah, I watched the finals against MC, I think it was the Xel'Naga caverns game? That was pretty hype.
That was honestly back before I played competitively. I was silver league, I played like arcade games. I just watched all the time.
Is it just the fan perspective to try and connect those things? I think it's pretty cool, this person who watches StarCraft seven years ago becoming champion… you don't think that's cool?
Yeah I think it's cool. I don't really think about that stuff too much.
I feel like that's the disconnect the fan and competitor. The fan is always looking for the big story and the narrative, and I feel like the competitor is always trying to just play their best in the next match. Is that kinda how it is?
Yeah, I think I used to be a much bigger StarCraft fan. But as I competed, the more I competed, the less of a fan of StarCraft I became. I saw it from more of the competitor's side, rather than the spectator side? I don't know if that hurt my interest in watching StarCraft II, or if it was just like… because StarCraft hasn't been doing too well in the past few years, so that might have affected it, too.
What do you think about the system Blizzard has put in place for WCS, kinda locking it down for the next two years?
I think the system is really good for Korea, there are a lot of tournament going on right now. The Koreans seem to always have something to play, which is really nice because that wasn't the case last year. And you could tell, the Koreans were getting much worse. But for foreigners, there aren't many events, but I think that's honestly a good thing because… I've liked the ones where Koreans can play too.
Really?
It means the wins are much more meaningful. For me, I don't know, money isn't that important because I've already won so much.
Wow.
I feel like if I was a foreigner just breaking into this scene, I would care more that there were foreigner-only tournaments with decently big prize pools, that were not super top-heavy. So I could make a living playing StarCraft. For me, personally, it's not a good deal.
So if your goal is to become super good at StarCraft be the best competitor you can be, do you want to follow some of these others pros back to Korea and do another long training trip?
I'm going back to Korea this June, so I'm pretty excited to play with the best again. I don't think I can stay in Korea for TOO long at one time, because I'll probably lose motivation or… I only really feel rested, truly, when I'm at home. Living with seven other people in a team house is very stressful in itself. I have to go home occasionally.
Where does the motivation come from to get better, to pull the trigger and decide to make a drastic move like going to Korea? I feel like everyone has in their mind the idea of going to Korea, but not many actually do it.
For me, I just hate being bad. So every ladder loss is like a big motivator for me. Whenever I lose a ladder game, I'll queue up for five in a row right after that—no matter what happens, keep queuing. It's just… it's good to have some goal in life. It doesn't matter what it is, and I think if you think about it too much, it will stress you out.
What's your goal for StarCraft II this year?
My goal is to do as well in GSL Season 3 as I can, because I'm going to Korea for that. And to do as well in BlizzCon as I can, because I just got a seed from winning this tournament.
You said you used to be a bigger fan of StarCraft than you are now. Who is the progamer you became the most disillusioned with once you became a top tier pro. Or someone who was most different from what you expected when you were a fan?
[thinking]
I don't have a good answer, but I remember thinking this exact thing before. I think in general, a lot of pros are very… lazy? Like, they don't take their jobs super seriously. I thought when I got into pro StarCraft, the top players would be like very serious and have a strict practice schedule, and take their health seriously and work on themselves outside the game, but that's really not the case for most progamers.
How about something nice. Who was super cool? Someone you didn't expect to be super cool or funny.
I have to think again.
HAHA
Well I was never like 'man this guy is a ******* *******'
laughs
I guess for me it was more recent, but Nerchio is not as BM as people make him out to be. He's pretty nice, whenever you see him in person.
You think he's playing a character for fun?
Yeah, I definitely think that's some part of it. He's not as BM as whatever he says on ladder. He was still saying 'good luck, have fun' in the lobby and being nice, even when he was down 3-2 [in the finals].
Ok, to end, I'm sure you have to thank a lot of people who helped you practice. And you can even thank the fans if you want to, though they didn't help you at all!
First of all I would I would like to thank
Probe
. I played a lot against him right before I played against ShoWTimE, and I think he definitely contributed to my win a lot. I had a build order planned for each map, and I was able to run through and practice each map twice, I think. That helped me
a lot.
After beating ShoWTimE I feel like my opponents weren't as scary, because ShoWTimE is the best by far, in my opinion.
Also I'd like to thank my team
Ting
because they're always super supportive, always congratulating me when I win, and always encouraging me to do better.
Also, all the fans, everyone that's watched—there would be no pro-StarCraft if they didn't watch.
---