Hey, remember the old days when everyone was rushing to try and get an interview with the winner of a major tournament? Let's try that again. Say hi to
Liquid`Snute, everyone.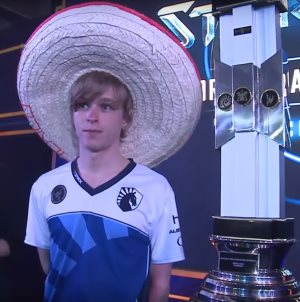 Wax: Congratulations on your victory at WCS Copa Intercontinental. How did it feel to finally take a Premier tournament for the first time since HomeStory Cup 6 in 2012?Snute:
Thank you! It felt great. I also think of my win in
NeoSL
as a big win, so it wasn't exactly my first.
How did you feel about your form going into the tournament? How much did match-up luck play into the result?
Match-up luck factors in a lot, all the time. More than people think. I was able to play my current best match-up three times in a row. I'd have far more trouble in ZvZ or ZvT, for sure. Even if showing many games in one match-up would seem like a disadvantage to some, it's not much compared to being able to play a stronger match-up over and over. At least given my current skill levels. If it's another player with more even match-ups, the situation might differ.
You're virtually guaranteed a spot at BlizzCon. What parts of your game do you feel like you have to work on the most in the next 1.5 months?
ZvT and ZvZ need the most work. I'm not exactly bad in either match-up but they are still far behind my ZvP. I'm also in need of refining my ZvP—even if I'm like 85%-90% I still discover scenarios that bring me trouble. In ZvT and ZvZ it's a bit more broad—about scouting, replacing bad builds/styles, taking better engagements and such... ZvP is a bit more about dealing with specific parts of the strategy spectrum, since I'm a bit more skillful there now.
Some pros are vocal about Korean Zergs being behind the meta, or playing certain match-ups "wrong." Do you agree, and if so, could you elaborate on what aspects Korean Zergs could improve upon?
I didn't watch that many KR matches with Zerg recently, so I'm not too sure. It used to be more of a topic way back, and a lot of players thought a lot of Zerg games were either silly all-ins or lackluster defense. But the game changed a lot as well, patch and map pool wise. I don't think it's all that bad now, even if there still are some examples. If we take the some of the more recent matches, such as the Zerg Starleague matches from Ro8 onwards for example... I feel like that meta lines up quite well with the current top EU meta. With some small differences. Solar actually asked me about my ravager/ling/baneling style before his match vs. Dear, we talked a bit and he decided to use it, he even mentioned it in his winner's interview. So it's really cool when a player like Solar looks to WCS players for inspiration.
I think a lot of the past complaints were about Zergs being too all-in for no apparent reason, or using the wrong compositions. I haven't seen this happen as often recently. It's a bit weird especially now since both TvZ and PvZ seem to be changing quite a bit, but the regions seem to mirror each other relatively quickly. I think I've heard "everybody's doing (this player's)(strategy/style)" more often this year than any other. So there's more cross-region inspiration and emulation going on now. There are very skillful styles and examples of play (games) originating from players from different regions.
It's tough to tell, but it feels more connected now than before. I think a lot of players felt this in practice after Cyclone/Hellion hit Proleague, for example. But it usually takes a broadcast match for a strategy to make it across regions, it's rarely through advance sharing.
When you went to Korea to practice with CJ briefly in 2013, did you feel you had a window of advantage because you were bringing unknown strategies/styles with you? Do you think that might help out foreigners at BlizzCon?
Back then I was the top level Swarm Host player, so a lot of players on KR server weren't prepared at all, some even wrote me long lines of cursing in Korean lol. Nowadays I feel like I popularized the ravager/ling/bane style, no players were prepared for that either. But that's a bit of a different scenario, it's not exactly swarm host. I'm not sure if there are that many unknown styles left that will be as impactful as the ravager/ling/baneling trend or stuff like the double medivac stim timing variations in TvZ.
It would be pretty incredible for someone to discover something that powerful and hide it until BlizzCon before someone else comes up with it, too. So I have no idea how it will play out. One major difference between KeSPA/KR and WCS is that WCS players have a massive library of offline/online match VODs available for study, KeSPA/KR players for the most part have far less material out there. But there's going to be a lot of hidden practice, and I'm sure it will mostly come down to game skill in the end.
Looking at the big picture, you've ended up becoming one of the most consistently strong veterans in the entire StarCraft II scene. Is there anything special about you that let you stay in the scene for so long while continuing to put in good performances?
I just practice a lot and I like to play the game and show up for tournaments... I just try to play, if not I'm still watching and studying others. I don't feel like I'm improving very fast but it's not like I'm losing a lot of skill over time either. Being able to stay in the scene and having a presence in tournaments is linked mostly to my skill level. I did decent in qualifiers and tournaments as a whole this year. And when I didn't qualify or messed up, I had Team Liquid to back me up travel wise, at least twice. Travelling to GPL in Shanghai or DH:Austin was thanks to TL. Not to mention all the support in previous years.
You've been around StarCraft II forever, and seen the foreign scene in many different states. What do you think defines the foreign scene of 2016, compared to all the other years?
A bit more chaos in terms of results, thanks to the single-elimination Ro32 format. A lot of retirements and some new talent. But also a lot of players that are trying harder. I think that the skill gap grew a bit between foreigners. The very top, say 1-10, seem further ahead from the rest than before. And they also closed in a little on the Korean skill level, I think. I'm not sure what to attribute this to, if it's LOTV or if it's just foreigners trying harder thanks to the WCS system. But on average, I think that the skill level outside of Korea increased, and that gameplay quality is a bit higher.
A lot of pros say that foreigners are better than ever in 2016. Do you agree? Do you think the mindset/professionalism of pros has improved compared to previous years?
I think the level of play has increased. Mindset and professionalism has probably improved in the sense that players are practicing more and are trying harder.