TL
Exclusive Interview: Lee "Flash" Young Ho


Things haven't exactly gone according to plan for Flash in Starcraft 2. It has been a tale of false starts and small improvements for him, culminating in a difficult Season 1 of 2015. Things had begun to look up for him after he finally broke his championship duck in IEM Toronto 2014, and his successive podium placements in KeSPA Cup and HomeStory Cup X had affirmed that belief. Yet as the calendar turned, Flash hit another pane in a seemingly endless layer cake of glass ceilings. He failed to qualify after the great GSL purge, and he was stopped short in the new Starleague by Life—a great nemesis from the new generation of players. His seed into the IEM World Championships was for nought when he was outlasted by the mortal Trap, and he was left with nothing but Proleague for the first quarter of the year. There too, he struggled, limping to a 1-6 record in Round 1, one of the worst rounds of his distinguished career. Once again, he had hit a new bottom after finally having reached the top.

Yet anyone who knows the legend has heard of his unbreakable spirit. Though he was thwarted by Leenock in SSL, Flash raised himself back into Code S over the formidable Super. With his season in purgatory seemingly over, Flash must once again prove that the age of God is not over. Even after such a challenging start to the year, Flash remains positive.



After a difficult season 1 and an average Proleague season so far by your standards, you're now back in Code S. How do you feel about your current condition?
Flash: My performance for televised matches is not at 100% yet but I'm in a much better condition than I was in for Round 1.
That's good to hear. Should your fans expect greater performances from you this season?
Flash: Yes. ㅋㅋ, it's fine to have expectations.
How do you feel about your matchups? Many fans believe that TvP is your weakest. Do you agree?
Flash: My best match up is TvT. I feel like these days, I'm rather weak when it comes to TvZ. During televised matches, TvZ is a little more difficult than the others and I think TvP is the most okay out of all three.
At this point, Seeker had to drive his brother somewhere, right in the middle of the interview. Flash was very understanding about the situation, and waited patiently. Seeker basically made God wait for him to finish his errands for 20 minutes. When he returned, Flash just brushed off the inconvenience like it didn't happen.
That's interesting to hear. So then, when you practice with your teammates do you focus on TvZ?
Flash: No, it's not like that. But it is true that I pay more attention to it.
Despite your vast experience in Korean leagues, your success in SC2 has so far been in weekend tournaments. Do you think there's any special reason for this?
Flash: Well when you have to play that many matches in a short period of time, then it's a battle of the basics. I think I'm a little stronger in that area.
~Adela Sznajder, IEM WC 2015
Despite his optimism and past success, Flash remains humble. Watching his peers succeed in his stead must be difficult, but Flash realizes that he has a long way to go. The pressure on him to succeed would have broken other players, but he knows that a calm mind is necessary.
Flash: I'm at the bottom of Starcraft 2's hierarchy. It's because my results are not very good. However, for SC2, I am capable of going on a winning streak the minute I grab a victory so I'm approaching things with a calm mindset. I just always work hard so that I can approach my games with a comfortable mindset.
That peace of mind even in the face of adversity was what guided KT Rolster to the Proleague 2014 championship title. Their eternal rivals, SK Telecom T1, were favored by most to wrap up the title after a dominant season. PartinG, one of SKT's best players at the time, even hounded Flash throughout the season with ceremonies. That they were matched against each other in the grand finals was considered destiny. That KT Rolster toppled the great Team 1 giant was considered a miracle.
Flash: I think that it was the result of us preparing really hard~. That ceremony was directed at PartinG. I was just giving him a taste of his own medicine since I had taken so many hits from him before.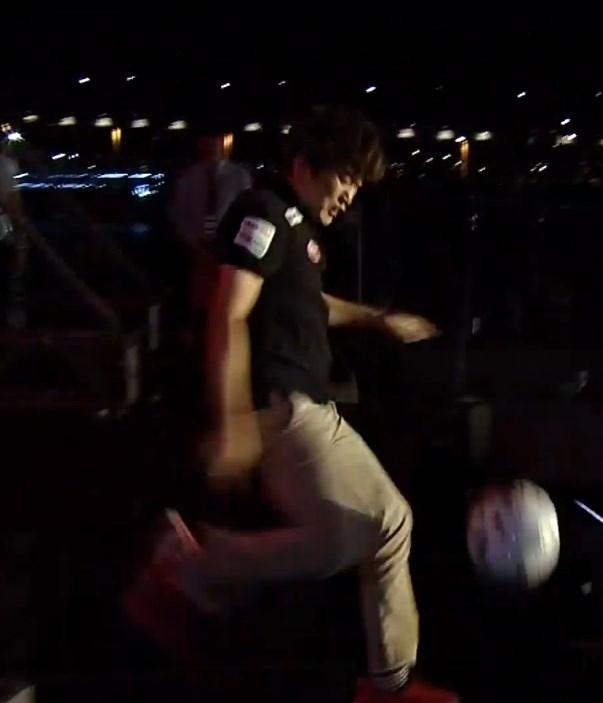 For the 2nd round of the 2015 season, KT acquired the most significant transfer in recent memory: BlizzCon champion Life. Even though the two players had developed a small rivalry over the years, the addition should have turned the defending champions into the favorite to repeat.
Flash: Yes, I say that we're perfectly capable of winning the championship.
Unfortunately, KT has struggled this season even with one of the strongest starting lineups in the league. In the Round 2 playoffs, Rolster lost to Jin Air Green Wings, and Flash was left on the bench. Some fans speculated on the reasons for his exclusion, but Flash reveals that it was out of his hands.
Flash: Maru's condition was really excellent in my opinion. As for me, I had the flu so I couldn't even go to the arena for that match because of body aches. But I'm always confident that I'll win [the next time we face each other].
Currently 6th place on the table, KT Rolster are outside the playoff places. They have a lot of ground to make up for if they wish to reach another memorable final. SC2 attendance and fan fervor has experienced a revival in Korea, and even Flash has noticed some growth.
Last year's Proleague Grand Finals was held on a floating island. Do you think holding finals in big venues is important for the popularity of SC2?
Flash: Hmm, rather than focus on that, I think the focus should be on stages being flashy.
It looks like SC2 has been improving in popularity in Korea lately. What do you think is the cause of this?
Flash: I think it's been coinciding with the fact that LoL has been starting to lose popularity in Korea.
So then do you have any suggestions to tournament organizers on how they can make SC2 more popular?
Flash: I haven't ever thought about something like that T-T
What do you feel are the main differences between Korean fans and foreign fans? Does it feel different to play in foreign tournaments?
Flash: It feels like foreign fans are more in concordance with us than Korean fans so you feel more alive.

For Korean fans however, it's a whole different story when they're cheering for a player they especially like. But for foreign fans, it strongly feels like they like everyone?
~Meru, IEM Toronto 2014
So then, do you think there any difference between SC2 fans and BW fans?
Flash: Hmm, well, I'm not really sure if there is a difference. I guess the only difference would be that the number of fans has decreased for SC2… [but] I would say that when it comes to passion, they're pretty similar.
Many a fond memory was made during his career in Brood War, and even though his competitive fire continues to burn wildly, Flash is not immune to waxing lyrical about the past. Most of all, the ties that he developed during the most competitive days of his career have stayed strong throughout the years.
It's been a few years since you've transitioned from BW to SC2. Maybe you've had the opportunity to think back about your career. What do you think is your legacy—your individual titles or Proleague wins?
Flash: My individual titles AND my Proleague wins are my legacy haha.
~Yong "kenzi" Woo Kim, Proleague
If there was one moment that you think captures the essence of your career perfectly, what would it be?
Flash: I don't think I've experienced anything like that yet, heh.
In BW, your playstyle was seen by many as defensive and macro-oriented. Do you think these words accurately described your playstyle? Have you tried to adapt that playstyle to SC2 or have you changed your approach?
Flash: I do put focus on defending but if I get the chance to then I'll attack right away. I think things differ during the moments that arise.
How do you feel about SC2 progamers retiring and returning to BW on Afreeca? Is that something you would consider?
Flash: Hmmm, well, I don't think it's necessarily a bad thing. I don't know about streaming on Afreecatv but I do intend on playing BW again later on. A lot of fans are wanting that from me.
Bisu and other BW players have spoken about following SC2, particularly their former teammates. Do you stay in touch with any BW progamers? Any KT teammates?
Flash: Yeah, ㅋㅋ, I meet them from time to time and we contact each other a lot.
Any specific people/players you meet up with?
Flash: BarrackS, supervisor Reach, 815, PerfectMan…

I can't seem to remember now that I'm trying to think of them all of a sudden.
Once considered the game's greatest prodigy, Flash won his first title at the tender age of 15. Even though he's now only 22 years of age, he's become one of the most experienced players in all of esports. He has seen players, teams, and games come and go, and his illustrious career has seen him turn into a mentor for younger players.
As one of the senior members in the scene, do other players come to you for advice regarding their careers?
Flash: From time to time, teams will contact me and people will come find me.
It seems that the system for drafting rookies is different in SC2 compared to before. Players are now signed based on ladder and qualifier performance. Do you think there's a difference between the types of players that make it in each system? How has the practice environment and team house structure changed over the years?
Flash: Well, things are actually not all that different. But since SC2 is done through drafts, I think things are ambiguous.
One of your biggest rivals, Stork, has now become the coach of his team. Do you think you'll follow the same path as Byung Gu?
Flash: Well, I'm not sure. I don't think I've ever thought about something like that.
If you could give one piece of advice to aspiring progamers, what would it be?
Flash: Progaming is a career that I would recommend as approachable at least once in your lifetime if you are willing to work really hard.
~Helena Kristiansson, IEM Toronto 2014
And work hard, he does. In a career paved with gold, Flash has every right to relax and slow down. Yet Flash appears hungrier than ever to prove his disbelievers wrong. That singlemindedness has not engulfed him, however, and his positivity allows him to enjoy his life even in the midst of fierce competition. A certain lightheartedness makes him easy to talk to, though he remains largely reserved through the interview. With people he's more comfortable with, we've seen a side of him rarely seen in the intensity of the booth.
Do you spend time with other pros outside of the team house? Who do you consider your best friends?
Flash: I am close with Rain and herO.
Ahh, I see. You're one of the most popular players with tons of fangirls. Have you ever thought of settling down and having a family?
Flash: I haven't thought about anything like that yet. Right now, at this moment, I'm just focused on the game.
You are known for using a ruler during your performances. How did this come to be? Do you use only a specific brand of ruler? Have other progamers adopted the ruler method?
Flash: I've been using a ruler ever since the early years of my progaming career. I don't really have a specific brand of ruler that I use. I'm not really sure about what other players do.
You mentioned that you're good friends with herO and Rain. If your family was kidnapped by Somalian Pirates, which 3 progamers would you bring to help rescue them and why?
Flash: herO, Rain, and Creator?
Hmm…
I guess I would choose them because I feel like they would make sure that they save my family ㅋㅋㅋ.
Please create your very own dream team. What would be that team's name? Why did you pick those players?
Flash: I would pick a team consisting of me, Jaedong, Bisu, and Stork.
Our team's name would be TaekBangLeeSsang.
I picked this team because I think we would be the most popular ㅋㅋㅋ.
If you had the opportunity to switch BW units with SC2 units then which ones would you choose?
Flash: BW tanks and SC2 tanks.
I think SC2 tanks are so bad.
What do you think about the ideas and changes for Legacy of the Void? Do you have your own suggestions on how to improve the game?
Flash: I can't help but think that they'll be unable to reverse things unless they try to change things up completely from what HotS was about.
~R1CH, HSC X
Our conversation is going well, but Flash unfortunately has something else scheduled for the afternoon. Coach Kim "Hery" Yoon Hwan informs us that Flash must attend to other matters, and we hesitantly wrap up the interview.
Do you visit teamliquid? What about the other KT members?
Flash: I don't really visit teamliquid. I don't really know about the others.
Lastly, please say something for your fans~
Flash: Thank you so much for always cheering for me. I will repay everyone with good performances~
With his Code S group on the horizon—where he faces herO, Dream and Patience—Flash must feel lucky that he avoids his self proclaimed weakness of TvZ. Yet this marks only his second time in Code S since the end of 2013, and many fans understandably approach his group with subdued pessimism. After all, herO just won KeSPA Cup, Dream was the runner-up for SSL Season 1, and Patience routinely goes deep in big tournaments. By many estimates, Flash lost the title of favorite long ago, and the pearly gates of Code S may find him wanting once again. But if he has made one thing clear in all his interviews, it is that he is a man of boundless faith—in himself, and in his desire to be the greatest once more.
Recommended Reading:

Follow Flash
Twitter



Follow lichter
Twitter

Follow Seeker
Twitter