I Still Know What You Did Last Summer
Seventeen wins, Zero losses. That was Taeja's stat line during a weekend which saw him claim his fourth DreamHack title--his 8th title in the June to September months overall. The Summer of Taeja began as a suggestion more than a rule, but after its debut in 2012 and a sequel in 2013, it looks like the Liquid Terran is out to complete the trilogy this season. With 2 gold medals in the past two months, it looks like the international tournament circuit should be wary of Taeja's intentions, and looking at this weekend's results, it doesn't look like anyone can stop him.
DreamHack Recap: The Perfect Summer
by Darkhorse
After missing the tournament in Bucharest,
Liquid`TaeJa
proved that he is still the King of DreamHack with a dominating victory at DreamHack Summer. He mercilessly tore through the tournament
without dropping a single game
and capped it off with a 3-0 victory over teammate and multiple DreamHack Champion
Liquid`HerO
in the grand finals. His 17-0 run through the tournament is one of the most dominating single tournament performances in the history of Starcraft II, and is the first "perfect premier tournament" since Nestea's domination in
GSL July 2011
.
Taeja looked sharp and unbeatable throughout the entire weekend. Group stage 3 presented his first real challenge, where he was placed with StarDust, Oz, and Harstem, but Taeja was unfazed as he took the group with an easy 4-0. Taeja then proceeded to demolish Sjaak, Patience, and Jaedong in rapid succession with seemingly little effort. HerO provided Taeja with his stiffest challenge of the tournament, but the Summer Terran would not be denied as he still rolled over HerO 3-0 to claim the title.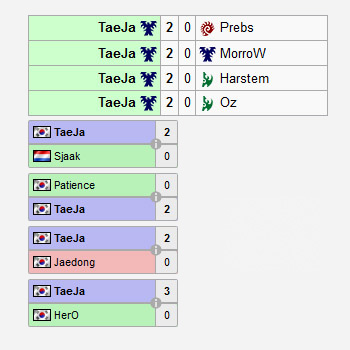 With this win Taeja has now captured an as yet unmatched
fourth
DreamHack title (fifth if you count his win over Thorzain in the
2014 Kick off event
). He has also won the last three DreamHack events he has attended in a row. No one has ever owned a tournament to a greater extent than Taeja has owned DreamHack, unless you count Hyun and IPL Fight Club. In addition, Team Liquid is far and away the strongest DreamHack team ever, as they have claimed the championship at 7 Premier DreamHack tournaments.
Despite his loss in the finals, HerO overcame what seemed to be one of the biggest slumps of his career with a solid performance. He looked somewhat unconvincing in the group stages where he lost a series to Snute, but he turned it on once he hit the brackets by beating strong opponents like YoDa, MC, and San to reach the finals. He was unable to overcome his teammate, but a finals appearance is a welcome change for HerO coming off of poor performances in WCS and Shoutcraft. He will look to keep up that momentum at next weekend's MLG.
Weekend Observations
Foreigners Start Strong, Fall Hard:
As has become standard at DreamHack tournaments, foreigners gave fans hope early in the tournament only to fall far short of the title. Foreigner favorites Snute, TLO, Harstem, and Bunny scored wins in the group stage against strong Korean opponents, but were ultimately eliminated short of the bracket stage. ShoWTimE, Sjaak, and Scarlett met similar fates in the Ro16, although Scarlett in particular put up a strong fight in her bracket match against Jaedong. MaNa was the last foreigner standing in the Round of 8, but he was edged out by The Tyrant 1-2 to deny him a spot in the semi finals.
Sjaak Attack:
At the beginning of the tournament, Sjaak was a relative unknown who wouldn't have looked out of place falling out in the first group stage. Instead he beat Hyun and Huk back to back to win his 2nd group, and he advanced second from his third group by beating Golden in the final match. Although he became a victim of the Taeja machine in the bracket stage, a top 16 performance is more than anyone expected for him, and is a good result to build on to start a career in WCS (once he gets old enough!).
Koreans Improve their English:
There was an abundance of Koreans giving English interviews after their matches this weekend, meaning that Koreans are rapidly taking over the one area where foreigners had a distinct advantage.
Protoss Own the Bracket:
With 9 of 16 in the Ro16, and 6 of 8 in the Quarterfinals, Protoss was far and a way the most represented race in the knockout rounds. This of course didn't matter in the long run: even though the top 4 consisted of one Terran, one Zerg, and two Protoss, a Terran still won the tournament.
First Wins Consolation Bracket:
Quarterfinalists MaNa, First, MC, and Patience played a consolation bracket to claim Jaedong's direct seed into Dreamhack Winter (Jaedong already having claimed one at Dreamhack Bucharest). In the end, First managed to claim the spot by beating MC 2-1 and Patience 2-0 in the deciding match.
Controversy over Taeja's "Perfect" Record:
Technically Taeja's record stands at 17-0 for Dreamhack, but one opponent did defeat him after the games had ended. The Liquid juggernaut was stopped by his nemesis, one that has beaten him several times in the past. I'm talking of course, about the champagne ceremony. Even Taeja
admitted defeat
, and Taeja vs Champagne has become a rivalry as one sided as Cloud vs Goody.
Best Games of the Tournament:
DreamHack fell on Father's Day Weekend, so many fans may have missed some of weekend's finest matches. The pièce de résistance was undoubtedly the deciding series between
Jaedong and Bunny
. It was a back and forth clash of wills as neither player was willing to give up their place in the Ro16, but it was Jaedong who would be bloodied but victorious after taking more cost efficient engagements. The runner up title goes to
HerO vs YoDa
in their Ro16 series. If you've been disappointed by HerO's recent performances, these games will restore your faith as he nails clutch storms and key engagements while refusing to lay down and die against YoDa's relentless pressure.
Grand Finals Recap: Taeja vs HerO Redux
by XXTN
When Taeja and HerO reached the Ro16 and were placed on opposite sides of the bracket, the idea of an all Liquid final still seemed like a distant possibility. But with each passing round and each victory by the two players, their status as the weekend's best players became more and more apparent. However, this wasn't the first time that the teammates have met in the grand final of a DreamHack. They faced off at DreamHack Winter 2012 after slaying every hopeful foreigner, but it was HerO that prevailed that day, crushing Taeja 4-0 to claim his prize. This time, however, it would be Taeja that proved superior, dropping HerO 3-0 and finishing the tournament without a loss.
It was a tournament to remember for the 4 time DreamHack champion, which culminated in a grand finals that only further cemented his place in the echelon of the game's greats.
(Game 1) Habitation Station:
After narrowly beating San in the semis, HerO looked like a clear underdog against the undefeated Taeja in the Grand Finals. The action started from the get-go as Taeja kicked off the series with some Gangnam Terran. Initially, HerO responded brilliantly by picking off a couple of marines and scvs with his mothership core, but he could not maintain the pressure to keep Taeja from maximizing the gold base. Taeja eventually stabilized, which prompted HerO to research Blink and expand.
Taeja did not keep quiet for long, however, as he used his gold mineral boost to hasten the build up of his marine/tank/banshee force. By laying siege to HerO's natural, Taeja was able to put his opponent in an uncomfortable position, forcing a key mistake as HerO lost his mothership core before Photon Overcharge was cast. With no more defensive spells and tank fire raining down on his expansion, HerO had no choice but to attempt a jail break. A blink on top of the tanks and a charge in with zealots proved insufficient; Taeja stimmed his army and wiped the Protoss army from existence.
(Game 2) Overgrowth:
Down 0-1, HerO opened with blink-stalker pressure hoping to catch his teammate off guard. Unfortunately for HerO, Taeja was able to scout it early and didn't skimp on the bunkers. A few SCVs did go down, persuading the Terran to stay defensive, and it allowed HerO to sit back and tech to colossus. Though Taeja would eventually attempt to move out of his base and posture for an attack, HerO would pull Taeja back repeatedly with a warp prism in his main. Any thought of a counter was dissuaded with colossus and thermal lance complete, and HerO entered the midgame in a comfortable position with both AoE techs already available.
Thanks to his quick storm, HerO was able to hold an attack on his third 15 minutes into the game. Unable to do damage with a direct confrontation, Taeja risked his entire army with a doom drop in the main, and it seemed to pay dividends as he was able to take down the robo and a forge upgrading +2 attack. Unfortunately for the Liquid Terran, his medivacs were unable to boost away fast enough as an archon and blink stalkers were poised to bring them down on the retreat. This decisive move convinced HerO he was ready to counterattack, but a terrible engagement denied him a chance to tie the score at 1-1. His army lost and down 60 supply, it was only a matter of time until Taeja rallied his troops to overwhelm what scant defenses HerO could muster.
(Game 3) Alterzim Stronghold:
On match point, Taeja would have to close it out on the largest map in the pool: Alterzim Stronghold. The game opened on edge as HerO elected to build a stargate, but a clutch scout by Taeja's reaper foiled his teammate's plans. This forced HerO to abandon his initial build order, replacing that stargate with a robo. However Taeja would go 2 for 2 with his scouting, as 2 hellions were able to drive right in and see it while roasting 3 probes for good measure. Feeling safe from imminent threat, Taeja loaded up a marine/mine drop, but HerO finally found a break as he was able to repel it without key losses.
Taeja's star sense continued into the midgame, as he would once again thwart HerO's intentions. A robotics bay was HerO's AoE of choice, but a scan quickly identified it. Without hesitation HerO cancelled it, knowing that Taeja would take this chance to attack before his army was ready. Instead, HerO once again utitlized a warp prism to keep Taeja away from his side of the map. Taeja was readier this time, however, as he was able to deflect it with minimal losses. With three bases and having forced HerO to switch plans more than once, Taeja was content to pump out units and infrastructure. Finally with a third 12 minutes into the game, things would unravel quickly for HerO as he attempted to move out. Taeja erased the third with a drop, and, sensing HerO was out of position, drew the Protoss into his trap with another drop in the natural. Taeja managed to snipe a warp prism full of templars, eliminating what hope HerO had of coming back into the game. All the Prince of Summer had to do from there was stim to win and claim his 4th DreamHack title with a perfect tournament.