WCS 2014 Season 1
Challenger League
Brackets and standings on
Liquipedia
Get to know your WCS players
Interviews by Waxangel
WCS is starting back up, and so is our highly-acclaimed "Get to know your WCS players" series of interviews. Forty-eight Challenger League spots are up for grabs in the online qualifiers, and some of the players who claim those spots may very well end up causing a stir in the Premier League. Let's learn a little bit more about them!
After kicking things off with
a trio of Fnatic players
, we've prepared another team-themed installment. From team My Insanity, we have
Kane
,
ABomB
, and
jjakji
!
Thanks to mYi.Pengwin for helping set up these interviews.
mYi.Kane
Waxangel: First, introduce yourself briefly so we can proceed to asking you stupid questions.
Hi, I'm Kane. I'm a 21 year old Zerg player from North America.
(Canada)
(Manitoba)
And you're a full time progamer?
Sure, we can call it that.
Well, I recall you were weighing school vs. progaming back when you won Shoutcraft America.
Yep, and I decided to take at least this year off, and I'll most likely be taking next year off as well.
You think it's made a big difference?
Well indirectly, because it enabled me to travel to Europe where I'm staying currently, which has directly made a huge difference in my play. I have more plans coming up in the next few months as well which will also help a lot, I think.
You mean playing on the EU server?
Yes! I think it has helped me a lot especially with ZvT. There's a lot more (and better) Terrans playing on EU.
So do you feel like a foreign invader in challenger then, practicing on Europe and coming back to steal slots away from those poor American players?
Haha it is actually a huge confidence booster. Looking at the NA players in WCS America, there's nobody that I'm really afraid of. Scarlett is obviously the scariest but since it's ZvZ it can go either way.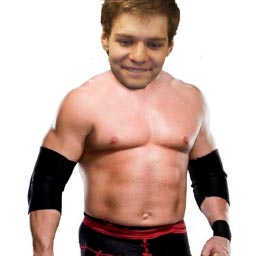 Here's a duo of questions. Why do you think NA is so bad compared to Europe, and why do you think the US is so bad compared to Canada?
Well I actually think the really good Protosses and Zergs in NA can be compared pretty closely to the top Protoss and Zergs in EU, there's just a lot more of them in Europe and they get a lot more exposure. I think minigun is just as scary as say Babyknight or Harstem, but for each good player in NA I can name 3-4 players in Europe with equal skill. I don't mean to sound rude, but there are really no good Terrans on NA, not compared to the good Terrans on Europe anyways.
So to answer your question, after playing on both servers I don't think European players are a lot better than NA players, I think there's just a lot more of them and they get a lot more exposure through local tournaments and such. I'm not sure why Canada is better than the US to be honest, I guess we just have more time to stay inside and practice because it's always so cold
How diplomatic. So what do the Euros think of you? Do they think you're just another lazy American player?
Every single one of them absolutely loves me, I don't think I've met a single European player who dislikes me actually, and all of them openly acknowledge my skill. Even the top european players who are known for BM like Naniwa and Nerchio are really really kind to me. They actually offered me to stay at their homes and play customs with them so they could get really good practice, but I politely declined. Naniwa was actually quite persistent with that request for some reason.
Wow, how did you win them over?
Dick pics. I took a page out of destiny's book and saw how positively the community reacted, so I just emulated that on a smaller scale, no pun intended.
If you had the choice of playing EU, would you have done that instead? Considering that AM is still blocked by something like 10+ Koreans in Challenger.
I did have the choice of playing EU but I decided last minute to play the NA qualifiers, mostly because of my plans ahead which involve potential latency issues. I'll be heading back to NA in a month and I don't know for sure if I'll be back heading back to EU in the next few months.
So you'd rather have good latency and potentially play a Korean in your up/down than have bad latency and play a European :O?
Definitely, I wouldn't feel deserving unless I beat a Korean anyways. I don't want to settle for "just being able to beat European players" or anything like that. I'd rather play against Koreans.
Pick one of the following players each to macro/all-in/ragequit: Naniwa, nerchio, elfi.
macro - naniwa (his all ins are scarier than anything).
ragequit elfi.
all in is nerchio, because I think he's a scarier macro player and all in's don't work vs p.
Biggest mancrush in progaming?
Stephano for sure. I've had a mancrush on him since before ipl3.
League or dota?
SC2. I find any game but SC2 boring now, can't play anything for more than an hour.
If you be on a team with 5 players (none of your current teammates), who would you take?
Stephano, hyvaa, effort, Suppy, Soulkey, all Zergs.
Is your ID actually named after the wrestler Kane, or something else?
Something else. I used to play racquetball (it's like tennis) and the best player was named Kane Waselenchuk.
That's the whitest thing I've heard. Do you still play?
Nah, unfortunately not, I got super busy with school so I couldn't play competitively anymore. and then I discovered SC2 which ironically ate up even more of my time. I guess I prioritized SC2 over school at some points (probably shouldn't have) but it didn't end up costing me in terms of grades or anything so I was fortunate in that regard.
Were you good at racquetball?
I was top 4 in Canada in my age group (16 and under at the time).
Can't you go to school for that if you're that good?
In the states there's a fair amount of scholarships for racquetball if I recall correctly, but in Canada there's not so many. And in the states there's a lot more and a lot better players than in Canada I s'pose.
F*** yeah!
At least you guys win at some stuff, just not the important stuff

Your two fields of competitive endeavour have been dominated by people from other countries. Shouldn't you just have done hockey or curling or some s***?
That's not true. the best foreigner is Scarlett! Even in hockey Canada sometimes loses to Europe.
That's true, I hope they are ashamed as the Koreans are when they lose to Europeans. Ok, let's wrap up. Any final comments? Give me your best European pro answer, now that you have learned their culture.
"EUROPE IS THE BEST HAIL EUROPE, WE ARE SO MUCH BETTER THAN AMERICANS HAIL EUROPE."
But on a more serious note, shoutout to all my fans who are giving me a ton of support, I love seeing your messages on twitter and teamliquid, even if I don't respond to all of them I really appreciate them. And thanks to you for the interview, it was... fun

. Also big shoutout to mYi, and our sponsors Bison and Esportclothing. Love the teamhouse, love the team.
mYi.ABomB
Waxangel: First off, introduce yourself to the people who might not know you so well.
Hello, I'm ABomB :D. I'm from Ireland, I just turned 24 two weeks ago, and I play Protoss for the team My Insanity.
How would you describe your style of play?
My style of play... hmm... I dunno depends on the match-up of course. I used to focus heavily on like heavy harass styles and mobility plays for the most part (people might have seen it back in the beta from husky's videos), however back then I didn't take the game too seriously, I mostly played for fun (like mass oracle/phoenix or triple warp prism stuff). However lately I've been trying to just improve mechanics and solid play so I've been toning down the craziness to improve my fundamentals. I'm not a big fan of all-in's unless it was a bo5 or something, and I'm more looking to play my own builds with the option of harassment and good scouting. I dunno kinda tough to answer that, haha. Once I feel I have a solid base I'll start to ramp up the craziness again ;D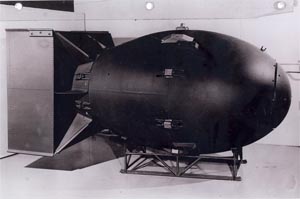 What we think he looks like.
So you were kinda known during the HotS beta but didn't really have much of an impact in 2013. Did anything change that let you make it through the qualifiers this time around?
Ohh Jesus it's a long story (worry) wall of text inc.
Basically when I played in the beta like I said it wasn't anything too serious. Then my team asked me to go to Switzerland in November/December of 2012 to play in a few tournaments. Those were my first ever lans and first time I played outside of my house, and I hadn't really been a PC gamer for as long as most others so my setup wasn't efficient at all. I had a low seat, my keyboard was on a keyboard drawer that slides out below the desk, my mouse hand was way above my keyboard hand and I was leaning back while I played – low rider style. Then I get to these tournaments and the way you sit is like so different and I wasn't able to play at all close to the level I played at at home. So when I got home I decided to change everything, new desk, new screen, new seat, upright seating position, my elbow not leaning on an arm rest, so that if I didn't play outside of my house I would be more comfortable.
And yea it took about 2-3 months to get back to old my shape, then I realised that cause I started in a weird way, I was using the wrong fingering to press keys – I basically only used my middle and index finger to hotkey units, and I'd use my thumb on ctrl and index on number so my hand was jumping around all over the place – and i thought if I really want to be the best I could possibly be, I needed to have the most optimized way of using my keyboard. SO AGAIN I started from scratch and that took another 2-3 months to get back to my old level.
Now we're getting to like April 2013, and my friends and I are into Thaiboxing and go to Thailand to train alot, so the first of June I went to Thailand for 1 month and that didn't help my Starcraft lol. As soon as I got home I went back to Switzerland to the mYi team house and spent 4 months there playing loads, and now I feel like I'm getting better than I've ever been, and all that setting myself back at the start of the year is really starting to pay off. I'm back in Ireland now for the last month.
So now you're in all out progaming mode for the time being?
I mean sure progaming is my main concern at the moment cause I love it. Like I don't want to go all deep on you, but basically I do what I would be doing if money was never invented. And for now I'm really enjoying trying to get ridiculously good at Starcraft.
That being said, it's not gonna stop me from doing other stuff. My friends and I are already planning the next trip to Thailand. The reason I came home from switzerland was to get surgery on an injury I got from thaiboxing, which is kind of funny cause thats how I got into Starcraft. I couldn't train hardcore and compete anymore in thaiboxing and I needed my competitive fix, and I got into gaming. It's basically the same thing, one on one in a specific set of rules. Physical skill and brains makes you win.
Now that i had my surgery I can train alot more again, so I'm gonna keep doing that and progaming, and worry about a proper job in the future, like in a few years. Just enjoy now O_o know what i mean?
Thaiboxing, like Muay Thai? I've gotta say it seems like a kinda obscure hobby to get into in Ireland, but then again what do I know about Ireland?
Boxing, mma and Thaiboxing is very popular, maybe it's to do with my friends. My friend's dad is an instructor in BJJ and got him into it when he was really young, then he got us into it with him, like martial arts in general.
So going to Thailand, was that to train? Is it like the thaiboxing version of going to Korea to train SC2?
It's EXACTLY like that lol, non-Thai's are called foreigners and it's a big deal when a foreigner defeats a Thai. Although in recent years foreigners are getting insanely good, but Buakaw is still the best imo (he's Thai).
So like how competitive are you, you've fought in actual matches?
Yup. Four altogether and one in Thailand, but then like I said I got riddled with injuries. My friends have carried on ofc and are now like anglo/irish champion, fighting for European championships, it's really impressive. Although Starcraft is nice cause you don't get your ass beaten everyday in training haha, and less injuries.
Hey, wrist injuries are serious business. Looking at your possible opponents in Challenger, is there anyone you want to face in particular? Anyone you want to avoid?
I want to avoid PvP. This season im like 60% pvt 60% pvz and 40 % pvp. I don't like pvp, it's so hard to have a solid style, I am bad at the match up also. Like I lose to Protosses who lose to Terrans and Zergs who I beat easy. It also doesn't help that practicing it is a pain for everybody, so it's hard to find people. And ofc I want to avoid jjakji :D.
What do you think of your chances if you manage to make it to Premier? How do you think you measure up in the grand scheme of things?
For me it's all about the experience I get playing at this level, I'm not a top contender yet, all these guys have so much more history in gaming then me, whether its Brood War or Warcraft. Like I played fastest possible map in broodwar when I was like 12 or 13, I didn't even have my own PC until 2011 or 2012 I think, I used to sneak into my brothers room to play when I first started SC2. So I need more time altho I do think it's possible for me to take maps from top players, we will see what happens I guess.
So would your relative level compared to everyone else be higher in thaiboxing or sc2?
Well right now SC2 obviously since I haven't trained full on in thaiboxing in a while due to injury. Also like millions more people do thaiboxing. Then again I had 3 wins 1 draw 0 loses, so if were looking at win % then thaiboxing, haha.
But no, sc2 for sure. Like if ladder is anything to go by, last season I got to rank 23 gm, there's no way I would have been rank 23 in thaiboxing specially if you consider the fact that there's so many dif weight divisions.
How was your time in switzerland? What was it like living with the other mYi players:O?
It was awesome. Sat next to stardust and daisy, so I learned loads(they are so cool also btw) ,saw all the guys I had met the year before: scooter, remo, pengwin, novax, scloc, domi, lions, neo, nirox, flu and more can't remember off the top of my head there were so many. And I met loads of new people also, like wilko, starnan, kane, dana, stardust, daisy, zervas, kaldi, queene, jjakji and a bunch more. We went to DH Bucharest and lans in Switzerland, Switzerland actually has loads of small lans with prize money. It's just crazy the amount of people I got to know through Starcraft already.
It's awesome, especially here in Ireland not one person I know knows anything about Starcraft. So to get to know all these guys who are into esports was great, then to come back and tell the Irish of my adventures was cool, too. And look at the type of player I am, it's my first WCG Challenger and I've already had so many positive experiences in esports its awesome.
Also now I'm starting to get to know some irish dudes who are into starcraft 2. It's kinda like I have this double life, your average super good looking dude :D, you know standard stuff go out get drunk chill with friends go on holidays smoke the ganja, and then I have this whole other side which is esports related. And even though nobody really knows much about esports here, they are all sooo supportive and thinks it's awesome. You should see Irish people's faces when you tell them you can be a pro gamer lol, like Irish people loves games but it's mostly playstation or xbox, fifa, call of duty and such. I need to try and get people in SC but nobody has a desktop pc, everybody has ipads or laptops you know.
ALSO 60 BUCKS OR SOMETHING FOR SOMEBODY TO TRY SC WTF BLIZZARD ;d
2.1 is coming! Ok, any final comments you wanna make, shoutouts etc?
Yea thanks to anyone who took the time to read my walls of text :D and shoutout to my team also My Insanity. Thanks to our sponsors Bison and Esportclothing as well. Maybe I will stream now that I'm featured but I now have the problem of people looking at my builds if I have to play them in wcs so I'm not sure what to do about that. And thanks to you & TL also for doing this.
mYi.jjakji
We haven't seen much of you since ASUS ROG NorthCon. What's up?
After I got eliminated at NorthCon, I streamed and just played as many online tournaments as I could. I got to see Switzerland, and I also went to Paris for a showmatch. Starting in late January I think things will get very busy, and I'm preparing for Challenger and IEM Sao Paulo which are coming very soon.
How's living in Europe? What's it like compared to your expectations?
I didn't really romanticize travelling abroad before, and I came to Europe just thinking I wanted to participate in as many tournaments as possible and get results. However, my teammates and manager take such great care of me and they've taken me around to see the country, so it's been a lot more fun than I had thought. My English isn't so good yet, so it's inconvenient to talk sometimes, and occasionally I have a craving for Korean food. Besides that it's all good.
How good is your English?
My teammates talk to me trying to use words that are easy to understand, so even if I can't understand everything I can piece things together based on what I do. The other foreigners and people outside the teamhouse, I can't really converse with them yet.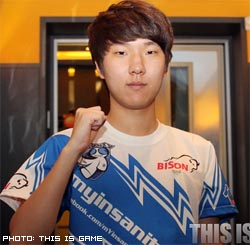 Who do you get along with the best on the team? What do you do for fun?
Well, leaving out Stardust since he's Korean, I get along with Kane. Since he's from Canada, it's definitely easier to understand his English, and he's just an outgoing and nice guy so I talk to him the most.
I like to watch Korean dramas or entertainment programs, or just goof around playing off-race as Protoss. I don't go out much, but when I do I just follow where the guys at the house take me site-seeing.
You were in a big slump after winning GSL November back in 2011, but started performing well again after you joined mYi, even reaching the Ro8 in WCS Korea. What's the story behind that?
I don't think there's any special reason behind it. Even when I was in a long slump, I was winning most of my games in practice, which made me think that I'd be back where I used to be in no time. However, there was the pressure of being a past champion weighing down on me, and I had a tendency of playing too safe in tournaments which gave me a disadvantage in a lot of games. After I kept losing like that, I came to think that I wasn't a top-class player, and that relieved a lot of the pressure. That helped me take more risks in tournaments, using all-ins and such, and I think that helped me get results again.
How's playing on Europe? Does playing the ladder make you confident that you're a top candidate to win WCS Europe?
The players are better than I expected, but outside a few good players, the rest are definitely not as skilled as Korean ladder players. Last season I was streaming on my jjakji account and only using safe builds, but I took #1 with an 85% win ratio or so. Of course, you can always lose in a tournament, but just looking at skill alone I think I'm the best among the players who are playing in Europe.
Who are the top class European players in your opinion? Anyone who might get in your way in WCS?
By race, I'd say Vortix, NaNiwa and Happy are the best, but I don't think there's anyone who can get in my way of winning a championship. If I had to pick someone, then I'd pick NaNiwa.
If you hadn't gotten this opportunity with mYi, would you have kept on being a pro-gamer in Korea?
If mYi hadn't reached out to me, I would have looked into some more foreign teams, and if that didn't work out I think I would have gone to a KeSPA team. While I was looking into foreign teams, I heard that there were some KeSPA teams that were interested in me and wanted to talk, so if foreign teams didn't work out I probably would have gone to KeSPA.
Do you think it could be tough to maintain your skill level living abroad?
Playing ladder, there's definitely more games you win easily than on the Korean ladder, so it's a concern. However, looking at Polt or other players who are getting even better results living abroad, I think that it's all about how much effort you put in. But yes, if I don't work hard I think it could be a problem.
What was it like when NSH disbanded last year?
Around six months before the team disbanded, I had told the head coach that I would keep trying to get better results for a few more months, and if that didn't work out I wanted to look for another team. It was then he first told me that he was thinking about disbanding the team, and told me not to tell the other players yet. So we started the GSTL with only me knowing that we would disband. I thought that maybe I could do something to save the team, but since none of the players had notable results, I hoped we could show everything something in the GSTL. I was the captain so I wanted to do my best with no regrets, but things just didn't go well, getting all-killed several times.
I just hope the other guys find good teams.
Any final comments?
While I'm in Europe, other players shouldn't even dream of taking #1 on the ladder. Starting with WCS Challenger and IEM Sao Paulo, I'm going to sweep through all of the tournaments ahead of me, so I hope you all cheer for me and watch my games.