Updated with full translation.

Q: You two today have 4 wins combined.

Jaedong: I thought we would have a start of improving after R4. Recently I feel that SPL is not an easy thing. But this time, it's another proof that overcoming another difficulties will produce good results. I know I still have weaknesses, I'm improving. A while back, I did a lot of physical exercise and paid too much attention to things outside gaming. Recently, I'm focusing on the game. Anyway, we won today, so I will need to pay more attention to the game.

Q: Your 250 wins.

Jaedong: I try to not think about it. Hero and other teammates are great. So I will show my strength too.

Q: What do you think about your 250 wins.

Jaedong: I don't have any particular thought. 250 wins is not a big deal. I will be emotional if I can get 300 wins. So I will have to move forward.

Q: So you [HerO] have finally overcome the curse of Yongsan [the OGN studio]?

HerO: The chair problem is solved. [OGN studio had a renovation and changed booths]. I can focus more on the game than before. I think I won because of the chair (laugh). Although it's made in China, overall it fits and is comfortable.

Q: You [HerO] have the upper-hand against herO.

HerO: Before the day I two-killed him, we didn't play any games. But I won him twice that day. After that day, I have been very lucky, but I don't want to face him anymore. herO is not an easy opponent. It's just I was lucky.

Q : Today you [HerO] and herO have a mirror opening.

HerO: I didn't believe it either. He didn't scout, so I was like "it can't be......No way".

Q: Is your build today the famous 5:10 Oracle build?

HerO: I didn't pay attention to the minute mark. I was hit by herO's oracle harassment. So I canceled the first oracle. So it's later than 5:10.

Q: Why your ZvP [Jaedong] is not good?

Jaedong: My weaknesses are still severe. It's true my televised ZvP games are bad. But actually it's not like that in practice. My ZvP is above average. I have been working hard to break away from the image of weak ZvP. This problem is totally solvable. So everyone, don't worry.

Q: You are better than you were in Round 2.

HerO: I was playing against INnoVation. I prepared many stuffs, but I failed to show it back then. So I play games only with my instinct. So I worked hard to improve this after that.

Q: Next match is against Woongjin.

Jaedong: Woongjin is the first, but I think we will win. Although everyone says Woongjin is strong, we always have the upper-hand against them. Last time we won too, so we will take it.

HerO: Although we won today, we can't relax. If we practice with full efforts, we will win.

Q: Your teammate Revival has a losing streak of 9 games.

Jaedong: I gave him many advices. He lost today maybe because of the opener that I recommended to him. I gave him many advices on the opening. Revival completely trusts me. I feel very sorry. 9-games losing streak is too much... I think I should not recommend any opening to him after today.

Q: Last words?

Jaedong: [...]Recently, I think about things very far in the future. I'm working hard on StarCraft. So please my fans, don't worry about the results at the moment. It would become burdens for me. Some people say, it's very disappointed that people who are good at SC1 are not good at SC2. Before the end of this year, I will practice hard to make my satisfied. So no matter the result is good or bad, I will accept it then.

Also, I hope fans can pay more attention to Heart of the Swarm. Now, coming to the OGN venue can hardly make me exciting like the old days. The environment in the studio influences many things. Of course, it's not just me, all players are working hard. The quality of the game is improving as well. HOTS is very fun to play. You will know when you play it. So please, don't only watch games online, come to the venue more. I hope there is more opportunity to interact with fans.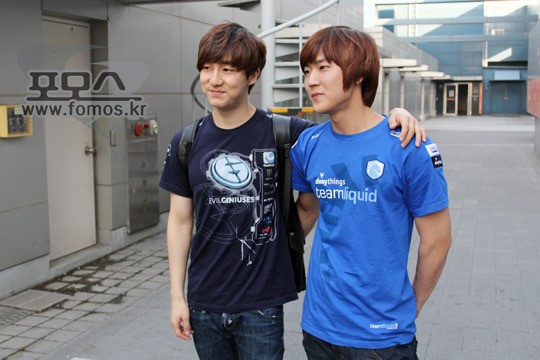 Source: http://www.playsc.com/forum/forum.php?mod=viewthread&tid=351194&extra=page=3