The End of an Era
A while ago, we promised you a list of the best games of 2012. Since then, we've been busy watching, collecting, categorizing, and rating every notable game from the last full year of Wings of Liberty. While many will remember 2012 as the year of Zerg domination, brood lord turtling, and soul trains, it was also the year where Wings of Liberty truly matured. It's easy to look back on the games of 2011 and 2010 with rose colored glasses, but you can't deny that the quality of play has improved immensely since then. The golden age for high level StarCraft games started near the end of 2011, and moving into 2012, we saw some of the greatest games ever played.
Whenever we were sometimes down in the dumps about perceived imbalances or the death of StarCraft, one of these gems would cheer us up, reminding us of how emotional, funny, nerve-wracking, and epic this game can still be. Of the many games we reviewed, 40 made the cut to have the distinction of being one of the top games of 2012. Before we begin, here are some disclaimers:
The best games ranking is a compromise between the opinions of several writers, ensuring that not even the writers are happy with the end result.

Context was weighed in. A game in the GSL finals would rank higher than if the exact same game had been played in the first round of Code A.

TeamLiquid is not responsible for rage or rage related injuries suffered as a result of reading this game ranking.
Best of 2013 and Honorable Mentions
But before we can unveil our list, there's something we must do. Due to the delay in getting this article out, a few months have passed in 2013 with a few must-mention games played in that time. It would be a travesty to leave these games out of any compilation of the best games ever, even if they don't technically meet the 2012 requirement. Here's a brief rundown of the best WoL games of 2013!
Top games of 2013
#7.
FXOGuMiho vs.
LG-IM_LosirA on Daybreak - Code S Season 1 Ro16 (February 14) - VOD
-
(Requires GomTV subscription)
Taking part in the best series of the year and perhaps one of the best series ever, Losira and Gumiho put on a show for us that we would not soon forget. For some reason whenever these two play, their styles collide to become something magical. In this game, Gumiho's twist on standard TvZ along with Losira's insistence on heading into the late game with ultralisks meant that we would have constant trading and action from every corner of the map. Lots of painful nukes too. And that's just game one.
#6.
FXOGuMiho vs.
LG-IM_LosirA on Cloud Kingdom - Code S Season 1 Ro16 (February 14) - VOD
-
(Requires GomTV subscription)
Game two of the series. See #7 but with a slight twist: fewer nukes, more queens, more cute neural parasite usage.
#5.
CJ_EffOrt vs.
SKT_Fantasy on Entombed Valley - SK Planet Proleague Round 3 (February 3) - VOD
Some games make it onto this list for brilliant play by one or more of its players. This is not one of those games. Fantasy and Effort represent two of the best, but at the same time, most fail-prone players within the KeSPA ranks. When both players fell into a strange and unfamiliar situation, they each tried to use the advantage of chaos to their advantage. But alas neither player's ID is Gumiho and thus the chaos took a life of its own as no one could reign it in. And while this game was not the most well-played one from either side, it was certainly unique; you can at least give it that.
#4.
Woongjin_sOs vs.
CJ_EffOrt on Akilon Flats - SK Planet Proleague Round 3 (February 23) - VOD
Let's face it. PvZ has not been the golden match-up of WoL. Once brood lords arrive on the field, all action comes to a grinding halt. Though we may see some minor harass from Protoss or runbys from Zerg, we all know that only the final climatic battle really matters. This game turned this expected path of the match-up on its head. Because of the particular openings by each side, both players were able to establish four to five bases each. Then it turned wild. Ladies and gentlemen, there were no established death-balls in this game, only continuous action and consistent trading.
#3.
AZUBU_BBoongBBoong vs
MVPNoblesse on Akilon Flats Code S Season 2 Up/Down (March 5) - VOD
-
(Requires GomTV subscription)
Coming in at the last minute, one of the last games of WoL also happens to be one of its best. In the last round of Up/Down matches, these two unlikely heroes, along with KT_Crazy, found themselves in a three way tie for first place. The tension was high as this one was for all the marbles. Filled with positional play, masses of multi-pronged drops, and nukes galore, this game captured the best of classic WoL TvZ. Bboongbbong and Noblesse provided us with a great sendoff to Wings of Liberty and we hope HotS can live up to the legacy of games like this.
#2.
FXOLeenock vs.
8th_TY on Whirlwind - Code S Season 1 Ro32 (January 23) - VOD
What is it with TvZs on Whirlwind? Last year, Ryung took on DRG with multi-pronged drops from every angle, pulling apart the dominant Zerg. This year presents us with Leenock against TY in a game where both players got to dish out the hurt with various forms of harass. In a completely scrappy late-game where neither side could secure a mining base, every unit would count and it would take a miracle or some incredible play for one player to tilt the scales. Though this was one of the first games played of the year, it would take another extremely special game to overcome its ranking.
#1.
FXOGuMiho vs.
LG-IM_LosirA on Akilon Flats - Code S Season 1 Ro16 (February 14) - VOD
-
(Requires GomTV subscription)
How fitting it is that after two epic games in this series, two of the best of the year, we have a third game that trumps them both. How would we describe this game? Take either one of the previous games (both of which made it to our list) and put it on a larger map that allows for even more multitasking, more expansions, and more creep spread. That still wouldn't be able to begin to portray the scope of this game.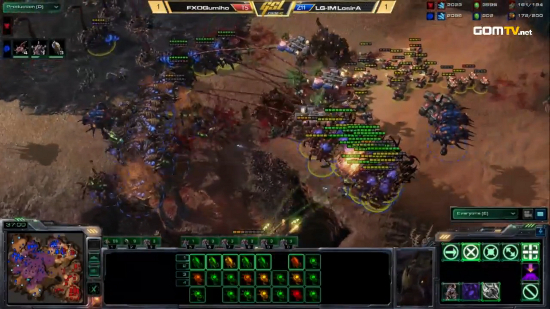 Put frankly, this game has everything. Standard Gumiho chaos? Check. Innovative play? Check. Nail-biting situations where one or two units from either side would have tipped the scales over? There's about five of those. Drones pulled in a climatic battle, corruptors corrupting individual marines, spine forest migrations, and an endgame that looked like a micro arena? Check, check, check, and check. Quite frankly, this game had everything you could want or expect from an epic game and we won't be seeing anything surpass it for a very long time.
Special mentions from 2012
In addition, there were a couple of games from 2012 that didn't quite meet the 'best' criteria, but were so unique or special that they deserved mentioning nonetheless. We though about calling them "honorable mentions," but there wasn't much that was honorable about these games.
Mill?Dragon vs.
AiCytoplasm on Antiga Shipyard - DreamHack Summer 2012 (June 17) - VOD
Some games are so bad, they're good. Some games are so bad, they're f***ing terrible. In the case of Dragon vs. Cytoplasm from DHS 2012, it's really hard to tell where it falls. Some viewers seemed to find the sheer amount of carnage, confusion, and inability of either player to finish the game to be hilariously entertaining. Others found themselves disgusted by the match, but somehow still glued to their screens like they were watching a gruesome car wreck happen in slow motion. For better or for worse, it was a truly unique match from 2012, and one that just had to be mentioned.
StarTale_PartinG vs.
MarineKingPrime on Entombed Valley - GSTL Season 1 Finals (April 7) - VOD
-
(Requires GomTV subscription)
The most controversial game(s?) of 2012 also happens to be one(two?) of its best. MKP and Parting met once again in the GSTL Season 1 finals in Las Vegas. At the time, MKP was considered the best TvP player, using his sheer control to dominate entire Protoss armies. Parting, on the other hand, had just revolutionized the PvT match-up; his brilliant use of templar to flank his opponents single-handedly won him games. The battleground was Entombed Valley, a map with an open middle, perfect for showing off both players' trademark moves. Both players opened with their iconic builds – MKP with his double reactor barracks medivac pressure build and Parting with his fast templar build – setting this game up to be one of the best of the year.
As the game played out, it looked like we had a game of the year candidate on our hands. But as Parting looked like he would take the game in an incredible comeback from behind, disaster struck. The game disconnected and shouts of "We want LAN" were heard round the world. After a long deliberation, it was decided that there would be a regame in one of the most controversial decisions in esports history. While the regame did not disappoint, ending up being a very close repeat of the first, it was inevitably overshadowed by the events before it. After the dust cleared, we were left with not one, but two of the most talked about games of WoL.
The Best Games of 2012
By monk and Waxangel
40

IMNesTea vs Liquid`TaeJa
IPL TAC Grand Finals, Metropolis (August 11)

Click to Watch


During Taeja's insane run at the IPL TAC3 finals, he ran into many respected players such as Seed, Yonghwa, and Losira. But perhaps the most feared IM player Taeja faced that day was Nestea, one of the best Zergs to ever play this game. At this time, most Terrans were focused on either two or three base pressure against the Zerg to catch them while they were in a transition phase to hive. Taeja, in this game, chose the completely opposite approach. Knowing that Metropolis is a long map where attacks can take forever to reach an opponent's base, he opted for the macro route himself, preparing to deliver a massive knock-out blow later.

Instead of the common three orbitals dropping mules, Taeja would have ten. And instead of individual medivacs continuously dropping across the map, Taeja would have doom drops continuously raining entire armies into Nestea's main. Could Nestea defend this onslaught or had Taeja already gotten too big to fail?

39

FXOGuMiho vs Liquid`Ret
IPL TAC2, Daybreak (March 7)

Click to Watch


IPL TAC will be forever known as Liquid`Taeja's playground. But before Taeja was recruited, Liquid was forced to live more dangerously against the best Korea had to offer. Against FXO in IPL TAC two, the weight of protecting Liquid fell on Ret, one of the strongest macro foreigners of the time, known for being able to take games off of the best Koreans, even MVP himself. Facing him was Gumiho, before his evolution into the ultimate clutch player in the GSTL, but still a force to be reckoned with. The resulting match would be an epic TvZ, one of the best matches ever in IPL TAC.

Being a macro TvZ, this game would involve infestors and brood lords. But with Terrans having been had their ghosts nerfed at the time, Gumiho would have to find another way to deal with this dreaded composition. His answer? How about four reactored starports worth of vikings? With a lack of infestors, Ret found himself without an answer to the banshees that followed and it looked all but over for him. So Ret took a page from Mondragon's guide to Starcraft and proceeded to pump nothing but roaches. As it turned out, this proved to be an oddly effective solution, and sent the game spiraling towards an ending that was as unusual as it was nail-biting.

38

SlayerS_Ryung vs Mill?Stephano
MLG Summer Arena, Cloud Kingdom (July 21)

Click to Watch


Stephano is known as the innovator of infestors in ZvT. When he made a name for himself using nothing but infestors-ling in ZvT, many called him gimmicky, predictable, and easily figured out. But with a few tournament wins under his belt and every Korean adopting his infestor based strategy, none would dare to call Stephano a one-trick pony again. That being said, it's still surprising whenever we see him try to use mutalisks in this match-up as it just doesn't seem Stephano-esque. But as he showed in this game, he's every bit as good with mutalisks as he is with infestors.

Using his infrequently seen mutalisk control against a surprised Ryung, Stephano grabbed a strong early lead in this game. But the lead was completely flushed down the toilet in an instant when he took an uncharacteristically terrible engagement with half his army lagging behind. Then the real game began. Stephano was suddenly thrust from a comfortable position to one where he was fighting for his life and every single unit would be worth its weight in gold minerals. Ryung, on the other hand, having found a weakness in Stephano's defenses, put on the pressure and refused to let go until one of them was forced to break.

37

CreatorPrime vs SKTRain
WCS Grand Finals, Ohana (November 18)

Click to Watch


The WCS grand finals were destined to be won by a Protoss. In one of the great mysteries of 2012, the WCS Korea qualifiers resulted in the esports juggernaut sending a motley duo of Zergs in Curious and RorO, none of their powerful Terrans, and an all-star line-up of Protosses to the WCS Global Finals. With the quadrumvirate of Creator, Hero, Parting, and Rain in power with the fast rising star herO[join] in tow, it seemed only natural that Protoss would take all the top spots. And sure enough, we saw Parting advancing to the finals first and wait for Creator and Rain to sort out the second finals spot between themselves.

Going into game two of that semi-final series, Creator found himself in a tricky situation. A sentry contain is quite a common sight in PvP; a player opening robotics is left without a way go get down his ramp and usually has to turn to either blink stalkers, a warp prism, or a colossi to counter the force-field. This sort of situation happened to Creator, and he immediately turned desperate. After some creative maneuvering to break the contain, he still found himself at a disadvantage against Rain's two base economy. As he pushed in what looked like a futile, last ditch attempt to save the game, he didn't realize that the result would end up being determined by the slimmest of margins.

36

SlayerS_MMA vs LG-IMMVP
GSL Season 4 Code S, Whirlwind (September 10)

Click to Watch(This video requires a GomTV subscription to view)


The first TvT on the list of the best games of 2012 happens to feature two of the best Terran players from 2011. While Mvp dominated just about everyone in 2011, and MMA was a painful thorn in his side, costing him two championships – once in the ace match of the March GSTL finals, and again at the finals of Code S October at Blizzcon. To add insult to injury, MMA would shut Mvp out the Blizzard Cup semi-finals to bring an ignominious end to Mvp's year of glory.

When they met again in the distant future, in September of 2012, both had seen their careers take a turn for the worse – MMA due to drama outside of the game, and Mvp due to the worsening condition of his wrists. But neither player had any trouble elevating their games for the long awaited rematch, and there was certainly no love lost between them. The first game of their series ended up being a far better game than any they had played in the past. Mvp had long since diversified from the mech-only style that bogged down his games in 2011, and took MMA head on in a fantastic display of bio-tank vs. bio-tank skill on Whirlwind.

35

MVPKeeN vs FXOGuMiho
GSTL Season 3 Finals, Muspelheim (December 8)

Click to Watch(This video requires an active GomTV subscription to view)


We all love our classic maps, our Daybreaks, our Cloud Kingdoms. They have been with us through thick and thin, providing us with consistently high quality games throughout the year. But it is on the new maps where we can truly be filled with wonder, where there is still a hint of mystery and suspense in the air about what may yet transpire. This is especially true in team leagues where preparation and sniping strategies are prevalent. And nowhere is preparation more important than in the finals of the last ever Wings of Liberty GSTL.

The score was 3-3 with Gumiho just taking the last game over Monster. In response, MVP sent out Keen to avenge his teammate. The map was Muspelheim, a GSTL specific map very few players have experience with or even ever play on. Keen was sure to have something up his sleeve. And sure enough, as soon as the game began, both players immediately ejected an SCV out of their bases to seemingly random locations. But it soon became clear that both players were attempting to execute the same strategy; we had two proxy reaper rushes on our hands. It was one of the rarest of situations to see in a broadcast game, and one that forced the players to think quickly on their feet as they both held the weapons to end the game in an instant.


34

GamaniaSen vs Liquid`HerO
WCS Grand Finals, Tal'Dalrim Altar (November 18)

Click to Watch


In the round of 8 of the WCS Global Finals in Shanghai, Korea's HerO matched up against the local fan favorite, Taiwan's Sen. Three of the four semifinalists had already been determined as Protosses from Korea, and it seemed only natural that Hero would make it a clean sweep for the StarCraft superpower. And in game four of the series, with HerO up 2 - 1 and having a seemingly insurmountable lead, Korean hegemony looked all but certain. But with one neural parasite on a mothership, HerO suddenly found himself nervously looking at a fifth and final game.

HerO, aghast at how quickly events turned against him, went full HerO mode and did what he does best, harass like there was no tomorrow. HerO relentlessly warped entire armies into Sen's base, seemingly crippling him from every angle. Yet again, HerO seemed to have the game firmly in his grasp as his four base Protoss economy would soon overtake Sen's three base Zerg economy. But as the local Chinese fans cheered "USA USA" hoping for Sen to advance, something stirred within him. Perhaps he had a chance after all.

33

Liquid`Zenio vs GamaniaSen
NASL Season 3 Wildcards, Ohana (June 23)

Click to Watch


While ZvZ can be dull at times, it definitely has the potential to be as good as any other match-up. Zenio vs. Sen is our first ZvZ entry on the list, and it demonstrates how with the right circumstances, even the standard roach-hydra-infestor wars can take a very exciting turn.

In one the closest matches of 2012, Zenio and Sen constantly traded blows without one player able to get the better of the other. When it looked like Sen was down, he'd rally back with his trademark ZvZ sense. When it looked like Sen had taken the lead, Zenio struck back with great play of his own. At the end of it all, one of the players had to fall - though it was a shame to have to declare one player the loser.


32

LG-IMMvp vs ROX.KiS.sLivko
IEM Cologne, Metropolis (August 19)

Click to Watch


We had a lot of Metropolis TvZ games make our initial list of nominees, but few actually made the cut. On a map that basically forces half-map, max-out army wars, the play had to especially crisp, the battles unusually epic, and the highlights particularly jaw-dropping for games to distinguish themselves. Slivko vs. Mvp meets all those criteria, featuring all the grandness of max-out TvZ with none of the drudgery.

This match is particularly unique in that it's one of the few where the players themselves seemed to realize they were a part of something special and decided to escalate things even further. It was the first game where we saw Slivko fully play along in the role of the dastardly Zerg villain, and one of the many games where Mvp showed his penchant for playing StarCraft at a grander scale than anyone else.


31

StarTale_Curious vs MVPKeeN
GSTL Season 3, Cloud Kingdom (October 6)

Click to Watch(This video requires an active GomTV subscription to view)


In GSTL, game nine is always the most gut-wrenching for a team. Every game played beforehand leads to this point, and suddenly a best of nine becomes a best of one. This final game in a match between StarTale and MVP was an exemplary example of what a game nine should be. Two of the deepest teams in the league had met in battle, taking turns in dealing significant blows to each other. The likes of Bomber, Parting, Life, DRG, and Sniper had all fallen, and the two unlikely heroes deciding victory and defeat would be Curious for StarTale and Keen for Team MVP.

The game could not have started any worse for Curious; Keen's initial harass was devastating, and Curious' counter-harass was completely shut down. Had it been an individual league, Curious might have quit right there. But no, Curious had his whole team's hopes on his shoulders and so he persevered. Curious weathered each attack from Keen, refusing to give up while there was the smallest chance of victory left for his team. When he finally looked down for the count, he rallied for one final effort. With his scrappy play and tenacity, Curious turned a sure loss into one of the closest games of the year. Not until the very last moments of the last battle was the victor determined.

30

Empire.viOLet vs TSL_Symbol
MLG Spring Arena 2 Finals, Metropolis (May 20)

Click to Watch


If there was a StarCraft II version of a Chinese zodiac, 2012 would surely be known as the year of the Zerg. While players like Life, Leenock, and even Sniper stole the headlines, there were plenty of other Zergs lurking in the top tier. Previously overshadowed by the bigger names, Symbol and viOLet met in the finals of the second MLG Spring Arena where they played some of the best ZvZs of their careers. For Symbol, his accession to the finals was almost expected; his play throughout the previous months had been stellar and he was one of the most hyped Zergs of the year. viOLet, on the other hand, was more of an underdog, a dark horse pick to win the tournament.

At this time, ZvZ was becoming more exciting with new strategic developments. Zergling/ultralisk unit compositions were being tested, creative infestor use among pros was adapted, but most of all, the nydus worm was beginning to be used to its full potential. Metropolis is a big map and as such, it usually takes quite a while to get to one side of the map from the other. Symbol used the nydus to its full potential in this game, showing that defying the laws of time and space can lead to some awesome games.

29

mouz.MorroW vs FXOLeenock
NASTL showmatch, Metropolis (January 27)

Click to Watch


On Feburary 21st, Blizzard released patch 1.4.3. Among other things, this patch was notable for one big fix that would change TvZ forever: Snipe damage was changed from 45 to 25 (+25 vs Psionic). Why was this changed? Well, certainly, Blizzard most have had this game in mind with the patch.

Remember what TvZ was like before the ghost nerf? Back then, it was Terrans who seemed to have the extreme late game advantage with their sniping ghosts rather than Zerg with their lumbering air armies. As a player who plays both sides of the Terran versus Zerg match-up, Morrow understood this better than anyone. On Metropolis, he easily secured his first four bases and then attempted to cost efficiently work his way to victory with ghosts. However, in order to defeat Leenock's six base economy, it would take more than simply ghosts and a lot of fast clicking. No, it ghosts with snipe wasn't the answer. Ghosts with snipe AND nukes? Now we're talking.

28

MarineKingPrime vs QxGSaSe
MLG Winter Championship, Tal'Darim Altar (March 23)

Click to Watch


At the beginning of 2012, MKP was perhaps at his prime. Even without a single GSL championship, some were still calling MKP the best player in the world. Perhaps most impressive was his TvP, a match-up in which he still possesses an absurdly high win-rate. Much of this TvP prowess is in his ability to micro his stimmed bio like none other, making his armies almost impossible to defeat in the open field.

But what happens when his precious stim is taken away from him? In this game, SaSe went for an aggressive gateway push, killing a few SCVs and MKP's stim upgrade but unable to immediately end the game. MKP was forced to play out the rest of the game in a strange scenario, having bio upgrades and medivacs, but no stimpak during an important window of the game. Without the most important Terran upgrade in the game, MKP was forced to adjust on the fly and show that he was a more multi-dimensional player than some had imagined.

27

FXOBRAT_OK vs EG.PuMa
NASL Season 3, Antiga Shipyard (May 5)

Click to Watch


The NASL is PuMa's turf. In 2011, PuMa won the first ever NASL without having to play in the regular season by qualifying through the open bracket. He repeated his victory again in 2011 with his second NASL title over Liquid`HerO. So going into 2012, in NASL's third season, PuMa looked to be the heavy favorite to take it all again. It seemed as if very few could stand in his way, least of all the Russian Terran BRAT_OK.

In TvT, a marine-tank-banshee all-in against an unprepared player usually means a slow and painful death. So when BRAT_OK was caught off-guard by PuMa's rendition of such a build, many would have called BRAT_OK a dead man walking. As the tanks slow encroached onto BRAT_OK's territory, he had no choice to abandon ship in an attempt to find a safe haven for his colony.

But PuMa would not let him get away so easily. With his more technologically advanced army, he would chase BRAT_OK to the ends of the earth map. But this time, BRAT_OK was ready for him. PuMa might have been a two time NASL champion, but BRAT_OK had his own tricks up his sleeve.


26

MarineKingPrime vs SlayerS_YugiOh
GSL Season 2 Code A, Ohana (May 17)

Click to Watch(This video requires an active GomTV subscription to view)


When this game was played, MKP was near his prime while Yugioh was just another Zerg, albeit a rather unorthodox one. As a result, many deemed this match a mismatch. Fortunately Yugioh had an ace up his sleeve. This game was played right after after the queen/overlord patch, the infamous patch that birthed the term "patchzerg" into creation. Yugioh looked at the patch notes and decided that queens would be the future of TvZ; so he accordingly made queens.

Throughout the early game, he defended all pressure with queens. In the mid game, he incorporated queens into his army both as fighting units and to stop drops. And in the late game, ultralisks supported by queens proved to be a powerful combination. Terrans around the world watched in aghast at this effective new strategy that seemed to completely catch MKP off-guard. But this was MarineKing; he would not go down without a fight.

And for an encore presentation, check out game 3 of this series.

25

Grubby vs VPbenQ.sLivko
IEM Singapore, Cloud Kingdom (November 25)

Click to Watch


Grubby was not supposed to be in the semifinals of IEM Singapore. He was not even supposed to play. Originally brought in as a caster, Grubby suddenly found himself filling the role of a player after many canceled their participation at the last minute. After a few victories and fortunate turn of events, Grubby suddenly found himself closer to winning a big international StarCraft II tournament than he'd ever been. His semi-final opponent would be Slivko, an often under-appreciated and overlooked player who always quietly does well at tournaments. More importantly though, he was a Zerg.

At the apex of Zerg's defensive power and impeccable brood lord/infestor control, it was difficult for a Protoss to break a Zerg once he reached the late game. As such, Protoss often tried to play on a timer, favoring three base timings to finish the Zerg before he could realize his full strength. But Grubby chose to go against the grain and took Slivko head on in a late game war. He arrived in the late game with a sizable disadvantage and attempted to claw his way back with skillful warp prism harass and multi-prong attacks that surpassed that of even the best Koreans. But after a certain point, Slivko declared that he had finally had enough, and put his foot down to venture across the map with his invincible army. Staring death in the eye, Grubby would take his play to an even higher level to see if he could conjure up a win.

24

oGsSuperNova vs ZeNEX_Life
IPL Tournament of Champions, Cloud Kingdom (March 15)

Click to Watch


Before Life was GSL champion, he was ZeNEX's ace. And as ZeNEX's ace, he was chosen to represent the struggling team in IPL's Tournament of Champions. oGs, on the other hand, picked one of their most solid Terrans, Supernova. While this game started off looking extremely standard, a base-trade situation was eventually forced and the game instantly took a turn for the weird.

After the dust settled, Supernova was left with a much smaller army and no way to mine. On the other hand, Life was left with a superior ground army and one hatchery near minerals, but only one corruptor worth to defend against the medivacs and banshees of his opponent. It was up to Supernova to kill Life off as quickly as possible before Life could get his economy up and running.

23

MarineKingPrime vs MVPDongRaeGu
MLG Winter Championship, Entombed Valley (March 25)

Click to Watch


In the beginning of 2012, MKP and DRG seemed to be forever engaged in battle, meeting each other in three consecutive MLG finals. We had a real TvZ rivalry on our hands, and as with the Brood War TvZ rivalries of yore such as Boxer vs Yellow or Flash vs Jaedong, we had a feeling that this was going to be the stuff of legends. Of course, as MKP and DRG were players of the highest quality, their games were of the highest quality as well.

This one happens to be the best one.

At MLG Columbus, MKP employed his unique bio-mech marine/hellion/thor build on close positions Entombed Valley against a dumbfounded DRG. Had a normal player tried this, it would have certainly crashed and burned (After all, there's a reason bio and mech are the standards of TvZ, but not biomech). But this was MKP. He treated each unit like gold, and microed his marines, hellions, and even his thors with precision. As the viewers watched, we were glued to our screens without an idea of how things were supposed to play out. What would be the stronger force? MKP's creative strategy and his micro, or DRG's sheer mechanics and defensive tenacity?

22

SlayerS_Ryung vs EG.PuMa
MLG Summer Championship, Entombed Valley (August 26)

Click to Watch


Play in August of 2012, these two players met at a crossroads of their careers. PuMa's stock had been falling; though he had been immensely successful in 2011 and followed that success in early 2012, late 2012 had not been kind to him. Long gone were the images of PuMa standing on the award podium as he continued to under-preform all the expectations he had set for himself. On the other hand, Ryung had nowhere to go but up. Though he never really fixed his TvP weakness, his TvZ and TvT were looking better than ever. And with MMA slumping and temporarily out of the way, Ryung saw his chance to impress as Boxer's new favorite son.

But as luck would have it, even though one player was rising up and the other was on his way down, these two players met at the intersection of their skill in one of the closest games possible. Remember BroodWar TvT and those tank lines that stretched multiple screens? This game attempts to recreate that experience as a clear line of no man's land draws itself in the middle of Entombed Valley. And as both players jostled and twisted for positioning advantages, we somehow saw two parallel vertical tank lines transform into two parallel horizontal ones.

Fans of positional play, this one's for you.

21

Mill?Stephano vs TSL_Polt
Assembly Winter, Metalopolis (February 25)

Click to Watch


If you are looking for the most thrilling game from one of 2012's best rivalries, then you've come to the right place. This game might not be the most technically well played game between Stephano and Polt, but it was the most joyous one to watch. As a hyper-charged version of TvZ from the earlier years, this game on Metalopolis featured constant attacking from both sides, with neither player having a second to breath in a scrappy, low income battle. Both players looked like they might lose a dozen times before coming back to stabilize, and then clashing again for the dramatic finish. From beginning to end, this was a fight where both players were throwing knockout punches at every turn.

-Fionn

20

LG-IMLosirA vs TSL_Symbol
GSTL Season 2, Muspelheim (June 5)

Click to Watch(This video requires an active GomTV subscription to view)


Losing a GSTL match is humiliating enough, but getting all-killed is an entirely different ballpark. In season 2 of the GSTL, a resurgent Losira found himself up four wins against the then rising TSL team. Of course, Losira had always done exceptionally well in the GSTL, but it had been a while since he had produced any significant results. His final obstacle was Symbol, the new Zerg ace of TSL. Winning the series seemed like an impossible goal, with saving as much face as possible the immediate concern.

By all means, we could have gotten a boring standard ZvZ, but the StarCraft gods must have been smiling on us this day. Instead of a roach/hydra/infestor turtle-fest culminating in one final battle, we got consistent counterattacks, nydus worms, infestor hit squads, and even ultralisks. The game would not be determined just by who could muster up the better army, but who could out-harass, out-position, and outplay the other player.

19

IMNesTea vs fnatic.aLive
IPL4, Cloud Kingdom from IPL4 (April 8)

Click to Watch


While many will remember IPL4 primarily for Squirtle's obscenely difficult run through the open bracket and into the final, and for Scarlett's debut on the live tournament scene, there did happen to be other players there as well.

Despite being overlooked, aLive and Nestea played one of the best matches of the tournament. In what looked a lot like a blast to the past, throwback match that might as well have been played on Crossfire, both players stayed on two bases for an extremely long time, constantly embroiled in small scale battles. 'Maybe I'll sit back and secure my economy' didn't seem to cross either player's mind, as they fought almost non-stop, with neither side able to gain a sustained advantage until the very end.

18

StarTale_Life vs FXOLeenock
MLG Fall Championship Finals, Cloud Kingdom (November 4)

Click to Watch


Life vs. Leenock is a battle we grew accustomed to seeing near the end of 2012. As the two most dominant Zergs in a Zerg dominant period (sorry, Sniper), Life and Leenock met often near the finals of tournaments, with the winner usually taking the whole thing. This time was no different as Leenock and Life faced off in the finals of the MLG Fall Championship.

From the very start of the competition, it seemed as if these two were destined to meet. After all, Leenock had won the previous MLG event, the MLG Summer Championship. Life, not to be outdone, had a shiny new GSL trophy in his hands. Both players were elite ZvZ players looking to lay claim to the title of best player in the world, and so stage was set for one of the highest level ZvZ finals we'd ever see.

In this game, we saw two philosophies on how to approach ZvZ collide. Life, having obtained an early lead, decided to play uncharacteristically safe and standard. Leenock, on the other hand, was on the back foot, and safe solid play was not an option for him. In that desperate time, he became the Leenoctopus, wielding his many arms to strike at Life's exposed bases while the Startale Zerg struggled to hold on to his rapidly slipping lead.

17

StarTale_Bomber vs NSH_Freaky
GSL Season 3 Code A, Atlantis Spaceship (June 26)

Click to Watch(This video requires an active GomTV subscription to view)


Freaky was an artist who only painted in one color, and that color was green. Well, maybe it was more of a brownish-green with some neon splotches. Long before other players made mass infestors a popular strategy and brought it to the MLGs and IPLs of the world, Freaky was quietly showing his love for his favorite unit back at home in Korea, all the while confounding opponents and entertaining fans.

Why were Freaky's games so entertaining, while the mass infestor games of other players were considered an affront to decency? Perhaps it was because later players discovered how to marry mass infestors with a painfully defensive style, slowing games down to a crawling pace. 'Solid' was hardly a word you would ascribe to Freaky, as he preferred to to roam around the map and force action. More so than that, it may just have been a difference in philosophy. Other Zergs used infestors as a means to an end: winning. While Freaky certainly wanted to win, he never lost sight of another important goal: having fun.

16

MarineKingPrime vs SlayerS_MMA
StarsWar 7 KR Qualifier Finals, Daybreak (May 19)

Click to Watch


MKP is not known for mech in TvT. In fact, he famously tore through the second ever GSL with almost only bio play in TvT. But when MKP does decide to mech, you better know he can do it well. The stakes were high for this game; as it was the deciding game of the finals of the StarsWar Korean qualifier, the winner becoming Korea's only representative in the Chinese StarsWar tournament. The match-up would be MKP's infrequently seen mech against MMA's pure bio forces. But with careful defense and tactics, MKP was able to obtain an cool 40 supply lead against his opponent. MMA decided he had no choice but to turn to the dark arts, and he opened a black tome to recite three, terrible words:

"Nuclear Launch Detected"

The skies seemed to rain fire that day as nuke after nuke was dropped. In total, there were at least four nukes that would be game deciding in any normal game. But this was no normal game. Nukes were launched so indiscriminately that no one really knew where they would land. All the while, MKP's mech army seemed so strong and resilient that it might survive such a vicious barrage. Would the nukes be enough to turn it around? Or would Artosis' least favorite player prove his most favorite theorem, that mech beats bio?

15

IMYongHwa vs Liquid`TaeJa
IPL TAC3 Grand Finals, Antiga Shipyard (August 11)

Click to Watch


The Summer of 2012 was truly Taeja's. Though he won numerous tournaments, his crowning achievement in the eyes of many was his legendary 23-3 record in IPL TAC3 where he almost singlehandedly propelled Liquid to the live finals in San Francisco. In the finals, Taeja played like his normal self, taking down IM player after IM player in a series of close and epic games. Of all the games in TaeJa's run, this one is probably the most notable and demonstrative of how unbeatable TaeJa seemed at the time.

When watching this game, you'll probably realize that Taeja was essentially dead at one point. The number of Terran players in the world who could even potentially come back from his position could be counted with one hand. But Taeja persevered. Throughout this game, you could clearly see the strength of a player who carried a team to the finals on his back. But TaeJa didn't rely on just brute force. He knew exactly what he had to do to come back into the game, and played with intelligence. Most importantly, his units just moved differently from anyone else's, microed with comparable finesse. Of all the games Taeja played during the finals, this game is probably the closest and most memorable.

14

Liquid`HerO vs SlayerS_Alicia
MLG Summer Arena, Entombed Valley (July 21)

Click to Watch


Let's be honest. PvP is very few peoples' favorite match-up. After a full year and a half of seeing almost exclusively four gates, the beginning of 2012 finally looked bright for this forgotten match-up. Four gate had been nerfed to oblivion and PvP's started going beyond one base. Still, the match-up had a long way to go. Build order wins were still common and although there were macro games, these macro games usually all ended with a blinding laser show.

In modern PvP, you must get a forge at a certain timing, you must get two robos at another timing, you must consistently chronoboost upgrades, and you must switch from colossi to mass immortals at a certain point. But this game was played in the summer of 2012, before PvP became refined to a T, when anything could potentially work. Because late game PvP hadn't been standardized at all, both players were able to go separate directions in their tech choices. While HerO chose colossi/templar/stalker/mothership, Alicia went for the colossi/carrier/archon/mothership path. The resulting fights were something we'd never seen and probably will never see again, leaving even the casters speechless.

13

MarineKingPrime vs StarTale_PartinG
MLG Winter Championship, Tal'Darim Altar (March 25)

Click to Watch


Around the time of the MLG Winter Championships, MKP and Parting were known as the best players of the TvP and PvT match-ups respectively. Parting had just revolutionized PvT with his templar based positioning play and ability to get away with spectacularly greedy builds. With PartinG leading the way, we would see an era of gateway and templar openings as opposed to the monotony of colossi based builds.

On the other hand, MKP microed his bionic units like no other Terran had at the time, sometimes relying purely on his micro instead of ghosts to effectively combat storms. With his extreme-pressure based style, every MKP game was guaranteed to be full of action.

There were no deathballs in this game, just constant fighting. No turtling, only action. The resulting clash between these two titans was exactly what we expected from them, with each side delivering their signature moves, playing in a game that would be a precursor to one of the fiercest rivalries of 2012.

12

MVPDongRaeGu vs CJEffOrt
WCS Korea, Tal'Darim Altar (August 14)

Click to Watch


WCS Korea was one of the first battlegrounds in the everlasting war between KeSPA and eSF players. In this tournament to decide the representatives of Korea in WCS, GSL champion and one of the best Korean Zergs of the time, DRG, would be matched up against BW OSL champion and one of the best Korean BW Zergs of all time, Effort.

Their game on Tal'Darim Altar turned out to be exactly what we craved, a one base versus one base slugfest where raw skill, mechanics, and micro were tested to the extreme. Both players opened with aggressive openers, eager to show their dominance, and neither was willing to back down to a defensive stance. The result was a prolonged early game full of non-stop action where each battle only provided the most minute advantage for one player or the other. This dragged on for quite a while and it would not be until the 16 minute mark that we saw one player become comfortable enough to expand.

11

SlayerS_CranK vs NSH_Freaky
GSL Season 2, Entombed Valley (May 28)

Click to Watch(This video requires an active GomTV subscription to view)


Between April 4th and May 27th, we were deprived of the wonderful league that is GSTL. But on May 28th, on the opening match of Season 2 of GSTL, we were quickly reminded of how great team leagues really are and how deep the talent in Korea truly is. Both Crank and Freaky were relative newcomers to the scene; Crank had only played in 2 GSTL matches before while Freaky had just played his debut game in the GSTL, defeating SlayerSMin with a surprisingly large amount of infestors.

With this game and over the next few weeks, Freaky showed exactly what kind of player he is, displaying ways to use infestors like we'd never seen before. Crank, not to be outdone, introduced to us a novel way to play PvZ. For many Protoss players, this game was a shining beacon of hope that there might be somehow, someway to defeat the dreaded infestor/brood lord composition. Before the game was over, we would see a monobattle-like situation of carrier versus infestor with only one unit coming out on top at the end.

10

IMNesTea vs MVPDongRaeGu
GSL Season 1 Code S, Antiga Shipyard (February 9)

Click to Watch(This video requires an active GomTV subscription to view)


Two Zergs clearly stood out above the rest in early 2012. First there was Nestea, creator of the universe and three time GSL champion, undeniably the best Zerg in 2011 and seemingly invincible in the ZvZ match-up. Then you had DRG, the new kid on the block, the undisputed king of GSTL who had yet to win a GSL championship. This match would be the first time these two Zergs had ever met and expectations were high. At long last, DRG would finally be able to challenge Nestea to the Zerg throne.

As the game began, we were immediately thrust into action as DRG, in a bizarre series of events, just happened to lose his main base. But not having a main apparently isn't the biggest deal in the world as DRG eventually stabilized, enough to give him some hope yet. Still, he was up against seemingly insurmountable odds against the best ZvZ player of the time.

In Artosis' cast of this game, he called it one of the top five 2012 would ever see. We didn't quite think so, but top ten is still not quite so bad.

9

BBoongBBoongPrime vs StarTale_AcE
GSL Season 3 Up/Down, Cloud Kingdom (May 25)

Click to Watch(This video requires an active GomTV subscription to view)


Ace, you had so much promise. Though we rarely hear him these days, a few of us still remember The IEM Season V World Championship where he completely overshadowed his teammate, Squirtle, in both placement and actual gameplay. And in the third GSL season of 2013, AcE would bring us some of the best PvZ play ever seen.

Before the warp prism buff, only players like Liquid`Hero and JYP dared to use these paper airplanes in the PvZ match-up. But as the prisms received 60 more shields, they suddenly became visible to Protoss players and started seeing more frequent use. For Ace, this was his chance and warp prism play would be where he made his mark.

This spectacular game by Ace and Bbongbbong showcased some of the most iconic uses of the warp prism and the late game hit-and-run style of Protoss in Wings of Liberty history. Ace poked, prodded, and smashed Bbongbbong's bases from every direction over the span of fifteen minutes with every tool Protoss has in its harassing arsenal. Though the harassment was devestating, the brood lords remained resilient. Would Ace go out in one last big bang or but a tiny whimper? Though Ace would never rise to the level of his ex-Startale teammates, Squirtle and Parting, we can always remember this game as a demonstration of his brilliance.

8

FXOLeenock vs fnatic.Oz
MLG Fall Championship, Metropolis (November 3)

Click to Watch


Before Leenock actually learned how to play ZvP, he relied on rather gimmicky play to surprise his opponents. Most notably, he repeatedly roach/ling all-ined Naniwa in the finals to win the championship at MLG Providence 2011. Though Leenock can now play standard ZvP, some of his all-ining tendencies still linger on...

Every Protoss player knows the feeling of that nydus worm sound about 8 minutes into the game. This usually means you didn't have vision of every nook and cranny of your base, that you let a nydus worm through, and that you've already lost.

But Oz apparently didn't get the memo on that last part. As Leenock's zerglings swarmed his main base, he fought back with his paltry gateway force and even his probes were called in as militia. And though Oz's main would eventually fall, he would successfully secure his natural, and in a crucial turn of events, even kill off a few of Leenock's bases. The resulting game turned into an extremely low-econ match where every unit counts and the tiniest mistake could decide it all.

7

SlayerS_Ryung vs KTFlash
GSL Season 5 Up/Down, Whirlwind (October 5)

Click to Watch(This video requires an active GomTV subscription to view)


The Man Called God enters the list at #7. Not surprisingly, he's paired with Ryung, a frequent co-star in memorable games.

Going into their clash in the Up/Downs, there couldn't have been more hype behind Flash. KeSPA had officially switched to SC2, Flash had played well at MLG Dallas (only losing to best-in-world ST_Life), and had crushed former GSL champion Seed earlier in the day. It seemed like a perfect setup for Flash to destroy his Up/Down group, go on to Code S, and show the GSL that they were just a pretender league for two years. However, he would have one, very tough hurdle in his way. Ryung, though not the most heralded player in the world, was a veteran of several Code S campaigns, and widely known as an elite TvT player.

Both players were able to display their strengths to the fullest, and thus created an amazingly entertaining game. Flash's already famous macro looked even more formidable that night, with endless waves of marines and tanks marching on Ryung's territory. On the other hand, Ryung showed his mastery of positioning, map control, patience, and engagement selection – all fundamental aspects of TvT strategy. It was one of the finest demonstrations of contrasting styles in a mirror match-up, and one of the finest games of the year as well.

6

MVPDongRaeGu vs SlayerS_Ryung
GSL Season 3 Code S, Whirlwind (July 5)

Click to Watch


Whoa, Ryung, slow down! How many top ten games do you plan to be a part of?

DongRaeGu vs. Ryung came at a time when DRG couldn't look any stronger, a time when Whirlwind couldn't look any more imbalanced in favor of Zerg, and thus at a time when Ryung couldn't look any more dead. Given the position of this game on this list, you can guess things ended up being a lot closer than it was predicted at the time.

It turns out that while Whirlwind's immense size means it's easy for Zerg to take an economic advantage, it also means that they start facing some very annoying mobility problems in the super late game. Sitting on multiple bases and a formidable brood lord army, DongRaeGu must have thought he had the game won. Instead, Ryung decided that it would be much wiser NOT to fight the Zerg army when at all possible, and frustrated DRG with a highly mobile army (including ghosts and nukes). DRG ended up having to fight a lot harder than he ever expected, and found himself stretched to his limit as he scrambled to put out the fires Ryung was starting everywhere.

Whirlwind might not be the most popular map among players, but a game like this alone makes you think that it's worth keeping around.

5

Acer?Nerchio vs Grubby
WCS Europe, Cloud Kingdom (September 16)

Click to Watch


It's all about the context. We could see the most unlikely comeback, a borderline inhuman display of micro, or an epic back and forth duel that lasts over and hour, but it wouldn't be meaningful at all if we didn't care about the players involved, and if there wasn't anything on the line.

Grubby vs. Nerchio was not only an amazing game in StarCrafting terms, but it was one of the greatest matches of the year for all the factors outside the game. Grubby, a legend of WarCraft III and one of the most respected professionals in the world, had slowly but surely worked his way up the StarCraft II ranks, but needed a real, tangible result to truly validate himself. Nerchio, long considered one of the top online players in Europe, had finally emerged from underneath Stephano's shadow, but still struggled to receive recognition commensurate to his skill. Only one of them could prevail as they collided head on in the losers bracket of WCS Europe, with a spot in the WCS Global Finals, and the right to be called Europe's representative on the line.

Both players wanted the win, and it showed as they went to an excruciatingly close final set. Hard fought from beginning to end, the game closed with one of the closest finishes of the year.

4

NSH_Sculp vs TSL_Symbol
GSTL Season 2, Metropolis (June 30)

Click to Watch(This video requires an active GomTV subscription to view)


While Metropolis got a bad rap for creating plodding, map-splitting stalemates, Sculp and Symbol bucked the trend and showed what was possible when two excellent players decided that playing passively was for losers. Instead of using the easy access to resources and vast distances as an excuse to sit back and wait, they used it as the economic base to wage war on an epic scale.

As awe inspiring as the battles between maxed-out armies were, the best part of the game came at the end, after resources were depleted and both players desperately tried to control the remaining bases. In an amazing, edge of your seat finishing sequence, both Symbol and Sculp were stretched to their absolute limits as they tried to outpace and outsmart their opponent. It was chaos on scale never seen before, but both players handled it with inhumane composure. At the end of it all, one player proved to be just slightly more brilliant than the other, earning a GG worth its weight in gold.


3

K3?LucifroN vs EG.Stephano
WCS Europe, Cloud Kingdom (September 15)

Click to Watch


For many, WCS Europe was the best tournament of the year. It had star players, popular casters, and slick presentation, all tied together by a brilliant DreamHack organization. However, no matter how well prepared a tournament is, its ultimate success is at the mercy of factors out of their control. The right players need to make it far, and they must play entertaining games.

Fortunately, and very deservedly for WCS Europe, Lucifron and Stephano did all the things required to elevate the tournament from merely very good, to truly unforgettable. Lucifron found success at a time where European Terran were painfully bound to the bottom of tournament tables, while Stephano, the world's most popular player, dutifully rose his way through the bracket to give the viewers the match they so desired. Lucifron brought his excellent mech play to the match, and proved to be more than a match for Stephano, who had been dominating his European for so long. To say the ensuing match was amazing would be an understatement, and it's one for the ages.

2

LG-IMMvp vs StarTale_Squirtle
GSL Season 2 Finals, Metropolis (May 19)

Click to Watch(This video requires an active GomTV subscription to view)


For the longest time, the GSL finals had never been known to produce epic games or even remotely exciting games. Especially in 2010 and 2011, finals were known to be one-sided affairs, usually consisting of one obviously superior player 4 - 0ing his way through an outmatched opponent.

But 2012 would be different.

MVP's path to these finals consisted of going through two of Squirtle's teammates, then StartaleQ_Naniwa and StartaleQ_Parting. Against these opponents, MVP had used early game tactics to finesse his way to victory and many suggested that MVP had no more tricks in his bag against the third StartaleQ Protoss. That was all proved wrong as we saw MVP up 3 - 1 going into the fifth game of the finals. But MVP wanted to prove something more, prove that he was more than just early game all-ins and tricks, so he took it all the way to the other end of the spectrum. In possibly the best demonstration of true late game TvP to date, MVP turtled behind planetary fortresses to obtain the strongest army known to man, the rare and elusive 3-3 maxed BC ghost composition. In this lengthy PvT, we saw a whole host of tactics and units never before seen in this match-up, all culminating in one last epic battle, perhaps the single most anticipated battle of SC2 history.

1



The Number One Game
FXOGuMiho vs
SlayerS_MMA
GSTL Season 2 Finals, Antiga Shipyard (July 28)
(Click to Watch)
In terms of gameplay, 2010 was the year of one base all-ins. 2011 naturally followed that up with a year of two base all-ins. And although there were plenty of three base all-ins in 2012, the game finally started to stabilize into the predictable macro-fests we know it to be now. PvZ became so rigid that you could easily predict action to only occur around the 10 and 15 minute marks; this match-up would always inevitably end in Protoss trying to outmaneuver a turtling infestor-brood lord army. PvP was marked by 8 minutes of early game action followed by 8 minutes of building up an army culminating in one decisive fight. And TvZ was a lot like PvZ. SC2 was becoming stale and it would take a special player and a special game to shake things up and turn that perception around.
The finals of Season 2 of GSTL were hyped and set up to be the best of the year. While the Season 1 finals shared a stage with IPL4 and the Season 3 finals were held humbly in the GSL studios, the Season 2 finals had its own stage built at Busan Haeundae, the beachfront location of
FBH's most infamous ceremony.
The opening match of the finals had much hype around it as well, as it seemed like both teams were sending in their big guns. The dark horse team of FXO fielded Gumiho, one of their two aces, in a gutsy gamble that would decide the entire outcome of the match. SlayerS, on the other hand, choose MMA as their champion, a player who had been conspicuously absent from SlayerS' lineup lately; rumors of internal SlayerS drama and his demotion to the B team abounded, and many wondered if MMA would return to form in time for the finals.
The game started out rather normally with MMA opening up biomech while Gumiho choose mech as his composition. But soon enough, the game took a turn for the strange. In the
preview article
I wrote of this game:
"A brilliant yet deluded man once said, "Introduce a little anarchy. Upset the established order, and everything becomes chaos." Gumiho is that agent of chaos."
And sure enough, everything became chaos. 40 supply swings became commonplace. Bases popped up and were dropped like whack-a-moles. Manner mules were dropped prematurely. Base trades abounded. And strange new unit compositions, normally ineffective, appeared from nowhere and dominated. We laughed, we cried, but most of all we were entertained, on the edge of our seats waiting for the next turnaround. This game represented the best of what SC2 could be, a wake-up call and a stark contrast to some of the humdrum games we've become accustomed to seeing. But in the end, after all the dust had settled, who would have the last laugh in this best game of the year, the hero or the joker?