IronSquid Groups - Page 5
clementdudu
France819 Posts
holy shit best tournament yet player wise?hopefully the rest will deliver as well
On February 17 2012 11:41 clementdudu wrote:
holy shit best tournament yet player wise?hopefully the rest will deliver as well



Not only player wise but the way the groups have been setup
It seems like all the tournaments troll idra with the hardest group haha
On February 17 2012 11:53 Cham wrote:
It seems like all the tournaments troll idra with the hardest group haha


Youre joking, right?
At least Group C and D are harder. A is arguably.
Noone gets a lucky group when the tournament is this stacket.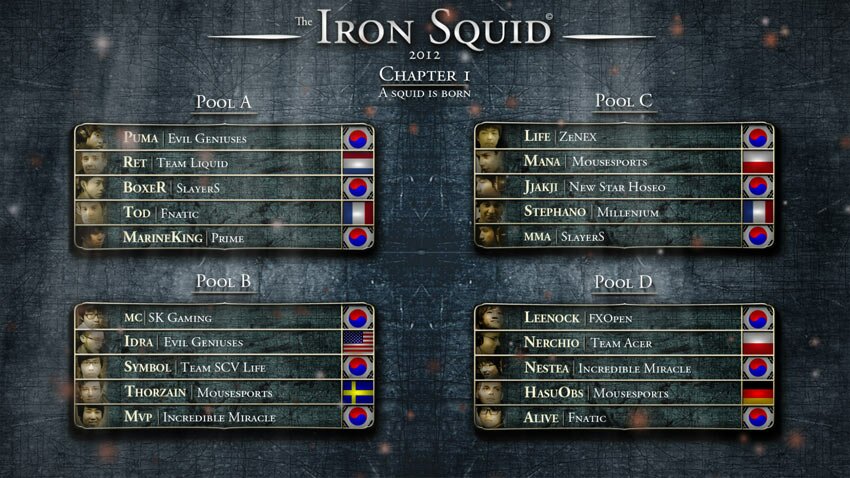 Is it only me that sees that all foreigners are the filling of a double korean sandwich?

cyclone25
Romania3344 Posts
This is too good to be true :D
Kuror
United States399 Posts
Oh god, poor Ret...
also holy shit pool B is crazy
seriously every group is crazy, dear god i can't wait for this
theBALLS
Singapore2935 Posts
GDJKL/NSJL;GJFDP'HPDF'GHF'OIJHP'GJDG'DJGP

HOLY SHIT?

What in the balls?!

Stacked much?!

Balls the walls this is gonna be awesome.
mayneeahk
Canada279 Posts
This tournament is going to be so so good! Groups look really nice.
minilance
Canada500 Posts
group A the easier, all the other group so stack.

Love this tournament
Provocateur
Sweden1665 Posts
Damn this tournament is so stacked, can't wait! :D