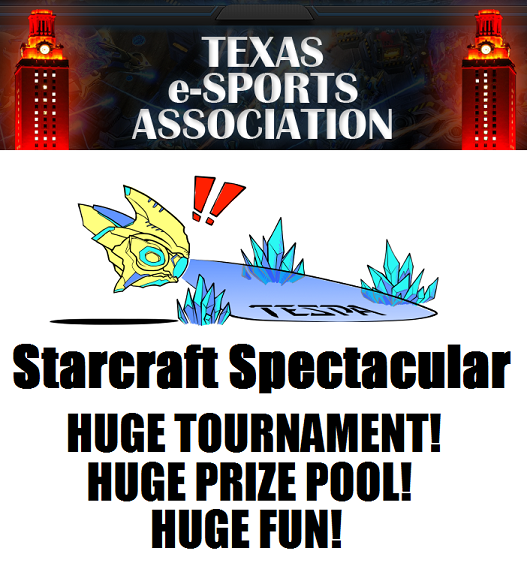 I'm pleased to announce the inaugural Texas E-Sports Association Starcraft 2 Tournament! This tournament will take place on Saturday November 20th on the University of Texas campus. Registration is open to anyone who can make it in person. Nearby universities are highly encouraged to attend. The tournament will take place over the course of the day and include live commentary, several contests for spectators and participants alike, raffles, and a large cash prize pool for top tournament competitors.

Facebook event: click here!

Update: I'd like to send a huge thanks to mLgaming for sponsoring us and this tournament! We absolutely appreciate their support. Be sure to check them out at http://www.ml-gaming.net/!

Registration
+ Show Spoiler +

Registration is open online to anyone who can make it to Austin for the tournament.

After filling out your registration form, follow the directions on the page to pay your registration fee online via PayPal. We are asking for preemptive payment to ensure that we can provide the best experience possible.

Registration Link: https://spreadsheets.google.com/viewform?formkey=dEtVeEJXc2QtaUFMTU5OZ0thbmpMamc6MQ

Registration Link:

click here!


**It is important that you register as soon as possible so that we can work out logistics. We must acquire internet access for each participant and secure enough equipment to ensure that things go as smoothly as possible.

Monetary Information:
+ Show Spoiler +

Please note that Texas e-Sports Association does not intend to profit from the registration fees. Your entry fees go directly into the prize pool and paying for event logistics (equipment rental, wireless infrastructure, internet access for guests, entertainment, security). If any profits are obtained (after all things previously mentioned are accounted for), TeSPA will donate a percentage to a local charitable organization and put the rest into further tournament sponsorship. This being our first event, we want to be sure that we can break even.



About Texas e-Sports Association:
+ Show Spoiler +

Texas e-Sports Association is a registered student organization on the University of Texas at Austin campus that aspires to promote and actively engage our community in all aspects of e-Sports culture and competitive gaming.

TeSPA Forums

:

http://tespa.proboards.comFacebook: http://www.facebook.com/home.php?#!/group.php?gid=149033561790955Twitter:

@TexasEsports

YouTube: http://www.youtube.com/user/UTeSPA

You can become a member of TeSPA by reading the "New Member Information" page on the forums. By joining, you receive a TeSPA T-shirt, discounted tournament registration fees, tournament priority, and a plethora of other benefits. Official membership costs $10.

(Note: This only applies to students, faculty, and staff at UT Austin)



Structure
+ Show Spoiler +


The tournament structure will consist of either single or double elimination brackets. All rounds will consist of "Best of 3" or higher as the rounds progress. Details regarding the structure will be announced pending timely registration and the volume of people signed up.




Official Rules
+ Show Spoiler +

Map Selection+ Show Spoiler +

The first map is determined by eliminating. Example: Player 1 removes Lost Temple. Player 2 removes Blistering Sands… Player 1 removes… till there is only 1 map left. 2nd and 3rd maps are loser's pick. The player starting the map elimination process is the upper player in the bracket.

Map Pool+ Show Spoiler +

Map Pool:

Blistering Sands
Steppes of War
Lost Temple
Metalopolis
Scrap Station
Xel'Naga Caverns
Delta Quadrant
Shakuras Plateau
Jungle Basin


Forbidden Behavior

:

+ Show Spoiler +



Map hacks, drop hacks, or any other kind of haxx

Playing on any game speed other than Faster

Playing on the same map twice in a series

We reserve the right to remove players who cause excessive delays.

Dropped Players and Restarts

:

+ Show Spoiler +

A game may be restarted by either player with proper cause if the game is in its first 3 minutes AND neither player has made contact yet. In the case of a dropped game, if players the players cannot come to a consensus, a Tespa ref will decide the outcome.

Rules are subject to change as the event due to logistics as the event approaches.



Frequently Asked Questions
+ Show Spoiler +

Schedule
+ Show Spoiler +


This schedule is tentative and subject to change prior to the event.

November 19, 2010:
9:00pm: Preliminary setup (the room will be locked and secure)

November 20, 2010:
8:00am: Event set-up continues
9:00am-10:00am: Check-in for all participants
10:00-10:20am: Welcoming Cermeony [room to be announced]
10:20-11:50am: Round 1
12:00-1:30pm: Round 2 (or continuation of round 1)
1:30-3:00pm: Round 3
3:00-3:45pm: Lunch Break + Presentations
4:00-5:30pm: Round 4
5:30-7:00pm: Semi-finals
7:00-9:30pm: Grand Finals
9:30-10:00pm: Closing Ceremony
4:00-5:30: Semi-finals (pending # of participants)

**Note: we will have a "festivities" schedule that will coincide with the tournament schedule. This is intended for 1) when you are note playing a match and 2) after you have been eliminated. Live casting will be happening all day. We will feature videos and presentations from famous players and engage the participants in contests, raffles, and all around good fun.





Housing:
+ Show Spoiler +

It is highly recommenced that you make plans to stay in Austin the night before. Saturday is also a football home-game which means traffic will not be fun. We are working with UT Parking and Transportation Services regarding these logistics and to secure special event parking for the day, but we will not have this finalized for a couple days.

If you have friends in Austin and can stay with them on Friday evening (or rent a hotel room with other participants), that would be optimal. Please feel free to reply to this thread and discuss with others. TeSPA members may be able to house some participants from out of town. If you are interest, post below!

What to Bring:
+ Show Spoiler +

All players should try to bring at the very least:

-Keyboard
-Mouse
-Headset or Ear Buds

It is strongly recommended that you bring your own computer, however, in the case you cannot we will attempt to provide one for you. We will provide the very best security possible. We will have campus police officer on duty at the event and have a fool-proof system in place to ensure the safety of your electronics. All exits shall be monitored continuously. With that said, TeSPA is not liable for any damages or losses of equipment at the event. If you are caught damaging someone else's property (intentionally or accidentally), you will be held solely responsible.

Contact
+ Show Spoiler +
Email:
Tournament email:tespatournament[at]gmail.com
TeSPA President: cerrato.jason[at]gmail.com
TeSPA Vice President: TylerRosen75[at]gmail.com
TeSPA Vice President: AdamRosen75[at]gmail.com
TeSPA Event Coordinator: Calder.j[at]gmail.com
TeamLiquid Members:
Jacobs Ladder
,
FluX
,
IndecisivePenguin
Please include the words "TeSPA Tournament" in the subject line of Emails and PMs.