MSL Quarters - Kal vs ForGG:
The Circus Show

"This is one of the most entertaining(?) series I have ever seen"



The Prelude - Player introductions


Player 1:
Name: Park Ji Su
ID: ForGG_V_, aka Never_V_
Team: Lecaf OZ
Race: Terran
Age: 18
Overall TvP Record: 19-8 (70.37%)

ForGG's overall playstyle, in a word, is "interesting" - in a bad way. His TvZ can often be characterized by absentmindedness, while his finesse in TvT is nothing short of embarassing. However, if there is one aspect of his game that has consistently kept him afload, it is his incredible macro, timing, and gamesense in Terran versus Protoss.

His macro and timing prowess in the matchup was present already during the Shinhan 3 OSL, when he showed off his brute strength in the matchup despite the early exit. There are usually two approaches to "improving" as a player in any pursuit: get your weaknesses up to speed, or pursue your strengths all the way. To me it seems that while the team has stressed the former, the player has opted for the latter.

His earlygame micro has improved several levels, and he has incorporated micro-based openings that he would have never use in the past - however, his multitasking and "intelligence" with his units still remain as weak as ever before. Meanwhile, in an age when nearly every player has unreal macro and sick timing senses, ForGG has taken his strongsuits to even further heights. Watch a handful of his TvP games and you will inevitably be taken back by the impossible large number of units he weilds at a given timing. It is supernatural.

The MSL has been known to hand out some questionable nicknames over the years, but they've hit the nail on the head with the name "Timing Attacker" for ForGG.


---

Player 2:
Name: Kim Ku Hyun
ID: Kal, aka Goojilla
Team: STX Soul
Race: Protoss
Age: 17
Overall PvT Record: 20-13 (60.60%)

It was the summer of 2007 when I took note of Kal as a player possibly on the verge of breaking out of his mediocrity. Proleague Season 2 and the 2008 leagues have proven that he has surpassed all expectations and become an absolute horse for STX Soul. While the contribution of ForGG on his team has dimished since 2007 due to the rising competency of his teammates, Kal's presence has become one of the foundations supporting Soul's stay near the top of the Proleague rankings. Excluding Hwasin, there is no one more valuable to the team than Kal right now - Sheis is nowhere to be found these days, and Calm hasn't become quite the force that people have expected him to become.

If ForGG's signature is a brute force steamroll, then Kal's is the just the opposite. His movements are light and quick, with a pinch of trickery and an ounce of unpredictability. He may not be quite a Nal_rA in the way he knocks opponents off balance with builds, but he isn't a Tester either in attempting to overpower the foe with pure mechanics. Kal is instead a hybrid of the two approaches - a gem of a player who among the handful of new generation Protosses has perfected the blend of finesse, misinformation and mechanical strength to produce undeniably consistent and powerful results. It is what makes the fourth generation Protoss players so dangerous - Reavers and templars as potent as the Rainbow's and rA's of old, yet maintaining the macro bloodline of the Reach's and Pusan's of yesteryear - and there is no one who does it better than Kal right now.

What truly defines Kal's game style? Shuttle play comes to mind quickly, but upon further inspection he does not rely on air harass to get him the victory. His unit production, while solid, has nowhere near the comparative force of the macro protosses in the past. What truly marks his games is an ability and willingness to make the opponent never feel at ease. The threat of a reaver opening is everpresent, and the chance of midgame economic damage can never be shaken off. Kal will rarely knock you out with a heavy fist, but will whittle you down with hsi jabs, take you off balance with a sweep at the feet, and when you least expect it, that knockout blow will come straight to your face.

He forces the Terran to defend everywhere at once, to prepare for every possibility, to be mobile, and to be quick. In a twist of fate, our matchup tonight features the most fearsome TvP around today, against the player most suited to deflect the assault.


---


Act 1 - The Circus Begins
Map: Colloseum
ForGG at 11
Kal at 7

As has become the norm in Protoss games on Colloseum, Kal goes for a fast expand - a 14 nexus. ForGG walls off his choke, but has the fortune of finding Kal on the first try. ForGG adapts, going for a 2 factory double addon build. As the first 3 tank 6 vulture assault on the 3rd base highground cracked down on Kal's units, he was forced to wall off his choke with many pylons in order to straighten himself out and weather the attack.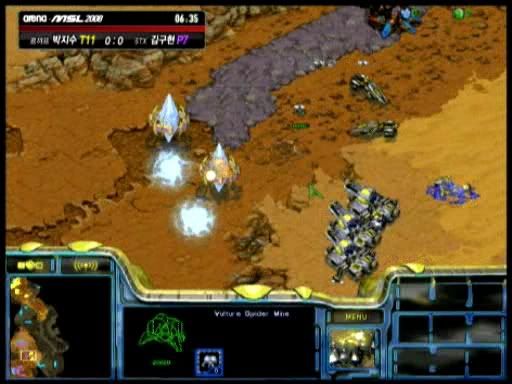 Crucial move to buy more time



The pylon wall buys time for Kal's dts to spawn, successfully dragging mines into tanks and forcing an unsieve as ForGG lacks detection. The first scan arrives, and the immediate threat is thwarted, but the timing delay caused by the successive moves by Kal prove to be pivotal. The intended arbiter tech is switched to a scout tech, initiating the sequence that many have called a pseudo-stove.

The scout tapped away at the scv building the turret by the highground tanks, managing to reduce it's hp into the red before being driven away after the firing tower's completion. However, in an inexplicable gaffe, ForGG takes away the scv repairing the turret in order to creep a turret line further in the main, and it backfires immensely. As his attempt to construct additional turrets ahead fails, the first turret by the tanks, opening the way for the scouts to have free reign over the ground units, as well as the scvs attempting to construct turrets.


This turret burning down was game-changing



ForGG lays mines all over Kal's gateways, but Kal methodically pulls and implodes the mines using single zealots, eliciting cries of "PARK JI HO!!" (Pusan) from the commentators. As a wave of zealots and the 3 scouts take out ForGG's contain, the inevitable appears on the horizon. A round of dragoons are created, an aribter pops out, and despite ForGG's double expansion attempt in order to find himself back in the game, a sweeping attack into ForGG's choke induces him to type out of this game which proved to be quite the spectacle.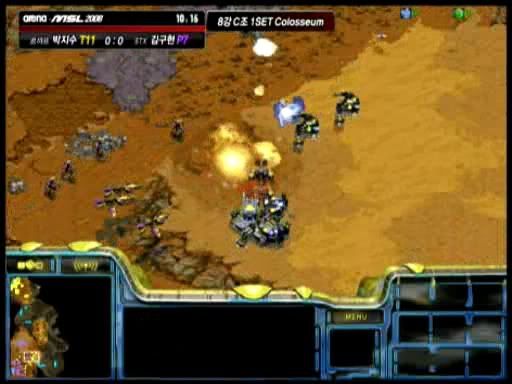 A truly remarkable game and a turn around that perhaps no one would have expected halfway into the game.

Score: ForGG 0 - 1 Kal
Game Length: 14:48


---


Act 2 - The Human Cannon
Map: Athena
ForGG at 2
Kal at 9

Kal opened with an extremely safe build, going 1 gate observer then adding a second gate before starting his nexus. ForGG went for a siege expand build with an early engineering bay before his siege to prepare for sneaky moves, but his late siege nearly cost him teh game, as he didn't have siege when Kal moved in with 1 zealot and 4 goons. He retreated up the ramp immediately and was able to block the attack with scvs and siege mode that had just finished.


Close Call



Having pressured ForGG early, Kal took the 7 o'clock ramped expo, and both players began the macro phase of their game, as vultures mined up the map here and there. 10 minutes into the game, ForGG pushed out with about 7 tanks and a group of vultures to the middle of the map, and promptly got overwhelmed by Kal's forces - retreating back, he was somehow able to keep most of his tanks alive, and was able to push back Kal with a group of unsieged tanks and vultures... somehow.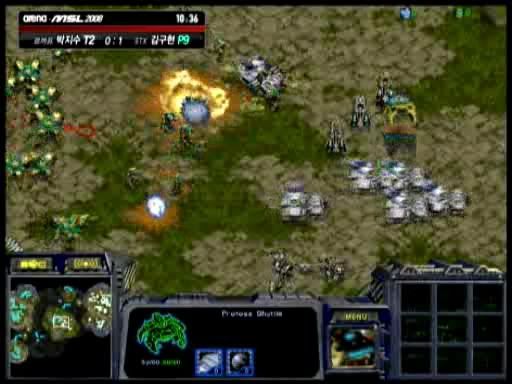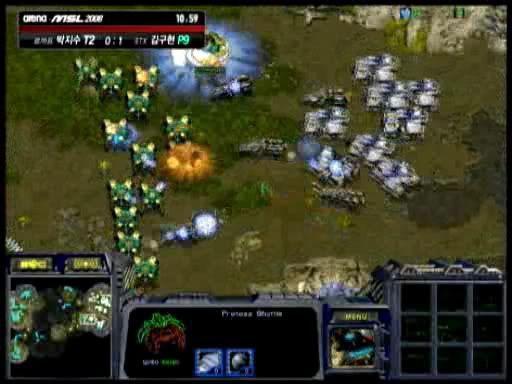 I thought tanks were called 'siege' tanks...



Two minutes later, ForGG made a move again, setting up a tank/turret line in front of Kal's nat with about 12 tanks. As was becoming the theme, his attack got crushed again by Kal, who swiftly cleared the lines with zeal goon reaver. But as he marched forward, ForGG's reinforcements would turn him around before he could do critical damage.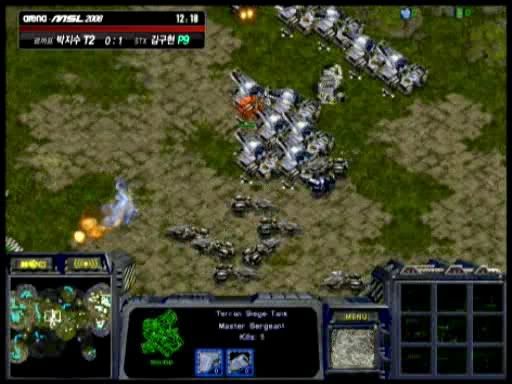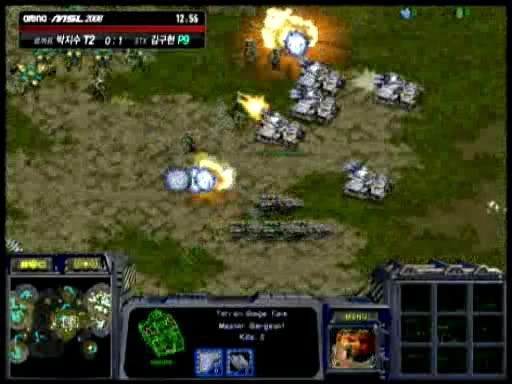 Ouch



Meanwhile, ForGG secured his 3rd base (at 5 o'clock) 14 minutes into the game, and began to amass a scary army while poke around to the north with vultures, and also to the southern 7 expo with 3 tanks and a group of vultures. As Kal moved to deal with the harassment attempts around the map, ForGG was able to control the middle of Athena with little resistance. The economies were even, and three minutes later, scvs were maynarding to his 4th base. Kal was behind the 8ball now, losing map control and expo spots; the only thing that had kept him from losing his 3rd base was the pylon wall on the ramp. Kal's attempt to harass the two expo bases of ForGG largely failed, and his flank from the north on ForGG's army completely failed, causing him to lose most of his army.


Things aren't going well for Kal...



Both players continued to harass via small drops because the center was a gridlock, causing minor damage to both sides. However, while ForGG was content to sit in the middle of the map and churn out units, Kal needed to break the encampment in order to secure more bases. His repeated attacks - while effective and efficient - were simply overwhelmed by the superior numbers of his Terran opponent. ForGG pushed across the southern bridge into Kal's 4th base, and Kal typed out when his economy simply could not keep up with ForGG's.


Harass harass.



Just a big fat macrofest with an absurd amount of units from ForGG - his signature. Very reminescent of GGPlay vs Nada on Tau Cross where GGPlay does so much with so few units and gets eventually rolled when he cannot keep up with Nada's economy and unit count.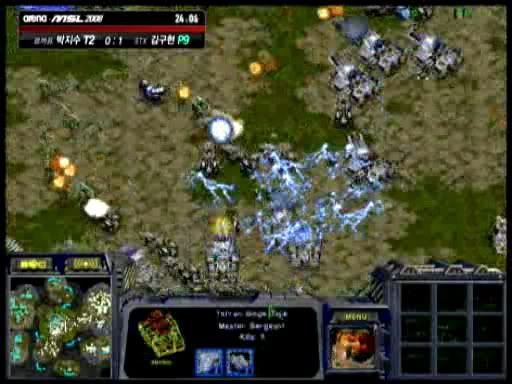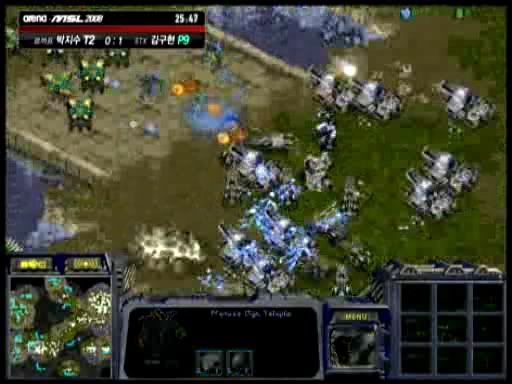 Kal clearly does more with his units, but succumbs to the sheer brute force of ForGG's army.



Score: ForGG 1 - 1 Kal
Game Length: 26:27


---

Act 3 - The Snap of the Whip
Map: Tiamat
ForGG at 5
Kal at 11

After the shellacking he received from ForGG's metal units, he decides to take the initiative on the matter. He proxy gateways at ForGG's natural, outside of the path of the direct scv route. ForGG's wall on the ramp is blocked off by a pylon, setting the stage for a micro battle. Would ForGG's historyically weak - but recently improved - micro be enough to deflect Kal's early assault?


BOLD (no, Italic)



ForGG pulls off 7 scvs and 1 marine to fight the 1 probe 1 zealot engagement from Kal, but Kal refuses to engage until the 2nd zealot arrives. While ForGG does a decent job at defending and microing, it is painfully apparent that he isn't quite sharp enough at reacting to Kal's moves, and steadily accumulates damage to his infrastructure as Kal harasses on multiple points.

When the first dragoon arrives, even the factory on the way cannot make a difference, and ForGG types out.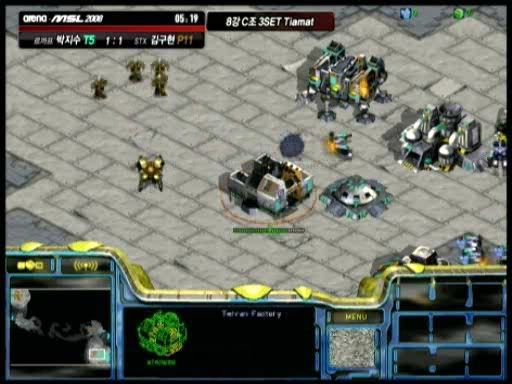 Sorry Mate, you're screwed



Score: ForGG 1 - 2 Kal
Game Length: 5:42


---

Act 4 - The Climax
Map: Othello
Forgg at 7
Kal at 1

Having shown us a mircale, a macrofest, and a proper cheese rush, the two showmen bring the spectacle to an entirely new level for the fourth act. It was most analogous to sword swallowers performing their act... then screwing up in epic fashion. Blood everywhere, the paramedics are being called, the crowd is screaming in horror - a proper freakshow.

While both players make plenty of blunders causing quite the scene, it is Kal that slips up first. After going zealot after core, he skips range and goes for a straight citadel. The lack of a robotics at this stage points to a ground dt build. It is at this point that Kal makes a "huge blunder" as Tasteless would say. Having taken the precauting to place a zeal probe on the ramp earlier in order to deny scouting, in a fit of madness he places his first goon at his natural, leaving on the zealot without the probe on the ramp. And wouldn't you know it, the scv slips by and sees the citadel with no range.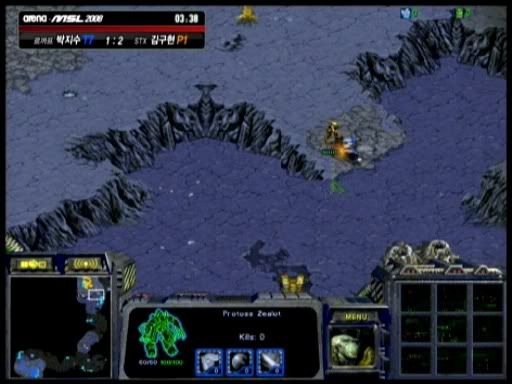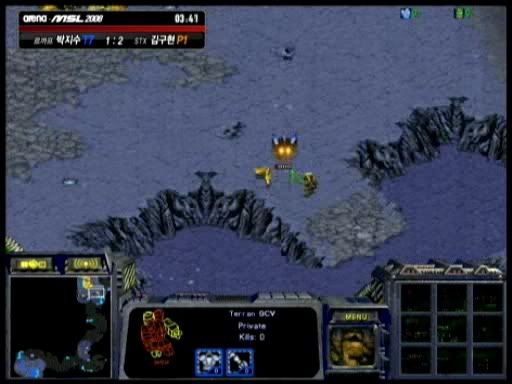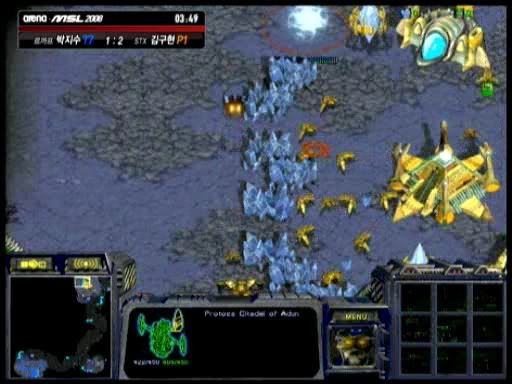 An inexplicable gaffe.



As a result, Kal is forced to go switch his build to a dt drop, starting a robotics facility immediately after the worker is taken care of. ForGG of course starts mine upgrade immediately, making a turret at his ramp as well. ForGG's gameplan was a 4 vulture drop to begin with, and he is able to proceed with his build while Kal was forced to alter his. ForGG moves out with his 4 vultures and 4 marines along with his dropship - the vultures are dropped first, as mines crawl into goons and the vults themselves eat probes alive, with the 4 marines dropped in as well. With already one huge mistake changing the course of the game, the carnage continues.


Oh the pain...



While ForGG is focused on doing the most damage he can in Kal's main, a dt zealot drop comes into his main. Inexplicably, ForGG's turrent for the main mineral line had just begun construction, causing all sorts of problems for ForGG. Tanks fall, mines and dragged into scvs, and all sorts of buildings get slashed up by the invisible ninjas. As Artosis would say, "Yea, those are fair."


It's getting uglier...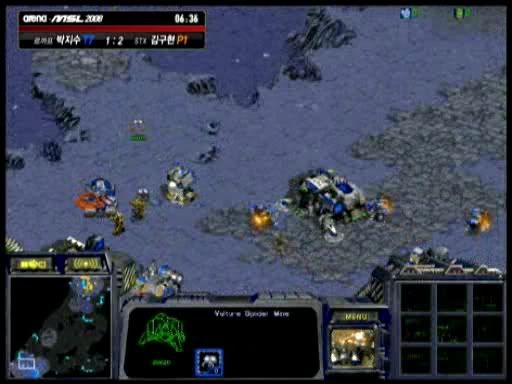 and uglier...



and uglier...



As both players' economies are shattered, ForGG lifts off his main command center to his natural, with vultures mining up the area in preparation for the inevitable dt infiltration. After several tense moments as ForGG fumbles around attmepting to rid the dt in his natural, he is finally able ot resume mining while Kal has zero probes with 2 vultures firing at his nexus. A rather comical moment happens, as Kal's nexus starts flashing for 10 seconds or so, then stops, then Kal types out. No Kal, that probe wouldn't have survived from the two vultures.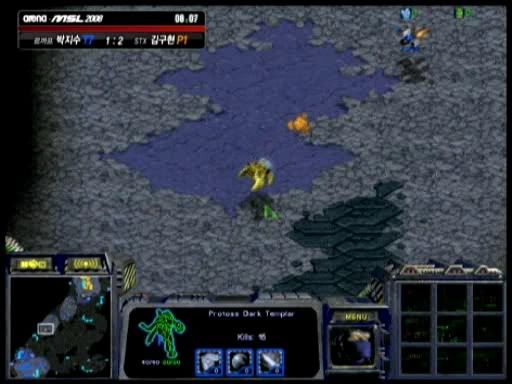 The finishing blow.



Score: ForGG 2 - 2 Kal
Game Length: 9:42


---


Act 5 - The Encore
Map: Colloseum
ForGG at 1
Kal at 5

The show had been a spectacle thus far, and the fans wanted more. What could the performers do, other than oblige? Even the randomness of the game were in accord, as the game mirrored the opening act with just a slight twist. Ah yes, the chants of the crowd had been heard/ it was time for the encore.

It was almost as if the ringmaster had laid out the plans for the game, as the two proceeded with their gameplans. They were at vertical positions again, this time on the right side of the map. As Kal repeated his opening act with another 14 nexus, ForGG followed suit, walling off his choke and going for a 2 factory build. Two addons came on, a citadel warped in, and so did a stargate.

This time ForGG brings his 3 tanks and 4 vultures together from the highground, instead of splitting up his army.
Kal's army is pushed back into his main, and a Scout starts building as the arbiter tribunal is cancelled. The push comes before Kal can pylon wall his choke, and the tanks siege up on the highground with mines below immediately. Dts come and die in vain, as ForGG built his scanner and ebay comparatively earlier, and when 4 vultures run into the nat, the game is all but over.


[i]No wall in time...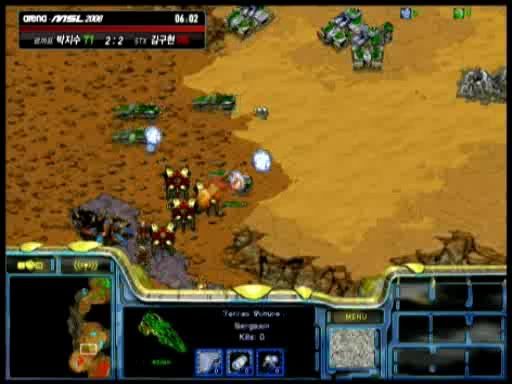 Overwhelmed...
and lets this mess slip by...


ForGG slowly mine/turret/tank pushed towards the gates in Kal's main, and his foe typed out shortly thereafter.

Score: ForGG 3 - 2 Kal
Game Length: 9:06


---


And so the series that I call "the most entertaining series of the year" ended. It'll be quite a while until we see such a train wreck / rollercoaster ride again.