Polt Wins MLG Spring
by Fionn
With less than stellar results at WCS America and Dreamhack: Stockholm following after he left the Korean team-house environment in favor of university life at UT Austin, it looked like
CMStorm_Polt's
time as a championship contender was finally over. While Polt was still one of the smartest players in the world with top class class micro to boot, the outside factors seemed overwhelming. KeSPA players were reaching their potential, GSL old timers were slipping down the totem poll or retiring, and the soon to be 24 year-old Polt seemed to be headed toward the valley where many a great player go to rest after their time at the top has ended.
Such assumptions couldn't have been further from the truth. At MLG Anahiem, Polt didn't seem anything like a washed-up part timer, but instead looked every bit the cunning and decisive player he had been in his championship days. With a thrilling 3 - 2 victory over former TSL teammate
Quantic.HyuN
, Polt won the MLG Spring Championship, and also the fourth ever StarCraft II player to win a major tournament in Korea, Europe, and North America. That put him in very exclusive company, alongside only MMA, Life and Mvp. Not just that, but the first place prize of $10,000 pushed Polt past MarineKing to take second place in all-time prize winnings for Terran players.
An Easy Start, then NaNiwa
Starting out the open bracket tournament,
Polt
had a few easy rounds against foreigners, including a 2 - 0 victory over EG's new signing, the fifteen-year-old
Xenocider
. Staying on course, Polt faced his first big test in the fourth round, matching up with another EG member in the form of
Suppy
. Faltering for the first time in the tournament, Polt dropped the second map, putting him one loss away suffering his third open bracket loss to an American Zerg, having already lost to
Mill.Goswser
and
Liquid`Sheth
in previous MLGs. However, a few hellions slipping by Suppy's defenses was all Polt needed to clinch the game in the third set, avoiding another perilous trip to the losers' bracket and allowing him to enter the final bracket from the winners' side for the very first time.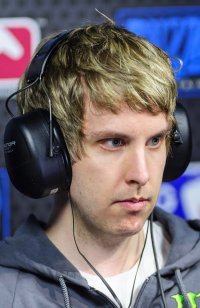 Polt would end up facing NaNiwa twice in the tournament.
-Photo: Silverfire
In the winners' quarter-final on day two of the tournament, Polt faced
Alliance.NaNiwa
, the last foreigner remaining in the winner's bracket. While Polt entered as the favorite due to his historically strong TvP and Naniwa's continuous mentions of his PvT being weak, it was a dangerous match for Polt nonetheless. Naniwa was a famously streaky player with a history of strong performances at marathon LANs, only falling to Leenock in the finals of the previous DH: Stockholm. Polt had played in that tournament as well, not even making it to the Ro16 before getting eliminated by foreign Protosses Grubby and HuK.
There would be no upset, as Polt emerged victorious in his match with Naniwa, capitalizing on a failed immortal bust in the first game and following it up with an equally impressive victory on the second map, advancing to the semifinals of winners side. Dropping manner mules and giving a thumbs down to Naniwa, the disappointment from early eliminations in WCS and at Dreamhack were slowly washing away. Still, having not faced a Korean in the competition, Polt still had much to prove if he was to be considered a championship contender.
Oh Dear, NaNiwa again
It didn't take long for Polt to offer up that proof, as his next match was an emphatic victory against key STX Soul player
Dear
. Taking a dominating first set with great positioning and drop play, he followed that up in
game two
with a strategy that revolved around building six hellbats at a time, walking in a straight line to Dear's natural and continuing to rally in troops until everything had been incinerated by the bats out of hell. There couldn't have been any clearer confirmation that Polt was still on his game as he headed into the day three of the tournament.
Making it to the top four of a tournament for the first time since NASL of last year, Polt was dealt a return match against
NaNiwa
with a ticket to the grand finals on the line. Having ended his previous match with manner mules and some vigorous thumbs downs, fans eagerly awaited to see how the situation might escalate when the two faced off once more with so much on the line. While Polt took a more diplomatic stance in the interviews prior to their second meeting, Naniwa was as unfiltered as always, asking why Polt had to be "such a bitch" and setting the tone for the series.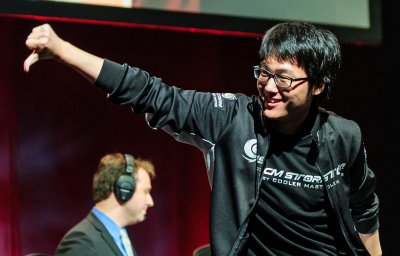 Polt and NaNniwa's interactions were one of the juiciest sub-plots of the tournament.
-Photo: Silverfire
Polt began the Bo7 with a 2 - 0 extended series advantage, but Naniwa was able to take
one map
in impressive fashion, taking advantage of Polt's decision to sacrifice to units to snipe a nexus by launching a massive counter-attack that slaughtered Polt's weakened army. Fortunately for Polt, he was able to take the next two maps as Naniwa seemed off of his game, making errors ranging from small positioning errors to crucial colossus giveaways while performing a colossus all-in. With the 4 - 1 series victory in hand, Polt gave an interview, waved the American flag, and headed to the finals.
The Finals: TSL Reunion
In his first major final since ThorZain used Swedish magic to beat him at last year's Dreamhack: Stockholm, Polt faced off against close friend and former teammate
Quantic.HyuN
in a Team SCV Life reunion grand finals. Hyun, while having one more loss than Polt did the entire tournament, was entering the final as the favorite, having dominated the WCS American champion and EG-TL ace
Liquid`HerO
in the semi-finals, taking a 4 - 1 win in an extended Bo7 series. With his hit list consisting of
ST_Sound
, Starleague players
ROOT.YugiOh
and
SKT_soO
, and then HerO on top of that, Hyun undoubtedly had the harder path to the finals, impressively winning in all of his match-ups.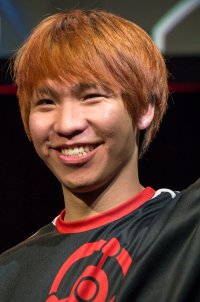 HyuN looked to finally win his first major title at MLG Anaheim.
-Photo: itsjustatank
The best-of-five finals themselves ended up being a rough and tumble brawl, starting with
a classic match on Akilon Wastes
to begin. Both players were on point as the game headed to the late-game, keeping up with their macro and engaging in fights all over the map. With mass spore crawlers covering his bases, HyuN sealed off Polt's attempts to harass and put himself in a position to overwhelm Polt with head-on, brute force.
Hyun seemed to be on the verge of victory, marching across the map with an ultimate ground army of ultras, transfusing queens, and infestors. The timing looked dangerous, coming just before Polt could completely switch to an air Terran army. Plowing through a massive minefield, Hyun was able to get into the Terran natural and up the ramp into the main. However, two seeker missiles wiped out the infestor force of Hyun, giving him no way to combat the growing air force. Slowly killing off the ultras with the attacks of the battlecruisers, Polt was able to clean up the Zerg force and emerge with an invincible force dominating both the air and the ground. With yamato cannons zapping everything in sight, HyuN surrendered the game and braced himself for the rest of the series.
The next two games saw both players hit successful timing attacks to win a game a piece. Massing up roaches and banes on the second map, Hyun caught Polt moving his army across the map and crushed him with an overflowing amount of units, destroying his army, third base, and then the natural before Polt finally tapped out. Game three was one of the strangest of the tournament and possibly the year, as Polt banked up 2,000 minerals before investing it into a mass hellbat timing attack backed by siege tanks and marauders. With no air threat to take out the core units of Polt's army, it was game over when he pushed across the map, burning through everything Hyun threw at him. That put Polt at a 2 - 1 advantage, and one game away from winning his first championship in over a year.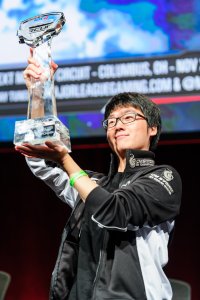 Polt's used to this sort of thing.
-Photo: Silverfire
The fourth game of the series was one that would have haunted Polt if he had lost the championship, as he went up early with good drops and a snipe on HyuN's third base. Building up a tank army to thwart Hyun's usual composition of roaches and banelings, Polt unwisely marched out of his base with what he thought was the superior army. While he might have been right, he was caught completely out of position out by Hyun's roach and baneling army, having his tanks picked off before they could siege up. Even though HyuN had committed a major error by forgetting baneling speed, Polt's error in positioning more than cancelled it out. With only bio left, Polt was unable to hold against even slow moving banelings and surrendered the series tying point.
The score tied 2 - 2, the expectation were high for an epic, fifth and
final match
to decide who would walk out the Spring champion. Well, while Polt had provided plenty of entertainment in and outside the game, he couldn't deliver on
every
point. He made some hellions and reapers, found a hole in Hyun's wall, and then killed off 25+ workers. That move effectively won the game for Polt, and he powered up on economy and production while easily denying HyuN's attempts to even take a third base. Using mines to control his space, drops to smash expansions, and finally a strong push into the natural and main, Polt captured his long sought for MLG championship, and his first one in America.
The Meaning of Three
Terran Money All-Time Rankings
(SC2earnings.com)

1. Jeong "Mvp" Jong Hyeon - $373,520
2. Choi "Polt" Seong Hun - $194,670
3. Lee "MarineKing" Jung Hoon - 187,140
4. Mun "MMA" Seong-Won - $180,595
5. Lee "PuMa" Ho Joon - $142,650
Not only did Polt finish his three-continent grand slam, but it was also his third championship on his third different team—something that only HuK has done in his career—having won the Super Tournament on Prime, Assembly Winter on TSL, and now the MLG Spring Championship on CMStorm. Additionally this is the third consecutive year where Polt has won a major championship, as he's been hoisting trophies since the Super Tournament in 2011.
Now, with a major title under his belt in 2013, Polt will enter WCS America Season II as one of the big favorites to take the entire tournament. On summer vacation from his courses at the University of Texas, Polt can be expected to be at the same level he was at MLG when he plays in the upcoming WCS tournament. For one of the greatest players in StarCraft II history, there will be no stopping.
The Other Tales of Anaheim
by Fionn
The Era of Naniwa?
With
EG.Stephano.RC
soon retiring and looking far less dominant than before, the spot for best foreigner in the world has been left open for the first time in a long while. With
Alliance.NaNiwa's
top four finish at MLG, is there anyone else who you can give the title to? Liquid's
TLO
and
Snute
are both improving at an incredible pace and have performed well at every tournament they've entered recently. However, Naniwa's case is stronger, as he got to the finals of Dreamhack: Stockholm where he only lost to Leenock in a close 3-2 series, and he has now made the semi-finals of an MLG while taking out Koreans such as Dear and Jaedong. The only player to defeat him was the eventual champion of the tournament in Polt, with Naniwa playing his weakest match-up.
The next step to Naniwa's rise to the foreign throne will be WCS Europe, where he will hope to break Mvp's hold on the continent and take the championship. NaNiwa's PvZ and PvP have looked top class the past few tournaments he's been in, but with the Europe region littered with elite Terrans like Mvp, MMA, and ForGG, he will need to improve his PvT if he wants to take the title. Still, even if Terrans prove to be NaNiwa's ultimate undoing, he might still have a chance to face Stephano in a highly anticipated "King of Europe" match. All in all, MLG was a great tournament for Naniwa, and makes us look forward to what he might do in the future.
The Kong Line's New Member
In less than a year,
Quantic.HyuN
has reached the finals of major StarCraft II tournament twice, and has taken it to the final map both times. And for the second time in less than a year, Hyun has lost on that final map, first losing to Sniper in the GSL finals held in Las Vegas, and now taking another heartbreaking loss against Polt in the finals at MLG Anaheim. HyuN's macro is insane, he has amazing timing attacks, and he is strong in the late game, but he just doesn't seem to be able to seal the deal.
On Quantic, Hyun will have a lot more chances to compete in foreign tournaments, hoping to break his Kong streak in 2013. Not being in the WCS American Premier League will hurt him, as he showed his inconsistent side by failing to qualify for the tournament despite being one of the best players signed up for the region. But he may be able to still make the Blizzcon finals if he can continue racking up points on the foreign tournament circuit and qualify for WCS America Season Three. Most importantly, he will be trying to break his Kong curse, wanting to win an offline championship for the first time in his career and not drop another final in the climactic game of a tournament.
Quick Hits on the RestKesPA:
There wasn't a lot of hype around the three players who qualified from the online KeSPA qualifiers, and they didn't do anything to change that opinion this weekend.
KT_Stats
fell to the famously bad Jaedong vs. Protoss match-up,
STX_Dear
couldn't beat Naniwa in a PvP, and
SKT_soO
was taken out by Root's
Sage
, putting all three KeSPA members out of the top four spots of the tournament. It may not mean much in the grand scheme of things, but you'd expect players like Innovation, Flash, and Soulkey to have more pressure on their shoulders to get through the qualifiers next time and better represent their organization.
eSF:
And to be fair, it's not like eSF had a good showing either. Like the KeSPA pros, neither
ST_Golden
and
ST_Sound
were able to reach the top four of the tournament.
Quantic.Bubbles
cannon rushed Coach Park, eliminated a 13-year-old kid GM, and then knocked Nony out of the tournament. Good job, American
Sniper
, your Korean counterpart would be proud.
EG.Jaedong.RC:
Another tournament and another bittersweet ending. His vs. Protoss will need to get better if he wants to take a championship, or he will need to get the luckiest bracket ever of avoiding every high level Protoss to the end of the tournament. He did beat Proleague stalwart Stats, giving his fans a bit of hope that his JvP might be getting better, but that notion was quickly dismissed when Naniwa took him out 2 - 0 to eliminate him from another tournament.