.C
IEM World Championship - Day 2 Recap
Photo Credit - IEM
Day 1 Recap - Day 2 Recap - Day 3 Recap - Day 4 and 5 Recap - Photo Gallery

In HotS, as it is in WoL

Just as the day one results looked like those from a WoL tournament, day two also suggested that HotS wouldn't offer as big a shake up as some had thought. The Koreans
Azubu.viOLet (5 - 0) and
WW.Sting (3 - 2) advanced from the group, joining their four countrymen who had already qualified for the Ro12 on day one of the tournament. The lone foreigner to join them was no surprise, being one of 2012's top earners and most decorated players in
mouz.MaNa. While MaNa (4 - 1) had claimed a lack of adjustment to HotS in a pre-tournament interview, he was still able to defeat everyone except viOlet to move on to the next round of games.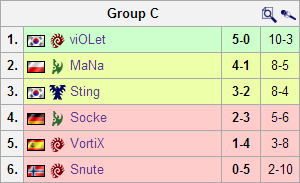 Group C end standings.
Purple Haze


Azubu.viOLet became the second player to top his group with a 5 - 0 record, matching LG-IM Yonghwa's record from day one. viOLet combined the roach-hydra-viper composition with his superior mechanics to beat down all of his opposition, showing off the HotS skills that allowed him to all-kill team FXO during GomTV's GSTL pre-season. At the same time, he continued to show an aversion towards using swarm hosts, stubbornly sticking to a hydra-roach core. This provided an interesting contrast of styles among the three Zergs qualified for the Ro12 so far. Nerchio showed a strong preference for mutalisks, Ret liked to mix in swarm hosts in the mid game, while viOLet brandished hydra-roach-viper as his primary weapon.

While
MaNa and
Sting ended up advancing in second and third place,
aTn.Socke kept himself in the mix until the final matches of the night. He lost a close match against MaNa that would almost have guaranteed him a Ro12 spot with a 3 - 1 record, falling when his dark templar rush (a tactic predicted by many fans) was held off by MaNa. That left him to go up against Sting in a one on one deathmatch for the final Ro12 spot, with both players tied with 2 - 2 records.

Socke must have known that Sting was a player who had avoided the late game at all costs in his WoL days, but like many players before him, just knowing Sting's style wasn't enough to beat him. No, Sting didn't go for the 2-rax builds that brought him so much success in the past (and against against every Zerg in group C), but he did go for two-base timings in each of his games. Socke found himself looking just a little too far ahead in his games, and was overrun by Sting's incisive bio attacks.

HotS Notes

Another day of games brought another set of HotS-related quirks worth noting in brief.

Socke went mid-game oracles in PvT, built from a proxy-stargate. This was the same thing HasuObs did in his group, which is not surprising considering the German Protosses bootcamped together. While it worked out well for HasuObs, Socke was overrun by Sting's two-base timing while his oracles were out killing SCVs.

Sting was the first player at IEM to bring hellbat based mech in broadcast games. While Lucifron played mech earlier on, he either forgot or preferred not to use his hellions in hellbat mode. However, since Sting used it as a follow-up to finish off opponents he had already softened up with harassment, it was hard to say too much about its combat effectiveness.

Both Socke and MaNa went gateway expand in PvZ on occasion, which was similar to PartinG from day one. The main difference is that PartinG already liked to gateway expand in WoL, while it seemed more like a mothership core influenced adjustment for the two Europeans.

No one really cared to make infestors except Snute, and he went 0 - 5. This is the clearest sign that HotS is not at all like WoL.

HotS ZvZ muta wars are almost as boring as in Brood War, but at least it's more legible due to the mutalisks not all being in a single stack.

ST_Golden,

LG-IM_Mvp,

Liquid`TLO


EG.Stephano.RC,

MVP.Dream,

Grubby

Round Robin. 1st place advances to round of eight. 2nd and 3rd place advance to round of twelve.

Well, at least we now know that IEM doesn't rig their groups. Group D features four of the biggest fan favorites in the tournament in Mvp, TLO, Stephano, and Grubby, and at least one of them is guaranteed to go out. It's highly likely that it's going to be more than just one, considering that the remaining two players in the group are Golden and Dream. On top of being Korean, their schedules show that they haven't had much WoL to play in the past month or so, meaning they're going to be quite experienced in HotS.

The most important player to watch in this group is LG-IM's
Mvp, the greatest WoL player of all time. In 2011, he taught everyone how to play macro games, and he's always been a strategic innovator in the game. Despite the fact that he has declined since his peak, he might dictate Terran strategy once again in the early phases of HotS. We didn't get to see that much creativity out of him in his MLG Winter Showdown against Curious, as that game was played during the phase where going hellbat drops was better than anything else. That match was almost a month ago, so now we'll get to see what Mvp has come up with in the meanwhile.


Stephano will be worth watching for different reasons. Not just because he's the best foreigner in the tournament, but because he'll be another test of how far you can get with pure WoL skill. Stephano is very similar to Group A's Yonghwa in terms of being an immensely talented player who had to play WoL literally up to the day before IEM. Yonghwa crushed his group 5 - 0 with just some rudimentary HotS knowledge, and a repeat from Stephano would reinforce the importance of fundamentals.


TLO and
Grubby are similar in that they were on the upswing towards the end of WoL, but we never got to see where they might peak due to that era being forced to a close with the advent of HotS. Both have been streaming and playing quite a bit of HotS in the lead up to its release, but it's yet to be seen if they can continue their WoL rise in HotS as well.

As mentioned before,
Golden and
Dream are two Koreans who didn't have many WoL obligations in the past month, and they should be well practiced in HotS. While they severely lack in name value compared to the other four players in this group, they might actually be the favorites to make it into the Ro12.