Championship Quality
The Elephants have come to roost! Err... something like that.
With the eight KeSPA teams finally turning their attention to Starcraft II, TeamLiquid interviewed some of the greatest Brood War talents about the early transitional period to Starcraft II. SKT1's Coach Park, SKT1's Bisu, and KeSPA Team Eight's Jaedong have around a dozen championships between them, and not surprisingly, their words proved to be insightful.
*
Special thanks to Blizzard Korea's Jung Seunghyun for arranging these interviews, and helping make all of TL's Korean coverage possible. We couldn't have done it without him!
Head Coach Park
SK Telecom T1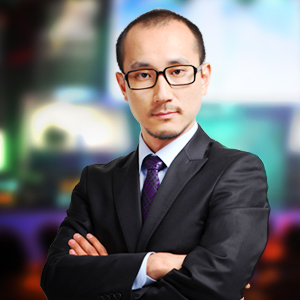 A long-time veteran of the Korean Brood War scene, Park Yong Woon started off at the very bottom. After finding his first coaching gig with the impoverished Pirates of Space, Coach Park stuck it out with his team for several years until they were acquired by MBCGame. He had his first taste of Proleague success when MBCGame Hero won their first and only championship in the 2006 Proleague, an achievement that helped him secure the head coaching position of the prestigious and well-funded SK T1 in 2008. He hasn't had to worry about keeping the position since, as he's brought home two championship trophies for SK T1.
Click To Read:
+ Show Spoiler +
You've been working in Brood War for a while, and now Proleague has become a hybrid league. What do you think of Starcraft II?
PJY:
Starcraft II has a lot of new ideas and concepts in it, like warp-gates, colossi, reapers, etc., and I'm looking forward to what will happen with more patches and expansions.
Internationally, there was a lot of talk about how it's an easier game than Starcraft 1, how do you feel about that?
The difference between Brood War and Starcraft II is that there's a lot of automation, and in the world of pro-gamers, it requires less manual dexterity, so I think people feel that it's easier. While there are some similarities between the two games, there are differences as well, and ultimately I don't think you can say Starcraft II is 'easy.' The game can be very fast, and it requires good decision making on a moment's notice, so it's not an easy game.
What's more difficult in Starcraft II?
In terms of units vs units, you always think that 'I can win this battle if I can fight it in this particular way' in Brood War, but maybe because we haven't practiced enough yet, we're having trouble figuring it out in Starcraft II. Also, it's been hard to figure out timings.
What kind of players are finding the transition to be the easiest?
The players who try the most? I mean to say, at a base level, the players who practice the most as obviously the best. And among those players, the ones who can grasp the characteristics of the game quickly, about units, counter relationships, etc., are developing the fastest.
Is there a player on SKT who seems to naturally gifted at Starcraft II?
Right now, Jung Yoon Jong (ID: By.Sun or By.Rain) is very good in practice. To put it shortly, he's our highest ranking player on the ladder right now. He's a player who's played a lot of other games in the past, not even just RTS games, so maybe that's why he's fast to pick up games. Also, he looks at a lot of 'reference material,' and is naturally inclined to do research, so I think his transition was quick.
Did you watch Starcraft II before this official switch? Did you start doing any kind of preparation even before the announcement, thinking you should be ready for any possibility?
Our staff was interested in Starcraft II since the beta, and in my case, I played a lot of beta Starcraft II games with Boxer (when he was on SKT) during the off-season. Also, before the start of the previous, previous season, SKT players played a lot of Starcraft II. The colloquial expression would be "we practiced until we started spitting up blood." So we had that practice under our belt, before going into the next Brood War season.
SK also switched all of our computers, so that we could play Starcraft II. In the case of some other teams, they were in a situation where they couldn't play Starcraft II even if they wanted because their computer specs were too low, but we had the hardware to play some Starcraft II beforehand.
What's the ratio of practice for this new Proleague season?
Because the format is first half: Brood War, second half: Starcraft II, and ace match: Starcraft II, so statistically Starcraft II has a 66% weight. So we're practicing Starcraft II at a higher ratio than that, at about 80%. In terms of Brood War, the maps are the same as last season, so our practice is focused on going over the same ground.
Mvp mentioned in an interview that it's very hard to play Brood War and Starcraft II at once. Do SKT players feel that way?
I understand what he said in that interview – I played a
lot
of Starcraft II beta during the off-season, and it was very confusing to play Brood War again, like worker rallying, etc. However, I think it's because no one's practiced specifically for that situation. If you play Starcraft II for a long time and then play Brood War, it's going to be hard. But our players are training to play both games, going back and forth between the two games. When I ask the players how they feel, no one's said that it's difficult, not just yet.
I do think there could be problems in terms of game quality, playing Brood War after a lot of Starcraft II. I don't think Brood War will have quite the same level of quality as before, that problem exists. But the players don't feel like it's extremely tough.
Are you worried a lot about that? Because you play two games, you can't be the best at either game, and you will be stuck showing games that are below top-tier quality in both disciplines?
Yes, it's a concern. The teams and players competing in the GSL focus solely on Starcraft II, and we're playing two games. It's disappointing because it would be
possible
for us to show better games, but we can't. Still, I think that we'll catch up to the GSL competitors soon. At least, we're going into this league with that kind of confidence (laughs).
If you ask people in the Starcraft II industry about how long it will take Brood War players to completely transition, you get a lot of opinions, from three months to over a year. What's your opinion?
I think it will take until the end of this season. This season ends in September, so it's about five months. After that, and we're heading into the next season, I think we'll be able to stand toe to toe with the top players in the GSL.
Do you think it would have been more convenient to have just switched to Starcraft II altogether?
From a pro-team's perspective, of course it's far more convenient. But that's not our decision; it's based on what a lot of fans want, and what companies/sponsors want, and we have to adapt to whatever happens. Hybrid league is a bit tough, but... In a way it's a unique league in the world, playing two games at once. Working to create games that are fun and emotional for the fans is the best thing we can do.
Of course, a championship is your goal. But considering that this season is so unique and strange, do you feel slightly less pressured to win this season, or maybe that rebuilding and preparing is more important?
All of that has crossed my mind, but because we're professionals, we still believe we must win. This is a peculiar season with a sweeping change, and I think it's more valuable to win in this kind of season. If our players can get together and adjust to something new, instead of doing what they've always done, I think it would be more valuable. We're more motivated to win than during last year's season.
You seem to be going for the plan of being good at both Brood War and Starcraft II. Do you think other strategies are viable as well? Do you expect other teams to use strategies such as focusing solely on Starcraft II, or having certain players that only play one game?
Yes, I think it's completely possible. In particular, I think there's a chance that teams such as Air Force ACE that were having a hard time before could all-in on Starcraft II. I've heard for a fact that certain teams are doing this. They've played Brood War for years now, so they're just planning to get squeeze the bare minimum they can out of Brood War, and focus primarily on Starcraft II.
You must know a lot of ex-Brood War players and coaches who are now working in Starcraft II. Do you talk to them often, or ask for advice?
Yes, they've done a lot of building up to now, and I'm trying to reference a lot of that. I talk to Starcraft II players and staff on battle.net a lot, and we've implemented a few things.
The Heart of The Swarm expansion will probably be out sometime next year. Do you see that as an opportunity, like a kind of "reset" that happened with the release of the Brood War expansion?
I think that will be another turning point in Starcraft II. I've tried it out with the custom maps that have the new units implemented.
I don't think that Terran has much variety in unit composition right now. In Brood War you play bio vs Zerg and mech vs Protoss, and there's a lot of interesting ways to use units like that. I think for there to be more variety, the expansion could help a lot. They should buff tanks! (laughs)
There's a lot of balance patches in Starcraft II, compared to Brood War that hasn't had a balance patch in a very long time. Players in Brood War had to find all the solutions for themselves over years of effort, while Blizzard is taking a more active part in Starcraft II. How do you feel about that difference?
I think it's great that Blizzard is paying a lot of attention to this game. The thing I'm worried about is the timing of patches, with so many leagues in the world. I think communication between Blizzard and the leagues is very important. A patch hitting at an important point in the league would be very bad.
Brood War only became big in Korea, whereas Starcraft II is even bigger internationally than it is in Korea. Is that something you're thinking about as you go into this league?
Starcraft II's the biggest merit is that it's a global game. My heart beats faster when I think about SKT players like Bisu or Fantasy playing on the world stage, and when I wonder if the top Brood War players can reach those positions in global leagues like they have inside Korea. I'm looking forward to them playing great games in front of fans from around the world.
Does SKT plan to specifically target the foreign audience?
Well, that's the front office's job, so I can't really say.
One of the reasons Starcraft II became so big overseas, and one way a lot of foreigners accumulated fans was through personal streaming. What do you think about it?
It has pros and cons – but I haven't seriously thought about it yet. I think it's something that's happening because of how the income model is for players in Starcraft II. If they were busier, I don't think they would be streaming.
The KeSPA teams and Starcraft II federation teams are separate for now. What do you expect to happen down the line?
Well, no one can know the future. But in my opinion, I think that because our starting points were different, we'll go our separate ways for a while. It's possible that in the future we will join together, but it could also end up in a format where we stay separate like an Eastern and Western conference.
A lot of hardcore Brood War fans are very disappointed about the hybrid Proleague. Do you have any comments for them?
I sympathize with how the fans feel, and personally, I feel sad that there won't be a pure Brood War league anymore.
But there's nothing that can be done about that. I think that we must avoid a situation like what happened to Korean pro-volleyball or pro-
ssireum
(Traditional Korean wrestling). Instead of losing Brood War in a similar fashion, I think it's a lot better to go this way, because at least you can watch the same players. Also, those players can go abroad and gain more fans, which is great as well.
So please don't feel too hurt. Starcraft II is a bit difficult to watch at first, and there are a lot of differences, but we would really appreciate it if you watched us.
Do you think that skill as a coach transfers more easily between games than skill as a player?
I've always felt during my time as a coach – and I always tell this to our coaching staff as well – you must be specialized to your game. I've always done a lot of research and analysis, and I think that's required. Also, the coaching staff has to be on the same page with the players, knowing their characteristics, habits, and styles.
I think the difficulty in switching games is similar for players and coaches. Achieving the requisite level of specialization to be a coach is very hard, and our staff has to manage all the players and also find time to research Starcrafft II. In T1's case, our staff starts work earlier, and leaves later than the players. We don't have that much time, and we need to understand a lot about Starcraft II if we want to talk to our players about it. You need to know as much about the game as the players, or else you can't control them.
Is managing players in Starcraft II very different for a coach? The ladder system is very different, it's easier to scout out your opponent's accounts and see builds, etc.
The system for Starcraft II is very good, but it could be more private. T1, and KeSPA as well, have requested some help from Blizzard in that aspect. Something like a separate server, or some way players can practice with privacy.
Brood War practice was based heavily around internal practice between teammates, but Starcraft II is very ladder-centric. Are you practicing mainly on ladder, or have you already moved on to internal games?
Right now, we think it's best to get a broad range of experience, so we're playing primarily on ladder right now. I think by the middle of the first round, we'll start playing more internal matches.
Could you tell us how well your players are doing on the ladder right now? Like say, someone is GM #....
In the case of our team, we played in the previous Proleague finals and we went to Hawaii after that, so we haven't had that much time to practice, compared to the other teams. The other teams do have some GM players, or so I've heard.
Still, you don't get into GM just because you're good, you also have to play a sufficient number of games. I think we have GM class players, but no one is actually in GM league yet. Most of our players are in the 1000's of Masters League.
Players like Flash, Jaedong, etc., are coming into Starcraft II with huge expectations in the international scene – people seem to almost believe they are just naturally talented at RTS. Why do you think they were so good at Brood War, and do you think they will be good at Starcraft II?
It's true that if you're not talented, you can't reach the very top. So they're all talented at a base level. While I haven't seen Flash or JD up close, if you look at players like Bisu or Fantasy on our team, they combined their talent with an
enormous
amount of effort. The amount of effort they put in is just on another level from an ordinary pro-gamer. The guys who make it to the top are like that, because they have so many fans watching their games, so they have to put in that kind of effort to show their fans the best games possible.
But for players like that to take the next step, they need the right people next to them, helping them out. If you try to do it alone, you're going to progress slowly. You have to help them out in every way possible, so they they can develop quickly. You need all three: talent, effort, and coaching.
Do you believe then, because the current Starcraft II teams aren't being run in a systematically efficient way like the KeSPA teams, that the KeSPA teams will overtake them in the long run?
Yes, I say this cautiously, but I'm confident that will happen. (laughs)
I've been working with pro-gaming teams for eight years, and I've tried so many different things, different practice methods in that time. Through those efforts, our current methods have become stabilized and refined. With our experience, I think we will be able to step ahead of the current teams.
Any Starcraft II players you like in particular?
JulyZerg.
*Everyone laughs. I don't know why.
Anyone who didn't come from Brood War?
Oddly, I end up mostly watching players who used to play Brood War. They just have so much personality.
I do like players like say, MarineKing, because he has his own unique characteristic, in his case making a lot of marines and using them well.
How about foreigners?
Unfortunately I haven't been able to see that many of their games, because we don't have time to watch Starcraft II during the PL season. I'll try to see more of their games.
A lot of foreign fans are despairing at the idea of 200 more Korean pros joining the scene. Any words of hope?
(Surprised) Despairing? Why?
Koreans are kind of owning them already.
Oh, well then I invite the despairing gamers to try-out for our team. If you play with us, I'm sure that you can compete with the best Korean players. Come to Korea!
So you'd be open to acquiring foreign players, if they showed the talent?
Personally I'm very positive about it, but that's up to the front office in the end. I would enjoy living with foreigners and seeing what they're like. Also, the way they approach games is a bit different from Koreans, so I would like to analyze that difference and find exactly why Koreans become top-class gamers. But I would have to learn English first, I guess? (laughs)
Any last comments?
We've started playing Starcraft II now, but we're still playing Brood War at the same time, and we haven't had much time to prepare yet. So even if our players happen to disappoint in their games, I hope you'll be a bit easy on us for at least this season. This is a first step where were still developing, but by September we'll start showing some proper, entertaining Starcraft II games. As always, thanks for supporting us!
Bisu
SK Telecom T1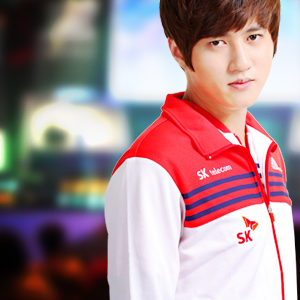 Bisu is one of the greatest Protoss players ever, if not
the
greatest. His break-out tournament was one for the history books, where he defeated the then-invincible Savior by a score of 3 - 0 in the GomTV MBCGame Starleague. Bisu used his revolutionary corsair-dark templar style to win with alarming ease, and almost single-handedly changed a PvZ meta-game that had been stagnant for years. Bisu would go on to win two more MSL titles, and a combined three Proleague championships with MBCGame Hero and SK T1. Known both for his good looks and dizzying multi-tasking ability, Bisu is the face of the defending Proleague champions.
Click To Read:
+ Show Spoiler +
You're kinda famous abroad. Did you know that?
Bisu:
(laughs) No, I didn't. I wouldn't be able to, because I don't go to many foreign tournaments.
You've started playing Starcraft II for real now, what do you think about the game?
I feel that I still have some way to go. A long way. I've been practicing for maybe a month now...
We practiced last year, for around two weeks? Back then, I felt that things would go well. But now, maybe because everyone else got a lot better, it's really hard to win. It's still hard.
Some say that it's an easier game because of the interface, what do you think?
I think the interface being simpler and more convenient is nice. Compared to Brood War, it feels like you're playing the game more... fluidly.
A lot of people say your advantage in Brood War was your excellent mechanics and multi-tasking. But with the easier interface, do you think your advantage has been reduced?
The racial balance is a bit different in this game, and the unit counter relationships are totally different. So far, I don't really feel the need for so much multi-tasking with Starcraft II Protoss. So right now, I don't really know what the advantage/disadvantage is of having fast hands.
Does Protoss feel very different from Brood War?
You could try and convince yourself the concept is similar, but I think it's pretty different. Because I have to play both Brood War and Starcraft II right now, I practice under the idea that they're two totally different games. I haven't tried to change the hotkeys for Starcraft II yet, either.
If you keep playing Starcraft II and you find a race that play more closely to Brood War Protoss, or just fits your style better, do you have any inclination of switching races?
Well, I'd have to play Protoss. A lot of people expect things from me, I think it's right that I play Protoss. If I'm bad, then maybe I would change... But I don't know, I guess I have to play Protoss.
What's the hardest difference to adjust to right now, for a single unit?
I think it's a better race than it is in Brood War. If I had to point out something difficult, because the game is 3d, my units won't unload [out of a warp-prism] at the location I want it to. Also, I make some mistakes when I click toward the edges of the mini-map, I'm still getting used to it.
Is there anything you would have liked from Starcraft II in Brood War? Force-fields?
If I had force-fields in Brood War, I'd never lose.
How are you practicing right now?
I'm playing a lot of Starcraft II right now. There's about a week of time left until opening day now, so I'm playing both games. Our understanding of Starcraft II is lacking right now. If we want to show people skilled games on TV, I think it would take at least three months.
Is it tough to practice two games at once?
No, not really. I just think they're two different games. Although, when I play Brood War, I really want to use chrono-boost. Probes build so slowly! So at times like that, I feel a bit annoyed.
You have the nickname "Revolutionary" in Brood War. Do you think you can live up to that name in SC2? Change the entire meta-game, again?
(laughs) It's possible. It's been my style to try out a lot of things, things pro-gamers don't really do. If I find something effective, I might use it in a televised game.
Your use of corsairs and dark templars in PvZ was something that came about after years of Protoss players getting killed by Zerg, without any patch from Blizzard. What do you think about Blizzard patching Starcraft II so often? Is it good? Or do you think it's good for players to just find their own way?
More frequent patching is great (laughs). Protoss seems to get better each time.
In Brood War, Protoss seemed to keep getting worse... I hope Starcraft II is different.
So you think that Protoss is good in Starcraft II?
I thought it was bad at first, when I played last year around September. They weren't that good back then. Then they started getting buffed, with the forge upgrade price change, etc.
Some of your old teammates from MBCGame Hero and SK T1 are playing Starcraft II now. Have you talked to them much about SC2, or practiced with them?
No, I don't really talk to them about Starcraft II. I feel kind of bad asking them for help in that way. They're doing what they can to succeed, and we're trying to catch up after a late start.
How's Starcraft II, purely from a spectator standpoint?
I guess 3D games are right for these times, though I haven't adjusted completely. The fights end so fast, so that's kind of unfortunate, but that has its own merits. It forces you to micro very well. You have to micro in a kind of different way, you have to focus-fire very well... it's a bit tough.
Is there a player you like among the SC2 players? Someone you think is good?
Hmmm... HerO? HerO, he knows what he's doing.
Watching the GSL, how long do you think it will take for you to become a Code S class player?
(laughs) Code S? I don't know, it feels really far away. You have to start all the way from Code B. I don't know yet.
From what we can tell, you're probably going to go MLG Anaheim for a show match against other Brood War pros. You'll be playing in front of a ton of foreign fans –
– I have to play?
You didn't know? It looks like it's going to be a single elim tournament with eight players.
*Groans* Oh no...
Do you think you can look good for the fans by then?
I'll have to come up with a special strategy.
I guess it was tough to practice SC2 because of Proleague finals?
Right, we didn't practice at all until the finals ended. Us and the other finalist KT, we're both having some trouble because of that.
You were invited to Blizzcon last year, where they had the battle.net invitational, and GSL October finals. What was it like?
The foreign fans were really passionate. I was envious of Mvp and MMA. I had no idea there would be so many people.
Are you looking forward to what's to come from the MLG-KeSPA partnership? Getting opportunities to compete abroad and such?
Since a long time ago, I've wanted to play internationally. And this is just a silly dream, but I've wondered what it would be like to get acquired by a big foreign team, like Koreans who play for big teams in the Premier League or the Major League. But that kind of dream, I don't think it's realistic right now.
Yeah, I don't think they have the money. Anyway, who's the best on T1 right now?
I think we're all similar. It's too early to say who's better and who's worse. We were all pros at Brood War, so everyone is pretty good to some degree.
So, Flash was seen beating a foreign pro on the ladder.
Really? He's good....
Do you think there's a lot of carry-over from Brood War skill to Starcraft II skill? Foreigners are pretty excited about the TaekBaengLeeSsang (Flash, Jaedong, Bisu, Stork) playing Starcraft II.
I think there is to some degree. Flash is good, and I've heard Jaedong is good as well. I haven't heard much about Stork, though. I'm confident, too, in my ability to do well.
Players like you and the rest of the TBLS, what do you think your strength is?
Me? My strength is that I practice a lot. It's not that I understand the game particularly well, I feel that it's important to experience a lot of situations, so I focus on practicing a lot.
One quick Brood War question. Can we talk about the Ace match at the Proleague finals? Were you nervous for the ace-match against Flash? You've played in so many finals.
I was really, really nervous, it was crazy. The score was tied 3 – 3, and I was going up against Flash. I still get pretty nervous now. If it's not the ace-match, it's not so bad, but I still get very nervous for Ace matches. But even if I'm nervous, it doesn't affect my skill, I can control it. I've never felt that I've lost because I was nervous – only because I played poorly.
Do you think SKT1 can win this season?
I don't know! (laughs) Because of Starcraft II. If it was just Brood War, I would be confident. But we really haven't been able to play much Starcraft II, and we need to practice a lot. If we do practice, I think we can be good.
Have you faced off against a lot of other Brood War players on the ladder? How are they?
Yes, I don't know who they are exactly, but I've played a lot of them. I feel that I'm lacking right now.
Considering that, do you think it would be better to focus on cheesy strategies for now?
No, I play every style. I think it's good to play long games, because I have to improve my ability at planning from a big picture perspective.
You were eliminated in the OSL preliminaries this season. If this isn't the last OSL, and there's another one after that, what do you plan to do? Proleague would be all SC II by then, but you would really want to win an OSL personally.
As a pro-gamer, I've always wanted to win an OSL. But I don't know if they're going to do Brood War or Starcraft II after this season. If they do Brood War, then I really want to go for it. But even if it's Starcraft II, I don't think it will be that bad.
Brood War will be gone forever from the Proleague in five months. Have you ever thought about that? Not playing the game you've spent so many years with.
No, I thought I'd be playing Brood War until I retired. But time... time is time. We have to follow the trends that fit the age. If I play Starcraft II, I think a lot of people will enjoy that, too.
Do you think you've become more cynical about esports over the years? Or that it doesn't feel the same to you?
All the veterans have retired, so it's not quite as nostalgic.
And these days, all the games are the same. There aren't any strategic victories, people just play towards a safe mid-late game and decide it there. There aren't any games that feel like those of the past.
Starcraft II is kind of that way too, people take expansions safely and play a late game.
Well, Starcraft II, it could be different. It's only been two years, so I think there could be a lot of strategic games. Also, Heart of the Swarm will be out, too, so I have a lot of expectations.
You think you'll still play Brood War occasionally?
Yeah, I think so. After a drink or two.
Alright, any last comments.
If I end up going to Anaheim, please cheer me on even if I don't do so well. I really want to hear the cheers of the foreign audience, so show me what you guys are all about. I haven't been able to go to TeamLiquid that much, but I heard it's a great site for Starcraft II resources, so I'll try to go more often. Thanks for your support!
Jaedong
KeSPA Team Eight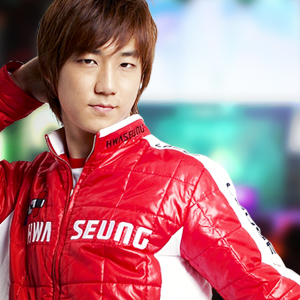 Known as "The Tyrant" in Korea, Jaedong's rule was fearsome indeed. Winning three OSL championships, two MSL championships, and chipping in for a Proleague championship as well, Jaedong was the most feared player of the late 2000's. During this time Jaedong was especially known for his amazing mutalisk micro, winning games using only his trademark unit. When Flash grew from a promising youth into a legitimate championship player, he and Jaedong started one of the greatest Brood War rivalries of all time, culminating in several grand final clashes between the so called 'Lee-Ssang.' Jaedong has carried the banner for Zerg fans for over five years now, and he may very well be his race's greatest player.
Click To Read:
+ Show Spoiler +
How long has it been since you've started practicing Starcraft II? How is it so far?
A little under two months.
It's pretty fun, the process of learning the game after I started was fun. I think it's a well made game, and I think a lot of people will enjoy it. With some more time, I should be able to show a good level of skill.
What do you think the biggest difference between the Brood War and Starcraft II is?
I think Starcraft II is – how to put it – faster? The game feels a lot faster on the whole.
I haven't played a lot yet, so I don't know if this is correct, but I think it's difficult.
When the game first came out, people said the interface would make Starcraft II easier.
I heard that a lot at first, so I was kind of underestimating the game. But after I started playing it beginning at the level of a total newbie, it's been very hard. I've been running up against a lot of walls. Maybe it's because I'm Zerg? I think I'm getting better as I play, though. I've played Starcraft 1 for over ten years, and I've played Starcraft II for just two months, and it's an easy game to approach for someone who's played Starcraft 1.
We asked this to Bisu as well, but both of you were known for your mechanics, and your great multitasking. That helped you a lot in Brood War, so do you think you're at a disadvantage because the interface is easier in Starcraft II?
As I've been playing the game and improving, I've started to get to a stage where I can start taking advantage of those abilities. So I'm getting more confident in that regard. I'm gaining confidence that I can be get much better in the near future. So I think I'm at an advantage in that aspect.
How does Zerg feel to you in comparison to Brood War?
It's similar, but I think depending on the skill of the player, there's a lot of growth potential for Zerg, to maximize its strength. If the Zerg plays very well, then it can be very strong. As I played, I felt that if you can play this race almost perfectly, then it could be stronger than the other races.
In that case, what's difficult right now?
Right now, my understanding of theory is very low; I'm just learning. If I can increase my understanding of the game, I could play a lot better, but I need time.
What aspects of Zerg have the most potential?
I'm not quite sure, you have to do everything well when you play Zerg. It's a difficult race, but it seems strong if you play well.
There's a tendency for Starcraft II games to be more macro-based, more mid to late game oriented than Brood War. What do you think about that?
Because you have to be very careful about committing to fights, there are a lot of games where both players are just eying each other and being tentative. It's hard to see big comebacks, so I think it's difficult. Losing one fight swings the game very severely, which is very stressful as a gamer.
You were a very aggressive player during your early Brood War career, do you find it more fun to play that way?
That's up to individual player taste. Personally I like to attack, so I play that way. Everyone has their own style.
Your were famous for your mutalisk micro in Brood War, but mutalisks are very different in Starcraft II. How's that going for you?
I tried to microing them in the Brood War way, but it wasn't working out. To be honest, I'm getting really stressed out over that part. That micro made me different from everyone else in Brood War, and I won a lot of games on that micro alone. Since that's gone, I'm trying to play Starcraft II with a wide variety of units, so I'm skilled on the whole.
Bisu mentioned that micro is actually more important in Starcraft II than Brood War. Do you feel that it's true?
Yes, I'm finding it hard to micro in big fights. Because I'm just starting out, my hands won't do what I want them to. It's been hard adjusting.
What's your practice ratio like?
I'm focusing very heavily on Starcraft II, around an 8:2 ratio?
Is it very hard to play both games together?
It's kind of hard to play Brood War after playing Starcraft II. The graphics, the micro, you're actually going back in time. But if you play Starcraft II after Brood War, it's fine.
Can you maintain your Brood War skill level at an 8:2 practice ratio?
I'm actually pretty worried about that, but there's nothing I can do about it. I'm trying to just maintain my Brood War skill level, while bringing my Starcraft II skill level up is the first priority.
Would it be easier to just switch completely to Starcraft II?
If you think about just the pro-gamers, it would be more convenient. But there are Proleague, Starleague fans remaining, and if you take them into consideration, I think it's correct to play both games. It's hard, but it's something we've got to deal with.
Some fans think that Starcraft II practice affected your performance in the OnGameNet Dual Tournament [Jaedong was eliminated]. Is that correct?
Well, I don't think you can say so, because I think it's all the same. The person who lost is at fault. We all played in the same situation, so I have no excuse.
There's big expectations for the TBLS in Starcraft II, because of your huge accomplishments in Brood War. People seem to think that maybe there's something innate about you guys that made you special? What do you think?
No, I don't there's anything special about me at all. I just think I'm a little bit better at games than others. Nothing innate. I just practiced harder than others, and because I put in the time, I became skilled.
The players who are playing Starcraft II now, the players in the GSL – I don't think it will be easy at all to overtake those players, and I think we will have to put in a lot of effort going forth.
Do you talk to any ex-OZ players about Starcraft II? Getting tips?
No, not really. I've asked them a few questions online, but I haven't met up with them in real life for that purpose.
It could be the end of Brood War, after this Proleague is over. Have you thought about that at all?
Well, there's nothing that can be done. It's not like anything changes because I have lingering feelings for Brood War. For pro-gamers like me, the wisest thing to do is go along with the situation you are put in. So after this hybrid league, if everything switches to Starcraft II, the best attitude to have is try and adapt as quickly as possible.
Is there anything left in Brood War that you want to achieve?
If I think about it, then I do have a lot of regrets. But I try not to think about it too much. I'm satisfied, and I think feeling that way puts your heart at ease.
How long do you think it would take for Brood War pros to reach Code S level skill?
We're playing two games now, and that's the biggest factor. If we played just Starcraft II, I think we could improve very quickly. But because of the hybrid league, it could take a lot of time .
You think this Proleague carries as much weight as the previous Proleagues? It's very peculiar, and players might not show their best games.
I always feel that the Proleague is very important, every season. Even though it's different this season, I will approach it the same way.
Do you watch much GSL? Or personal streams?
After the announcement of hybrid Proleague, I looked up and watched a lot of VODs.
Is there a player you like?
Yes. Stephano. I really like him.
Watching his games, he execute the plays that I would like to do. The kind of plays that I've drawn up in my mind, he uses them a lot in his games.
Also, he's a foreigner, and that was also very impressive. To think that someone who's not Korean could play like that was fascinating, and I thought it was very attractive.
You've been abroad for tournaments like WCG, and the fans there are a bit different from Korean fans. How do you feel about competing abroad?
I like it a lot. I'm thankful to the fans, and I really like them, but because they're foreigners, it's hard for me to express that to him. And it's not like I'm good at English. I'm so thankful to the fans but I have trouble expressing it, so that's been regrettable.
Are you excited to play more games abroad?
Yes, I've won the OSL and MSL multiple times, but the WCG's I've been to really stick out in my memory. The passion of the foreign fans really left an impression. If I could play Starcraft II abroad, it would be great. I hope people are looking forward to it.
Do you think that the LeeSsang rivalry will stay alive in Starcraft II?
That, I don't know. I think there's a lot of things outside of the actual game that are quite important. I hope we can keep our relationship as friendly rivals, and that we both do well. It would be great if we could play great games in Starcraft II as well for fans to get excited about.
Okay, some quick questions and answers. Who's the best player in the house?
Not me. I would say Ha Jae Sang (ID: Sang) is the best.
Do you play many Brood War pros on the ladder?
If you play ladder these days, it's almost all Brood War gamers.
Any Brood War units you want to see in Starcraft 2? Scourge?
Yes, I think scourge are a big thing. It's taking a while to get used to their absence. I can't deal with medivac harass perfectly yet.
How about the reverse?
Banelings. So you can just blow up marines and medics in one go.
Do you feel that maybe Brood War is almost figured out? Especially with the development of late mechanic in TvZ. Or do you think that with even more time, things could have changed again?
Starcraft 1 has a really long history, and it's changed a lot with the times. One race is strong, then another race finds a way to topple that race, and that cycle has repeated itself many times. Maybe you could think this is almost the end, and that everything there is to do has been done, but feel that if Brood War kept going, there would be plenty of possibilities for the gamers to change the game with their efforts and research. I think it's always open.
Alright, any final comments for your fans?
It's still surprising to think I have fans abroad, and I'm thankful for them. I feel responsible because of that, and I'm confident that I can be as good in Starcraft II as I was in Brood War. I'll do my best to overtake the great Zerg players in the GSL, and I'll show that I am the best player.