As someone who doesn't really see himself as a writer, I am indeed surprised to find myself writing the introduction for a Proleague Update. I joined the writing staff as a volunteer when times were hard for Broodwar and since I started writing for the SPL team we've recruited some incredible talent. Now that the Broodwar writing staff is filled out again, I can't help but feeling like the weak link. Regardless, I'm here now and feel extremely privileged to give you a peek of this week's wonderful selection of content. As usual, we bring you all the excitement that this game, nay, sport has to offer.
This week we've got Kiett on board to give us some insight into the odds and ends of Proleague related media in Korea. We also have l10f doing a cameo battle report of the extremely exciting game between Soulkey and Bogus that was played last week. The ever reliable
Paul the Octopus
Mustaju once again contributes his surprisingly accurate predictions, as well as another instalment of his Fan Fiction series from last season. Finally, yours truly has recapped last week's games for you.
It was an eventful week for Broodwar fans. We saw Proleague featured in the WCG for the first time, and this gave our favourite progamers a chance to bring some live Broodwar to international audiences. The matches this week went pretty much as expected, with Team 8 showing us how scary their lineup truly is, STX demonstrating how to choke in style, CJ cementing their place at the top of the ladder and KT revealing just how poorly they are adjusting to the new format.
With Proleague back in stride, the Broodwar section of TL has been flourishing and it's fantastic to see so many fans excited about the new season. So, to wrap up this already too lengthy introduction, I will leave you with the
words Bisu of when he found out he was up against a Zerg
last week.
Thank You
-Kiante


Both team 8 and Ace had mixed performances last week going 1-1 so this match was extremely important to both as a way to cement their confidence. To attempt to get off to a good start ace sent out FireBatHero. Unfortunately he was not prepared for the unorthodox proxy DT play of Tyson, which combined with his poor scouting and late turrets resulted in a quick loss for Ace.

For Ace, things from there things didn't go well, with M18M having to play Jaedong. Despite the somewhat strange builds both showed, with M18M doing a DT sair into reaver build while Jaedong attempted some weak muta pressure in the early game, the ending was fairly typical of a ZvP with Jaedong sniping M18M's tech units with a new round of mutas and overrunning him with hydralisks for the victory. To finish up the set Killer won a fairly straight forward ZvZ against Ggaemo who once again attempted the 1 gas 2 hatch build he tried last week to no avail, giving Team 8 their second win of the season 3-0.


Woongjin and STX both showed relatively poor performances in the first week of competition. As a result, both came out firing from the get go, sending what could be considered Ace players for the first set. Surprisingly, the slumping Calm managed to best Zero in a standard ZvZ with Calm getting an early build order advantage and successfully defending Zero's attacks. The second set saw Shuttle, once known for his talent in the PvP matchup losing to sHy, one of the rookies that Woongjin picked up from the Oz disbandment last season. sHy managed to use his 3 gate build to hit Shuttle just before his reaver came out, and although shuttle finally defended, he could never stabilise in the game until finally sHy starved him of resources.

STX sent out one of their rookies, Mini to play against the veteran Free and in an exciting and relatively long PvP (compared to previous PvP's on Outsider) in which Mini was victorious, showing fantastic reaver control and harass. Bogus was sent out by STX against Soulkey, in an attempt to finish the match early, but Soulkey fought hard to take a scrappy win in an exciting game, tying the series up at 2 – 2. This is where STX once again found themselves crumbling, as they sent out hyvaa, known for 5 pooling Bisu in the most recent OSL qualifiers to play Light, the second best TvZ in the world. As expected, Light has his way with hyvaa, busting him early with a marine/medic group and easily finishing off the game with a quick tank push followup.


For the first time proleague matches were featured at the WCG grand finals, the first of which being CJ matched up against Khan. While CJ is obviously lauded as one of the strongest in the league right now, Khan managed to win their match last week, and with the star power of the current OSL champion on their side the games were expected to be close. To initiate the star studded cast Effort was sent out to play against Jangbi, but unfortunately the epic game that was anticipated was not to be.

Jangbi opened up with a 2 gate which managed to do no damage despite effort taking a quick third. From there Jangbi attempted to hold map control to defend his expansion using speedlots and dragoons, but once Effort's macro was up and running well enough he simply ran over Jangbi with mass hydras, as Jangbi's storm was far too late to defend. The second match featured Stork, the other Ace player of Khan up against Movie. Stork managed to do some fantastic reaver harass, with his scarabs seemingly immune to the stupid curse, while movie's harass did little to no damage. Despite some poor army control from Stork near the end of the game he was easily able to win with his huge economic lead.

Horang2 and Grape were the next two players to come onto the stage, and unfortunately for Grape his observer was quite late against Horang2's 2 gate DT build, and after losing almost all his probes he attempted to counter Horang2 but was overwhelmed by probes and forced to tape out. Snow and Roro showed an exciting PvZ but Roro demonstrated why he is the killer of anti-teams with exceptional lurker drops decimating Snow in the mid game. With the scores at 2-2 Hydra was sent out for CJ and unfortunately for Khan they had run out of star players and were forced to send Brave. Brave tried his hardest to overcome to horrible odds but Hydra's play was far too solid, easily taking the game and giving the match to CJ 3-2.


The final match of the week featured a grand final rematch between SKT and KT. Best was sent out first for SKT against Crazy-Hydra and while Crazy-Hydra attempted to take 4 bases on a map that didn't really allow for it, Best simply defended well, macroed up an army off 2 bases and crushed through Crazy-Hydras defences for his second consecutive PvZ win of the season. Bisu was sent out next against Action, and as much as I'd like to analyse this game, I think it is in fact much simpler ito say Bisu is too good. His PvZ right now was too much for Action to handle, despite depleting Bisu's early sair count and delaying his third base for a significant period of time he was unable to capitalise and fell by the wayside to Bisu's solid play.

Stats was summoned to save KT from a 3-0 whitewash and was successful, beating Soo in a long yet one sided game. KT knew that to win the series they would need to win the final 2 sets so instead of sending Flash as SKT would expect, Hoejja was sent out. While Hoejja managed to gain a significant advantage, blocking Sun's attempt at a mass speedlot build and almost overwhelming him with Hydralisks, he was unable to capitalise and Sun showed some impressive play to come back from the deficit and seal the match 3-1 to SKT, showing once again that the new format is particularly hard on KT.


STX is regarded as one of the worst teams this season, and everyone expected Woongjin to win easily. However, with a 2-1 lead, the "ace" of STX,
Bogus
, was given the chance to bring home the first win for his team. Spawning at 11 o'clock as the Orange Terran, he opted for a mech build on Ground Zero, getting gas right after his barracks. On the opposite side of the map,
Soulkey
spawned as the Teal Zerg, starting standard with a 12 hatchery 11 pool.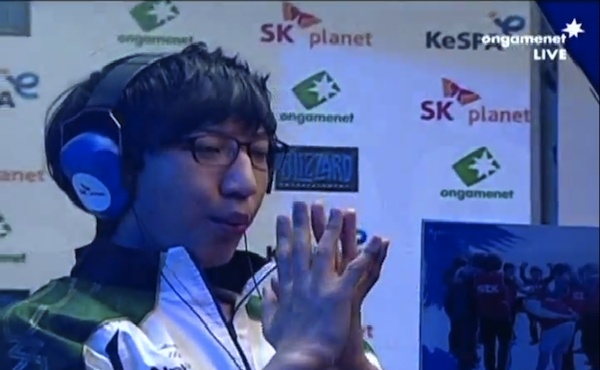 STX's ace, praying for his victory.
Soulkey sent out a drone to scout, to make sure nothing fishy was happening, but was denied a scout by Bogus's marine. Soulkey, being unaware of the mech build, did not build a sunken colony in his natural, and Bogus's vultures looked like they were going to do a lot of damage to the Zerg. The first vulture got to the unprotected natural and started killing zerglings with good micro. It failed to do much damage to the economy, but Soulkey was forced to make a lot of zerglings to drive out the vulture until zergling speed finished.
With speed finished, Soulkey was able to kill the vulture and rush towards Bogus's base to make use of the extra zerglings he had been forced to produce. However, as soon as vulture speed finished, Bogus could once again micro the vultures to kill the zerglings. Soulkey immediately reacted by sending the zerglings straight into Bogus's base so that the vultures had to go back while he built a sunken in his natural. Without this quick response, the vultures would have streamed directly into Soulkey's main and killed many drones.
With the sunken barely finishing in time, Soulkey was able to defend and get his spire tech up. The vultures managed to do a little more damage by sneaking behind the mineral lines until mutalisks came out. Because he had to watch out for a vulture runby, the mutalisks got to Bogus's base too late to do any amount of damage. Seeing that Bogus was building goliaths and going for a full mech build, Soulkey expanded to 3 o'clock and started building hydralisks.
Bogus built a very fast 2nd armory, looking to upgrade quickly and turtle until he could build an unstoppable mech army. Bogus built a 3rd command center, and after Soulkey saw Bogus's intention, he began expanding all over the map, with the idea that if he is able to slowly kill the Terran mech ball while losing only a few expansions, he would win the game. When Bogus saw that Soulkey was expanding without many units, he began to push out with his army. However, this was simply the bait for Soulkey to drop Bogus's main. Dropping only a group of hydralisks, he killed both armories, which meant that Bogus' upgrades, the strength of mech, would be that much later.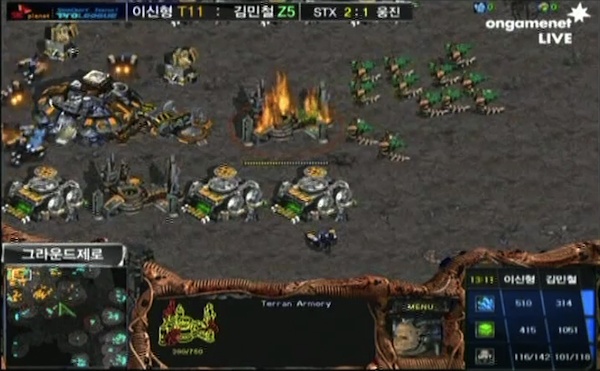 Stopping upgrades, stopping mech.
Soulkey took this extra time to expand twice more, taking both mains at 1 o'clock and 7 o'clock while getting his hive. Bogus kept his cool and did not move out prematurely. He built a good science vessel count while keeping up with his upgrades. Both players continued to harass each other with vultures and lurker drops. Bogus started to extend his lines with 2-1 almost finishing, but Soulkey made the first move by dropping Bogus's natural.
Bogus decided to split his army, half to defend, and half to push. Soulkey decided that this was his chance and attacked the half that moved out. With amazing defense matrices, Bogus managed to kill Soulkey's army while losing almost no tanks. With the other half of the army joining the force, Bogus attacked 3 o'clock and Soulkey's natural, killing 3 o'clock but being stopped at the natural by dark swarm and lurkers. Bogus then moved on to 6 o'clock, which had no defilers, while expanding to 12 o'clock.
Having killed two expansions, Bogus regrouped his army and moved to 1 o'clock for the kill. Good swarms and lurkers defended 1 o'clock, so Bogus decided to split his army and attack both 7 and 1 at the same time. Even if Soulkey failed to defend one of the two, Bogus would have a massive lead. Soulkey defended his 7 o'clock, and Bogus took this chance to move into 1 o'clock. It looked like it was dead, but a single lurker survived in the swarm, pushing the entire Terran army back.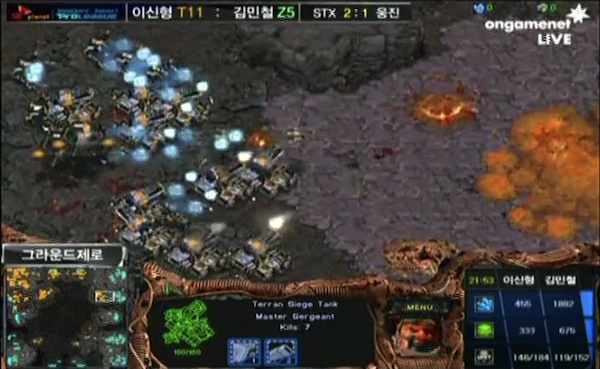 One lurker to stop them all
Soulkey kept pushing out at 1 o'clock, always getting at least one lurker in swarm and killing vessels with scourges. Bogus decided to change his focus again, going for Soulkey's natural while taking 9 o'clock expansion. Leaving a few units so Soulkey couldn't move out, Bogus attacked 7 and 1 o'clock simultaneously again, once again being thwarted by a lurker under swarm. When Bogus moved back to 6 o'clock, Soulkey attacked 12, but an amazing reaction by Bogus making a turret to block the entrance stopped the attack.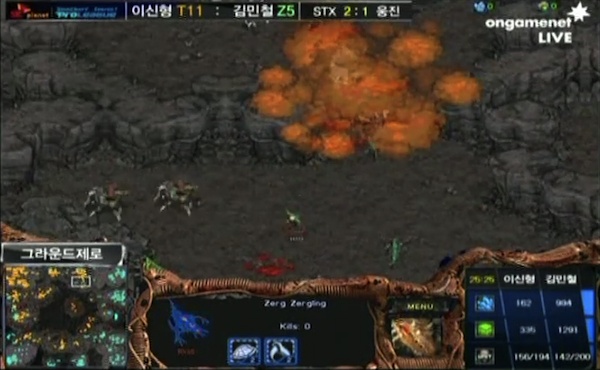 Gosu reaction saves the day
Convinced that he was going to win the match, Bogus began to siege the 7 o'clock main and Soulkey's natural, using dropships to avoid swarms. Soulkey lost the 6 o'clock again, but he managed to save his 7 o'clock with swarms and dropped at 12 o'clock with a small army. With Bogus's army focused at the lower part of the map, the command center fell and Bogus was down to one base.
Soulkey was also running low on resources at his other expansions, and had to depend on the 7 o'clock main. Bogus took the 7 o'clock natural and the fight came down to whether Bogus could take 7 o'clock main, or Soulkey could break out and take 7 o'clock natural. Even with great swarms, a huge number of tanks killed all the Zerg units before they got close to the tanks. As soon as Bogus tried to move up the ramp, Soulkey swarmed a large number of zerglings and hydralisks, killing most of the tanks that moved up. With another great swarm and lurkers, Soulkey was able to break out of 7 o'clock and take the natural.
With his tank count decimated, Bogus tried his best to push to 7 o'clock again, but Soulkey easily defended with swarm and forced the GG from bogus. If at any time Soulkey had missed a single swarm or failed to get a lurker into the swarm, Bogus's army would have killed Soulkey easily. However, one lurker and one swarm stopped Bogus long enough for Soulkey to create chaos by attacking many places at once and eventually won him the game.
Samsung Khan players absorbed in new game Chaos Online
If you had by some impossible chance wandered into the Samsung Khan dormitories on the 25th of November, you might have been shocked to see the team being completely immersed in a new online game instead of practicing Starcraft."It looks like Stork's bad habits have rubbed off on the rest of the team," you'd say to yourself, shaking your head. "What a pity, Khan had such great potential this season too." But fear not! Despite the recent change in captaincy, there are no actual plans for the team to abandon Starcraft in favor of MMOs and cell phone games.
It turns out that the Samsung boys were invited to beta test for the new game Chaos Online for the day (a game based off Aeon of Strife/DotA). So how did their Starcraft skills translate to this new game? The first 5v5 the team played was, quite appropriately, chaos, as most of the players had never tried an AoS-type game before, and had to learn about hero skills, item builds, etc. from scratch. But by the second game and beyond, the players began to show their true merits as Progamers. Out of all of them, Stork and Jangbi caught on the fastest. Stork, whose team beat Jangbi's team 2-0, said that despite hearing reports of high difficulty levels, he found the game quite easy, and that he enjoyed training up his hero. Coach January expressed her hopes that once these new invigorating domestic games become established, more users will have the opportunity to become progamers.
Sources & Images:
http://esports.dailygame.co.kr/news/read.php?id=52714
http://esports.dailygame.co.kr/news/read.php?id=52716
http://esports.dailygame.co.kr/news/read.php?id=52715
---
Reach, the Jaedong Fanboy
On the day of KT Rolster vs. Team 8 in Proleague, KT captain and resident Mantoss Reach was seen wandering around oddly with fans, searching desperately for paper. His reason? As it turns out, Reach, like everyone else on the planet, was a fan of the Tyrant himself, Lee Jaedong, and wanted his adorable signature. Jaedong happily obliged to the request, and that day, he became known as "the progamer that other pros request autographs from."
Source & Image: http://esports.dailygame.co.kr/news/read.php?id=52746
---
Yellow and Nada advertising for LoL Korea
Many of you may be wondering what the Kong has been up to lately. Ever since his stint in
advertising for PlayGG poker
, there has been little news about our Storm Zerg. However, it seems he's taken on quite a career in appearing in advertisements, as Yellow now stars, along with Nada and Moon (WC3), in an ad for Riot Games' League of Legends Korean server launch.
---
Stork sells progamer gear for charity
This year at the WCG Grand Finals in Busan, Stork helped host an event in which various progamer possessions were auctioned off, all proceeds going to a children's charity. All of the four teams that attended Proleague in Busan donated items, with signed uniforms from Bisu, Best, and Fantasy, a t-shirt signed by all the KT members, plus Flash's keyboard, CJ member shirts and banners, and Stork's own Samsung Khan leather jackets, one of which was
purchased by yours truly.
---
Bisu's reaction to SC2 HotS
A while ago, our community was struck with the odd news that Bisu, Jangbi, Jaedong, and Fantasy would be making an impromptu trip to Anaheim for Blizzcon 2011. We spent days speculating what the purpose was, with a popular suggestion being that Blizzard brought them over to entice them to switch over to SC2. We all wondered what these four BW titans thought of their beloved game's successor, and although there are still no concrete answers to all these ponderings, here is a short clip that provides us with some insight through Bisu's (very cute) reactions to SC2: Heart of the Swarm.
Seeing as it was the Kwanganri Generals first time in the Imperial capital, he could have allowed himself a few moments of awe and amazement, but seeing as tourism was not on the schedule, he decided it was best to not show any emotion at all. The closer he came to the SKT Empire's palace, the harder it was to hold his gaze on the street and his imperial escort rather than the massive towers and monuments, the grandeur of which only paled compared to the victories they were dedicated to. The imperial escort of 6 men he was assigned exemplified why the empire had had so many successes. Hard training and dedication was apparent not only from their physique but also their movement itself, synchronised to the point where comparisons with machines became hard to avoid.
Finally, after a long walk, he saw the palace gates, and a statue that even he could not avert his eyes from - in front of the palace towered a 50 foot man, leaping out of the trench to smite the Yellow god of the KT protectorate. The founder of the Empire had almost risen to a god status himself, but as time went on, his successes became but a standard the Empire got used to. Successes that were no longer there, since the Protectorate had gained in strength lately and thwarted the Empire in the very moments that should have been triumphs. Hence the Empire looked to strengthen itself by turning it's eyes on Kwanganri, the protectorate dominion that had been the site of many SKT victories and a holy site for the Emperor Park himself.
It looked less glorious to the Kwanganri general himself, who saw the land as no more than a war-torn hellhole. The resources were there, but political instability didn't allow for much time to exploit them. With a man such as himself at the Empire's service, they'd have a good chance at conquering it again, though. He knew the Kwanganri lands and people inside out, and even considering that, the Empire had made a very generous offer to him, most likely due to losing Generals Oov and Dock at Shanghai.
The palace garden was fittingly to a warlike empire, a training ground itself. The Empire always depended heavily on it's military, and every emperor in history woke up to inspect the troops as the first thing most mornings. Hit-and-run attacks were on the agenda today, and the Terrorist forces accompanied by the Revolutionist were truly a marvel to behold. The Emperor was there as well, a tall man with cold eyes, dressed in orange. Any lesser man would have looked ridiculous in the outfit, but the Emperor himself was a fearinducing sight, challenging and defeating opposition with but a glance. The captain of the Guard signaled the general to take a seat next to the Emperor, in a much, much smaller chair, of course. The following demonstration would certainly leave no doubt about the SKT Empire's might.
The much smaller forces led by the two exemplars of SKT made short work of the forces that had to fight against them. Defensive positions were overwhelmed without giving the defenders time to react, while any counterattack attempted ended up being encircled and crushed by troops that came out of nowhere. The Emperor looked satisfied, and gave orders to start over again before stepping down and giving the generals escort allowance to leave. With a smirk on his face, he said "Now then, would you accompany me to the palace interior?" While formulated as a question, the tone didn't really allow any hesitance or even opposition. While he did his best to reply in a firm manner, the "Of course", he boomed i response ended up sounding undignified and shaky. "Who could blame me?" the general thought to himself. It's rare to get such an invitation from Emperor Park, even for most state guests.
Obviously the information he would give the Empire would be deserving of gratitude, but a private audience with the Emperor was but a fleeting dream to all but members of the Empire's High Command. The Emperor didn't spare him a second glance and marched on in, and prompted that they were not to be disturbed. Even the Emperors guard looked baffled, but the general managed to regain his composure and followed the Emperor inside before he could ask a second time.
The garden inside the palace was as marvelous as the rest of the city with hundreds of exotic plants he'd never seen before, and the Emperor wanted it to sink in. They walked for a minute in silence, finally stopping near a waterfall in a pavilion. Finally, the Emperor spoke again: "As the northern General of Kwanganri, your services to the empire would be a most welcome addition. I hear you have a proposal regarding the invasion of Kwanganri?" Impressed as he was, now was the moment to speak, pulling out the map he had stored for just this purpose. "Following the intervention, the Protectorate has built a secret base here, next to the Parting Canyon.
When approached from the canyon itself, the element of surprise would allow us to crush the northern Protectorate presence and set up our own forces in the city of Hollostein, which is loyal to me. My forces will meet you in the Canyon in three days." The Emperor looked disappointed. Did he see a flaw in his reasoning? Had he been to rude in proposing a time to attack? The silence made him uneasy. Suddenly, he was overcome by sharp pain in his chest. He could feel cold steel piercing his lungs as he struggled to breathe. The Emperor started speaking again, this time in a soft, condescending manner. "Even after I show you all the glory of the Empire, you'd still oppose me? The canyon is a trap, and you are a Protectorate spy. Your death will be slow and painful for this personal insult."
As the Emperor finished talking, the blade was twisted inside him by the Revolutionist who'd come out of nowhere. Finally, it was pulled out, but everyone there knew he would painfully struggle breathing until death. To spite him one final time, he heard the Emperor speak one final time, but no attention was paid to him this time around. "Eliminate the Protectorate forces. No prisoners." Both men started to leave the pavilion, leaving nothing behind but the sound of the waterfall and the last breaths of the Kwanganri general. The Empire would have victory in Kwanganri, no matter the cost.
Current Proleague Prediction Challenge Progress: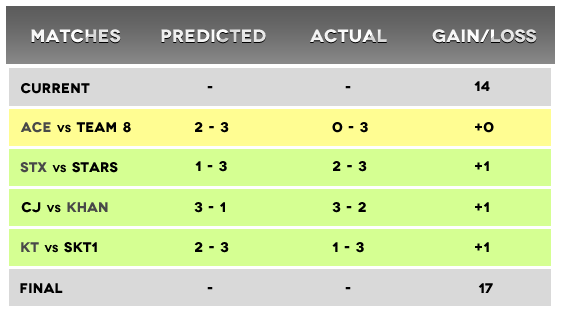 + Show Spoiler [The Rules] +

If I predict the winner and the result correctly, 3 points
If I predict the winner correctly, and the result is off by 1, 1 point
If I predict the winner correctly and the result is off by 2, 0 points
If I predict the winner wrong, and the result is off by 1, -1 points
If I predict the winner wrong and the result is off by more than one, -2 points.
Tuesday, 13th of December
This looks like it will be a great year for KHAN. After the long slump of Great, it looks like it has a Zerg again in Roro and Shine, Jangbi and Stork are firing on all cylinders again, and the Terran line looks very promising. They are certainly a title contender, and hence should stomp STX with ease. This is how I picture the game will go:
Modesty
-
Sniper Ridge
-
RorO
Sniper ridge is a map where STX is likely to send a Zerg, which KHAN will likely counter with either Stork or Roro. If it isn't a build order win, I expect the KHAN player to own house.
Shuttle
-
Electric Circuit
-
Shine
Electric Circuit is tricky, and I think KHAN might roll the dice and send Shine out for the first time. Against a team like STX, they can afford to try out Shine, even if he loses, they still have plenty players to win. The safe option would be Jangbi, but hey, where'd the fun in that be?
Bogus
-
Jade
-
JangBi
I still haven't really figured out Jade. It seems a pretty good map for Terran though, and hence, Jangbi is pretty much the perfect choice to counter Terran. If Jangbi was sent in set 2, I imagine Stork to play here. STX pretty much has to win a game by now and sends Bogus.
hyvaa
-
Outlier
-
Stork
The reason Hyvaa gets sent out is likely because he keeps hoping to snipe a Protoss. On Outlier, he might get lucky, since this map seems overwhelmingly P heavy. Will it be enough? I doubt it, but he'll try anyway.
Outlier
Calm - Chain Reaction -
Reality
I doubt this match will reach Chain reaction, but if it does, I foresee a tense... Oh wait, this is STX we're talking about. KHAN fans will probably go WTF at the sight of Reality being sent out, but he won't fail harder than Calm and win the game which will be recommended because of the plentitude of lulz. Too bad it won't happen.
My prediction:
STX SouL
1-3
Samsung KHAN
Wednesday, 14th of December
I am probably shocking noone if I say that SK Telecom is the overwhelming favorite this match. The SK Telecom Protoss line is frighteningly strong, and they have decent Terran and partly decent Zerg backup to boot. In addition to that - even the nondecent Zergs Hyuk and s2 are good at ZvZ, which means a lot vs. Woongjin, who rely heavily on their Zergs to win. What is more, Zergs has had a very low win-rate the last week, the notable exceptions being CJ Zergs and Soulkey. Most surprisingly, a lot of them look weak vs. Protoss, which spells bad news for Stars and a likely easy win for SKT. How do I think it'll turn out?
BeSt
-
Ground Zero
-
Neo.G_Soulkey
BeSt is becoming a pillar of SKT again, especially with him seeing success in PvZ, his former weakness. This map is a good macro map, making it ideal for him. Unfortunately for him, I think his ZvP streak will end when he faces Neo.G_Soulkey in a clash of abnormally large armies.
Bisu
-
Chain Reaction
-
Light
With Bisu on fire like this, he'll be played in the first 3 sets in every game, preferably where Zergs are likely to feature. Since this map has seen the most Zerg action out of the mappool, he'll likely try his luck here, but alas, the Woongjin coach might have a similar idea and send Light. Anyone knowing Light's vs. P prowess can imagine the result vs. the Top ELO ranked player.
Fantasy
-
Electric Circuit
-
ZerO
Electric Circuit has seen it's share of wacky builds, and if the word Wacky comes to mind, Fantasy can't be far away, especially after being denied playtime the last two games. Woongjin will try to be equally wacky with ZerO, and the wackfest (I love that word) will end with Fantasy reigning triumphant after a Valkonic build or a 2 base BC rush vs. wacky-Crazy Zerg.
n.Die_soO
-
Sniper Ridge
-
free
Sniper Ridge seems like a good fit for Light (lol) but I think we're going to see more PvZ. As if we hadn't had enough of it by now. N.die_Soo will get his long overdue first victory of the season against free, which will also likely put to rest the rumours of free's revival.
My prediction:
SK Telecom T1
3-1
Woongjin Stars
Saturday, 17th of December
The battle of the underdogs is usually a match many will ignore, but what it lacks in ace players, it makes up for in desperation and drama. Both teams will want to win this match bad, ACE to prove itself as a team that can hang around the middle of the pack, and STX to finally open the score and give it some momentum to rebound. The popular consensus seems to be that ACE has a slight upperhand, but thanks to some shrewd play by mini and Calm, I would actually give it to STX if Bogus doesn't draw the ass card to face FBH again. FBH is more than capable to win against everyone on STX and the addition of Kal should allow for valuable insight into the minds of the staff there, something that it formerly lacked. Anyway, this should be tense, and if STX doesn't win this, all hope will likely be abandoned by yours truly.
My prediction:
Air Force ACE
3-2
STX SouL
The Protoss giants of the Proleague going head to head will bring about a lot of despair in their closely tied fanbases, but it makes for an exciting game of the week, if you don't loathe PvP. If it weren't for Park's excellent sniping ability, I wouldn't be able to make a prediction, but I'm fairly certain that unfortunate matchups will be KHAN's undoing this game. Since both teams are stuffed with great Protosses, and because the matchup is so volatile, I predict nerves getting wrecked, stormdrops becoming more epic by the set and even the PvP haters being awestruck by the jawdropping reaver micro. This should go to the last set, but ultimately in SK Telecom's favor. Be excited!
My prediction:
SK Telecom T1
3-2
Samsung KHAN
Sunday, 18th of December
Woongjin Stars vs. Team 8
In terms of strength, Woongjin is likely the second most difficult opponent Team 8 has faced this season. Since Team 8 has been largely spearheaded by it's Terrans, Woongjin's very strong ZvT players will either bring victory or become a liability in ZvZ-s. Light is on fire, and if he can avoid a Protoss, he will likely win. If the three main players get bad matchups though, the game is as good as over for Woongjin. Free can be about the same strength as Tyson or Jaehoon, but he'll likely falter vs. the rest of Team 8, and Shy's nerves against the ones of former Ace players simply won't stand comparison. I don't have a high opinion of Woongjin's coach, so I'll give it to Team 8.
My prediction:
Team 8
3-1
Woongjin Stars
I wouldn't even watch this match if it weren't for the possibility of a CJ player facing Flash, especially Effort. Effort has completely wrecked any opposition to CJ the last two weeks and seeing him square off against the ultimate weapon would be exciting to say the least. I guess it's also interesting to see if KT will continue to field Zergs or if Mind and Wooki will be used instead, but ultimately, CJ should dominate this match as it has the others.
My prediction:
CJ Entus
3-1
KT Rolster
Game of the Week:
SK Telecom T1 vs. Samsung KHAN. Two TBLS members, many good players in very good form, including the two last OSL winners and a semi-finalist. Watch this game.
This Proleague update was brought to you by Team Liquid's SPL 2011-12 R1 coverage team - riptide, HawaiianPig, Kiante and mustaju, with guest writers Kiett and l10f and guest editor SirJolt. The graphics are courtesy of the talented alteredclone. See you all next week. Good games, and good night!