by: KwarK
Game One
JangBi spawned in red at 8:00 while Fantasy got yellow at 12:00 on Pathfinder. Fantasy opted for a standard wall-in at the top of his ramp while JangBi straight up fast expanded with what I believe (no unit counter at the time) was a twelve Nexus, thirteen Gateway. Probe production suffered a little as JangBi built an Assimilator and then a quick second Gateway, but Fantasy hadn't scouted him yet so JangBi felt free to stay at just a single Zealot and concentrate on Probe production.
Fantasy scouted relatively late and went the wrong way as well, so the Nexus was already up and running before he saw it, long after the timing window in which he could make an aggressive move. He had to settle for a later tank expansion himself, which was a considerable loss in the build order fight.
Terran can tank expand against a wide range of Protoss builds and still get a slight advantage. On a map with a ramp it's extremely easy to use it as a standard opening and stay safe against most openers, whereas Protoss can get behind trying similarly ambitious builds. Things are slightly better for Terran when they take a slightly faster expansion while the Protoss has something like Robotics tech, but Protoss players have learned to accept that deficit and win anyway.

However, what we saw here was JangBi getting away with a completely unscouted twelve Nexus which gave him a significantly faster expansion than Fantasy, which puts him massively ahead. Fantasy still had options against this, such as abusing the late robo to try something weird like a deep six or a fast four fact one machine shop vulture all-in with cut SCVs, but it pretty much ruled out any macro plays. JangBi's stronger econ would either give him a timing to take a quick third with mass units or to map control with tech and expand later. Whatever the case, the early economic advantage planted seeds for a later economic advantage.

The tank expand opening is just not versatile enough to face an unscouted twelve nexus; all it can smoothly transition into is standard play, which accepts the deficit without doing anything to overcome it. A rax CC opening or a faster scout with the potential to send SCVs, Marines, and a Vulture may have been better.
JangBi chose to spend his extra income by taking a quick second gas and rushing out a Stargate. Meanwhile Fantasy sent out Vultures to establish a presence on the map and delay JangBi's third. Rather than conceal his Carrier tech and divide his income to get a Robotics, JangBi built a Corsair - a move I loved.
As mentioned above, Fantasy's best transitions to actually get ahead involved weird builds that abused the lack of an observer to hit with a timing attack. Macro plays such as taking a third about the same time JangBi would not get him ahead. JangBi's Corsair allowed him to scout exactly what Fantasy was doing for the cheap price of 100 gas compared to 375 gas plus 75 for each additional Observer. That extra gas is crucial when you go two base Carriers, as it lets you build Dragoons which are exactly what you need a large core of to hold the map while you make your Carriers. It may have warned Fantasy that carriers were incoming, but you could reasonably expect a player who prepares as hard as Fantasy to drop a scan at an appropriate timing. Maybe showing the Corsair gave Fantasy 100% confirmation of Carriers, but at the same time it scouted against cheese, freed up the gas to hold off a timing attack designed to kill before critical mass Carriers.
Fantasy took his back mineral only which is very easy to defend while JangBi took a slightly later expansion at 6:00 (as he was delayed by Vultures). JangBi's first two Carriers flew out to make their presence felt while his Dragoons stayed at home and blocked off the entrances to his expansions against Vultures. As he took his third base he added his robo to begin to the transition into a more balanced army. Fantasy decided he needed to be aggressive and went for a push down the left hand side.
Even though the base sites here are the opposite to what he'd want (if there positions had been reversed, JangBi's gas expansion would have been exposed) it was still way better than the approach Flash took on Pathfinder where you sit in the middle of the map and die.
The Carriers were able to punish Fantasy for every inch he crept down the passage, buying time while JangBi's main army sat in the middle of the map refusing to contest the push. Then, as Fantasy finally got entrenched behind JangBi's natural, JangBi's main army stormed up the centre of the map, now with an Observer to clear the mines, and countered into Fantasy's natural. His factories were producing only Goliaths, lured into believing that the fight for the game would be whether he could hold onto the beachhead behind JangBi's natural and siege the mineral line. Suddenly he was fighting Dragoons with Goliaths in his natural while his push was cut off with zero momentum. His attempt to take a fourth base at the gas expansion was shut down and his push was too weakened to push in for the kill or return home. Once the Carriers joined the fight at Fantasy's natural, the game was effectively over.
Post-Match Analysis
This game was decided by gas income, which in turn was decided by the fast expansion. That's not to say JangBi didn't make some smart plays; it's just when trying to understand why his plan worked so well you need to look at the income.
JangBi took a very quick second gas and his third was at a gas base as well. That let him get Carriers, Observers, mass Dragoons and upgrades. Meanwhile Fantasy's second gas was considerably later and he took a mineral only third. The counter to what JangBi was doing was Goliaths, upgrades and Tanks (Vultures are pretty worthless against a conservative three-base Protoss going Dragoons and Carriers). Fantasy just didn't have the gas for the Tank count he needed. He lost a significant number of Tanks to the carriers on the push down the left hand side, and while he still had enough to resist a head on push-break attempt by Dragoons, he did not have a sufficiently strong Tank core to his army to actually move. If Fantasy ever tried to unsiege, push forwards until he saw JangBi's army, and resiege, he would have simply died. Without that core of Tanks, all Fantasy had was Goliaths against Dragoons, and on a large scale the vast difference between Dragoon damage and Goliath damage outweighed the impact of a few tanks.
Fantasy didn't have enough stuff to fight in the open and when he committed everything he had to holding a beachhead behind JangBi's natural, JangBi was sufficiently mobile to just let Fantasy have that position while he counterattacked. Fantasy needed the Goliaths to hold his position against the Carriers, which in turn he needed to execute his plan of sieging the natural. However, he didn't have the Tanks defend his own base, which would have given his army the mobility to react to JangBi's moves. It all boils down to a lack of gas.
One thing I think Fantasy could have done which would have been effective was a biomech switch the moment he saw the corsair. He could scan to confirm Carriers while getting the Marine upgrades and throwing down three rax. If he was lucky or placed the Barracks particularly well, there might have been a delay before the corsair scouted the infantry switch, while he was pumping two factory tanks all the while. M&M have sufficient DPS to absolutely shred interceptors, at which they're even more effective than Goliaths. Also, they would have forced a massive tech switch on the part of JangBi to deal with them effectively. Once Fantasy saw two base Carriers, he should have known JangBi was completely locked into that build, and that the addition of Reavers, High Templar or even zealot speed would have been ugly transitions that would split JangBi's resources.
With time working against Fantasy, I think four rax bio with tank support would have hit a very sweet timing, and once his mineral only was up he could pump near limitless marines. It's a transition I've seen Sea do several times and it's surprisingly effective, hitting some very difficult timings for the Protoss to deal with while not committing the Terran very heavily (three extra rax is just 450 minerals).
***
Game Two
JangBi spawned in red at 1:00 while Fantasy got yellow at 5:00 on La Mancha. JangBi opened up a standard core build and scouted the wrong way while Fantasy went for a fourteen CC. He added the normal rax and bunker and was completely unharassed. JangBi responded with a fast citadel after Dragoon range and went for a Templar Archives counter-expand off one Gateway and three Dragoons. That still gave him a very late expansion compared to Fantasy, who had siege mode done and was macroing safely. JangBi added a second gas and rushed towards arbiter as while his DT did some very limited damage in Fantasy's main. Turrets were already being built and he had few opportunities for kills.
As Fantasy recalled some Vultures to clean the DT out of his main, JangBi hit the natural with two DTs that chopped down the detecting turret while Dragoons tanked the bunker. However, there was a secondary Turret further back and once the Vultures laid their mines JangBi's DTs were rendered completely impotent. JangBi was forced turtle himself in at his natural while Vultures gave Fantasy total map control. Having gone for three DTs, a few Dragoons and a fast Arbiter off of a slower second base, JangBi was really hurting for gas and struggled to get an Observer out whereas Fantasy simply took his third at 6:00.
JangBi counterexpanded to 12:00 but Fantasy was still completely safe, sitting on his three bases and getting his upgrades without any urge to expand or pressure. With his opponent having zero need to move out, JangBi decided to throw away his first arbiter and a group of dragoons with a bad recall. He summoned his units into Fantasy's main while throwing zero units at other fronts. Fantasy was able to simply send some units and kill the attack, taking next to no losses. There was no objective to the recall; Fantasy wasn't pushing out so it didn't cause a retreat; he wasn't pressured on other fronts so he didn't have to divide his forces; it was simply a few Dragoons isolated in his main which were cleaned up in seconds.
Vultures were very effective at killing Probes and disputing map control as JangBi tried to expand across the top and take the main and natural at 11:00. Probes were forced off the mineral line at 12:00 several times, and also caught trying to transfer to the 11:00 bases.
Then, inevitably, Fantasy pushed out with Goliaths, Vultures, Tanks, Science Vessels and good upgrades. JangBi pulled him into the middle of the map and then countered with a recall at 6:00. However Fantasy judged that he was sufficiently far across the map that he couldn't save that base, and went for the base trade as he was within striking distance of JangBi's main and gateways. Fantasy's reinforcements were sufficient to contain JangBi's recalled army inside 6:00 while his army in the middle of the map was unstoppable. Fantasy's economy suffered from losing 6:00 and having an expansion attempt at 3:00 thwarted, but his army was able to maraud around the map killing JangBi's stuff wherever it happened to be. JangBi's bases fell in quick succession, and he was forced to GG.
Post-Match Analysis
This was simply a case of fourteen CC working. Fantasy was never pressured economically. He got a faster expansion, faster third and by the time JangBi actually took the expansions that he needed, Fantasy already had an unstoppable army. JangBi displayed no real initiative. His expanding was unambitious, his play was passive and his recalls were pointless. At no point did JangBi show any evidence that he knew how to play against an upgraded Terran blob. He had no High Templar, just two Arbiters and a load of random ground stuff. It was just pitiful. Without the massive build order advantage of the first game forcing Fantasy to play into his hands, JangBi appeared to be incapable of PvT.
***
Game Three
JangBi spawned at 1:00 in green while Fantasy got 5:00 in purple on Gladiator. Fantasy opened with a normal depot-rax at his natural to threaten fast Nexus plays but JangBi scouted on eight and found Fantasy on his first try. Fantasy transitioned normally with gas while JangBi delayed his core and took a fast nexus while pressuring with Zealots. Fantasy was defending fairly easily with Marines but JangBi was able to add a core, a second Gateway and had the economy to use them while Fantasy hadn't taken his own expansion or even scouted his opponent's.
Fantasy's SCV eventually scouted the Nexus and he counter-expanded, but JangBi's was already up and he was beginning his pylon wall. Fantasy had no real opportunity to pressure; instead he had to accept the deficit and try and recover. JangBi added a robo for observers and took a third at 12:00, staying ahead economically while keeping safe and gathering intel. Fantasy saw the attempt to take 12:00 and realised he was behind and wasn't going to be recovering economically. He decided to delay his Starport and added pure Factories for a timing attack. JangBi added a Reaver to try and get some initiative and pressure Fantasy. As Fantasy moved his army up towards the mineral only JangBi struck with a pair of shuttles and blew up depots and the armoury with reavers. Fantasy was forced to pull back while JangBi's stronger economy just let him get even further ahead. Eventually he had enough stuff to just attack move into Fantasy's base and kill him.
Post-Match Analysis
As in the first two games, game three was decided by a fast expansion which was not met with sufficient adaptability. The superior economy was allowed to go unchecked and the result was predictable and, if I'm honest, rather dull. The dual speed-shuttle play was rather cute but there was nothing else notable this game. It was simply a Protoss with more money making more units and then winning.
***
Game Four
JangBi spawned at 1:00 in brown while Fantasy got 7:00 in yellow on New Bloody Ridge. Both players did standard openings and neither scouted fast, just content to just tech up. A hidden second pylon by JangBi may have been an attempted mind game to confuse Fantasy's SCV but given that Dragoon range was on the way, there wasn't much that could have been hidden. The first interesting thing to happen in the game was Fantasy's addition of an unscouted second Factory.
Two Marines sat at the front to prevent scout Probes while more Marines hid in the back for an old fashioned V-Gundam style push. JangBi didn't suspect anything though, and unwilling to take the massive economic hit that results from expanding after Observer, he had to risk an expansion. Fantasy confirmed the expansion attempt with a scout and pushed out. He had three tanks to begin with while his Factories pumped Vultures and worked on their upgrades. On the other hand, JangBi lacked the Observers to contest the push. Some mines outside his natural left map control completely in Fantasy's hands, and he was able to cross the map and simply siege up outside of JangBi's natural. By the time the Observer appeared, it was far too late to do anything about the containment.
Fantasy repaired the tanks with SCVs, added turrets, kept renewing the minefield and there was simply nothing JangBi could do. Fantasy was in an excellent defensive position and JangBi didn't have the forces to break it, nor would he have the economy to break it ever if he lost his natural. The push continued up into his main.
However, JangBi made the best move he could by counter-attacking with a Shuttle and Reaver which killed ten SCVs and completely shut down Fantasy's mining. Suddenly JangBi actually looked in decent shape. To finish him off Fantasy would have to abandon the choke and push into the more open terrain in JangBi's main, walking over his own minefield without the income to build new Turrets or new Vultures for new mines. It looked possible for JangBi to win, as he was still mining heavily, still making new units and getting slightly ahead every second. Fantasy had just one scv mining.
With this in mind it's upsetting to me that JangBi decided he needed to try and break through the choke at the narrowest point while his economy was in no way threatened and while he actually had the advantage. He had a decent count of Dragoons and a Shuttle with Zealot bombs, something very dangerous for Fantasy to push out against without money for Turrets, repair or new mines. Needless to say, JangBi lost all his stuff trying to break out, and Fantasy was able to kill his main. He then simply lifted his CC and flew it to the safety of his push with the turrets, ending the game (JangBi still had the option of killing the CC with his remaining Dragoons during its LOOOONG flight across the entire map to force a draw, but the possibility conveniently slipped his mind).
Post-Match Analysis
This was a classically executed Gundam push which worked exactly as it's meant to against the blind expansion it was built to counter. However JangBi's counter harass should have won him the game. He was earning far more minerals and was spending them effectively. Once Fantasy's economy was shut down JangBi just needed time. He could have done any number of things such as taking a hidden expansion at 12:00, buying time with Dragoons and then simply elevatoring his entire army and probes up. Once in open terrain, he was safe. He could also have simply held on and stopped Fantasy getting past the choke. He probably could have broken it if he'd just waited a bit longer. But he didn't, despite the fact Fantasy wasn't yet shelling his base, despite the fact Fantasy was camping in the most defensible point and despite the fact that Fantasy was just getting further behind as time progressed. It was depressing.
***
Game Five
JangBi spawned at 4:00 in white while Fantasy got 8:00 in red on Pathfinder for the fifth set. JangBi opted for another twelve Nexus followed immediately by gateway, as in game one, while Fantasy scouted earlier than in game one. However he still scouted the wrong way and didn't find the fast Nexus immediately. Critically, Fantasy kept three SCVs on gas, indicating a Starport or second Factory build that was completely unscoutable for JangBi. Meanwhile JangBi cut his second pylon and therefore probe production for a faster second gateway, opting to use his Nexus as the second pylon, despite it finishing a bit late to hit the ideal timing.
Fantasy added a quick Starport for Dropship while his marines pushed back JangBi's Probe to feign a fast expansion. However the two Gateways produced a legitimate force very quickly which was able to threaten Fantasy. Scouting just a single sieged tank JangBi correctly sensed a Dropship build and rather than push in he pulled back and placed Dragoons around his cliffs. Fantasy dropped behind the back of JangBi's expansion with two vultures and a tank, stopping mining at the natural while the mines prevented any counterattack. However once he saw the Stargate he pulled back as it was not tenable to hold that position when a single Scout could dislodge him.
Fantasy took a slower expansion himself while making a new army to pressure down the right hand passage and JangBi contested it with two gateway Dragoons, continuing his original plan to go for Carriers. Without an Observer to clear the mines and lacking Zealot speed or a decent Gateway count, JangBi could do nothing about the right hand side push. Fantasy got it established and was able to stop mining at the natural with a tank with a Dropship scouting and then elevatoring units up into the main - stopping mining and depowering the Stargates. Very fortunately for JangBi, Fantasy messed up his micro on the Wraith that providing vision, JangBi was able to free up mining at his natural just as the mining at his main was neutralized. With the Dropship dead, too, the Carriers were able to isolate and destroy the high-ground tanks and re-allow mining in the main.
Fantasy tried to correct his mistake with a new Wraith to give vision and was once again able to shut down the mining at JangBi's natural. However, his reinforcements were forced to travel along the bottom edge of JangBi's base to join the main position, and JangBi's Carriers were free to harass them every step of the way. Buying time with his Carriers, JangBi was able to get an Observer out and as in game one, he promptly counterattacked down the middle with his dragoons. This delayed a critical round of reinforcements for Fantasy, and Fantasy pulled back to defend.
Critically, despite having a decently defensible position on the right hand side, Fantasy was unable to stop JangBi's mining because of a lack of vision. A single floating Engineering Bay would have limited JangBi's income for several minutes. Unfortunately Fantasy didn't think of that and kept losing, then waiting several minutes to replace his single air units. JangBi eventually massed enough Carriers to snipe the tanks while ignoring the turrets, and then used Dragoons to clear out the position behind his bases for good.
At that point, both players were on two bases while neither really had map control. Fantasy took a third at his mineral only but was near mined out in his main while JangBi's mining had been very disrupted so his remaining minerals were relatively high at this point. With a decent Carrier count, JangBi was able to harass around the edges of Fantasy's main. Then, as Fantasy tried to set up in the middle of the map, he critically sniped a half dozen tanks with his carriers leaving Dragoons and Goliaths to contest the field. Despite some Carrier losses, the trade was obviously good for JangBi as Goliaths are worthless against Dragoons and Tanks are hard to replace on just two gas. Still on two bases, JangBi was able to move around to take out Fantasy's mineral only and then back off, his Carriers having vastly superior mobility to the mech.
Despite having the same number of bases JangBi had a much greater income. Fantasy exacerbated this situation by not immediately lifting his main and retaking his mineral only the moment it came under threat. JangBi had map control and was able to start thinking about a third while Fantasy could only try a desperate Wraith switch. With Fantasy going one base Wraith and JangBi taking a third with a gas the game was done. Fantasy rebuilt his mineral only Command Centre from scratch and made no moves towards taking a new gas expansion which would help given he was pumping mass Wraiths at the expense of Goliaths and Tanks. As in game one, his tank count suffered hugely and he simply didn't have the units to contest the mass Dragoons on the ground which were able to simply attack move into the mineral only. Fantasy scanned the Carrier-Dragoon army and actually did a fairly good job taking out the multiple Observers hovering over twenty Dragoons. However, JangBi had still amply overproduced Observers, and the Wraiths posed no threat. All that was left for Fantasy was a last ditch push out into the middle, and a GG.
Post-Match Analysis
This game is frustrating because Fantasy so nearly got it right. He was able to push forwards and seize a beachhead in a strong position before the Carriers got out, abusing the lack of gas for Robo by mining up the route through which Dragoons could counterattack. He got set up with Turrets and Tanks within range of the natural. It was all looking great and then he didn't do any damage for the lack of a single floating building. He had SCVs right there making turrets and lifting an ebay above the front tank to hide it from Carrier sniping and gettingt vision is a pretty standard play (bad Terrans loved to do that to me on ICCup whenever they slowpushed me). Yet Fantasy used his only Dropship to get vision, lost it, and then started a new one from scratch, losing valuable time he could have spent destroying JangBi's income. At one point he had both the main and natural mineral lines within range of tanks which would have played out pretty damn well if he had any sort of vision, but JangBi just kept on mining. Fantasy took the sweet spot that would have won him the game and then failed to close it out, instead suiciding a few units at a time past the dragoons and into JangBi's natural to try and get vision with them. It was horrible to watch. Once JangBi broke free - which was inevitable once he got Observers out without taking too much damage - the game was over.
by: contagi0n
As our wonderfully painted banner shows, JangBi was the one hoisting trophy up high at the end of this OSL. That doesn't mean JangBi was the only player in the tournament deserving of recognition, however. With that in mind, we present to you the return of the...
Best Player of the Tournament

Winner: JangBi
Runner Up: Killer
What a shocker, the best player of the tournament award goes to the winner of the tournament! JangBi pulled off series wins against the world's top two TvP players by ELO, and trounced a ZvP specialist on unfriendly maps. That's not to say there weren't other contenders for best in tournament, however. Hydra and Fantasy both looked scary as well, but had an easier path than JangBi this OSL, and in my opinion JangBi really did outplay Fantasy in the finals. Flash of course looked strong in the RO16, but not strong enough: neither Hydra nor Shine provided him with the most rigorous TvZ tests in the world, and against Shine at least he still looked nowhere near untouchable in the matchup, even on Pathfinder.
I almost gave the top spot to Killer though. Killer didn't drop a single game until the RO8 except for one ZvZ in preliminaries, and played with the same intelligence and stunning micro that made Jaedong a sensation in the past. The only match-up he had little opportunity to display was his ZvP, and in the one ZvP he did play he beat the eventual champion with a sudden, decisive Hydralisk bust. Even in the series he lost he looked vastly superior to soO. In fact, the only reason Killer didn't steal this one from JangBi was the distinct lack of S Class players in his path. Just remember "ppp" next time Killer.
Worst Player of the Tournament

Winner: Modesty
Runner Up: hyvaa
Congratulations Modesty, you win the worst player of the tournament award, which is very likely the most prestigious award you're ever going to win. After being seeded directly into the RO16, Modesty was fortunate enough to only get ZvZs both in his RO16 group and in his RO8 match against Hydra. Look at Modesty's career win rates: 40% vT, 36% vP, and 58% (!) vZ. In other words Modesty doesn't stand a chance except for his ZvZ. And guess what: Modesty's ZvZ didn't even look that great this tournament!
hyvaa, unsurprisingly, was almost as underwhelming. After relying on his own not-terrible matchup (ZvP) to carry him to the RO16, he gave an unimpressive showing in ZvZ and got quickly knocked out. The reason hyvaa is a step above Modesty is because he actually fought his way into the RO16 from the preliminaries.
Most Creative Player

Winner: JangBi
Runner Up: HiyA, Killer
Unfortunately this wasn't a very hotly contested category this time around. JangBi wins in the creativity department for his scouting corsairs against Fantasy, his willingness to stray from forge FE in PvZ, and the random dark archon in game 3 against soO. Even ignoring rare units and cute tricks, JangBi definitely showed the greatest variety of strategies and play styles of any player in the whole tournament.
In a day and age where few players are bold enough to risk straying from safe and conventional play styles, you have to admire a guy like HiyA who's willing to try crazy stuff even in important matches. We didn't see much from him this tournament as he hasn't been stellar lately, but he cheesed Fantasy and built an entire flock of valkyries against soO. That flock of valkyries was maybe the single craziest idea anyone tried this OSL. Killer also gets a shout out for his clever use of offensive guardians against BaBy (read Ver's analysis of the game
here
).
Story of the Tournament

Winner: soO's Royal Road Run
Runner Up: None
When asked to think of the best example of the underdog who overcame the odds, the hero everyone rooted for but no one thought could go the distance, there's only one player that comes to mind for StarCraft fans around the world, and that player is soO. No player captured the hearts and minds of players quite like soO did in his inspirational Royal Road run. Given his consistently awe-inspiring play, it's not hard to understand how he became everyone's underdog favorite. soO quickly became a hero for Zerg and SKT fans alike, two fan bases tragically deprived of top players to rally around these days. After a hard-fought and completely deserved victory over Killer in the quarterfinals in spite of every disadvantage KeSPA could throw at him, soO's courageous fight against the odds sadly ended in just three quick games in the semi-finals. It was a day of mourning for the fans, for Bunkie, and for StarCraft. soO fought as hard as he could for the future of ESPORTS, but the cards were stacked against him from the start. I guess theres just no more room for miracles in Brood War anymore.
Games of the Tournament
First Place: Tie between Fantasy vs. JangBi game 5 (
VOD
) and JangBi vs. Flash game 2 (
VOD
)
JangBi's comeback in the last game of the JinAir OSL finals will be remembered as one of the greatest moments of Brood War history. It was a true fairy tale ending that I could have never dreamed was possible. In my opinion JangBi's second game vs. Flash was just as incredible, and JangBi's victory was equally unexpected. That was the real beginning of the JangBi revolution.
Second Place: Shine vs. Hydra (
VOD
)
If you think that ZvZ needs Hive tech to be entertaining you clearly haven't seen this game yet. Lots of tension and amazing micro throughout.
Two wonderful displays of ZvT: Killer's ingenious strategic decision making and Hydra's marvelous tactical play.
Missing In Action Award

Winner:Bisu
Runner Up: Bogus
Shout Out: Hogil
Sure, Bisu doesn't have the best track record in the OSL, but knocked out in preliminaries? Really? And by hyvaa of all people. After a powerful return to form in which he became the win leader in Proleague, everyone has been waiting for him to make waves again in an individual league. Once again, the legendary Zerg slayer was conspicuously absent.
Bogus surprised everyone when he came into his own this last year as one of the best Terrans in the scene. This should have been the OSL where he showed off the newfound skills that kept STX afloat as Kal and Calm slumped. Unfortunately, he got stuck in a group with Flash and Jaedong in the ODT, and that was the end of that.
Also, Hogil deserves a mention, though not because anyone would have expected him to go far. Hogil's retirement before the start of the OSL left a seeded spot in the tournament to fill. Ongamenet held a wildcard tournament for the spot, giving already eliminated second place finishers in the prelim groups a chance to fill in for Hogil. The rest, as they say, is history.
One Hit Wonder

Winner: hyvaa
Runner Up: Hyuk
This was an easy choice. hyvaa knocked out Bisu 2-1 in prelims, and did nothing else of note the entire tournament. Jaedong and Hydra would be underdogs going into a bo3 against Bisu, but hyvaa pulled it off. Go figure.
I decided against declaring soO a one hit wonder for his run in this tournament, as his play was solid enough and it's early enough in his career that I could see myself eating my words all too easily. Therefore his fellow SKT Zerg gets it instead. Hyuk played some pretty solid ZvZ and then failed hard against Fantasy. A lategame Zerg on hive tech and multiple bases just should not lose to four Vultures, no matter how well microed. That's just ridiculous.
Best Map

Winner: Pathfinder
Runner Up: Bloody Ridge
Yes, Pathfinder. The map you've all been referring to as s***finder the entire tournament. It's not the best balanced map in the world - as often is the case with less conventional maps - and there are definitely some highly abuse-able features. For all the whining, however, Pathfinder has produced some of the most amazing games the throughout the OSL, and a lot of that is because of Pathfinder's unique layout, rather than in spite of it.
Bloody Ridge has also produced some great games. Bloody Ridge is a fairly small two player map, and so lends itself to aggressive play. On the other hand, it also gives each player an easy to reach third and lends itself to dynamic army movement with three different ways to reach the opponent's main.
Pimpest Play
Winner:
Via Fomos message boards..
. 'Nuff said.
Runner Up: Killer's 7 pool against MajoR (
VOD
). Killer delays the wall-in for nearly 30 seconds by blocking with a Drone, busts it with his Zerglings and manner hatches after routing the defending SCVs (LIKE A BOSS).
Best Series

Winner: Fantasy vs. JangBi
Runner Up: Fantasy vs. Hydra
The hype was through the roof, the energy at the war memorial was electrifying, and the series itself was the most exciting BoX in years. Base races, carriers, unbelievable comebacks, ballsy harass, pretty much the only thing this series didn't have was psi storms.
Two borderline S class players with underappreciated TvZ and ZvT respectively, Fantasy and Hydra both went into the semis with a lot to prove. Neither disappointed and the result was a highly entertaining TvZ BO5.
Worst Series

Winner: Killer vs. soO
Runner Up: Hydra vs. Modesty
It's a good thing that day two of Killer vs. soO was followed directly by JangBi vs. Flash, because it was exceedingly depressing to watch. Killer stood out in a flood of zergs as an exciting player with amazing potential, and is clearly in a whole other league than soO in ZvZ. Killer got screwed over because he failed to follow a pointless regulation in responding to the faulty equipment OGN provided him with, and then got the worst luck in the world with nearly the worst BO disadvantage in ZvZ, still almost made an incredible comeback, but couldn't quite hold. What a terrible way to be eliminated.
Hydra vs. Modesty was a straightforward, relatively bland ZvZ series. It had some interesting moments, but it was still definitely the least interesting series. At least Fantasy vs. Hyuk had some hilarious fail.
Player Most Likely to Win Next Season

Winner: Flash
Runner Up: Bisu
I still can't get over how unstoppable Flash looked even with his wrist injury, given the toll it must have been taking on his performance and practice time. With that handicap removed now, the rest of the progaming world must be absolutely trembling with fear.
If the terminator is somehow stopped however, there are a lot of potential candidates for most likely to win next season. I am inclined to say that Bisu looks like the next strongest candidate to take a Starleague. I should know better than to choose Bisu as a player to watch out for in the OSL, but he is just all around rock solid. Bisu is a big favorite against Zerg, and against Terran he holds the third highest ELO of any progamer, behind just Flash and Jaedong. He is also the most highly ranked PvP player right now. If he doesn't lose to Flash, he should be favored against almost any other player out there right now. Fantasy is another strong contender: based on history Fantasy is an easy choice to make it further than Bisu, but based on play I would favor Bisu. Jaedong needs to restore my faith in his ZvZ before I give him the nod; he should crush any protoss besides Bisu, and his ZvT might be the best in the world right now. And then there's JangBi…
by: 2Pacalypse-
Once upon a time there lived an unhappy young StarCraft player. His confidence had been failing him and most of his fans had betrayed him. All his hard practice and occasional strokes of brilliance were for naught as he continued to slump. And it was no ordinary slump for our young player; it was a pit that had no bottom, with only blackest night visible above him.

But it was not always like this, you see. There was a time long ago, even before this time, when the young StarCraft player lived a happy life. He was recognized and respected by his fellow StarCraft players and the many fans of pro-gaming loved him as well. And then, there was the fall. No one can say how our young StarCraft player was ruined. Some say it was the curse of a spurned lover, while some claim that a jealous rival hexed his magical mouse.

Whatever the reason, our young StarCraft player became mired in despair with no one to lean on, to the point where he had evil thoughts of ending his ESPORTS life. But remember, this is a fairy tale. Hope may flicker in the wind, but it is never snuffed out for good. Our young hero held on to that sliver of hope, and continued to strive towards his goal of greatness.
I'm pretty sure you all know the immortal Cinderella story which your parents told you as a bedtime story to assure you that every story can have a happy ending.
JangBi
's story is not much different than original Cinderella story. I'm sure it's already being told by Korean parents to their children, because let's face it,
JangBi
storms are much more epic than misplaced slippers. While undoubtedly quite a few of you would tear up while reading the adventures of Cinderella, I'm pretty sure it can't be compared to all the
nerd tears shed
at this OSL finals.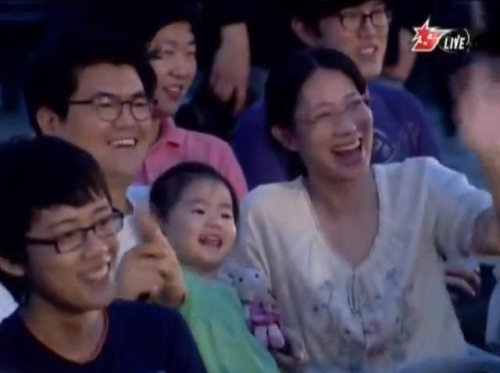 From now on, this kid will go to sleep while hearing the real
Cinderella story.
In sports jargon,
Cinderella Story
refers to a team or a player who advances much further in a tournament than anticipated. If anyone deserves to have his Cinderella story told in the world of StarCraft, it should definitely be
JangBi
. A little trip down to a memory lane is in order to show you why exactly this is a perfect example. It all started in late 2008 when
JangBi
reached three Starleague finals in just 5 months, receiving a silver medal in each. Even though he didn't win any gold medals during this prominent time, he still holds the highest ELO peak in PvT match-up and was part of the infamous

Six Dragons
group.
After getting his third silver medal in March of 2009, something snapped in
JangBi
's mind. I guess not everyone can be a part of the Kong line where they can continuously put out good performances while acquiring one silver medal after another. Some players apparently have a limit on the amount of silver medals they can take without a gold as affirmation, and for
JangBi
that limit was three. Players slump all the time, but JangBi's slump could be called one of the worst in StarCraft history. To showcase you exactly how much that third silver medal was a breaking point for JangBi, let's take a look at his record from that point in time.
From the beginning of first MSL where
JangBi
took his first silver medal to the end of his third silver medal run (a span of six months), JangBi had the following record:
09/18/2008 - 03/21/2009
All - 56 wins - 24 losses (70.00%)
PvP - 18 wins - 8 losses (69.23%)
PvT - 22 wins - 5 losses (81.48%)
PvZ - 16 wins - 11 losses (59.26%)
Now let's take a look at his record for the rest of that year after his last MSL finals (a span of nine months):
03/22/2009 - 01/01/2010
All - 27 wins - 31 losses (46.55%)
PvP - 9 wins - 10 losses (47.37%)
PvT - 9 wins - 8 losses (52.94%)
PvZ - 9 wins - 13 losses (40.91%)
Dropping from 70% winning rate to a 46% winning rate in just a couple of months, that's got to be some kind of a record. Things didn't get any better for
JangBi
throughout the whole of 2010 as his winning percentage was just 45.71% for that year. This was a particularly hard time for JangBi as a StarCraft player, because a lot of the so-called fans that he earned with his strong play during the Six Dragons era had turned on him and he quickly became a target for ridiculing by Korean netizens. I won't lie, I hadn't really been a huge
JangBi
fan myself during his era of dominance and when he was slumping he was a "safe" choice for my Fantasy Proleague anti-team. I didn't really put myself in his position and think about what was he going through while having poor results in his games. In April this year,
JangBi
gave an
in-depth interview
where he brought the emotions he went through while being in his slump. During the interview, he said:
I still remember when I lost to just zerglings in a game and my coach said "if you're going to be like that, then let's stop". If I took that comment in negatively, I really would have gone home but I took it in as a positive thing and I worked hard, which is why I think I could have a "godly" period at one point.
I think none of us knew just how much foreshadowing those words contained, because we were busy wiping tears from our cheeks reading just how close
JangBi
was to retiring. And just like a phoenix rising from the ashes, right about the time after that interview, JangBi started performing well again in Proleague and then went on to achieve the impossible, winning a hard earned gold medal in the Jin Air OSL finals.
JangBi
's road to OSL finals wasn't exactly made of rose petals and we'll talk about that in a bit, but first a short intermission.
http://www.youtube.com/watch?v=F3IbwjeCx6U
It's impossible to do an article on
JangBi and not link his trademark video. Enjoy.
JangBi
had an extremely shaky performance in the early phase of this OSL. Even though he won his group 2-0 in RO24 and showed strokes of his old brilliance, the RO16 was where things got messy. He started his group with a very disappointing 0-2 record and managed to grab a very important win against
BaBy
at the very last moment. As fate would have it, another two players went 1-2 in his group, forcing tie breakers between the three of them. Despite being at the brink of the elimination,
JangBi
miraculously beat both of his opponents in the tie breakers, qualified for the Ro8 and remained as the last Protoss hope in the OSL.
This was the part of the tournament where people started bringing the
Legend of the Fall
into the discussion and frankly, I was so excited to see if it would come true yet again. After barely squeezing through his group,
JangBi
had to pass the hardest test for any StarCraft player. He had to play against
Flash
. Yes, THE
Flash
! I don't think there's a greater test of your skills as a StarCraft player, than to play against the Ultimate Weapon. After losing his first game in the Bo3 against the Flash, no one in their right mind thought JangBi could defeat Flash two games consecutively a few days later. And yet, the stars must have aligned perfectly or a fairy granted JangBi his wish as he did just that. He won against the motherf***ing Flash 2-1 after being down 0-1. Incredible!
Winning against Flash apparently gives you a giant boost to your confidence as in semi-finals, JangBi simply obliterated his opponent
n.Die_soO
3-0, in PvZ no less, which is considered JangBi's "weak" matchup. After watching JangBi's beautiful play in semi-finals, everyone knew that JangBi was here to win the OSL. Call it the Legend of the Fall, call it fate, call it I'm-sick-of-silver-medals, call it whatever the f*** you want, but everyone knew that JangBi WOULD WIN THIS OSL. And he did.
And it was beautiful
. People cried for f***'s sake!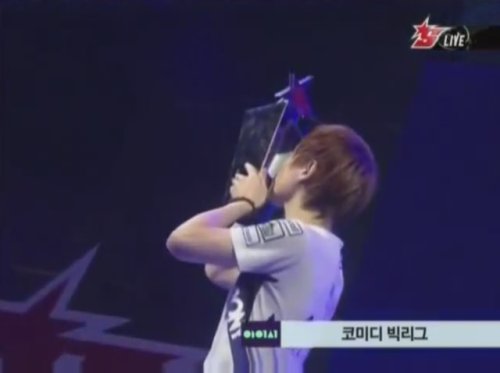 F*** YEAH!!!
There were a lot of things that made this finals extremely emotional and for the lack of a better word, epic. From the history, atmosphere, amazing games, legends, everything was put together to provide us fans, with a perfect OSL finals that will be remembered for many years to come. One thing I didn't put a lot of emphasis on in this article is, how great the games in the finals were. From the first to the last game, everyone was sitting on the edges of their seats, cheering for their favorite player. It has also been reported on the Korean forums, that the amazing show which
JangBi
and
Fantasy
gave us in this finals raised interest of some of the new sponsors. You should all learn from JangBi and Fantasy how NOT to hurt ESPORTS!
But certainly the most amazing aspect of this tournament was
JangBi
's fairy tale run where he told his very own,
Cinderella Story
.
by: riptide
It's December 2007, and I'm hurrying across campus. My classes have just finished for the morning, and I'm making a bee line to the computer lab so I can load up the TL LR thread and see if my Zerg hero had beaten Upmagic. He had. It was the 7th of December 2007, and Lee Jaedong was in a Starleague finals.
I was ecstatic. Arriving on TeamLiquid after the
3/3
, I began my journey as a Broodwar fan in a world where the swarm had fallen. Yet, in July, the very month that I signed up for a TL account, rumours began to circulate. Having bagged a 2nd place finish at the July 2007 StarChallenge S1, a young upstart Zerg was making headway in Korea. Qualifying for the OSL, he went on to bag first place at the
2007 Seoul International e-Sports Festival
.
http://www.youtube.com/watch?v=og-gULrg1Jo&feature=player_embedded

Arguably the greatest OSL intro moving picture of all time.
Many months later, on a cool December evening here in the subcontinent, I watched the VODs, Yakii be praised, as my hero
walked the Royal Road
. A small part of me still believes I willed it into happening. I wanted that story to be written. Jaedong was meant to walk the royal road, and with every moment of every game in that Starleague, I believed.
Everyone has a defining moment in their life as a fan of this great game, and for me, this was it. I had spent months reading about the exploits of Boxer and oov, the dominance of Nada and Savior, and now, for the first time, here I was seeing it first hand.
Lee Jaedong, a hero of our times.
A few days later, Hot_Bid published
Heir Apparent
, and my fate was sealed. I knew I wanted to write for TL. I've been here for nearly half a decade now, and though I've read and written through many, many tournaments, there is always something I come back to. The OSL. The OnGameNet Starleague, to me, is not just the most prestigious ESPORTS competition in the world.
The OSL is Brood War.
The OSL is the cold clanking of a sieging tank, the shrill squeal of the zergling and the immortal cry of the zealot. The OSL is
Boxer in Coca Cola
.
Nada in Panasonic
and
July in Gilette
. It is the tears shed at
EVER 2004
, the
bitter disappointment of So1
and the
the single jewel in the crown of a King at Shinhan 3
. The OSL is every alarm clock you have set so you wouldn't miss a stream. The OSL is every post you have made, every thread you have read, every translation you have pored over. The OSL is every silent prayer you have uttered as your hero took to the booth.
The OSL is about a story, told and retold, from mensrea and
Waxangel
, down the ages, passed on from generation to generation of Broodwar fan. The OSL is the story of you, the story of me, the story of TeamLiquid.
Most of you reading this piece have seen hundreds, if not thousands of games. You have seen players rise and fall and watched strategies shift and times change. Yet, all of you have a few special moments, a handful of memories that you carry with you, some of them written out in 240p from a time before HD, some of them jotted down in long forgotten LR threads.
And sometimes, if you're really, really lucky, on a starry night in Seoul, you will get to add to those memories, and for a moment, a minute, a second, as psi storms fill the sky and a zealot drops from a shuttle to accomplish the impossible, the unthinkable, you will be filled with the awe and wonder what you felt when you first found this beautiful game.
For when you distil its essence, the OSL is just that - a decade long story.
The story of us.
http://www.youtube.com/watch?v=KOvqcUCwUok