Raleigh in Hindsight:
By: Heyoka
If someone was to come up and ask what happened at Raleigh, you would be able to response in a single word.
Koreans. Koreans happened.
Okay that would be 3 words, but only for emphasis as the first part implies the second. Just as in
Anaheim
, we saw an abundance of Koreans. A Terran won again too, if you're the kind of guy who likes to whine about such things. And wants to ignore the ZvZ loser's final.
Bomber was certainly the story of the weekend. Before coming in he seemed like a clear favorite, even Waxangel was unable to express his current form in words, instead choosing
a fine picture
to describe his skill relative to peers. Not only did he come and conquer, he looked completely
untouchable
for much of the weekend. He looked like a bored house cat, toying with opponents instead of outright killing them purely to amuse himself and fill his time.
P4ndemik
was embarrassed to say after the event he didn't even see Bomber play until day 3, and when he told those around him it looked like Bomber wasn't even playing his best they rolled their eyes in telling him it had been happening for days.
What other things happened? More Koreans. Each group was not only won by a Korean player (no real surprise), only DongRaeGu lost a match in group play (and it was to Trickster). More impressively, PuMa did it from the open bracket, rocketing through opponents of every shape, style, and nationality.
The story was largely the same in the bracket. SjoW and HuK were impressive, but eventually the show turned into GSL America. Not that this is a bad thing, CoCa and DongRaeGu are largely unknown quantities even after impressive GSL/GSTL appearances, and seeing their play up close is an intimate affair not soon forgotten. Remember, though, there was hope this was to be "our" event, the remote location reducing the GSL-player numbers to something more manageable. It stands as a reminder that the NA/EU style still has a long way to go to match that of the Eastern counterparts.
It would be remiss not to mention Trimaster. Oh, Trimaster. The only non-Korean out of the open bracket, he dispatched of both HayprO and IdrA before falling to HuK.
Reddit
gives it justice as only Reddit can.
In the end here is how the top 10 stacked up.
And this represents how those in the pools finished.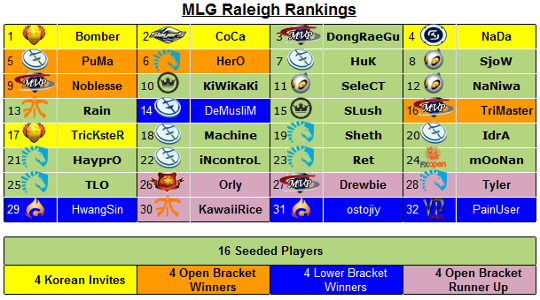 Courtesy of Primadog
---
Selected Games
By: Heyoka
Times To Remember
Every MLG produces games. Lots of them, many of which are enjoyable or notable in a variety of ways. Too many, probably, for people who have things like a "job" or a "family". Here are some things, for you, the viewer with things to do besides watch MLG. Because that's all we do here.
It is far from conclusive, and if you're interested you can always use the
MLG.tv
page to find more. Most of the big name matches are good throughout, like the NaDa vs Puma series, which is also another good option for picking out the games you want to find.
KiWiKaKi
vs
PuMa
on
Tal'Darim Altar
What's To Love:
No matter how tough the competition, Kiwi has neat and unique ways to play. Playing a long series of fantastic matches this weekend, he only lost in pools to one person, and in that series he won the first game. In this game he uses a funky stalker+colossus 2 base timing attack that looks straight from 2010, watching the whole thing unfold is very odd. Who needs zealots?
TriMaster
vs
HuK
on
Tal'Darim Altar
What's To Love:
Tal'Darim seems to be the match made for TvP. Bio vs colossus and storm is always amazing there, even more so when it is a Code-S competitor against the man who just eliminated his EG teammate. A back and forth PvT ensues, with HuK barely edging out defeat multiple times only to finally succumb.
NaDa
vs
PuMa
on
Metalopolis
What's To Love:
The best way to watch this game would be to see the whole series to understand context, but that might take the better part of a night. After losing 1-2 to Puma in pool play, NaDa comes back and ties the extended series at 3-3. The final game he is on the ropes dead in his base, only to make a miracle save and pull it out in the long game with some fancy maneuvering
SjoW
vs
Hero
on
The Shattered Temple
What's To Love:
Hero, perhaps misreading Sjow's opening as the start to a 1-1-1 proxies a stargate. Sjow holds it off after taking some damage but not too much, and decides to counter. It is close to being deadly, but Hero barely holds with some incredible blink micro and then counters, to snatch a victory from the hands of defeat when he arrives barely before a bunker finishes constructing (also more blink micro, Hero is particularly good at that).
DongRaeGu
vs
CoCa
on
Metalopolis
What's To Love:
A best of three to decide who will face Bomber in the grand finals, the two split the first two games and then face on Metalopolis. An incredible show of control and decision making from Coca, he earned a win and a lot of respect with this series as one of the lesser known Code-S participants. This game showcases a lot of why this guy will be someone to look for in the future, and why Ares[Effort] has been in love with him for months.
Bomber
vs
CoCa
on
Shakuras Plateau
What's To Love:
Coca shows some more great play, when he fends off bomber's 2 rax opening and then proceeds to kill off Bomber's first force with his initial 8 lings. Bomber goes on to show some even better play when he pushes out and controls the center of the map without ever getting combat shields, thanks to Coca destroying a tech lab during research. Apparently dodging baneling hits is every bit as easy without extra life if you're Bomber (or...Terran?).
Rain
vs
NaNiwa
on
Shakuras Plateau
What's To Love
: There is a nuke. And it wins the game. Not long or close, entertaining nonetheless.
Bomber
vs
DongRaeGu
on
Shakuras Plateau
Whats To Love:
I forgot to add this but people mentioned it is awesome. A ton of stuff happened, crazy micro, huge macro game, and Bomber being himself with scans, mules, and a damn nuke. Another nuke! Bomber is flashy and that rules.
---
The BarCraft Manifesto

by Blurami (Ottawa), Primadog (Los Angeles)
and the organizers of your local BarCrafts
If you read a paper copy of the Wall Street Journal recently, you might have been rather confused by "a Dark Templar" on the front page. Is this StarCraft? What is this BarCraft thing? How did it manage to slip under your TeamLiquid Radar? Here's the down-low from the men and women behind BarCraft:
BarCraft
is a grassroots movement to bring eSports to bars in every city and town throughout North America. The term combines the venue of choice, usually a bar, and StarCraft, the game this movement has developed around. BarCrafts are not-for-profit events organized by local nerd-ballers who are passionate in their efforts to bring eSports out of their houses and into bars, clubs, and hearts.
It is not a new concept to watch an eSports tournament with friends or strangers - Korea has been doing this for over a decade. in North America,
Diggity
has been hosting semi-public, live viewing parties for Brood War tournaments since early 2007.
Chromate
was the first to host a large-scale public viewing of a StarCraft 2 tournament, at the Revue Cinema, Toronto in December, 2010. However, something was missing, and the live-watch scene for StarCraft 2 remained stagnant.
It was Glen "
o_Oskar
" Bowers who struck upon the magical formula - the addition of sweet, sweet
beer
- and with other regular patrons coined the term "BarCraft." For more information about Oskar's eureka moment, read TeamLiquid's
previous feature on BarCraft
.
The innovation is beer!
Photo: Yida
For the NASL season 1 finals, four inaugural BarCrafts in Seattle, Washington, San Francisco, and Toronto showed the matches and served the beer. Fun was had by all. Fans across North America saw the brilliance of this "Alcohol + SC2" concept and approached local bars, hoping to experiencing the same excitement. Beer rocketed the BarCraft movement into exponential growth. There were only 4 BarCrafts operating in early July; by July 31st,
fifteen
BarCrafts tuned in to the MLG Finals in Anaheim. Today, there are
over thirty BarCrafts
meeting regularly around the world!
For MLG Raleigh, 6 BarCrafts met
in California alone
, and over a dozen more lined the
Eastern seaboard
. The movement has even spread overseas with the first European BarCrafts in
London
and
Stockholm
, and has extended as far as
Australia
! At this rate of growth, the BarCraft phenomenon will soon become an eSports staple worldwide.
There is no organization overseeing BarCraft. The individual, local organizers communicate over Skype, on the r/BarCraft
subreddit
, and through TeamLiquid's
Community Forum
. Members of these communities go in droves to their local BarCraft and in some cases, are hoping to start their own. It is the goal of the current BarCraft organizers to help and encourage these people. We have an excellent support structure in place for new and experienced organizers to exchange knowledge about venues and ideas, and can provide templates for useful documents such as flyers and posters. We are doing everything we can to keep the movement as open and accessible as possible. As long as there are people willing to put in some time, we will support them.
Now we ask for your support. We can spread and plant the seeds, but in order for this movement to bloom and for the StarCraft scene to gain the tremendous public support seen in South Korea, we need your help. If there is a BarCraft in your area, stop by! If there isn't one in your area, consider starting one. There is a time investment but it isn't overwhelming, and you'd be surprised to find there are many local people willing and happy to support you.
Check out your local BarCraft and help jump-start your local eSports community today!
---
Hurricane Irene
: Overblown
By: Antoine
In the week leading up to MLG Raleigh, the whole East Coast was in a tizzy about Hurricane Irene, the first major system of 2011. Not only was there interminable coverage in the national and local media, but people in the gaming community were also worried.
What kind of impact would this enormous storm have on MLG Raleigh?
A lot of people wanted to know.
No
less
than
five
threads
were made here on TL with people concerned about Irene interfering with MLG. Some people were worried it would prevent transportation, some people thought it would hinder the running of the event itself, and some anticipated Dallas-like problems with the stream.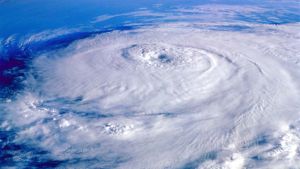 Some who were planning to spectate suddenly had second thoughts. Eager to head off those notions and keep people coming, MLG's Sundance
tweeted
a picture of clear skies right outside the venue, which, along with weather models continuing to show the storm tracking east, helped to assuage a lot of the fears.
Irene did end up following those easterly models, and the weather was hardly felt at the venue. There was some light rain throughout the weekend with brief bouts of stronger rain around dinner time Friday and occasional strong winds, but it didn't actually interfere with anybody's movement or actions during the event itself.
In the end, the effect that Hurricane Irene had on MLG Raleigh was entirely minimal. Spectators still showed up in droves. Although some people were delayed getting in and others had issues going home, proper planning made it so that nobody (that I know of) missed any matches because of the weather. And the stream, while it did have some hiccups, was largely flawless all weekend – thanks in part to the
biggest satellite dish
at an MLG to date.
So despite all the hullabaloo, the actual impact Hurricane Irene had on the event was virtually the same as that of the other natural disaster last week, the Virginia earthquake – almost none at all – and thank Elly for that.
*Author's note: I am fully aware of the devastating impact Irene had on other areas of the country, and in no way mean to disparage that. This article is solely about the effect of the hurricane on MLG Raleigh.
---
Relative Viewing
: A Brood War Fan's Story
By: Flamewheel
If you know who I am on Team Liquid you'll know that I started eschewing SC2 shortly after the conclusion of the Beta. I'm one of the few staff left that is almost entirely of the "BW4Lyfe" mentality; I played the SC2 campaign, though virtually the only interaction I have had with Teamliquid's SC2 community has come through the strategy forum looking for people to report and checking Live Report results to see if NaDa/Boxer/July had won or not.
I have nothing against StarCraft 2. It's more like I didn't have a computer to play it on and simply didn't have the time to allocate toward watching games. Brood War holds my interest. However, as one stop on the 2010 MLG circuit was 45 minutes from my university, I decided to take a gander at what StarCraft 2 had become. I consider myself a hipster -- I went to MLG Raleigh last year, right as StarCraft 2 was undergoing its inception into the ESPORTS world.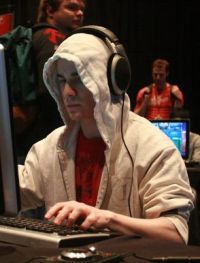 MLG Raleigh 2010 was definitely impressive, but I don't remember being impressed. The atmosphere didn't strike me as being particularly infused with the
awesomeness
that I had come to associate with the OSL and MSL. As a new game, Starcraft 2 was relegated to the front-ride side of the convention center. There were too many Terrans -- TvT back then was not as interesting as today. There were definitely not enough Zergs -- out of 32 players, only Sheth, Machine, and Slush were there to represent the swarm. There was too much PvP: the winners' final, losers' final, and by extension the grand final consisted of 10-minute games that involved both players attempting to one-base each other with Stalkers (guess some things haven't changed). After Tyler lost early on, I had nobody to cheer for.
I'm not saying nothing was good -- Meeting Day[9] was a blast, and I still have his troll face prop. It's always nice to be able to put faces to usernames on Team Liquid. Still though, my gateway experiences into SC2, MLG Raleigh and the first GSL, disappointed me. I stopped watching or caring about the game, only occasionally checking in on patch notes so I could troll debate my friends.
Fast forward one year. MLG is back in Raleigh, and this time at the event StarCraft 2 is much larger, the game more balanced, and the scene more developed. No hurricane could cancel its appeal, StarCraft 2 is in the center of it all, and I would say a huge majority of the people in the convention center came to watch RTS carnage. Furthermore, running on the success of Dallas, Columbus, and Anaheim, MLG Raleigh was generating some major hype. The player list was more balanced this year, and with so many Liquid` players in attendance (and NaDa!) I had quite a few people to cheer for. The games, too, were on average more exciting. I don't know if it's the maps MLG chose, but I saw so many more extended macro games than I had expected to see, and not just dry, boring games. I watched Bomber's mules, scans, and finally nukes wipe the floor with DongRaeGu. I cheered when NaDa came from behind in the extended series to win over PuMa. I cried when HerO made the snap decision to go all-in against DRG in game 6 (seriously, the nexus was .5 seconds from finishing T_T). Overall, the games themselves were relatively exciting, and I actually felt some connection to them. Beforehand, only the results had mattered to me. But at MLG Raleigh 2011, I actually felt excitement, disappointment, and occasionally rage (à la IdrA).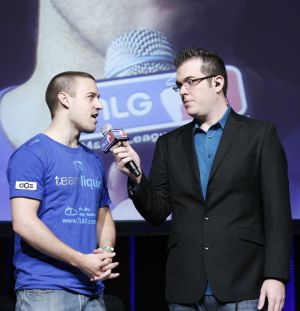 Raleigh definitely changed my opinion on StarCraft 2. Yes, the game still has its imperfections. But remember, StarCraft 2 is still young. Despite how much Blizzard has trolled us in the past year, I still have faith that they'll make it through in the end. Rome wasn't built in a day and Brood War didn't become the balanced game that we know and love in a year; some of the biggest changes coming in the final patches. Given enough time, I think StarCraft 2 could become a worthy game to rival Brood War in completeness and perfection (though for me to say that it would overtake its predecessor is blasphemous), and most definitely it is and will continue to be the driving force behind the development of ESPORTS in the international scene.
I had some unifying theme before I started writing this, but as all my articles go I lost it halfway through. I suppose what I'm saying is: if you're a purely BW person (though if you are, you probably aren't reading this) don't lose faith in StarCraft 2. It's definitely not a static game, just comparing this year's MLG Raleigh to last year's is evident enough. There are many patches yet to come and two expansions in development. I have full faith that in the years to come, we will all look back and laugh about how 4gate/roach all-in/25-kill banshees used to be the norm.
And if you're a purely SC2 person that has never played or watched Brood War, I urge you to check it out. At the very least, you'll gain an appreciation into the workings of how
StarCraft
became what it is today.
MLG Photo-gallery
By: zemotion
We would like to give specials thanks to zemotion for sharing her professional photography with TeamLiquid. Jinn is a member of Infinity Seven and photographer of Studio Zemotion. Her work can be found at www.zhangjingna.com and www.facebook.com/zemotion , or www.twitter.com/zemotion .