Shinhan Proleague 2010/2011 - Team Liquid Coverage
It's over. After a year long regular season, we're finally here, standing on the edge of another electric playoff run. The lines are drawn, the die is cast, and we have our top six. SKT sits proudly at the top with an overall score of 39 - 15. Five wins ahead of CJ and seven ahead of KT, they finish the 2010-11 Proleague regular season with a commanding lead.
Woongjin, Samsung and STX tail the top three into the playoffs, with STX just edging out 2009-10 PL runners up, Hwaseung Oz. FOX, HERO and ACE fill out the bottom four alongside Oz, and will have to be satisfied with watching the final round of Proleague from the sidelines.
Read on as Kiante takes you through this week's games. Next, as if SKT smashing the regular season wasn't enough, Boxer's boys also destroy FPL in the form of Tardy's all SK Telecom T1 FPL team. One round, all SKT, no trades, ez win - HawaiianPig explains all in his FPL wrap up.
The big news of course, is that it's playoff time! This week, the Stars take on KHAN and KT takes on STX. Mustaju has the previews ready, so be sure you check them out as you jump into this week's games. It's crunch time for these four teams. Their long race to the top starts today, and between them and a PL win lie not only these preliminary games, but also matches against top dogs CJ and SKT. Yes, they made the playoffs. Their problems however are far from over, and if you're a fan, now's the time to support them to the hilt.
All this
has happened before
. All this will happen again.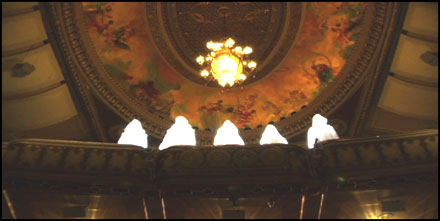 The five lights of the apocalypse rising struggling towards the light, the sins revealed only to those who enter the temple, only to the chosen one.
Who will face SKT in Shanghai? Let's find out.


MBCGame HERO
3 < 4
Air Force ACE

Pain
<
Neo Aztec
>
ggaemo
HyuN
<
New Bloody Ridge
>
Orion
Saint
<
Icarus
>
PianO
Tyson
<
New Empire of the Sun
>
firebathero
Jaehoon
<
La Mancha
>
Peace
Hwan
<
Neo Beltway
>
M18M
Tyson
<
Alternative
>
ggaemo
Ace kept up their relatively good form near the end of the season to take down a struggling MBC 4 - 3. The match itself had no consequence on the end of season standings, so both teams took the chance to give their lesser known players a go. Unfortunately this led to some disappointing games with Ggaemo crushing Pain, Hyun taking a comfortable win over Orion and M18M utilizing the power of carriers to stomp a helpless Hwan. Saint and Piano played an extremely sloppy game, with both players acquiring and losing the lead on more than one occasion, but in the end Saint was victorious. Tyson continued his slump and was run over by FBH who utilized vulture harass and followed up with a weird ceremony that apparently had something to do with DBZ. Jaehoon and Peace played a fairly exciting game, with fantastic harass by Jaehoon, but Peace's good decision making with ling backstabs kept him in the game for a long time until finally Jaehoon won. The ace match was fairly disappointing, with Ggaemo executing a ling runby and finishing up with a hydra bust to continue Tyson's slump, which makes you wonder why MBC sent him out for the Ace match in the first place. All in all a poor showing from MBC but understandable considering the circumstances.

KT Rolster
0 < 4
Woongjin Stars

Stats
<
Neo Beltway
>
Light
Tempest
<
Icarus
>
hOn_sin
REACH
<
Alternative
>
Neo.G_Soulkey
Perfective
<
Neo Aztec
>
ZerO
Oh how the KT fans must be lamenting. While this was again another match where the result didn't matter, however stars decided to field most of their top players early and as a result KT was defeated 4-0 in quick time. Light, who is not known for his TvP has actually been performing really well in the matchup as of late (8 wins in his last 10 games) and continued his good form using a timing push to counter Stats' carrier build. Hon_sin used 5 factory timing push to easily roll over Tempest who was trying to tech too quickly in the face of the early aggression. Reach got rolled over by 3 hatch hydra from Soulkey and Zero finished up with an easy win over Perfective using the uncommon +1 attack mutas. All in all KT just had a bad day and hopefully this isn't telling of their performance in the playoffs, otherwise we could be in for some one sided matches.

Hwaseung OZ
4 > 0
Samsung KHAN

Dear
<
New Empire of the Sun
>
Stork
Jaedong
<
Neo Aztec
>
JangBi
HiyA
<
La Mancha
>
Reality
Killer
<
Circuit Breaker
>
Juni
Oz went into this match knowing that they had to win to keep any chance of making the playoffs alive and as a result they came out with guns blazing. The promising rookie Dear opened up against Stork and after taking a build order advantage used skillful play to hold onto his lead and eventually win the game, always being one step ahead of Stork economically. Jaedong and Jangbi played an exciting game, with Jangbi almost breaking through Jaedong's defenses time after time, but Jaedong held on and eventually won the game, a must watch. Hiya quickly took down Reality with an early tank push and Killer sealed the victory over Juni with a ling bust and follow-up mutalisks. Unfortunately for Oz the other match on this day sealed their fate and they were unable to make the playoffs, but their victory to finish the season allowed them to at least salvage some of their pride.

STX SouL
4 > 0
WeMade FOX

Kal
<
Alternative
>
RorO
Classic
<
Neo Beltway
>
Mind
Last
<
Circuit Breaker
>
BaBy
Calm
<
New Bloody Ridge
>
herO[jOin]
This match was the most important of the whole week, with the winner essentially deciding who would be getting the last playoff slot. Unfortunately for Fox and Oz, STX came out with the win, securing their spot in the playoffs with an easy 4-0 victory. It was a good omen for STX to see their big name players, Kal and Calm coming good at the right time in the season, taking out Roro and Hero[join] respectively. Kal played a fantastic sair/reaver game and managed to hit the perfect pre-hive timing to crush Roro. Classic and Mind played a silly game, with Mind attempting to cheese and not being able to bust classic's defenses, giving Classic an easy win. Baby and Last played an epic TvT on circuit breaker, with Baby initially taking a good position in the game, but Last clawing his way back to deny Baby's mass wraith play with wraiths of his own and a lot of goliaths. Interestingly enough neither player made valkyries, the normal counter to mass wraith plays. Finally Calm won convincingly against Hero[join], winning with superior micro, despite Hero[join] having an extra geyser at the end of the game.

CJ Entus
3 < 4
SK Telecom T1

sKyHigh
<
New Empire of the Sun
>
Bisu
Where
<
Neo Aztec
>
Fantasy
Rush
<
La Mancha
>
By.Sun
Snow
<
Circuit Breaker
>
JyJ
SonGDuri
<
Alternative
>
Paralyze
BByong
<
Icarus
>
Ssak
BByong
<
Neo Beltway
>
By.Sun
CJ vs SKT was the marquee matchup this week, with many calling it the grand finals preview. Bisu came out first to try and add to his monster win record for the season, and stomped a helpless Skyhigh with an effective reaver into carrier play, giving Bisu his 63rd win for the season. Fantasy, who had apparently been put on the B team for a couple of weeks managed to disappoint again, losing to Where who did an inventive 2 hatch muta into 3 gas guardian build that Fantasy couldn't defend. Sun won a hard fought game over the star rookie from last week, Rush, holding off his push long enough to get his carriers out in sufficient numbers. Snow was taken down by JYJ with a well timed 3 base push catching snow in an awkward position and overrunning him. Afrotoss got a shot against Songduri and after denying Songduri's expo with a cannon rush, died to muta/ling from a hidden expo. Ssak and BByong played a short and sweet TvT on icarus featuring heaps of drops, and finally Sun came out to reassert SKT dominance with an easy win over BByong. While it's obvious that this can't be taken as a proper finals preview due to the number of rookies fielded by both sides, you can't help but wonder how this loss might affect CJ's mental state going into the playoffs later on this month.

Woongjin Stars
4 > 1
WeMade FOX

BisAnG
<
Circuit Breaker
>
herO[jOin]
GuemChi
<
New Empire of the Sun
>
Major
Woon
<
New Bloody Ridge
>
Sacsri
hOn_sin
<
La Mancha
>
Wooki
Really
<
Neo Beltway
>
Midas
After losing their chance at the playoffs earlier in the week to STX, the mood in the Fox camp seemed to be rather somber, and their performance was fairly uninspiring as a result. Stars, with nothing to lose decided to give some more play time to their rookies, who took the ball in both hands and executed a simple 4-1 victory over Fox. Bisang played a good game against Hero[join], constantly battering his expansions until Hero[join] had to give up the GG. Guemchi played a dynamic PvT to best Major, who recently took down Best, and Woon managed to snipe Sacsri's spawning pool to afford him an easy win. The only positive for Fox was Wooki, who stood up when the rest of his team fell and took a comfortable victory over hon_sin utilizing the subtle strategy of making heaps and heaps of gateways. Unfortunately it counted for naught as Really took down Midas to seal the win for Stars.

Samsung KHAN
4 > 1
Air Force ACE

Stork
<
Icarus
>
Canata
TurN
<
La Mancha
>
Chavi
Reality
<
Neo Beltway
>
ggaemo
ByuL
<
aLternative
>
Peace
Brave
<
New Bloody Ridge
>
Orion
Ace were unable to continue their good form for their last match of the season and were taken down 4-1 by a confident looking Khan lineup. Canata tank dropped stork and killed his nexus, but didn't have the goods to win the game with Stork utilizing protoss imba to win comfortably in the end. Chavi took the only win for ace, having a fun game against Turn with both players being extremely aggressive. Reality and Byul took out comfortable early victories against their opponents with good strategy and execution. Finally Orion attempted to hydra bust Brave, but Brave was having none of it and held on to close out the match for Khan. It was a good win for Khan, as their loss to Oz earlier in the week must've had them wavering as the playoffs approached. Getting this win under the belt means that their form going into the playoffs should be top notch.

---
TeamLiquid Loves you
While gift giving traditions are often reserved for the end of the year, we here at TeamLiquid like to mix things up. Fantasy Proleague has come to a close, but this year we gave you your gifts at the
start
of the season. Heck, we let you pick exactly what you wanted. Like that spoiled brat who gets to stroll through the store tugging at his mother's dress screaming,
"I want that one!"
you got to peruse the
entire
selection of pro gamers and assemble a group that was just right.
Now, as we all know, gifts are generally wonderful things. They have the power to lift spirits and bring joy to just about anyone. Gift giving is a special social interaction. Often, the very act of giving without the expectation of reciprocation is in itself so altruistic that we often ignore the actual gift and simply embrace the generosity of another...
Especially when the gift sucks.
You know the phrase,
"It's the thought that counts."
Yes, gifts are typically great, but there are exceptions to this rule. Like that time you left a dead bird on the doorstep of the girl next door, sometimes gifts can miss the mark.
We've all been there. Though you may have been hinting to your parents throughout the year that you really fancy that new video game console, what lies beneath the wrapping paper of that intriguingly
Nintendo 64-ish
shaped box could just as well be a sweater. And not just any sweater, but that awfully boring yet tremendously itchy and hideous garment from hell.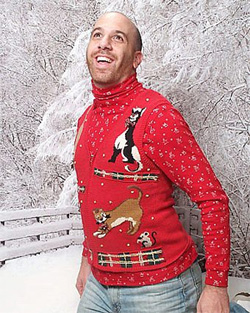 "Oh mother of god! It's like my torso is encased in fire-ants!
Someone please kill me!"
With this in mind, I would like you to meet 이경민: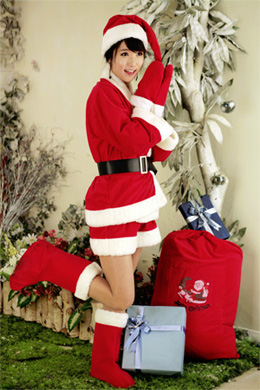 "Hi!"
As her outfit would suggest, she has gifts for you. She, however, is withholding them until Christmas time, which is many months away.
Whether or not her gifts will satisfy you or bring you itchy pains remains to be seen.
No, who I meant for you to meet was 이경민, a man of the same name: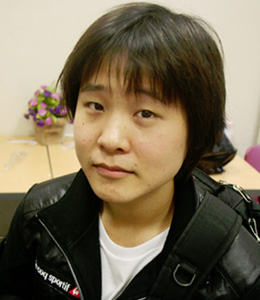 "lol"
If you're one of the
82 unfortunate souls
who chose him for your Anti-Team, he too has a gift for you.
The gift of dismay and despair.
At the start of the season Horang2 was just another 5 point Protoss. But, like
a few
other
,
sometimes pink haired
5 pointers, Horang2 rose from the ashes of mediocrity to wreck faces and FPL dreams. Those of us who chose one of these Anti-Team saboteurs had a tough time fencing them for better options. A trade of Jaehoon for Kal at week 2 saved me
15 points
in losses.
Let's take a minute to reflect on that.
Jaehoon
. Remember him?
Let me jog your memory: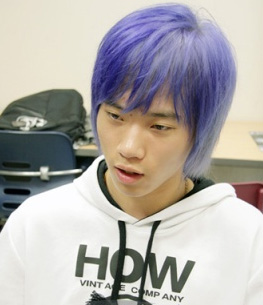 32 wins - 51 losses (38.55%) in Team Leagues
until the start of the SPL 10-11 season.
The countless times this young man would be derided in stream chats were numerous; today, those memories are almost all forgotten. Now, when he's fielded, there are less guffaws and far more respect. Maybe that's on account of his return to normal hair colours, or maybe it's due to his respectable 30 - 23 (56.60%) record this season (13-4 in FPL). Truly, one cannot know. What changed for Jaehoon? What transformed him from a safe Anti-Team shmuck to a wrecker of FPL hopes and dreams? I can only imagine it was the decision to stop spending so much time dying his hair and more time practicing.
Indeed, the theme for this season of Fantasy Proleague was definitely one of unanticipated underdoggery. Although Jaehoon and Horang2 were among the most owned and the most devastating to Anti-Teams, there's one man whose strong performance could have been anticipated.
The much welcomed and long overdue return to form for this Khan Protoss could not have come at a better time. With Stork starting to under-perform, it seems as though January only has enough rations to keep just one of her dragons satiated. Nonetheless, Jangbi's performance has always been rather cyclical, and choosing him for your Anti-Team was playing with fire. Shame on you.
Now, Fantasy Proleague isn't just about choosing an Anti-Team that won't haunt your nightmares. While the SPL writing team is all too familiar with getting owned in that respect (
LOL Kiante, -128
), we know it's also about picking strong low point players who will outperform their value.
And this time around, there was no better choice than an
SKT Zerg
.
n.Die_soO
netted a whopping 61 points in FPL, tied for 2nd overall, and went 13-2, all for the low low price of 3. Possibly even more shocking is
PianO
, who, while he only went 9-8, racked up 41 points and broke the top 20 at an initial trade value of
1.
To the 11 of you who chose him for your main team, I salute either your shocking clairvoyance or your incredible luck.
Another low point wonder came from yet another return to form for an old dragon,
BeSt
. It seemed to me that BeSt's career had crested when he got utterly destroyed by a drone drill at the hands of
JulyZerg
in the Ever OSL in 2008. Ever since then, he seemed to be a hollow shell of a man, never capable of achieving success in individual leagues again. Well, I may be rethinking my dismissal, as his performance in the tail end of the SPL season has been stellar. Starting the season as a lowly 3 pointer, BeSt went 10-3, and racked up believers a whopping 50 points.
soO and BeSt are not the only SKT players to have seen success this season. In fact, this season, SKT fans have more reason to gloat than ever.
Without further ado, I give you, the winning team of this season of Fantasy Proleague: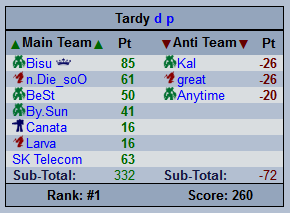 Yes. That's right.
Congratulations to
Tardy
who is not just the winner of the 11th season of Fantasy Proleague, but also the winner of my heart. Yes, that is an all SKT team (Canata was still on SKT at the the start of the season), and yes, he won with
no trades
.
Of course, my heart goes out to dear
Fenrax
, who, if you read the forums at all, could often be seen for the longest time with a smiling trophy-wielding icon denoting his status in the lead of FPL. With his discerning ability to make amazing trades, Fenrax accrued an
insane
+51
trade gain. Sadly, this wasn't enough to make up for his one critical mistake: not picking a team composed entirely of SKT players. In the final stages of this season's FPL, this previous champ was unceremoniously knocked out.
Fenrax, at least flamewheel was rooting for you.
He really wanted to see two icons beside your name.
Me? As a die-hard SKT fan, I just can't help but bathe in the tears of haters, as Tardy, who probably has no idea he won, dominated us all.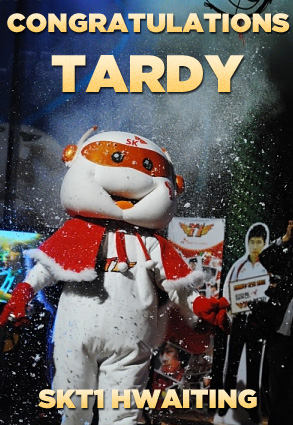 ---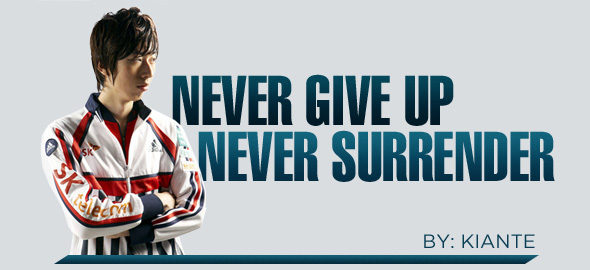 Fantasy vs Where on Neo Aztec
The game opens up with Fantasy spawning in the 8 oclock position and Where spawning in the 5 oclock. Fantasy had been on a slump before this game and was most often resorting to cheese and losing embarrassingly. In this game however, he went for a standard 1 rax FE, whilst Where opened up with a 12 hatch, starting his gas before his pool to rush for lair as soon as possible.
Fantasy opening standard….a scary sight indeed
Fantasy started his second rax and academy and set up a bunker to help defend his natural expansion, continuing with the standard build, for which he is not known. Where on the other hand started his spire as soon as his lair finished and dropped a third hatchery at the 7 oclock expansion to secure 3 gas to support mass mutalisk production.
Spires. I heard they're pretty good
Fantasy started his ebay in time to get turrets up in preparation for the mutalisk assault, and used his marine medic ball to ward of the harassment while starting his own tech towards vessels to try and counter Where's army composition. During this time Where had started his +1 carapace to strengthen his mutalisks.
BEGONE MUTALISKUUU
Fantasy started to push out with his marine medic ball, to attempt to put pressure back on Where and try and dissuade him from assaulting his base. Unfortunately for Fantasy, the extremely long rush distance, combined with the path fantasy was taking (through the bigger ramp near the 9 oclock expansion instead of using the smaller ramp directly outside his natural) allowed Where to simply take down the turrets covering Fantasy's Barracks with his high mutalisk count and +1 carapace.
Turns out mutalisks are more maneuverable than marines
Fantasy was managing to hold this off only just with his marine medics while his science vessel tech was coming along nicely. If Where was doing an all-in 3 gas mutalisk build Fantasy might have been in an OK position. However, Where had other plans and had started his Hive tech while staying on a low drone count and the 3 gas he secured early in the game.
Sorry Fantasy, he's not all-in
After harassing Fantasy some more Where started his greater spire, whipping the commentators into frenzy. During this time the observer showed Fantasy's first person view, which showed him painfully unaware of the horror that would soon be upon him as he desperately defended Where's insistent mutalisk harass. Finally Where began his guardians morphing, just as Fantasy decided to move out, going the long way towards Where's base, probably assuming that he was teching to defilers.
Where has got some style
Dear Fantasy, why is your army here? I don't even…
The guardians attacked as Fantasy was completely out of position near Where's base, and Fantasy decided to attempt a base trade. Where had obviously predicted this move and had produced a lot of zerglings and had started some sunken colony's in his natural to defend. Fantasy scanned Where's third while the guardians were sacking his base and set a beeline for it and destroyed it easily.
Well at least he got something done…
Unfortunately killing an expansion doesn't matter much when there are a ton of guardians wrecking your main.
Fantasy realizing that main bases are actually kinda important
Having basically no units and no production facilities, Fantasy started to produce some wraiths while desperately attempting to eraser Where's guardians with his two science vessels. He managed to dodge some scourge for long enough to kill them and killed off a fair few guardians, but the damage had been done.
Who said scourge counter science vessels?
Where then attacked with his zerglings and Fantasy was left with less than 10 scv's, a few turrets, 3 medics and a couple of wraiths, versus Where's 2 base low drone economy and hive tech with several guardians still in Fantasy's main, with more units streaming in. A regular player would GG at this point, hell, probably well before. But Fantasy doesn't GG lightly, and while he still had an attacking unit, why should he gg?
Nice army there Fantasy
With his main completely dead and about 3 scv's at his natural which was under siege, Fantasy proxied a barracks and a starport, somehow still believing he could win the game.
When in doubt, Proxy
But where was having none of it, producing some more stuff to easily clean up Fantasy's remaining forces, finally receiving the GG.
Turns out having units counters having nothing
This shot says it all…

---
Engine of Destruction
The tactical display screen was already surrounded by
KT Protectorate
officers when the Grand Marshal himself made an entrance. Heads turned, but they promptly focused on the enemy position markings again due to a previously established directive – During this phase of conflict every second counted, and
his
officers would not waste a single moment on meaningless formalities. Leniency had cost him two battles in this war already, but Protectorate forces worked at full efficiency now. The recently passed Honorable General
YellOw
and his aides
Violet
and
fOrGG
deserved nothing less, after all. Exceeding even Protectorate standards, their perimeter had been secured in record time after deployment, and the famous FingerBoom mark communication technology was too hard for anyone else to decipher – no one should even know they were here! His army was ready to be deployed, and were only waiting for the target that he would be giving them within the hour.
You have your orders. Now carry them out.
The tactical display showed a large concentration of troops in the third quadrant, which was almost too good to be true – a slight relocation of his army would allow him to approach that location from a huge tactical advantage.
At worst
, he'd force his first opponent of choice, the
KHAN horde
, to retreat from what had to be their main supply yard.
At best
he'd eliminate one of his opponents in one swift blow. With only a slight hint of emotion, he gave the order: "Prepare the Ultimate Weapon". The resulting sound was unmistakable – thousands of wires streamed energy into the roaring engine of Vengeance, and the cheering Protectorate forces would follow it relentlessly to victory... or death.
The Warriors Path
The Warlord of the
KHAN horde
didn't even attempt to listen to the third young chieftain's plan anymore. They were standing on their very
birthright
, even if it was occupied for now. But instead of being worthy of it, they proposed half-baked plans to earn his favor. Flanking maneuver
this
, diplomacy
that
, establishing of
supply routes
, even entrenchment?!? For crying out loud! These options were useless, unreliable, or even worse, insulting. Digging trenches? Sabotage? Bombardment? The influences of the recently founded military academy were apparent, as was the fact that they didn't understand this army's strength and weaknesses.They were here to
conquer and reclaim
, not to waste their time and dwindling food supply.
While the council of Sam-Sung chieftains was still congratulating each other on the supposed brilliance of a possible covert operation, the warlord's mind was focused on destroying his foes rather than toying with them. Between them and the
CJ Republic's
position was a small contingent of the
Star Federations
platoon, dug in like the cowards they were. While they were sitting on a heap of ammo that would put his supply to shame, the Star Federation was pitifully small in number. A perfect target.
Follow not the path of the Weaklings. Follow me, for I am the Horde.
A swift kick of the Warlords' battle-hardened boot sent the officers' dinner table flying, and his "comrades" finally shut up. The more experienced warriors snickered at the sight of the most verbal officer almost wetting himself, but his booming voice would cut that short as well.
"If you know what's good for ya, you shut your traps!" His baritone tone demanded both respect and obedience, but those were only tools to give this rabble what they needed:
Purpose
. "A few of you might have noticed that there's a Star Federation encampment not far from here. My officers here think their position is unassailable. My vastly superior army
here
begs to differ. Before the sun sets in three days, we'll be dining on their wine while watching the bonfires of their defenses burning. Let them build their puny walls, for a KHAN warrior was born to knock them
down
! Then we'll take on the CJ republic and smash the
SKT Empire's
face in. Whoever here wants to debate my 'plan' can do it with a knife in his throat. Are you ready to reclaim your birthright?" The cheers left no room for interpretation – this horde would trample their enemies into the ground.
Braving the Storm
General Swanized of the
Star Federation
thought himself to be the most knowledgeable commander in the lowlands, but his vast advanced sensor array and weapons supply would not compensate for the lack of fighting men under his command. His position was maddening – what good is knowing where your enemy is if you can't possibly fight them all off? Thankfully, neither of his opposing factions were really known for their diplomatic ability, and one-by-one, his threats were manageable at worst, and if they ended up killing each other off before they reached his position, he'd have even more of an advantage.
As he had suspected, the
KHAN horde
had made a horrible mistake when making camp in the third quadrant – the Protectorate force was closing in from a vastly superior position, and the fourth army would cut off their only path of retreat to the south. Secure in this knowledge, he checked on his army's condition once again. His peers had criticized him for his over-reliance on his armored platoon, but as of now, that was the bulk of his standing army.
"A few moments of relaxation never hurt anybody. We, however, have, so get out."
All was in perfect order. Minefields surrounded the encampments perimeter, guns pointed towards the routes that he thought were the most likely to be assaulted, and while the delays in manning the posts suggested unrest, that much was to be expected of his peers. The Star Federation had been founded on free expression and competition within the country, after all, but the superior bonding during times like these made up for it, even if the command structure suffered a bit.
After a brief knock, a lieutenant entered his room, and the lack of stand-offishness suggested something being terribly wrong. Maybe he had just broken up with his girlfriend?
Wishful thinking.
The KHAN horde was much larger than he had expected, and they weren't retreating or making their stand against the Protectorate. They were assaulting HIS position. Had they lost their
minds
? Assaulting his position would lead to heavy casualties in the horde,
unless
... He had failed to notice a weakness in his defenses. Despite the primitive nature of the KHAN command structure, their tactics were brutally effective in exploiting any weak point they could find. Be that as it may, he felt as secure as he possibly could be. The plan was perfect, and his forces were trustworthy. General Swanized switched on his intercom and gave his forces the order to prepare for combat. If the horde insisted on suicide, the only polite thing to do was to make it quick and painless.
Staring into the Barrel of Hell.
"So much for R&R," the STX scout thought to himself. Barely a week after a taxing but ultimately victorious battle against the FOX confederacy, the admiral's orders were to take the nearby beach as quickly as possible and push towards the mainland. If the
STX Expedition Force
were to have any hope of survival, they needed to cover ground as quickly as possible, and
his
job was to scout ahead into an unexplored area. Frankly, all of them were unexplored, but that just made his job more important... and
perilous
.
Sure, there were reports that the Star Federation and KHAN horde prepared to battle near Shanghai, but where? How many of them? He had no idea. As far as he knew, even his own forces could be dead already, since radio contact had been impossible in the last few days.
Strange sounds interspersed with white noise kept him awake at night, but the alternative was potentially missing a radio broadcast or falling prey to an enemy patrol.
He could just pack his gear and make a run for neutral MBC lands, his speeder had enough fuel for it, for sure. But he couldn't. Some unknown force pushed him onward to scout the position his predecessor had vanished in. Was it Duty? Curiosity? Fear of accidentally stumbling on the carcasses of his friends on the way there? Whatever it was,
this sight
made it even more powerful.
He had found a large encampment, but it was completely barren of life as far as he could tell. There were huge, seemingly unopened crates of weaponry and ammunition and half-dug trenches, but not even a single corpse. The symbols suggested KHAN had made an encampment here, and the freshness of the tracks meant they were here less then a week ago. The speed at which they left just raised too many questions, but maybe HQ could make something of it.
For the third time that day, he tried to contact the admiral via radio on a grassy hill, but he picked up nothing but beeps and white noise. Suddenly it occurred to him - those beeps were code!
But that'd mean...
Throwing himself flat on the ground, he pulled out his binoculars. No sign of the Protectorate yet. Was that the ground trembling or just his paranoia? Whatever the case, he had to get out of there,
fast
. He was just approaching his vehicle, as the entire world went deaf for a second. He took out his binoculars again and saw a vast crater where once the living quarters of the encampment must have been. His fears were confirmed – the Ultimate Weapon was near. He observed smoke rising from a distance, as Protectorate forces swarmed the hill of the ghost encampment. He would stand a better chance of escaping undetected at night, since KT speeders were a lot faster than his bike, but where'd he go? For now, he hid in one of the half dug trenches and did his best to sleep for the first time in days.
And fire rained down from the sky...
A loud noise woke him up when it was already night time. Lots of hostile movement, shouting, and then silence again. Another crater was created that night, this time a few miles away. He heard engines closing in on his position and realized the imminence of his demise. Should he pray? No, he'd take his rifle and go down like a man. He could barely see the Protectorate forces in the dark, but he took aim anyway. Steady breathing... Adjust range...
BOOM!
Suddenly, a sound much louder than that of the rifle came from the spot he was aiming at: the sound of artillery shells exploding. Finally, he saw the STX Expedition Force approaching the area, and started to dart towards friendly lines. The ensuing battle would be chaotic and bloody, but at least he now had a chance to fight alongside his peers rather than be killed while spying, and that was enough for him.
To be continued...

So, some of you are likely waiting for me to get to the actual predictions. While I distracted you with some nonsensical fanfiction (Saving Private Ryan ripoffs) I crunched some numbers for you to predict the advancers a little bit better. The following are SPL and SWL records this year, individual leagues are not included because as proven by
certain
players
, your PL performance does not matter in an environment where your opponent can prepare for you . In order to illustrate what the opposing coaches must be thinking, lI'll add some categories as well.
Samsung KHAN vs. Woongjin Stars
:
Likely main lineup players:
Woongjin Stars
ZerO
38-30 (55,58%) vs. T 12-7 (63,16%), vs. Z 16-14 (53,3%), vs. P 10-9 (52,63%)
Neo.G_Soulkey
33-25 (56,9%) vs. T 10-10 (50%) vs. Z 11-4 (73,33%) vs. P 11-10 ( 52,38%)
Light
32-24 (57,14%) vs.T 10-10 (50%) vs. Z 13-4 (76,47%) vs. P 9-10 (47,37%)
Really
22-28 (44%) vs. T 10-10 (50%) vs. Z 7-4 (63,64%) vs. P 5-14 (26,32%)
free
23-25 (47,92%) vs. T 9-7 (56,25%) vs. Z 7-13 (35%) vs. P 7-5 (58,33%)
SNIPE me!
– Really vs. P. Really has been played almost every single game this season, and his vs. P record is not something you'd like to have vs. Samsung. Expect to see Really on Beltway or a similarly Terran map.
AVOID
– Free. Yes, you heard me, Free. With winning records vs. both P and T, Free is not the most ideal opponent for a team that has Zerg of the calibers of Great and Juni. While even those Zergs should give Free a lot of trouble, and Free's records not being THAT good, he's still someone whom you do not want to waste your best players on. Also, just look at the vP records of KHAN.
Most likely to show up on a map:
ZerO on
Neo Aztec
. 19 appearances on that map in it's different incarnations should be a dead giveaway that we'll see him there again.
Most likely to show up on Ace Map:
Day 1:
Light on
New Empire of the Sun
. Most of you are likely shocked, but New Empire of the Sun is a Zerg Graveyard. Zero hasn't played it, while Light has played it's different incarnations 13 times. Statisticall, Really should show up, but a 25% vs. P player in an ace match vs. KHAN is plain idiotic. And those who tell me to look at the ZvP record – look at the players there. Not too inspiring, honestly.
Day 2:
Neo.G_Soulkey on
La Mancha
. When your secondary Ace is specializing on a map and in form, he's a natural choice. While Light has played equally many games here, he'd be easy prey for PvT experts Jangbi and Stork.
Day 3:
New Empire of the Sun
again, see day 1.
Samsung KHAN
Stork
40-30 (57,14%) vs. T 11-7 (61,11%), vs. Z 16-11(59,26%) vs. P 13-12 (52,00%),
JangBi
17-25 (40,48%) vs. T 2-6 (25%), vs. Z 10-14 (41,67%) vs. P 10-10 (50%)
Grape
12-13 (48%) vs. T 5-4 (55,56%), vs. Z 3-2 (60%), vs. P 4-7 (36,36%)
Reality
21-22 (48,84%) vs. T 11-11 (50%) vs. Z 6-5 (54,55%), vs. P 4-6 (40%)
great
20-26 (43,48%) vs. T 6-6 (50%) vs. Z 7-8 (46,67%), vs. P 7-12 (36,84%)
SNIPE me!
– Grape vs. P, although the PvP series vs. Horang2 might make you second guess that, just think about the fact that Grape is 0-3 vs. Free, and 0-2 vs. Free this season. The one Free slumped hardcore in. just attempt to avoid it.
AVOID
– Jangbi. His yearly record doesn't suggest it, but he's very likely the best player on KHAN at this moment. Since May this year, he's 13-2 (86.67%), with the losses coming from JD and Hydra. Ideally for Stars, he'd play either ZerO in a prelude to the Ace match or get DT rushed by
Flying
or 2 facted by
hOn_sin
. Either way, the player facing JangBi is likely going to lose.
Most likely to show up on a map:
Jangbi on Neo Aztec. 13 times has he played this map, and his rebirth begun here too. He'll likely want to snipe ZerO here.
Most likely to show up on Ace map:
Day 1:
Stork on
New Empire of the Sun
. The Zerg Graveyard nature of EOTS, coupled with the lack of Protoss in Stars and the Protoss weakness of Woongjin's Terran line make Stork a very natural choice here.
Day 2:
Jangbi or Stork on
La Mancha
. La Mancha has been played 6 times by both, and while it favors Z in ZvP, the main La Mancha player of Stars, Neo.G_soulkey has not really impressed this season with a 11-10 ZvP rate. If they play the other La Mancha specialist, Light, it'll be even better for KHAN.
Day 3:
New Empire of the Sun
again, see day 1.
Predictions
Day 1:
Really
<
Circuit Breaker
>
Grape
Light
<
Neo Beltway
>
Reality
Neo.G_Soulkey
<
La Mancha
>
Stork
free
<
Alternative
>
great
Flying
<
New Bloody Ridge
>
Brave
ZerO
<
Neo Aztec
>
JangBi
Light
<
New Empire of the Sun
>
Stork
Woongjin Stars
3-4 Samsung KHAN
Really
<
Circuit Breaker
>
Reality
ZerO
<
Neo Aztec
>
Juni
free
<
New Bloody Ridge
>
Brave
Neo.G_Soulkey
<
Alternative
>
Stork
Light
<
Neo Beltway
>
JangBi
hOn_sin
<
New Empire of the Sun
>
Sharp
Neo.G_Soulkey
<
La Mancha
>
JangBi
Woongjin Stars
3-4 Samsung KHAN
Samsung KHAN
wins the series 2-0.
Possible Day 3:
GuemChi
<
Neo Aztec
>
great
Neo.G_Soulkey
<
Neo Beltway
>
Reality
Light
<
La Mancha
>
Stork
Woon
<
Alternative
>
Juni
ZerO
<
New Bloody Ridge
>
JangBi
Really
<
Circuit Breaker
>
Sharp
Light
<
New Empire of the Sun
>
Stork
Woongjin Stars
3-4 Samsung KHAN

KT Rolster vs. STX SouL
Likely main lineup players
KT Rolster:

Flash
53-16 (76.81%) vs. T 24-3 (88.89%), vs. Z 17 -5 (77.27%), vs. P 12-8 (60.00%)
BarrackS
9-10 (47,37%) vs. T 3-5 (37,5%) vs. Z 4-2 (66,67%) vs. P 1-3 (25%)
Stats
42-27 (60,87%) vs. T 13-9 (59,09%), vs. Z 11-8 (57,89%), vs. P 18-10 (64,29%)
Action
24-27 (47,06%) vs. T 6-10 (37,5%), vs. Z 10-10 (50%), vs. P 8-7 (53,33%)
Crazy-Hydra
22-20 (52,38%) vs. T 4-5 (44,44%), vs. Z 13-8 (61,90%), vs. P 5-7 (41,67%)
SNIPE me!
– Barracks vs. P and Action vs. T. Both of these players are somewhat competent in their other matchups, but fail horribly in these ones. If STX succeeds in getting Barracks matched with Kal and Action with Bogus, they're very likely to win these two sets.
AVOID
– Stats and Flash. These players have abouve 55% winrates in all of their matchups.
All of them
. While most fans want the main aces of the teams to clash, STX should avoid it at all costs, seeing how mediocre KT's players are in most other respects.
Most likely to appear on map:
Stats on Neo Aztec. 12 times in total, Flash on La Mancha, 8 times total. While Stats should in my opinion be played somewhere else, Flash on La Mancha is likely to encounter Bogus there, and thus take a badly needed win from STX.
Most likely to appear on Ace Map:
Day 1:
Stats on New Bloody Ridge. Flash just doesn't seem to like NBR, it seems, and while Stats has avoided the New version, he's more likely to play here since he has 9 games on the old version. Even better – Stats has a great PvP record and all of the Z-s of STX are somewhat slumping, so he should be favored here.
Day 2:
Flash on Icarus. Flash has played a lot on Icarus, and it fits his style pretty well. It allows for good drops and allows you to overwhelm your opponent with multitasking, something Bogus is lacking in.
Day 3
: Flash on Neo Aztec. If it's time for the deciding match, it doesn't matter which map it's on, Flash is the natural choice. Even with only one game on Neo Aztec (which he lost), he should still be favored against everyone on STX.
STX SouL
Bogus
32-21 (60,38%) vs. T 12-7 (63,16%), vs. Z 10-8 (55,56%), vs. P 10-6 (62,5%)
Classic
7-9 (43,75%)vs. T 4-2 (66,67%), vs. Z 2-4 (33,33%), vs. P 1-3 (25%)
Kal
29-30 (49,15%), vs. T 8-7 (53,33%), vs. Z 14-11 (56%), vs. P 7-12 (36,84%)
Shuttle
21-15 (58,33%) vs. T 9-7 (56,25%), vs Z 1-0 (100%), vs. P 11-8 (57,89%)
Calm
25-26 (49,02%) vs. T 9-7 (56,25%), vs. Z 9-11 (45%), vs. P 7-8 (46,67%)
SNIPE me!
- Kal vs. P. Kal has fallen far from the glory days in the beginning of the season, and vs. P is the most telling example. Only this december Kal completely owned Bisu's 3 gate rush with nothing but a shuttle and 3 goons. Now he's struggling against the likes of Paralyze and Pure. He's just asking to be sniped.
AVOID
– The player to avoid is Classic. Not because he's a threat to the main lineup players, but because getting him matched up with Barracks would give STX a very much needed win instead of a loss. The others should be no problem, even Bogus.
Most likely to appear on Map:
Kal on Neo Aztec. He loves that map, and this is especially apparent lately. KT will hope he does and snipe him with Stats.
Most likely to appear on Ace Map:
Day 1:
Kal on New Bloody Ridge. While getting him matched up with Stats will be autoloss, STX just doesn't trust Shuttle enough to play Ace matches, and will likely hope for a miracle here.
Day 2:
Bogus on Icarus. Statistically, Calm has played this map more often, but he hasn't played in an Ace match since 2009. Bogus is not a bad choice, but will likely get outmatched by Flash.
Day 3:
Kal on Neo Aztec. Similarly to Flash, Kal is still the natural choice for STX in extreme pressure situations. You may believe Bogus deserves it more, but his nerves are still shaky vs. the threat of Flash, and Neo Aztec is a bit P favored. Again, hoping for miracles.
PredictionsDay 1:
Crazy-Hydra
<
Icarus
>
Bogus
Stats
<
Neo Aztec
>
Kal
Action
<
Fortress SE
>
Classic
Flash
<
Circuit Breaker
>
hero
HoeJJa
<
Alternative
>
Calm
BarrackS
<
La Mancha
>
Shuttle
Stats
<
New Bloody Ridge
>
Kal

KT Rolster 4-3
STX SouL
Day 2:
Flash
<
New Empire of the Sun
>
Classic
Action
<
Fortress SE
>
Shuttle
Crazy-Hydra
<
Alternative
>
Kal
HoeJJa
<
New Bloody Ridge
>
Modesty
Stats
<
Neo Aztec
>
Calm
Tempest
<
La Mancha
>
Bogus
Flash < Icarus >
Bogus

KT Rolster
2-4 STX SouL
Day 3:
Anyppi
<
New Bloody Ridge
>
Shuttle
Stats
<
New Empire of the Sun
>
Last
Flash
<
La Mancha
>
Kal
Perfective
<
Fortress SE
>
Bogus
Crazy-Hydra
<
Icarus
>
Calm
Action
<
Alternative
>
hyvaa
Flash < Neo Aztec >
Kal

KT Rolster 4-2
STX SouL
KT Rolster
wins the series
2-1
.
That said - Please win, STX

---

"No reason to get excited,"
The thief, he kindly spoke
"There are many here among us
Who feel that life is but a joke
But you and I, we've been through that
And this is not our fate
So let us not talk falsely now, the hour is getting late"
---
This Proleague update was brought to you by Team Liquid's PL 2010-11 coverage team - riptide, HawaiianPig, mustaju and Kiante. Join us again next week as we take you into the playoffs!