TSL Time!
Liquid in TSL3 Ro32 - This Weekend!
TLAF-Liquid`Tyler opened our TSL bid in style last weekend, knocking mouz.Strelok out of the tournament and moving on to the next round with ease. Today, TLAF-Liquid`Ret sets out to try join him in the Ro16. On the 27th, TLAF-Liquid`TLO and TLAF-Liquid`HayprO will take to the tilesets as well, and you'd do well to be there when they do. [
More
]
Liquid`TLO in Heat Invitational #1 - 27th Match 2011
Our very own TLAF-Liquid`TLO will take on ClouD, iNSoLeNCe and RINE in Heat, a tournament organised by his brothers. Casted live from his home in Leipzig, the Heat Invitational is sure to draw some viewers, so be sure to join us as we root for Dario! [
More
]
Liquid in LUUUX.com Team Showmatches - Soon
Liquid will soon take on mouz in a neat exhibition event - the LUUUX.com Team Showmatch. With 1v1s and 3v3s being played, rest assured that this will be awesome in all sorts of ways. [
More
]
Liquid in TSL3 Ro32 - This Weekend!
TLAF-Liquid`Tyler opened our TSL bid in style last weekend, knocking mouz.Strelok out of the tournament and moving on to the next round with ease. Today, TLAF-Liquid`Ret sets out to try and join him in the Ro16. On the 27th, TLAF-Liquid`TLO and TLAF-Liquid`HayprO will take to the tilesets as well, and you'd do well to be there when they do.
Ret takes on dignitas.NaNiwa, HayprO takes on Empire.Kas and of course, TLO takes on oGs.NaDa. Talk about a crazy weekend ahead! Jump right into
TSL Time
to see what our boys in blue have to say about the games to come.
Let's pause for a moment though. In a recent poll,
TLO vs NaDa was adjudged TL's favourite Ro32 showmatch
. If you were around last year during IEM, you will remember their games and how epic they were. You may even remember your reaction to the news that TLO would be in fact be playing Nada.
http://www.youtube.com/watch?v=lC_CgosC2ss
Yes, our own TLO against the most successful progamer of all time. It was epic, and this weekend is going to be no exception. Join us here as we watch Liquid taken on SC2's very best live on stream. Fifty thousand people watched with us last weekend, and this weekend we just might break the Internet. If you miss it, it's going to feel like you missed the moon landing. You'll never forgive yourself.
One small step for TL, one giant leap for ESPORTS.
Talking about results again though, Liquid's lone survivor from week one, TLAF-Liquid`Tyler will next week face Prae.ThorZaiN, the much hyped Terran who took out former GSL champion TSL_FruitDealer. Join us in the next Liquid Weekly for more from our All American Protoss.
Meanwhile, Jinro and HuK head back to the practice room as they get ready for the next GSL. They're both in Code S this season, and we look forward to seeing them on air as they continue to live and battle daily from Korea. As two players that are in this for the long haul, we have no doubt that their time will come.
In fact, to remind us of this, here's some fanart by TL user dasanivan. He
says
"There is not much to say! Overcoming all challenges, it's Jinro." Indeed. It's Jinro!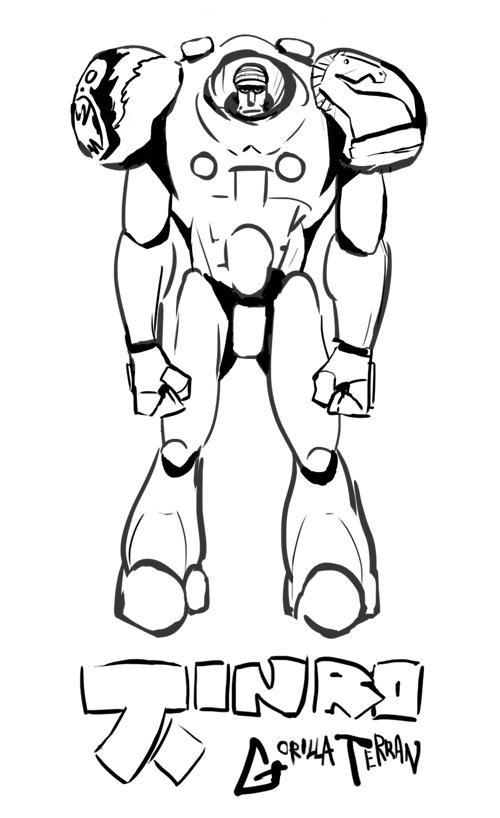 Liquid`TLO in Heat Invitational #1 - 27th Match 2011
Our very own TLAF-Liquid`TLO will take on ClouD, iNSoLeNCe and RINE in Heat, a tournament organised by his brothers. Casted live from his home in Leipzig, the Heat Invitational is sure to draw some viewers, so be sure to join us as we root for Dario!
Jump in the thread
to check out the prize pool breakdown, stream links and more.
Liquid in LUUUX.com Team Showmatches - Soon
Liquid will soon take on mouz in a neat exhibition event - the LUUUX.com Team Showmatch. With 1v1s and 3v3s being played, rest assured that this will be awesome in all sorts of ways.
1v1
mouz.MorroW vs. TLAF-Liquid`TLO
mouz.Strelok vs. TLAF-Liquid`HuK
mouz.MaNa vs. TLAF-Liquid`Jinro
mouz.HasuObs vs. TLAF-Liquid`HayprO
mouz.Syck vs. TLAF-Liquid`Tyler
mouz.Lomo vs. TLAF-Liquid`Ret
So, where are the VODs, you ask? The 1v1s will be casted by Khaldor and TotalBiscuit and will be available on their channels after the games take place. The 3v3s will be vodded as well, by a caster yet unannounced. Of course, all of them will also be included in a future Liquid Weekly, so if you're busy or lazy you can always just check back with us!
Liquid`TLO wins SC2 Inside Cyborg Cup - Event Finished
TLO took down the SC2 Inside Cyborg Cup this week to bag 200€. It's nice to see Dario up and online as usual, especially in a TSL week, and we look forward to seeing him on stream this weekend vs Nada. Gogo TLO!
Liquid`Ret in GCPL Individual Tour Ro8 - Event Finished
Invited to the GCPL Individual Tour thanks to his excellent performance in the GCPL itself, TLAF-Liquid`Ret went up against mouz.HasuObs and was eliminated 2-1.
Fighting!
HayprO - you come into this TSL straight off a great win over Tyler at the PAX East showmatches. How confident are you in your current form?
HayprO: I think my current shape is pretty OK. I'm going in to win this.
TLO - this is your first TSL and your first series is against Nada himself. What thoughts are going through your head as you prepare to face Lee Yoon Yeol again? Is there anything that you learnt the last time you faced him at IEM?
TLO: I am a little nervous but also extremely excited to play against my Hyung again! I think in IEM I was still the far better player, in Korea we were kinda equal maybe I still had a slight edge but now he is definitely the favourite in the match and it will be hard for me to beat him this time.
Ret - In our pre-bracket interview you were asked who you'd like to play in the Ro32 and you said Naniwa. Your wish came true. Just how epic is this series going to be?
Ret: I'm bringing the pain, I hope naniwa can keep up and if he does then we're hopefully gonna have an unforgetable series!

The first weekend of TSL play was electric, with streams hitting 50k viewers and fans going crazy. With so many people on stream, does playing from home / the team house help in reducing the pressure or is it all the same to you anyway?
HayprO: 50k viewers is insane. I get really nervous when I play no matter what so for me it doesn't matter.
TLO: Wow 50k? That is AWESOME! it doesn't make a big difference for me whether its offline or online if I know so many people are watching one gets a little nervous of course.
Ret: Hehe, it's great feeling if you play well in front of a huge audience, but at the same time it's a lot of pressure. But I won't be thinking about that during my games! Playing from home will be very comfortable.
All of you have been very active during the past few months and no doubt have practiced daily. As you got ready for the TSL though, are there any specific areas of your play that you looked at closely?
HayprO: I still suck vs cheese, so I've tried to work on that with mixed results.
TLO: Well I am only practicing Terran right now, cause I know I wont be able to take on Nada having to spread my practice of 3 different races.
Ret: Nothing specific, I've actually been sick so I'm trying to practice more the last few days and I'm mostly just thinking about how to counter certain Protoss builds that are popular atm.
Is there anything we should look for in your Ro32 games?
HayprO: I think Mutas are underused in ZvT so I'll try and fit them into my strategy.
TLO: I am not sure, I have a big variety of builds prepared, but not entirely sure for what I will go for yet.
Ret: Infestors..maybe! If they live up to the hype.

Any parting words for your fans as they look forward to seeing you on stream this weekend?
HayprO: Thank you to all my fans. I hope I get a few more after my wins vs Kas. Thanks to our sponsor TLAF and to my manager Nazgul for giving interesting advice. Also, don't forget to watch my stream on
JustinTV
.
TLO: I promise to try as hard as I can to beat Nada!
Ret: Thanks for the support and hopefully I will crush naniwa and make everyone who likes me and Zerg happy.

A view from the top - HB and Nazgul talk to us from TL HQ. Pics by R1CH!
Last week,
we had a long chat with Nazgul
. Today, we catch him at TL HQ in New York and sit down with him and Hot_Bid to talk TSL3.
Hi Naz, Hi HB - how's it going up there in NY? What's TL HQ like during a TSL week?
Nazgul: I arrived yesterday last time I was here we weren't doing TSL so I haven't gotten too much experience with the live setting here yet but I can tell you how it is when I'm working from home and it's not pretty!
HotBid: It's busy. TSL time is exciting and fun but it's also a lot of pressure. We have to get all the matches played and make sure issues are handled properly like disconnects, player scheduling conflicts, etc. Then we have to make sure the broadcast goes smoothly. It's just a lot of stuff to worry about.
How much coordination takes place between TL NY and staff members around the globe, especially leading up to and during a TSL live broadcast? What sort of mechanisms do you guys have in place to make sure everything goes smoothly?
Nazgul: Well because everyone hangs out at TL anyway we have a pretty nice forum system in place for all our staff departments. TSL has its own forum which we use for discussion of a lot of technical decisions, and then further staff communication is through MSN and PM. Basically we live on MSN and TL 24/7.
HotBid: We actually operate TSL with quite a small staff when it comes to the actual broadcast. Before the broadcast though it's a lot of work with Kennigit and Glider.
Two TSLs were organised prior to TL HQ being established. Do you guys find that having an office with full time staff makes things easier? What is the main advantage of having HotBid and R1CH employed by TL?
HotBid: Yes. Without an HQ and a central point to coordinate staff activities, it'd be impossible to do something like TSL. I think the HQ makes our staff work much easier, whether it's for TSL or for anything else. It would be a nightmare to run events of this magnitude without full-time staff and location, and I can't even imagine doing it while having to balance a job or school.
Nazgul: The fact that Hot_Bid and R1CH are constantly in the same room (and now me too) improves our streaming situation so much. During the cast things happen and decisions have to be made, and for the people making those decisions to be in the same room running the broadcast helps greatly. Before for TSL1 and 2 the person running the broadcast also had to observe all by himself. He had to somehow also read IRC to read what needed to happen whenever something urgent occurred. Pretty crazy to think back at how we ran those but we're very happy we can do it from the office now.
This one's for newcomers to the community - why does TL do this? Is it in the site's vision to become a MLG or IEM? What are Team Liquid's long term ESPORTS aspirations?
Nazgul: We don't really think of things in that way. We just love to do it and we thought we could do a great job at it. MLG or IEM? We'll just be the TSL.
HotBid: I don't think we want to be like any other organization. MLG and IEM run their events, and we clearly aren't going to be renting out a huge venue and having a live 128+ person tournament anytime soon. The TSL is what it is, and we feel there's space for all events to be successful.
As for future goals, right now we're just trying to make TL the best it can be. We have visions of what TL can be in five years but the environment is changing so much that it's hard to make statements like that. A year ago if you told us our traffic would increase 600% I probably wouldn't have believed you.
OK, let's go back a few years. HB, what is your first memory of Nazgul and Naz, when do you first recall noticing HB on TL? Was an epic troll in progress?
HotBid: My first memory of Naz was talking to him on MSN about the Song of Ice and Fire series. As I started doing more work for TL we talked more, and eventually discussed the TSL together. The first TSL was a crazy time, we went forward with announcing TSL and $10,000 in prizes (which was a huge amount of money for TL at the time) without actually having a sponsor. It was a very bold move.
Nazgul: My first professional memory of his work is when he started doing LiquiScoop on TL. It was
such a great feature
and fit him incredibly well. He used LiquiScoop to let his humor out and used management skills to get the product done. Not much unlike what he does now except, on a much smaller scale!
So the TSL. The first TSL. Whose crazy idea was it? At which point did you guys just say "OK, we're doing this", and did you ever doubt that it'd be a hit? What's your favourite moment from those early days?
HotBid: I remember briefly talking about it with FakeSteve more in a joking way, like "we should run our own Starleague, lol!" and then later on thinking wait, we actually could do that. The biggest hurdle was money, and I spoke with Naz about having TL just pay the $10k if we never found an actual sponsor. Luckily we did and haven't looked back since.
My favorite moment was putting up a 3 week countdown timer as a motivational tool without having anything done, it was really a time when our staff fully realized what we were capable of.
Nazgul: No doubts here really I know what the people on this staff are capable of. Basically we doubt ourselves a lot before we get into something because we try to only take on things we know we can do. Once we decide to do something I have very little doubt that we always should be able to pull it off.
My favorite moment is actually about the TSL itself it is when JF came back from 0-2 to win the finals 3-2. As an organizer you can only do so much to put everything in place for players to shine. For those two guys to reward us with such an amazing finals scenario was really more than we could ever ask for.
We delved into this a little last week, but let's revisit now that you're here, HB. What is special about TL staff and seriously, how does TL do what it does with just volunteers? As a long time volunteer turned full time employee, how would you describe the mindset of your average TL staffer?
HotBid: I think what makes TL work is a combination of things. Volunteers can do work that's quite good if they are passionate. The biggest problem with volunteer work is that there's no accountability -- people come and go and do work as they please with no sense of responsibility. After all, it's better than nothing right? Well, we try to turn that concept around for TL staff. Our writers, TLPD, moderators, etc try to treat TL as if it was a real job and hold themselves to standards that are beyond what a normal volunteer would expect. Everyone sort of sets an example and its up to everyone else to meet that. There's no excuses made for doing subpar work because "you're just a volunteer." For those that ask "why do it?" I think the answer is pretty simple. Everyone wants to create and build and do something they are proud of, and to be a part of something bigger than themselves. I think that's the main motivation behind why our volunteers work so hard.
As for transitioning, we were actually very worried that moving toward full time staff would create some sort of awkward situation with our other volunteer staff, but really everyone has been so supportive. I think this is because a) Rich and I did a lot of volunteer work before becoming full time and b) we really do make the work of everyone else easier.
Back to TSL3 Week 2. Last weekend the streams hit 50k viewers at peak. What does that milestone mean to TL? What are your goals for the coming weeks?
HotBid: Our goal is to push out a product that is the best it can be given our limitations. We know we can't have player cameras or commentaors in suits and booths, but we can make the broadcast look pretty and go smoothly. There are many advantages doing things our way too -- the Boxer-NightEnd disconnect was a perfect example of that. It sounds cliche, but it comes down to doing our best and having no regrets, so we work as hard as we can before the actual broadcast. The 50k was a milestone and exceeded our expectations. We just want to build on that and do better in the upcoming weeks.
Nazgul: I think that our only real goal concerning viewers is for the final. After all the broadcast before that are leading up to the final. Hitting 50k last Sunday was pretty eye opening and definitely higher than our modest predictions. We'll try to shoot for 75-100k for the final now. What this means for TL is it opens doors on the business side of things. As far as production wise we are happy with the way it is going.
What can non-staff TLers do to help the TSL3 and show their support for the site?
Nazgul: TL makes some money for every person that signs up and receives $50 from PokerStrategy. By doing this
you can enter our raffle
. So for the people out there that have an interest in poker you can actually get $50 for free and help TL at the same time.
HotBid: I'd say just be a good fan. Get some casuals to watch. Be passionate but informed when you post on the forums. Enter the raffle if you're outside the US. These are small things but they really do add up when everyone does it together.
In the long run, what would you like people to think of when they think Team Liquid? A SCBW/SC2 community? A team? A news site? A tournament organiser? All of the above?
Nazgul: Fucking awesomeness. Or just Awesomeness.
HotBid: All of the above. TL is a unique place that can't really fit any single label. We want to be the biggest and best Starcraft community that has a small-time personality but one that also runs professional events. It's a hard balance to maintain but I think we can do it.
Thank you for your time, gentlemen! In parting, if there was one thing you could say to someone who browses TL regularly but still hasn't registered, what would it be?
HotBid: Every time you register and make good posts the universe rewards TL with ESPORTS dollars. Thanks for all the support, we do this for you guys.
Nazgul: It's not worth it, save your life while you're still able to.
Their buddies back at the barracks asked if they'd seen a ghost.
Download TLO - HayprO Ladder Replay Pack
Put together by the Liquid Replay team - TheMango, p4ndemik, GTR, heyoka, Xxio and Ares[Effort]. Thanks guys!
---
Liquid` is proudly sponsored by The Little App Factory, makers of fine applications for Windows and Mac OS X and fans of great Starcraft! Their flagship program, iRip allows you to recover your music from iPods - a life saver if you, like many of us, do tech support for friends and family. In fact, for a limited time, you can use the coupon code TEAMLIQUID to get 25% off when you get TLAF products!

Want to help support TLAF, the company that supports your team? Beta test their applications. It's a great way to say thanks!