---
---
"March Madness"GSL March PreviewBy the GSL Writing Staff
Across Korea, winter is beginning to melt into spring, and that means that the gloves are coming off. In the outskirts of Seoul, teamhouses are illuminated late into the night by scores of computer screens. Builds are being painstakingly constructed, opponents are being studiously examined, and APM is being spammed. This is an one-time opportunity for teams and players. Win and prosper, lose and face an uncertain future. There are many players lying awake for whom this will be the peak of their careers. There are many for whom this is just the start of a journey. And somewhere, a future GSL champion is also staring at the ceiling, tossing and turning, unable to sleep.
Oceans and continents away, we've been watching. It's not only the players who are nervous. This GSL will feature five of the foreign scene's greatest players. Four must battle the unforgiving conditions of Code A. One will have a strong chance at the championship. We're worried and apprehensive, but we watch anyway.
March Madness is often associated with American college basketball, but to us here at the Team Liquid GSL coverage team, it's a mouth-watering, jaw-dropping, pants-changing slugfest of our favorite eWarriors battling it out. A week off from the action has snowballed into a preview truly worthy of the stakes in this tournament. We're proud to present not only the usual batch of previews and predictions, but a slate of in-depth articles as well and a return of wild shot-in-the-dark predictions. With a newly expanded GSL team, this season of coverage will be more timely, substantive, and indispensable than ever.
Code S Previews and Predictions
Group A
"Dial M for Murder"
By Lovedrop
+ Show Spoiler [Group A Players and Analysis] +
Perhaps murder is a little bit violent of a word, but it is not too far off from what could potentially happen in Group A.
IMMvp
leads the group as the landslide favorite, sitting atop his 31-4 record for 2011. His most recent loss gave us one of the best TvPs that have ever been played in televised SC2. With a plethora of Terrans remaining,
oGsHyperdub
must wonder time and time again why MVP picked him as a sacrificial lamb. Hyperdub must overcome last season's defeat to MVP to have any chance of making it out of this group alive.
ST_July
may be a newcomer to Code S, but his name has made nerds shed tears for over half a decade. July shows extreme confident in his abilities, rounding off the group with
oGsMC
.
The oGs duo in this group both are looking for revenge against MVP, and only by doing so do they have a chance to not eliminate each other. MC has clearly expressed his desire to avoid a team kill, but he hasn't been able to replicate his dominating run in 2010. July's reason for picking MC was 'to make this the group of death', but don't be fooled, as July is out for revenge as well. MC, his hoobae from MBCGame days, had eliminated him in GSL Open 3 RO16. Oh, who did MC eliminate in the GSL Open 3 RO32? Why, that's Hyperdub. Revenge seems to be the main theme for this group, and a group of death to kick us into gear for GSL March 2011 Code S is simply ideal.
Verdict
:
IMMvp
will advance because he's MVP. Having never making it past the RO16 in a major tournament, Hyperdub's chances are marginally slim.
oGsMC
will have won the psychological battle against July, and while July has a great set of Protoss to practice with, MC is still considered the best Protoss in the world. MVP will beat MC if they had to play to top the group, and both players will look forward to torment the winners of Group B.
Group B
"IdrA's Blessings"
By Lovedrop
+ Show Spoiler [Group B Players and Analysis] +
Amidst the mixed reactions of his
glorious return home
,
EG.IdrA
leaves us a group B that conceivably could end up in any of the six possible outcomes.
TSL_Clide
was grateful to have another chance at IdrA, and he granted the same wish to
oGsZenio
, who has had quite a history with our American Zerg.
ZeNEXByun
(queue for TV censors) rounds up the group that originally sported 2 Terrans and 2 Zergs.
If anything, TSL_Clide's epic games have one thing in common: he loses. While the monstrous plug of GSL champion material from Tastosis has played a part in Clide's over hyped reputation, Clide just does not seem to have what it takes to win against challenging opponents. Zenio presents the same problem. Zenio's growth during the GSL Opens have been phenomenal, but it seems that a plateau has been reached. Both players will have to show a different approach to their gameplay if they plan on breaking out and advancing past the RO16. They are joined by ZeNEXByun, the code A finalist, having played a rigorous 16 games prior to his advancement matches.
Among the three, only Zenio and Byun have had matches in a proper tournament before, with Byun edging out Zenio 2-1. Zenio's advantage of having to only practice for one match-up puts him in the forefront of making it out of the group. Byun eliminated TSL_Sangho and ST_July in Code A, showed a spectacular BO7 TvT against oGsTOP in the Code A finals, and was the only Terran other than MVP to take games off of IMNesTea, pushing him to the final game 5 of the Gainward Invitational semifinals.
Verdict:
ZeNEXByun
will triumph in both of his games, easing by both Zenio and Clide and placing 1st in the group.
oGsZenio
has stated that the new maps are definitely more favorable for Zerg, and he will use that to his advantage, giving Clide a month off to pursue his hobbies. Both players' RO16 prospective looks grim, as whoever emerges victorious from Group A is sure to be no featherweight.
Interesting note
: Now that we're missing a Code S player, the loser of this group will automatically have 2 chances of staying in Code S, with more information on the Up and Down matches to come.
Group C
"Jin-ROLL"
By Divinek
+ Show Spoiler [Group C Players and Analysis] +
With impressive performances in the last two GSL's it's no doubt that the favourite in our hearts is also the favourite on paper here.
TLAF-Liquid'Jinro
already seems to have had some recent history with most of his group from the last GSL season. When last him and
PoltPrime.WE
met it was a handy 2-0 for the white terran; however
CheckPrime.WE
managed to take a game off of him previously in code S. With a semi final run in the last gsl that went through people like MC, and losing to the eventual winner in the one before that there is no doubt Jinro is going to take this group. As for who can take second?
Polt managed to get annihilated in his up-down matches getting 2-0'd by both lyn and thewind. However, he won his wildcard group putting him as the last player selected for code S, though it was not an easy journey for him. With a mostly terran group, and TvT being his weakest match up I see him having a hard time advancing from this group.
ST_RainBOw
succeeded in making it to the ro16 last season before being defeated by MarineKing and MC, both fierce players in their own right. Otherwise his results have been fairly hit or miss and his play just doesn't seem as confident to me anymore. Check was eliminated in the ro32 last season but was able to take a game off of the group favourite Jinro, and won both of his up-down games. After saying all that this second place spot hasn't become much clearer.
Verdict
:
TLAF-Liquid'Jinro
will no doubt advance from this group, and it would be a surprise if did anything but win it. The spot for the second advancement really is a toss up as the rest of the group isn't nearly as strong and have had some really mixed results. I'm going to put my vote with
CheckPrime.WE
even though he may have the recent results disadvantage of being the only person in the group to be eliminated by the ro32, I'm hoping the trend to making these maps nicer for zergs will benefit him in moving beyond this group stage.
Group D
"O-G-YES"
By Divinek
+ Show Spoiler [Group D Players and Analysis] +
This group features two of oGs' very strongest players, and terrans to boot.
oGsTOP
managed to make a comeback against byun to win Code A last season showing us his TvT can handle the pressure. Fortunately TvT also happens to be the dominate match up for this group, so TOP is looking to be in good condition. He did lose his only gstl game to seed, but 2-0'd legal mind in his up-down match retaining his code S status with ease.
oGsNaDa
was eliminated last season by marine king, the eventual finalist, in the ro8. However, looking at his recent games record his only other real losses are to big names including MVP, idra, tester and MC. Since there are no such names like this in his group he shouldn't have much trouble advancing.
As for the other two,
TheBestfOu
managed to get to the ro16 just barely last season but I doubt he'll make it out of this group. His TvT has not managed to show us anything impress, and the same goes for his games against protoss. He dropped gstl results do not tell us much as he lost his only game to the amazing squirtle, but maybe the fact that he only played one game tells us enough. Though
HongUnPrime.WE
did make it to the semi finals of season 3, his more recent results haven't been nearly as impressive. He didn't even make it out of the ro32 last season, and his group was not one to make this task unusually difficult.
Verdict
: The fanboy in me screams that Nada should win this group; fortunately the rational person in me also tends to agree. He may have some competition from his team mate in this group, but it's hard not to pick the most consistent progamer of all time as the group favourite. I would be very surprised if the two oGs boys,
oGsNada
and
oGsTOP
don't make it out of this group.
Group E
"The Emperor and the Soft Drink"
By Kinky
+ Show Spoiler [Group E Players and Analysis] +
IMNesTea
is coming into this group shortly after his team's victory in the GSTL, and as a result, he has a dominating aura. Though he only played one game in the whole league, it was in the ace match of the finals against ST_Squirtle. That just goes to show how much trust his team has in him to take home the win in such a clutch situation, and he definitely delivered.
SlayerS_BoxeR
's first game will be against
oGsEnsnare
. Both these players' most recent games have been in the GSTL and they both lost. oGsEnsnare went for a 1rax FE in his game against IMSeed and lost to a 4gate, which he should've completely been prepared for in a build like that. However, BoxeR's recent TvT loss to Destination in the GSTL wasn't a show of lack of preparation persay, but rather a build order loss that set him behind too much in the early game. I'd still argue that BoxeR's TvT is his best matchup, as his BW experience and knowledge of TvT will kick in the longer the game goes. With a better knowledge of the matchup and a better build, BoxeR will take his first match.
As for
SanZenith
, I want to believe that he can make it past the early game, but it's really hard to tell. It's hard to take anything from his most recent matches against LegalMind since it was a PvP, and LegalMind isn't exactly an upstanding player. Nevertheless, I don't expect him to have the slightest chance of even grabbing one win in this group.
Verdict
:
IMNesTea
will be expected to take this group 2-0 with no resistance as he is clearly the strongest player in it. The fanboy in me also says that
SlayerS_BoxeR
will make it out 2-0, with one loss to NesTea when they duke it out for the seed. SanZenith and oGsEnsnare will both be playtoys to these BW veterans.
Group F
"This is a terrible group"
By Kinky
+ Show Spoiler [Group F Players and Analysis] +
choyafOu
hasn't shown his face around lately as a result of his laddering
"scandal"
, but he is still a strong player nonetheless taking out players like MarineKing, TesteR, and Kyrix in the past. With all the downtime he's had, he'll probably be even more ready to take this group by storm.
FOXLyn
is a player that has shown significant improvement since his entry into Code A, unlike his other WC3 counterpart Moon. Furthermore, he has the results to prove it with a good run in Code A until losing to finalist Byun. It's been a while since we've seen him play something other than TvT, so it'll be interesting to see if his other matchups have improved as well.
The last two players,
ZeNEXBanBanssu
and
oGsTheWinD
, are both players who haven't made the biggest splash in broadcasted games yet. I consider them both to be good players, but mediocre in comparison with the rest of the competition. If I had to say, however, BanBanssuZenith will beat oGsTheWinD in their first game.
Verdict
:
choyafOu
takes it 2-0 against Lyn and against oGsTheWinD in the 3rd set of the group.
FOXLyn
will go on to beat BanBanssuZenith in a close game and shut it out 2-1 in the rematch.
Group G
"Obligatory Group of Protoss Suicide"
By Treehugger
+ Show Spoiler [Group A Players and Analysis] +
It feels like it happens more than it probably actually does, but the existence of a protoss group of death seems like a starleague ritual. Luckily for the viewers, the group possesses
TSL_FruitDealer
, who is the lone zerg in the group, and will thus be counted upon for variety and entertainment. The three protoss here—listed in order of skill—are
TSL_TesteR
,
MvPGenius
, and
anyproPrime.WE
.
This is an accomplished group. Fruitdealer is a GSL champion, Genius is a Blizzcon champion, and TesteR is a two time Ro8 finisher.The outlier is anypro, who once made a Ro16, and has done little to impress since. The good news for the Prime protoss is that there are no terran in this group, which means that he will probably live longer than seven minutes. But ultimately it's hard to imagine if anypro could've effected his group less if he had moved to the United States and played MLG. The other three meanwhile have a strong chance to not only advance, but an outsider's chance to make an impression on this tournament.
Verdict:
A lot is in play for this group.
TSL_TesteR
has no excuses, having picked anypro in the group selection, he should and must defeat him in the opening round. After winning in the opening series he can play comfortably, especially if his teammate
TSL_Fruitdealer
defeats Genius. I'd favor both of these things to happen; this group will be play the first three games that'll decide the group on Shakuras and Xel'Naga, which should not offer much in the way of surprises. Fruitdealer is not remarkably adept at either, not do either favor ZvP, but I rate him as a better player than Genius. Additionally, after he picked them into a teamkill, I think the TSL players will have extra motivation to expel Genius and advance together. A lot hinges upon that first ZvP game however, and things could become messy if the TSL players meet in the second set.
Group H
"Hall of the Marine King"
By Treehugger
+ Show Spoiler [Group A Players and Analysis] +
This is one of those groups where a lot can happen. Beyond the obvious favorite and reigning runner-up
MarineKingPrime.WE
, this group holds three players who are good, but not great.
ZeNEXKyrix
has struggled to return to the excellent form he showed in GSL2 and the GSTAR tournament.
sCfOu
is fresh out of a solid but unspectacular run through Code A.
oGsInCa
has long been a borderline Code S talent.
I'm deeply skeptical of the ability of the bottom three in this group to perform. InCa and Kyrix both seemed to have peaked in past seasons. scfOu was one of the better players in Code A, but that's just like being the fastest lemming over the cliff—Code A last season was awful.
Verdict
: Between such undistinguished players, order and maps ought to be paramount here. It's difficult to make summations about the new maps without having seen them played widely, but Kyrix's trademark mass expand/baneling play may get a boost against MKP due to the size and relative openness of Terminus RE. If he loses there, he'll have to play the map again, and will not want to face a protoss on that map. That player would be InCa, who plays scfOu on Tal'Darim. There's not enough evidence to draw a conclusion about this map, and these players are hard to separate. Various permutations aside,
MarineKingPrime
is better than the other three, and should advance regardless. Of the remainder, I think the large map pool from this group ultimately will favor the idiosyncratic style of
ZeNEXKyrix
. I think he has a chance at MKP on Terminus, and is a favorite against scfOu. Of course, a loss to MKP and a win for InCa could spell a quick exit for Kyrix, but the odds are probably marginally against it.
---
Code S aside, we've previewed all the Code A action as well, including the matches of the four foreigners invited in to take a shot at Code S.
Code A Previews and Predictions
Day One
By Hot_Bid
+ Show Spoiler [Day One Players and Analysis] +
IMLosira
vs
SlayerS_LegalMind
Losira was one of the top Zergs on the Korean ladder when he lost to Liquid'TLO 0-2 back in the first GSL in September 2010. Today, he's still one of the top Zergs on the Korean ladder, but was conspicuously absent from the GSL until the Code A qualifiers at the end of January. There, he defeated his teammate IMYoda to get here. A player on the rise, Losira performed well (2-2) in the February GSTL, contributing to Incredible Miracle's eventual win.
LegalMind's SC2 career started out relatively promising, finishing in the Ro16 for GSL1 and prompting a flurry of law-related jokes from the TL GSL coverage team. Since then, he qualified for both the GSL2 and GSL Code S March, but exited early to Leenock and MKP.WE. He also dropped both Up-Down matches, and was relegated to fighting for his life in Code A. Despite joining Boxer's team SlayerS, it seems LegalMind's days as a Code S Protoss are behind him.
Prediction:
Losira
will likely do well on Xel'Naga but may struggle on the two larger maps against elite Protoss. Fortunately for him, LegalMind is not in that tier, and he should take the series.
---
ST_August
vs
LonerPrime.WE
We know very little about August from his results, and even less about his TvT. He's only played one series, losing to LiveForever, and that was back in September. He did not appear for Startale in the GSTL, even though they sent three Terrans out against Incredible Miracle, which does say something about how his team views his level relative to lesser known Ts (at the time) like Virus and Bomber.
China's Loner had quite a successful debut in GSL2, winning two rounds before running into BoxeR in the Ro16. Since then, we've seen very little of Da Yi other than four games in Code A where he lost to oGsCezanne. Loner did not appear for Prime in the GSTL, but Prime only played one match. Still, he is the consensus best player out of China and has a quite a number of capable Terrans on his team to practice with (MKP, Polt, etc).
Prediction:
Difficult to call since we do not know much about either of these two players and the shape they are in now. If I had to bet my life, I'd say 2-1
Loner
.
---
TLAF-Liquid'HuK
vs
ST_Curious
International fans have been waiting for this match every since HuK touched down in South Korea, as this match will be HuK's broadcast debut after his tantalizingly close 1-2 loss in the finals of GSL3 qualifiers. HuK is widely considered one of the best non-Korean Protoss, qualifying for, placing high, and winning several well-known international events. Since landing in Korea we've seen very little of HuK recently besides his Top 8 finish at Assembly, where he lost 1-2 to aTn.Socke in a close PvP. However, HuK has been tearing up several ladders, reaching 4,000 points on EU in a matter of days and managing to get
two
accounts into the Top 5 on the Korean server at one point. He's stated that his best matchup now is PvZ, and as recently as a few months ago it was considered his worst matchup by far.
Startale's Curious has very few games official games under his belt, and most of those come from the ZOTAC Team Invitational, a tournament Startale won. Curious 3-killed a lesser known team MvP, but has yet to score a televised victory over a "big name" player. That said, he is the second best Zerg on Startale behind July, and HuK has said himself that this match will not be easy after facing Curious on the Korean ladder many times.
Prediction:
This one is going to be close, but the maps (Tal'Darim, Meta, and Terminus), recent PvZ trends, and
HuK
's best matchup and ladder results point toward him winning 2-1.
---
TSL_Pretty
vs
ZeNEXButterflyEffect
Both of these players have very few results in official matches. TSL_Pretty (aka Posh, and Revival from SC:BW) was on a wicked loss streak against Terran, but recently beat a Terran to get into Code A. ButterflyEffect, on the other hand, qualified for both the GSL Open #2 and #3, only to be bounced out early against Zergs (FD and Moon), and
barely
remained in Code A, narrowly defeating LittleBoy 2-1.
Prediction:
Fear the newer, rising player, and don't be too high on an older name who has less than stellar recent results.
Pretty
likely takes the series.
Day Two
By TrueRedemption
+ Show Spoiler [Day Two Players and Analysis] +
ST_Virus
vs
FOXMoon
The only time most fans would have heard of Virus would be a rather forgettable, quick loss to void rays in the GSTL final against Yonghwa. He has however played 12 other games for Startale in the Zotac and Brainbox team events, clearly and active member of the team for months now. This code A will be the first time for Virus in the GSL individual series, but coach Won Joong Wook confidence sending him out in the finals suggests Virus has the potential to do well this month.
Moon on the other hand is a household name, a dominant WC3 pro looking to extend his legacy into the new era that is Starcraft 2. After falling to Jinro in GSL 3. Moon fought his way to the Ro8 in January's Code A tournament where he lost to his teammate and rival Lyn, and ultimately was unable to secure a Code S spot. Moon will only be looking to build upon this result however, and being stuck behind Lyn will no doubt only spur him to work harder. A crowd favorite as well as a strong player, anything less than Code S will be a disappointment for Moon this season.
Prediction:
This could be a very entertaining match should they both play to their potential, but I anticipate Virus being uncomfortable without a team there to rely on and
Moon
to move on.
---
GanZi
vs
TLAF-Liquid'HayprO
No longer on IM, GanZi has still put together impressive results. In a January tournament he was able to not only 2-0 Losira, but also win a best of three against FruitDealer before losing to MarineKing. Pretty difficult to extrapolate from, but the combined lack of team, win over Fruitdealer and success qualifying for Code A in the first place insures GanZI is definitely good at something.
A man who needs no introduction, HayprO will be striving for a breakthrough on the Korean front this month. His successes in the foreigner community have been significant albeit unheralded, but a disheartening Ro64 loss to BitByBit in GSL3 seems to overshadow it all. Will this shadow be lifted as another foreigner finds their stride in Korea? Only time will tell, but you can count on one thing, Haypro won't go down without a fight.
Prediction:
It is tough to predict much when one player is an unknown without a team that beat a former GSL champion a month ago and not sound biased, GanZI simply hasn't been around enough to know. Haypro conversely was able to navigate his GSL3 qualifier and has been working with Liquid/OGS for months, and personal fanboyism aside I believe that is significant support to predict a
Haypro
victory.
---
ZeNEXCoCa
vs
ST_Ace
CoCa will be making his first appearance in the GSL, but he hasn't really shown much outside the GSL either. A win against RainBOw in the ZOTAC Team invite is not a bad win to have even if it is the only one recorded on TLPD, but he lost to Ace in that same event. Will this be redemption or simply history repeating itself?
Ace has had limited success in the GSL, a Ro32 victim of Kyrix's new style of play, and a first round 1-2 loss in Code A to the eventual winner TOP. Indeed it was his performance against TSL in the recent GSTL semifinal that will be fresh in most peoples' minds, where he battled through Clide Rain and aLive to set up the comfortable ST victory. Using this well-earned momentum Ace will hit this GSL running, and it is going to take quite an effort to stop him.
Prediction:
History repeats itself,
Ace
has hung around the GSL for months even if he hasn't been able to string together much to show for it, but the experience in addition to the skill shown and momentum gained in the GSTL will prove power overwhelming against CoCa.
---
SlayerS_YuGiOh
vs
LeenockfOu
YuGiOh is another player who has hovered around the GSL the past couple months. He started with a bang, defeating RainBOw in the Ro64 before losing to BitByBit the next round in GSL3, but he was able to navigate through the Code A tiebreakers until running into July in the Ro16 of Code A last month. While YuGiOh looks to be another potentially talented player looking to find his stridehe will be met with quite the test in round 1 against Leenock.
Leenock was unable to steal a spot from Genius and RainBOw this past GSL, and a disappointing up / down performance landed him in Code A despite a second chance for the wildcard spot. Memories of his series against Clide and near win against MarineKing suggest great skill, but the recent demotion may have seriously damaged the young player's confidence. This season and this first match in particular marks a critical point where Leenock either doubles his efforts in wait for a breakthrough or is swept under the rug.
Prediction:
Leenock
is a fighter and I anticipate him going far this season. It is unfortunate for YuGiOh who has also been stuck floating outside the core of strong well known players, but as SC2 continues to grow the competition will only get fiercer, and Leenock is simply too skilled for YuGiOh to handle.
Day Three
By palookieblue
+ Show Spoiler [Day Three Players and Analysis] +
TSL_Rain
vs
Yeah
Rain finds himself knocked out of Code S after an uninspiring performance in the last season. Going from Finalist to Code material can't have gone down well, and he'll be eager to prove that he wasn't a one-hit wonder. Rain hasn't had the easiest of times against Zerg lately, falling to July, Moon and Nestea all within the last two months. For someone who was once considered a Top-5 Terran, the expectations for this match should be clear.
The surprise packet for the day's play is the zerg player Yeah, who we haven't seen much of yet. He is the only GSL participant to be married. Although he has practiced with Junwi and NesTea, he is currently teamless. If he wants teams to fight over signing him, this may be his chance. Whether he can hold the trademark early aggression from his Terran opponent is yet to be seen.
Prediction:
While he hasn't displayed his best play recently,
Rain
should prove too solid for Yeah. With TvZ being Rain's strong matchup, the unknown Zerg will have to pull out something extraordinary. Being a predictable player has its downsides, however, and Yeah may try something tricky which could turn this match on it's head.
---
FXOmOOnGLaDe
vs
ZeNEXDestination
The sole foreign invitee in this group of eight is none other than the Australian hero FXOmOOnGLaDe. The former WC3 and BW veteran will be hoping to make deep inroads into Code A to justify his credentials and selection. Fresh from his victory against Loner in the IEM Season V, he'll have to replicate his slick play to reach the business end of Code A. Destination has been busy in the ZOTAC invitational and the GSL Team Leagues for ZeNEX. He's proved a solid pick, going 3-1 against the SlayerS team. He'll be hungry to make it into the up-and-down stages after his loss to another Zerg, Check, in GSL3.
Prediction:
mOOnGLaDe
has been giving SEA fans something to cheer about with strong showings in recent tourneys. Destination will be a tough opponent, but the fanatic Australian within me believes GLaDe has the experience and skills to take this. That being said, with both players having enormous potential, I would not be surprised if this swung either way. Ultimately GLaDe's reactionary handling of ZvT is very solid and should serve him well here.
---
IMJunwi
vs
SlayerS_Alicia
There was much attention when the emperor himself announced a new team: Slayers. Alicia is one of the handpicked talents that made it through, and we all know BoxeR's knack for identifying talent. Alicia has shown he can PvP with the best, with recent wins over Code A favourites ST_Ace and Squirtle, but how good is his PvZ?
Junwi is another player who has (so far) untapped potential. He's been kept out of Code S by decent Protoss players such as Banbanssu and GuineaPig. Only 3 wins from his previous 10 competitive games would certainly not be what he or his team expected. His strong performances on the ladder will count for little if he can't bring his A-game to the big leagues.
Prediction:
Neither player has shown anything to deserve the 'favourite' tag in this series. Junwi has had a appalling time against Protoss so far, and Alicia looks far from confident in the matchup. However,
Junwi
should be feeling confident following the IM Team League victory and his election as the president of the players' association. One thinks he can finally perform to the standard his much-lauded teammates believe he is at.
---
MvPDog
vs
MakaPrime.WE
Similar to TSL_Rain, Maka has been in a slight rut as of late. Popular opinion of players and fans was that Maka was a solid semifinal prospect and if he upped the ante, a genuine contender. Since his loss against eventual season 2 winner Nestea, his record has been patchy at best. The series against Fruitdealer and Polt were baffling to audiences. Maka seemed to be away at sea.
His opponent MvP_Dog recently hopped over from the fOu team, and is the sole representative of his new team in either Code A/S. While playing in the ZOTAC invitational he posted wins against imposing opposition including Puzzle and Losira. He should be feeling confident in his TvT skills after also overcoming two code S players: Ensnare and Hyperdub in the very same tournament.
Prediction:
'MvPWho?' Yeah, don't worry, I had to do some research on him too. Name value means nothing here though. This series is in the hands of fan favourite Maka. If he conjures up the type of play which brought him to the Ro8 and Ro16 of previous GSLs, this should be a straightforward procession. However his recent play has been extremely underwhelming, and with TvT being his statistically weakest matchup, he could be in real trouble here. So, who will turn up? The innovative and crisp Maka or the aimless and confused Maka? Recent results indicate the latter, while
Dog
has an impressive recent kill list to his name.
Day Four
By Xxio
+ Show Spoiler [Day Four Players and Analysis] +
oGsSuperNova
vs
ST_Squirtle
SuperNova and Squirtle know each other from back in their Brood War days. This past summer they met in the first round of the Summer MST Offline Preliminaries. SuperNova, who was on Woongjin Stars at the time, knocked Squirtle out, adding two more losses to the Protoss' win-less Brood War career. SuperNova also beat MC in this tournament before losing 2-1 to Modesty and 0-2 to Midas. Of course, since then Squirtle has risen to the top of the Korean StarCraft 2 ladder and the trusted position of anchor on his team StarTale. SuperNova has yet reach this level of success but this is also his first attempt to break into the GSL.
Prediction:
Originally on WeRRa,
Squirtle
's StarCraft 2 history goes back to the BrainBox Team Invitational – he has had many more months of experience in the tournament scene than SuperNova, who is only now making his StarCraft 2 debut. Squirtle is also on a 6 game PvT win streak and as we have seen, he is more than comfortable on the new, larger maps. There is really nothing to indicate that SuperNova should win this.
---
TSL_Alive
vs
I'll be honest with you guys; I'm a big fan of old Brood War pros trying to make it in StarCraft 2, especially when they were good. Cezanne is one of these players. In 2004 he was knocking Assem out of tournaments and taking games from Savior and Iris. Today, however, he is a member of oGs with a dismal record in ZvT and is facing Alive from TSL, who recently defeated NesTea and Check. Cezanne has always been highly ranked on the Korean ladder but this will be a tough match for him as Alive is quite skilled.
Prediction:
Alive
, at least in this match up, seems a level or two ahead of Cezanne. Cezanne was losing best of 3s to Ensnare, Polt, and sC while NesTea, Check, and Ret were losing to Alive. In terms of teams, oGs provides a stellar Terran roster for Cezanne to practice with while TSL, with only two Zerg players, has FruitDealer. It is tricky to call but based on performance, I have to give the edge to Alive.
---
SlayerS_CchapSeungEu
vs
TLAF-Liquid`Ret
Neither of these players have a great number of games in this match up to examine, especially CchapSeungEu, who first showed up in the 2nd Zotac Team Invitational and only has one TvZ on his record. In a post-Assembly interview Ret could not recognize his opponent's name, but he did comment that "Slayers clan has some very good players" and that he is happy to face to a Terran. Though some Zergs like NesTea have expressed concerns surrounding the new map pool, the preliminary consensus seems to be that the larger maps will make ZvT more manageable, but ZvP more difficult. In light of this, I would like to quote the following: "Ret macro, Ret win."
Prediction:
If GOM was still using the old map pool this would have been a harder prediction to make, but on maps like Tal'Darim Altar and Terminus RE, I am confident in my new favourite saying,
Ret
macro, Ret win. Of course, close positions on Metalopolis and Lost Temple are still possible and CchapSeungEu might simply be a very good macro player, but right now I am betting on the Dutch macro machine.
---
TSL_Killer
vs
oGsJookTo
To be blunt, if JookTo wants to beat Killer, aka SangHo, he has a lot of work to do. JookTo's macro seems as weak as it was in the first season of the GSL; there is no evidence to show that he has been improving. Killer on the other hand, once as unnotable as JookTo, has progressively taken out bigger and bigger names. In January, MKP, Check, Ace, Zenio, and TOP all fell to Killer. It can't be ignored that Killer was also an extremely skilled professional Brood War player who beat Boxer in MST prelims and Kal and Shuttle in the 2010 Winners League.
Prediction:
In my opinion, a player skilled enough to be fielded in Winners League is good enough to make a deep run in the GSL. I am confident that if he puts in the time,
Killer
can, like MVP, become one of the very best StarCraft 2 players in the world. Against SangHo, on these maps, JookTo does not stand a chance.
---
The biggest story in GSL March might not actually be the players. Learning from the experience of the BW starleagues, and responding to popular demand, this season will see the GSL debut of four new maps. All of these maps are larger than their Blizzard counterparts, an designed to promote a more macro focused gameplay. But beyond that, what can we learn? We've already seen them in a little bit of action in the GSTL, and Divinek takes a fresh look at the new maps that will define this season.




This map features 4 corner expansions with destructible rocks on the ramp and ones blocking access to each third. The center in this map seems to be the focal point, if someone can gain control of that with tanks or the like it will become fairly difficult to bypass with an ordinary ground army. Once the rocks have been broken down it becomes a bit easier to manage, but everything can be easily cut off from the center. This makes for interesting prospects of TvT map splits, and hopefully will encourage more air based play, even if that is only in the form of drops.

One critical feature to notice is just how easy it is to take 3 bases and then turtle into a maxed up army without any real fears of being broken. This I think is aimed at encouraging longer games but also may just support turtling into death balls. Protoss may have a field day with colossus + voidray on this map.

The mains are not that far by air, but thanks to the destructible rocks and the pathing of the middle the rush distances are a bit farther than they might seem at first glance. The fourth bases are weak on all fronts, being low in geyser and mineral count, they are also exposed to harass from the center and the other side of the rocks.




The rush distances on this map are rather long, but you'll probably want to bring a compass so you don't get lost along the way. This map is basically the BW map peaks of Baekdu, and it has more than its share of pathways and bridges. The prospects for backstabs and counters seem endless when there's always more than one way to go around the opposing army. Speaking of which this map does indeed have two entrances, but unlike Blistering Sands it's a bit of a walk so players won't be able to abuse this feature as easily.

Watch tower control, as always, looks like it could play an important factor all throughout the game. Looking at it you can't go from one end of the map the other by ground and avoid detection if your opponent has control of either tower. No doubt a similar concept applies to a zerg overlord being able to keep multiple tabs from a single location

This is another map that looks like it will be all too easy to split the map with siege tanks, as one cluster can protect four bases quite easily. The pathways are narrow and numerous so it's no doubt players will make every effort to avoid engaging the death balls here and instead engage in gorilla warfare.



16 bases seems to be a theme for this seasons new maps as ¾ contain exactly that many, but just look at how BIG this one is. This size results in very long rush distances, especially for cross map positions. Thankfully the center here is a bit more open allowing possibilities for proper flanks and more positional play. This map allows players to take a very quick and safe three bases, which seems to be primarily a benefit for protoss, as taking a forge FE is viable here, and the protoss is under less pressure to move out. At the same time, zergs may have an advantage against terran here, as they have added base-taking power, and terran pushes will need to cover much more space.

It's kind of interesting that they decided to place the watch towers down in those dips right beside the high ground. Placing them this way makes watch tower control very interesting as each watchtower can see half of the well in which the neighboring watchtower sits. Players may need to take extra care to hide at which watchtower they're at. Another interesting feature are the lowered supply depots at the bottom of main ramps to help prevent walling.
For some reason I just can't stop seeing a deformed battle cruiser when I look at this map.



Bases, bases, bases! Another HUGE 16 base map, not only are these bases plentiful but for the most part they are easy to take and to capture. I think someone's definitely trying to hint at something here. I'm very excited for long macro clashes on this map, the centre is so wide open that even those players that put all their units on one hotkey shouldn't have too much of a problem making sure all their units end up attacking something. Hopefully we'll seem some more thoughtful and better positional play instead, especially around the goal of securing the map's four important watch towers in the later stages.

There's a refreshing concept here of a wide choke to the main, meaning one forcefield just isn't going to cut it. Thankfully the long rush distances may act to counter-balance that weakness, but this no doubt leaves an opening for some innovative cheese. Though the largeness of this map does give one a false sense of security, in certain positions like bottom vs bottom the rush distances between natural isn't very far at all.

One thing that's different from every other map so far is also the number of the day! This is the number 9 (you were thinking J weren't you). The number 9 represents how many mineral patches are in each main, every other map thus far has only had 8. What implications could this have? Well it can change all the opening builds a bit by allowing a better saturation and faster mineral intake early on. It also means players will last just that little bit extra off this single base. This will no doubt help create longer games and bigger armies, yum yum.
---
Just about everyone is hoping for and expecting better games on the new maps. But for games to improve, the players have to get better as well. Treehugger argues that they have—but only in one league.
No Country For Old Men
Why Code A is better than Code S
By Treehugger
"If you're not practicing, just remember that someone, somewhere else is practicing. And when you two meet, he will beat you."
- Bill Bradley
There's no reason to mince words; the last season of Code A was an unmitigated disaster. The players were awful, the games were awful, and a handful of the players who got promoted were uninspiring. We had to watch BitByBitPrime try to play a macro game, someone named ZeNEXcOre play starcraft for the first time, and Loner nearly die of the bubonic plague. "Painful" doesn't begin to describe it.
But this season, the GSL is on its head. The dead weight of Code A has been unceremoniously cast away, replaced with a cast of dynamic new players eager to prove themselves. Meanwhile Code S ponderously lumbers on, cluttered and stagnant. Not only may the average Code A player be better than the average Code S player this season, but the best set of the non-qualified players might be as well. If Code A is the wild west, than Code S is it's poolside retirement community.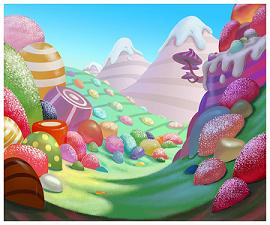 Pictured: Code S
Having said all that, it needs to be clarified that the very best players are still in Code S. The GSL finals are still the finals because of Mvp, MarineKing, MC, NesTea, Fruitdealer, and company. But the talent in Code S drops off steeply. This season and the last, the fundamental flaw of Code S has been exposed. Because Code S is so forgiving, weak players who earned their placement in the first couple GSL seasons are extremely hard to dislodge. Getting rolled in your initial group placement merely demotes you to the Up/Down matches, where you face an extremely favorable chance of being re-admitted back into Code S. Thus, anyproPrime returns for a second season of losing to two marauder/two marine pressure.
In contrast; Code A is an extremely volatile league. Merely losing the opening round Bo3 earns a swift demotion to the open qualifiers. There is no forgiveness built into the Code A format. It's win or go home from the beginning.
All of this has added up to Code A's advantage this season. half of the tepid field that we saw last round has been sent packing. Only one proved to be good enough to requalify. (ST_Ace). To take their place, we saw a series of hotly contested qualifiers that even superb non-ranked players like ST_Bomber or ZeNEXPuzzle were unable to overcome. Remaining are the best of the best; twelve qualifiers and four foreigners who are hungry for wins and not lacking in skill. The overall talent of Code A is immense.
Consider that two players will certainly retain their Code S status by advancing out of Group F (
choyafOu
,
FOXLyn
,
ZeNEXBanbanssu
, and
oGsTheWinD
) but only one of (
oGsSuperNova
,
ST_Squirtle
,
TSL_aLive
, and
oGsCezanne
) will get a chance at Code S, and two of those players will need to play through qualifiers again. That's absurd.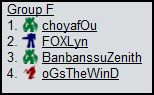 One of these groups looks fun to watch!
This message hit home during the GSTL. As any longtime BW fan can tell you, teamleagues have an uncanny way of bringing out the best in players. We saw again and again, with fantastic games being played by known and unknown players alike. But while we saw Code S monsters like IMMvp, IMNesTea, and oGsMC throw down brilliant performances, and closet gosus like IMSeed and IMYongHwa make huge waves, the show was stolen time and time by a player from Code A. Indeed, while teams played their Code S players nearly a majority of the time...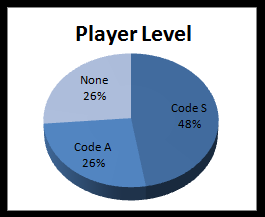 Who the teams sent out there...
... these players were routinely manhandled by a delegate from Code A.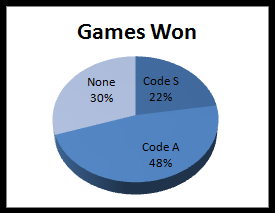 Who stayed out there.
By the time the dust had settled in the GSTL, Code A players had gone
11-3
against Code S opponents. Despite being sent out nearly half as frequently as their Code S teammates, Code A players played just two fewer games, and had a winning percentage that was 39% greater.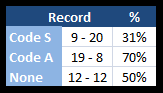 Code Awesome.
There are a number of convincing explanations for why this occurred, and why these results aren't useful. Undoubtedly, a small sample size, the prevalence of a couple good players, the prevalence of a couple good teams, and genuine luck of the draw all may have contributed to the relative performances of each Code in the teamleague matches. I freely admit that this conclusion is equal parts conjecture as it is the analysis of data. But ultimately, those who ignore how well Code A performed on an equal stage do so at their peril. Code S players not only struggled with new builds and playstyles from Code A players, they were frequently outclassed in every respect. Moreover, Code S wasn't even represented by some of it's weakest members, who should, presumably hold an edge over the next rung down. Yet all the same, Code A participants were better at almost every turn.
The wild west metaphor I made at the beginning seems particularly apt in describing the strength of Code A. With the format alone, there should be little doubt that staying in Code A is one of the hardest feats in progaming, short only of advancing deep into tournaments. One Bo3, one unfortunate map choice, one bout of nerves, or case of cold hands can doom a player into a career of preliminaries. Sixteen excellent players will face that reality in a short time. The pressure of Code A and the practice, focus, and skill needed to overcome that this season are much greater than the cushy position of those in the Code S groups. Code S is welfare for the players who excelled when the competition was less fierce. It may take several cycles before Code S can truly swallow the best 32 players in Korea. But not so for Code A. The law of the jungle applies here. Kill or be killed. Improve, or be removed. That's why Code A is overall going to be tougher than Code S this season, and for at least a few seasons after that. Because of survival of the fittest. Because this isn't the kind of league where you can squeak by. This country's hard on people.You can't stop what's coming, and it ain't all waiting on you.
Credit to the amazing heyoka for the graphs.
---
In the Sc2 scene, teams are the agents of change and progress. Builds get formulated in the team houses, strategies get hashed out, and players improve in-house. It might not be fair to say that a player is only as good as their team, but the team-house environment is certainly critical for players. Thus, we pick up where
motbob left off last month
, with a review of how progaming's best teams stand.
Team Power Rankings—March
---

#1: IM
With the reigning GSL champion, and fresh off a gutty team effort in the GSTL, there's seemingly no other place for Incredible Miracle but first. But IM had won the teamleague with mvp and NesTea alone, they would not have led this ranking. Instead, what was most impressive about IM's run was that their two aces were viturally non-existant until they emerged to close out the finals. Instead, IM's bench showed creativity, poise, and solid fundamentals in carrying their team to the championship.

In the last two team PR's, motbob and I have dropped IM because of their lack of any depth. That's changed now. With Losira joining Junwi in Code A, and mvp and NesTea as favorites in Code S, and Seed, Yoda, and Yonghwa confirmed to be really good, IM not only looks like the team with Sc2's best players, but also one of the deepest around. They should increase their Code S contingent by at least one this season, and should qualify more players for Code A as well. This is a team that has come into its own.
---

#2: oGs-Liquid'
In the #1 spot for the last few months, oGs was defeated in the first round of the GSTL by IM. Yet progaming's favorite chimera still has more players in Code A and Code S than any other team, and continues to produce talent, as oGsSuperNova (aka SaiR) recently qualified for Code A. However, oGs-Liquid' has done little recently to prove that their depth can also equal tournament results. Their prevalence in Code S means nothing if they can only place two players in the final eight and one in the final four.

That means that the team's best players like MC, NaDa, TOP, and Jinro need to set their sights on nothing short of the final. The best teams produce champions, and it feels like an awfully long time since MC defeated Rain in the GSL3 finals. A lot of oGs players earned their Code S or Code A positions in the first or second GSL season, and seem to have been long ago passed in skill. I think oGs will inevitably shed some spots, and there's nothing too terrible about that, but if oGs is going to retake the top spot, they're going to have to go deeper.
---

#3: TSL
The SCV Life might be the best-looking team, but they no longer look the scariest in the game. With just one Ro8 finisher in GSL January, and poor performances from Fruitdealer and Rain, they lost a significant amount of ground. However, the qualification of Pretty adds one to their numbers in GSL competition, and it's nothing to shrug at if seven of nine A-teamers are qualified. There's also PuMa, who joined TSL before the last qualifiers, and who gets a pass because of reputation alone.

But TSL is in the same boat as oGs, they often appear to be treading water instead of gaining ground. Their Code S players are not favorites to win, and their Code A players will need to step up their game to advance. They have no excuses, Clide's odds are fantastic in Group B, and TesteR and Fruitdealer are both in Group G. In Code A, TSL players largely drew favorable matches in the first round. If not now, then TSL will lose their reputation for being an elite Sc2 team.
---

#4: ST
Startale and TSL are both extremely good teams and very close, but while ST ranks above TSL in terms of quantity, and beat them in the GSTL, their potential has not yet been matched by individual league success. Of the seven qualified players that either team has, TSL's squad looks to be more impressive on paper. This is not to say that I don't expect huge gains for ST in Code A, and that their GSTL run was not impressive. However, for the purposes of this GSL, their best players (Bomber and Squirtle) are not in Code S, and their representatives there (July and RainBOw) are underdogs to move on. This imbalance is basically due to ST's past futility and recent surge, but until ST is able to send it's best players after the championship, it's hard to get a measure of their true strength.

If Code S poses challenges, Code A needs to be ST's party this season. They have five competent players in that league, and Squirtle and Ace count among the favorites. Three or four Code S players would put them on par with the other top-level teams, and gives them much better prospects at an individual title in May.
---

#5: ZeNex
A semi-finals appearance in the GSTL confirmed what Zotac Cup watchers already knew; ZeNEX is a deep team that's only getting better. In the GSTL, ZeNEX played a strong series against SlayerS before losing to IM. But ZeNEX players got a lot of time in front of the TV lights, and performed well, even in defeat. They qualified three Code A players; Destination, ButterflyEffect, and Coca, while Byun was promoted. And waiting in the wings, ZeNEX has several distinguished players like Puzzle and ON who are good candidates for qualification in May.

ZeNEX should expect to do well in this GSL, but the pressure to do so does not need to be high. Destination, ButterflyEffect, and CoCa have a lot of promise, and ZeNEX's two Code S players; Kyrix and Byun can do some damage, but experience is paramount for all of these players. Byun has a gift of a group after IdrA left, although Zenio and Clide are both strong players. Kyrix has a manageable slate of opponents as well, but will need to elevate his game to advance. If not in this season however, ZeNEX is putting the blocks in place to become a fearsome team in later months.
---

#6: SlayerS
SlayerS, like ZeNEX, is a young learning team that's played very well as of late. SlayerS is a little behind though, with a single Code S player (who else?), and four Code A entries. Of he group, the most impressive has been Jjob, (Dream.t)1988) who defeated TorcH to make Code A, and nearly reverse all-killed ZeNEX in the GSTL. YuGiOh, Alicia, and the recently demoted Legalmind round out SlayerS' delegation. It's a solid line-up, but one that lacks punch beyond its headliner.

Boxer's Code S group is manageable, and will likely come down to the opening TvT against Ensnare. He could do decently in the tournament, but is not among the favorites. The future of SlayerS likely comes from Code A where they generally will face tough, but workable matches. While not necessarily probable Code S promotions, SlayerS should be satisfied with retention and experience in this tournament. For the newest team in the Korean scene, SlayerS has done well to get to where they are now.
---

#7: Prime
No team was humiliated more in Code S last season than Prime. Two of their three Code A players lost in the opening round. Of their six Code S players, only one made it past the opening round, while the rest went 3-11 and were bumped to the Up/Down matches. There were two positives for Prime last season. Their best player MarineKing advanced the finals, and four of their players survived the relegation matches to return to Code S. It's a hollow victory though. Prime was exposed last season, especially after MarineKing claimed that his team's terran line would make the difference against mvp, his 0-4 defeat was the ultimate indignity.

If the story this season is to be the redemption of Prime, then a lot will have to change in the opening performance. Prime may have more Code S players than the #5 and #6 ranked teams combined, but that doesn't mean anything if they can't advance or improve. MarineKing again must lead the team, but either Check or Polt must come out of Group C, and HongUn will need to take advantage for his all-terran opponents to edge out an advancement out of a difficult Group D. In both cases, Prime players are at best even odds. More than anyone else, they have something to prove if they want to wear the mantle 'World Elite'.
---

#8: fOu
Getting all-killed by Squirtle in the GSTL was an awful result for fOu, but they may want to forget this GSL season as well. After losing their most promising player in Leenock to Code A, the wind seems to have been taken out of fOu's sails. More than any other team, fOu lacks a deep threat. choya may once again make the Ro8, and TheBest or sc may eke their way out of the opening groups, but fOu simply doesn't have the firepower to make a run in this tournament, and are going have to cultivate more talent in future GSL's. After looking like the cool new kids on the block just months ago, it's now rebuilding time.

choya might be fOu's best player, but his ability to draw lucky match-ups and grind out wins against good and bad opponents alike has not earned him many fans. His group is one of the weakest the GSL will likely ever see, however, and he should advance with ease. TheBest and sc are both underdogs meanwhile, with sc probably having the best chance. In Code A, Leenock is basically the opposite of choya, playing impressively, but drawing awful maps, opponents, or BO's nearly every game. His poor luck extends to this season, where he is essentially a push against YuGiOh in the opening rounds. It'll be a challenge for fOu to remain relevant this season.
---

#9: MvP
The odd man out, MvP is the newest team in the GSL hunt, having recruited current Code S player Genius, several former GSL competitors, and having qualified MvPDog (formerly CutefOu) into Code A. Other players of note include GuineaPig, Phoenix, Monster, and DRG. We really know nothing about this team, they have a lot to learn, and ways to go. But there's only one way to go from here, and they have the personnel.

In this GSL, isn't not about Genius. Genius is only recently in MvP, and remains an outlier, having played several GSL seasons without that team's help. It remains to be seen whether the team atmosphere will help or hurt his performance, but the best indication of MvP's talent will how MvPDog performs. His first round draw is Maka, and is beatable. But even if it doesn't work out, MvP can look forward to qualifying more players next season, as their in-house talent gets better by leaps and bounds,
---
With all the easy work done, we've shed our analyst hats to pull out some seat-of-the-pants predictions about the upcoming season. At the end of the season, the points will be totaled up, and the winner will get to play a Bo5 showmatch against BitByBitPrime, to be casted by Day9 and Kim Carrier. Stay on the lookout for details!
More Guesswork
The GSL Writing Staff Makes More Ill-fated Predictions
Favorite to Win?
Divinek
IMNesTea
Hot_Bid:
IMNesTea
Kinky
IMmvp
Lovedrop:
IMmvp
palookieblue
IMmvp
Treehugger:
IMNesTea
TrueRedemption:
oGsMC
Xxio:
IMmvp
Dark Horse?
Divinek
TLAF-Liquid'Jinro
Hot_Bid:
ST_July
Kinky
SlayerS_BoxeR
Lovedrop:
oGsMC
palookieblue
oGsMC
Treehugger:
TSL_FruitDealer
TrueRedemption:
FOXLyn
Xxio:
TLAF-Liquid'Jinro
Guarenteed to be Demoted to A?
Divinek
TSL_Clide
Hot_Bid:
ZeNEXSan
Kinky
ZeNEXSan
Lovedrop:
ZeNEXSan
palookieblue
anyproPrime.WE
Treehugger:
anyproPrime.WE
TrueRedemption:
ZeNEXKyrix
Xxio:
ZeNEXKyrix
Guarenteed to be Promoted to S?
Divinek
TLAF-Liquid'Ret
Hot_Bid:
TLAF-Liquid'HuK
Kinky
ST_Squirtle
Lovedrop:
ST_Squirtle
palookieblue
ST_Squirtle
Treehugger:
IMLosira
TrueRedemption:
ST_Squirtle
Xxio:
TLAF-Liquid'HuK
TL Writers actually didn't have that poor of a time last season, with everyone getting at least something right. But nobody was perfect either. Xxio, who correctly pegged MVP as the tournament favorite, also guaranteed that TheBest would be demoted. (He advanced.) Hot_Bid accurately forecast the promotion of July to code S, but he also chose future Ro8 finisher choya as a surefire code A demotion. TrueRedemption's predictions largely failed to materialize, although he did portend the fall of LegalMind from the top bracket. Yet his dark horse selection of LiveForever did not, in fact, live beyond the first groupstage. The worst predictions of the GSL belonged to Treehugger, who picked current Code A player Leenock as his dark horse, and bafflingly selected the teamless GuineaPig as Code S talent. The best predictions then, came from Lovedrop, who picked IMmvp has his dark horse, and was right about Check being disappointing, JookTo sucking, and July advancing.
The battle of wits begins in earnest again, as three new writers enter the mix, and many urgent questions remain unanswered. Everyone has predicted one of two IM players to take the tournament. Is it really that simple? Treehugger has reprised his demotion pick for a second season. If anypro lives on, who will he pick next season? Divnek has predicted a Code A player for his probable disappointment. Is this cheating? Xxio's pick of GSTAR invitational winner Kyrix to be demoted is a bold prediction. Will it pay off? A handful of writers have predicted Liquid' players in a number of categories. Can the boys in blue do it? And most importantly, can we
take down the GSL's very own experts
for another season?
At
09:00 GMT (+00:00)
, GSL March begins in earnest with a slate of tremendous Code A matches. If you're not pumped for the start of this season, you're a robot, please stop spamming TL with ads. But if you're like us and have blood coursing through your veins, then this is it. It's crunchtime for sixty four of the best Sc2 players in the world, including four of Team Liquid's own, and another promising foreigner from down under. The preparations are being made, the lights are warming up, and the casters are putting mint lozenges in their mouths. It's go time for the GSL, and there's only one thing left for us, the viewers, to do.
Stay Tuned.
---
Next: GSL March Group Stage Recaps and Reviews!
The GSL Coverage Team is Hot_Bid, Divnek, Kinky, Lovedrop, motbob, palookieblue, Treehugger, TrueRedemption, and Xxio. From all of us, thanks for reading!