The Swedes have a proud Terran lineage in Starcraft 2. First came Morrow and Sjow, followed by Jinro and Jimpo. Now we have a new Terran to add to that list: Prae.ThorZaIN. Thorzain has consistently performed well in Viking cups, but never quite managed to break out and win one of the larger open tournaments. That has all changed, and he stands triumphant in the 5th PokerStrategy.com TSL Qualifier with an impressive 3-1 victory over Adelscott. Not only this, but he has also qualified for the PokerStrategy.com TSL3 and will be competing for his share of our $34,500 prize pool.

After his victory we got a chance to sit down with him and discuss how he felt about his games. But before you read it, you might like to enter our raffle by completing the quiz over at PokerStrategy.com - you never know, you might be the lucky person getting an all expenses paid trip to Korea! And don't forget about out TSL3 Forum where you can stay up to date on the latest TSL related discussion (and find out who our first three Asian invites are, if you don't know already!)



Unbreakable
An interview with Prae.ThorZaIN


TeamLiquid:
Congratulations on winning the tournament. You're now qualified for the TSL -- how do you feel?
Prae.ThorZaIN:
I feel amazing. My goal prior to the tournament was reaching the semis or at least the quarterfinals so that I would get enough points to stay in the Top 8. So securing my spot felt really good.
TeamLiquid:
You finished in the semifinals of the first TSL Qualifier but you qualified in this one despite the extremely strong field of players. How has your TSL Qualifier / TL Open experience been thus far? Are you proud to make it through this time?
Prae.ThorZaIN:
As you said, I lost in the semi final in the first TSL Qualifier, to Ciara. It felt especially bad because I felt that I had already won the third game but took a fight where all my tanks were unsieged and ended up losing. The next three qualifiers I lost to Terran players, getting all-ined most of the games. So I felt pretty sad. Luckily today I only got to play straight up macro games which I feel very comfortable with. Of course I'm very proud of myself, exceeding my goal and even winning the tournament.
TeamLiquid:
For fans that don't know you, can you introduce yourself?
Prae.ThorZaIN:
My name is Marcus Eklöf, I come from Sweden and am turning 20 next week. I study at the university and play SC2 in my spare time. I used to be a WC3 player. I was quite successful in the later stages of the game, I represented team Europe in the "Stars War" tournament in China, placed third in the European Blizzcon Qualifiers after Grubby and Happy, and represented Sweden in various tournaments offline. I switched to SC2 with the beta, but kept playing WC3. Now I'm concentrating fully on SC2 and hope to get better in the future.
TeamLiquid:
What are your goals for SC2? After you graduate university are you planning to be a progamer full time? What do your parents and friends think about your plans?
Prae.ThorZaIN:
At the moment, although I study full time, it's only a 1 year education (Chinese). I'm planning on studying something more "serious" so to say in the future, but if I manage to do well enough in SC2 I may put my studies aside for a while and try to live as a progamer. Only time and how well I improve will tell. It's been a dream for many years now to make a living out of playing the games that I love.
My parents was a bit suspicious in the beginning, but has been supportive (Maybe a bit too supportive... you know who I mean!!) sometimes. As for my friends the most of them are gamers as well so they find it cool. I would like to go to Korea but as of now I think that I have to improve a bit more in order to actually have a shot at not loosing every game would I go there. But as many players already stated, it might not even be the best choice to go to Korea, since the western scene is having so many tournaments as well as of late and in the future
TeamLiquid:
Warcraft 3 players are doing quite well in the TL Opens thus far -- 4/5 qualifiers are former War3 players (Naniwa, Cruncher, Yourself, and Kas). Additionally, many fans noted that a lot of the qualifiers are "lesser known" players. How do you feel about this and do you enjoy being the underdog?
Prae.ThorZaIN:
I like playing as an underdog, but I realized that the community, perhaps rightfully so, are a bit disappointed that not all of their favorite players have qualified yet. This gives players like for example me and CrunCher a big pressure to actually prove those people wrong. And it is not really an easy thing to do, with all the big names that are going to participate in the TSL finals. As of the part that many WC3-players have qualified, I think that it is really great, being a wc3 player myself. So that all the skeptical nay-sayers whining about WC3 players not going to do well at all and that BW-player will dominate will have to think again. I just hope that this trend will catch on in Korea as well

. Currently I don't think that there's much difference between BW and WC3-players at all in SC2. At least not a big difference.
TeamLiquid:
At the same time, the TSL is a tournament where lesser-known players are supposed to make many new fans and generate more name value for themselves -- do you feel that these sort of tournaments with open qualifiers are better than full invite tournaments?
Prae.ThorZaIN:
Yes I definitely do. Even though you as a tournament organizer run the risk of having people like for example me, who aren't that established in the SC2 scene yet qualify, which might not give an as big audience as if every single player was MVP, it's as you said a way for new players to actually prove to the community that they also can play this game. I like the idea of a mixed invite mixed open qualifers style of tournament
TeamLiquid:
While nobody would deny that winning a TL Open is easy with this type of field, you said you still feel a lot of pressure to prove you belong among these players. Did that pressure increase when the Protoss invites from Asia were announced? Are you excited to play against S-class GSL players? Who would you look forward most to facing?)
Prae.ThorZaIN:
I would definitely like to play against one of the tosses. TvP is my best matchup and I feel that my builds are solid and should be able to at least put up a decent fight to those players. My TvZ is good as well but I feel like as if even if I do win a lot in it it's much because something on the opponents end, and not because I played good (Which obviously isn't 100% accurate). My TvT is pretty good but it has had so many ups and downs lately that I don't really know how I stand in that matchup. Unfortunately the Korean zergs do less of those mistakes than the european ones, and since I feel that the matchup is more determined on how they play, I would have a hard time against opponents such as NesTea.
TeamLiquid:
If you do draw a tough opponent from Asia, how do you plan to practice for it? You have several weeks before the TSL starts.
Prae.ThorZaIN:
Yes I'm constantly trying to improve my game, and this will make me even more motivated to do this. I would probably just go on as usual training when I feel like it, a mix of ladder and custom games, but maybe try to adapt my play a bit to whoever I would face in the TSL.
TeamLiquid:
Your opponent in this TL Open final was Adelscott -- were you familiar with him? He had a unique style of play.
Prae.ThorZaIN:
I have practiced with him a couple of times in the past, and I have been winning the most of those games. So I got really happy when i heard that I was playing against him in the finals, since MaNa's best match up is against Terran afaik and Adel's worst is vs Terran.
TeamLiquid:
You were down 0-1 to his mass gateway style of play. Were you nervous or distracted at all in the next games? Did you feel any pressure because the winner would get an automatic seed?
Prae.ThorZaIN:
I felt confident going in to the series, and lost playing the build I feel I'm winning the most against toss with. But since it's a rather new build I didn't get the chance to play against his variant of the 6-gate including immortals-push, and I screwed up quite a bit in the early game build orders. So after that game I was a bit upset and decided to fall back on my more practiced bio builds, which turned out to work very well
TeamLiquid:
Tell us about your team. Who is on it and what is the culture like?
Prae.ThorZaIN:
Prae stands for Praetoriani. Currently the players are me, ex mTw player NightEnD and the Terran player Rikytan. It's a great team with a friendly atmosphere, all three of us played are ex wc3-players and I knew and have met NightEnD before we teamed up together. The organization is very reliable and trustworthy and was a quite famous WC3-team back in the days. I know the management since then and it's a pleasure to be playing for Lloth again (Teamleader)
TeamLiquid:
Do you guys plan on attending any big LANs in the future? For example Assembly or Dreamhack or even the MLGs in the US?
Prae.ThorZaIN:
I did, and I will keep attending Dreamhacks since I live in Sweden. I did not sign up for Assembly since the sign up process was last year and I didn't feel good enough to have a chance at making it high enough to make it worth while (don't get me wrong, I love going to offline tournaments). I currently don't have any plans on going to the MLG and I don't know about the other players in Praetoriani. However if the opportunity would arise and I would feel that it would be worth taking a shot at it, I might go. Though that is nothing I can answer right now, after all, It's quite far to the US from here.
TeamLiquid:
What are your thoughts on the previous TL Open winners and who would you like to see grab the last couple spots?
Prae.ThorZaIN:
I feel that the starting field is pretty strong right now. I would like for even more WC3-players to qualify, and preferable Swedes

. SjoW fits in both of those categories so it would be nice if he qualified.

TeamLiquid:

Any last words to your fans? You must have made many new ones today.

Prae.ThorZaIN:

I would like to thank Praetoriani for their support and practice opportunities, and all the other players i practice with. I would also like to thank Skutt and GruGloG, with whom I'm currently "LAN-ing", for their support during this tournament. For any fans I may have gotten: Keep on cheering for me, and I hopefully won't disapoint you in the future!

TeamLiquid:

Thanks for the interview.

Prae.ThorZaIN:

Thanks you too!


ThorZaIN didn't have an easy run in this Qualifier. Once again, the Europeans came out in force and our Round of 32 looked more like a European championship rather than an open tournament. With big name players like Morrow, Mana, Select and Cloud in the mix, it was never going to be an easy tournament to win. Nevertheless, ThorZaIN remained unbreakable throughout the tournament - even surviving a 4Gate/Probe all in from MYM.Sase.

Some of you might be wondering what exactly makes a ThorZaIN. Well, his style is 2 parts defence, 1 part relentless aggression and 1 part harass. What does that mean exactly? It means that he exhibits mostly defensive, macro oriented style with a focus on Factory units (like Tanks and Thors). But at the same time, he has another style which focuses heavily on economic pressure play coupled with relentless Medivac harass. It is this latter style which caught out eye in his games against Nerchio. Let's quickly sit down and have a look at how he dealt with one of the strongest Zergs in Europe.



ThorZaIN vs Nerchio



Thorzain had clawed his way back from a 0-1 start to force a third and final game against Nerchio – one of our former TLOpen champions. The deciding map would be Metalopolis, a map where the spawn positions play an incredibly important role in determining the way the game plays out. Unfortunately for Nerchio, he spawned at 3 while Thorzain spawned at 6 – close positions Meta, a Zerg's nightmare. Thorzain opened with a rax-gas build while Nerchio went hatch first into pool. Thorzain immediately dropped a Tech lab on his Barracks and started a Reaper. His scouting SCV got to Nerchio's base and he began a bunker. Nerchio, however, pulled three drones and was easily able to force Thorzain to cancel his bunker.
Feeling triumphant, Nerchio returned his drones to mine as Thorzains SCV retreated off home... or so he thought. The SCV did a U-Turn and came back for a second attempt at getting a bunker down – this time with the support of 2 more SCVs and a Reaper. Nerchio managed to stall for a Spine Crawler by sacrificing a handful of Zerglings to Thorzains Reaper, and the Spine crawler completed and finished off the bunker without any further problems – except that now Nerchio was down 4 drones (after MULEs).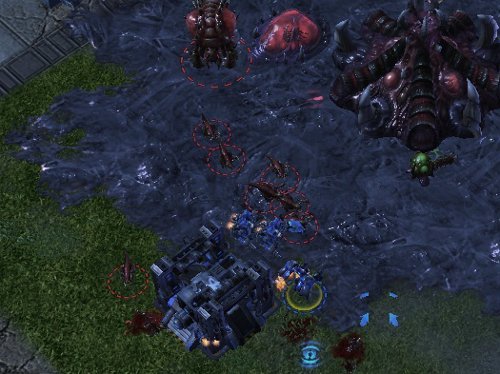 Counting on Thorzain playing passive (and looking to expand), Nerchio powered drones and quickly recovered the peon deficit. But Thorzain had no intention of playing passive, and send out a small raiding force consisting of 1 Reaper and 4 Marines. Without any Zerglings, Nerchio had no choice but to retreat his drones from his natural as Thorzain went on the drone hunt.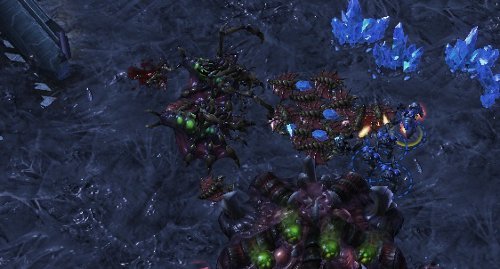 Thorzain's raid managed to level the peon count yet again, as peon counts were split at 28 workers a piece (after MULEs). After the early game skirmishes and both players securing their expansion, both sides looked to tech up – Nerchio added his Lair and a Roach Warren/Baenling Nest while Thorzain added Reactors and upgrades for his Barracks units. Nerchio also looked to pressure with some speedlings, which was mildly successful (killing 3-4 SCVs). With Stim and Combat shield finished, Thorzain's went back on the offensive and a small squad of Marines were able to trade themselves for Nerchio's army.
Thorzain had meanwhile added two factories (with Tech labs) and was building his Starport. Nerchio prepared to defend more aggressive play from Thorzain by adding two more spines and researching bane speed. He also built a lot of Roaches (as Thorzain was light on Marauders). Thorzain played right into this by moving out with another Marines squad – which was mercilessly crushed by a handful of Speedlings and Roaches. With the last battle being a decisive victory, Nerchio made a gutsy call to expand to the far Gold base. Unfortunately for him, Thorzain scouted this almost immediately with a scouting SCV.
Nerchio began compiling a Baneling/Roach/Ling army but had drastically fallen behind in worker count – he was at 47 Drones compared to 64 SCVs (after Mules). To remain competitive in the match he would need to be able to secure and hold his gold for a while – that way his workers would be 1.4x as effective as Thorzains (while mining at the gold, of course). Also, the positions meant that it would be difficult for Thorzain to expand – thus if Nerchio could hold the impending timing attack he would probably take the game. Or at least, that was the plan. Thorzain had loaded up a Medivac and rallied it to Nerchio's gold and had a second Medivac rallied into Nerchio's natural.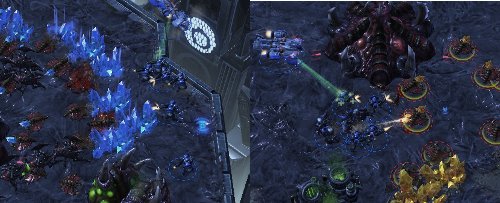 The natural drop succeeded in pulling Nerchio's army back to defend it, meaning Nerchio's gold was completely defenceless against the other drop. With a little micro, Thorzain killed half the drones at Nerchio's gold and killed the Hatch AND escaped with 5 out of the 8 Marines that were involved in the drop at the Natural. Nerchio's position was now dire, and he knew this as well. So he rallied up everything he had and attacked into Thorzain's natural: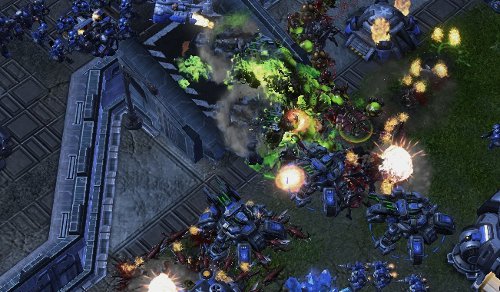 Thorzain had been massing up a large number of Tanks – and they completely obliterated Nerchio's army. It wasn't long before Thorzain had cleaned out the Zerg from his base, and Nerchio let loose the bm onto Thorzain. Oh well, just one of those things I guess! While all of this was going on, one of the Medivacs had dropped in Nerchios main – killing more drones and putting him further behind. Thorzain had a third CC prepared and floated it to 5. Nerchio tried to prevent this by focusing all his firepower on the Command Center. It worked, but it cost him half his army.
Nerchio had droned hard and was up to around 64 drones now, but Thorzain was pressing into Nerchio's natural with a scary Tank/Marine army. It wasn't long before the relentless firepower of Thorzains army tore through Nerchio's natural hatchery, and sealed a 2-1 Victory over one of the best players in Europe.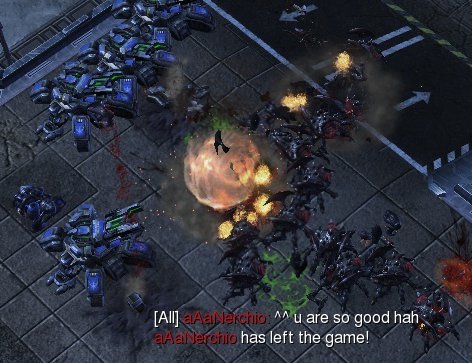 Thorzain was relentless in this game. He was constantly aggressive, but never wasteful. At worst, he was trading armies. He never let Nerchio play the game he wanted to, and eventually it caused Nerchio to basically suicide his entire force into a Tank line. This would have been an incredibly frustrating game to play as a Zerg so I understand why Nerchio start lashing out (especially after being 0-1 up in the series). At the end of the day, he couldn't do anything to crack Thorzain – a theme that was repeated time and time again in the 5th TSL Qualifier.

You can watch more of ThorZaIN's games from his

replays in the TSL Qualifier

or watch his Semifinal and Final games casted by Day[9] and Chill on

TeamLiquid's Youtube Channel

.


Obviously Thorzain was the big winner over the weekend, but there were 15 other point winners over the weekend. Each of them have earned points towards the TSL Qualifier Ladder. At the conclusion of the Qualifiers we will be taking the top 8 people on the ladder and they will qualify for the TSL. Compared to previous weeks, this was a relatively silent week in terms of ladder movement - but there were still quite a few leaps and drops. Let's see how things are shaping up:



Ladder Scenarios



Movers and Shakers

The obvious big jump on the ladder this week was Adelscott with his second place over the weekend. Coupled with an earlier Ro8 finish, he now sits comfortably in 3rd position. Stephano also remains competitive in his bid to qualify with

another

Ro16 finish and remains at 6th place. Many of the NA based players dropped this week due to quality lineup that the European players posted last week, however Kiwikaki proved to be an exception as he clawed his way to within striking distance of qualifying. Cloud's semifinal finish pushes the cut off points to 65 - a number which is sure to rise next week.

How TLO can be eliminated

Assuming TLO doesn't score any more points, 8 of the following things would have to happen:

- Ciara makes Ro16 or better

- Adelscott makes Ro8 or better

- Goody makes Ro4 + Ro16 or better

- Fenix makes Ro4 + Ro16 or better

- Stephano makes Ro4 + Ro8 or better

- Moonan makes Ro4 + Ro8 or better

- Cloud makes Ro16+Ro8+Ro4 or better (e.g. Ro2)

- Beastyqt makes Ro16+Ro8+Ro4 or better (e.g. Ro2)

- Strelok makes Ro2 or better

- KiwiKaki makes Ro2 or better

- Junny/Predy/Mana make Ro2+Ro16 or better

- SjoW/Maker/Morrow/KawaiiRice make Ro2+Ro16 or better

Of course, this list isn't exhaustive and it assumes none of these players end up winning a TSL Qualifier. It's possible that someone can make the semifinalist three times in a row. However, based on previous TSL Qualifiers this is incredibly unlikely. The situations presented above represent the most realistic way(s) that TLO will not qualify for the TSL.

How TLO can be safe

Simply put, he can't be safe at this point. We know he will be at Assembly this weekend and not participating in the TSL this week. That means TLO will still be on 151 points next week. Even if none of the above happen, if TLO doesn't score any more points it's still possible people will overtake him. TLO's ideal scenario is that the semifinalists for TSL Qualifier #6 are from the lower part of the ladder (i.e. less than 51 points) and that the winners of the Qualifiers are players who were previously finalists (e.g. Ciara). Even under these circumstances it's possible for him to be eliminated, but a very specific set of results would have to happen.

Why Goody and Fenix are not safe

At the beginning of this competition it looked as though 100 points might just be enough to steal a spot. As Qualifiers have been won and the points divided out, 100 points is looking less and less like the cut off point. There will be three more players to get 100 points - and judging from previous TSL Qualifiers they will probably be players who have made at least the Round of 16 in a previous TSL Qualifier. That instantly puts them above Goody and Fenix. There are also nine players who will overtake Goody/Fenix if they make another semifinal (ranks 6 through 14). Neither player can afford to sit back and relax for another week - they both desperately need another point scoring qualifier to secure their position. Fenix has an excellent opportunity to do that this weekend with most of Europe attending Assembly Winter. The pressure is on, but who will deliver?

Who to look out for this week and beyond?

This week is the perfect opportunity for the strongest players on NA to perform. Essentially every good European player is participating in the Assembly Winter this weekend meaning the bracket will be devoid of Europeans. This gives players like KiWiKaKi and Fenix a real chance to make another good run in the TSL. A number of strong American players are yet to post points in the TSL as well - EG.'s Axlav and Strifeco come to mind, as well as Kiwi's team mates on ROOT. The man we are all looking towards though is Select. He has been playing amazing Starcraft lately and already boasts two TLOpen titles. On home ground, he will be a tough opponent to beat. If there was ever a week for the North American players to shine, this is it! Expect a full turn out from the best that the NA server has to offer.

In subsequent weeks there are a few big name players who could still steal an open win. TLO is an obvious candidate, but it really depends on whether he feels safe with his current position on the ladder. Morrow won the most recent Go4SC2 cup over DieStar and with 40 points already on the table, even a second place finish would put him in good position to qualify. Mana is obviously another big name that could steal some more points and grab a qualification spot. Brat_OK is yet to make a splash, but we all know he is capable of doing so. Lastly Sjow, Darkforce and Strelok are three incredibly strong players who are just sitting outside of qualification range - with two solid performances it's very likely they will be able to jump into a qualifying position.


There are a lot of good games played in the TSL Qualifiers, many of which are never cast. For instance, there was a lot of Mothership play this weekend (thanks KiwiKaki) and a ton of awesome games (Select vs Forsen anyone?). The TL staff are hard at work trawling through the replays to find some of the best game of the tournament. Their findings are posted over in the TSL3 'ggs' Thread and are filtered by matchup. The games from this weekend will be added shortly - so keep a constant eye on that thread!

Next week all eyes are on the North American server while all the Europeans are at the Winter Assembly. There are only three TSL Qualifiers remaining, and things are getting really tight in the race to qualify. This weekend could be the best chance for a lot of players to make moves on the Qualifier Ladder, and of course the Winner of TSL Qualifier #6 will secure himself a spot in the TSL. If you haven't already heard about our Protoss invites, be sure to check them out in the TSL Forum. Don't forget that during next weeks cast we will be announcing our Zerg invites from Asia, so it will be cast you do not want to miss!

Best of luck.

---

This TSL is sponsored by PokerStrategy.com, the world's largest poker school and community. With hundreds of Poker VODs and an assortment of learning material in 18 different languages, PokerStrategy.com offers the chance for aspiring Poker players to learn from a beginner to a professional level. Sign up using TL's referral link.

Discuss with other fans in the TSL3 Forum.