oGsMC
vs.
TSL_Rain
Set 1:
Delta Quadrant
Set 2:
Lost Temple
Set 3:
Xel'Naga Caverns
Set 4:
Steppes of War
Set 5:
Jungle Basin
Set 6:
Blistering Sands
Set 7:
Metalopolis
---
Links and Resources:
---



"Pride"
GSL3 Finals Preview


Time and time again, we find ourselves divided between two camps that would soon be given the opportunity to showcase their talents on the grandest of stages. An eventful half year since its release, each tournament and patch has altered the way we envisioned our masterpiece to be. This time around is no exception, as we conclude the year of Starcraft II's arrival with the last of three finals that undoubtedly took the world by storm.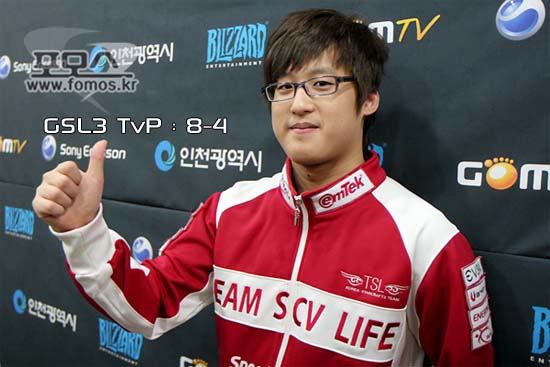 The odds are against him.


박서용 -
TSL_Rain

There's absolutely no doubt that entering Saturday's final that TSL_Rain remains the underdog. Admittedly unknown before his entrance in GSL2, Rain had an enormous amount of ground to cover in order to catch up to those who have come before him. Carrying a joyous expression as he eliminates players left and right, Rain knew he had to do at least that in order to claim himself as one of the world's best. His games were not won without a cost, however. Throughout the tournament, Rain was a topic of controversy. Due to a selective few strategies that are naturally frowned upon by the community, the backlash he has received would have been detrimental to any players. Not Rain, however. Rain used the negativity to his advantage and put on an exhibit of skill the following day for those who doubted him. The pride that he has wearing TSL's name on his back is now on the line as he faces the most important BO7 of his blooming SC2 career. The time for words has long passed, and now Rain must defend himself by no other means than to win. Opposing him however, is an opponent of magnitude never before seen in Rain's act: oGsMC.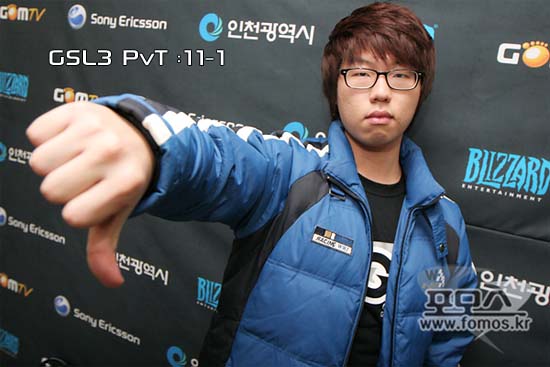 Exudes confidence.


장민철 -
oGsMC

Along with FoxeR, oGsMC definitely has taken a course with Diddy in the art of name foolery. Known in BW as MBCGame's irOn, he began his SC2 career with his full name Jang Min Chul but decided it was too long and shortened it to his initials, MC. His past success has carried over with him to SC2, where a mediocre run in season 2 is quickly eclipsed by a dominating run to the finals a month after. While Rain's run consisted of games that tested his skills as a player, MC's string of games mirrored that in a more sentimental fashion. Starting off the tournament, MC had one goal in mind before putting down his foot as a force to be reckoned with: to avenge his fallen housemate Liquid`Huk. In a match dubbed as "Revenge of the Hoodie", MC slapped down the hammer of Aiur and crushed any aspiring hope that Odin had of advancing any further, while paying tribute to HuK. Next up, MC was forced to eliminate oGsHyperdub in a team-kill RO32, singling himself out as the only surviving oGs member in the tournament. A blast from the past arrived at the RO16 and RO8 as MC faced familiar faces from his MBCGame days in ST_July and MarineKingPrime.WE. Facing his dongseng and sunbae alike, MC showed no sign of hesitation as he cruised by the Golden Mouse winner and GSL2 finalist. Once again at the RO4 must MC play a companion who he confer as "his best friend" in Liquid`Jinro. Perhaps the best way to honor that friendship was to show no mercy, and the only way MC can be proud in front of Jinro now is to take it all home. The difficulties of MC's games are not to be undermined, but it is the strength he has shown while competing with his acquaintances that has changed the aura behind him. No longer the suicide Toss whose nerves could get the best of him, MC steps onto the stage on Saturday night with all the qualities of a true champion: prowess, charisma, and confidence.

---



Map Analysis


Set 1: Delta Quadrant
GSL3 TvP: 3-2

While the statistics show the T is slightly ahead on this map, the important issue is that Rain is 2-0 on the map and MC is 0-1, his only PvT loss in the tournament. Disregarding Hongun's flaunting carriers and choya's hard-fought battle against Jinro, Rain looks comfortable on DQ with its "rotational symmetry". All three of Rain's and MC's games consisted of rushes. Rain applied two barracks pressure on this four player Steppes of War when it's not cross-positioned, and they both have worked out rather well for him. MC's loss was in similar fashion, but it was MarineKing who capitalized on his early marauder pressure with a MM+SCV all in a bit later in the game. Rain will need to secure a fragile psychological lead on MC. If the two barracks play does not work out, Rain will be even deeper in the hole. A two-edged sword strategy, but MC is too solid to give up an easy win. Look forward to Rain's 2 rax bunker play, hoping to end a quick game one.

Set 2: Lost Temple
GSL3 TvP: 2-2

Rain and MC both won their games on this map. Both MC and Rain's opponent Hongun opted for VR-centric play, with the latter throwing in hallucination/blink/DTs and all sorts of tech. This was partly due to his first attack not dealing enough damage, forcing Hongun to cleverly resort to tech play. Rain did not seem particularly bothered by it, and pushed out for a timing attack minutes later. MC abused it much better than Hongun, being able to snipe out units and buildings alike from MarineKing. Anything but close positions : expect VRs. MC will take advantage of the sight given by the VR and its absurd damage to early barracks units to slowly overwhelm Rain. Rain will have to deter from his usual heavy barracks before tech play to hold this one off.

Set 3: Xel'Naga Caverns
GSL3 TvP: 2-3

Again we see an eerie similarity in Protoss wins on Xel'Naga Caverns: denying the T FE. Losses from Choya and Hongun were completely different, but all three of Protoss wins were completely one-sided. Rain's key defense in his game enabled him to push back with a food lead, but was not a convincing win by any means. MC looked as if he had Jinro all figured out, and took little time to deny that expansion and march in for the kill. If both players decide to FE, it'll all come down to whoever can take that positional advantage and win a decisive battle between a myriad of counters from the two races.

Set 4: Steppes of War
GSL3 TvP: 2-3

The small map will definitely be beneficial to Rain in someway, but the signs have shown that MC is just as comfortable. MC reacted different to both Jinro and Hyperdub, knowingly that both his housemates have a variable style of play. Hyperdub's wall is picked apart by the superior range of the void ray, and Jinro's ramp was inviting to an early chrono boosted zealot. MC will most likely not expand early before using his units to deal a considerable amount of harass. While Rain's TvP is yet to be witnessed on this map, it's highly probable that he will need to outwit MC in order to gain a lead of his own. One base play for an entirety of the game will not surprise anyone here, and the build order battle is on as both players look to pick the correct one.

Set 5: Jungle Basin
GSL3 TvP: 1-3

Do not be fooled by Rain's win over Genius to correctly evaluate this map. Genius made a grave mistake of not scouting the two barracks cheese in his natural and forfeited the game, but it is MC who gave his opponents no chance as he is undefeated on Jungle Basin. The map structure favors Protoss in a conflicting and ongoing discussion of TvP. The favorable FE for both players means that Rain will have to either grab a 3rd earlier or win on even bases. Reaching game 5 means Rain will have already exploited one of MC's mistakes and MC will be even more on-guard for any possible early attacks. Narrow passageways just funnel the units for colossus splash and storm, so Rain must utilize the mobility of MMM in order to match MC food for food. If somehow Rain is able to deny MC his natural, the game will definitely swing in his favor.

Set 6: Blistering Sands
GSL3 TvP: 2-5

Those backdoor rocks are the bane of any Terran's existence. Making it this far, Rain would hope to end the game before those rocks spell the end of his GSL3. The long distance between two entrance is terrible for any defender, and without the ability to warp in units, Rain would look to be on the offensive most of the game. Choya's mistake of engaging Jinro from a narrowed angle lost him the game. MC again responded differently to MarineKing and Hyperdub, feeling confident in his execution of both games that ended shortly after the first attack. Rain's hopes look grim on this map and he once again will have to depend on MC slipping up in order to take this game.

Set 7: Metalopolis
GSL3 TvP: 2-5

It is a shame that had the series came this far, that the maps are no longer a boon for Rain. The early maps were more favorable, but statistics have shown that Metalopolis, being a rather well-designed map, is a birthplace of Protoss success. In the very first instance of TvP in GSL3, Libero demonstrated a powerful build in order to shut down Genius, but it was poorly executed and cost him the game. Rain quickly capitalizes on that to take out Genius in the following round, but that was it for the Terran as far as TvP Metalopolis goes. Hongun and Choya dominated the last four series in GSL3, from Void Rays to massive colossus ball, Protoss looked unshakable the second half of GSL3. Several factors contribute to this dilemma. As was shown, MVP opted to go for a quick expand, but VRs with proper micro obliterated the skimpy MM forces. In a vice versa case, TheBest was held off by Hongun with the same VRs, after TheBest tried to break with three rax pressure. The wide area in front of the natural is ideal for force fields to cut down the Terran army, making it extremely difficult to hold your FE. The open area to one side of a possible wall-in makes VR micro that much stronger in breaking down the Terran wall. Air distance between main and natural is also ridiculously close, yet very far for marines to travel. It would be in Rain's best interest to attempt a build to minimize his losses before reaching a critical mass to push in and win the game. Going into game 7, psychological pressure would definitely be the deciding factor for both players. If Rain or MC can stay composed and carry out what they feel most comfortable, we are in for a spectacular game 7.

---
Staff Prediction
Lovedrop
oGsMC
<4-0>
TSL_Rain
- MC looked dominating as he walked over his Terran opponents. Rain will have to pull a plethora of rabbits out of his hat to take this one.
tree.hugger
oGsMC
<4-0>
TSL_Rain
- MCvT is one of the surest things in Sc2. He's gone 11-1 in it this GSL. Rain is better than people have given him credit for, but he's not good enough.
TrueRedemption
oGsMC
<4-1>
TSL_Rain
- Against a slightly less familiar opponent MC will still dominates, but might be caught off guard once or on DQ. I hope the finals are more interesting than how I see them playing out though.
Xxio
oGsMC
<4-0>
TSL_Rain
- Cakewalk. Two of the games will end in less than 14 minutes. Rain will try the point defense drone timing push but MC will easily stop it, or prevent it from happening. Rain will lose once to blink stalkers and once to void rays. MC will not tech to colossus - he will go high templars. Rain will crack under Boss Toss' pressure.
Hot_Bid
oGsMC
<3-4>
TSL_Rain
- MC has played well and gotten over his nerves. He plays aggressive but technical and smart. He's so unabashedly confident, and we need personalities like him to keep ESPORTS interesting. I like that he is Jinro's friend, and that he did that ceremony for HuK. I like that he tries to do his interviews in English and comes off super badass with his "I will win easily" statements. I really want him to beat Rain. Since everyone else is going to predict MC to roll, I'm going to go ahead and jinx Rain as much as possible. Rain, you're going to win 4-3 just because that'd piss off so many fans. They'll mostly be SCV all-ins as well.
(At this point, every single writer harmoniously sighed: Oh Hot_Bid..)
---

Next: Finals Recap and GSL Season 3 Awards

Our next issue will round up the last GSL of the year and distribute our monthly awards. In addition, an outline of our works during the downtime between GSLs will be announced. Please look forward to it !

Thanks for reading!