Banner by pachi. Screenshots from the GSL Round of 32.



"Iron Chins and Former Champs"
GSL Season 3 Round of 16 Recap
By TrueRedemption and tree.hugger

This season's Round of 16 flew by in several action-packed days. We saw clutch performances by former champions, some intense deciding matches, and a non-Korean advance to the Round of 8 for the first time ever. We also saw a former Brood War legend fall to one of the best Protoss out there. The previous GSLs had never seen such racial balance: 3 P, 2 Z, 3 T moved on.

Links and Resources:
http://wiki.teamliquid.net/starcraft2/2010_Sony_Ericsson_Starcraft_II_Open_Season_3
GSL Game/Series Rating Scale
- The kind of game that'll still be referenced in a year. Incredible play from both players in all aspects of the game. Must watch now.

- Excellent play demonstrated by at least one of the players, and very likely both. A must watch.

- A good game, but nothing truly special. Often not competitive, or with some mistakes. Worth watching if you have the time.

- A below-average game. Not worth watching unless you're a fan of the winning player.

- Not an entertaining or instructive game. Even if you're a fan of the winner, your time is probably better spent.
No stars - The losing player played so poorly, we presume he's been banned from all future GSL events.

Recommended Series Short List
+ Show Spoiler [Recommended Series] +

All ratings out of 5 stars.

Day 1

IMNesTea vs

MakaPrime.WE -

ST_Squirtle vs TSL_Rain -

TSL_Fruitdealer vs

BitByBitPrime.WE -
No stars.

TheBestfOu vs

HongUnPrime.WE -
Day 2

MarineKingPrime.WE vs

LeenockfOu -

oGsMC vs

ST_July -

choyafOu vs

IMmvp -

PoltPrime.WE vs

LiquidJinro -
---

Round of 16 Day 1
Matches 1, 2, 4 by TrueRedemption
Match 3 by tree.hugger

"Close Only Counts in Horseshoes and Hand Grenades"


IMNesTea < 2-1 >

MakaPrime.WE –

Game 1 @ Lost Temple: + Show Spoiler [Show Recap] +

Nestea scouts the close positions but goes hatch first anyway, Maka building a Maka rax and builds a bunker far back from the zerg hatchery. Nestea is unable to do damage to the first marine thanks to the bunker, Maka building another bunker in range of the hatch as a spine crawler and zerglings start producing. The close bunker finishes, but Nestea's spine crawler lings and queen deflect the early pressure. Behind this early pressure Maka expanded, walling off the natural choke with 3 barracks, adding two more as SCVs transfer to the natural. Aware of the bio heavy play Nestea was able to get a baneling nest up, but a beautiful marine spread by Maka minimized the baneling damage, and too much of the bio army survived as Nestea found himself quickly down 0-1.
– Maka does a Maka rax, marines apply scary early pressure and safely retreat to a fast expand. Numerous barracks pump out a few production cycles before the games ends one way or the other based on the result of the bio timing push. Sound familiar?

Game 2 @ Xel'Naga Caverns: + Show Spoiler [Show Recap] +

Maka proxies a barracks behind Nestea's tall grass, followed up with 2 bunkers blocking the zerg ramp. Nestea pulls drones to put damage on the bunkers, but both finish quite easily as marines begin to fill the bunkers and Nestea cancels his hatch. Using a spine crawler, lings and a couple roaches Nestea breaks the bunker contain, but Maka had transitioned into a 1 base 3 rax setup, producing a strong marine marauder force and upgrading stim. Nestea gets his expansion up and with some good ling micro he surrounded and killed the marines, repelling Maka's attack handily as his baneling nest finished. After killing off another bio force Nestea had established a solid advantage, Maka forced to retreat and set up his natural. Nestea kept up the pressure however, immediately putting down his own third. Maka refused to be bullied however, starting his own very fast third command center. A growing mutalisk flock harasses Maka's, forcing a couple stims and using mutalisk mobility to spread the terran army and trim the tank and marine count. Capitalizing on the map control Nestea takes his gold and both side expansions and reaches hive tech as Maka established his gold expansion. Both players were content to macro their outrageous economies. Nestea strikes first, attacking hard into the terran front, able to kill off the terran 4th and clearing food for a large group of broodlords. The broodlords rally to the front and dive straight into battle at Maka's gold expansion, but Maka had anticipated the broodlord tech, having a good number of vvikings out already, the broodlords doing embarrassingly little damage but setting up the tech switch Nestea was setting up all along. 12 Ultras pop for Nestea before Maka was able to truly counter attack after killing the broodlords. Miraculously Maka held off the initial ultra push, as the game reached a feverpitch, both players attacking and dropping all over the map trying to demolish each others economies. As the dust settled Maka had crippled the zerg economy, but he was unable to stop the swarm from overrunning the terran expansions, Nestea refusing to go quietly into the night against Maka's marine bunker play.
– This game somehow made it from bunkers trapping a zerg on one base to all 8 expansions being taken, multiple simultaneous attacks all over the map, and a devastating tech switch between hive techs. Obviously Maka made some critical mistakes to lose from his initial position and Nestea not only played well but also got lucky, however analysis aside this is a phenomenally entertaining game to watch. The three and four based play in this game may offer a glimpse of the future of SC2 different than any high level play has thus far. Definitely watch this game if you get a chance.

Game 3 @ Scrap Station: + Show Spoiler [Show Recap] +

Maka blocks hatch first with an interesting double e-bay, Nestea questionably pulling 5 drones to take it down. Behind the early block Maka started his own fast expansion and 3 additional barracks, setting up for standard play rather than attempting to immediately capitalize on the late zerg expo and pulled drones, Nestea responding with a quick baneling nest and lair as both players powered out midgame armies. A queen curiously making her way to the gold expansion delayed Maka's bio push just enough that combined with the long travel distance baneling speed was able to finish before Nestea had to defend, allowing him to easily eradicate the push. Just then a production cycle of mutalisks put Maka on the back foot, doing minimal direct damage but forcing multiple stims and allowing Nestea to establish his third at the gold and grow his muta flock. Despite the harass Maka had accumulated a sizeable marine tank army, and aware of the game slipping away he started knocking down the destructible rocks, urgently setting up a push as Nestea set up his 4th. Disregarding the terran's favorable position, Nestea's massive muta ling baneling army swept through the narrow path, taking out all of the tanks but only half of the bio ball. Desparately needing to do some damage, Maka advanced back through the close path, but Nestea's macro had begun to kick in, a brand new muta ling baneling army forced the marines and thor back until tanks allowed Maka to feebly establish the position. Refusing to let siege tanks stifle his momentum, Nestea's mutalisks disrupted the terran reinforcement route as a quickly maxed swarm briefly gathered outside the choke before surging through, overwhelming Maka in impressive fashion.
– A delayed hatch could not slow down Nestea's powerful scrap station strategy. After a quick lair helped him massacre Maka's first bio push, a safe gold third combined with too much time and stim spent chasing the map favored mutalisk harass made Nestea look near untouchable this game. Whether it was great scouting, instinct, luck, or just practice, pulling early drones to take down the initial block and the subsequent drone and tech set Nestea up beautifully, and a decent performance by Maka that could've won many other GSL games instead looked weak and out of place.

Player Grades: + Show Spoiler [Show Player Grades] +

IMNestea –
A-
With the heart of a champion Nestea proved himself to whatever few doubters there may have been. Any game plan he may have had on XNC had to be completely abandoned as Nestea found himself down a game and bunkered in, but some great decisions and luck allowed him to claw his way back and force a game 3 where performed brilliantly, completely dominating Maka. Game 1 is concerning, his inability to handle or adjust to a currently common situation that can occur on multiple maps could spell demise with the current map system.

MakaPrime.WE –
B
Game one feels cheesy, but to be fair in some ways Nestea was asking for it, Maka simply took advantage of it and got an almost free win in a critical series. XNC again the opening was less than straight up, but it was also somewhat creative, and far from all in. The sheer cleanliness of his immediate follow through felt too practiced to really say the whole opening was completely luck based, and taking certain risks to get an advantage is the basis of high level play. Even certain parts of the rest of game 2 showed Maka has talent, but he obviously made a few bad decisions or he never would've lost from such an opening lead. Game 3 again he had some strong play, but a few easily corrected mistakes took him out of game. Did Maka's play deserve to be in the round of 16? Sure, but did he deserve to beat Nestea with some of the mistakes he made? Definitely not, but it was absolutely a good series.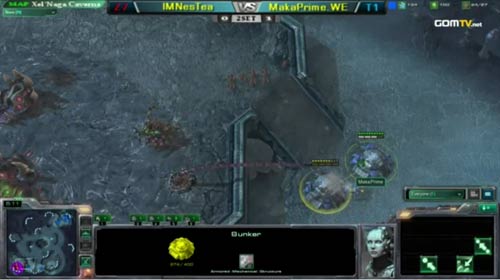 Maka was THIS close, but he couldn't handle the 5 base broodlord ultra switch
"Tastosis Caught All the Pokemon Jokes"

ST_Squirtle < 1-2 >

TSL_Rain -

Game 1 @ Blistering Sands: + Show Spoiler [Show Recap] +

Rain opens 1 rax FE against Squirtle's Dark Shrine before expansion opening. The DTs catch Rain completely unprepared, crippling the terran economy and triggering rain to mass up for an all-in. Squirtle's gateway army was able to catch the bio force moving out however, forcefields allowing the smaller protoss force to thin out the advancing bio ball while zealot charge and more gateways warped in. By the time Rain is able to knock down Squirtle's back rocks, charge had finished and a large gateway army chased the terran army all the way back to Rain's natural before a final fight and obvious gg.
– A greedy opening by Rain gets punished by a clever DT tech build, Squirtle showing a 3 gate army to knock down the back rocks, potentially scaring Rain into more units rather than detection. If Rain had gotten turrets it would be interesting to see if Squirtle's delayed expansion and DT based map control could have kept up with Rain's fast expand. Without detection however Squirtle simply dominated.

Game 2 @ Shakuras Plateau:+ Show Spoiler [Show Recap] +

Rain opens 1 rax FE again, Squirtle opting for a one gas 4 gate proxying 3 of the gateways. Rain spots the forward pylon however, and the bunkered up marauder heavy force easily removed the pylon and repelled the attack, Squirtle opting to start his own expansion rather than push the issue. Rain adds barracks, getting a ghost academy before starting his factory. Knowing he is behind Rain went quickly for Templar tech while simultaneously breaking down his back rocks to hide a fast third. Rain moved out with his first ghost before the protoss third kicked in, Squirtle only having a small gateway force and a few storms for defense. Using a scan to reveal the high ground Rain was able to land a brutal EMP on the sentries, and despite Rain sitting in storms eating the damage Squirtle simply did not have enough army to defend.
- An unsuccessful 4 gate opening put Rain ahead, but a fast storm tech and a safely hidden fast third put Squirtle in a position to Surf ahead. Rain was able punish this risky move however with a solid ghost bio push and a scan aided EMP, forcing the minimal protoss army to fight head on, his superior bio army securing the victory.

Game 3 @ Delta Quadrant: + Show Spoiler [Show Recap] +

Rain hides an early second barracks and pulls SCVs in an extremely early rush, and Squirtle's chronoboosted sentry was not able to trap enough of the early bio force at the ramp. Pulled probes with a couple gateway units were no match for concussive shells and a constructing bunker as Rain sealed his spot in the Ro8.
– Squirtle's force field was just a touch too late, and even with the early zealot he was demolished by Rain's brutal rush.

Player Grades: + Show Spoiler [Show Player Grades] +

TSL_Rain –
B
Rain's lack of detection game one despite knowing the protoss hadn't fast expanded seemed like an unnecessary risk in an otherwise strong opening, and the panicked bad scan only raised further doubts in his play. However the heads up play to deny the 4 gate game two, as well as not being afraid to use that advantage spending scans to scout and then EMP his opponent proved he wasn't too shaken up and knew how to play regardless of whether he knew about Squirtle's fast third. What gets me though is his strategy on DQ. He executed a strong rush quite well, but if a protoss can hold the attack it depends on the forcefield, Rain staking his tournament on Squirtle mis-microing his defense. It worked out, and maybe that rush can't actually just be blocked by a single force field or there is a strong transition out of it, but if Squirtle had spread his sentries in game 2 or blocked differently in game 3, I just don't know if Rain would've won the game rather than win on two of his opponents mistakes.

ST_Squirtle –
B
This entire series is difficult to judge the players on, all three were mostly decided on a single critical mistake. His DT build whether intentionally deceptive or not caught Rain unprepared and Squirtle closed the game out beautifully. Who knows if he could have played from behind if the DT damage is limited however. Facing a failed 4 gate he took some interesting but large risks forcing Rain to make a move, but by not spreading his sentries he was unable to handle a push he should have been expecting. Just barely missing a forcefield happens to everyone, but it will probably continue to cost protoss games through the entirety of SC2, you simply can't let it happen.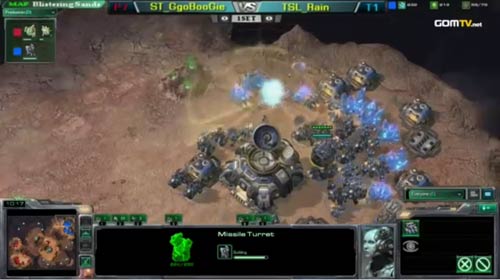 Scans: for when missile turrets are only 98% done



"Good Riddance." - No Stars


TSL_Fruitdealer < 2-0 >

BitByBitPrime.WE
Game 1 @ Jungle Basin + Show Spoiler [Show Recap] +

Fruitdealer begins the series with a banana and two apples in a curious position on his desk, which turns out to be the best part of the series. To start the first game, Fruitdealer goes hatch-first, while BitByBit expands to his natural after his first marine pops, then throws down a quick second barracks. FD is diligent in scouting for proxy cheese, but once he scouts the expansion, he begins to pump drones safely, also producing a fairly early third queen. At a random timing, B3 moves out with a group of marines, and soon follows up with conga line of basically all his scvs. FD notices this and throws down two spine crawlers, but the attack comes before they can finish. As the sum total of the terran host moves up the ramp, FD gathers his queens and pulls drones to surround the marines, while his queens and zerglings take out the scvs in front. FD loses a ton of stuff but BitByBit, naturally, loses everything and gg's as zerglings hunt down his remaining marines.

No Stars - Awful game.

Game 2 @ Xel'Naga Caverns + Show Spoiler [Show Recap] +

Fruitdealer again goes for hatch-first play, while BitByBit walls in at the base of his ramp, then goes for 1-1-1 play. B3 moves out with the intention of pressuring the zerg natural with a marine and a few scvs, but retreats after being met by a couple drones. White Fruitdealer gets a baneling nest, BitByBit gets a cloaked banshee, and harasses, getting 11 drone kills at the zerg natural before barely escaping. Meanwhile, B3 moves out with several marines, and allows a zergling to run straight into his main, scouting two additional barracks with tech labs for upgrades. B3 next gets a single raven and two medivacs, and then, a little later at a mysterious timing presumably known only to the terran, pushes out with his army and...

You guessed it!

ALL HIS SCVS. Except this time around, Fruit has banelings, and with his scv mass bringing up the rear, BitByBit has nowhere to retreat his marines too. Oops. The terran push is demolished with plenty of room to spare. Fruidealer eats a banana to celebrate.

No Stars - Did I gain great satisfaction from watching these games? Yes. Are they worth watching for the average viewer? No.

Player Grades + Show Spoiler [Show Player Grades] +

TSL_Fruitdealer -
A-
FD didn't need to do a lot here; indeed, in his post-match interview, he confessed to remembering little of what occurred. But seeing as how B3's awful rushes had overcome two zergs in the previous round, I suppose some credit must be given to FD's management in being able to defend so easily. But more importantly, FD deserves a substantial vote of thanks for preserving the integrity of the GSL.
BitByBitPrime.WE -
F
Lest the reader think that this grade is somehow tainted by an unfair bias towards B3, I should be clear that Bit's play happened first, and the bias
then
occurred as a direct result. But hell, lets look at this objectively. B3 was defeated in about 15 minutes, caught with basically the exact same modus operandi as his two previous series. That the sum total of his strategical knowledge appears to be cheesy all-ins only clinches the matter.
Let's make one thing clear. BitByBit is a horrible player. He is cynically one-dimensional, with substandard mechanics, and abysmal game sense. But he is also bad for the game and the tournament in which he was so recently playing in. If it turns out that the best way to play Sc2 is with horrible all-in rushes, than the game as an esport is doomed. Ultimately the way to play that is rewarded is not the play that will get you the win easiest, but the type of play that is interesting to watch. In that vein, Sc2 needs to see more Fruitdealers and less BitByBits. And no longer should we see this garbage infect the Round of 16. Thankfully, the order of the universe was righted in this series. Let's hope justice continues to prevail.
Wrong answer.
"OneBasePrime vs TheBetafOu"

TheBestfOu <1-2>

HongUnPrime.WE –

Game 1 @ Blistering Sands: + Show Spoiler [Show Recap] +

Best conceals an early 2 gas 3 rax opening, HongUn opting for 4 gate. Using his early stalkers HongUn broke down the back rocks, but Best had two bunkers set up, HongUn choosing to run by the bunkers, but after pulling SCVs TheBest killed off the protoss army. Keeping with the 4 gate HongUn warped in more stalkers and pushed the natural enterance, successfully destroying the tech lab researching stim before it could finish. TheBest had mistakenly salvaged his initial two bunkers as well, so when HongUn's gateway army swung back to the second entrance TheBest did not have the defenses to hold and game 1 went to HongUn.
–TheBest had this game seemingly won after holding the initial attack, but a distinct lack of marauders and incorrectly salvaging his two bunkers cost him the game.

Game 2 @ Scrap Station:+ Show Spoiler [Show Recap] +

TheBest again opens 3 rax getting quick stim and combat shields. HongUn opened 2 gate stargate, chronoboosting out void rays. TheBest's marine heavy bio ball opened up the pathway between bases and moved freely into the protoss main, catching HongUn's void rays and small gateway force on the wrong side of the map. HongUn defended but only after heavy probe and army losses, and as reinforcements streamed into the protoss base TheBest cleaned up a quick game two win.
– A one base marine heavy all in against a very aggressive void ray build made worse by HongUn getting caught incredibly out of position. Essentially a build order win.

Game 3 @ Metalopolis: + Show Spoiler [Show Recap] +

TheBest once again opens 3 rax with a fast marauder rush, HongUn barely held with 2 gate stargate and pulling a few probes. TheBest transitions into mostly a marine army getting stim and combat shields, the marauder pressure ending promptly as a void ray finishes from the stargate. TheBest begins a command center as HongUn moved forward, continuing constant void ray and gateway production. With 3 void rays HongUn harassed the terran wall in, baiting him into coming down the ramp. TheBest took the bait, stimming and trying to rush down the ramp, but HongUn caught it and split the army with a forcefield, easily overpowering the each half individually and claim a spot in the round of 8.
– HongUn just barely held the early pressure, and if TheBest had rallied his marines forward as well he might have won the game right there. Either way attempting to move down the ramp was a major risk and TheBest paid the price.

Player Grades: + Show Spoiler [Show Player Grades] +

HongUnPrime.WE –
C-
By keeping with a failed four gate and barely holding fast marauder pressure HongUn emerged the victor of a dirty, scrappy series in which no one got a mining expansion. His use of fast void rays against terran seemed long out dated and only marginally effective, TheBest opting for more marine heavy play all three games. HongUn even repeated the exact same build that lost game 2 in game 3 and simply didn't get caught grossly out of position, but much like game one TheBest handed him game 3 and a spot in the Ro8.

TheBestfOu –
D
TheBest clearly wasn't a part of the beta, and really wanted to experience what it was like to be an average diamond back then. Optimistic that after holding early 4 gate pressure the game would become an epic macro battle reminiscent of brood war, TheBest sold his early bunkers to squeeze every advantage he could for the coming war, and was promptly stomped by the war right now. Raging from the loss he took out his frustration with a one base all in and thanks to his opponent doing something weird, he easily won the game. Finally in fear of being called cheesy he settled for early pressure into an expansion, but when his opponent came knocking on his door TheBest naively tried rushing down his ramp only to get split and destroyed. Its nice to see how far we've come, but preferably in silver league and not the third round of the biggest tournament in the world.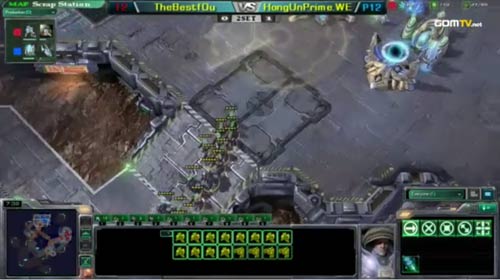 When this push came all 6 of HongUn's units were on the other side of the map
---

Round of 16 Day 2
Match 1 by TrueRedemption
Match 2, 3 by tree.hugger

"MarineKing Masses Marines Macro style"


MarineKingPrime.WE <2-1>

LeenockfOu –

Game 1 @ Shakuras Plateau: + Show Spoiler [Show Recap] +

Spawning in the close positions Foxer does not challenge Leenock's hatch first but instead fast expands and gets stim directly after his initial two marines. More barracks add to the constant marine production while Leenock continues with a standard baneling nest and lair. Completed combat shields trigger MarineKing to pressure the Zerg natural, but with uncharacteristically little split micro Leenock is able to defend with a relatively small zergling baneling force. Mutalisk harass quickly followed, managing a little damage but not particularly troubling MarineKing thanks in part to having continued producing strictly marines. Leenock gets his third up as MarineKing's 2-2 mass marine army quickly tore down his back rocks and get started on Leenock's back door. Without any vision Leenock is caught by complete surprise as a huge marine army pours into the zerg main, MarineKing pre-emptively splitting most of the army and holding position as he quickly tears down the spire. When Leenock's banelings and mutas eventually do get there the marine spread is simply too good, the banelings unable to do sufficient damage and the surviving marines and few medivacs were way too much for the mutas to handle, MarineKing quite abruptly seizing game one.
– Not having anything to scout the back door attack is a pretty basic mistake, and with plenty of time for MarineKing to set up Leenock's baneling heavy army never stood a chance.

Game 2 @ Scrap Station: + Show Spoiler [Show Recap] +

MarineKing again opts to fast expand, this time floating a command center to the island, while starting very early 1-1 upgrades. Leenock having scouted the expansion and feeling completely safe, got a fairly quick spire. MarineKing had teched as well, using a quick viking to harass overlords and scout a fast third hatch at the gold expansion. Leenocks initial muta harass was turned away from both the island expansion and terran main as MarineKing's marine ball reaches a frightening size. Using a nydus Leenock forced the island expansion to lift, MarineKing responding by moving down and taking out the gold hatchery. Leenock's counter on the main could not break the wall in, but with new reinforcements he instead engages the the large marine force that took out the gold hatchery. With too many banelings for MarineKing to out micro, the threat the terran army had was lost, Leenock feeling safe enough to double expand. Low on income, MarineKing landed his island command center at the natural and tried to protect it by pushing through the destructible rocks. Leenock met him on the other side however, once again with an overwhelming army. Using a nydus on the expansion high ground Leenock added insult to injury by rolling a pack of banelings into the terran natural, wiping out every SCV there. Crippled MarineKing rallied for a final attack, his 3-3 marine ball attacking Leenock's third, but again the swarm is just too much, forcing a thoroughly defeated MarineKing to type out.
– an interesting strategy by MarineKing, but the undisrupted zerg economy was simply too much for any number of marines to overcome.

Game 3 @ Jungle Basin: + Show Spoiler [Show Recap] +

Both players quickly expand and macro up, MarineKing feints with his initial marines to force a few lings while adding 2 rax and teching to starport. Instead of spire tech this game Leenock decides to try infestor play. As both players continued to macro MarineKing produced his first marauder in the series, opening with something closer to a standard bio ball mix. To punish MarineKing's passivity Leenock double expands to the side expos, but MarineKing made use of his earlier starport tech with medivacs, his first drop forcing one of the expansions to cancel. Leenock spots and prevents a large drop at his natural, but on the way home MarineKing spots the second side expansion and unloads to snipe it. Leenock is able to catch and take out the MMM force but not in time to save the hatchery. In desparate need of a third Leenock tries to take the middle expansion, but again MarineKing is able to snipe it, putting considerable economic pressure on Leenock. With only two bases and having teched to Ultras, Leenock desperately attempts to double expand again as MarineKing briefly paused to get a Planatery fortress set up at his own middle third. The MMM force quickly shut down both of Leenocks hatches before any significant mining could occur, and the starved ultra infestor baneling army made a final stand but was unable to defeat MarineKing's marines.
– Leenock's infestor tech simply could not defend against MarineKing's extremely mobile style, and by teching to ultras without being able to defend and hold a third Leenock out teched what he could spend.

Player Grades: + Show Spoiler [Show Player Grades] +

MarineKingPrime.WE – B+
We get it, you like marines and your marine micro is pretty good. You're even finding interesting ways to win with only marines past the early game. Ultimately though this isn't going to work no matter how hard you try. The backdoor on Shakuras was more Leenock's mistake than a victory for Foxer, and game 2 showed just how fragile the mass marine style is. Had Leenock continued going spire tech and prevented your drops in game 3 he might have set up the economy he needed and won the game. However he didn't go spire and your constant pressure game 3 was fairly impressive, and your splitting is still good, but I just don't think this style is going to carry MarineKing to another finals nor give him any success in code S next year. I'm not saying he isn't good, just that he needs to use more of the terran arsenal if he wants to remain successful beyond the early game

LeenockfOu – C-
The first loss was a pretty big mistake at any level that I'm sure he's learned from, but still. Scrap Station was a fairly impressive game, but Leenock seemed a little unsure what to do initially, taking the gold and nydusing the island were good moves but MarineKing could have punished him for hesitating to do either. The final game Leenock appeared to be adjusting to the series, realizing that against pure marine mutalisks are limited in their effectiveness, especially considering how protected JB's natural is. However by expecting MarineKing to play the same was as he had been Leenock forgot about establishing and protecting the critical zerg third on that map, his infestor play was simply not strong enough to stifle all the drops. Add in the over eager hive tech and all the minerals lost on the numerous hatcheries and Leenock couldn't afford an army regardless of how well it countered his opponents composition.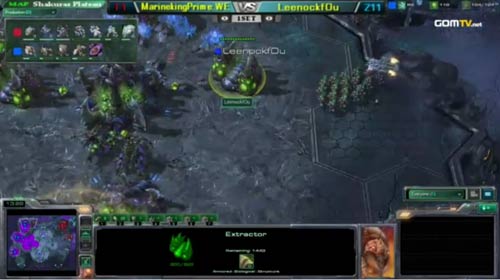 Leenock suddenly had a flashback to his traumatic childhood surprise party
"Blood and Iron."

oGsMC < 2-1 >

ST_July -

Game 1 @ Blistering Sands + Show Spoiler [Show Recap] +

July opens pool gas while MC opens warp gate stargate, using his void ray to harass overlords. MC shows what appears to be a warpgate all-in but expands behind it, but July sniffs this out and in MC's words, "him drone." July masses a very large army off two base, roach hydra corruptor versus standard Protoss ground with immortals instead of colossus. July takes his third and MC making many immortals out of two robos. Both armies trade several times but July's third base proves too much, and MC's army is slowly whittled down to nothing.
- Big battles and strange unit compositions. July smartly stayed on two bases and massed a huge army, and when MC moved out July was able to win the first critical battle. MC never got the critical Protoss ball massed and when July's later third base kicked in, it was enough to deny MC's third and end the game.

Game 2 @ Xel'Naga Caverns + Show Spoiler [Show Recap] +

Both MC and July have little unit figurines in their booths; MC has a zealot, and July a hydralisk. July expands after spawning his first zerglings, while MC scouts all of this throughly. On one base, MC warps in a stargate and builds a fast void ray, picking off two overlords around his base. July has begun a roach warren, but he responds by adding a spire after getting lair tech. MC's threatens early pressure off of two gateways, but is warping in two more gates at the same time, and pushes as they finish. July has five queens and two spine crawlers prepared, but MC has much more than anticipated, and with some excellent void ray micro, he bulldozes through the zerg defense. July calls gg seconds later.
- A short, one-sided game, but notable for MC's excellent preparation and mindgames. July was kept in the dark for the whole game, and MC was bringing the hammer.

Game 3 @ Shakuras Plateau + Show Spoiler [Show Recap] +

July goes gas-pool, again waiting for his zerglings before taking his natural. Meanwhile, MC goes forge FE and does his best Bisu impression, scouting July for several minutes with his initial probe. July drones up and adds a second hatchery at his natural and MC builds a starport, getting a void ray to kill overlords, and then a phoenix for scouting. July responds with several corruptors, but is forced back before he can scout MC putting down four more gateways and a second stargate. While July focues on the air war and takes his third at the watchtower expansion, MC attempts to push out with large stalker mob and voidray support, but has to break his own wall-in first, and blunders away a void ray. Not to be deterred, MC pushes with a massive number of stalkers and strikes July's third through the destructible rocks. July's initial defense is devastated by a series of precise force fields, and July is forced to give up the expansion. MC takes his third and adds robo tech and blink, while July retakes a third at the 2 o'clock position. Both players jockey for position in the map center, with July attempting to get a critical mass of units, and MC patroling around with a ridiculous stalker-sentry army. Just as July begins to push back, MC gets blink, and with the help of an observer, he rolls back the zerg army and creep. July masses up, and presses out again, but MC has an absolutely absurd stalker force, and delays the zerg armies repeatedly with blink and forcefields. Just as July manages to get the upper hand on the field, MC introduces colossi to the mix, and engages in a great position with a tremendous concave. July is suddenly outgunned again, and MC chases the zerg army all the way across the map and into the natural with little resistance. With the core of the stalker mob and MC's first two colossi still alive and roasting, July has no options but to call gg.
- Big armies, big battles, excellent micro, clutch timings... this was a fun game.

Player Grades + Show Spoiler [Show Player Grades] +

oGsMC -
A-
There's no escaping the intelligent and mechanically dominant way that MC has played in this tournament. After breezing through two series in his favorite match-up, a series against one of the greatest zergs to ever play BW (and renowned Protoss killer in that game) promised to be a serious test of MC's ability. Instead, he passed again with flying colors. In the first game, MC executed his one-base play with ease. In the second game, his attack on the zerg third was beautifully managed, and his subsequent maintenance of map control was the major factor in his victory. His patient and staged tech pattern was equally effective, and slowly cut off all of July's options. It's great to see MC play; his planning and ability shine through at every opportunity.

ST_July -
B
July didn't play awfully here, but he was out-thought across the board. I've been somewhat unwilling to award July full marks for his play so far in the tournament, my earlier assessment has been somewhat borne out by this series. While July's macro is stellar and brought him into the round of 16, this tournament has nothing particularly special from July which would distinguish him aside from one memorable game against aLivefOu. His decision-making is suspect at times, and his control was not strong in this series. July's style is safe, slow-building, and not particularly flexible, and MC took advantage of this. There's still room to improve.
Who said stalkers weren't a force to be reckoned with?

choyafOu < 2-0 >

IMmvp -

Game 1 @ Metalopolis + Show Spoiler [Show Recap] +

mvp walls in and begins his expansion before adding two additional barracks. choya chooses to initially play off of one base, getting a stargate and a second gateway after scouting and chasing out mvp's scv. He gets a quick void-ray, and pushes with it. mvp has been stockpiling marauders for his own push, and the void rays give him nightmares, breaking down his wall, and forcing him to pull scvs to repair. Stalker support from the low ground covers the void ray assault, and mvp is unable to clear out either force, although choya nearly loses a rallied void ray to turrets. mvp makes one final attempt to kill the air assault with marines, but choya's void rays are fully charged, and nothing is going to stop them. mvp's gg is fashionably late, coming just after his cc shudders, strains, and then blows up. choya fist pumps, and rockets back in his chair in celebration.
- choya's execution was good, and mvp was caught completely with his pants down. Some nice micro here.

Game 2 @ Blistering Sands + Show Spoiler [Show Recap] +

mvp opens with three-barracks play, and choya has similar ideas, getting two gates before expanding, then adding two,

then four

more gateways (six total) and bringing the terran rocks it to red health. choya pulls back before killing the rocks, but mvp clears them anyway, and pushes out with a dangerous bio ball. What he doesn't know, of course, is that choya has his expansion up and running and six warpgates. mvp presumes the first fact when choya defends his natural choke, and discovers the second after breaking the back rocks and sending a marine in to scout. Suddenly scrambling, mvp begins his own expo, and runs into choya's base, presumably intending to attack before his army can get out-massed too heavily. That window has passed however, and although the protoss is initially hard pressed, forcefields let choya's zealots get into the action, and mvp's force is sent into headlong retreat. choya now attacks, pressing through the backdoor and coming out ahead in the initial engagement. choya decides that he cannot reinforce enough to be able to maintain his position however, so he effects a retreat that costs him more than it should've. Still maintaining a strong position, choya regroups and presses mvp again, delaying his expansion slightly, killing off a scouting factory and a supply depot, and forcing several stims. Eventually satisfied with his army size, choya breaks into the terran main, and forces mvp to engage at an awkward angle between his barracks. mvp pulls his scvs and holds, but a small attack at the natural by choya's reinforcements causes further headaches for the terran. In desperation, mvp presses out for a final attack, but procrastinates as a few zealots sneak into his natural and start killing stuff.This lets choya get a colossus out to defend, and the protoss easily wins a fight at his natural. As his forces mop up the terran army as it pulls back, choya celebrates, and mvp obliges him with a gg as the protoss liberates the terran natural.
- A very enjoyable game, with choya balancing attack and defense very well, and mvp scrambling to come back from an early deficit, and never quite succeeding.

Player Grades + Show Spoiler [Show Player Grades] +

choyafOu -
A-
There were some moments of poor control to nitpick over, but it was hard to not appreciate choya's enthusiasm and patience on the attack. In a tournament with few initial protoss, and even fewer real protoss contenders choya emerged in this series as an excellent player, and another future hope for the sons of auir. Against a tough opponent, choya was focused and smart. He pushed the envelope when he ended up with a huge unit advantage in the first game, and waited to commit in the second game until he could properly secure his advantage with some tech. For a player with little pedigree, choya's performance in this tournament and this series forced people to take note.

IMmvp -
B
After being embarrassed with exactly the wrong units in the first, mvp made the best out of a difficult situation in the second game. He made the wrong moves in the beginning, but you can see where those decisions came from, and it's hard to fault mvp too heavily for it. He showed good control throughout the second game, especially in dealing with choya's frequent harass with his reinforcements at his natural. His macro was quite strong as well. Indeed, some slack is probably due here, mvp is a good player, and was unlucky in one game, and barely outplayed in the other. That's not the worst way to lose a series.
Aim up damn it!



"Jinrolling his way to Code S" or "Terran Emperor Avenged by Swedish Superhero"


PoltPrime.WE < 0-2 >

LiquidJinro -

Check out our in depth coverage of Jinro's Ro16 Here!


---

Next: Round of 8 Recap

This Round of 8 is stack with storylines. You have two former champions (Nestea and FruitDealer), three interesting Protoss, one of which is considered the best out there (MC), and three diverse Terrans -- a former finalist (MarineKing), a newer player from one of the most prestigious Korean SC2 teams (Rain), and the only non-Korean to make it this far (Jinro). It should be an exciting round of matches.