banner by pachi, screenshots from GOMTV GSL season 2





"Redemption"


"Legend" - Finals Preview & Semis Recap

10 years. This victory was 10 years in the making. Sweat and tears. Frustration and anger. It all paid off in the end for
NesTea, as he is our GSL2 champion. Coming back from a 0-2 deficit, NesTea composed himself and clawed his way back to take the series. The dark horse of the tournament, NesTea convincingly won over his opponents without dropping a single set (until the finals). The reminiscent scene of a Zerg player standing on that stage kissing the trophy still lingers in our mind, but the story behind it is quite different.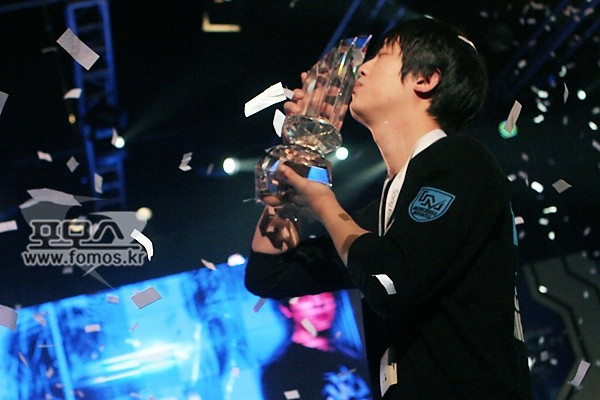 NesTea's victory represents something more than just a glass statue and money. Nearing 30 years of age, NesTea's progaming career dates back to almost a decade ago, where he once battled on another stage in SC:BW. While it carried on until 2009, it would not be too far off to say that NesTea's career had not been one of high-profile matches and staggering domination. Facing the reality of age and success, NesTea had little to no choice but to relinquish his ambition in search of a more, as most would say, probable career. With the release of SC2, NesTea's dreams were revitalized. The fire that he had as a progamer could not be extinguished. His desire to compete with the best on the grandest of stages fueled his efforts into polishing his play after the first season. His accomplishment on Saturday not only justified his comeback, but also gave hope to everyone living the dream of winning it all. Thus, this wasn't just a victory for NesTea. This was a victory for eSports.


---
Links and Resources:
---


T5 Game 1 - Shakuras Plateau Z11
+ Show Spoiler [Show Recap] +

NesTea takes the risk and goes 14 hatch, and BoxeR wastes no time in preparation to punish him for doing so. Dropping a rax at 12 and 14 food respectively, BoxeR intially sends 3 SCVs over with his rallied marines to deny NesTea his expansion. 8 more SCVs soon followed as his orbital command finishes, with BoxeR looking to end the game while relying on his MULEs for any salvaging economy. NesTea pulls 10 drones to defending with one morphing into a spine crawler, along with 6 zerglings. The spine crawler is quickly drilled down by rampaging SCVs and the drones attempt to surround the marines but are unsuccessful. The zerglings lag behind quite a bit to keep up with the peon war going on below NesTea's ramp. BoxeR holds on to every single marine while drones and SCVs fall to the ravage of war, but reinforcing zerglings clean up the remaining marines. BoxeR pulls back temporarily and the unit counting station shows 7 SCVs + MULE to NesTea's 5 drones. The difference in economy allows BoxeR to continuously pump marines and set up another SCV+marine push. The number of marines outnumber the amount of zerglings and as every single unit of NesTea is vaporized, BoxeR takes a critical game 1. [7:28]
- Execution and micro of BoxeR's caliber provided him the ability evade drones and maximizes the damage output of his marines. While NesTea seems prepared for this kind of situation, he made a mistake not waiting for his zerglings.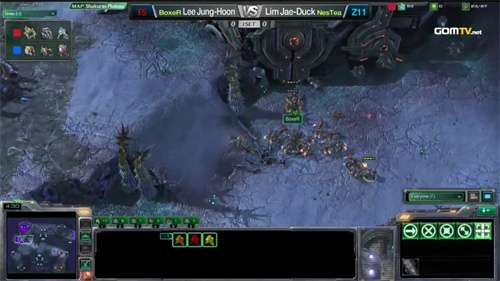 BoxeR sending a message.


T8 Game 2 - Lost Temple Z6
+ Show Spoiler [Show Recap] +

NesTea once again opts for 14 hatch, although the positions are much more safe this time as BoxeR scouts NesTea's position last when his SCV rounds the map clockwise. Seeing the natural, BoxeR begins a thor drop, but NesTea's hero overlord scouts the armory and the starport seconds before being sent to Zerg heaven. The medivac unloads the thor onto the cliff and BoxeR rallies several SCVS, queued to repair the massive thor atop the cliff. The thor makes quick work of the lonely spine crawler and begins hammering down on drones and hatcheries alike. Meanwhile, another medivac thor drop in the main snipes the queen, and the spire has just now finished for NesTea. NesTea's expansion is now under siege and he is forced to evacuate the drones, abandoning any hope of saving his hatchery. Six mutalisks hatch and heads over the BoxeR's base looking to equalize the damage, but none was done due to a combination of marines and well-placed turrets. NesTea finally is able to muster up enough mutaling to clean up the two rioting thors, but BoxeR looks firm as his second command center is now functional. NesTea takes a risk by double expanding, both at his natural and at the 2 o'clock main. Also, seeing how a heavy mutalisk-based army was not the best composition against BoxeR's, NesTea switches to roach/baneling. BoxeR, eager to push his advantage, pushes out prematurely with thors and upgrade-less marines and NesTea deflects the attack with little effort. BoxeR finally realizes that he is a base behind and once again aggresively marches into NesTea's natural. While the disparity between armies this time is clearly in favor of NesTea, the battle swings in favor of BoxeR as NesTea makes a catastrophic blunder by ramming his banelings into the thor instead of BoxeR's fragile bioball. A oscillating number of skirmishes soon follow as both players struggle to reinforce and carve out that victory while units are dying left and right. Even though he had to pull drones off the line, NesTea is able to defend the attack and force BoxeR to retreat for the time being. BoxeR turns his attention to the 2 o'clock expansion and takes it out with ease from a massive drop. Even though his army was sacrificed in the process, it is much more reassuring to BoxeR now that it's an even base engagement. BoxeR is in a commanding lead in supply, at 120 to 80-ish. NesTea manages to get his third up as BoxeR grabs the gold, and NesTea desperately pushes out to deal any kind of damage he can. His army gets shut down at the Xel'Naga watchtower and BoxeR pushes forward and takes a 2-0 lead in finals. [24:18]
- Seesawing action mid game provided plenty of entertainment. NesTea fell behind early and looked quite sharp to stage a comeback. However, a huge microing blunder turned the tides for BoxeR and he held on firmly.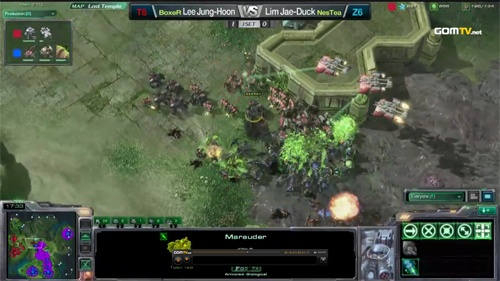 Thor says: that tickles.


T2 Game 3 - Scrap Station Z12
+ Show Spoiler [Show Recap] +

BoxeR 15cc to expand to the island and grabs both gas at the same time. The huge ramp is walled in with double engineering bay and a barracks while the expo goes unscouted by NesTea. As the Overlord takes a peek at the island, NesTea makes a nydus worm below the ramp and his tech path is similar to the last game : roach/baneling. The nydus network finishes just in time as zerglings pour out to feed on defenseless SCVs. While delaying mining time, NesTea sneaks in the gold expo and begin his upgrades for centrifugal hooks and glial reconstituion. BoxeR is producing nothing but marines and getting their upgrades very quickly. As 2/2 upgrades start up, NesTea masses up a huge amount of roach/baneling and sneaks them through the nydus network at BoxeR's natural. The baneling rolls over the flimsy bunker at BoxeR's ramp and Zerg swarms into the main. BoxeR pulls all his SCVs to take the baneling hit but unfortunately, the splash damage from SCV and marine deaths explodes the nearby tech lab, taking the critical stim pack research with it. Having no way to micro from banelings without stim, BoxeR types out. [13:29]
- Sound decision making by NesTea, switching up from passivity to aggresion in order to expose BoxeR's window of vulnerability.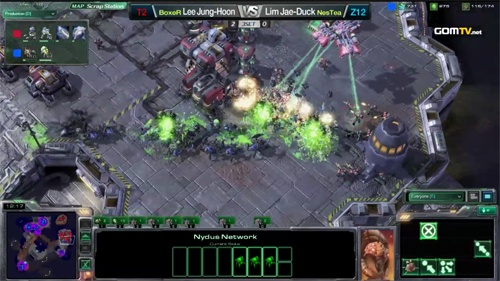 Destroying the key tech lab.


T11 Game 4 - Jungle Basin Z5
+ Show Spoiler [Show Recap] +

BoxeR proxies a barracks at NesTea's potential third to counter the early 14 hatch. The lack of gas alerts NesTea that something is odd, and NesTea begins 10 zerglings and a spine crawler. BoxeR sets up a double bunker contain, while poking up repeatedly to fake pressure. Back at BoxeR's main, the 2nd command center begins at the natural and once again followed by two quick gas. BoxeR goes in for the kill at the natural doing a considerable amount of damage, but losing his marine army in the process. After cleaning up the marines, NesTea drops a baneling nest and breaks down the backdoor rocks in order to avoid the bunkers at his front ramp. As the banelings pace themselves up BoxeR's ramp, a bunker was salvaged at the exact same time, losing BoxeR 400 hp-worth of building wall. The back bunkers are being constructed but it was too late. While the immaculate micro of BoxeR's marines diminish the banelings' damage, it was not enough as zerglings come strolling in for another main course dinner of SCVs. We're now tied at 2-2 ! [13:17]
- A repetition of game 3, this time without roaches. BoxeR seems fixed on marines, as expected, and NesTea gives him no chance to display his micro prowess.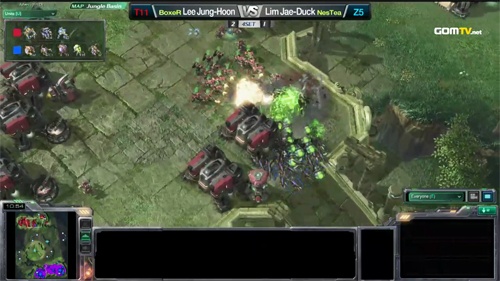 SO MANY BANELINGS !


T11 Game 5 - Steppes of War Z5
+ Show Spoiler [Show Recap] +

NesTea takes into account the close rush distance and goes pool first. BoxeR double barracks at his natural's ramp to apply pressure. After denying the SCV scout, NesTea makes a roach warren before expanding, unknowingly that BoxeR has walled him in with bunkers. BoxeR is too ambitious with his marines as they are trapped before being able to fall back to the safety of the bunkers. Angry roaches melt down the half-empty bunkers and attempts to counter push. Seeing BoxeR has fortified himself, NesTea pulls back and expand. Having his expo up earlier allows BoxeR to once again push out with marines, but it did minimal damage as the roaches are there to defend NesTea's expo. While researching siege mode, BoxeR pushes slowly with bunkers across the map, NesTea swings back into gear and prepares an all-in with roaches/banelings. While clearing out most of the Terran wall, NesTea's army is reduced to ashes from siege tank fire. BoxeR continues his slow push methodically and once the siege tanks are in range of NesTea's natural, there was no chance for the hatchery to be functional. Boxer is now one game away from taking the series. [14:26]
- While there were no distinct variation from BoxeR's build, he took advantage of the small map and dictated the flow of the game.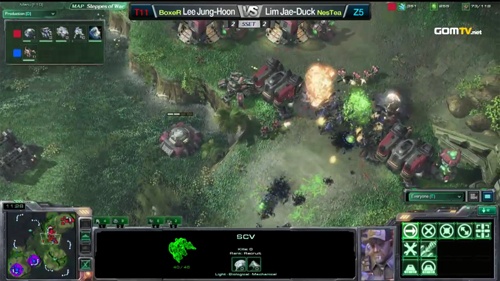 Crucial tank damage.


T1 Game 6 - Xel'Naga Caverns Z7
+ Show Spoiler [Show Recap] +

While knowing that NesTea went hatch first, BoxeR is hesitant to continue his 2 barracks pressure and eventually decides to fast expand instead. NesTea reassured that no aggresion is coming his way, drones up and has a healthy economy going. BoxeR oddly moves in with a handful of marines in attempt to take out the baenling nest, but reinforcing zerglings overwhelm the amount of marines. While BoxeR backtracks to his base, zergling speed kicks in and all retreating units are picked off one by one. BoxeR's army slowly dwindles down to nothing and morphing banelings seal the deal: we're going to game 7. [10:30]
- Clumsy decision making by BoxeR. Not his usual two barracks, one gas after expand, moving in with no real plan.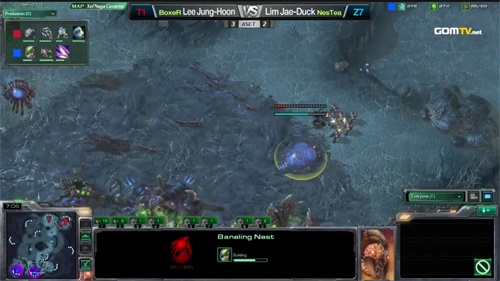 The lost. The clueless. The marines.


T8 Game 7 - Metalopolis Z1
+ Show Spoiler [Show Recap] +

A familiar sight as BoxeR ramps up two early barracks aiming to take down NesTea's expansion. Pulling half his SCVs, BoxeR is met at the natural with all but 3 of NesTea's drones ready to defend, NesTea this time smartly pulls back to buy time for his zerglings. The zerglings attack the front pack of SCVs while the drones successfully surrounds the marines in the back. The zerglings mow through the SCVs and drones disable BoxeR's ability to micro. The worker counts are now evened out and BoxeR has no choice but to send the rest of his SCVs. NesTea calmly builds a spine crawler, anticipating another furious attack. BoxeR avoids the spine crawler to the best of his ability but the constant production of zerglings provides NesTea with 20 zerglings. The zerglings hold off BoxeR's last marine push in GSL2 and triumphantly parades themselves over to BoxeR's main to crown NesTea champion. [7:28]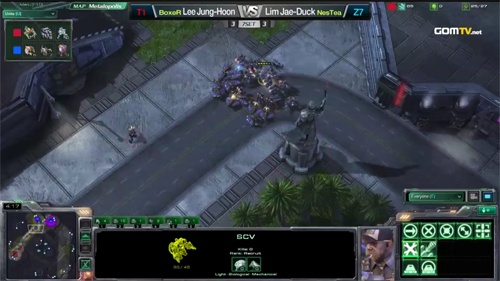 Part 1.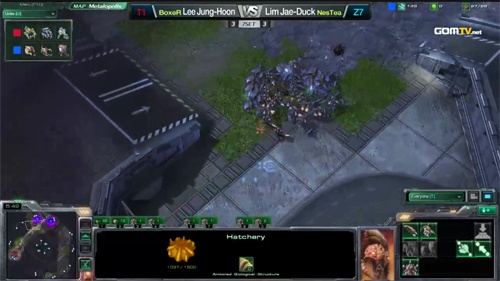 Part 2.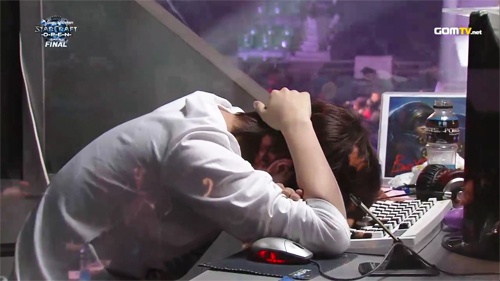 Part 3.
- Final game 7. No risk no reward. Sadly, did not pay off for BoxeR. NesTea climbs back from facing the brink of elimination.


Player Grades
+ Show Spoiler [Show Player Grades] +
BoxeR -
B+
Knew his gameplan, had it all worked out. From double barracks pressure to thor drop, BoxeR had no problem executing it. Looked slightly off-guard in game 6, and took a gamble game 7 and unfortunately it did not work out.
NesTea -
A
There are no areas that NesTea truly lacks. In the face of a true and capable opponent, NesTea adapted and took advantage of whatever he could to secure games after games. Adjusting to game 1, his game 7 defense was splendid.
---



GSL Season 2 Awards



The "Bonjwa" Award for Best Player
NesTea wins it here. No questions about it.

The "Pokju" Award for Worst Player
Goes to BabyWeRRa as he could not have played any worse. He made BoxeR look bad by playing against him.

The "Giyom" Award for Best Non-Korean Player
EGIdrA takes this one as he went as far as any foreigner has ever been.

The "Flash" Award for Last Second Lifeguard Save
Goes to BoxeR for every time it looked like he was going to lose against KyrixZenith in the RO8 game 5.

The "Effort" Award for Biggest Upset
Liquibet went on the Great Depression when BoxeR triumphed over FruitDealer in the RO32.

The "Bisu" Award for Best Single Play
Goes to IMmvp for his marine micro against oGsZenio AND BoxeR's against KyrixZenith.

The "BackHo" Award for Biggest Failure Play
Goes to SansZenith for his forge FE build against Check. When you manner cannon yourself from your nexus, you know something's wrong.

The "Boxer" Award for Most Creative Play
Goes to oGsZenio for gooing up IdrA with contaminate.

The "Yellow[ArnC]" Award for Crazy Zerg
KyrixZenith had no competition in this field, when all of his games included some sort of baneling bust.

The "Firebathero" Award for Best Ceremony
While quite tamed compared to our legend, oGsZenio's backhand and NEXGenius finger wave ties for our taunting category.

The "Jaedong Hugs His Mom" Award for Best Tournament Moment
oGsNaDa vs. SlayerS_BoxeR. Most anticipated match of the tournament.


---

Next: GSL Season 3

The qualifiers for season 3 is just around the corner and in less than a week, we kick off the last pre-season tournament for 2010. Will a Zerg once again rise up to represent the Swarm ? Or perhaps a young hero will come forth and end the streaks of old BW pros ? Please look forward to our coverage of Starcraft 2's most prestigious tournament !

Thanks for reading!