Banner by pachi, photos by skAnarky, screenshots from GSL Open Season 1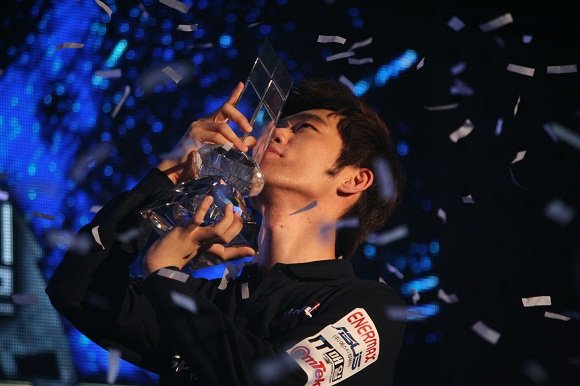 "The One Zerg"
GSL Finals



We all knew it had to end this way. Any other win by any other player would have been anticlimactic. With all due respect to Rainbow, it was Fruit Dealer's GSL, judging from the reactions on TeamLiquid and the Korean forums. We love an "underdog" story even though Cool was never a true underdog.





Cool's secret? Be faster. Smarter. Better.



Despite only sixteen Zergs in the Ro64, two in the Ro16, and one in the Quarterfinals and beyond, the GSL was won by a transcendent Zerg player. It seems like ages ago, but Cool's ultralisk flank on Kulas saved not only his tournament but potentially the GSL's ratings as well. It would have been a disaster for GOM if Cool had lost to TOP in the Ro16. That series was the only time Cool played an elimination game, and it's easy to forget just how close he was to being completely out of the tournament. If TOP won that third game, we likely would have seen a TTTT semifinals and TvT finals.

It seems that the greatest Zerg players are forged during times of adversity. Dire situations bring out the best, and when Zergs are dropping left and right, there's always one that remains. We've seen it before, with Jaedong and that guy who shall not be named. Maps and balance didn't matter. They would always find a way. Cool found a way. Whether he's a racial anomaly or a sign of future Zerg tournament success remains to be seen.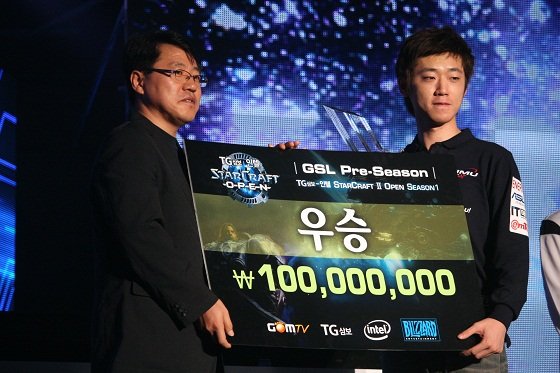 That check can buy a lot of fruit.
---
Links and Resources:
---
"A Fruit Dealer."
GSL Finals Recap
Game 1 - Delta Quadrant
+ Show Spoiler [Show Recap] +
Rainbow opens the same build he did against Check -- fast hellions into expansion and mech. Cool responds by taking his natural and both unoccupied mains, making the bare minimum defensive units. Rainbow attempts to harass with a dropship, but Cool sacrifices 3 mutalisks to kill it. Cool maintains a speedling-baneling-infestor army, teching fast to hive and ultralisks. Rainbow sends out two more dropships to do harass at Cool's two far expansions, but Cool easily defends with fungal growth.
Rainbow moves out with his tank-marine army, setting up his tanks at the watch tower at the center o the map while sending his marines to kill one of Cool's expansions. Cool meanwhile drop harasses with several ultras, and defends the marines with fungals and banelings. Rainbow splits his army, sending half to Cool's natural and half to Cool's other main expansion. This decision proves fatal, as Cool easily crushes both armies with fungal growth and ultralisks.
Rainbow's last offensive threat is extinguished, and Cool with five secured bases, it's only a matter of time before a large ultralisk army marches into Rainbow's main.
Cool
< 1-0 >
Rainbow
- A well played game that shows the difference between Cool and Check, as Rainbow used almost the exact same strategy against both players. Cool had overlord eyes everywhere, and his multitasking abilities allowed him to defend all drops and attacks while simultaneously countering Rainbow's expansions.
Game 2 - Lost Temple
+ Show Spoiler [Show Recap] +
Rainbow opens tank drop while Cool expands, morphing his lair at his expansion. It looks very bad for Cool as his lair is not even completed when the tank drop arrives at his cliff, but Cool uses three queens, multiple spine crawlers, and transfusion to delay the single tank until he can get spire. Cool takes a third base while Rainbow takes his natural.
Rainbow attempts to harass but loses two more medivacs to mutalisks. Comfortably ahead, Cool to take his fourth and tech to banelings and roaches. When Rainbow finally moves out, Cool drops Rainbow's main with roach-ling, and intercepts a third dropship with mutas. Rainbow moves part of his army back home to take care of the drop, and Cool immediately flanks Rainbow's tank army in the center of the map with roaches and mutas, killing it. Rainbow finally successfully drops Cool's main with two medivacs, but it's too little too late as Cool rolls through Rainbow's natural and main with a huge army.
Cool
< 2-0 >
Rainbow
- Cool clearly knew the timing on Rainbow's tank drop. Perhaps it could have been different if Rainbow brought two tanks instead of a tank and SCVs, but we'll never know. Against a lesser Zerg, Rainbow may have been able to claw his way back with dropships, but Cool deflected every harass attempt easily.
Game 3 - Kulas Ravine
+ Show Spoiler [Show Recap] +
Cool opens by expanding to the gold, while Rainbow goes for tank drop on the tiny gold base cliff. Cool delays with roaches and spine crawlers, but a viking arrives to kill the overlord, denying Cool vision of the cliff. However, while Rainbow micros the medivac and viking, he completely misses Cool's nydus worm, which sends waves of zerglings into Rainbow's undefended main base. Rainbow floats to the high ground, but with all his tech and production structures gone, Cool easily breaks down the rocks and ends the game.
Rainbow's face must have been priceless when he heard the nydus sound effect.
Cool
< 3-0 >
Rainbow
- This game showed Cool's ability to take calculated strategic risks. The nydus play was especially risky, as it cannot be cancelled and was made right under Rainbow's nose. In a way, Cool was relying on Rainbow making a mistake, but he did create the situation by forcing Rainbow into a high-attention micro battle. Kulas Ravine was supposed to be a Zerg graveyard, and Cool finished a spotless 5-0 on it.
Game 4 - Desert Oasis
+ Show Spoiler [Show Recap] +
Cool opens expand into banelings, while Rainbow opens expand into mass marines. When Rainbow moves out, his marine force is quickly killed on creep by banelings and speedlings. Rainbow adds two factories with tech labs while Cool takes a third base (gold) and gets infestors. Rainbow's next attack is a two medivac drop, which eventually is stopped by infestors but deals a good amount of damage. Rainbow meanwhile has moved out with marines, tanks, and a thor. As Cool masses ling-baneling to deal with the attack, Rainbow drops Cool's main again, this time escaping when the lings return.
Cool takes a fourth base, and Rainbow's army is looking pitifully small. Rainbow drops Cool's natural while Cool drops Rainbow's main with zerglings, forcing workers at both bases to run. Rainbow's main army attacks, and crushes through Cool's gold, since most of Cool's lings were used in the drop. Rainbow rebuilds at his own gold, while Cool takes the island. Cool attempts to drop banelings directly on top of tanks, but Rainbow's tanks and thors are too much, eventually busting through Cool's natural and main.
At this point Cool is on two bases (one island) but his army consists only of a few hydralisks, while Rainbow is mining from one gold and is leading in supply count by a huge margin. Cool attempts to break the middle one last time with hydras and fails.
Cool < 3-1 >
Rainbow
- The game opened very poorly for Rainbow, but he persistently wore down Cool with drops. Cool's drop in Rainbow's main was a success, but it cost him his gold base as he could have beaten the push with those lings. He simply could not deal with Rainbow's tank heavy army composition without ultralisks.
Game 5 - Scrap Station
+ Show Spoiler [Show Recap] +
Rainbow opens proxy reaper, and Cool plays right into his hands by going hatch first. Rainbow's first few reapers get some drone kills, but slowlings chase them away. Cool runs ten lings toward Rainbow's base just as Rainbow's nitro packs finish, and Rainbow sends his reapers to chase, but Cool brilliantly turns around and uses the smoke to kill two reapers. Rainbow floats a CC to take the island. Cool attacks with several roaches, and Rainbow repairs late, allowing one of his barracks to be destroyed and losing several SCVs before clearing the threat with marauders. Rainbow takes his natural.
Meanwhile, Cool takes his third and fourth (gold) and techs to mutas and banelings. Cool then uses mutas and drop to take out Rainbow's island, and when Rainbow uses his dropships to clear out the threat, Cool traps part of Rainbow's MMM on the island with mutas. This allows him to trade his roach-ling army for Rainbow's tanks. Rainbow drops a large army in Cool's main, but Cool annihilates it with a huge group of infestors, banelings, and mutalisks. Cool's next attack at Rainbow's main ramp ends it.
Cool
< 4-1 >
Rainbow
- Cool's early use of the vision-denying smoke set the tone for the game. Rainbow was never comfortable, even falling apart at times. Cool was never challenged and this game seemed more of a coronation than a competition.
Player Grades
Cool -
A+
What more is there to say about this guy? Cool's play this entire tournament was sublime. He had great scouting, terrific macro, and diverse strategies. His push-breaking control with a fully mixed Zerg army was a beautiful thing to watch. He made extraordinary Terrans look ordinary, and threw in some dramatics with ultralisk spawn timing for good measure. The undisputed best player in the GSL and so far in front of his Zerg peers it was no contest.
Rainbow -
B-
Rainbow failed to play to his potential. The aggressive, dominant style he showed in his games against Ensnare was easily brushed aside by Cool. His strategies were a bit predictable, but that's to be expected given the short turnaround between the semis and finals. Ultimately, there's not much for Rainbow to take away from this series except that he was soundly beaten by a better player, and that's nothing to be ashamed of.
---



GSL Season 1 Awards



The "Bonjwa" Award for Best Player
Goes to Cool aka Fruit Dealer for winning the tournament. That was easy.

The "Pokju" Award for Worst Player
Tie between WindPrime and SopiaWerra. Wind was awful, trapping his own probes and losing multiple void rays to marines. Sopia played a game I would grade an F- only because there is no grade lower. Have you ever seen 20 thors vs 10 mutas? Watch Sopia vs Ensnare Game 2.

The "Rainbow" Award for Divine Intervention
Goes to Tester's miracle defense against FreeSaga. Unscouted proxy 2-gate against 1-gate core should be impossible, but somehow Tester did it.


Apparently, a HopeTorture fan painted the ceiling for the GSL Finals.



The "Giyom" Award for Best Non-Korean Player
Goes to TLAF-Liquid`TLO. Yes, he and Idra both reached the Ro32. But TLO produced one of the most entertaining TvTs in SC2 history with his comeback win over Hyperdub.

The "Flash" Award for Last Second Lifeguard Save
Goes to Cool for his just-in-time ultralisks against TOP's thors in Game 3 of the Round of 16 on Kulas Ravine. TOP was so close, yet so far.

The "Effort" Award for Biggest Upset
Goes to Rainbow over Tester in the Quarterfinals. Not so much for the results, but for the ease at which Rainbow won and the horrible way that Tester crumbled, in Game 2 especially.

The "Bisu" Award for Best Single Play
Goes to Tester for his forcefield split against JSL. Bonus points for the commentators losing their minds over it. "I'm Tester, SUP." -- Artosis.

The "BackHo" Award for Biggest Failure Play
Goes Maka's SCV marine rush on Metalopolis against LiveForever. Maka went ahead with the all-in even after being scouted, and LF had two bunkers and a siege tank on his ramp.

The "July" Award for most Fruit Consumed
Goes to Inca, for getting demolished by Cool in the Quarterfinals, losing to a 6-pool then failing to 2-gate rush and leaving without a GG.


Somewhere, a future SC2 Zerg mistakes orange thunder sticks for Pocky.



The "Boxer" Award for Most Creative Play
Goes to LotzePrime, for his double mindgames to fool IdrA about his void rays in game 2. Building a robo as nothing but scouting bait? Brilliant.

The "Yellow[ArnC]" Award for How-Did-I-Make-The-Semifinals?
Goes to LiveForever, who lived far longer in this tournament than everyone expected, beating August, Lotze, and Maka, only to get steamrolled by the Fruit train.

The "IdrA" Award for Foreigner Fan Villain
Goes to Hyperdub, who cheesed out TLO only to spectacularly fail against Tester in the next round. At least show us some entertaining games!

The "White-Ra" Award for Best Quote
Rainbow himself, who said he chose Terran because it was "the most challenging race." People laughed at him when he made the quote but it boomeranged and smacked everyone in the face when it actually turned out that playing T vs Fruit Dealer actually is the biggest challenge.

The "Jaedong Hugs His Mom" Award for Best Tournament Moment
The Fruit Dealer fans at the finals holding up the melons and bananas.


---



GSL Season 2



For Cool and Rainbow, life is good. Relax, enjoy your prize money. But for everyone else, the window of opportunity is closing. The GSL will increase in difficulty every season it runs. GSL Season 2 Qualifiers start in two days, and there are quite a few players practicing hard to make it. You may have heard of them -- Nada, Boxer, and July. These guys bring a nearly a dozen championships worth of experience to Starcraft 2. No wonder Cool and Rainbow are watching their backs.


Cool and Rainbow hear Brood War footsteps approaching. Probably July's.



The scary part is that whoever wins GSL2 will play significantly better than Cool did in the GSL1. That's hard to imagine right now, but it'll happen. Today, tomorrow, or in a couple of years, it'll happen, and we can't wait to watch it. As usual, TL writing team will be here to preview the GSL Season 2 and cover its games, players, and storylines.

Thanks for reading, and may we see some more TLAF-Liquid` players in the GSL2!


---
Big thanks to skAnarky for his excellent on-site GSL photos, to BroOd for helping me recap the absurd number of games, and to GOM for running such a great tournament. Good luck to those trying to qualify for the GSL2.