If there was an uneasy silence during September in Starcraftland, October is going to more than make up for it. The teams took a month off to cool their jets, but as the Fall dawned, rumblings of battle were heard again. This Saturday, the two month long armistice comes to an end, and teams take to the tilesets again for what by all accounts should be a year of merciless competition.

Forget the friendliness we saw in Allstars, or the casual play that the pros exhibited in PMT. This is not a test, this is not a drill, Round 1 of the Shinhan Proleague 2009-10 season is here, and what better way to start it off than with the reigning champions taking the field.

Since the last game of 2008-09 was played by Bisu and his boys, it is somewhat fitting that the young Protoss himself should first set foot on the field as he leads his battalion into battle once again. As he does, however, he no doubt has on his mind that now as reigning champions, their pressure to perform has increased heavily, and that his team, as usual are expecting him to lead the way with a year's worth of consistency.

Yet, we digress. The content we have for you today is wide and varied, so it's probably best to dive right in. First off, we have zulu_nation8 with what we hope will be one of many Proleague coverage columns.



OpinionhatedA Weekly Progaming Diatribe by zulu_nation8
The arrival of autumn signals the start of a new season, and not a moment too soon. Two months felt like an eternity without the entertainment of a major league. Scenes from the dramatic finale of last season surely still linger on the minds of many. An 18 year old with an eerie physical resemblance to Boxer took down the zerg tyrant to reclaim the title for SKT. As if things could happen any other way, SKT wins with the help of a terran, only this time the hero is neither Boxer nor Oov. It's someone better of course, it's Boxer AND oov, combined. Long after their respective primes the legends of terran continue to guide the course of progaming. Who can resist their aura? Not even the greatest zerg ever apparently.

The finals of last season taught a few lessons. Winners will always be winners. Creativity never goes out of style. And oh yea, the best zerg can still die to a well-executed bunker rush. Of course, there is never just one story. On the other side of triumph lay a tragedy of equal proportion. The zerg tyrant, all 19 years of him, hoisted the entire weight of OZ upon his shoulders, only to fall short at the last breath. It looked almost too much for a teenager to endure. After all, a similar tale was told just five months ago with even more heartbreak. When OZ was up 3-0 vs. CJ in the Winner's League Final, victory all but secured; the title somehow eluded the zerg starlet, and instead cruelty prevailed. A rookie terran from CJ first stopped a 5 pool, then proceeded to dismantle the rest of OZ's "A team" with an uncanny cool. Sure, depth matters, but more often than not, everything comes down to one player, and for most teams including OZ, it is the same player. He is the one who plays the last game.

CJ has eight seeds in the upcoming MSL, but who besides Effort would be in the booth during his team's final moment? Likewise, STX handed their season over to Calm, who fell to Jangbi. However it was the more experienced Stork who chose to carry Khan in their ultimate match. Hite sent four to the OSL Ro8 last season, nevertheless when Yarnc instead of Leta stepped forward to meet Effort in Hite's last game, not many could hide their surprise. The last player is not always the best player. He is more importantly, the most responsible one. He takes the weight of the entire season in stride. He comes to terms with the reality that an entire year's worth of results comes down to one game. Leta is Hite's ace, but he refused to play the last game.

Everything always falls to one player, and one game. Proleague is perhaps more cruel than all the individual leagues put together; but along with its harsh format, that much more dramatic. Two months has gone by since the final game of last season. Come the 10th every record will be reset, and every streak erased, some tabula rasa for the players and fans alike. Who will play the last game for each team in the new season? Will he be the right one? No matter the result, the one who is there in the end deserves the adulation and respect of all. He is the hero and the scapegoat. He is the last player.

Here's to a new season.


Moving on, let's take a moment to talk about the lineups of the first week. While new maps are always exciting, providing the opportunity to see flare and innovation from players on yet uncharted territory, sometimes the questionable balance of the maps leads to 1-sided massacres or a whole bunch of mirror matches being played. With many teams, including SKT, famous for having the only worst Zergs ever, fielding 2 Zerg players, and hinting at possible imbalance, we can only cross our fingers and hope that a battle royale repeat does not occur.

That being said, from the excellent table that Heyoka has done up, summarising the results of the map tests, we can see that, strangely, the numbers don't add up to give Zerg an advantage. In fact, Terran is the race to watch out for, having especially huge leads on both Match Point and Moon Glaive against Protoss, and to a lesser extent, Zerg. Perhaps then, the lineups of week 1 simply reflect the relative scarcity of strong Terran players, and the overabundance of Zerg players today. Regardless, look forward to more indepth discussion on the maps in future articles from ITW and konadora.

Anyway, another thing to note about the first week lineups is that instead of the perennial proleague regulars, teams are sending out their B team players, minor leaguers, fresh recruits, to gain some experience in the true playing field. Whether it is because they are performing well in in-house ranking matches, or because the team superstar needs a break, or more practice for an individual league, this is typically the only time where we get to see fresh younglings pit themselves against more experienced, consistent players -- definitely something to look forward to.

Finally, if you read this thread, there was some ongoing effort to change proleague into a bo7 with less playdays per week, in hopes of reducing the workload on players such as Jaedong, who, as evidenced by last season's free agent fiasco, was overworked and had insufficient rest between individual leagues and proleague games. This proposal was turned down, and as fans, we have much to be thankful for, as this means more games for our enjoyment.

Now, before we look at the lineups in detail, let's take a moment to get inside the heads of the generals themselves.


Leading From the Front
Mega translation by Konadora

SK Telecom T1
The champions of the previous Proleague season, they will once again be aiming for the gold. But with their Zerg lineup being their Achilles' Heel, it will be worth a watch to see whether SKT1 can pull up the performance of their Zergs. With head coach Park Yong Wook saying that he will continue to rely on the 'Do-Taek-Myung' trio (
BeSt
,
Bisu
,
fantasy
), it will also be good to watch out for players like
Mong
.
Despite having coaches for all three races (
Doctor.K
,
MuMyung
and
iloveoov
), head coach Park said that he did not wish to change the team lineup until the point that their losses overweigh their number of wins.
Hwaseung Oz
Having ended off the 08-09 season on a disappointing note, Hwaseung Oz should be the hungriest team for the championship this season. Head coach Cho stated in his interview that his team took the longest break out of the 11 progaming teams (excluding ACE), and with that, he hopes that his team will start the season fresh. Stating that Jaedong is still their ace player, despite all the troubles with the Free Agency, head coach Cho also told the fans to look out for his B-team members, who may get to play once he feels that they're ready, for he had paid a lot more attention to his B-team members to bring out the next Jaedong, despite the risks involved.
He also said that he is currently more wary of the teams who were in the lower half of the rankings last season, for the teams are now more or less adjusted to the new season formats, and that those teams would have had practiced much longer and harder for the new season.
In conclusion, he ended off by saying that his ultimate goal for this season was to win the Championship as well as further strengthening his player lineup, and that he hopes to work well with the Oz players in making history.
STX SouL
Head Coach Kim Eun Dong started off by saying, "we have fulfilled all the conditions for us to win."
Saying that the team, after a long-deserved break, is now practicing heavily on the new maps, head coach Kim told his fans that although he was content with the team's performance in the previous season (finishing off in 3rd place), he believes his team can reach their maximum potential this season, thanks to changes in the team as well as the picking up of new members.
Picking SKT1 and Hwaseung Oz to be the fiercest contenders for the championship title, he ended off by saying once again that his team is strong, and that he will truly show the full strength of STX SouL this season.
Hite Sparkyz
Head coach Lee Myung Geun revealed that he wanted to build a team where all players can play an active role. With many players such as
go.go
,
type-b
,
Horang2
,
HoGiL
and other players supporting their ace players
Leta
and
YellOw[ArnC]
, it will be interesting to see how this team fares in the new season.
Despite some issues with FA and go.go, everything has worked out in the end, with go.go rejoining Hite. Through workshops and other activities, head coach Lee hopes that the players do well in both Proleague and in the individual leagues.
Although he admitted that being placed fourth in the previous season was slightly disappointing, it was still satisfactory. Now having gotten used to the new Proleague format, he hopes to make use of all the players throughout the entire year-long season and not rely solely on one or two players. Noting that in just a year, Starcraft has developed so much, he stated that it will be even more important for new players and current ace players to perform even better than before.
Picking SK Telecom T1 and to a lesser degree, KT Rolster, when asked who they think will be the toughest team to tackle, he stated that because all these teams' ace players are so strong, it will be a very fierce competition.
His target for this season, he hopes players like
Tazza
and
HakSoo
can also start being active like Horang2.
CJ Entus
This season is important and significant to CJ Entus. Should they get into the playoffs, this will be their 10th Proleague playoff, including the playoffs they had got into while they were still Team G.O. Despite winning the Winners' League, they failed to get into the finals of the championship, and this season, head coach Cho Gyu Nam hopes the
sKyHigh
-
Movie
-
EffOrt
trio will play a key role.
Unlike other teams, CJ let the players do whatever they wished during the off-season; there were no workshops or team vacations. Result-wise, they may have failed but overall, head coach Cho believes they have accomplished many feats. And now with players like Skyhigh and Effort having gotten used to playing televised games, he believes that working together with veterans like
sAviOr
, who is currently the new captain and
Iris
, ex-captain in the previous season, as well as players like
Nbs
and
Orion
will be very important to achieve big this season.
For the
sKyHigh
-
Movie
-
EffOrt
trio, this season means a lot more to the the players themselves, with the only obstacle they have to overcome now being the players' own feeling of burden and pressure, and head coach Cho wrapped up the interview by saying that he will put in his best to make his players all of S-Class quality.
Samsung Khan
"We have many things we want to do, and have to do."
That is what head coach January of Samsung Khan said when asked about the new 09-10 season.
Despite showing heavy slumping near the end of the previous season, they still managed to get into the playoffs, only to be stopped early on. Now with the new 09-10 season and her recent marriage, she hopes to do well in both her love life and her work.
Taking the opportunity to complain about lack of rest during the off-season, January even said that the off-season seemed even more busy than the actual season itself. A year long season and the FA issue did not help either.
Blaming herself for not taking care of the players enough (which resulted in an exponential slump of the team's performance during Round 5) and getting 6th in the 08-09 season, she said that she has reflected a lot about it, and hopes to do better this season. Because it is hard to rely on just the ace players alone to carry them throughout the entire year, she pinpointed that it will be important to keep track of the players' and the coaches' conditions. Firebathero is still awaiting recovery from his slump, and she hopes he quickly recovers and helps to add strength to the team.
When asked about the teams they might have trouble with, she did not specify any team, but stated that teams with strong Zerg line ups will be a great obstacle, especially since Khan's ace players are mainly Protoss (
Stork
and
JangBi
).
She said that this season will truly put her to the test, as to whether she is a capable coach or not. She also thanked
CuteAngeL
(currently in STX Soul), who despite not having performed, had actually contributed in many ways to the team.
KT Rolster
Having finished off the 08-09 season in 7th place and barely missing the cut for the playoffs, head coach Lee Ji Hoon apologised to the fans and blamed the lack of luck for not performing well up till Round 4. Saying that despite having paid a huge price, they have learnt a lot of things from the previous season, and head coach Lee expressed greater confidence in the new season, setting entry into the playoffs and subsequently, the Round of 4 as their targets for this season. Picking out
hite SPARKYZ
and
STX SouL
to be expected competitors, he hopes that he will be able to shake off bad memories of the previous season and start this season well with his team, all of whom are currently burning with passion and hunger for victory.
Woongjin Stars
Round of 4 in the playoffs is their target for this season.
Expressing dissatisfaction with remaining in the bottom half of the league, head coach Lee Jae Gyun boldly declared his team's target for this season.
Woongjin Stars players recently
went to Cambodia to do community work
, and hopefully that has helped them out both physically and mentally. But with off-season matches like the map-test matches, pre-season matches and line-up matches, head coach Lee definitely wasn't too pleased.
He stated that not paying enough attention to his B-team may have led to the team's poor performance in the 08-09 season, which got worse as the season progressed. Also, with
GGPlay retiring
,
ZerO
is left to carry the entire Zerg lineup of the team on his own. However, with the recent (and surprising) transfer of
Kwanro
to Woongjin Stars, do not expect the Stars' Zerg lineup to be a pushover. With MVP and PianO doing a decent job, and
Neo.G_Soulkey
's promotion to the A-team, this season looks brighter for the Stars. However, stating that there are no other shining players at the moment, Stars will still have to depend on
free
and
ZerO
as their ace players.
MBCGame HERO
Head coach Ha Tae Gi (who returned as head coach after some issues) has vowed to make MBCGame a 'fun and exciting' team. MBCGame HERO, who finished 9th in the previous season, immediately saw changes in the team with the return of head coach Ha. Now, with him staying throughout the entire season, MBCGame HERO players are expected to perform much better in the 09-10 season. Admitting that his team's results are not very good at the moment, he revealed that he spent the majority of the off-season finding the team's weakness and working on them. Stating that some of the weaknesses were in the players' mindsets and the tendency for the newer players to push their responsibilities around, he worked hard with the coaching staff to find means other than increasing practice time to solve these problems.
With a total revolution in the MBCGame house, expect a brand new MBCGame in the 09-10 season as they head towards their goal - the playoffs.
eSTRO
eSTRO's off-season games have been promising. Players like
GosI[Flying]
,
Action
and
Haran
have performed well, and with the 'Shin Trio'
hyvaa
-
SangHo
-
UpMaGiC
, eSTRO will be a much stronger force to contend with. Head coach Kim Hyun Jin revealed that not having an ultimate ace player is still one of their main weaknesses - something which cannot be solved within a short period of time.
As the team looks forward to the 09-10 season, the highlight will be the rise of new players in the team and how well they will be able to perform. With the
Tester
,
UpMaGiC
and
SangHo
showing dedication to the team by not switching teams during the FA period, eSTRO's willingness and determination will not easily be overshadowed by anyone's.
WeMade FOX
Being a team that had been eliminated from the playoffs earlier than the other teams, WeMade FOX has made great use of the time, as head coach Kim Yang Jun revealed. They practised on 5 of the new maps that were undergoing testing, and in the end, 4 of them were picked. Talk about lucky.
This will definitely benefit the Foxes early on. In the previous season, the incompleteness of a system where the ace player will perform while veteran and new players will alternate to play has caused the team to suffer heavily, especially when their ace players and veterans failed to deliver. However, head coach Kim mentioned that
RorO
and
BaBy
have been performing very well lately, and with the
addition of Midas
to their team and
Mind
(and
NaDa
to some extent) leading the Terran line, their Terran line seems solid. The only problem will be their Protoss line, as currently only
Pure
is performing decently.
Their aims for this season? Hitting their (hopeful) win rate goals - For Terrans, 55%, for Protosses, 45% and for the Zergs, 55%. They also lowered their overall goal, from 7 wins 4 losses per round to 6 wins 5 losses per round, and eventually they hope to get 30 wins and get into the playoffs.
Air Force ACE
Typical of military personnel, head coach Yoo Seung Yeul said that "we are armed with new weapons, and we have strengthened our strategic side."
This will be the second season for ACE. Their weakness, as always is the lack of an ace player, which is important in a Best of 5 match, as evidenced by their win rate in ace matches - 10%. With new additions to the team like
RuBy
and
DarkElf
(and
Much
, who will be joining later on), ACE hopes to perform well. They have a big dream - getting into the playoffs at least once, and this time, it seems less impossible. But with head coach Yoo retiring on the 31st of December this year, it looks like the players will have to work hard to fulfill the dream on his behalf.
---
All information taken from

Fomos

.


Looking at the lineups more closely now, it appears SKT is going to start off the season with their guns all ablaze, coming in strong with their A lineup in the first week where generally other teams like to field a couple of newcomers. We were hoping to see S2 or Maestro in a couple of games, but it seems Coach Park is looking for a repeat of last season's dominance, and is going all out to ensure his team's victory. Similarly, other teams, including CJ, MBCGame Hero, and WeMade FOX are choosing to stick with the big hitters, leaving their B teams to contend in the minor league.

Also eye-catching is Woongjin's new roster, which features the hyperaggressive Zerg, Kwanro. Despite the recent transfer from CJ, Kwanro is already being played to supplement Zero in Woongjin's Zerg line up, and we expect to see some good games from the MSL 2nd place finisher. Needless to say, the skills of this Zerg player will be put to the test in the match against Flash on Fighting Spirit, and we shall see if Woongjin made the right choice with this purchase.

To add some novelty to the usual mix of players, most of the remaining teams have decided to field a relatively unknown player, or young upstart to their line ups of the first week. This includes OZ's Perfectman, best known for defeating Iris in the proleague playoffs to bring Hwaseung through to the finals, replacing Backho, and Frozean, who has had a few decent runs in the individual leagues, taking over from the usual regulars, Hwasin, Bogus and Notice, as STX's Terran. Bringing the list to a close are Stats (KT Rolster), M18M (Samsung Khan), Classic (eSTRO), Haksoo (hite SPARKYZ), and Killer (Hwaseung OZ). Unfortunately, these players are unlikely to stick around for long, as their teams will most likely replace them further into the season.

Lastly, we have a team we have not mentioned at all -- Air Force Ace. Unfortunately, despite the influx of new recruits like Ruby and Darkelf, we are expecting them to still be the punching bags of the league. Hopefully, they will prove us wrong, but if they are anywhere from the bottom two at the end of the season, we will be nothing short of astonished.

Now, and we know many of you have been waiting for this moment - on to some stats! Given that the season hasn't even begun, it's hard to think that we'd have any statistics at all. Yet our ever faithful number cruncher Heyoka has gone and dug up what he could. Read through as he shows you the beginning of the season in integers.



StatisfactionStatistical Analysis by Heyoka
A new season is upon us. Players have had an extended break from the spotlight, and perhaps even some time away from the practice room. The slate is clean, the maps are fresh. Normally when starting a new round in a season, we can simply project how we expect players (and teams) to perform in the future using the past data we have from that same year. The beginning of a season has to be treated slightly different, however, for two reasons. The first is that the extra-long break means we don't currently have a good grip on which players are in top form and which are slacking in their play. The second is that the majority of the maps are brand new, not seen in any play outside the maps tests (which give us dubious data at best).
Lets start by looking at how teams finished up the year last season, these are the 08-09 season round 5 match stats of each team. This is sorted purely by round 5, not final finishing place.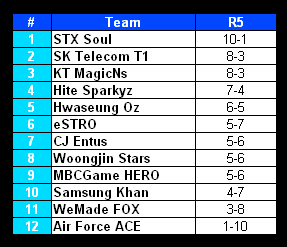 And this is how it broke down to game records of each team.

We can probably expect a result reasonably similar to this. The only team likely to perform notably different is STX. While they are favored to do well, 10-1 is on the high end of that spectrum. There wasn't a lot of shuffling around between rosters, the only notable change seems to be Kwanro going to a team where he might actually see play. ACE is reasonably hurt in losing OversKy (their only player to have a winrate above 50%) but given their past performance, it would be difficult to be worse.
That means that, as usual, the maps are going to be an important factor. We don't have a great idea of how map balance will shape up, but we do have some numbers thanks to the pre-match map tests.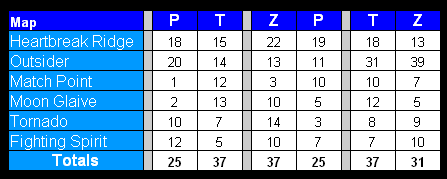 *Note: Silver Wing has been changed to Fighting Spirit in this graph.
The numbers on the new maps certainly can't be considered reliable, but they are an indication that it could be a troubling few months for protoss. We can probably expect SKT to do worse with this rotation, while CJ and perhaps even KT can flourish with a more zerg centric environment.
To close, lets remind ourselves that this is just the beginning. The season is long, and there are many unseen developments yet to reveal themselves. Strategies and metagames have to develop, new talent will show itself, and old standbyes will disappear into the aether. This is how each team finished the first round, next to how they did in the last. It is sorted by final regular season overall totals.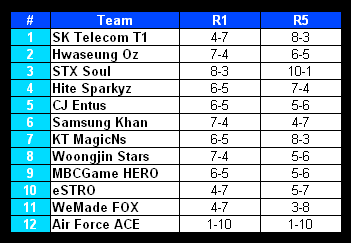 Alright, we're about done for this update. Before we go though, we thought it would only be polite to preview a few matchups that stand out from the rest. While we know many of you wont be missing any games this week, we're also sure there are others who would just like to know what to watch and what to miss. Here are some of the games you should definitely try to catch.




Firstly, let's look at the Fantasy-Free set to be played on Match Point. While Fantasy's last couple of games against Protoss involved Stork handing him an ass-whooping, Free too, has shown some shaky PvT, losing in the recent OSL prelims to an unknown Terran player, Reality. Stork, however, is no pushover in PvT, and Fantasy has shown that his TvP is still consistently of the highest standard. With the faceoff happening on a map that is 12-1 in favour to Terran in the TvP matchup, Fantasy is easily the huge favourite to win here.




Next up, we have a rehash of the OSL finals, Yarnc vs Jaedong on Outsider, on one of the maps from that fateful series that Yarnc eventually lost 3-0. As fans would say, this isn't a mere ZvZ, this is ZvJaedong, and with an old map being played, Yarnc will be unable to surprise Jaedong with any cute antics. We would say Yarnc probably doesn't stand a chance, but given the nature of the matchup (who would've thought Calm would be able to beat Jaedong?), Yarnc just may be able to pull something off.




Finally, we have Movie up against Calm, STX's ace player, a Zerg who carried the team to a 10-1 score in Round 5. The reigning MSL champion, Calm is anything but the underdog here. Of course, the last we heard of Movie's PvZ, he was making some waves with a win over Jaedong via an unorthodox dragoon timing attack against Jaedong's standard play. As CJ's Protoss staple, Movie has quickly become a decent player, but up against an opponent as strong as Calm, we aren't getting our hopes too high. Calm, with a 4-0 record vs Protoss on Heartbreak Ridge, should take the game with ease.

Of course, Proleague Week 1 is going to bring you much more than just these games. Indeed, after a drought of just over two months, you're finally going to be treated to all-week Starcraft, and we hope you're as psyched about that as we are. Reset those routers, crank up those speakers, and let the voices of OGN and MBC fill your rooms, boys and girls. The rumours are all true - the offseason is over and a full year of Starcraft begins in just a few hours!


---
This 2009-10 Proleague update was brought to you by the Team Liquid Proleague coverage team - riptide, heyoka, pangshai and zulu_nation8. Also, kudos to Keit for the awesome banners, and thanks to Konadora for the crazy-huge translation!