[M][T] Secret Hitler, Act I, Take II
kitaman27

United States8595 Posts
/in

When Koshi finishes reading the OP he can tell me what to do.
kitaman27

United States8595 Posts
I pride myself on my bipartisanship. There's no reason fascists and liberals can't work together in harmony.
kitaman27

United States8595 Posts
Hi everybody! Individual liberty and social reform is good and stuff.

I'll promise to remember to vote. That alone should vault me into your top 3!
kitaman27

United States8595 Posts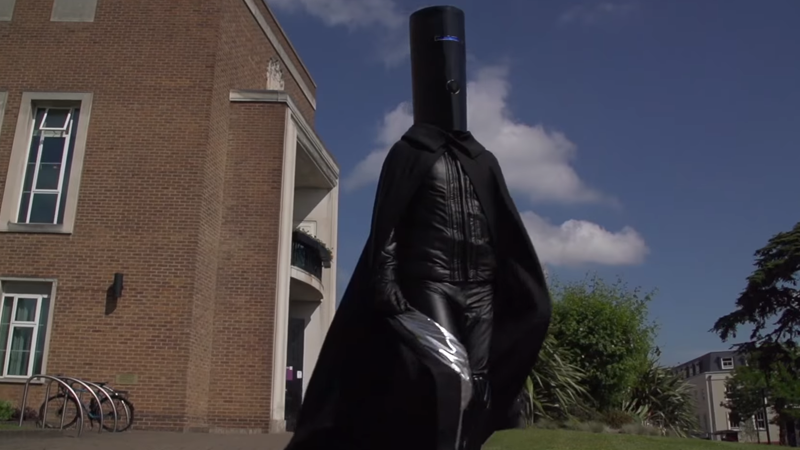 I've said it once and I'll say it again. Lord Buckethead is the true people's champion. Who do you guys trust more to stand up to a fascist dictator? A bunch of petty politicians or an intergalactic space lord? Sure, he will probably enslave the human race afterwards, but you got to take a chance sometimes.
kitaman27

United States8595 Posts
Enlighten us on the general strategy?

Everything I've seen is just like really generic advice like tell the truth or look for the players with a motive to elect Hitler lol.
kitaman27

United States8595 Posts
On October 30 2018 08:14 raynpelikoneet wrote:
regardless of the first policy's outcome i don't think we should include the first councellor into the second government. Fascist policies, even if elected, in fact do not "kill us" that quickly imo.



Why not go the resistance route and just roll with the guys that are providing positive results? Sure a facist policy isn't going to end the game right away, but wouldn't it be better to ride the initial liberal policy pushers as much as possible until they give us a reason to doubt them?
kitaman27

United States8595 Posts
On October 30 2018 09:39 prplhz wrote:

It's that things stay more simple if we can trust the first governments. It's actually I thought, let's just elect kita but he's super hard to read I think, so he can mess things up early and we can't trust anything that's going on later because we don't know if he lied about policies or not.



lol I read this like 5 times and I still can't tell if you were arguing in favor of me being elected or against me. Based on your later posts it seems like you were in favor, but here it seems like you were outlining a reason why I shouldn't be chosen. Which way was it?



On October 30 2018 09:59 Grackaroni wrote:

I'm kind of tempted to guess that you are fascist and Kita is hitler.

I'm also a shitty scum hunter though so meh. I like this format because people can't kill me very easily.



What makes you jump to the most likely scenario being that we share alignment? From my view, I'm looking for players that are trying to emulate liberal play by buddying up, as opposed to showing their cards right off the bat. prpl may fit that bill for trying to get on my good side, but I'm not sure yet.

Rels is another one who I'd prefer to avoid as Chancellor round one, but that's mostly a gut read for his generic post about wanting more time to solve the game that kinda seems like an attempt for liberal cred.

Krogan looks pretty good so far I'd say. Even if we don't pass his government, he should be considered later on.
kitaman27

United States8595 Posts
On October 30 2018 18:52 raynpelikoneet wrote:
I think kita has a flaw on his resistance proposal, but i dont really think that makes him anything.



What makes you think that it's better to elect separate governments as opposed to rolling with a government that provides positive results? It's obviously not a perfect plan since it depends on the draw of the cards, but if we get lucky with the first group we could manage to bang out a whole bunch of successes.
kitaman27

United States8595 Posts
Since you're president next, any thoughts on who you'd pick yet?
kitaman27

United States8595 Posts
On October 31 2018 01:40 happykrogan wrote:
I need rayn to explain why kita's resistance proposal is flawed though.



I think I found a pretty major issue:



On October 25 2018 04:46 [UoN]Sentinel wrote:
The government has Term Limits. If the game has 6 or more players, the last president and chancellor to be in government cannot be candidates for the next chancellor candidate.



We could still alternate two groups of successful nominations, but that's a bit trickier to pull off. I'd still like to hear rayn's explanation for why the plan was flawed though.
kitaman27

United States8595 Posts
On October 31 2018 02:43 byj wrote:
Screw my position in the rotation list =\




[/QUOTE]
Would that be any reliable though, anybody could say it, and Hitler would have no way to find out he's wrong? Also is letting Hitler know who you are that important? I feel like Hitler wouldn't want to take podshots at people anyway, so people would vote for him later on [/QUOTE]

The key thing to watch for is if a player specifically calls out another player as Hilter in a way that isn't pushing suspicion onto that player. The fascists want to communicate with Hitler, while making him look good in the process. Joke posts are probably the best way to do this. It's tough to say whether the grack/conversion thing is an actual communication attempt (probably isn't to be honest), but stuff like that should be discouraged from this point forward.


kitaman27

United States8595 Posts
On October 31 2018 03:06 raynpelikoneet wrote:
The main point is that sooner or later some goverment is going to draw 3F so like.... "unsuccesful" government doesnt always equal suspicious. Nor does succesful government equal townies since scum in some cases have incentive to elect liberal policies.



Eh if players are electing liberal policies, I'm fine taking that risk as long as they keep producing good results and don't look sketchy otherwise. I think I see what you're saying with the 3F stuff, but that seems like something we can evaluate when it comes up. Either way, it looks like we're forced to elect separate people based on the rules of the 8 player setup.
kitaman27

United States8595 Posts
It sounds like we're talking about different situations. I'm saying roll with the good guys as long as we can and once we hit a fail, re-evaluate if it's a 3F or sabotage. Electing Hitler won't need to be something to worry about as much before that because we're not at that threshold. Once we do cross that threshold, it obviously becomes a bigger concern.
kitaman27

United States8595 Posts
rayn, can you confirm that you don't think it's a good idea to enact a fascist policy day one if presented F + L?
kitaman27

United States8595 Posts
On October 31 2018 03:46 Grackaroni wrote:
Kitaman worries me.



Why is that? Is it still the prpl connection or is there something else?
kitaman27

United States8595 Posts
On October 31 2018 06:59 raynpelikoneet wrote:
for a liberal at least. that's what you meant?



Yeah.
kitaman27

United States8595 Posts
Obviously subject to change, but I'm leaning towards yes with krogan/rayn.

rayn's latest post makes sense from a perspective of wanting to maximize the reads early and krogan seems generally trustworthy so far. Passing to grack doesn't interest me that much since he went after the long hanging fruit early on.
kitaman27

United States8595 Posts
On November 01 2018 00:12 Conversion wrote:


Because the most chaotic way to play is to just topdeck after reaching 3 failed elections, and I will vote no to any government including myself being president



lol Conversion is so crazy that he's probably not Hitler.
kitaman27

United States8595 Posts
On November 01 2018 00:38 Conversion wrote:
Whether that's optimal or not, I'm not quite sure but I do like doing it. Considering we can get RNG'd and get a F/F/F draw (unless this is impossible, someone correct me please if it is), I don't see why we're in any rush to elect this particular government.



Eh this explanation is a lot more scummy now that you lay it out. It would be one thing to ask for more time by failing a few and then eventually passing, but now that I think of it, a policy to reject all governments is really anti-town.

On our first draw FFF would be like 24% (someone check my math?), as opposed to a 65% chance (11/17) of a fail from a single draw. That's really, really far from optimal.
kitaman27

United States8595 Posts
On November 01 2018 04:46 byj wrote:

Trying to hint at you knowing who Hitler is?



Is that honestly what you think my intention was?