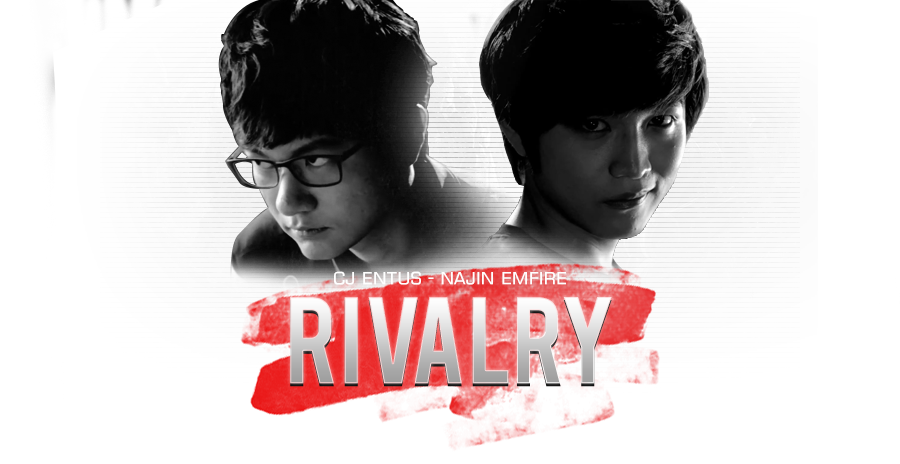 When people talk about the greatest rivalries in League of Legends history, the inevitable answers usually are Team SoloMid vs Counter Logic Gaming, Moscow 5 vs Counter Logic Gaming Europe, World Elite vs Invictus Gaming, and SKT vs KT. These were all great rivalries, yet they were not the greatest.

The greatest rivalry in League of Legends history is by far the long-lasting rivalry between the MiG/Azubu/CJ Entus rosters and the NaJin e-mFire rosters. These two organizations have played against each other an astounding 92 times, with the current record being 55-37 in the favor of CJ Entus. This rivalry is a clear standout for its history and impact on its scene, with very few matches between the two being trivial affairs.

This is the story of two organizations whose story cannot be told without mentioning the other. It is an all-encompassing glance into the history of Korean League of Legends, and of the rise and fall of fortunes of these teams. In 92 games, these two organizations have shaped League of Legends history and lore in Korea. This isn't just a retelling of a rivalry, this is a centric piece in Korean League of Legends history. This is a clash between two Titans.

CJ Entus and NaJin are two names that will be forever associated with Korean League of Legends. The genesis of these two teams leads all the way back to the very beginning of Korean League of Legends, so one can actually recount the history of the Korean scene just by observing these two teams. This will be just that, a journey to the past, before DoA and Montecristo's casting and before the Korean hype train at Season 3 Worlds. This goes back to when the Korean scene was as niche as Brazil or Japan would be today in the West, and before names like Faker, MadLife and Insec were common household names for Westerners. We may not recognize the meta or most of the players anymore, but this era planted the seeds that the greatest League of Legends teams would later emerge from. Let us go back in time, back before OnGameNet held their triannual tournaments, before KeSPA teams dominated anything and everything, to an era where the World Cyber Games was still a big deal for eSports.
The Beginning of Two Legends
-WCG 2011 Korean National Finals-
Competitive League of Legends had just gotten started, and the WCG 2011 Korean Qualifiers was the first ever offline tournament in Korea. Most of the teams were made of complete amateurs, much like the rest of the world, and two teams came together and stood out above the rest, meeting up in the finals.

One of these teams was Maximum Impact Gaming, also known as MiG. With a roster of Woong, Rapidstar, Madlife, Locodoco, and Dun1007, the foundations of a legendary team were formed. Chaos ensued with the dropping of Ringtroll earlier on and Dun1007's departure, leaving the young team without a jungler. The team would temporarily pick up Cornsalad for the mid lane, moving Rapidstar to top and Woong to the jungle.

The other team was known as Extreme Dive Gaming. They were a team centered around the famous MakNooN in toplane, rounded out with MOKUZA in the jungle, Hoon in midlane, Hiro as AD carry, and ViNylCat as support. With MakNooN being the most famous Korean player at the time, and with MiG having to roster swap, EDG were the favorites to sweep the finals and represent Korea in the 2011 WCG.

Despite being majorly crippled from the lack of a jungler and a new roster, MiG would prove that why they made the finals. EDG forgot to ban Kassadin, of all things, and Cornsalad would go on an absolute rampage, snowballing the game out of control for MiG to take the first game. Not to be outdone, EDG would subsequently pick Anivia for MakNooN in the second game, switch him to midlane, and gave him a chance to show off how good he was on the bird.

Game 3 was not so one-sided. MakNooN got Jax and was performing very well on it, but MiG was winning skirmishes elsewhere on the map. A tense 30 minutes resulted with no real advantage to either side until Cornsalad got picked off at baron, donating a free baron to EDG while MakNooN's Jax wrecked with an unstoppable split push. EDG would win the WCG Korean Nationals, and would go on to represent Korea in WCG 2011, where they lost in the quarterfinals to the Polish Gameburg Team, which later became Meet Your Makers.

This match wasn't particularly a great match or an interesting one, but it is historically important as the first offline finals of League of Legends broadcast in Korea. It would also be the beginning of a rivalry for the ages.
EDG 2-1 MiG
Rebirth and Revenge of MiG
-OGN LoL Invitational Group Stage-
Following the disappointing loss to EDG, MiG briefly entered a period of tumult, considering they still needed an actual jungler and a real sponsor. After a period of uncertainty, CloudTemplar was picked up as the jungler for the team so Woong and Rapidstar could return to their original roles. Their coach, Kang Hyun-Jong, had the idea to create a sister team for MiG so that the team could practice strategies against each other. This was the birth of MiG Blaze, a team that consisted of Reapered, Helios, Amibition, Captain Jack, and Lustboy. The original MiG renamed to MiG Frost, with the iconic fire/ice contrast in full effect.

OnGameNet would sponsor a National Invitational of four teams, the top two of which would compete in the Global Invitational. Naturally, two of the invited teams were EDG and MiG Frost, due to their finals appearance last year. The other two teams were newcomers Startale and Team OP. Both EDG and MiG Frost won their respective matches and made it to the Global Invitational, where renowned teams World Elite and Counter Logic Gaming laid in wait.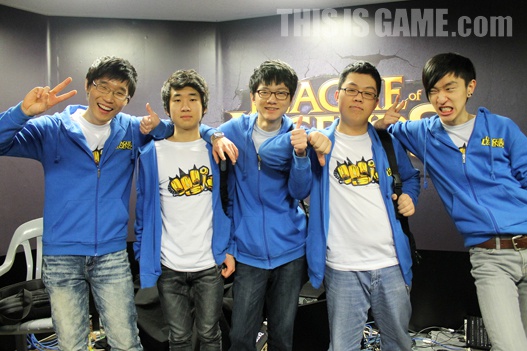 The very first match of the Global Invitational was between the two Korean rivals. If either team wanted to prove that they were the best Korean team, this was the tournament to do so. The newly restructured MiG looked better than EDG, completely outplaying EDG in an early invade and snowballing the game to victory. MiG took their revenge for the events of the National Finals.

MiG would later go on to win the Invitational by defeating favored North American team CLG in two decisive games, despite the North American juggernauts being considered the best team in the world. MiG had won their first title, and was on an all-time high. Subsequently, they were now known as the best team in Korea, and as a potential world-beating team in the future. EDG would remain in the shadows, but not for long. The rivalry between these two teams had just gotten started.
MiG Frost 1-0 EDG
MiG 2-2 EDG
The First Major Clash
-The Champions Spring 2012 Quarterfinals-
Shortly after EDG's disappointing exit from the Global Invitationals, the team was picked up by NaJin Industries and was rebranded as NaJin e-mFire. The team got all of the facilities necessary for a professional eSports team, including famous Brood War Protoss player Park "Reach" Jung Suk as the team's head coach. They leaped ahead of the MiG teams, who didn't even have a proper sponsor yet.

OnGameNet held their Global Invitational as their debut into League of Legends, but it was merely a showmatch compared to what they had planned next. What came next was an entire sixteen team tournament with four groups and an eight-team bracket, which largely remained as the form for the next seven OnGameNet tournaments afterwards. This was the true beginning of Korean League of Legends, and the hype for the tournament was real. Frost and NaJin both received invites to the tournament, along with CLG and Season 1 World Champions Fnatic from overseas. Blaze won their qualifying match handily, and all three teams looked poised for success in the tournament.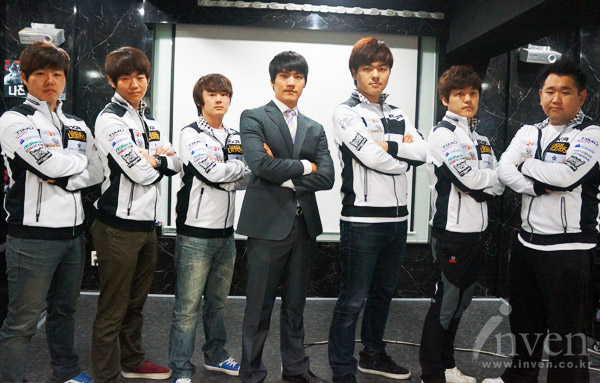 The very first quarterfinals of this tournament featured a marquee matchup, with Frost once again facing off against NaJin for the third time. Frost was still the favored team in the match, having not dropped a game in their group and being the reigning champions of the Invitational. NaJin were clearly the underdogs in their match, having looked shaky in an early loss to Team OP. This match was labeled as the "LoL Clasico", because of the frequency that these two teams had met.

The first game was rather straightforward, as an early invade by Frost led to a disastrous teamfight for NaJin that gave Locodoco first blood, and the rest of the game snowballed way out of control as NaJin could not stem the early loss. Frost forced teamfight after teamfight onto the weakened team, ending the game in slightly under 30 minutes. Despite this, Game two was a very back and forth game, with Frost getting an early lead with a three minute dragon but NaJin managing to claw back with brilliant teamfighting. At 48 minutes the game was dead even and Frost would rotate to baron with a slight positional advantage.
That baron fight would become legendary, primarily due to the Korean shoutcasters. Najin would play a brilliant teamfight and Hiro would get the first pentakill in Champions history on Frost, leading to the legendary soundclip of the Korean casters screaming "PENTAKILL" at the top of their lungs. NaJin would subsequently take the nexus and bring it to a third and final game.

The final game was the first of a long-standing Korean tradition, that the deciding match in a best of series would go to blind pick. Fittingly, the first ever teams that played in a blind pick match were Frost and NaJin, the original Korean rivals. Beginning a trend in blind pick to feature multiple mirror matchups, there were two Olafs in the top lane, two Ryzes in mid, and two Urgots for the AD carries.

The match was an extremely close match, with exciting teamfights going back and forth between the two teams, but ultimately the biggest difference between the two teams lay in the top lane. Woong went on a rampage with his Olaf, scoring 12/3/15, while MakNooN had a lackluster 1/7/15 score. Despite this, the rest of NaJin would fight valiantly, but Frost was too good at teamfighting and ultimately NaJin would surrender after losing a teamfight at 47 minutes into the game. Frost had once again proven their superiority over NaJin, and in an exciting match. Frost would go on to shockingly finish second to sister team Blaze, who quietly had a fantastic run of their own.

This match was the first real match between the two teams, being the first time the two teams would meet in a Champions bracket. This would be just the beginning of the real matchup to come, one that would be more ridiculous and tied into Korean League of Legends history than either could imagine.
MiG Frost 2-1 NaJin e-mFire
MiG 4-3 NaJin
Reconsolidation of NaJin
-The Champions Summer 2012 Group Stage-
MakNooN's play against Frost was a big problem for NaJin. Despite MakNooN being ridiculously talented, he had been a big factor in NaJin's loss in the blindpick game to Frost. His natural overaggression seemed to be at odds with the rest of NaJin's more passive roster, with MakNooN getting caught out in awkward times making too much of an aggressive move. MakNooN, however was too talented for NaJin to just let go, so they decided to keep MakNooN and redesign a completely new roster around him. This would be the birth of NaJin Sword, sister team to the rebranded NaJin Shield.

Shield would take Expession as MakNooN's replacement, while Sword picked up Watch, SSONG, Pray, and Cain; rookie players who could all be counted on to show ridiculous aggression when necessary, perfectly synergizing with MakNooN's preferred playstyle. The motto of this new team was "Do Dive", which is ironic considering the original Extreme Dive Gaming was redesigned to be more passive after swapping MakNooN.

Meanwhile, Locodoco left Frost a few days after their loss to Blaze, and Frost searched for a replacement for a while. After approximately a month, Frost signed Shy to the roster. However, instead of playing in the bot lane, Shy would play in the top lane, with Woong switching to AD carry. This was surprising considering that Woong was highly regarded as a top Korean top laner at the time, and a replacement for the top lane made little sense for the team. No one could have expected that Frost had just signed one of the greatest top laners of all time. Shortly after this announcement, Frost and Blaze were sponsored by Azubu, finally getting a sponsor despite being the best two teams in Korea at the time.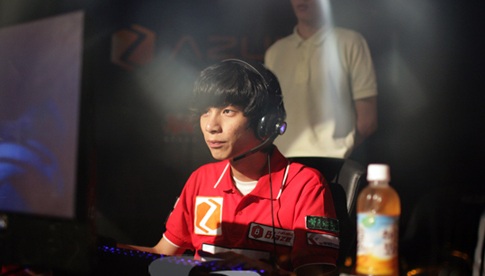 Champions Summer 2012 was interesting for these teams. Blaze and Frost would receive seeds into the first two groups based off of their finals performances, and the NaJin rosters had to qualify for this season. When the groups were drawn, hilariously both NaJin teams ended up in a group with an Azubu team; Shield in a group with Blaze, WE, and the amateur team GJR, while Sword ended up with Frost, Dignitas, and the oddball RoMg. This would prompt an interesting dynamic and a resumption of the rivalry between the organizations to intensify, because this was only a single round robin, and so every win would matter.

Blaze and Shield would play their second match against each other, and it was an extremely important one at that. Blaze had beaten GJR easily, and with a win over Shield they would guarantee themselves a spot in the quarterfinals. Shield, on the other hand, lost to WE earlier on, and with WE sitting at 2-0 needed to win in order to keep their dreams alive. This single match would probably determine the teams that would go on to the next round. Blaze was highly favored to take this match, and Shield wanted to prove they could still do it.

Shield would play with early aggression to take multiple towers and win the game off of that. Despite having this advantage, Blaze would continually win teamfights, with Captain Jack on Graves and Ambition on Ahri doing more than enough damage to Shield whenever they would fight. Despite a mid game faceoff where Shield would try to push with Expession's Nidalee and Hoon's Twisted Fate against Reapered's Shen, with everyone else pushing mid, Shield would ultimately only be able to crack the mid inhibitor once. MOKUZA would make a brave Baron steal, but it was too late for Shield as their composition was no longer able to win teamfights and Blaze would take an extended victory.

Blaze would go and beat WE convincingly, with Captain Jack playing a ridiculous Graves that went 11/0/10. They would qualify first out of their group looking very sharp for the upcoming rounds. Shield would be unable to qualify out of their group, and pretty much lost their chance at competing in the Season 2 World Championships, due to a lack of Circuit Points. NaJin's chances of competing in the World Championships looked grim, because Sword had no circuit points due to being a new team.
Azubu Blaze 1-0 NaJin Shield
In Group B, things were reversed for the two teams. This time, Frost was the team that was down 0-1, getting surprisingly upset by the amateur team RoMg, while Sword comprehensively defeated Dignitas. Frost desperately needed to win this match, or they potentially would have to enter tiebreak scenarios in order to advance if they lost. Sword could go 2-0 and punch a commanding lead in their group.

Once again, the NaJin team had the early advantage over the Azubu team. Repeated dives onto members of Frost would result in early kills for Sword, leading to multiple dragons and towers. While Frost fought bitterly to defend their base, unlike their sister team, they could not win the crucial teamfights to make the game more even. At about 29 minutes into the game, CloudTemplar would make a crucial Baron steal, and suddenly the tides turned in Frost's favor. Frost would proceed to dominate Sword for the rest of the game, eventually winning at around 36 minutes into the game, turning a 5k gold deficit into a resounding victory.

Both Frost and Sword would win their next matches to qualify out of Group B. Sword had showed promise, while Frost held off Sword's aggression and showed why they were considered the best Korean team in the tournament. NaJin's hopes for Worlds were still alive, albeit on the shoulders of a young and inexperienced Sword team.
Azubu Frost 1-0 NaJin Sword
Azubu 6-3 NaJin
The Rise of NaJin Sword
-The Champions Summer 2012 3rd Place Match-
The bracket stage would be favorable to both Azubu teams and NaJin Sword, as each advanced convincingly into the next stage with a 2-0 victory. Sword, in their semifinal against CLG.EU, would play well but were outclassed by the experience of the veteran Europeans. Frost would face off against Blaze in a thrilling semifinal that went to the deciding blind pick game. Each team would have unique strategies with their compositions, but ultimately it was Frost that would prevail over their sister team and face off the Europeans in the final. This left Sword facing off against Blaze for the third place match. If Sword wanted to have a chance at Worlds, then they would have to beat Blaze to secure fourth place in point standings. Blaze was either going to be the first or the second seed no matter what happened, so it didn't really matter to them what the ultimate result of this match was, as Frost's performance in the finals would determine whether Blaze or Frost would get the bye.

Sword would get off to a great start in game 1, getting an early first blood on Lustboy, followed by Watch ganking both top and bottom lanes for an advantage for PraY and MakNooN. Sword would seemingly win every fight after that, and MakNooN would be unstoppable split pushing as Nidalee, winning every duel against Reapered's Irelia. However, a bad fight at the bottom inhibitor led to a delayed ace for Blaze, as Captain Jack's hypercarry Vayne got into her lategame power spike. Despite this respite for Blaze, Sword would succeed on their second attempt, closing the game out.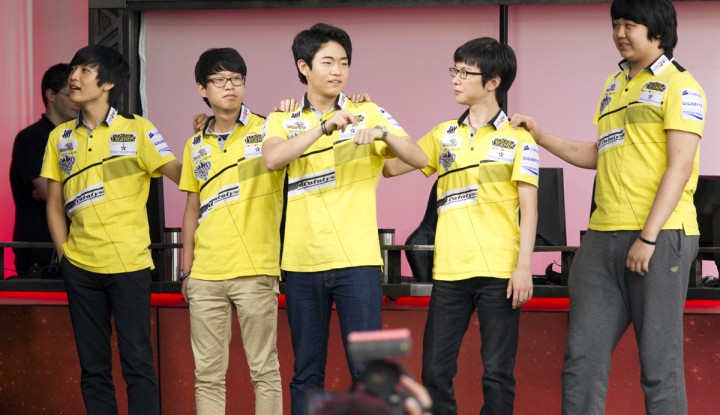 The second game would be much more decisive from Sword, as they would get first blood again after yet another facecheck, this time from Reapered. Watch and Cain would roam around the map as Shyvana and Taric, killing pretty much all of the Blaze members and allowing PraY's Corki to get ridiculously fed. Sword would stomp Blaze as the teamfight prowess of Sword was too much for a Blaze team that was massively behind in gold.

Sword would look impressive in this match, but it mattered little for Blaze anyway. Frost would come back from a 0-2 deficit to reverse all-kill CLG.EU, and would earn the direct bye into Worlds. Blaze would play as the top seed in the gauntlet-style Korean Regionals, where the second through fifth place teams in circuit points would play against each other in order of ranking. Blaze merely had to win a single best of five to qualify for the next round, a task that looked perfectly doable for the Spring Champions.
NaJin Sword 2-0 Azubu Blaze
Azubu 6-5 NaJin
Worlds on the Line
-Season 2 Korea Regional Finals-
Sword blazed through their gauntlet run, beating Incredible Miracle 3-1 and Xenics Storm 3-0 in decisive stomps. The only team that lay between them and their hopes to attend the Season 2 World Championships were the Spring Champions and the team that they had beaten in their third place match in Summer. Despite having lost their past encounter 0-2, Blaze still looked like the favorite to win the match. They had dominated the MLG Summer Arena, destroying North American titan Team SoloMid in the finals, and the previous matches in the Korean Regionals were just a competition for the honor to get destroyed by Blaze. Reapered was the best top laner in the world, Captain Jack was the best AD carry in Korea, and Ambition was easily top two in the mid lane along with teammate Rapidstar. Their surprising loss in their third place match against Sword had to be just a fluke. Both Azubu teams were destined to go to Worlds, and potentially compete for the title.

Sword, however, would be the team to draw first blood on Blaze. SSONG on mid lane Evelynn terrorized Blaze, using Eve's stealth to continually pick off Blaze's members. Reapered would do a respectable job in keeping MakNooN down, but PraY and SSONG were too threatening, and Sword closed out an easy win in little over 30 minutes.

If the earlier game was a resilient showing of Sword's aggressive dive-centric style, the next would be a testament to Blaze's incredible teamfighting. A successful invade onto Blaze gave SSONG a double kill on Ahri and gave Sword another early advantage. Helios and Reapered, however, would immediately invade Sword's jungle and kill Cain, evening out the gold advantage. The game would continue in a virtual deadlock for 30 minutes, with both teams trading almost evenly in teamfights, with a slight kill advantage to Blaze but an objective advantage to Sword. The game would finally swing in Blaze's advantage after a perfectly executed tower dive resulted in four kills and the mid inhibitor. Sword would do their best to come back in teamfights, but Captain Jack on Graves and Helios on Lee SIn proved too much for Sword. Watch would quit out early in the game, costing his team a crucial ban in the next game. Everything was beginning to look like the favorites would advance.

The lack of a ban and the loss of momentum would not stop Sword from striking back in the first game. Sword would get the early advantage once again, securing the first two kills with a coordinated dive onto Ambition on the immobile Orianna with Diana, Shen and Nocturne. Sword would subsequently propel themselves to a 8k gold lead, and took down turret after turret of Blaze. But even with this large advantage, Sword still proved mortal to Orianna's dangerous Shockwave. Ambition would hit Shockwaves onto multiple targets in every teamfight after 30 minutes, and the advantage that Sword had would not save them from losing every subsequent teamfight. Coupled with a Kog'Maw that would get scarier and scarier as the game went late, Blaze would close out a hard-fought 45 minute comeback victory with a deficit they had no business coming back from. Blaze was looking good, and they appeared to have figured out Sword. Blaze would shortly punch their tickets to the World Championship, or so everyone thought.

Despite what seemed to be a demoralizing loss, Sword would roar back in the fourth game. Once again, they would take the early advantage over Blaze, with their aggressive dives once again giving their team multiple kills. SSONG's Karthus would do a ridiculous amount of damage to Blaze's entire team, enabling Sword to win nearly every encounter afterwards. Sword would close out a commanding 30 minute win, much like the first game, and would surprise everyone by taking the favored Blaze to a deciding blind pick game to determine which Korean team could go to Worlds.

Blaze was visibly shaken by their one-sided loss in game 4, and it showed from the very beginning of this game. A failed attempt to catch PraY on Ezreal led to Blaze giving up two kills in the first two minutes after staying for far too long in Sword's jungle. From here, Blaze utterly and completely collapsed. Giving up kill after kill to Sword, Blaze allowed SSONG to get ridiculously fed on Karthus. Nothing was working for Blaze, and they were fully on tilt. With a surprising 23 minute surrender from Blaze, Sword had finally done it. They had taken down one of the Azubu teams and proven that they were a top Korean team in the world. MakNooN and his team were ecstatic, leaping out of their chairs after the victory. Reapered, on the other hand, sat motionless at his chair with his head down, crushed after the stunning upset from Sword.
NaJin Sword 3-2 Azubu Blaze
NaJin 8-8 Azubu
To Chapter Selection
As the Dust Settles
With the conclusion of the Korean Regionals, both Azubu Frost and NaJin Sword would make their debut onto the international stage. They would do fairly well in the tournament, but both teams would lose to eventual champions Taipei Assassins. Fittingly, the Korean representatives were both sides of the rivalry that seemed to shape the fledgling Korean League of Legends scene at this point, Azubu and NaJin. Although this is the phase of the rivalry that is most commonly remembered between the two organizations, they would still have a long series of games waiting for them, and together trace most of the history of Korean League of Legends in their path.


If you also are an enthusiast about the deep history of professional League, consider registering on LiquidLegends.net and joining us in the discussion on our forums!
Coming Soon
Part 2: Changing from Reapered to Flame, Azubu declining and the Champions Winter 2013 Final.