Waiting.
It's been 55 minutes now, waiting for a game to appear. He's been browsing the internet and playing on his phone to pass the time. He eyes the client from the corner of his eye as he plays Candy Crush Saga, wondering when nine people will meet him on the Fields of Justice.
Another 10 minutes pass.
MATCH FOUND!
Quickly, he minimizes his web browser and clicks accept, ready to finally jump into Summoners Rift. Three people accept. Then six. Then eight. Only one more left before he can play a normal, fun game with people around the same skill level he is. The final silhouette lingers, waiting for the final player to realize the game is about to begin, and enter.
The icon turns red. The player has declined the invitation to the game. Queue resets.
The boy turns back to his mobile game – the long wait commences once more.
Love of the Game
Lee "Faker" Sang Hyeok never thought one day that he would come to be recognized as the best player in League of Legends history. He dabbled around on Chaos, a user-created map from Warcraft 3, and enjoyed playing MapleStory in his spare time. When League of Legends first started hitting it big in South Korea, Faker was merely another teenage boy who enjoyed playing the game for fun. Unfortunately for Faker, he was simply too good at the game – his MMR was so high that it became impossible to find a Normals game to play in.
Under the ID "GoJeonPa", Faker would make his debut in ranked during Season 2. He would shoot up the Korean ladder to 2536 ELO, towering above the best professional players in his home country. No one knew who he was, except for the fact he was the strongest solo queue player in Korea. Ryze was his favorite in the early days; he accumulated over 150 games on the champion with a 70% win rate.
Faker loved League of Legends. He had fun playing it, and since he couldn't casually play it in Normals due to his MMR, he moved to Ranked. While the rest of the world was astonished at who this mysterious boy was – this boy who was destroying solo queue with Ryze, Ahri, and Syndra – Faker was having the time of his life playing against people near his level.
Emperor's Dynasty
SK Telecom T1 are the most prestigious organization in esports.
Created by the legendary Brood War player Lim "BoxeR" Yo Hwan in 2002 under the name Orion, SK Telecom officially sponsored the team in 2004. Boxer, called "The Emperor" in Korea, is an icon of esports worldwide, and one of the reasons League of Legends grew to the heights it did in Korea today. He took countless players under his wing, raising them up to be some of the most successful, popular players in all of Korean Brood War. With his brilliant mind for innovative strategies, Boxer became a kingmaker – helping SK Telecom T1 become the most lucrative franchise in Brood War, winning 14 team titles.
When SKT T1 saw that StarCraft 2 wouldn't take over the legacy Brood War had in Korea, they looked towards the blossoming scene of League of Legends. Their eternal rivals, KT Rolster, had already thrown the hat in their ring, picking up two teams that were considered favorites to contend in OGN Champions, Korea's premier league.
SKT's first foray into League was picking up the amateur team Eat Sleep Game, captained by famous Top-lane player and inaugural Champions winner Reapered. As usual with SKT, the team was built around the singular star in Reapered, and the team hoped they could make a quick impact on the scene. The team did just that in their debut: IEM Cologne, Winter 2012, Reapered's team beat MYM and then Fnatic in the finals to grab the first gold for SKT in League of Legends.
SK Telecom T1 #1, Reapered's team, would not go onto to be the success they had hoped. Reapered, who had left Azubu Blaze, was still a consistent threat in the Top lane, but his teammates didn't live up to expectation. They tried to fix this problem by bringing in SuNo, a solo-queue player seen as a rival to Faker, but it didn't translate to any grand success. The team qualified for the IEM World Championships with their win in Cologne, but were stopped in the semifinals by Reapered's former Blaze team.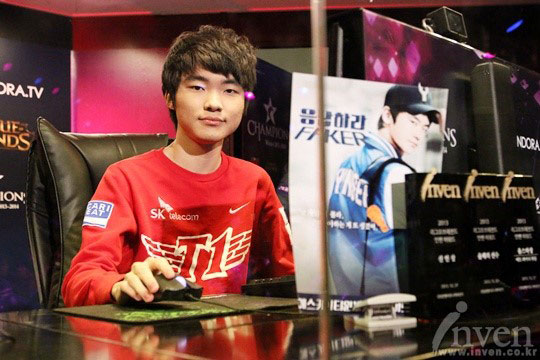 SK Telecom T1 were set to debut their #1 team in Korea, with OLYMPUS Champions Spring 2013 on the horizon. With KeSPA rivals CJ picking up the Blaze and Frost squads from Azubu, and KT already having two powerhouse teams, SKT needed a brother to go along with Reapered's squad. GoJeonPa, who was tearing up the solo-queue ranks, had caught the eye of the organization
In a long line of superstars that SK Telecom T1 had built around in Brood War, and then StarCraft 2, this League-loving 17-year-old was chosen to be the next in the lineage.
Son of Heaven
Sitting in your room and being the best is one thing – you're in a low-pressure situation, playing in the privacy of your own house with no audience. In solo queue, even if you're able to put up insane win rates, that doesn't always transition into being a professional player. Not only do you have the added pressure of being on television and playing in front of hundreds in a studio, but you have to adapt to your new teammates. It's easy carrying a game by yourself, simply ignoring your teammates, but what happens when you have four people next to you that you have to work with?
SK Telecom T1 #2 was created with the announcement that they signed GoJeonPa, who was now going under the ID Faker. Alongside their rookie Mid laner, they added a solo-queue standout AD Carry with Chae "Piglet" Gwang Jin – a player who had been passed on by teams like CJ Entus. Next to their two rookies, they picked up Bae "bengi" Seong Ung, a jungler who had some amateur experience on the team BBT. Lee "ManDu" Jeong Hyeon, their support, came from the creative GSG squad, with off-the-wall picks like Mordekaiser or LeBlanc. The team wanted some veteran leadership to round out the five, so they chose Top-to-Support-to-Top-laner-again Jung "Impact" Eon Yeong. Impact, who had played professionally since the first Champions season, had bounced around the Xenics organization before finally getting picked up by SKT as their starting top-laner after a stint as support.
The team was an interesting mix of differing personalities. Piglet was known for being headstrong in solo queue, as well as off the Rift, making a statement that he would make CJ Entus pay for overlooking him. Mandu, who would change his ID to PoohMandu to create a synergy with his new teammate, was an overly aggressive support who had no qualms about taking kills from his carries. Impact, who was returning to the top position after playing support on Xenics, was fully transitioning back into being a Top laner. Bengi, primarily seen as a Lee Sin player, had played decently on his BBT team, but was looking to make a name for himself on SK Telecom.
Then there was Faker. The whispers of his play were prevalent heading into the team's first Champions tournament. They had qualified, but the question was if the hype for this 17-year-old was justified. Yes, he destroyed solo queue, but where were his team credentials? He had never played on a ranked team, never tried out in the amateur circuit. The only success he had was by himself, playing in his room and doing what he wanted on the Rift, with no direction.
His debut was set against CJ Entus Blaze. Ambition, considered the best Mid laner at the time in Korea, was his opponent. Having just been picked up by the CJ Entus franchise, Blaze were seen as one of the favorites to take the Champions title. SK Telecom T1 #2, in comparison, were seen as a team that would have a bright future with some experience under their belt, but not much of a match for a team that had established all stars sprinkled across their lineup.
In their opening match against Blaze, Faker locked in Nidalee against one of Ambition's signature champions, Kha'zix. The match started nonchalantly, the Mid laners working up to level six without much fanfare. With both players around the same CS at the 6-minute mark, Faker looked like he could hang with Korea's best. Hitting six, Ambition started to evolve his spikes under the tower, wanting to upgrade his ability.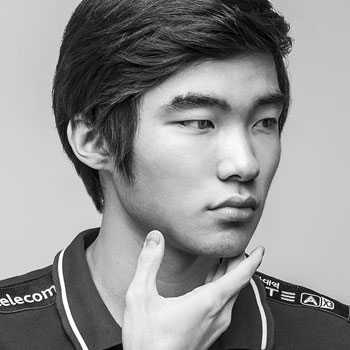 This is when Faker struck.
Seeing Ambition take a breather for a split second to upgrade, Faker attacked in Nidalee's cougar form, going all in on Blaze's Mid laner and grabbing a solo lane kill. The crowd was stunned. Faker snowballed his advantage by moving quickly down into the bottom lane and tower diving CJ's Cpt Jack and Lustboy. SKT T1 #2 pounced on the bottom-lane duo, with Faker picking up two more kills. Helios, sticking around the tower to try and stop the onslaught, was Faker's next victim, getting taken out under his own tower as well.
7 minutes and 30 seconds into his debut, Faker had picked up four kills, and had put his team ahead by 2k gold. Blaze, reeling from Faker killing four of their five members in less than two minutes, couldn't recover. SKT T1 #2 would make their statement by blowing Blaze out of the water in consecutive maps, the aggressive roaming abilities of the team locking down the experienced favorites.
The question that everyone had been asking had been answered:
Yes, Faker is the real deal. And the scariest thing – he was only going to get better.
SK Telecom T1 #2's run through the group stages was equally as impressive. They split a two-game series with the reigning champions, NaJin Sword, and crushed MVP Blue and their rivals KT A in 2–0 efforts. Their only hiccup came against MVP Ozone – the last games of the group – dropping 0–2 to the team. Still, with their domination of Blaze and the rest of the group, it was good enough to place first in the group, and book a first-round match against NaJin Shield.
NaJin Shield, which was built around players like Locodoco and Expession, fared just as well as SKT's group mates. Faker and company steamrolled them to make it into the semifinals, Piglet starring in the series with excellent play against the stout Shield lineup. The five different personalities were firing on all cylinders, rolling through the tournament with a possible rematch with CJ Entus Blaze in the finals. Since SKT had disposed of Blaze in the opening match, the all-star team had pulled themselves together, and were on a long winning streak.
MVP Ozone, the only team to beat SKT T1 #2 in the group stages, was their semifinal opponent. Ozone were heavy underdogs against KT Rolster B in the quarterfinals, but prevailed in a huge upset. Thought as a team that relied too heavily on their AD carry Imp to succeed, Ozone had changed up their strategies to be more team-oriented. Their rookie support, Mata, had brought a new flavor to the team, letting their Jungler Dandy and Mid laner Dade shine more in carry roles. Imp, still one of the most aggressive and mechanically-gifted players in Champions, was still a huge threat, but Ozone didn't have to rely on him every single game to get fed and win by himself.
This is where SKT T1 #2 would fall apart. Ozone, who had worked through their growing pains to play like a unit, outclassed SKT in their semifinal matchup. The team was too reliant on Faker to carry the game for them, getting ousted from the tournament by a team that had a number of weapons and strategies. Ozone varied how they used Imp – having him play the hyper carry Vayne in two games, but then playing him in the utility role of Varus the other two.
SKT T1 #2 would bounce back, with a crushing victory of CJ Entus Frost in the third-place match, but it didn't make up for the disappointment Ozone left them with. Ozone carried their momentum into the final, dispatching of Blaze in even faster fashion than they did SKT #2, going 3–0 to win OLYMPUS Champions Spring. In the end, Faker proved that he could take on anyone individually in the world, but Ozone showed him he wasn't in solo queue anymore – one man would not make a team champions.
The Evolving Mastermind
Faker doesn't like to lose.
He loves League of Legends and has fun with his teammates, but he doesn't like to lose. His love of the game makes it easy to practice endlessly, but being beaten drives him to get better. The loss to MVP Ozone was the first time in his gaming career that someone had stopped him.
He found the game while surfing the internet, downloaded it, and was so good that it was impossible to play Normals. He moved to ranked, obliterated every amateur and pro in his path, and finished with the highest ELO in Korea. SKT picked him up as their crown jewel, he beat down Korea's all-star mid in his debut game, and finished first in his rookie group stage.The consecutive losses to Ozone in the group stage, and then semifinals, were the only times an opposing force had stopped him.
Ozone
pissed off
Faker.
The rivalry that would shape Korean League of Legends had begun.
Reapered and his team had moved on to the new Jin Air organization, leaving SK Telecom T1 with only one team. Going into their second season, SKT T1 and Faker now had the valuable experience to go along with their individual talents. Yeah, Faker could beat any Mid-lane opposition by himself, and the rest of the team could dominate their lanes as well, but that wouldn't work against MVP Ozone. Faker, who had always been the star carry and person to drag his team to victory, was learning that he didn't always have to be the ace to push his team to victory.
Champions Summer 2013 was where Piglet and the rest of the team broke away from Faker's shadow. After a full season of only hearing about Faker, Piglet became one of the leading AD carries in all of Korea. He finished the Summer season at an astounding 8.50 KDA, ranking at the top of not only his position, but every player in Champions. Impact as well, who struggled the most on SKT in their rookie season, was picking up more of a leader role. He mostly played tanks, outside of a few Jax games, but his utility in team fights let the rest of the team grab kills and push towards victory.
SKT came into Summer with a swagger they didn't have in their first go-around. They were placed in a group with MVP Blue, Incredible Miracle 2, and NaJin White Shield. Favorites to get out of the group stage, this time around was all business for a team that only had a championship on their mind. In the six games they played in the Summer group stage, Faker played a different champion in each game: Kassadin (6/1/8), Zed (4/3/3), Orianna (9/2/7), Gragas (6/3/5), Ahri (9/1/7) and Syndra (6/6/5). Faker adapted to his team, letting Piglet carry three of the games on Vayne, and fitting into a more utility, crowd-control champion when needed.
Still, when his team needed him, he would pick up an assassin and crush his opponents through his roaming. Their rivals and reigning champions MVP Ozone also had an easy time of it in the group stage, finishing 5–1 and only dropping a meaningless map to Xenics Storm after they had secured first place. The two teams would be placed into the same semifinal side of the bracket, meaning SKT and Ozone would face off if they got through their quarterfinal battles.
Enter the return of Reapered. Not being able to come to an agreement over contracts, Reapered and members of his SKT #1 team left to become the Jin Air Falcons. He moved to the jungle position from top, allowing new talent Miso to switch into his old role. They performed admirably in their first season, squeezing into the quarterfinals and meeting up with Faker and the organization that they recently left. In the pregame interview, the Falcons stated they didn't believe they had a good shot of winning, believing their former comrades were in too strong of a state.
Faker showed no mercy to the SKT leavers, sweeping them in an easy 3–0 crushing. The whole team shined in the quarterfinal victory, Bengi and Impact only dying three times between them in the entire series. Piglet and Faker continued their duo-carry shenanigans, stomping their opponents in lane, but it was no longer The Faker Show. The team learned that the weight of Worlds couldn't be put solely on one 17-year-old's shoulders. With the players coming together as one, they were ready to take the next step in their evolution – as players, and as a team.
Ozone would meet them in the semifinals, matching their rivals with a mirror 3–0 victory over Chunnam Techno University. The rematch would start off as their last meeting ended – Ozone getting off to a fast start, with Dade outperforming Faker with a perfect 10/0/7 score on Zed. The team that had looked so strong getting off to a 11–0 start became unhinged, falling back into old habits and trying to give Faker's Karthus majority of the farm. Ozone punished SKT's tendencies, moving one step closer to another finals appearance.
Faker wasn't going out like that again. He picked the fast-roaming Ahri alongside Piglet's Vayne, splitting the farm between the two of them and Impact's Shen. The team responded by completely shutting down Imp in the early game, and not letting Dade's Twisted Fate get rolling off his first few ultimates. Getting back into a tied series, SKT kept on mixing it up, rolling a double AD carry composition with Faker going Ezreal in the Mid lane and Impact playing AP Vladimir in the top. Ozone couldn't stop the new strategy, falling behind in the series, and putting SKT one win away from their first final.
Reeling off two victories in around 30 minutes, the fourth and final game would be a clear statement that SKT had learned from their mistakes. Impact, who was criticized during his first season with SKT and called the 'weak link', was the one who stamped their ticket to the final. He had bullied Ozone's Homme throughout the series, but the final game was his shining performance, capping the night off with a 4/1/12 score on Zac, and out-CS'ing his opponent by over 40. Faker got his revenge on Dade – 11/1/7 on Gragas, leaping over mental hurdle that blocked him from taking his next step as the best player in Korea.
With one rival out of the way, another came into the picture during the final.
KT Rolster, since the days of Brood War, had always been SKT's #1 rival in esports. KT and SKT were both telecommunication providers in Korea, for one. Secondly, they were the two franchises not afraid to spend top dollar to win championships. Although KT Rolster got into League of Legends first, they were making their first Champions grand final the same time as SK Telecom. In terms of roster, they were the polar opposite of SKT – built around innovative objective control and strategies that always kept their opponents thinking.
SKT, while coming together as a team and not relying solely on Faker, were still scariest when their players could individually outperform their opponent. The Bullets played a different game, using tactics to gain the upper hand in grabbing Dragon, Baron, or knocking down towers. Individually, the Bullets were outclassed by SKT, but they brought their own genius to the finals that made them just as dangerous as MVP Ozone.
The rain poured down on the stadium as the two teams made their debut on the grand finals stage, and it would be the night Faker would make his biggest step towards the crown of world's best player. The series itself started off terribly for SKT, falling behind 5k in the first game behind smart plays by the Bullets. KaKAO, the Bullets jungler, got into the bottom lane to pull off a 3v2 advantage against Piglet and PoohMandu. After picking up two quick kills there, the Bullets' inSec would smartly rotate down into the Mid lane to catch out an unsuspecting Faker in a one-on-one versus Ryu. Bengi tried to come back to salvage the Bottom-lane turret, but was caught underneath, leaving the Bullets to pick up four uncontested kills, a turret, and an all important Dragon.
That was the Bullets' game. It wasn't just their quick, smart rotations that led them to advantages in out-manning the other team in fights. When the Bullets got a kill, they were calculated enough to know where to go to press their advantage. Kill two down bottom? Take turret, get vision over Dragon, and extend the gold lead even more. There have been teams who have been able to pull off similar tactics in terms of fighting, but no team has reached the level of Bullets' fluid objective moment. From sneaking Dragons and Barons, to their domino-effect kills into countless objectives, they might have been the smartest team to ever play the game.
Faker, uncharacteristically, was controlled all game long by the Bullets' pinpoint movements. The rest of the team did no better – PoohMandu getting constantly called out for six deaths, and Bengi right behind him with skulls to his name. The game, for all intents and purposes, was over. The Bullets were up almost 15k gold and running SKT around the map with their vision and objective control.
But Piglet wouldn't give up. Even when SKT fell down behind 20k, Bullets pushing into their base to win, Piglet's Vayne danced around trying to take as many KT players he could down with him. He ended with a 9/2/1 scoreline, eliminating two Bullets players in the final push at the Nexus before they took him out. SKT lost the first game handily, Faker flailing with zero kills and five deaths, but Piglet showed the rest of the team that this wasn't SK Fakercom T1 anymore.
No longer was Faker alone in his room, playing solo queue and raising up the ladder by himself. Now, even when he had an off game, he had friends beside him to pick him up.
Game two was more of the same. On Ahri this time, Faker was the only member on his team to make a dent in the Bullets' stranglehold. The Bullets constricted the objects across the map, picking up kill after kill against SKT. By the time the game was over, SKT was only able to take down one of the Bullets' towers during the entire game. The mechanical skill was still there – SKT being able to hold on in their base with kiting, dueling and ingenuity – but in the end, it was a numbers game. The Bullets grabbed enough objectives, and protected themselves from the onslaught SKT's individual skill could inflict on them. They could push the Bullets back a little by little, but the overwhelming gold and force eventually ended game two in another crushing victory.
With their backs against the wall, Faker and SKT had to adapt. The first two games were the Bullets pushing their game style on SKT, slowly whittling down SKT's towers and constricting objective control. In what could be their final game, SKT decided to go out the way they came in – aggressive, in-your-face, and attacking from every corner of the map. With a lineup of Malphite, Vi, Zed, Vayne and Zyra, their entire strategy hinged around knocking the Bullets out early, before they could slip into their methodical movements.
The plan worked, picking up a kill at level one and transitioning into pushing aggressively in all lanes. Ryu, who had held down Faker for the entire night, was finally losing his grip, getting killed in a solo duel against Faker's Zed. The kills kept racking up, Faker bouncing across the map with his mobile assassin, helping the rest of his team get ahead.
SKT didn't let up. By the 20-minute mark, they were getting picks, diving into team fights and romping the unexpected Bullet players. With a final team fight in the middle map going the way of SKT in clear ace fashion, the Bullets cut their losses and surrendered.
The tides had been turned to SKT's favor. They went with another aggro team composition in game four and took another quick victory – Faker using Ahri to pepper the map with ganks and out-man advantages. Getting the score to the final set, the Bullets and SKT went to a blind-pick ace match. There were no bans or back-and-forth picking, each team allowed to pick their best champions blind and bet everything on the final game to see who would become a champion.
Ryu locked in Zed.
Faker locked in Zed.
In what would become the moment where Faker went from best player in Korea to being known worldwide, Faker's Zed mechanically beat out Ryu's in a climactic duel. While the score was already out of hand and SKT were going to win even if Ryu stomped Faker, it was the highlight moment that made Western fans' collective jaws drop to the floor – that somehow, some way, this kid was able to pull out such an outplay in the most pivotal moment of his career.
Faker became a champion that night, and a worldwide star, but it wasn't because of that play. That might be what people remember, but the comeback was so much more than a flashy play. Faker and the rest of SKT were able to assess their situation, adapt to a team strategically stronger than them, and figure out a plan to beat them. When faced with a challenger who was hitting Faker in his vital points and slowly killing him, he stood toe-to-toe with his opponent and threw everything he had.
The KT Bullets and Ryu boxed with God that night, but their arms were too short to reach him.
Faker knocked them out.
Overlooking the World
What do you do when your conquer your home country? You set out to take over the entire world.
With their Champions victory against the Bullets and the third place they won in their debut season, SKT racked up enough points to qualify for the Korean Regional. With NaJin Black Sword and adversaries Ozone already qualified, this would be Faker's chance to extend his reach from Korea and try to take on the world's best.
As the brackets worked out, SK Telecom T1 and the KT Bullets would reignite their rivalry with a spot at Season 3 Worlds on the line. The Bullets, who had worked their way to the final, beat both CJ Blaze and Frost handily to get another shot at the team that denied them the Champions title only a few weeks prior. Ryu, who had been beaten convincingly by Faker at the end of the Summer championship, was working his way back up with stellar performances against Blaze's Ambition and Frost's GankedByMom.
On the first map in the series that would send the final Korean team to Worlds, Ryu got a bit of revenge, beating Faker and SKT on the slippery Fizz. The Bullets got up once again on SKT, but it didn't matter – SKT were ready to adapt. The Bullets, for all their strengths, didn't have the ability to change things on the fly the way SKT did. Faker switched to Ahri for game two and wrecked havoc on the Bullets' lineup, going 10/1/10, and letting his opponents know they weren't on his level anymore.
Ryu tried to get back in the series, picking Karthus against Faker's Orianna in game three, but the result was the same – a clear Faker victory.
On the final map, Faker picked his trusty Ahri. Ryu went for something new with Syndra, but it didn't work out well for the broken Bullets' Mid laner. Ryu's 1/8/1 on Syndra summed up his rivalry with Faker. He started out well, beating Faker in lane and using his team's calculations, but Faker was able to modify how he played the game.
Faker and Ryu entered the Summer season as almost equals, but Faker ended Season 3 with a broken Ryu left behind him. Faker would go on to challenge the world, leaving Bullets – arguably the second best team in the world behind SKT – sitting at home, wondering how they let the Summer championship and Korean Regional slip away.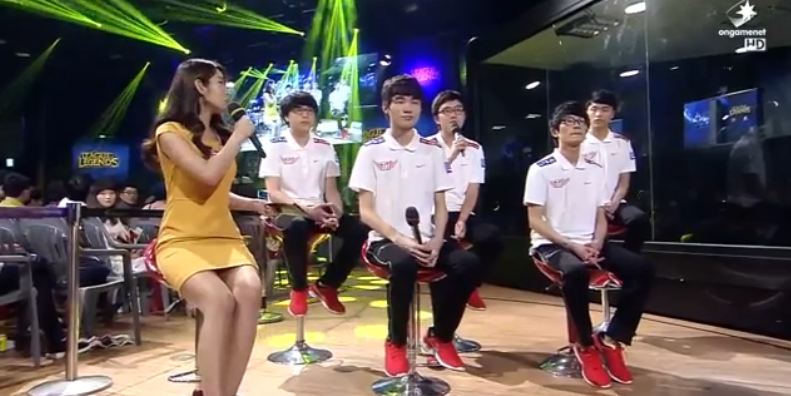 The Season 3 World Championships were held in Los Angeles, California, bringing together 14 of the best teams throughout the world. SK Telecom T1, having slain the vision maestros MVP Ozone (now Samsung Ozone) and calculating genius of the KT Bullets in Champions Summer, were the heavy favorites coming into the tournament. Korea, through their dominance at the most recent All Star events and victories across international platforms, had become recognized as the top region in the world.
The destined final for the Summoner's Cup was Samsung Ozone vs. SK Telecom T1. Ozone, the only team to ever make Faker truly bleed, were bringing in new attention with their pickup of the electronics giant Samsung. They switched out their experienced Top laner Homme for a new player in Looper, hoping the rookie's carrying ability would give the team a new dimension.
SKT were put in a group with GamingGear.eu, Lemondogs, Team SoloMid, and the Chinese powerhouse OMG. The first three teams, although giving SKT difficulties in the first 10 minutes of the games, were eventually taken care of with SKT's overall coordination and mid-game strength. OMG, centered around their ace Mid laner and Chinese MVP Cool, were the main rivals for Faker and SKT in the opening round group.
OMG drew first blood against Faker in the first game of the group, beating SKT in a lengthy 40-minute game. The two respective MVP's of their region clashed in lane, with Faker even picking up a solo lane kill, but it wasn't enough. Cool showed himself to be a worthy challenger to the Korean MVP, with the rest of the OMG outplaying Faker's teammates. In particular, AD carry San was able to bully around Piglet and PoohMandu, going 10/0/5 on Corki and being the first team to beat SKT at Worlds.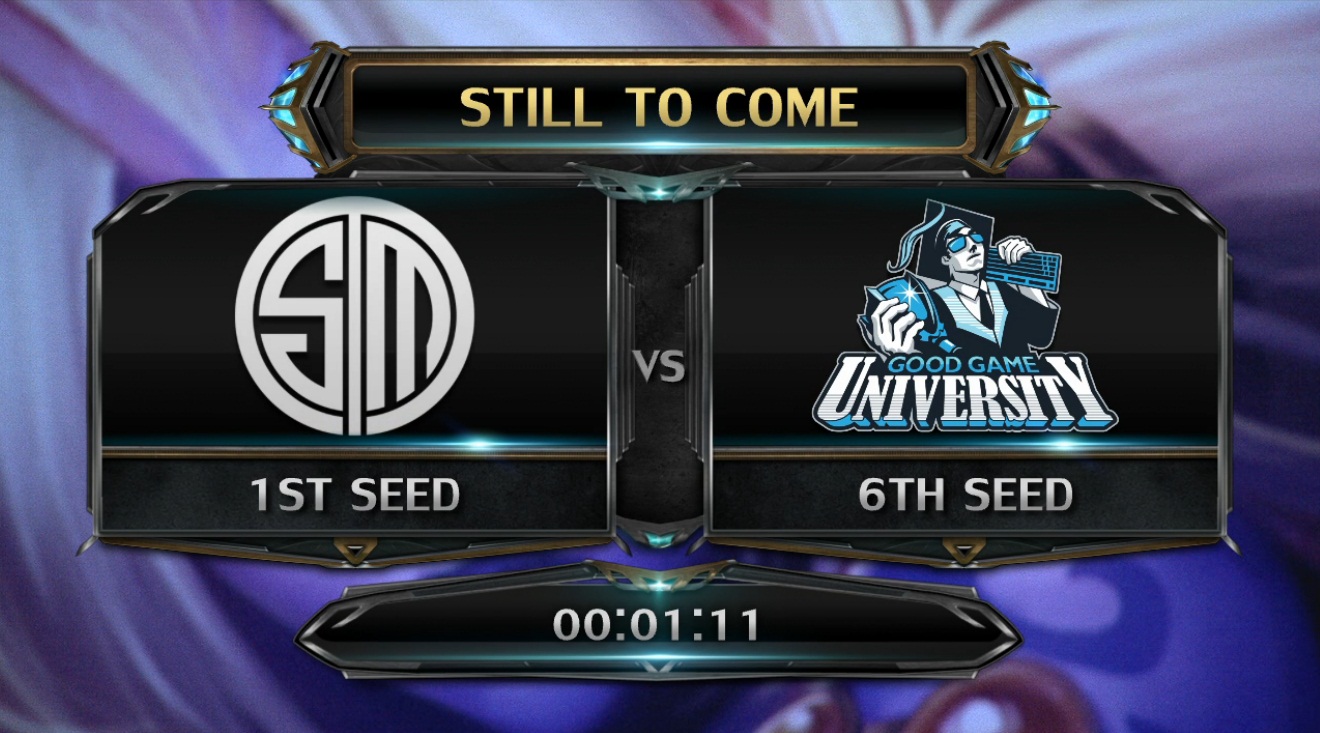 With the group stage being double round-robin, SKT and OMG faced off in one more game. As he did against the Bullets and Ozone, Faker challenged Cool by locking in an assassin. Cool went with Syndra, Faker with Ahri, and the rest of the SKT team followed suit by going all out against OMG in the rematch. Grouping up as a unit in the Mid lane, Faker hit charm after charm, drawing OMG players under his spell and the rest of the team cleaning them up. The SKT team worked their way up to taking an inhibitor under 15 minutes, and they would not relinquish their lead.
Cool, who did so well in their first game, still held his own against Faker in the second as well on Syndra (3/4/3), but couldn't stop how Faker changed his style of playing from game one to game two. In the first, Faker played Gragas – more reliant on disengage and helping his team in big fights. The second time around, Faker took him head on with Ahri, wanting to show Cool who truly the best Mid laner in the world was.
In the other group stage, Samsung Ozone weren't having nearly good as good of a time. SKT T1 finished first in their group, 7–1, with a lone map loss to OMG, but Samsung didn't even advance out of their group. Their new line-up didn't work as expected, and Dade, their star Mid laner, was feeling the woes of having his champion pool nerfed before the event. Faker was never limited by patch changes, and could transition into whatever champion was effective at the time.
The quarterfinals against the Taiwanese Gama Bears wasn't much of a challenge now to the well-versed SK Telecom T1. Faker, after putting up big numbers on Ahri in game one, played his first Lissandra game in the deciding match. While Dade struggled to play on Lissandra, Faker had no such problems, destroying the Bears with a 10/3/6 stat line that helped SKT cruise to a semifinal.
The final four round was more difficult, squaring off against Korean peers NaJin Black Sword. Nagne, Sword's new Mid laner, was regarded as the best Gragas in the world. On the champion, he was able to stack up with Faker through the first three games, even going as far as being able to bully him in lane. Sword were able to go up 2–1 on SKT on the back of Nagne's big plays on Gragas, who was setting the tone of team fights with Exploding Cask.
Another backs-against-the-wall moment for SK Telecom T1.
They did the smart thing in game four, taking away Gragas from Nagne by banning him instantly. Nagne was forced to move from his signature champion to the assassin Ahri and was shown to not be as strong on a new champion. Faker went with the all-around Orianna, Piglet stepped up as a carry on his Corki, and SKT did the adaptation trick again to push it to a final set.
SKT figured out that Gragas was the key to Sword and Nagne's success, so he was banned out the climactic game as well. This paid off big time – Faker and Nagne picking the same champions as they did in game four and yielding similar results. Nagne couldn't keep up without his Gragas, and the former all-star AD carry Pray wasn't able to pick up the slack on his Caitlyn. SKT prevailed, becoming the final Korean team left in the tournament with a grand final spot secured.
SKT is the team that starts strong and finishes even stronger

Josh "Jatt" Leesman
NA LCS commentator
The finals were against the surprise of the tournament, China's Royal Club, who got through OMG in the quarterfinals and Fnatic in the round of four. They were backed by Uzi, their explosive AD carry, who was able to win a game by himself with his ludicrous mechanical skill.
Royal Club, as a team, were similar to how SK Telecom T1 first started out. Uzi was Royal Club's Faker – the star they relied on to pull them through the dark times. If Faker was stopped, then they had no real other plan. The team had nowhere to go. The results of the finals represented how much SKT had grown in little under a year, destroying Royal Club in three straight games and never letting Uzi scratch them.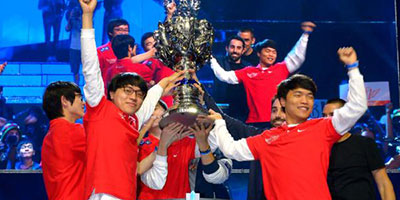 It was a complete and utter victory. Faker, named Worlds MVP, stood on the grand final stage, raising the Summoner's Cup in the Staples Center as confetti fell on him. Ambition, Dade, Ryu, Nagne and Cool had all challenged him through the past year, but his opponents made him even stronger. When one of them exposed a weakness in Faker's arsenal, he would retool, and take the knowledge to become an even better player.
What made Faker who he was wasn't his mechanical ability. Uzi, the prodigy across from him during the final, was no less the mechanical player. Faker's greatest strength, as it was there and as it always will be, is his genius and rapid thinking. No patch can stop him, having played 30 champions over his 162-game career.
His signature champion, LeBlanc, has never been defeated, holding a 10–0 record, but the Illusionist isn't his calling card – it's Orianna. Much like Faker, she is able to be put into any team composition and work based on how well the player controls her. She is the only champion Faker has played more than 20 games on his career. His Orianna isn't as flashy as his LeBlanc (10–0), Zed (7–0) or Ahri (9–5), but Faker can use her in ways that other players simply can't.
As he stood along with the teammates that turned him from a lonely boy playing solo queue in his room to world champion, there was no more doubt in anyone's mind:
Faker was the best player in the world.
Part Two: The Trials of a God.

The perfect 2014 Winter season. The departure of PoohMandu. The return of old rivals. and the arrival of new ones, in Rookie, Pawn and Ggoong. The failures against Samsung White. The goodbye to Piglet and Impact. And finally, and most importantly, can the new SKT team bring the best player in the world back to the Summoner's Cup?