Lamb to Lion: By.Baby
by Xxio
Team Liquid: Final Edits

Our world is in perpetual motion, always changing, always evolving. Season to season, year to year, from the smallest seed to the biggest tree, none can escape the cycle of time. It's spring once again in Brood War land, and we see the miracle of life in the littlest of things - a budding plant, a baby bird, a young lion playing in the grass. This year, the season has come early, and between well rooted giants, new hope has sprung up.



Don't lower your expectations to meet your performance. Raise your level of performance to meet your expectations. Expect the best of yourself, and then do what is necessary to make it a reality.
- Ralph Marston


Three years ago, Jun Tae Yang was an unassuming Terran. After placing high in the Elite School League,
BaBy, having only seen 12 summers, was drafted by WeMade FOX. But despite his early success, the professional echelon proved to be a different beast altogether, a realm in which only the most dedicated and tireless can etch their name in history. Though dedicated, the amateur prodigy's results quickly became dismal, and stayed so for many years. It wouldn't be until the winter of 2009 that Jun Tae Yang would strike from the shadows of WeMade's B-team, shocking the world by slaying a Tyrant and achieving an all-kill, foreshadowing the end of one age and the beginning of another; a change in seasons.

Reaching the 2010 Korean Air OSL Ro16 in his first endeavour past the prelims and having achieved his 8th Proleague win with an all-kill (WeMade's only one of the season), all in less than a month, many, including myself, wondered how this young Terran was able to suddenly have such immense skill - skill of the kind that topples giants. The secret to BaBy's success and sudden stardom was revealed in his post all-kill interview: "When I go to school, I'm usually too tired to even practice a lot and my focus went down. I think now that I graduated middle school, I'm playing better (laughs)." Simply put, BaBy, finally rid of elementary school, now has time to practice.


Baby, back when 8pm meant bed time.


Able to focus full-time on StarCraft, BaBy is 46-24 in 2010, having lost only 8 games in each matchup. Of those losses, his only losing streak greater than two games is in TvT when he lost once to
MVP, and twice to
Flash in the Korean Air Ro16. In addition to his phenomenal Winners League and OSL achievements, BaBy has quickly risen to be the strongest player on WeMade FOX – no small feat considering the intense competition between himself,
NaDa,
Mind,
Major, and
Midas for a Terran spot in the Proleague line-up.

Since his graduation from middle school in 2009, BaBy has risen not only in in-house ranking, but in ELO as well. His current ELO is 2204, making him overall the 8th best player in the world and the 5th best Terran. His incredible, overnight success has not gone unnoticed by coaches, or players. After beating
Hwasin in the Korean Air OSL, BaBy casually said, "I've practiced with Flash a lot recently, but I really don't have enough skills. I must improve my skills." As if this isn't shocking enough, a month later, this time after beating
Jaedong, BaBy said, "We practice a lot together so I analyzed him a lot, and I was able to win thanks to luck."

Being able to practice with Flash or Jaedong "a lot", much less with both having only ever once passed a preliminary, is quite remarkable, to say the least, and to me, speaks more of BaBy's potential, strength, and composure than any statistics or rankings. The fact that both Jaedong and Flash hold BaBy in such high regard as to make him a consistent practice partner is actually astounding. It's staggering how far BaBy has come in but a couple months, in the world's most competitive scene.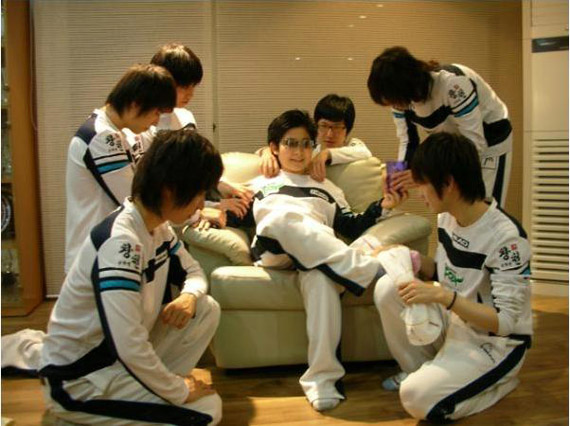 "In Sicily, dropships are more dangerous than shotguns." - By.Baby


BaBy's emergence has proved him to be an extremely well rounded player; he has excellent micro and macro, and doesn't get shaken easily. I wonder how many more hours per day BaBy has been practicing, for he has drastically improved in not just mechanics, but in every single matchup.


TvT
It was TvT that first gave
BaBy
notoriety in the StarCraft community. During his time in middle school, the WeMade coaches stuck with him and kept sending him out for TvTs, and though he got smashed every time he met a noteworthy player, as he played, BaBy learned and grew, and the team's trust was not in vain. His back-to-back wins over
Sea
in the 09 Fall MST Offline Preliminaries marked the beginning of BaBy's TvT dominance. In the blink of an eye, he went from being an easy win to one of the all-around most feared Terrans in Winners League.
Starting in 2010, BaBy began to consistently go on TvT win streaks, surprising everyone with victories over
Light
,
Leta
,
Really
and
Flash
. BaBy's days of being a TvT punching bag are over – no longer a B-teamer or burdened with school, he is not just defeating top Terrans; he is doing it with flair. His latest wins over Flash and Leta prove he is now a player who will beat you through both macro, creativity, and an unpredictable style that cannot be emulated. Flash's grip over Terrans has ended; BaBy's has begun.
Versus Really
+ Show Spoiler +
BaBy and Really both went the popular SC2 1-1-1 build, however, BaBy starting building his second command center while his starport was still in construction. Knowing he was far ahead economically, BaBy played defensively with the one wraith he made and built turrets at his natural and main. Really tried to use his faster wraith, and then cloak upgrade, to harass BaBy, but BaBy's turrets were done well in time and with his one base advantage, BaBy looked to be in really good shape. It was over a minute after BaBy started mining at his natural that Really landed his second command center, the economic disparity widening even further when BaBy double expanded, happy to let Really take a third base of his own. In an instant BaBy snapped air control from Really, the one advantage he had, with 2 valkyries and wraiths. Behind in economy, Really brazenly expanded across the top of the map, but with very limited scouting and no map control, 8 of 10 scvs in a transfer were annihilated when they trained right by a line of siege tanks positioned far forward on map.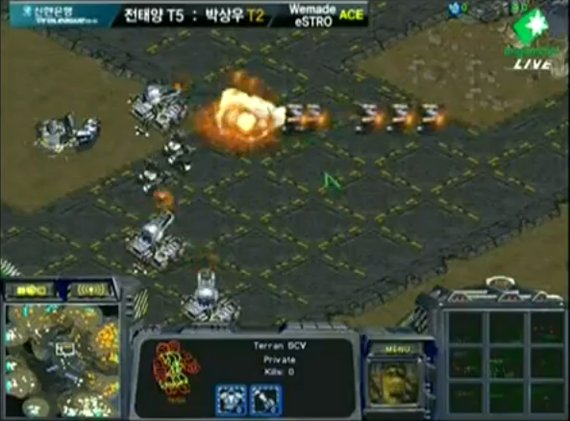 When Really expanded to the last bases on his half of the map, BaBy, who had already taken his, took advantage of Really's temporarily stretched army and defensive posture to mass wraiths off 6 starports, enough to vaporize lines of turrets and groups of goliaths.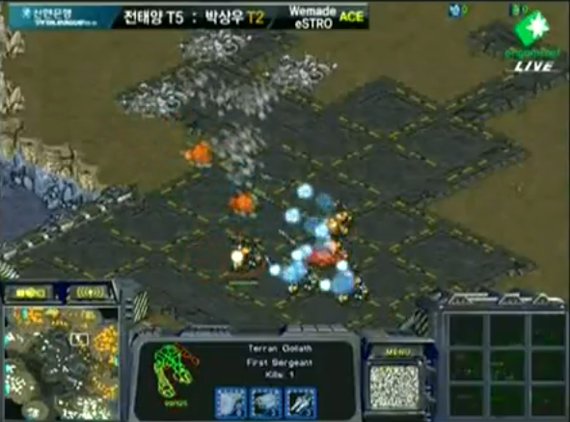 With his almost pure tank/wraith army, BaBy easily nullified not only Really's scouting and mobility, but any drops as well. Even when Really managed to sneak a drop into one of BaBy's bases, the units and dropships were immediately killed off. Really responded to BaBy's mass wraith play by making battlecruisers, more goliaths, and more turrets, all easily dealt with by BaBy's tanks and 2-2 wraiths. The cloud of wraiths, with tanks on the low ground for back-up, swarmed into Really's main, taking out all his defences and hovering around to eat up any units being produced. Unable to reinforce, Really could do nothing when a small group of BaBy's siege tanks rolled into one of his three mining expansions, forcing him to abandon it. Really finally made valkyries, which, five minutes earlier would have been helpful, but now against a 3-3 mass wraith army, there simply weren't enough of them and they too fell. In a last ditch attempt, Really converged his army of battlecruisers and valkyries on BaBy's last mining base, head to head against fully upgraded wraiths. BaBy won the exchange handily and two minutes later Really typed out.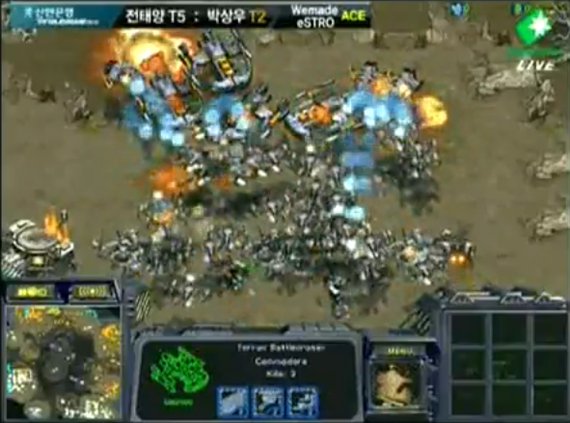 Versus Light
+ Show Spoiler +
Light and BaBy planned identical build orders, both going 1 factory, fast expand. BaBy showed the first signs of aggression early on, sending his first three vultures to Light's natural. But instead of running them up the ramp to scout and scoot-and-shoot, he got greedy and unsuccessfully tried to pick off Light's 1 marine and 2 vultures, losing all his units, map control, and scouting. However, suffering no counter-attack and having a good view of the map with a new group of vultures and mines, BaBy, also ahead in factory count, started building his third base. Light followed suit, but being a bit behind BaBy and having his building scv picked off by a vulture delayed his expansion so that it was not even halfway done by the time BaBy was mining off three bases.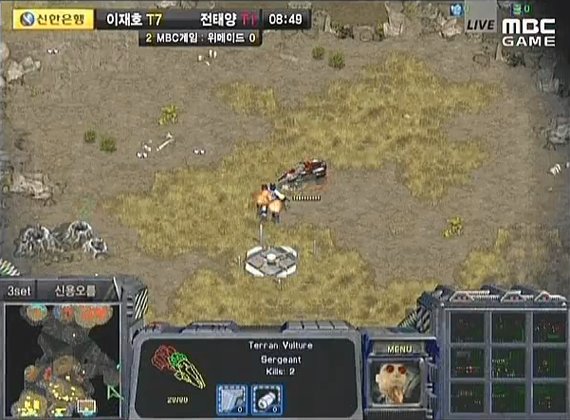 With his fourth base just finishing, BaBy used his first dropship to put a group of vultures in both Light's main and natural, delaying mining and killing a healthy number of scvs.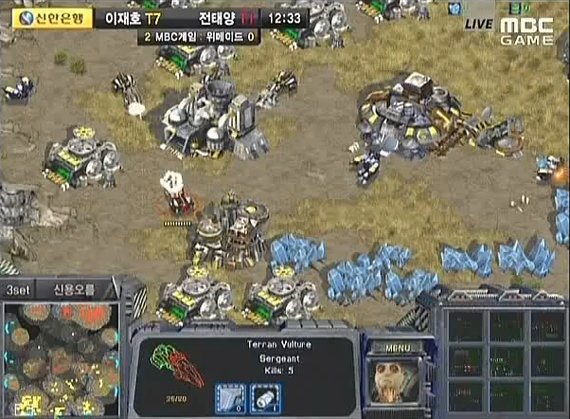 Ready to pump up the aggression and defend his new expansion, BaBy followed up with a huge drop into the back of Light's main.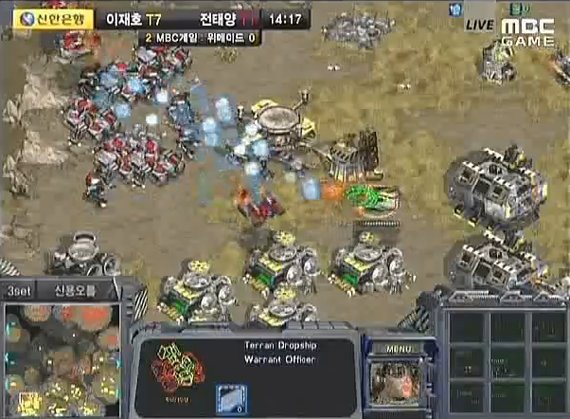 Though it didn't do much damage, it attracted Light's units and focus, so when BaBy then immediately dropped onto Light's newly finished fifth, Light's units were nowhere to be seen. Light didn't even bother to lift his command center.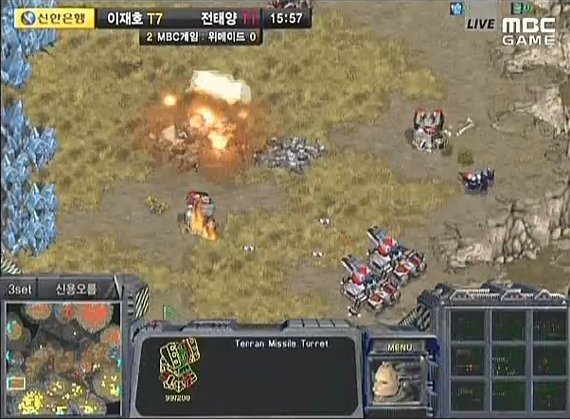 BaBy took three of the four remaining expansions on the map and positioned his army in the middle of the map, and right outside Light's fourth, making it very costly for Light to try and take a fifth expansion and risky for him to try dropship play. Looking at the minimap at the 19 minute mark, we can see that BaBy has also completely shut down any map vision for Light beyond his cluster of expansions. Knowing he would lose the war of attrition, Light tried to tank push his way into the natural of his fourth base, but BaBy was more than ready, cleaning up the advancement with a few drops. After that, Light dawdled around for a while, trying to be fancy with his dropships, before leaving the game.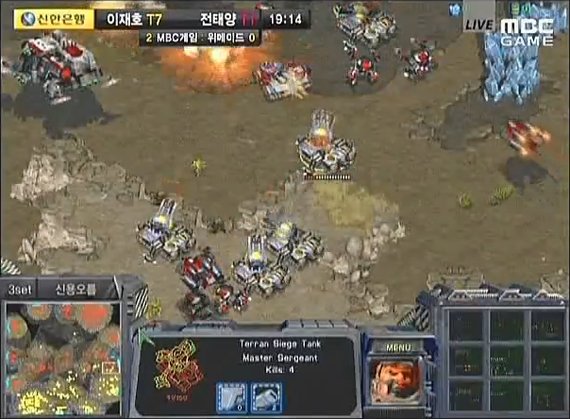 BaBy shows some very unique tendencies in TvT. In this matchup, we can see that BaBy likes to expand and macro, usually in a sudden explosion when he has a decisive midgame advantage. Then, rather than making big pushes across the map or huge drops to try and cut his opponent's head off, BaBy prefers to win the war of attrition while picking away at enemy forces with drops or wraiths, keeping them busy and in defensive posture. This very tight play is evident in his game against Light, in which he was content to simply control the map and win "without doing a single thing". Even against Really when he went mass wraith, BaBy played very conservatively for a long time, not trying to destroy Really's main when he could have and waiting until Really was forced to engage him – not the other way around – before easily cleaning up.

The exciting thing about this play style is that BaBy's expansions are so well timed and in coordination with his army movement that out of four of his recent games against Light, Really, Flash, and sKyHigh, top TvTers, the only time he was successfully harassed, or forced to abandon a base (he lost a base against Really but he'd already won the game at that point), was in his game against Flash.

Another disposition of BaBy's TvT is that he almost always gets dropships before his opponent, giving him some interesting opportunities to harass, which, as he says, he's always looking to do. Though this isn't apparent in every game, I'm hoping to see more of it in the future.
TvZ
The shift in TvT head-honchos warned of
BaBy's
advent, but long before his games against
Sea
, BaBy was crushing Zergs. BaBy began dominating in TvZ this past October, and has lost only 10 of his 32 TvZs since the Fall OSL prelims. 21-8 in 2010 and winning 3 of his 5 games against
Jaedong
(and knocking him out of the OSL), it's clear which matchup has given BaBy his 2204 ELO. However, while technically the 5th best Terran in the world, his TvZ record has yet to match his ranking.
There is no mystery about my style. My movements are simple, direct and non-classical. The extraordinary part of it lies in its simplicity.
- Bruce Lee
Unlike his 14-8 TvT in which BaBy played the best of the best, of the top Terrans, BaBy has definitively played the least skilled Zerg opponents, making it hard to compare his TvZ to, say,
Fantasy
or
Leta's
, who consistently play against top tier Zergs and yet are 13-12 and 9-8. Of the best Terrans,
Light
, who is 17-3 and
Flash
, 25-10, are far and beyond the leaders of TvZ, simply because BaBy hasn't proven himself against the wiliest Zergs. Sea is 9-5, his opponents of about the same quality as BaBy's.
The interesting thing is that, while we can't say BaBy excels at TvZ, at the same time he's won 72% of his TvZs in 2010. It's really quite frustrating to see such a strong player go so long without playing Zergs of his calibre. Personally, I blame the WeMade coaches for only letting him play against 4 Zergs in Winners League. I guess BaBy is a victim of his TvT success. However, since his back-to-back OSL wins over Jaedong, BaBy has found himself playing almost (
Odin
) exclusively good Zergs, though with the new Proleague format it has more to do with the luck of the draw than anything. Hopefully we will start to see more of this matchup – he's only played 6 TvZs since April 1st, and he won 4 of those.
Versus Jaedong 1
+ Show Spoiler +
After beating Hero 2-1, BaBy had one last Zerg blocking his path to the Ro16, a terrifying opponent who had humiliated him two days prior. Jaedong executed a 3 hatch muta BO, and though BaBy wormed an scv into Jaedong's main, it was killed off before he saw the third hatch go down. BaBy quickly got another scv into Jaedong's natural, and, seeing only two zerglings, sent his first 3 marines on a suicide mission behind Jaedong's mineral line.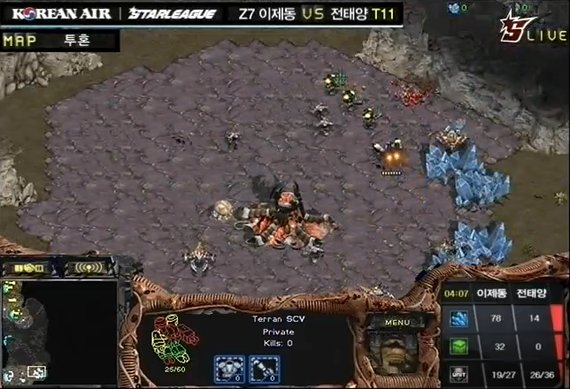 Despite losing the marines and another scv for all his trouble, BaBy actually killed 2 drones and, when Jaedongs 2 lings that were blocking the top of his ramp ran down to kill the marines, managed to sneak his 10 health scv into Jaedong's main, letting him know exactly where Jaedong's tech was at. Right before his mutas popped, Jaedong snuck 2 zerglings into BaBy's main, letting him know exactly how many units BaBy had and how few turrets there were. So when his mutas were ready to start harassing, Jaedong knew exactly how aggressive he could be, and after sniping 5 scvs at BaBy's natural, flew directly into the heart of BaBy's base to fight what few marines there were head-to-head.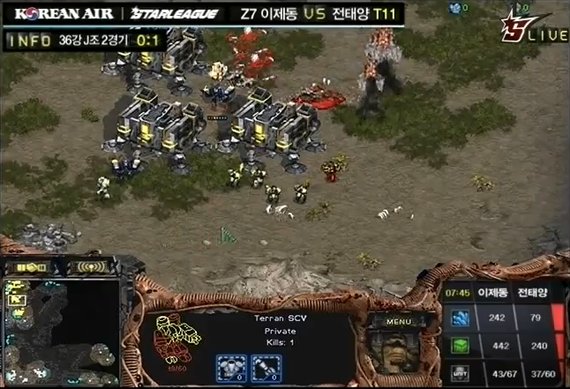 It looked like BaBy was going to lose the game then and there, when a small group of hero marines ran up from the natural to drive off the last of the mutalisks, saving the day. BaBy used a fast dropship and what few units he had left to immediately put pressure back on Jaedong, sending his dropship on a risky endeavour straight south to Jaedong's base, regardless of mutas or scourge. I think the tactic caught Jaedong off guard, for no scourge were ready to intercept and were, I believe, waiting to pick off the first science vessel. BaBy had barely unloaded and stimmed his marines behind the mineral line of Jaedong's main before all of Jaedong's units swarmed back to his base, but even though Jaedong outnumbered him, with two medics blocking the path behind the minerals, all the zerglings and mutalisks quickly melted.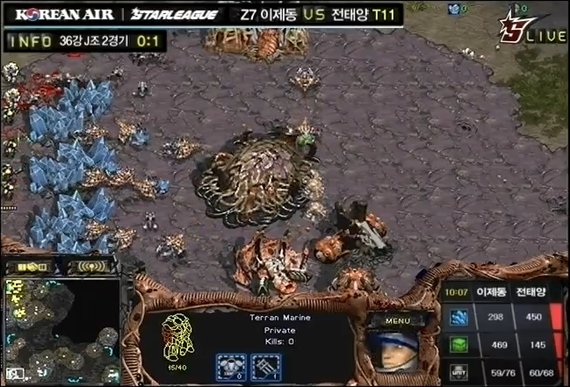 BaBy killed 3 mutalisks, 1 drone, 1 lurker, and probably 15 zerglings before his small contingency was killed off, not to mention scouting the progress of Jaedong's hive tech and delaying all mining for 30 seconds. Once BaBy had four tanks he made his push for Jaedong's natural, but he was a bit too aggressive with his lone science vessel and it got sniped. BaBy, nonplussed, redirected his army to Jaedong's third base, all the way at 5 o'clock.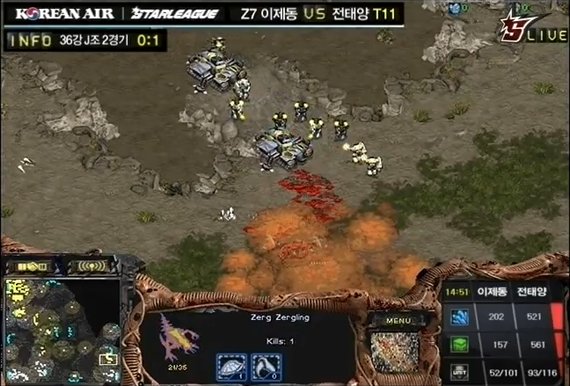 His 4 tanks and continually reinforced MnM managed stay linger in Jaedong's base for almost 3 minutes, but without being able to take out the nydus canal Jaedong was able to continually reinforce and drive BaBy back, though not without losing nearly every drone and about 6 lurkers in the process. Now with map control and his third base fully operational, BaBy had no regrets bashing through lurkers and darkswarms, sacrificing the mass of his army, to shut down Jaedong's second attempt at a fourth base and kill 4 drones at Jaedong's third.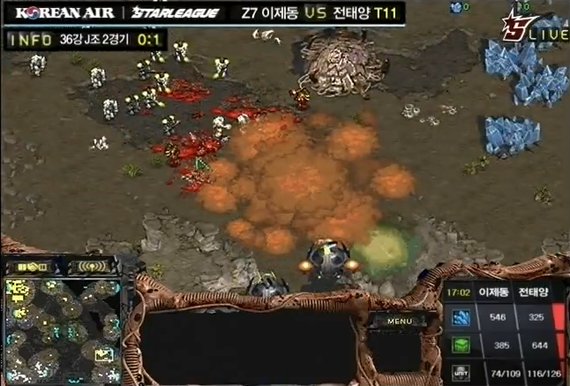 BaBy immediately followed up with a dropship to Jaedong's main, a very clever idea that was, unfortunately, thwarted by a waiting group of lings. With constant harass at his third and being unable to take a fourth, Jaedong, focusing purely on survival, was unable to chip away at BaBy's science vessel count, or stop him from taking a fourth base. After finally losing his third, his only base with resources left, Jaedong gg'd.
Versus Jaedong 2
+ Show Spoiler +
Having just played perhaps the best TvZ of his life, 1 game away from the Ro16, BaBy 1 rax FE; Jaedong overpooled. Playing it safe, BaBy immediately built a bunker tight between his command center and a supply depot, and then, seeing how many lings Jaedong had, another adjacent one. In fact, Jaedong was going for an early bust, fast teching to lurkers and not mining from his natural at all. Jaedong went all-in with 12 zerglings and 2 lurkers, but it wasn't nearly enough.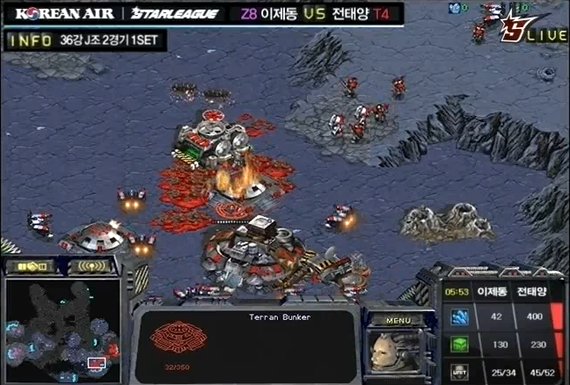 BaBy's two bunkers slaughtered the lings and his group of MnM up on the ramp easily killed the lurkers with in one scan. Only four marines died during the whole attack, and those from the last spine of a dying lurker. Now with a turret, tank, wraith, and 3 bunkers defending his natural, BaBy had no problem defending Jaedong's last, desperate attack. With 15 drones and nothing left to throw at BaBy, Jaedong left the game.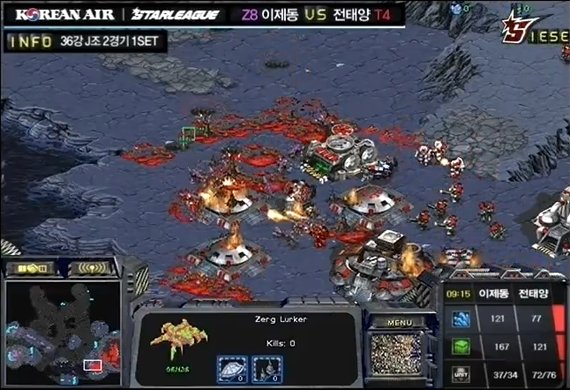 BaBy doesn't like to make bunkers, and I don't blame him. When you're trying to produce units, saturate your natural, and tech, who wants to potentially waste 100 minerals? While this seems to be working out for BaBy, in one of his losses against Jaedong we did see BaBy get caught out of position and without a bunker, costing him the game. However, if he can barely get away without making one,
like he did against
Hero
on Fighting Spirit, then it makes his first push come out that much faster. On the other hand, we see in his second win against Jaedong that BaBy had no qualms throwing down 3 bunkers to stay alive, showing his adaptability and ability to respond to all-ins and high pressure situations.
BaBy also likes to be very aggressive as soon as possible, pushing out with a small group of units to force the Zerg to make sunkens or get a few drone kills. While this is the oldest trick in the book, we see BaBy consistently execute it much to his opponent's detriment, and if, in addition to that, he can get away without making a bunker, BaBy has gained a serious economic advantage simply through good timings and a tight build order.
The other thing about BaBy's aggression is that once he starts, he doesn't like to let go of the "ball". Whether with a drop, push, multiple expansions, or any other kind of pressure, BaBy always follows up one attack after another to keep his opponent off balance, giving them as little breathing room and map control as possible. While he likes to do this in all matchups, he is especially good at it in TvZ. We see this aggressive play perfectly exemplified in his win over Jaedong on Fighting Spirit.
It should also be noted that TvZ is, by far, the matchup BaBy is most experienced in, and he hasn't lost more than 2 TvZs in a row since 2008. But this shouldn't be surprising as
BaBy did say
,
"I feel the most confident against Zergs, but I recently made my own style."
Every time I see WeMade playing I pray for BaBy and a Zerg to duke it out.
TvP
TvT and TvZ are, without a doubt,
BaBy's
best matchups and what he has become famous for. With his achievements in those two matchups, his TvP is, more often than not, undeservedly put on the back-burner.
BaBy is so well-rounded that even if his TvT and TvZ weren't phenomenal, he would still be known as a force to be reckoned with solely for his TvP. With wins against top Protoss
Kal
,
Movie
,
Shuttle
, and
Stork
this year, BaBy's TvP was looking very solid until he lost to
Tyson
and
BeSt
, getting knocked out of the MSL. It's easy to look at these important, back-to-back losses and say, "oh, BaBy clearly isn't good at TvP", but in reality, when looking at the whole of 2010, his 11-8 is quite impressive, especially when you compare him to
Light's
10-15 or
Leta's
14-11 and consider how good his other matchups are as well.
Versus Stork
+ Show Spoiler +
Stork came out of the countdown swinging, deciding to use his first zealot and scouting probe to harass BaBy's base (to what end, I don't know). Both were easily killed and BaBy, having scouted Stork's base, happily expanded. Deciding to research mines before siege, BaBy came dangerously close to losing his first tank and having to delay his second command center, but with only 1 gateway Stork didn't have enough units or gumption to seriously commit to an attack, especially with a newly finished expansion and robo facility almost complete.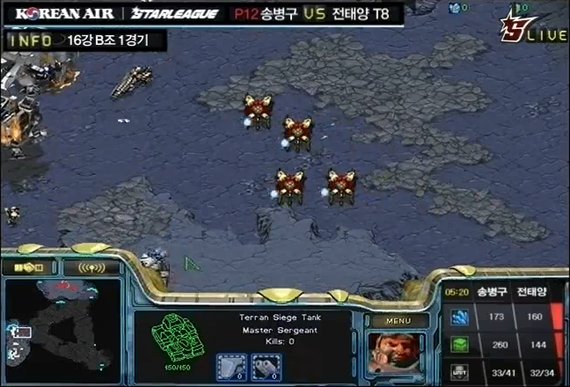 With a bit of breathing room, BaBy aggressively expanded to his third. Having scouted it, Stork also expanded, and with observers freely roaming BaBy's bases, almost sniped a dropship as it tried to sneak out BaBy's back door. As soon as BaBy's third finished and he transferred over scvs, Stork reaver dropped the mineral line and started building a hidden expansion at 6 o'clock. Lucky for BaBy the scarab misfired, and, in response, BaBy dropped 2 tanks and a group of vultures behind the mineral line of Stork's third, delaying mining for a minute and forty seconds, bringing the nexus down to less than 100 health, and killing a good number of probes and a reaver when Stork tried to scarab the tanks.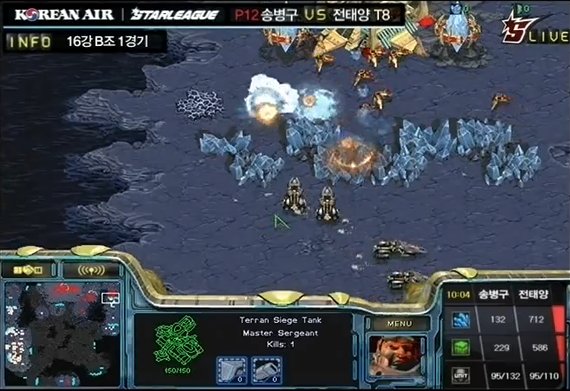 As soon as Stork did, finally, manage to kill off the harass, BaBy already had another dropship, laden with vultures, headed for Stork's main. This drop proved a disaster, however, as both dropship and vultures were lost without having killed more than 2 probes.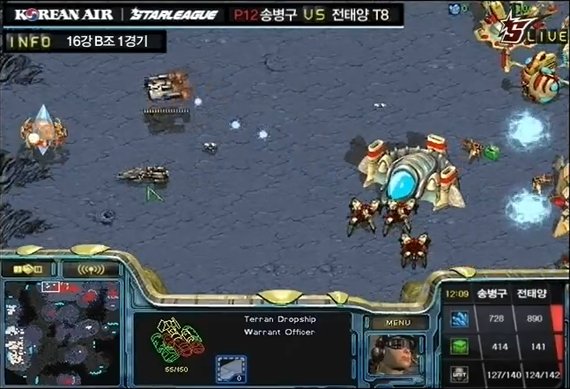 Wanting to finish off that third nexus, BaBy dropped the same nice little combination of tanks and vultures behind Stork's mineral line and with a few shots, destroyed it. With his fleet beacon warping in, Stork retook his third base and started building his fifth. BaBy started building his fourth and fifth, and just when Stork's first carrier finished, BaBy, knowing Stork's army was out of position to defend, moved his enormous mech army to Stork's fifth. Not even bothering to siege, BaBy razed it to the ground in seconds and rolled right through to Stork's natural. BaBy lost his fourth base but destroyed Stork's natural and 9 probes at the Protoss' third, and though he lost the bulk of his army, expanded to the 5 o'clock base as Stork retook his natural and started warping in a fifth. Stork used his fleet of carriers to take out BaBy's undefended third, and then, as BaBy was destroying his fifth, simultaneously moved his carriers on to BaBy's natural and attacked BaBy's fifth with a group of dragoons. After taking out Stork's fifth, BaBy sprinted back, defended his fifth, then ran to his natural, getting there just in time to save his burning command center.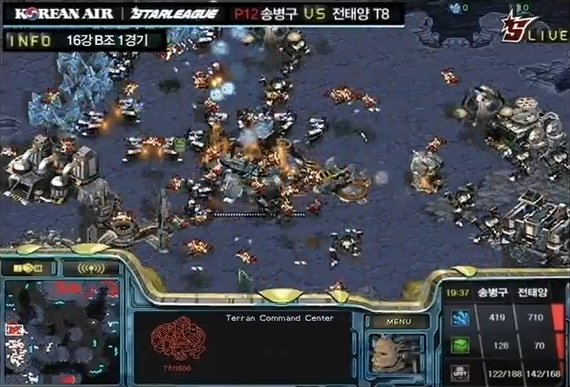 With a scan, BaBy saw that Stork's natural had been rebuilt, so he moved his whole army to take it out – then doubled back with his goliaths to try and save his natural when Stork attacked it yet again with his carriers. This time BaBy was too late and he lost the command center, as well as his old fourth which he had just retaken. BaBy rebuilt his natural and fourth, and when Stork attacked his fifth with carriers, BaBy abandoned it and gutted straight for Stork's main, knowing Stork's ground army was nothing but a few scattered units. Only 2 of Stork's carriers remained, and with nothing to defend with, he left the game.
Versus Movie
+ Show Spoiler +
In cross positions, Movie went nexus first followed by 2 gateways. I was expecting a 1 fact FE but BaBy, the diverse player that he is, went for a fast vulture, and blocking Movie's ramp with his scv, used it to kill two probes at the natural. BaBy then siege expanded to his main; Movie teched to templar archives and started warping in his third. BaBy loves getting an early dropship, but he also loves not getting turrets, and when BaBy moved out with his first dropship, Movie easily spotted and sniped it before any harm was done.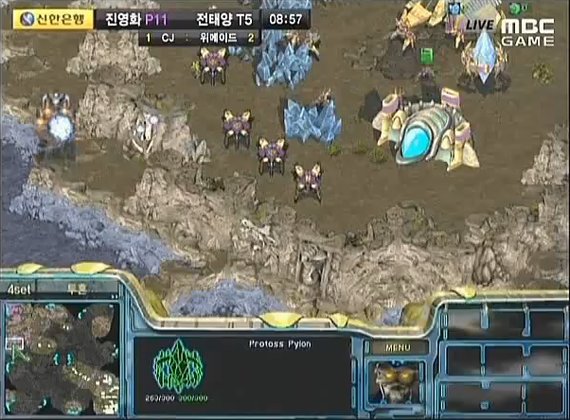 Ready to punish the expanding Protoss, BaBy mined and siege pushed his way up Movie's ramp while taking a third of his own, adding some flair by using a wraith to kill a shuttle and fend off Movie's arbiter. Despite Movie's best attempts at mine dragging, BaBy, relentless, inched closer and closer to the Protoss natural until finally his vultures swooped in, killing many probes and forcing the rest to transfer away.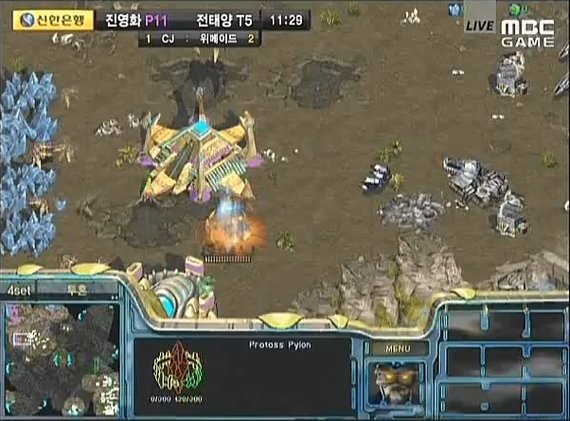 But Movie was not without tricks. With one sneaky arbiter he recalled behind the mineral line of BaBy's natural, forcing the command center to lift but doing little else as his nexus was destroyed. However, a follow up attack on BaBy's third forced him to abandon the base. Though put back, BaBy had Movie contained, cutting off reinforcements to the Protoss' third, giving BaBy the freedom to run a group of vultures into the expansion and kill off every probe.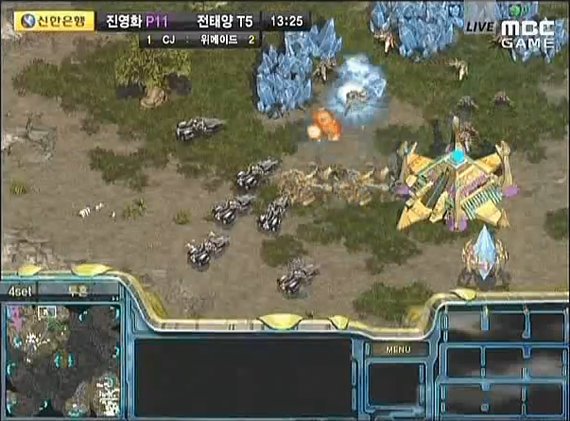 In one last gambit, Movie recalled into BaBy's main and at the same time, pressured the natural. BaBy was prepared and held off both attacks, then another recall into his main – all the while keeping up on his scouting and finding a hidden expansion. Movie tried to retake his natural but BaBy a-moved and Movie left the game.
BaBy's TvP play is quite diverse and refreshing. In accordance with his other matchups, BaBy loves going for a quick dropship, using it to harass as his first act of aggression. Against Stork we see him try to do this while building a third base, and against Movie while pushing towards the natural. However, BaBy is fairly consistent with his early dropship play, perhaps making it a bit predictable. That, coupled with the fact that he doesn't get turrets first, makes it easy for a Protoss to scout it with an observer – as Stork and Movie did, as well as BeSt in this past MBC Survivor.
The success rate of BaBy's first dropship is not very high, but after his first attempt at a drop, he follows up with some very nice plays to keep pressure on his opponent. In his nail-biting game against Stork, for example, when he dropped the tanks and vultures behind the Protoss mineral line. However, if he loses his first dropship, as he sometimes does, he suffers a huge setback.
What I like most about BaBy's TvP is that he isn't afraid to mix it up and do the unusual, like the wraith against Movie or the nuke that he was planning to use against BeSt. While BaBy uses dropships and cute units once in a while, he still has solid macro and can deal well enough with carriers and arbiters. The one thing I am worried about is how he deals with psi storm – BaBy's reaction time sometimes slacks and
in his game against
BeSt
in MBC Survivor, his clumped tanks would have been stormed to pieces had not the Protoss won the game so soon after the tech was complete.
In 2009, BaBy was 5-9 in TvP; it has certainly grown stronger since, and as he's robust in every matchup, the WeMade coaches are going to keep fielding him in Proleague, giving him many of opportunities to gain more TvP experience. Yet to hit a wall in TvP, with more games against top tier protoss under his belt I can easily see BaBy having a record like
Sea's
13-6.
Let us be about setting high standards for life, love, creativity, and wisdom. If our expectations in these areas are low, we are not likely to experience wellness. Setting high standards makes every day and every decade worth looking forward to.
- Greg Anderson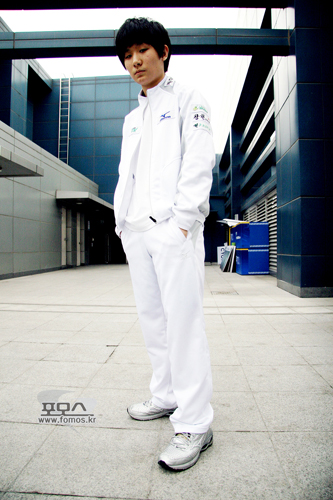 Puberty was never this kind to someone.


The seasons have changed. Jaedong is no longer the Tyrant, Bisu struggles to stay a part of the status quo, and Flash has proved to be mortal. While the titans battled high above however, BaBy rose from the depths to finally sieze his destiny. Spring has come, and with it a new season of champions. Of these, BaBy reigns supreme - toppling both new talent and old hero to usher in a new generation of players.

This lion has no glaring weakness, no uncertain matchups. When he steps into the booth, he is the hunter, and doing well in all three matchups is just the beginning. In terms of macro, we saw him go toe-to-toe against our beloved Stork on Great Barrier Reef, who had a hidden expansion the whole game, and win in the end. With solid micro to boot, his win over Jaedong on Fighting Spirit showed that his timings are fresh, innovative and above all, extremely effective.

BaBy's fundamentals are more than adequate, but what he truly excels at and makes his own, is aggression. From start to finish, BaBy loves pressuring his opponent, putting them on tilt with wraiths, or having them too scared to move out or expand for fear of his dreaded dropship play. In all three matchups we see him constantly poking and prodding across the map, looking for a loophole, a weakeness. Even in TvP, BaBy still finds a way to use a traditionally highly immobile army to overwhelm his opponent, take map control, and put his enemy on the back foot. We saw this style of play against Jaedong and Stork, and in TvT against Light, where he took the middle of the map, rapidly expanding, and exploited his enemy's position with dropships.

The young Terran's core fundamentals are all there and his aggression is well polished. His loss to Tyson in the recent MBC Survivor was very disappointing, but with that turret only 13 health from completion, I can't honestly say he was careless or outplayed. I can only hope he at least makes it to the semi-finals of the OSL, and meets some top Zerg players along the way. His innovative, aggressive style and sound mechanics, in combination with his flair for wraiths and dropships, makes him a very dangerous and exciting player; a new breed of Terran for a new generation.

Fifteen and barely graduated, BaBy's genius is already undeniable, his style original and extremely well articulated. For the first time in a long time, I am genuinely inspired and excited. I have the highest of expectations for this new Terran, and so should you.



Editor's note - this piece, though in spirit the successor to Lambs into Lions

Chapter One

and

Two

, was elevated to TLFE status through the hard work of the writer. Well done, and I hope you enjoy your place here among TL's finest!




---
Kudos to Fomos for the pictures and a big thanks to Silversky for the amazing banner and LosingID8 and riptide for all of their much needed help!